Please note this post contains affiliate links.
Cookie Dough Bites dipped in chocolate are the best way to enjoy cookie dough, without the risk of consuming raw eggs or raw flour. The soft, chewy balls of dough have bursts of chocolate inside, making it the ideal flavor combination. It is the ultimate cookie dough experience!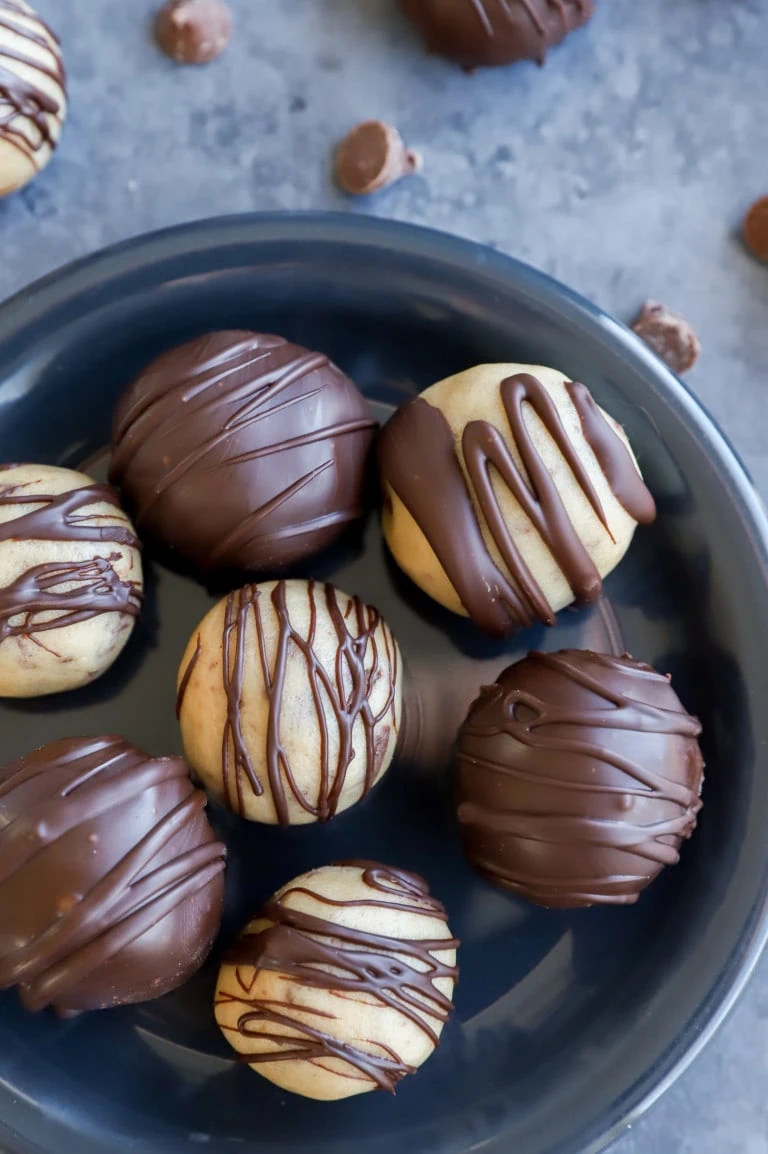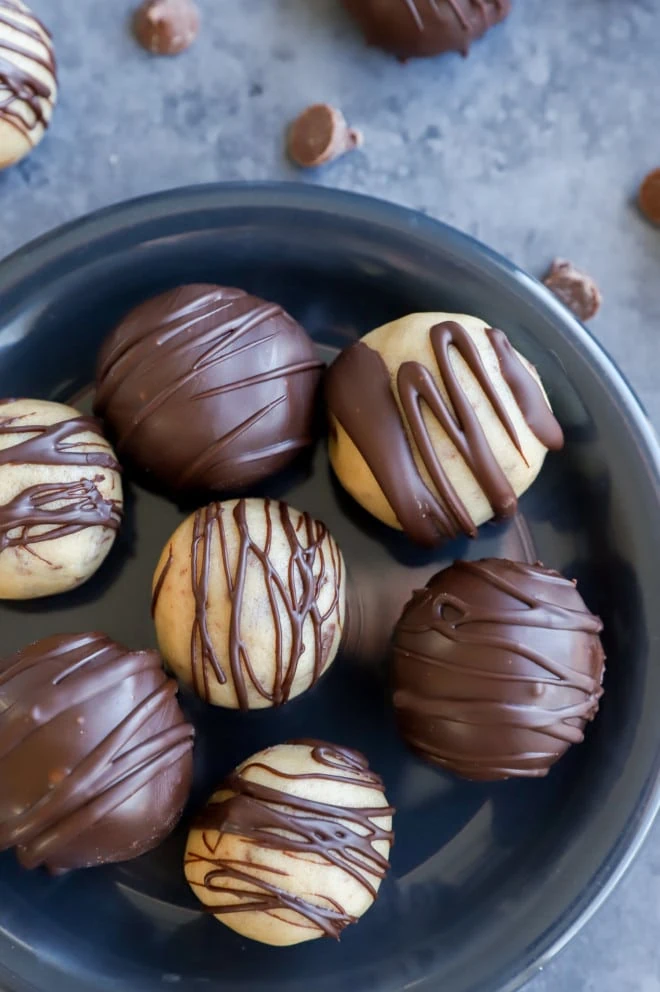 Cookie dough bites are the one treat that I can never get enough of, and neither can my husband or my son.
Having these little treats in the refrigerator is the perfect treat for dessert, but it's also such an easy recipe to pull together for a party.
When I say that these cookie dough bites taste like true cookie dough, I mean it. The texture of the cookie dough, the flavor, and the amount of chocolate is just what I think of when I imagine licking the spoon after making chocolate chip cookies.
Yes, I am aware we are not supposed to lick the spoon anymore because of the risk of raw eggs. However this is how I grew up and I will always lick the spoon.
Of course, you can't just chow down on raw cookie dough made with eggs. Therefore, these little cookie dough bites are just the sweet treat you need to get your fix. They are tender, soft, and chewy. You can dip them in chocolate, drizzle them with chocolate, or eliminate the extra chocolate all together if you want!
A quick sweet treat recipe is something we all need in our back pocket for a random craving after all! These are fantastic for a weeknight sweet tooth or a tasty dessert at a party. They are usually hiding in the back of our refrigerator to enjoy (you know, when you have a kiddo, you have to hide the good treats for yourself, right?). It's a fun dessert or midnight snack, not to mention the ultimate party pleaser! Everyone will be asking you for the recipe!
If you want to take these over the top, you could even sprinkle them with flaky sea salt just after dipping the bites in dark chocolate. The combination of sweet and salty really sends these little bites over the edge!
Oh and these edible cookie dough bites can also be made vegan! All you need to do is use vegan butter, vegan milk, and vegan chocolate.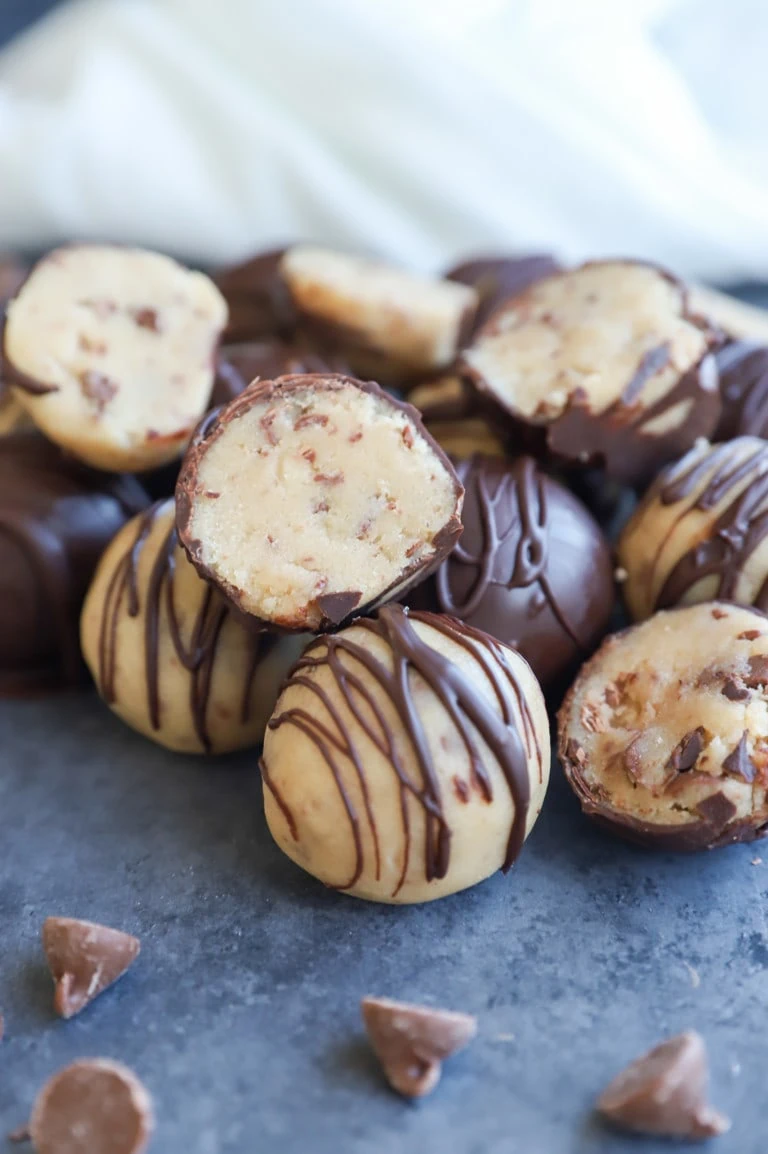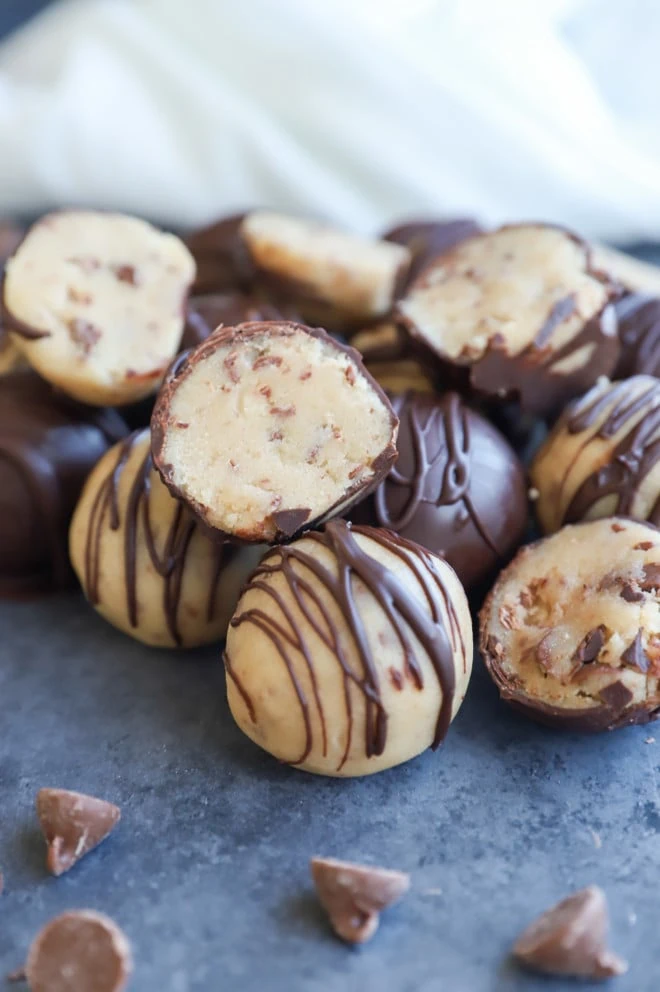 Yes! These cookie dough bites are completely safe to consume. They are made without eggs and the flour is heat treated, so it isn't raw flour being used. In case you didn't know, there is a risk of exposure to harmful bacteria like E. coli and salmonella in raw flour. You should not consume raw flour in any form.
Therefore raw flour should be heat-treated before adding to this recipe.
how do I heat treat flour?
Heat-treating simply means cooking flour on its own. All you have to do is spread the flour in an even layer on a rimmed baking sheet. Bake for 7 minutes at 350˚F, then cool completely before using in this recipe.
I know that this can seem like a tedious additional step to the recipe, but it is well-worth avoiding the risk of bacteria getting into your system!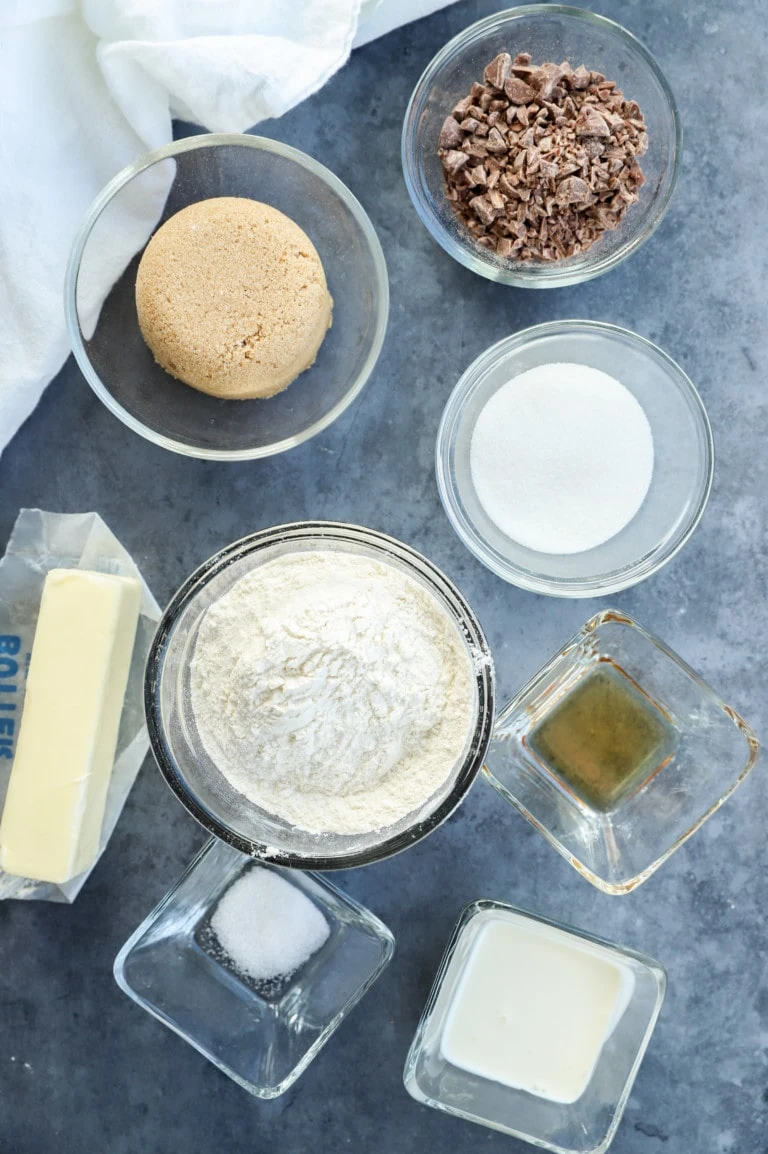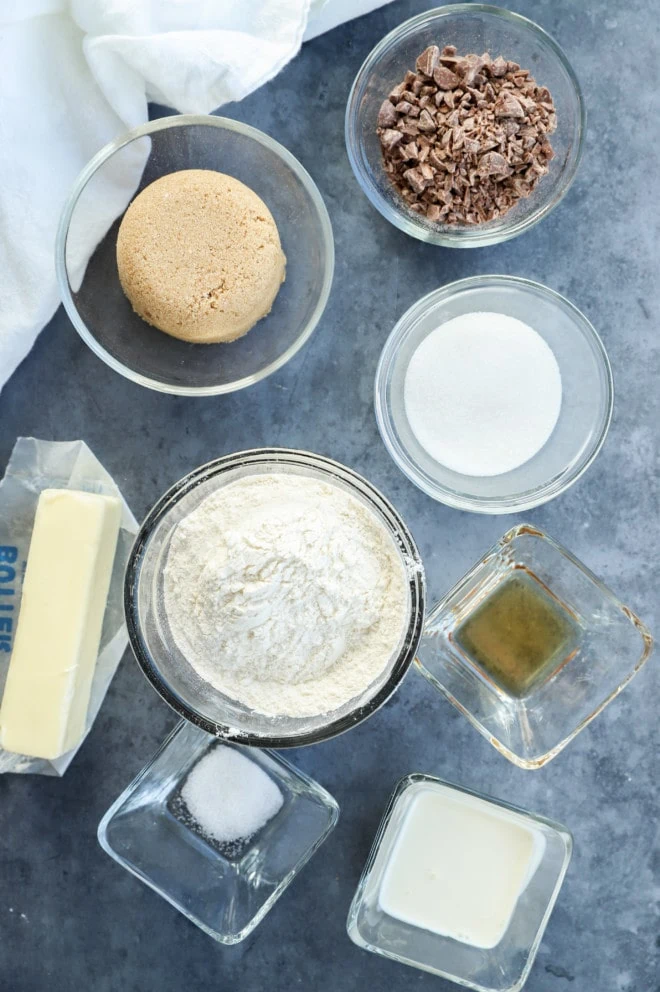 ingredients
butter. I like to use unsalted butter for these cookie dough bites. If you prefer, you can use salted butter. Just be sure to omit the salt called for in the recipe. Note that you can use vegan butter and make these bites vegan. Additional details are located in the FAQs below.
sugar. You will need both light brown sugar and granulated sugar for this recipe.
salt. Use fine kosher salt in this recipe. If you choose to use salted butter, skip the step of adding salt to the recipe.
heavy cream. I like to use heavy cream, but you could also use whole milk if you prefer! There is an option to make this recipe vegan (see the FAQs further down in this post).
vanilla extract. I always highly recommend using a high-quality vanilla extract for your recipes, including this frosting. My favorite is Nielsen Massey – their Madagascar Bourbon Pure Vanilla Extract is amazing.
flour. Use all-purpose flour for this recipe. Make sure that you heat treat the flour as instructed before adding it to the recipe.
chocolate. I like to use milk chocolate chips in the dough bites themselves, then dip the balls in dark chocolate (or drizzle it on top!). You can use milk chocolate only or dark chocolate only if you prefer. If you don't feel like chopping up chocolate, you can also use mini chocolate chips!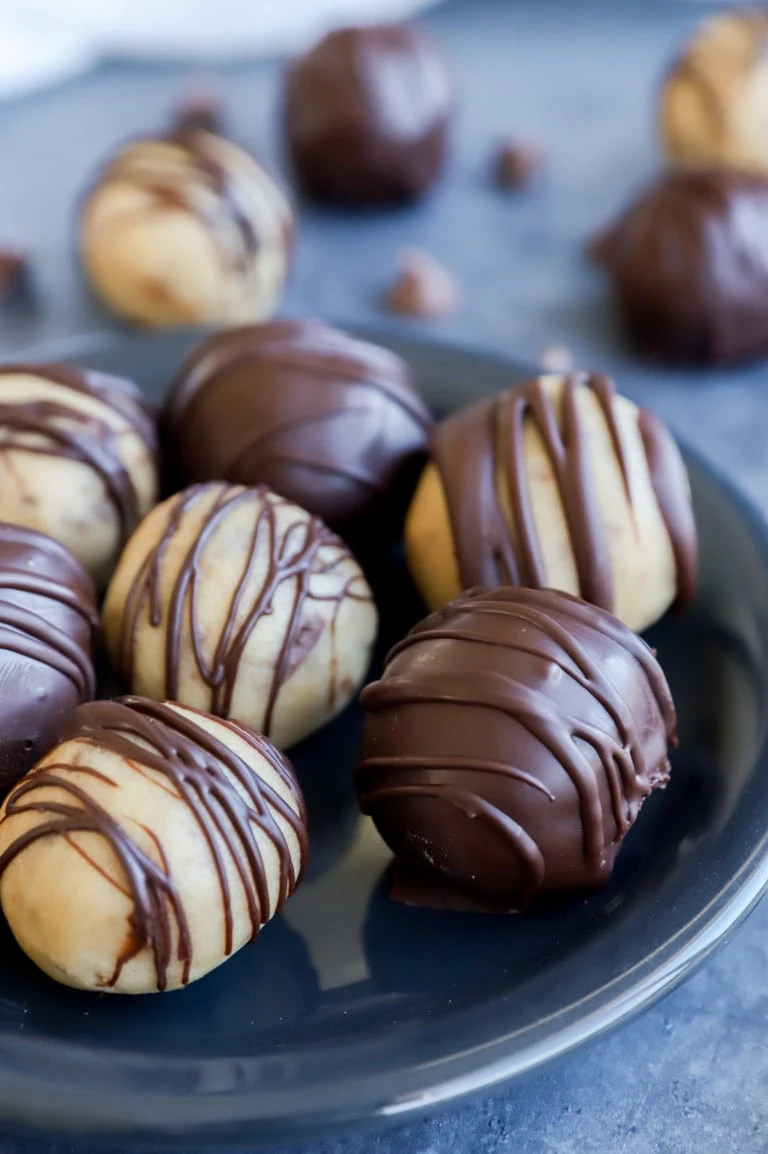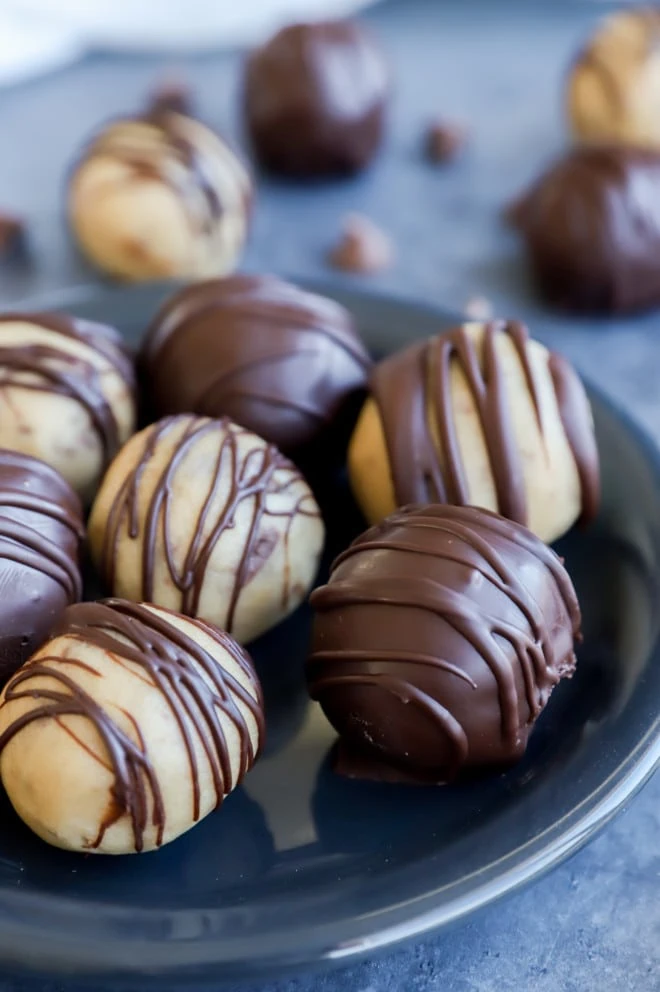 this recipe's must haves
For this recipe you don't need too much equipment! To heat treat the flour, you will need a rimmed half sheet baking pan.
To make the cookie dough, you will need a stand mixer fitted with the paddle attachment to beat together the dough mixture.
If you are coating the bites in chocolate, make sure you have a microwave safe bowl to melt the chocolate in. I simply use a fork to balance the bites on for dipping into the chocolate. This way the melted chocolate can drip off the tongs of the fork back into the bowl.
You will also need basic baking tools like a spatula, measuring spoons, and measuring cups.
heat treat flour
Preheat the oven to 350˚F. Add flour in an even layer in a rimmed baking sheet and bake for 7 to 10 minutes. Cool completely before using in this recipe.
make dough
Add butter, sugars, and salt to the bowl of a stand mixer fitted with the paddle attachment. Beat until fluffy, about 3 to 4 minutes. Add cream and vanilla, beating until just combined.
Slowly add heat treated flour as the mixer is running, beating until combined. Fold in chopped chocolate chips.
Use a spoon to scoop out the dough 1 1/2 to 2 Tbsp at a time. Roll into balls. Make sure that each ball is round and smooth. This will make them look good, but also make them pretty and smooth if you dip them in melted chocolate. Place the rolled balls on parchment paper.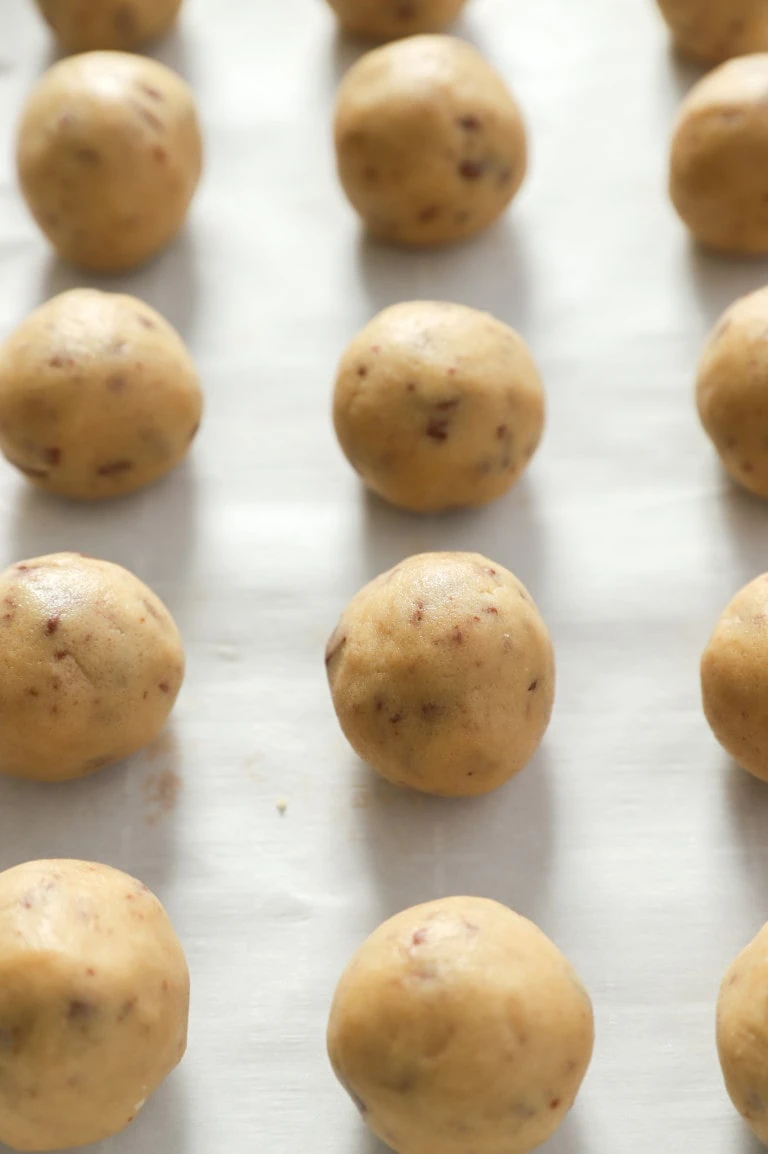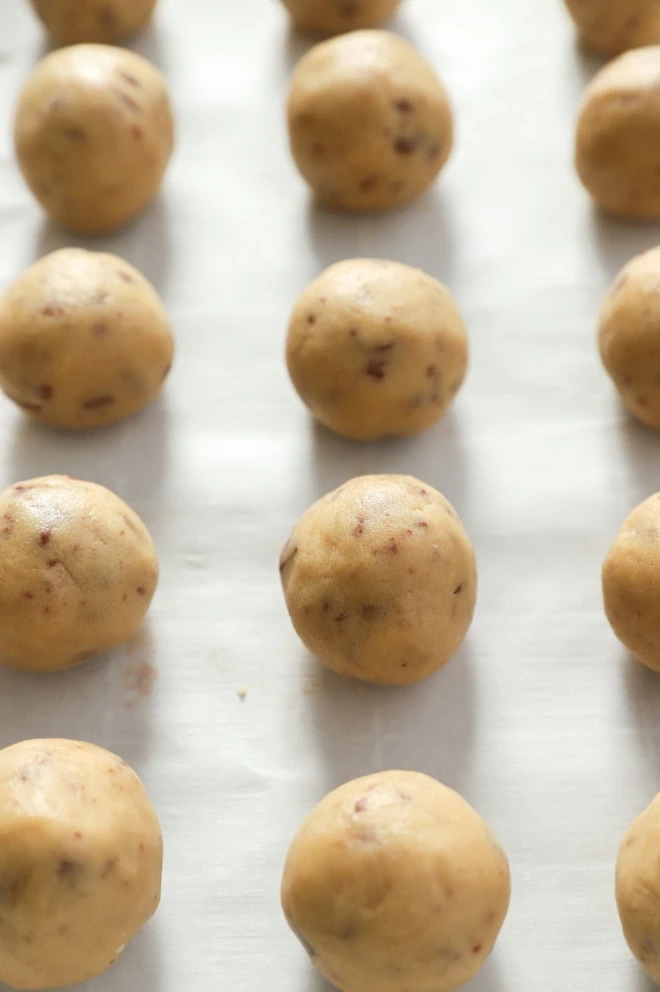 add chocolate
If using chocolate to coat, place dark chocolate chips in a microwave safe bowl and microwave in 30 seconds intervals, stirring between each, until melted.
Dip the cookie dough truffles in the chocolate to coat and place on the parchment paper after letting the excess drip off.
If you prefer to drizzle the chocolate, pour melted chocolate into a small ziploc bag, seal bag and cut off the tip. Drizzle chocolate over tops of truffles.
Place truffles in freezer for 5 minutes until the chocolate is set.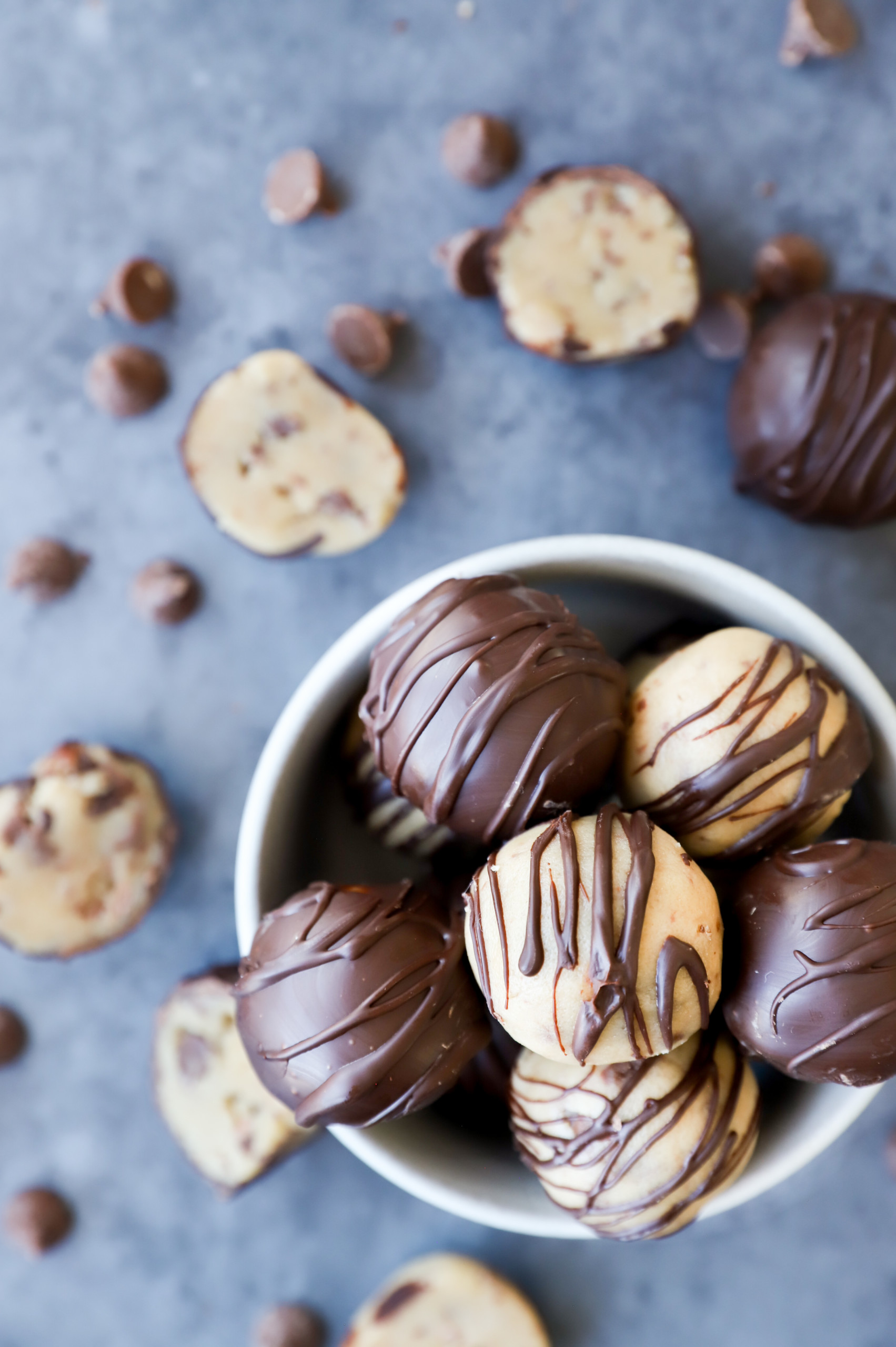 tips for success
make sure they aren't too dry. If the cookie dough isn't easy to roll into balls and is crumbly, you will need to add more heavy cream or milk. Start by adding 1 teaspoon at a time until the mixture is no longer dry.
experiment with different chocolate. Try using chopped dark chocolate in the dough instead of milk chocolate! Coat the cookie dough bites in milk chocolate or white chocolate.
make them ahead of time. These cookie dough bites are ideal for a party and are easy to make well in advance. They last for up to 7 days in an airtight container in the refrigerator! You can also freeze them for up to 3 months as well.
heat treat in the microwave. If you are short on time, you can heat treat the flour in the microwave. To do so, add the flour to a microwave-safe bowl. Place in the microwave and heat on high for 60 seconds. Stir the flour together to evenly distribute the heat. Microwave for another 60 seconds, then let cool before using in the recipe.
Got a craving for cookies? Peanut Butter Oatmeal Cookies | Sea Salt Pistachio Dark Chocolate Cookies | Easy Pantry Cookies | Lemon Lavender Shortbread Cookies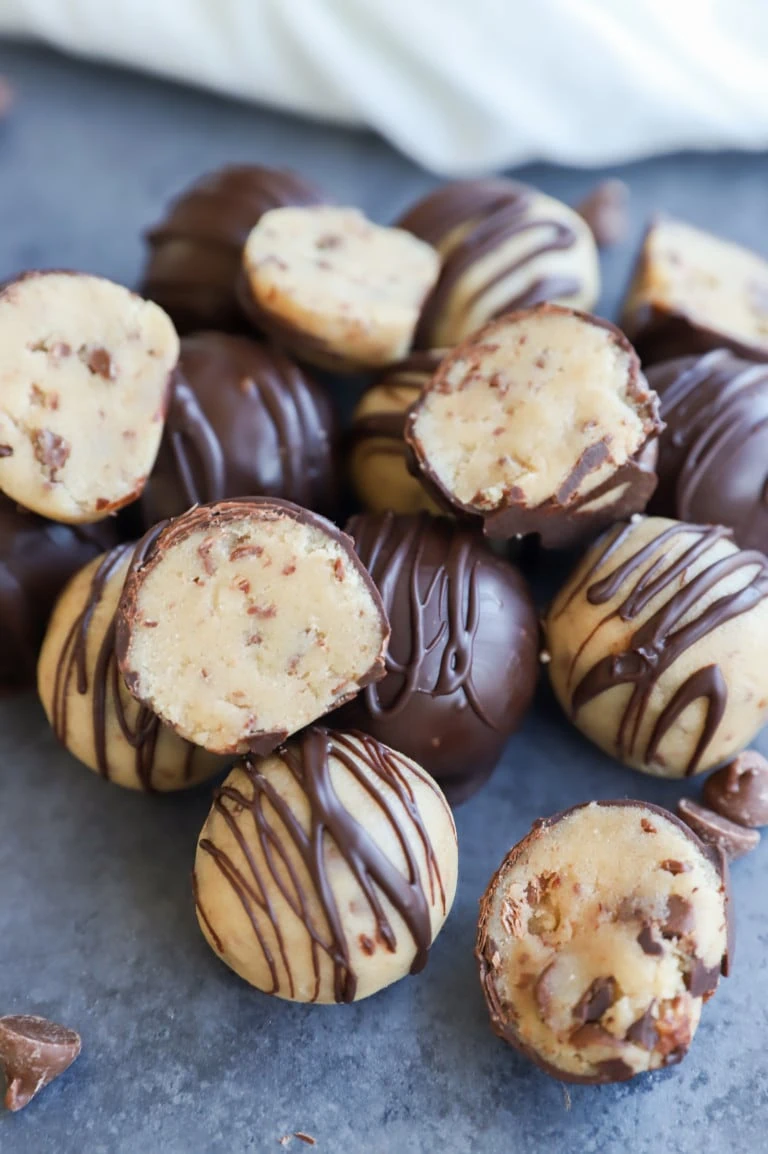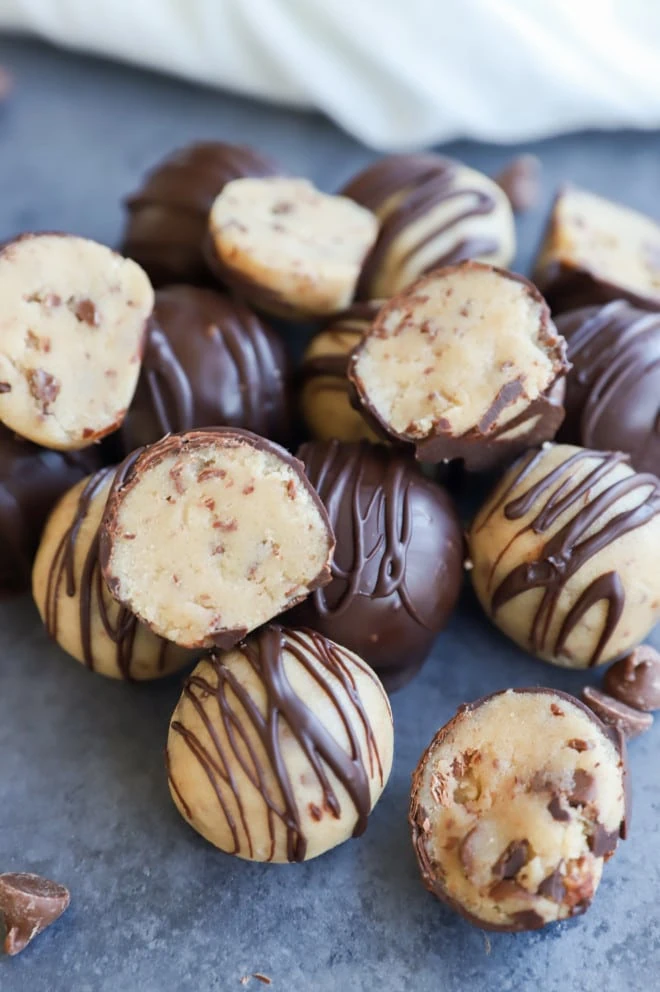 do I have to use chocolate chips in them?
You can skip the chocolate chips, if you prefer. Instead of chocolate chips, you could use chopped nuts or sprinkles.
can I skip dipping them in chocolate?
You certainly can! These cookie dough bites can be consumed without any added chocolate coating or chocolate drizzle if you would like. Just form them into balls and enjoy.
I do recommend placing the balls in the refrigerator after forming them for about 5 to 10 minutes to firm up a little bit if you are not dipping them in chocolate. The warmth from your hands when you roll the dough into balls will soften the bites. Therefore, it's nice to let them firm back up a bit before enjoying them so they don't fall apart in your hands.
If your cookie dough is dry, you likely added too much flour. Make sure that you are measuring your flour properly by spooning it into your measuring cup! You can add a little more heavy cream to thin it out if needed to make the texture moist again.
do I have to heat treat the flour?
Yes, this is the best way to ensure that the cookie dough bites are safe. Heat treating kills any bacteria that may be present in the raw flour. Bacteria can form from the harvesting and manufacturing processes, so this is the safest way to make sure the cookie dough is ok to eat. I do not recommend skipping this step!
They certainly can! All you have to do is use vegan ingredients like vegan milk, vegan butter, and vegan chocolate instead of the dairy products. This will make the cookie dough bites vegan and safe to consume for anyone who is vegan.
do I have to refrigerate these bites?
Yes, you should store the leftover cookie dough balls as instructed below in an airtight container in the refrigerator. This will ensure that they will stay fresh for multiple days!
If they are too firm when you remove them from the fridge, you can let them sit at room temperature for about 10 to 15 minutes to allow them to soften up a bit.
Need more inspiration for dessert? Check out my desserts recipe page!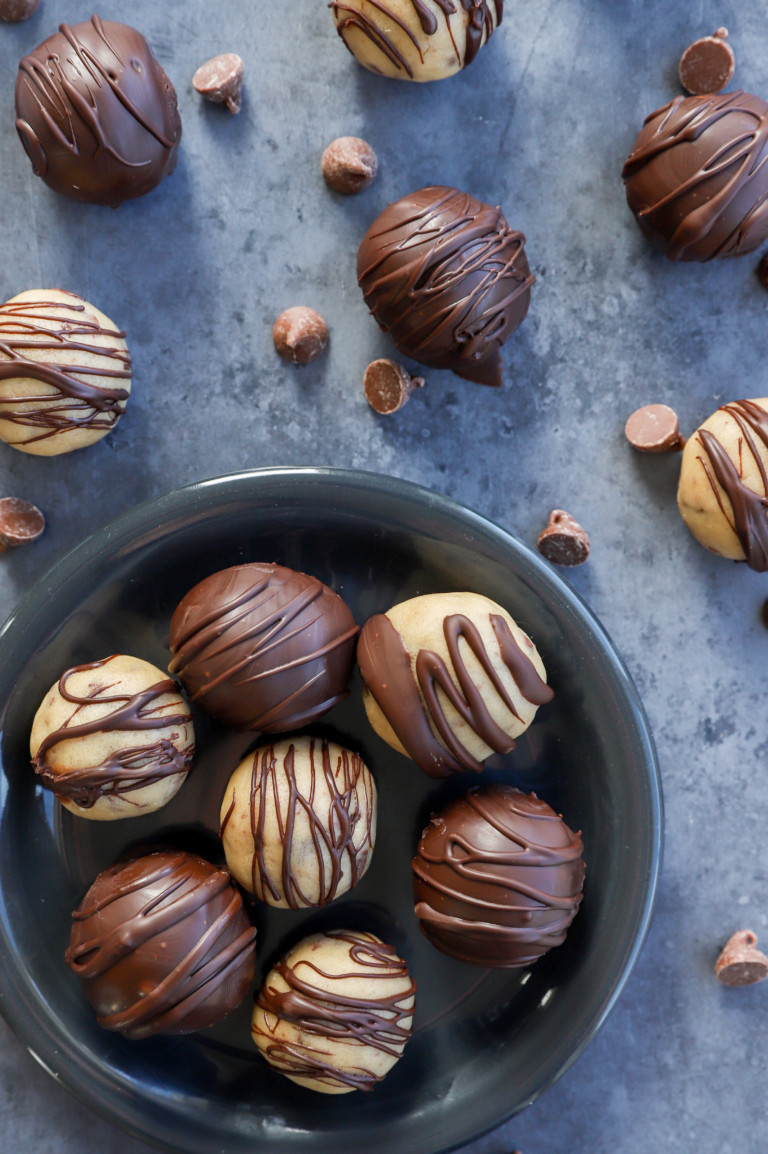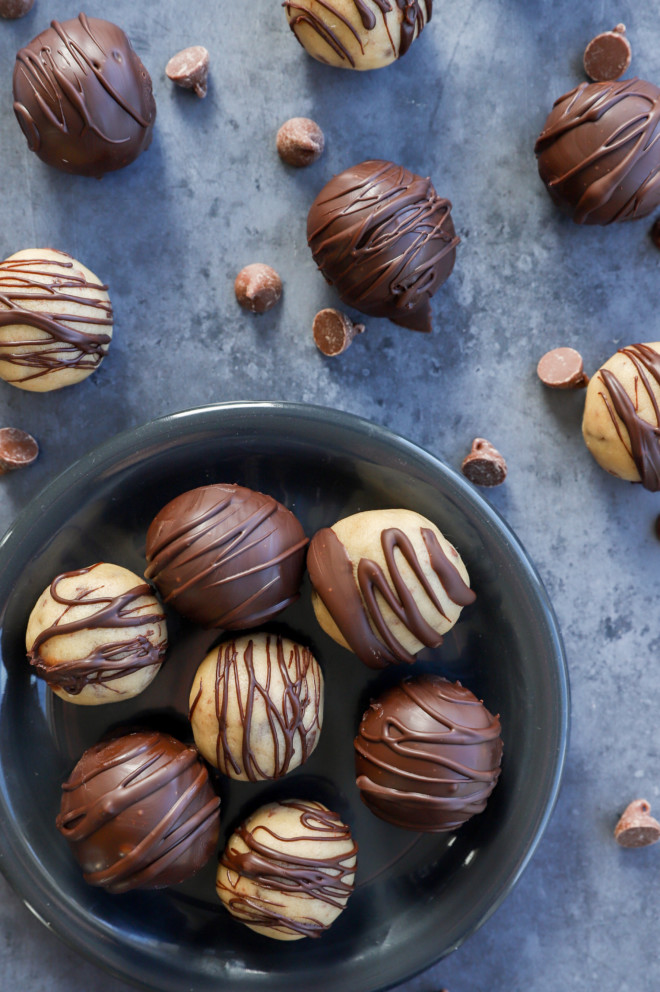 how to store and reheat
Store. Store cookie dough balls in an airtight container for 5 to 7 days in the refrigerator. I like to stack mine between sheets of parchment paper to prevent them from sticking to each other.
Freeze. To freeze, form the cookie dough into balls. I do not recommend dipping them in chocolate if you are planning to freeze them. Freeze until solid, about 2 to 3 hours, on a sheet pan in an even layer. Once frozen, store in an airtight container in the freezer for up to 3 months.
Thaw. Thaw at room temperature for 1 to 2 hours before eating them.
Finally, if you make this cookie dough bites recipe, please be sure to give this recipe a rating or leave a comment! I love to hear when you all make recipes, and I do take the time to respond to every single comment. Feel free to drop questions below too, if you have them!
Oh and be sure to tag me on Instagram if you make the recipe! I love being able to see these recipes come to life in your homes – it's my favorite thing to look through those photos. It really means the world to me!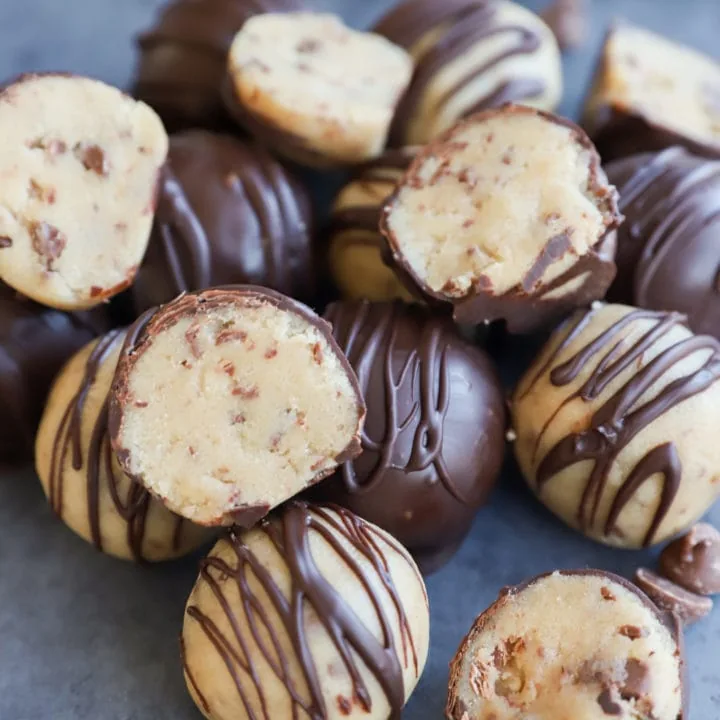 Cookie Dough Bites
This tastes just like your favorite chocolate chip cookie dough, but without the eggs!
Ingredients
1/2 cup unsalted butter, softened
3/4 cup packed light brown sugar
1/3 cup granulated sugar
1/4 tsp salt
3 Tbsp heavy cream
1 tsp vanilla extract
1 1/2 cups all-purpose flour
1/2 cup milk chocolate chips, chopped (the idea is to get them about half the size of the chips or smaller)
1/3 cup dark chocolate chocolate chips, melted*
Instructions
In the bowl of an electric mixer, beat butter, brown sugar, sugar and salt until fluffy, approximately 3 - 4 minutes. Beat in cream and vanilla extract. Gradually add in flour and mix until just combined. Fold in chopped chocolate chips.
Scoop dough out 1 Tbsp at a time and roll into balls. Place on parchment paper.
Place 1/3 cup dark chocolate chips in a microwave safe container and microwave in 30 seconds intervals, stirring between each, until melted. Dip half of the cookie dough balls in the chocolate to coat them. Place on a parchment paper lined baking sheet. Use the remaining melted chocolate to drizzle over the remaining cookie dough bites. I just use a spoon to drizzle the chocolate!
Place truffles in freezer for 5 minutes until the chocolate is set.
Notes
*You can also use milk chocolate if you prefer!
Recommended Products
As an Amazon Associate and member of other affiliate programs, I earn from qualifying purchases.