A Jim Beam® Apple and Soda is just about the easiest cocktail you can come by. All the delicious fall apple harvest flavor of the liquor comes through in every sip! Plus it only requires two ingredients… but it sure doesn't taste like it.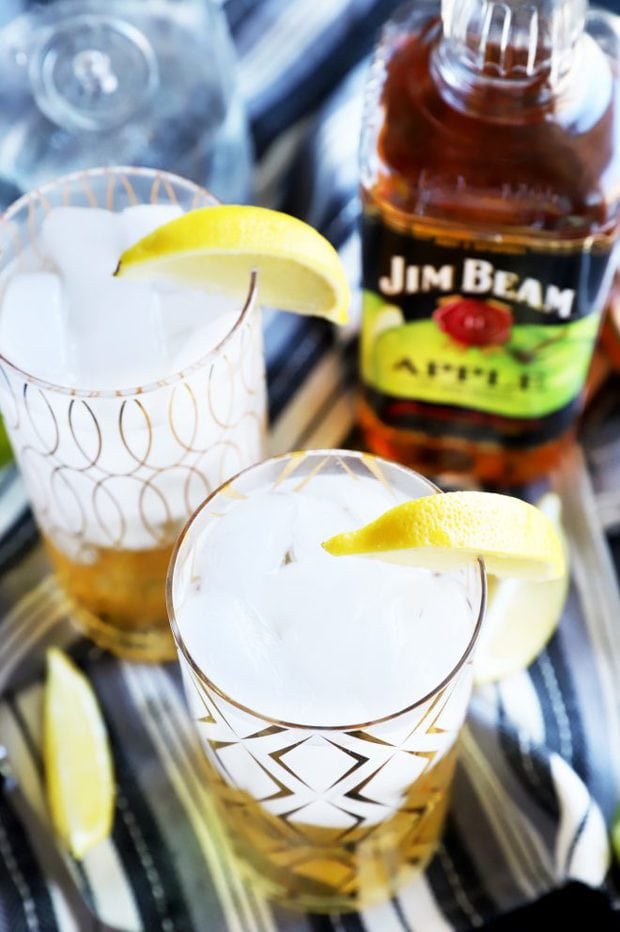 Disclosure: This post has been sponsored by Jim Beam and Drizly! As always, all opinions are my own. Thank you for supporting the brands that support Cake 'n Knife!
Two ingredient cocktails don't always stand out in a crowd, you know? However, when it comes to using bourbon, I never get tired of two ingredient combinations. Maybe it's just because I'm a bourbon kinda girl. Or perhaps it is because Jim Beam® Apple packs a wallop of flavor!
If you haven't heard of Jim Beam® Apple before, it is an apple liquor with bourbon.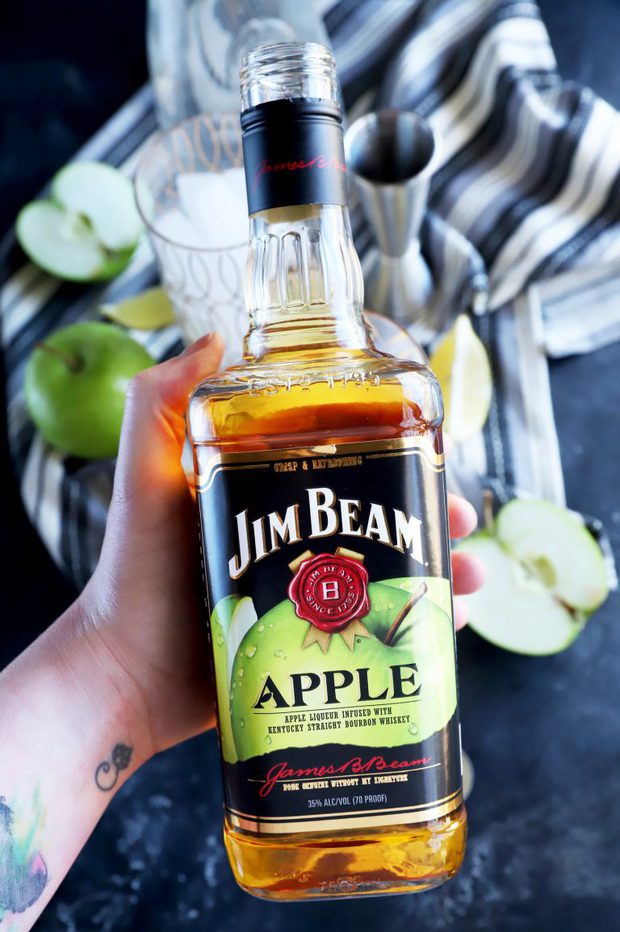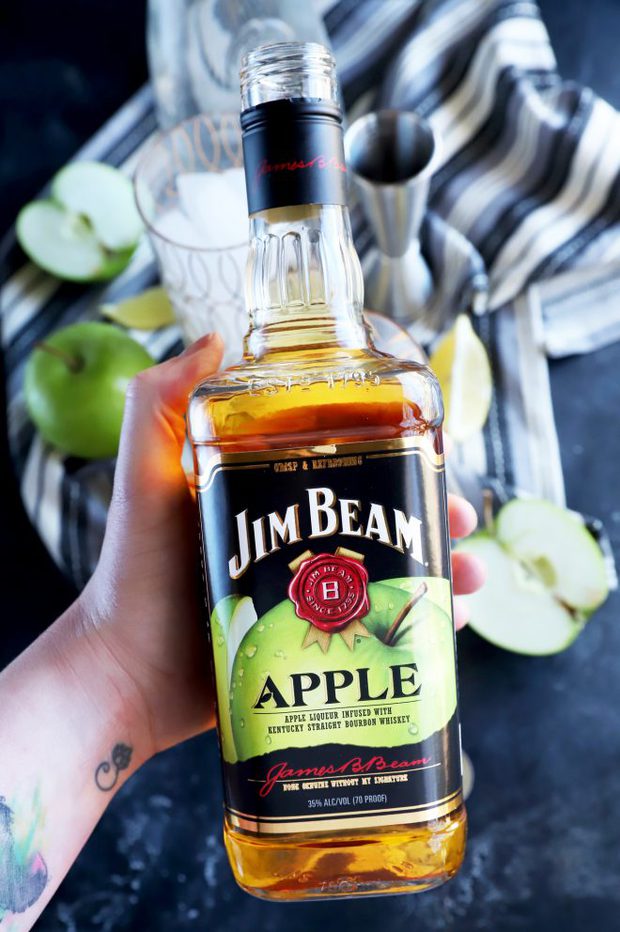 What does this mean? Well, it's a really smooth spirit, but it's totally different than anything else you will taste. The flavor is juicy, but the apple isn't overpowering. The best part is that Jim Beam® Apple isn't super sweet.
Nothing gets to me more than a spirit that is way too sweet. I never know what to do with it! There's no worry of that here though. This liquor is rich from its bourbon base, so whiskey fans can rejoice in its flavor.
Not to mention it makes a killer cocktail.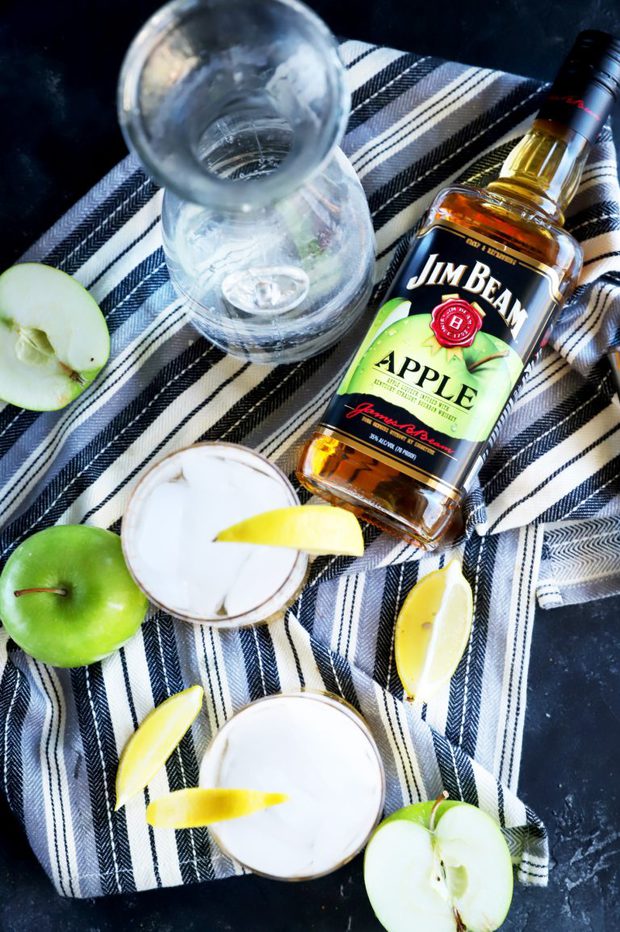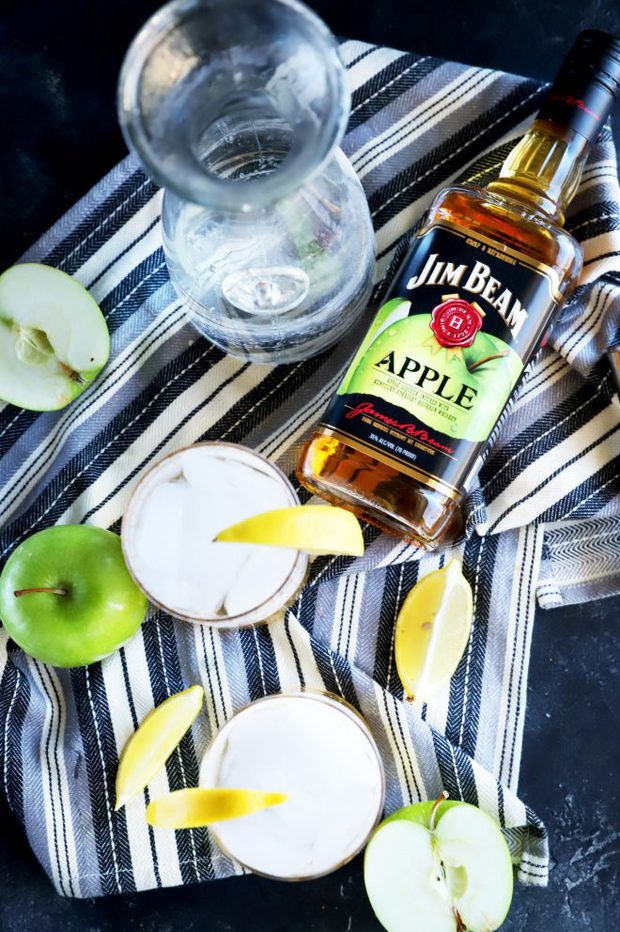 Whiskey and soda is something that the Man and I always enjoy. When we were in Japan, you all know how much we fell in love with the highball. This Jim Beam® Apple and Soda is kind of a twist on that.
There are many variations of the highball, but one of my favorites is when it is made with soda water instead of ginger ale. Sometimes ginger ale can get too sweet, and I really want to enjoy the flavor of the whiskey (or bourbon!).
With this recipe, you get a juicy apple twist that is so refreshing! It's ideal for any cocktail hour, but it really stands out at parties because it takes no work to make. I like to set the ingredients out with a framed print of the recipe so guests can make their own. With a simple 2 to 1 ratio of soda to booze, everyone can choose just how large of a drink they'd like to make for themselves.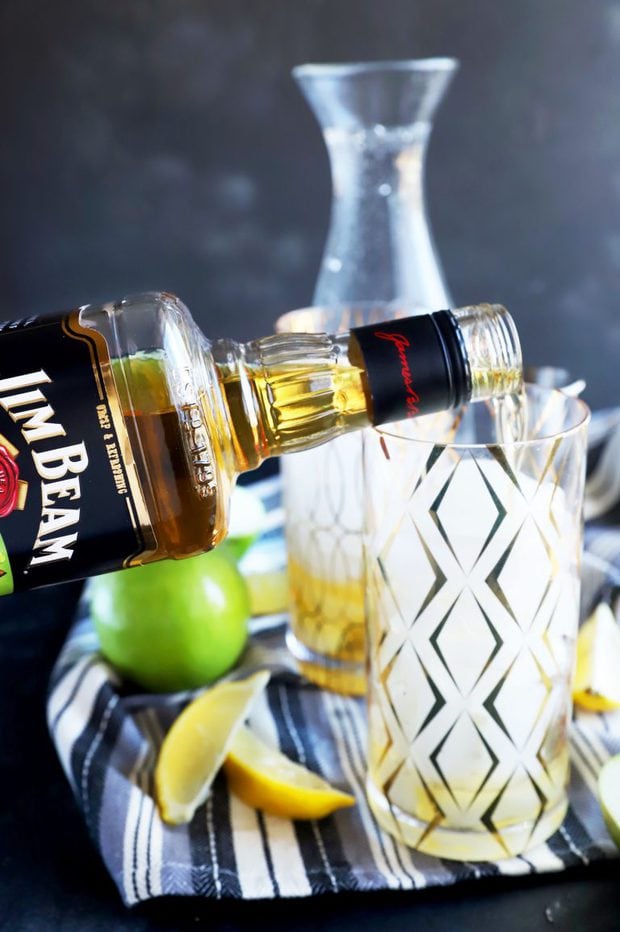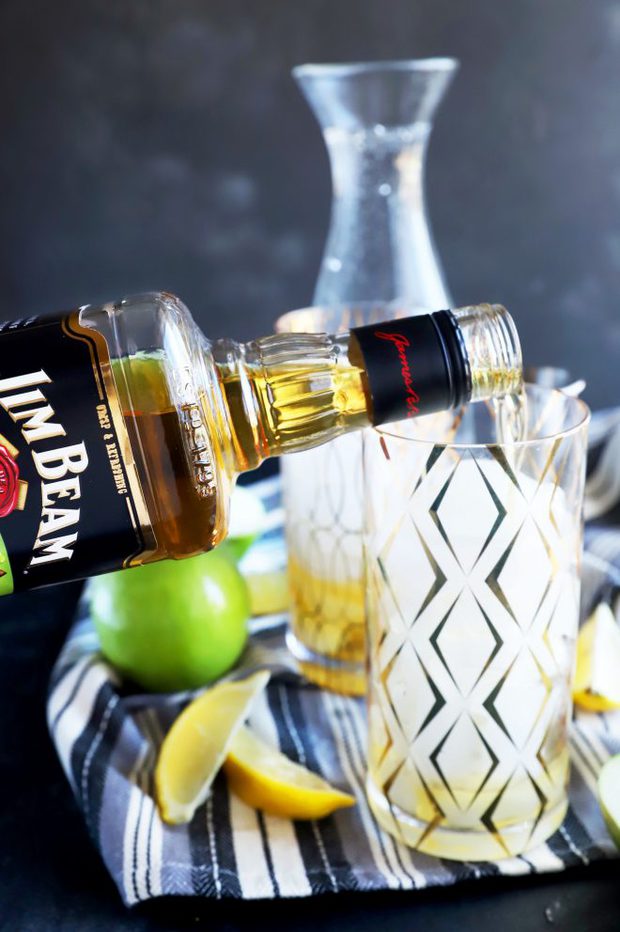 This Recipe's Must-Haves
Obviously, you need a bottle of Jim Beam® Apple, which you can find on Drizly. If you are planning for a party, be sure to get a few!
This cocktail is meant to be built in a highball glass. These are not the ones you see pictured here, but they are just as gorgeous!
If you are setting up a station for guests, make sure you have plenty of jiggers and cocktail spoons for them to use.
I like to cut up the lemon wedges before making the cocktail with my favorite paring knife and cutting board. For a party, simply set them in a bowl with toothpicks for easy access.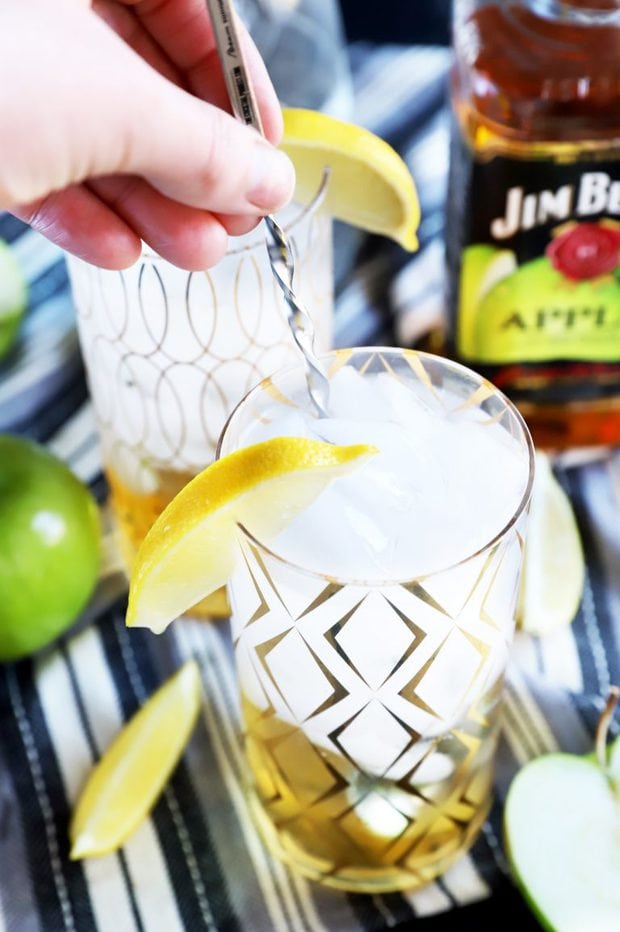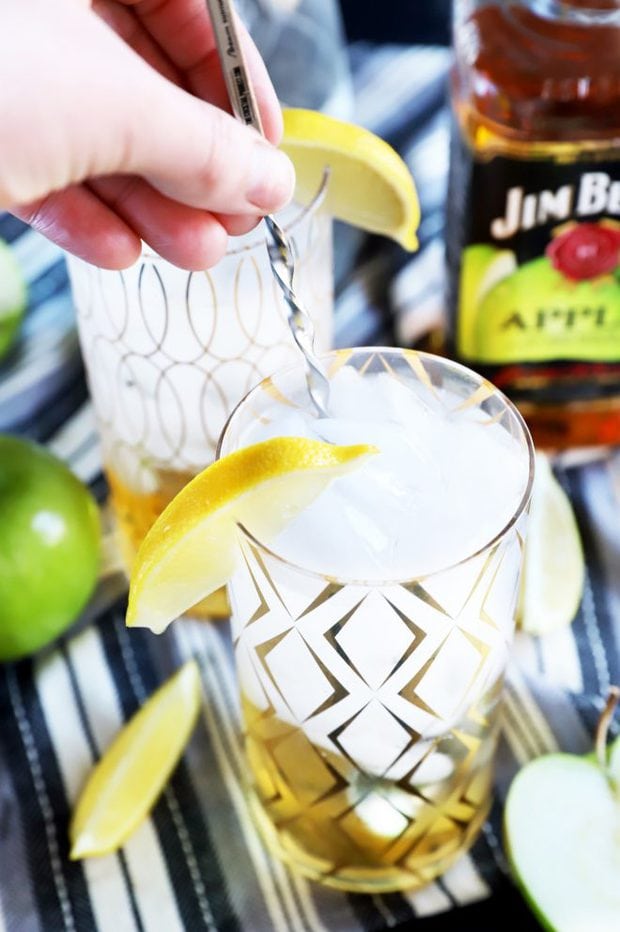 How To Make A Jim Beam® Apple and Soda
Measure Liquids
This is the easiest cocktail ever, because it only requires two ingredients, a slice of lemon, and ice. First start with measuring out the spirit and soda water. Then layer these ingredients in a highball glass over ice.
Stir
Give the mixture a quick stir. You don't need to stir it a lot, just a quick spin of the cocktail spoon.
Garnish
Garnish with a wedge of lemon and you are ready to serve! See? I told you it was easy…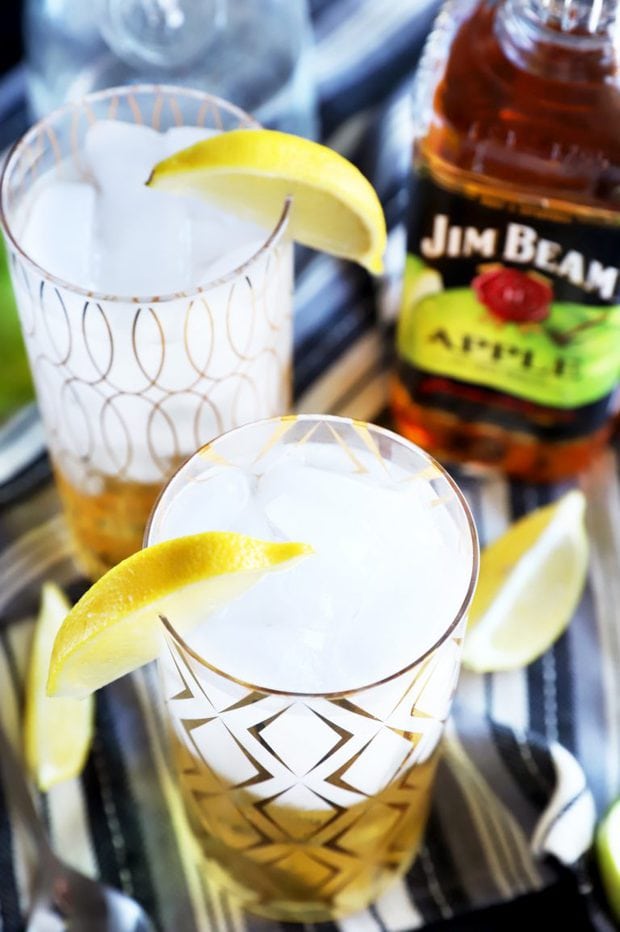 What goes with Jim Beam® Apple?
If you want to try some new combinations with Jim Beam® Apple, the possibilities are endless. Here are my three favorites though.
Use this recipe, but instead of soda water, use ginger ale. It's a more traditional highball recipe, and ginger is a great pairing.

Also related to ginger, use Jim Beam® Apple in place of your liquor for a Moscow Mule.

Use it in a warm glass of spiced cider!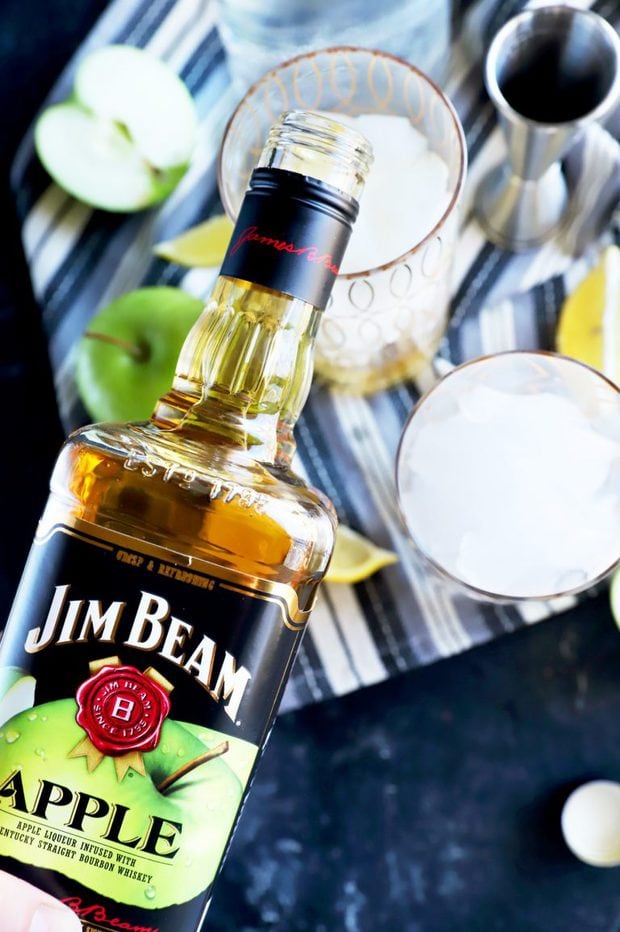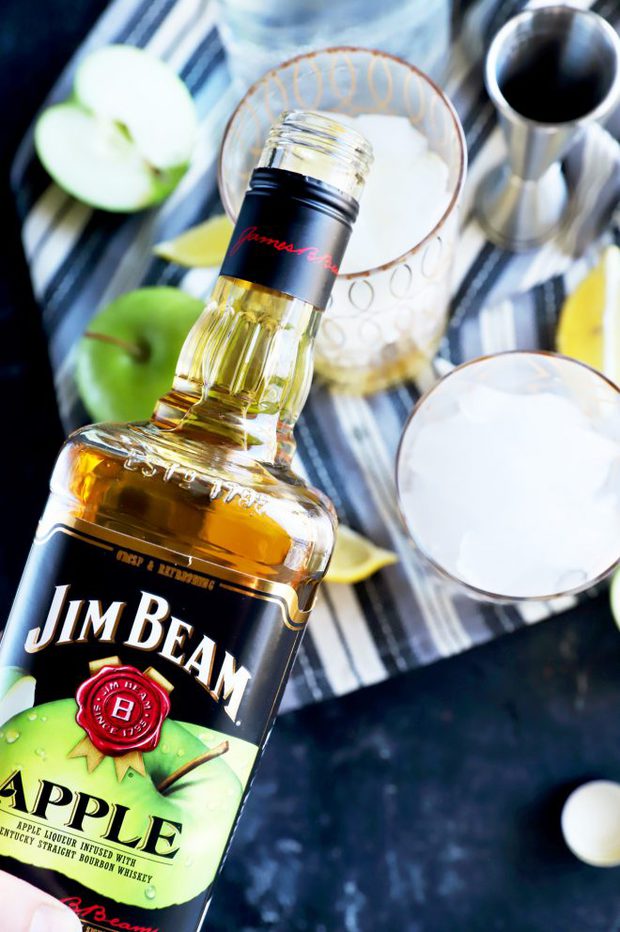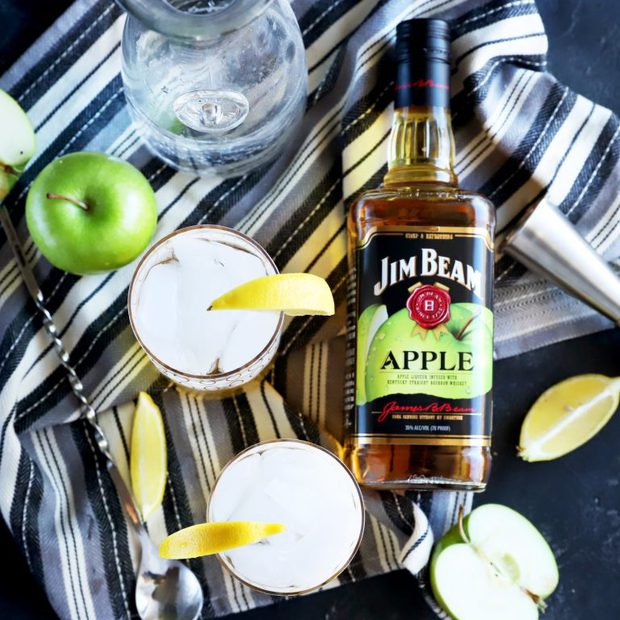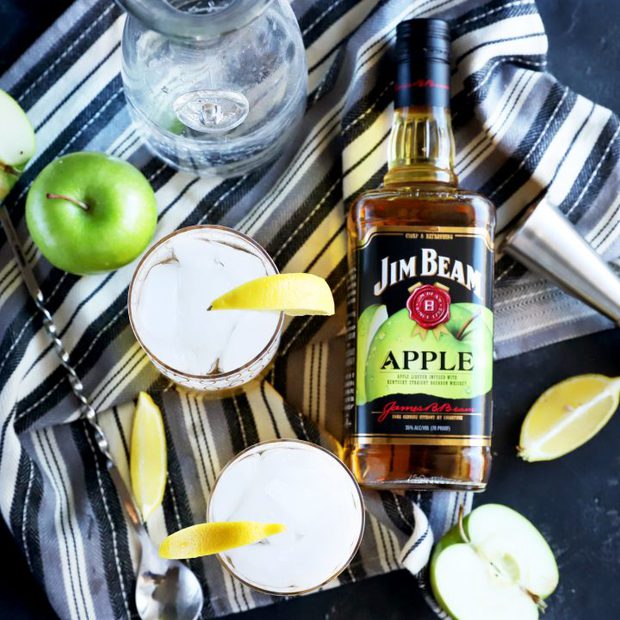 Jim Beam Apple and Soda
Crisp apple flavors infuse this simple cocktail, making it a serious standout.
Ingredients
1 part Jim Beam® Apple (Apple Liquor with Bourbon)
2 parts club soda
Lemon wedge
Instructions
Build over ice in a tall high glass.
Give the mixture a quick stir with a spoon.
Garnish with lemon wedge.
Recommended Products
As an Amazon Associate and member of other affiliate programs, I earn from qualifying purchases.