Please note this post contains affiliate links.
Tequila Lime Pulled Pork Tacos will blow your regular taco routine right out of the water. Tasty tequila and lime flavor the pulled pork with plenty of other spices, making it a savory adventure for your taste buds. Whip these up and watch everyone devour them in moments!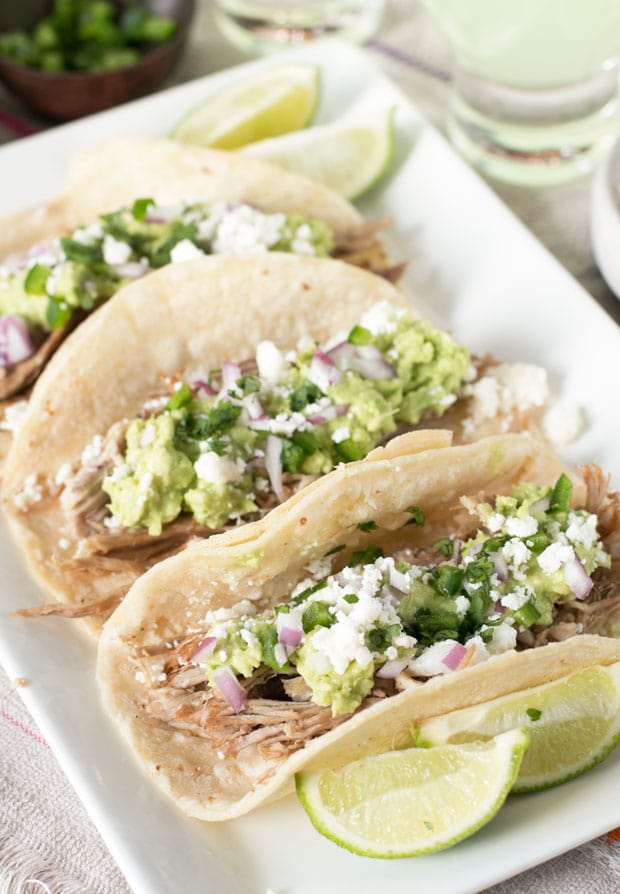 It's Friday the 13th…. SPOOKY!!!
Let's celebrate all the creepiness that is Friday the 13th with tacos and tequila, shall we?!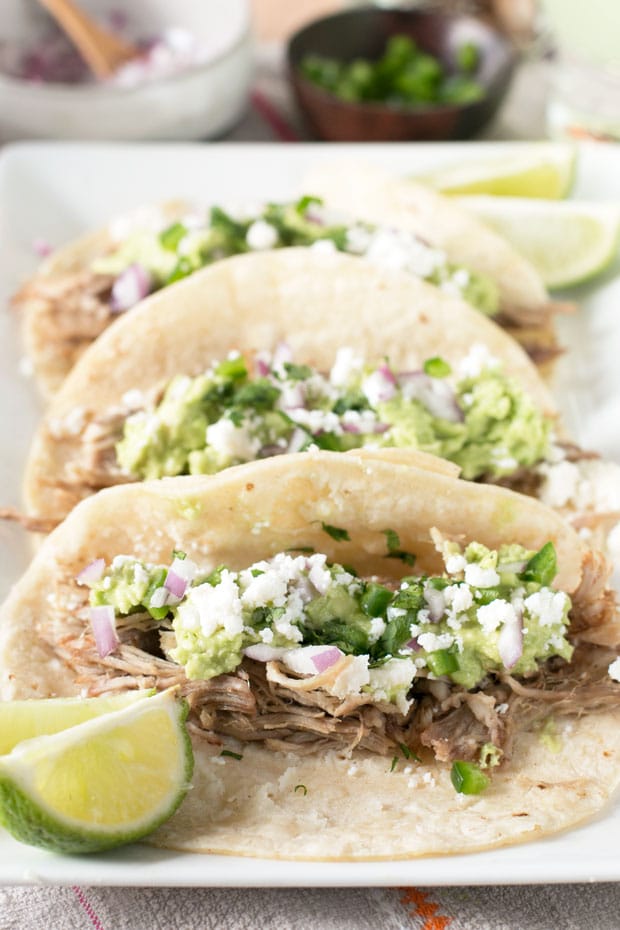 I've never really been one to believe in all that spooky Friday the 13th stuff. To me, it's just another day. Well, really it's a Friday so technically it's a magical day because it signals the end of a generally long week! Though this Friday I am hibernating with my mom for a girls' trip up in Breckenridge for some serious R&R. There's nothing like snow-capped mountains, a few margaritas, a massage and some sleep to reset your brain…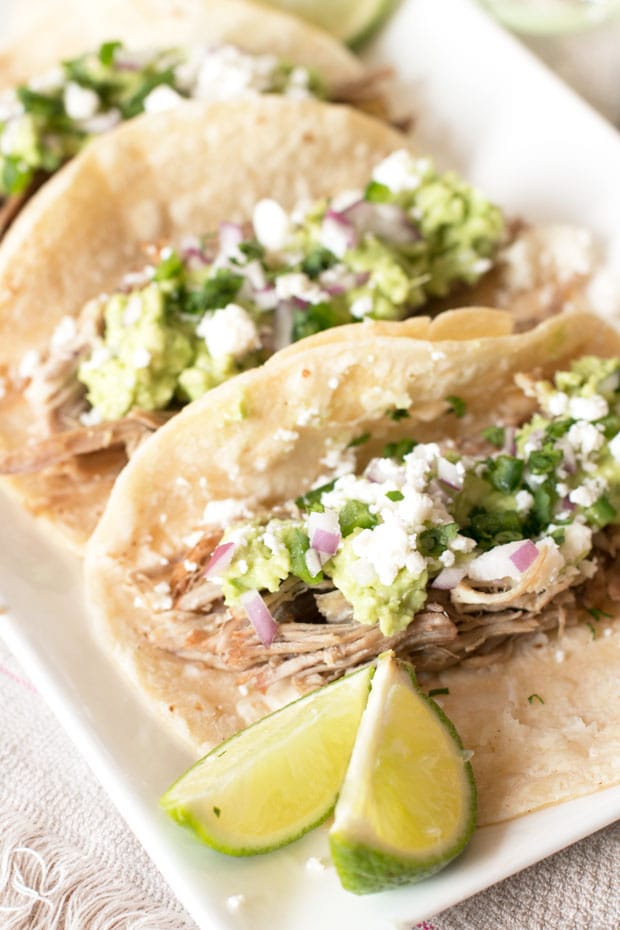 There's also nothing like tequila and tacos to celebrate the end of another week! Or to celebrate any random weeknight. Because tacos are the breathe of life.
I don't know if I've adequately shared my affinity for tacos, but holy crap do I love them. I will actively seek them out (along with any other type of Mexican food). It's my happy food. My one true comfort food.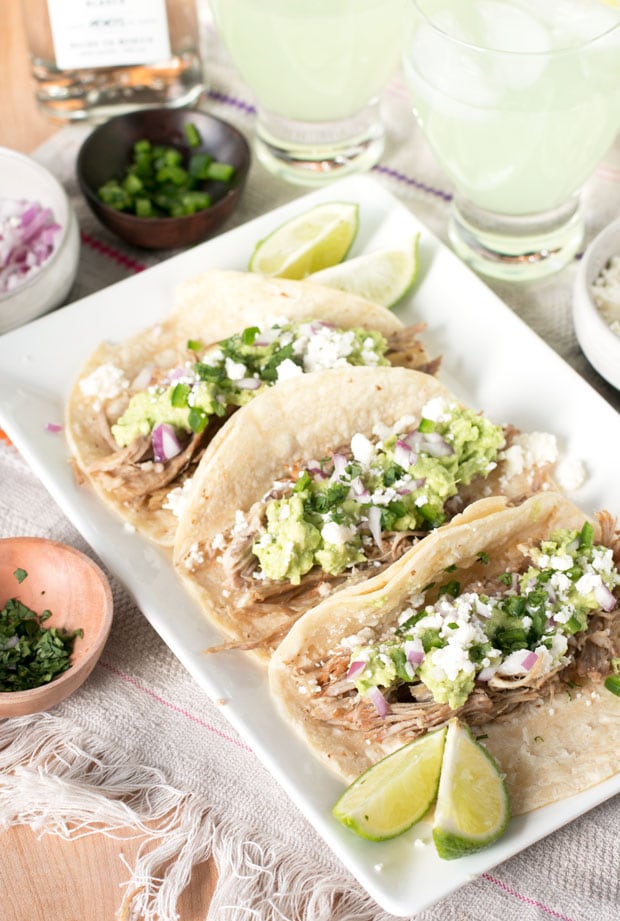 The tequila and lime in this pulled pork brings out so much flavor in the pork and the tacos. Something about the booze and the acidic lime juice makes the pork truly sing. Then you load it up with all the delicious toppings you see here and it's a spicy train headed straight for flavor town (oh yes, I actually just typed those words. For the love of all things holy, who am I turning into over here….?! I think vacation has messed with my brain a bit…)!
Besides, anything made in the slow cooker is truly the key to winning dinner on any given night. Right?
What I Used to Make This:
Pin this Tequila Lime Pulled Pork Tacos recipe for later!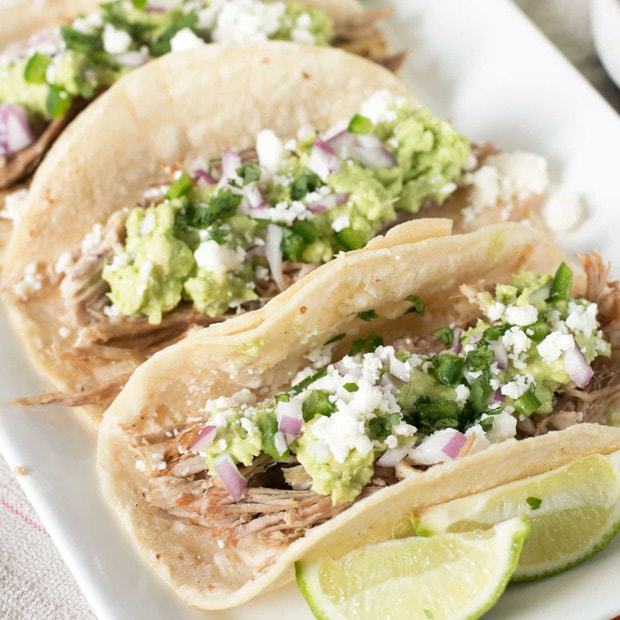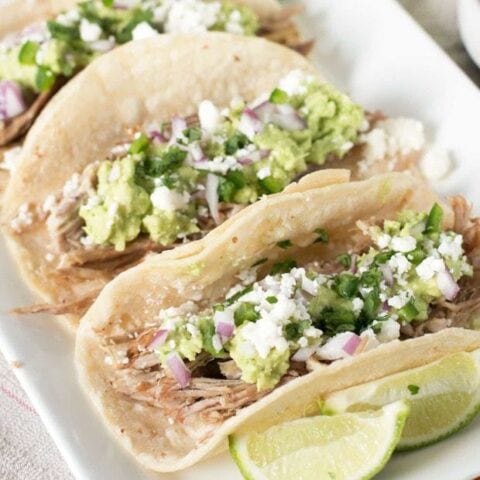 Tequila Lime Pulled Pork Tacos
Cook Time:
1 hour
30 minutes
Total Time:
1 hour
40 minutes
Boozy and full of spicy flavor, these tacos are downright irresistible!
Ingredients
Tequila Lime Pulled Pork
3 to 3 1/2 lbs pork shoulder
1 cup tequila
1/4 cup lime juice
3 garlic cloves, smashed
2 Tbsp chili powder
1/2 Tbsp ground cumin
1 tsp cayenne pepper
2 cups chicken stock
Tacos
8 to 10 small corn tortillas
1 jalapeño, seeded and diced
1/2 red onion, diced
1 avocado, mashed
Lime wedges
Crumbled queso fresco
Chopped cilantro
Instructions
Add pork, tequila, lime juice, garlic, chili powder, cumin, cayenne and chicken stock to a crockpot or pressure cooker.
Cook on high in an electric pressure cooker for 80 to 90 minutes, or for 5 to 7 hours in a slow cooker.
When cooked, remove from cooker and shred using two forks.
Serve up in corn tortillas and top with mashed avocado, jalapeño, red onion, queso fresco and cilantro. Serve with lime wedges.