Please note this post contains affiliate links.
Chipotle Braised Chicken Thighs are the kind of meal that brings everyone to the table. This smoky and spicy one-pot dish is warming and rich, making it perfect for a chilly night. Serve it up with a side of warm flour tortillas and creamy avocado for the most memorable dinner yet!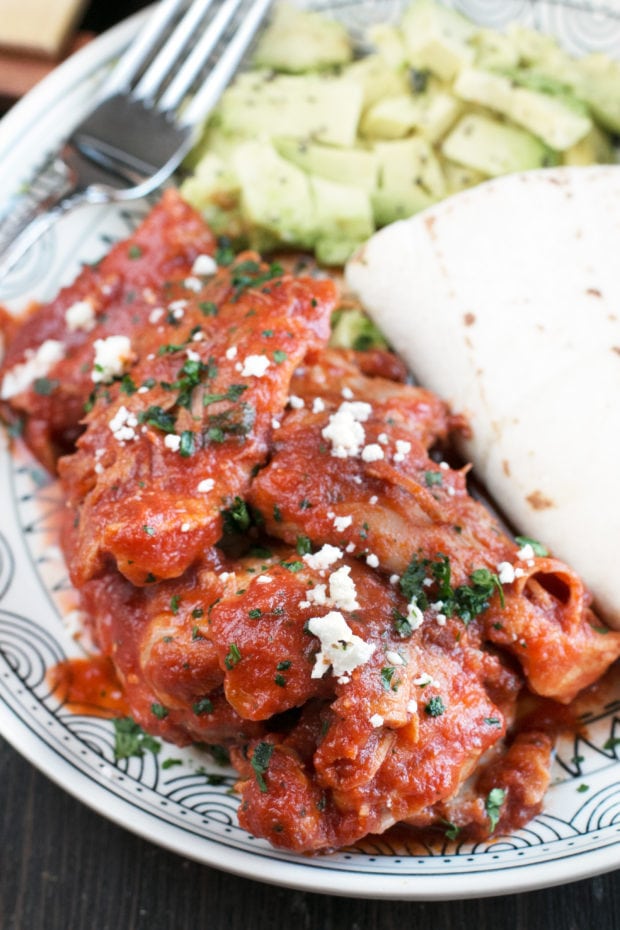 Please note that some of the links below are affiliate links. If you make a purchase through one of these links, I will receive a small commission.
This winter, I am alllllll about braising.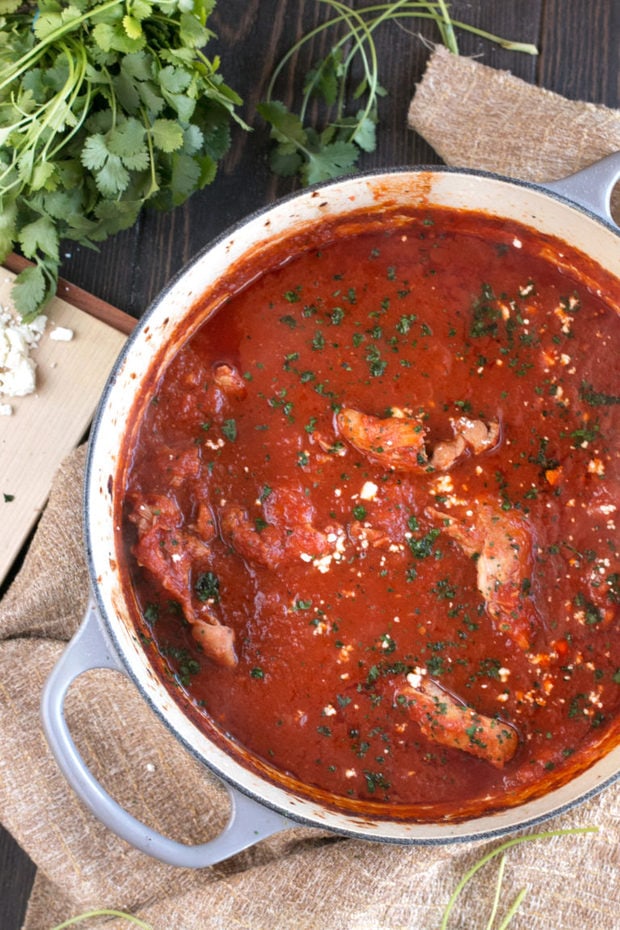 From braised short ribs to braised chicken thighs, and everything else in between, this cooking technique is just the one to warm up with during the winter.
Braising might seem a little intimidating if you've never done it before, but quite honestly it's the easiest winter cooking technique.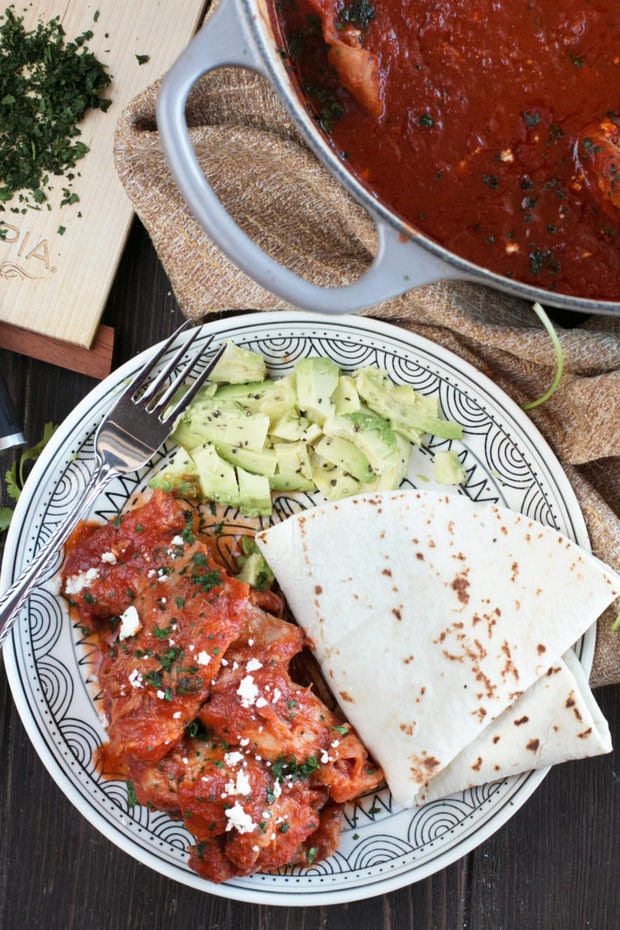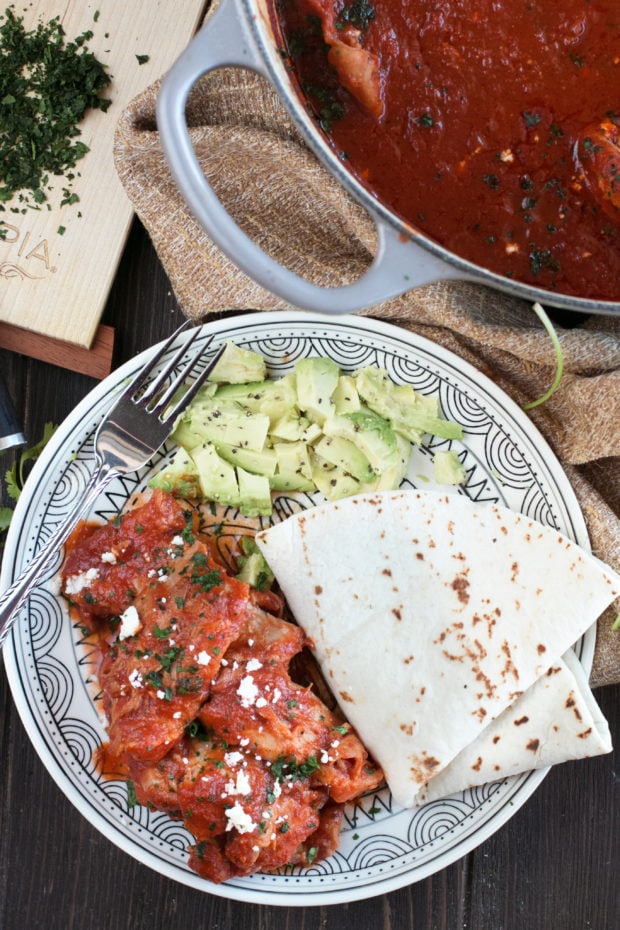 When you cook meats in a large Dutch oven with a bunch of tasty sauce, you really can't go wrong. Any meat you cook, as long as you cook it long enough, comes out deliciously juicy and tender.
Normally braising dishes take hours, but when you are braising chicken thighs, you don't need nearly as long!
That's what makes this dish so freaking incredible. You can get it from raw ingredients to the table in 40 minutes.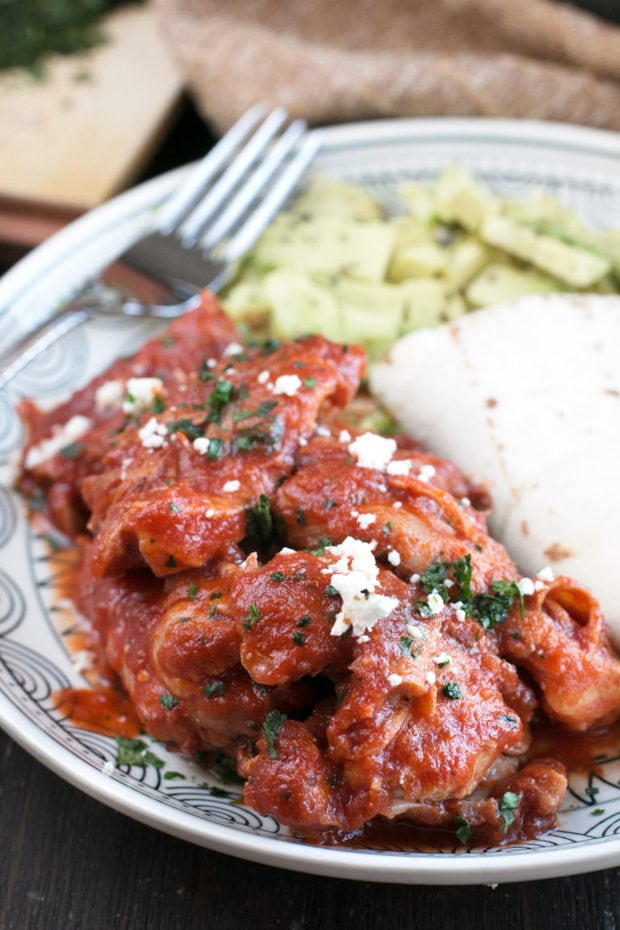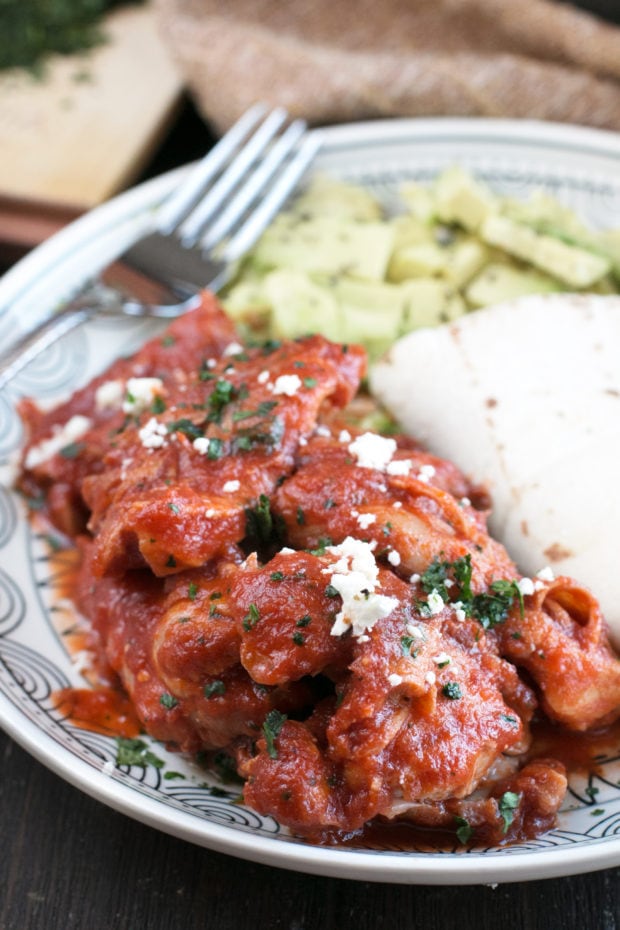 Yup, only 40 minutes.
Honestly, this is the kind of family-style meal I love to serve up not just on the weeknights, but also when I'm hosting a couple friends for dinner. You can serve this braised dish right out of the Dutch oven in the center of your dinner table.
Simply pair it with flour tortillas and creamy avocado to cut through the spice!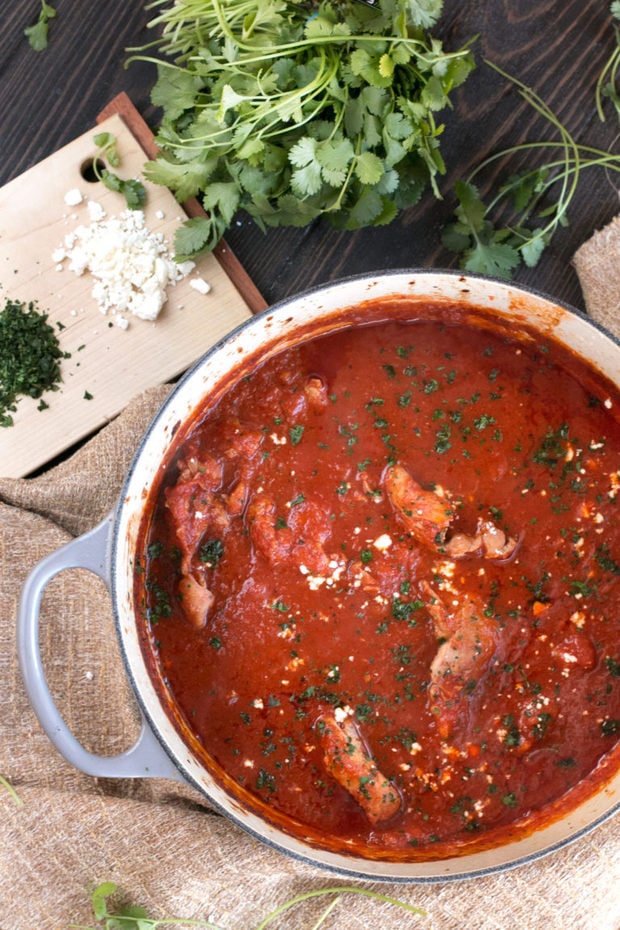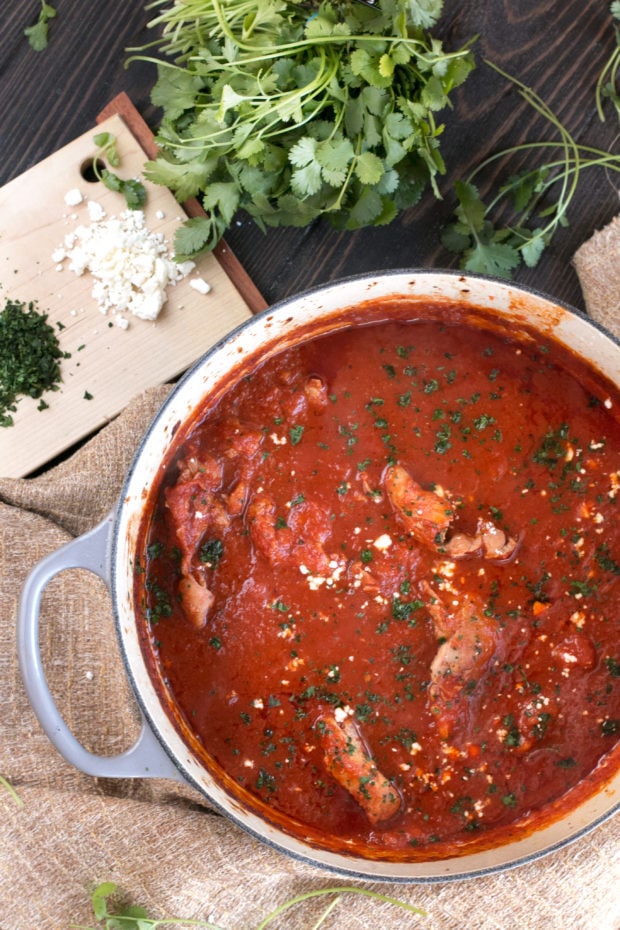 You can also serve it over rice or even with a side of mashed potatoes to give it an extra richness.
It's hearty, complex, and absolutely lovely.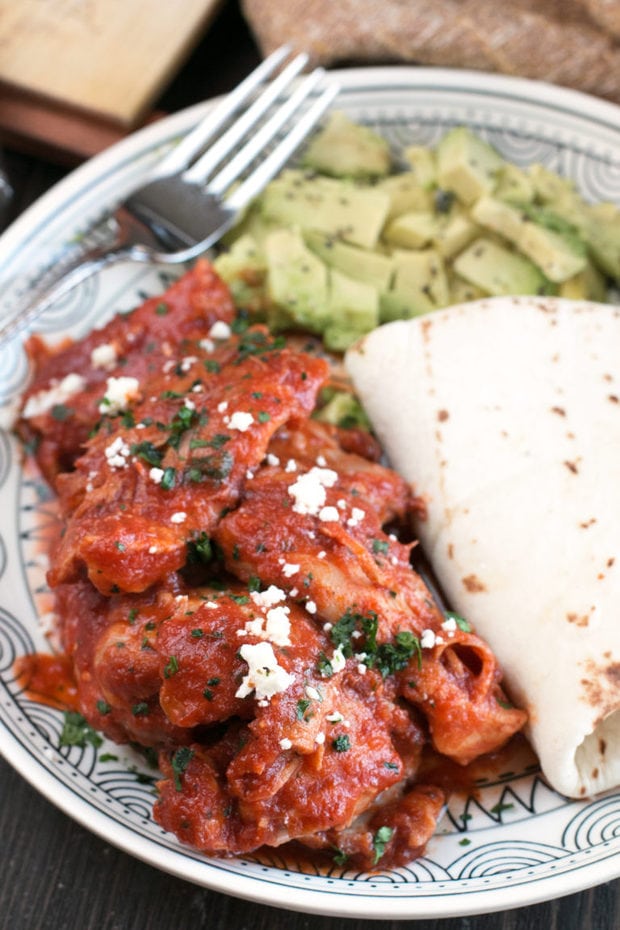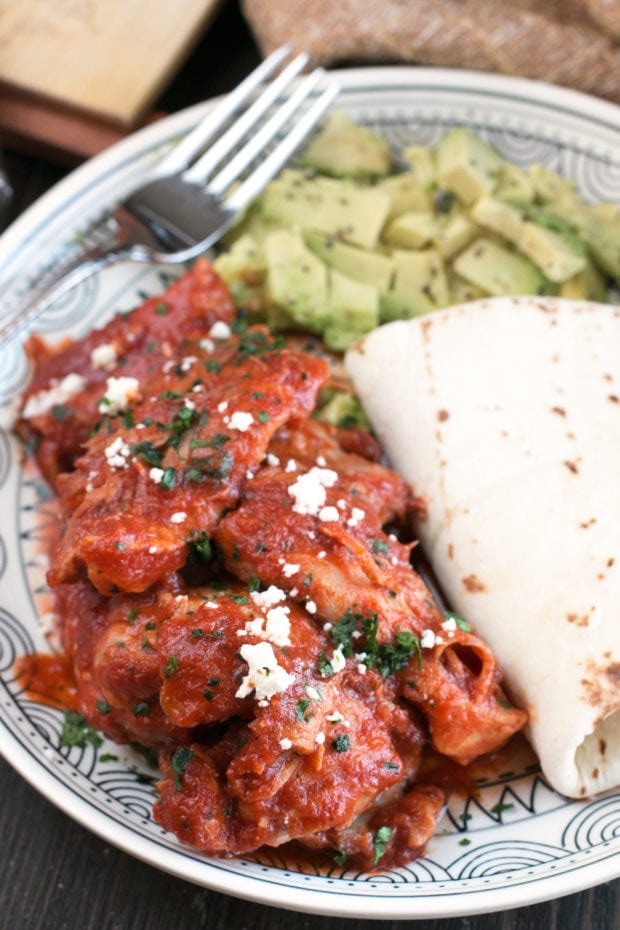 Who's hungry??? 😉
This Recipe's Must Haves
Pin this Chipotle Braised Chicken Thighs recipe for later!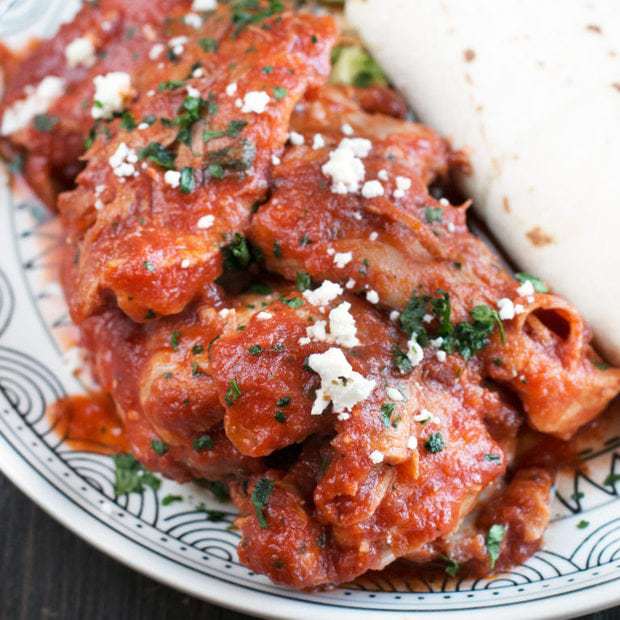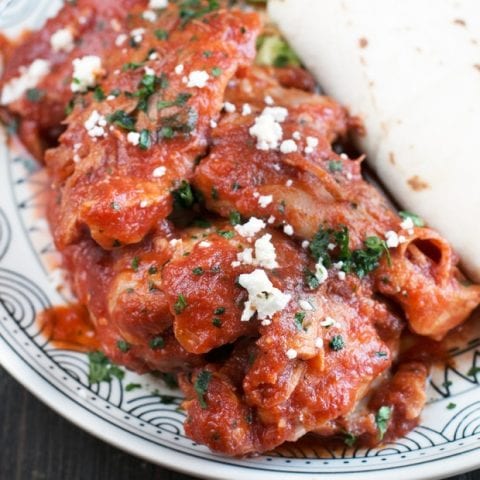 Chipotle Braised Chicken Thighs
Rich, smoky and spicy chicken thighs are an easy dinner to make and really wow a crowd!
Ingredients
One 28oz can tomato puree
1 cup chicken stock or low-sodium broth
1 cup red wine
6 chipotle chiles in adobo
1 large white onion, roughly chopped
2 garlic cloves, sliced
1 Tbsp ground cumin
1 Tbsp ground coriander
1/2 tsp cayenne pepper
2 Tbsp vegetable oil
6 skinless, boneless chicken thighs (about 2 1/2 pounds)
1/2 tsp salt
Garnish: freshly chopped cilantro, lime wedges
Instructions
Preheat oven to 425 degrees F.
Combine tomato puree, chicken stock, red wine, chipotles, onion, garlic, cumin, coriander, and cayenne in a blender. Puree until smooth.
Heat oil in a large enameled cast-iron Dutch oven over medium-high heat. Season chicken with salt. Add to Dutch oven and cook, turning once or twice, until golden, approximately 8 minutes. Remove chicken and transfer to a plate.
Add tomato sauce to the Dutch oven and bring to a simmer, using a wooden spoon to scrape up any brown bits from the bottom. Once simmering, nestle the chicken thighs into the sauce.
Place Dutch oven in the oven and bake for 25 minutes. Remove from oven and garnish with cilantro.
Serve with warmed flour tortillas, chopped avocado, and lime wedges.