There's so much cheesy goodness wrapped up in this little ramekin.
For some reason the idea to try making a souffle popped into my head a few weeks ago. I do love baking but souffles have always been that scary monster in the distance, kind of like making macarons from scratch.
Even though the souffles might have fell a couple minutes out of the oven, digging into it was beyond rewarding once I tasted the cheesy fabulousness.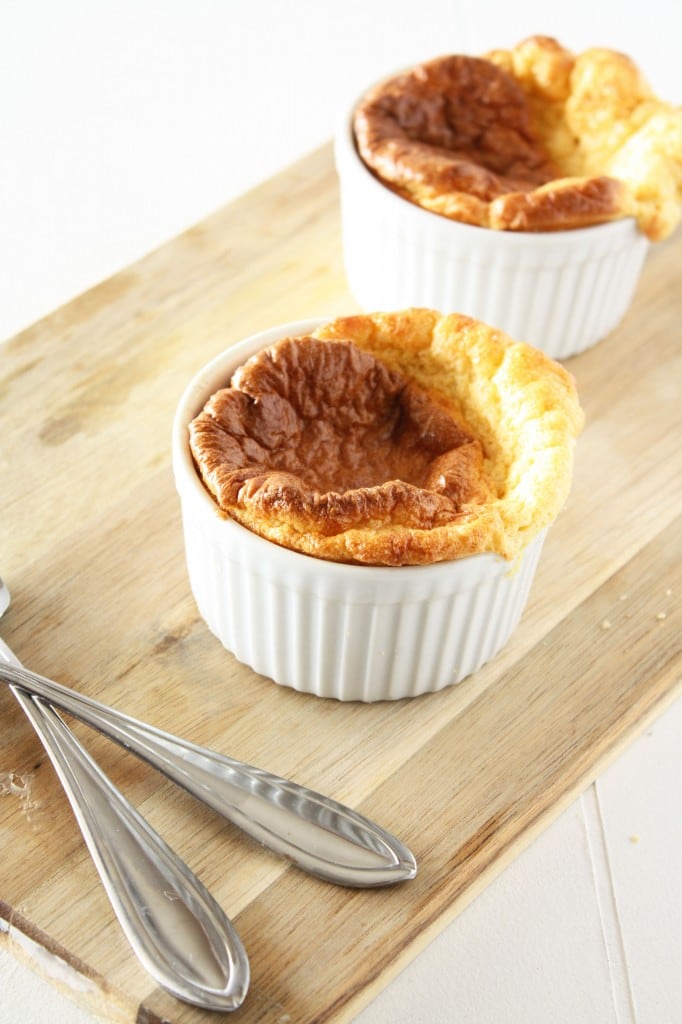 The weather is changing and I am already gravitating towards anything warm at this point. To be honest I am ready. Ready for cooler weather, sweaters, boots, chili, and pumpkin spice lattes.
This soufflé is like my fix until I get my cool weather and my snow days…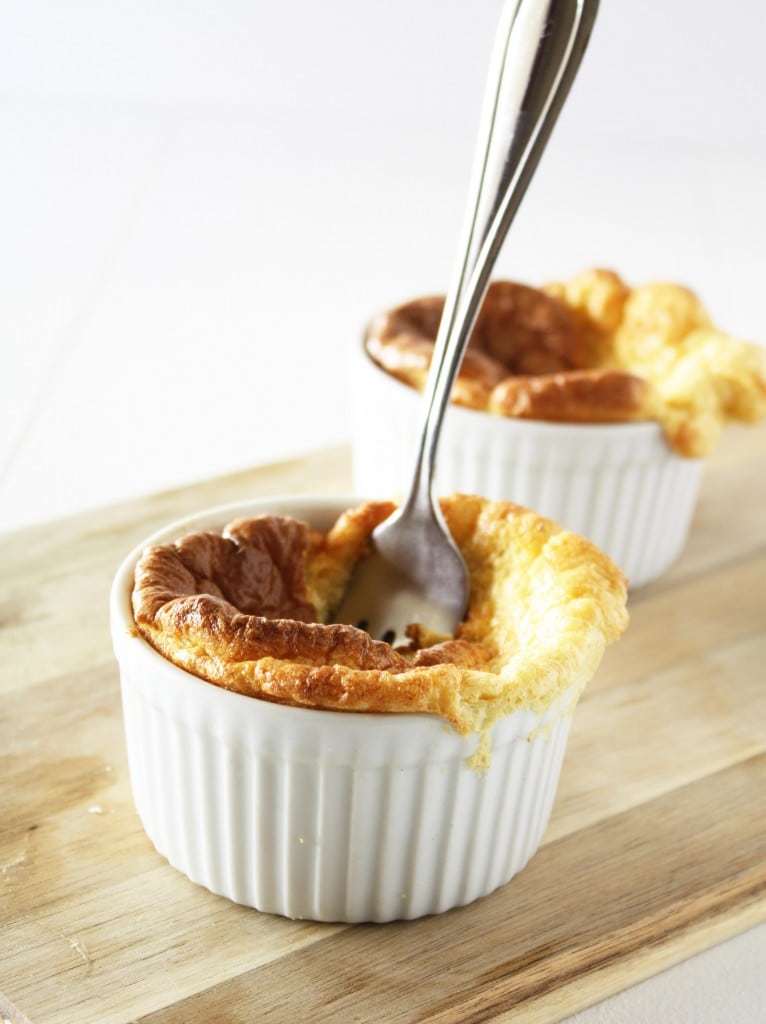 Cuddle up and enjoy!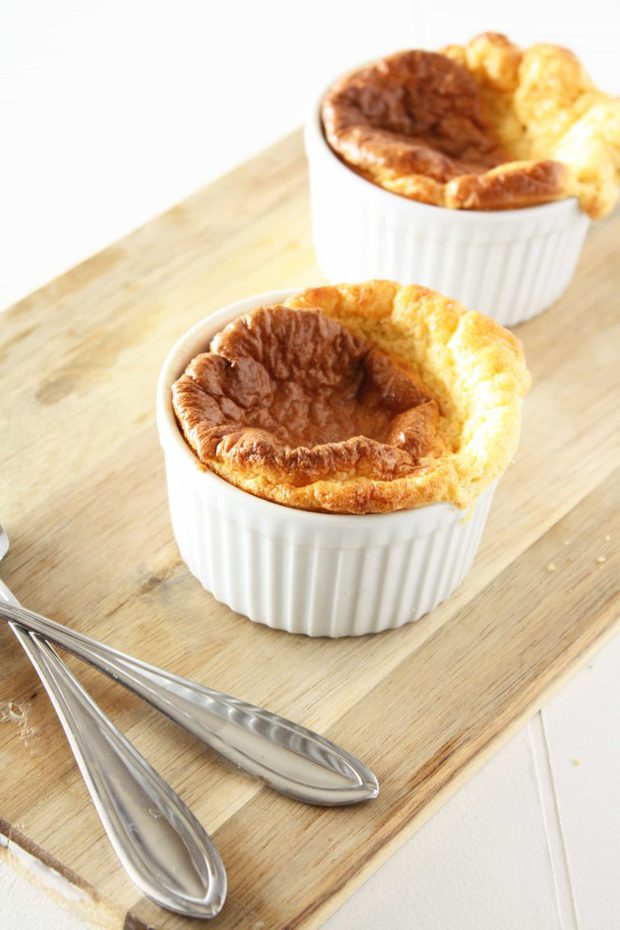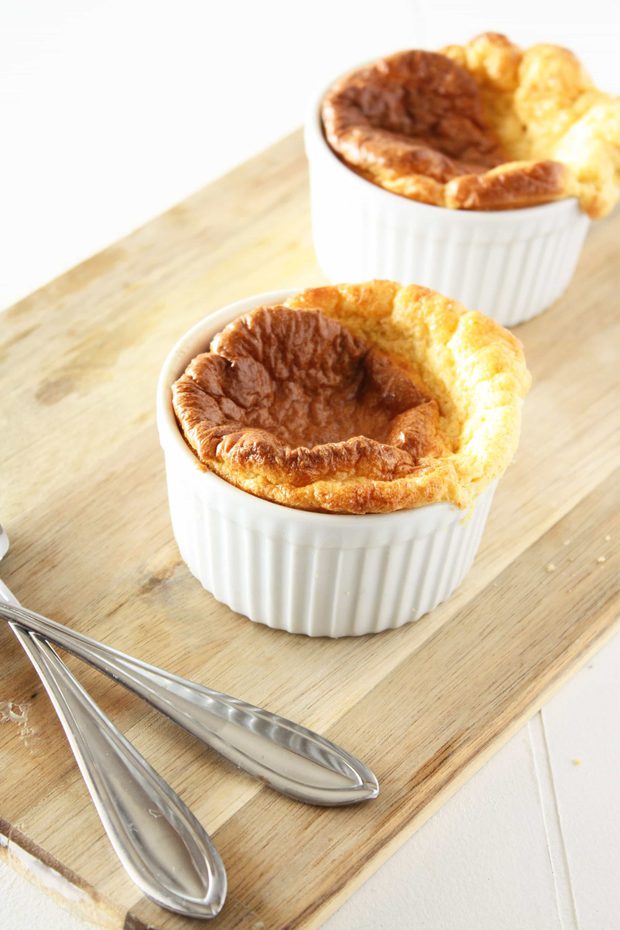 Parmesan & Gruyere Souffle
Cheesy, lighter than air souffles are a true treat.
Ingredients
1 cup whole milk
2½ Tbsp unsalted butter
3 Tbsp unbleached all purpose flour
½ tsp paprika
½ tsp salt
5 large egg yolks
5 large egg whites
1/2 cup + 2 Tbsp grated Parmesan
1/2 cup grated gruyere
Instructions
Preheat oven to 400 degrees.
Butter 6 ramekins. Sprinkle Parmesan cheese into each dish, tilting and rotating to coat the bottom and sides.
In a small saucepan over medium-low heat, warm milk until simmering.
In a large saucepan over medium heat, melt butter. Whisk in flour and cooking until the mixture begins to foam, approximately 3 minutes. Remove pan from heat for 1 minutes.
Add warm milk to the flour mixture, whisking until smooth. Return to medium heat and cook, whisking constantly, until thickened for approximately 2 to 3 minutes. Remove from heat and stir in paprika, salt and nutmeg.
Stir in egg yolks one at a time, blending each one in one at a time. Stir in cheese and scrape souffle mixture into a large bowl. Cool down to a warm temperature, but not hot.
Using electric or stand mixer, beat egg whites in a large bowl until stiff. Fold one-third of the whites into the souffle base. Continue to fold in the remaining egg whites in two separate additions. Transfer batter to prepared dishes evenly.
Place dishes on a baking sheet and place in the oven. Reduce oven temperature to 375 degrees and bake souffles for approximately 25 minutes, until puffed and golden brown. Serve immediately.