Please note this post contains affiliate links.
Chocolate Chip Cardamom Ice Cream is the one summer frozen treat you have to make this season. With a creamy vanilla bean ice cream base, the aromatic ground cardamom and mini chocolate chips elevate a fan favorite to a whole new level of flavor. Serve it up in a waffle cone or in a bowl, either way it'll be tough to share!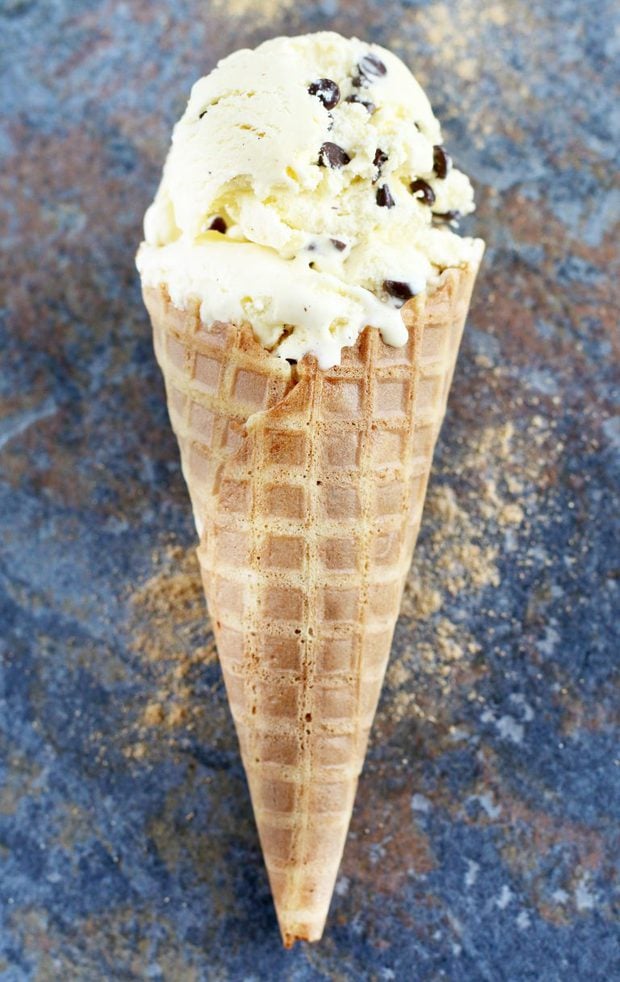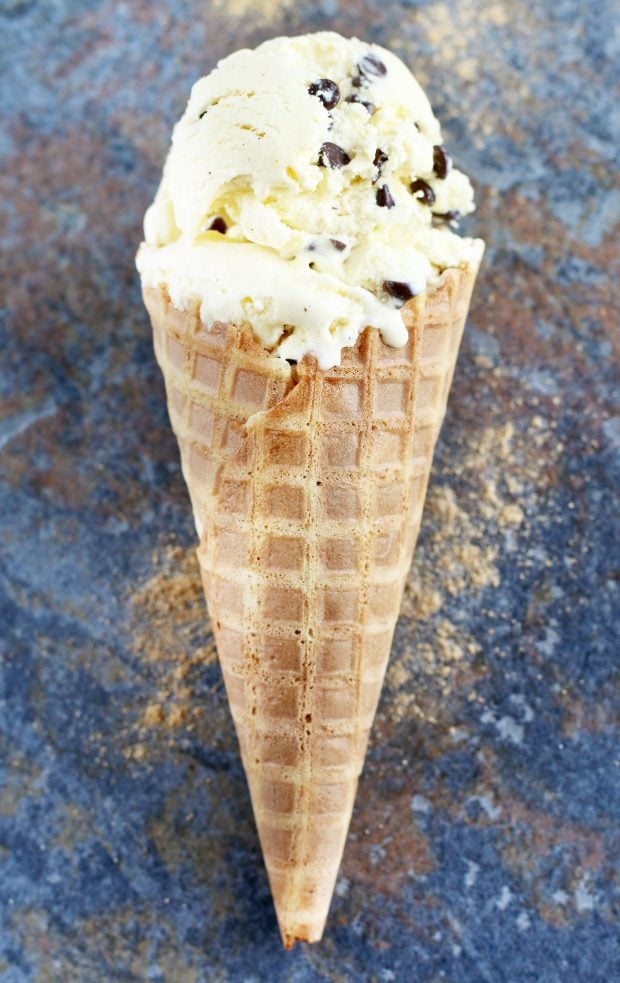 Please note that some of the links below are affiliate links. If you make a purchase through one of these links, I will receive a small commission.
Summer is kicking it up in full gear in in Colorado, full of thunderstorms, hail and warming temperatures… So obviously, it's time for me to start making all of the ice creams I can possibly think of.
I may have told you this before, but homemade ice cream is a serious weakness for me.
I wish I could say I was like Meryl Streep in It's Complicated, staying up all night making ice cream. Instead I panic make the ice cream in bursts of true stress right smack in the middle of the day.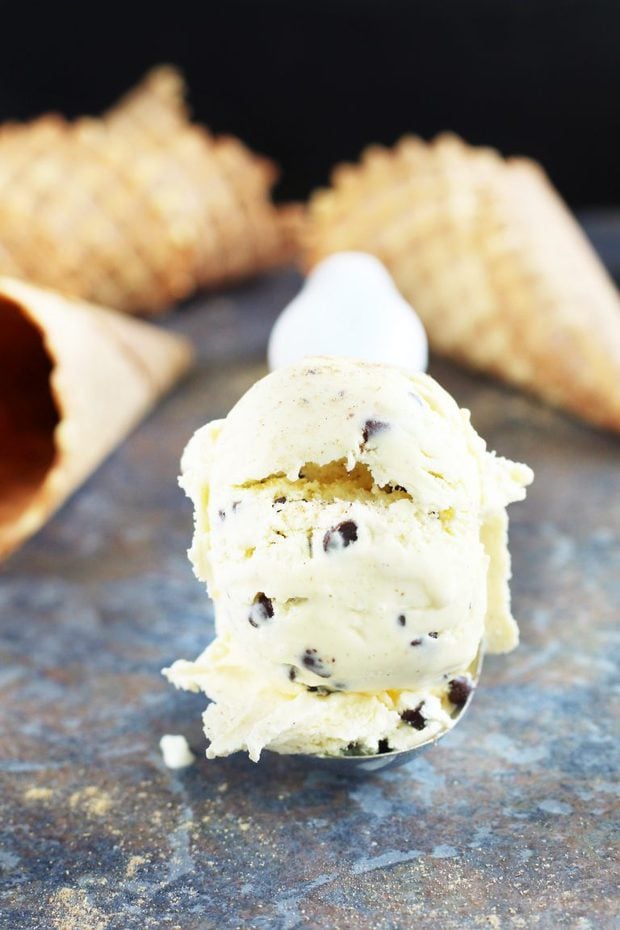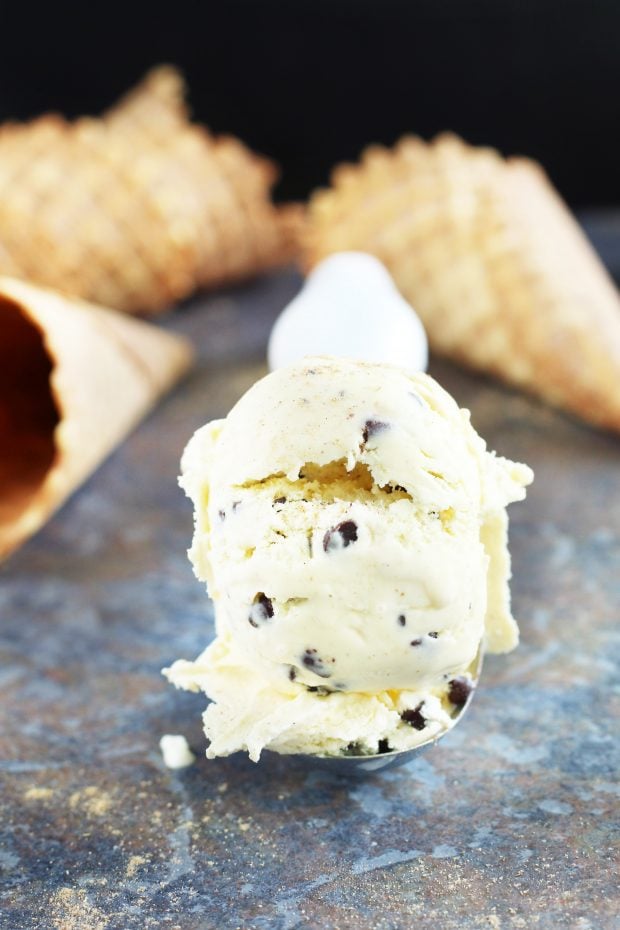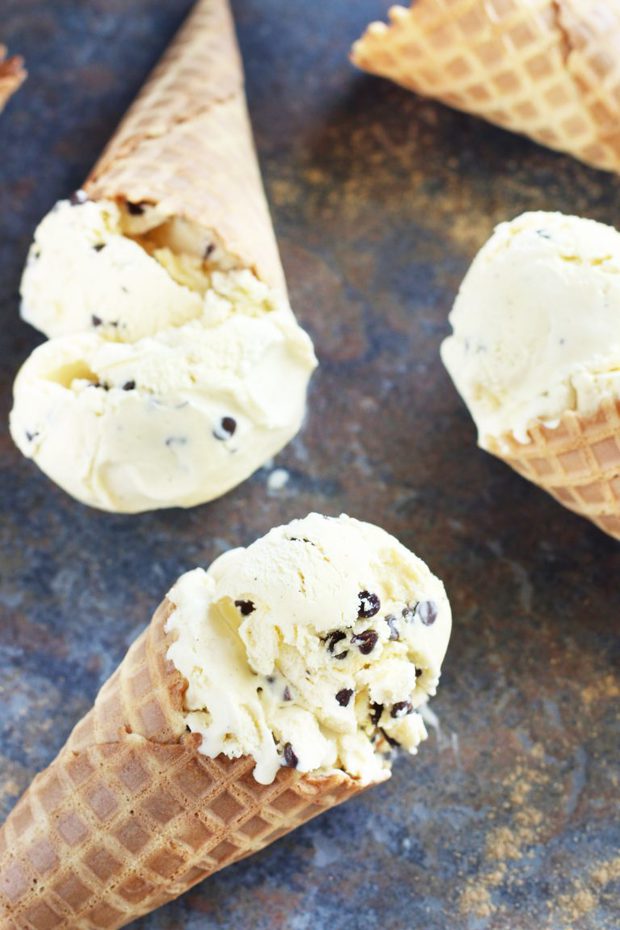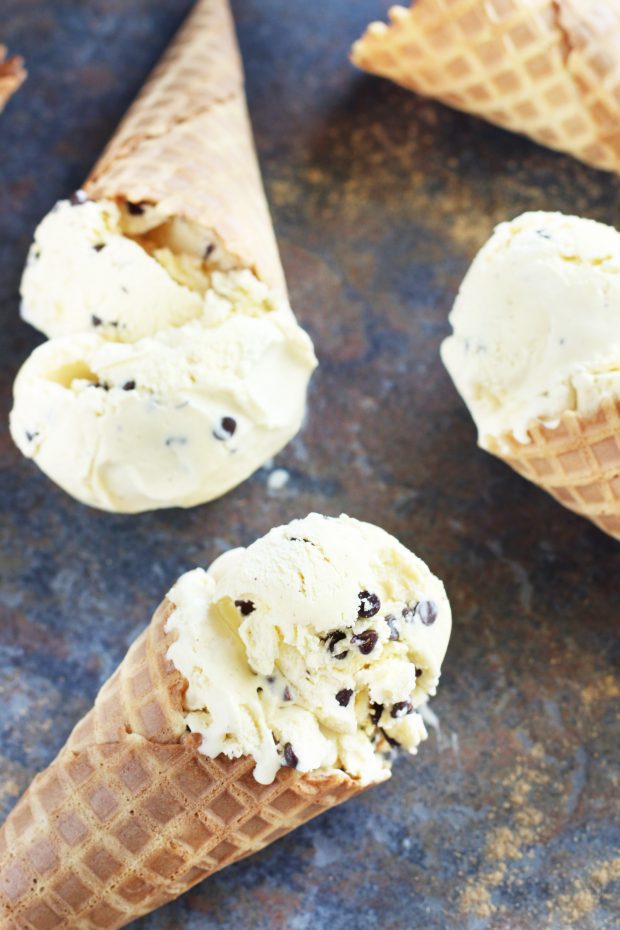 Hey, as long as I am making the ice cream it's all good, am I right?
It's been a little stressful in my world this week. The wedding is approaching FAST, not to mention the honeymoon, which means me prepping for ALL OF THE THINGS.
I remember when I said, "oh this will be a small intimate wedding, so it will be easy!"
HA. HA. HAAAAAAAA.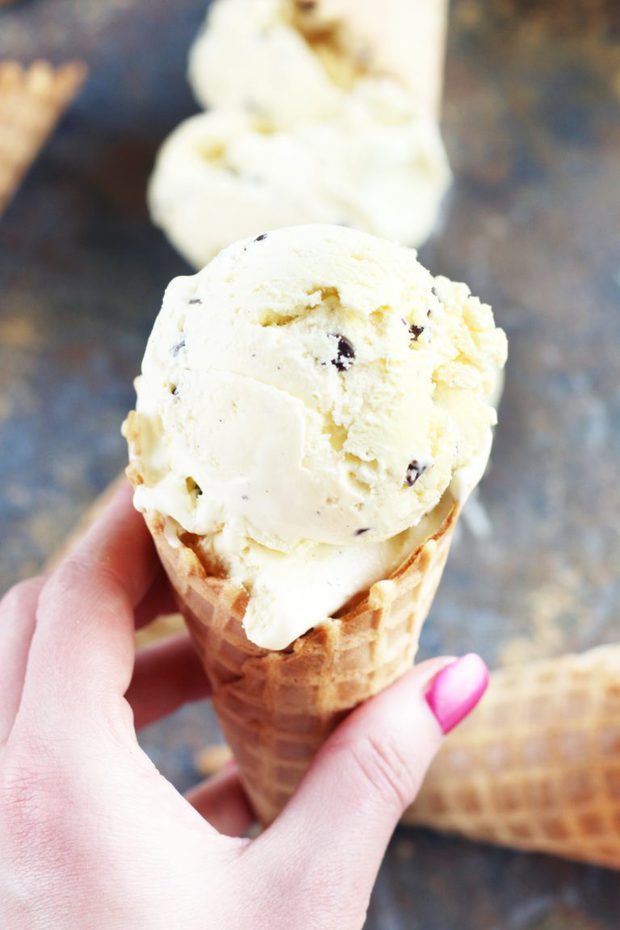 Turns out it doesn't matter how big or small a wedding is – there's always some sort of stress that goes along with weddings, isn't there?
Thankfully, a bowl of chocolate chip cardamom ice cream at the end of the day is a sufficient reward to keep me motivated to get all the things done every day.
I am a HUGE fan of vanilla bean ice cream (I know, it sounds so lame…), so I love to use it as a base for a variety of my lighter summer ice creams. Something about the combination of vanilla bean and cardamom really elevates this frozen treat to something special.
The smooth vanilla bean flavor with the rich depth of cardamom is a perfect pairing that you will always remember.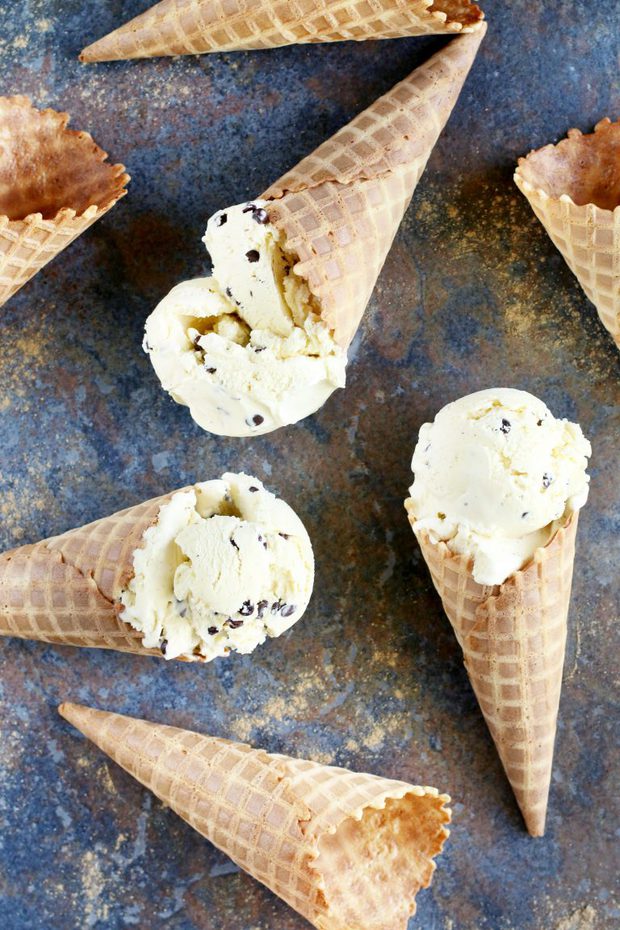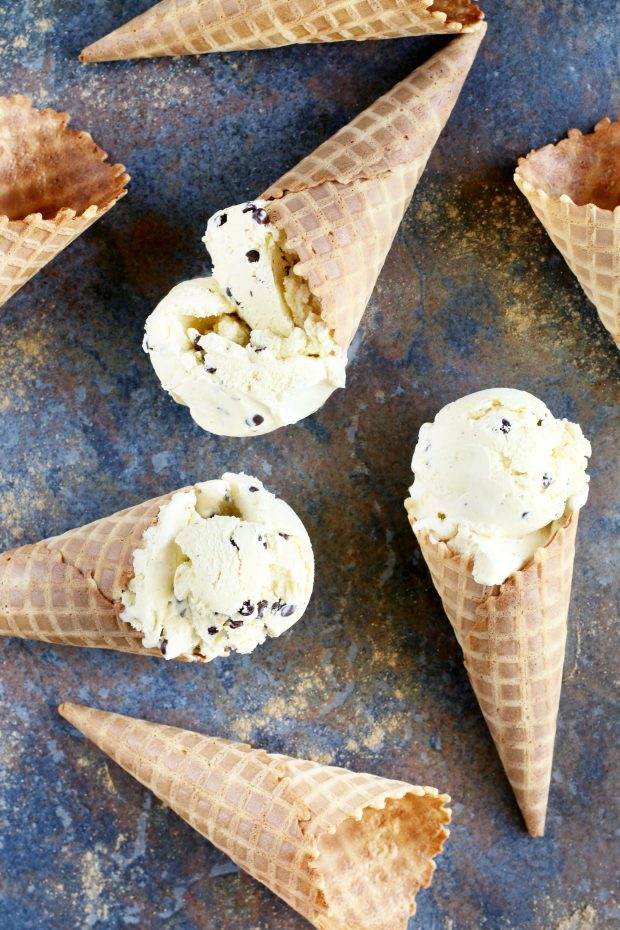 So get those vocal chords ready for some screaming… This is definitely one of the recipes that'll having you screaming with joy!
Want to explore more cardamom recipes? Check out my Vanilla Bean Cardamom Sugar Cookies recipe! They are the divine, melt-in-your-mouth cookie with a burst of cardamom and vanilla bean that no one will be able to stop eating.
This Recipe's Must Haves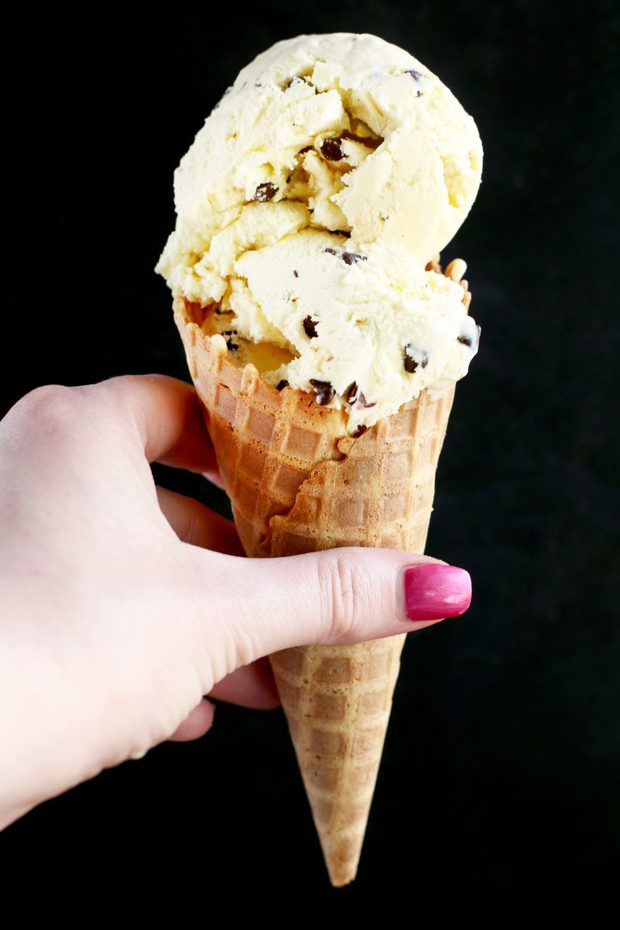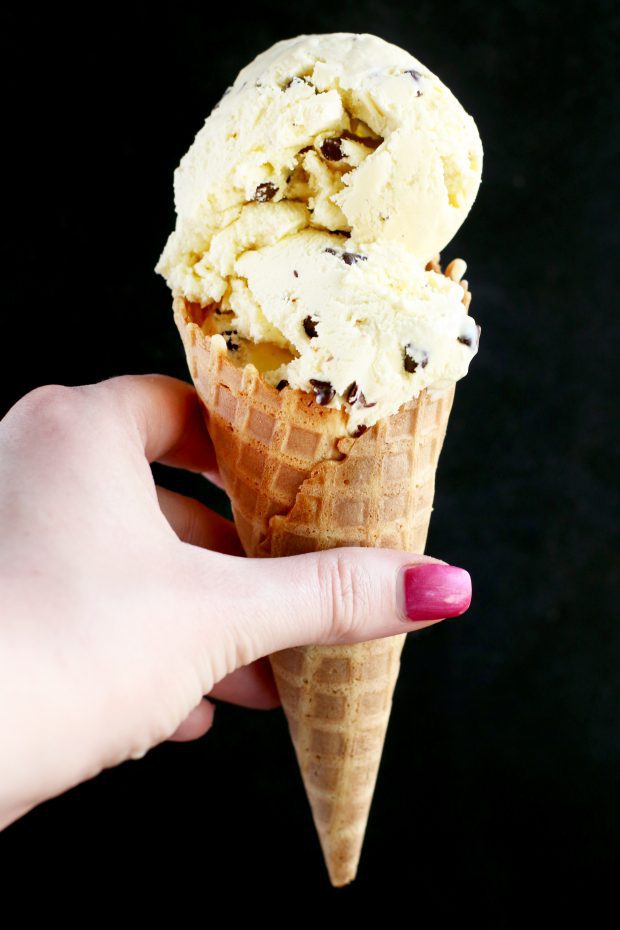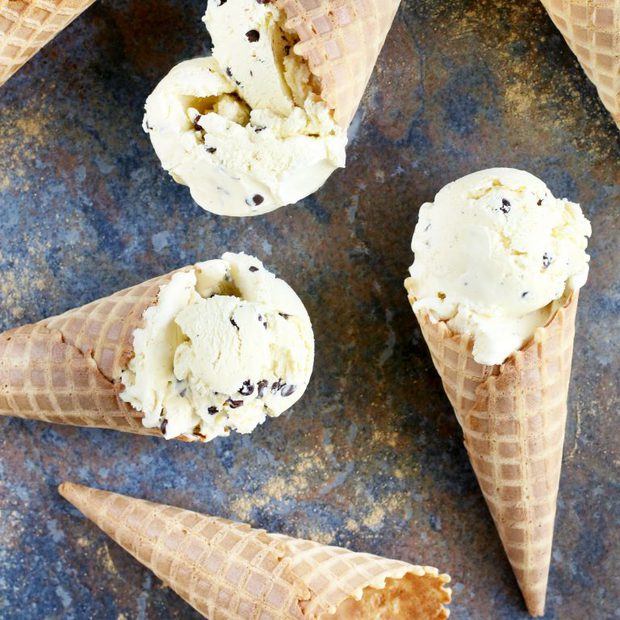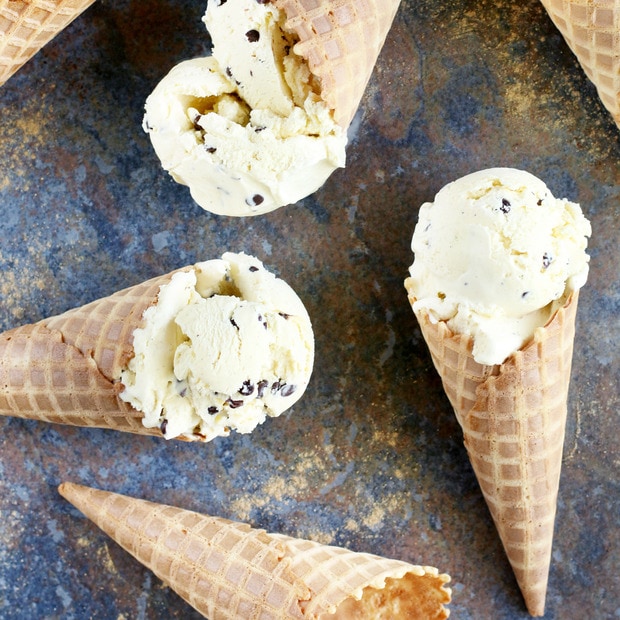 Chocolate Chip Cardamom Ice Cream
Yield:
Makes 1 1/2 to 2 quarts
Prep Time:
10 hours
10 minutes
Total Time:
10 hours
25 minutes
Sweet and creamy vanilla bean ice cream is elevated to new heights with the addition of aromatic ground cardamom. Studded with chocolate chips, this ice cream is highly addictive and a real treat to cool off with.
Ingredients
2 cups heavy cream
1 cup whole milk
1/4 cup + 1 Tbsp granulated sugar
Pinch of salt
7 egg yolks
3/4 tsp vanilla extract
1/2 tsp vanilla bean paste
1 tsp ground cardamom
2/3 cup mini chocolate chips
Instructions
In a medium saucepan, stir together the milk, heavy cream, 1 Tbsp of sugar and pinch of salt. Cook on medium heat until the mixture comes to a boil.
In a medium bowl, whisk together eggs and 1/4 cup sugar. Add approximately 1/2 cup of the hot milk mixture to the egg mixture, whisking as you add it slowly. Continue to add the milk mixture 1/4 cup at a time until it's all been mixed in. Transfer the mixture back to the saucepan.
Cook over medium-low heat, stirring constantly, until the mixture thickens and coats the back of a metal spoon. Remove from heat and stir in vanilla extract, vanilla bean paste and ground cardamom. Add the custard to a large bowl and cover with plastic wrap, making sure the plastic wrap touches the surface of the custard to prevent a film from forming. Chill completely, approximately 2 hours in the refrigerator.
Add the custard mixture to your ice cream maker and churn according to the manufacturer's instructions. In the last few moments add in the chocolate chips.
Pour into an airtight container. Chill for a minimum of 6 to 8 hours before serving.