Tequila Lime Chicken Thighs are juicy, tangy, and just a little bit boozy, make them the perfect addition for your next backyard barbecue! With a tequila lime marinade AND glaze, you get a double dose of bright flavors that everyone will be raving about. Pair it with beers or margaritas, and you've got yourself a party!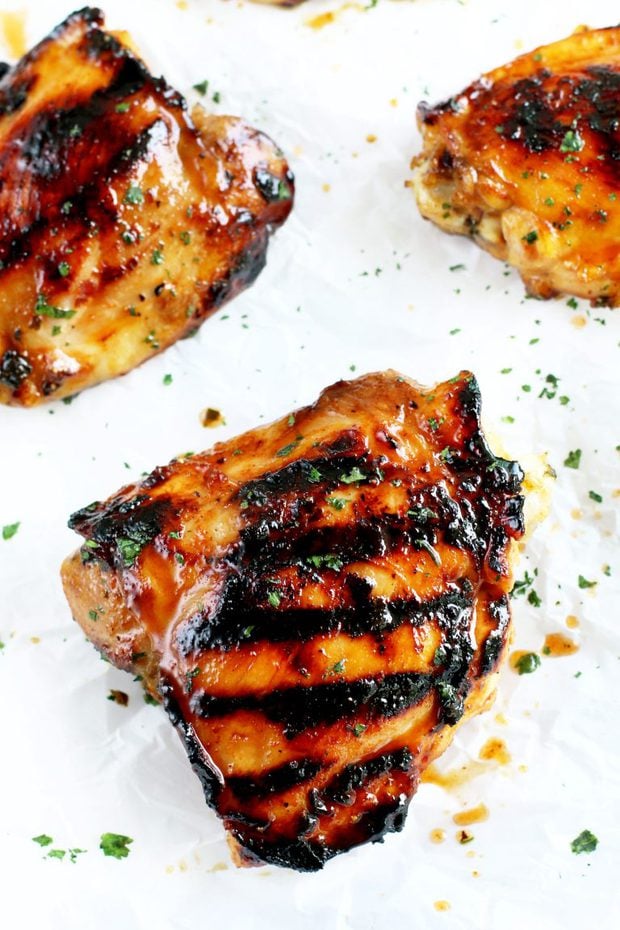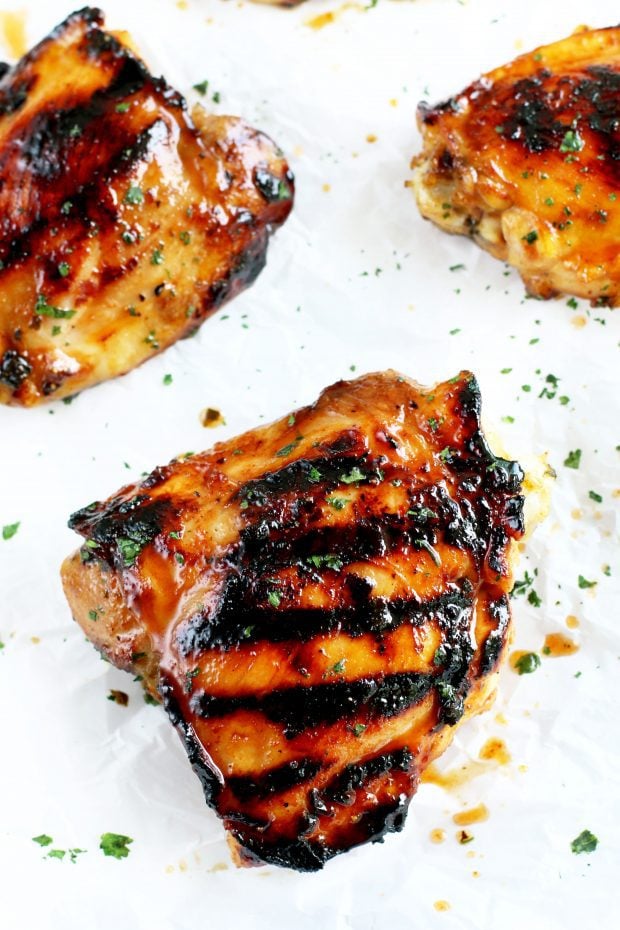 Please note that some of the links below are affiliate links. If you make a purchase through one of these links, I will receive a small commission.
Oh heyyyyyyyyyy there….
I brought you some tender, grilled, tart, and oh-so juicy chicken to spice up your holiday weekend…
This is just the right chicken to bust out for your next night grilling out back, and let me tell you why.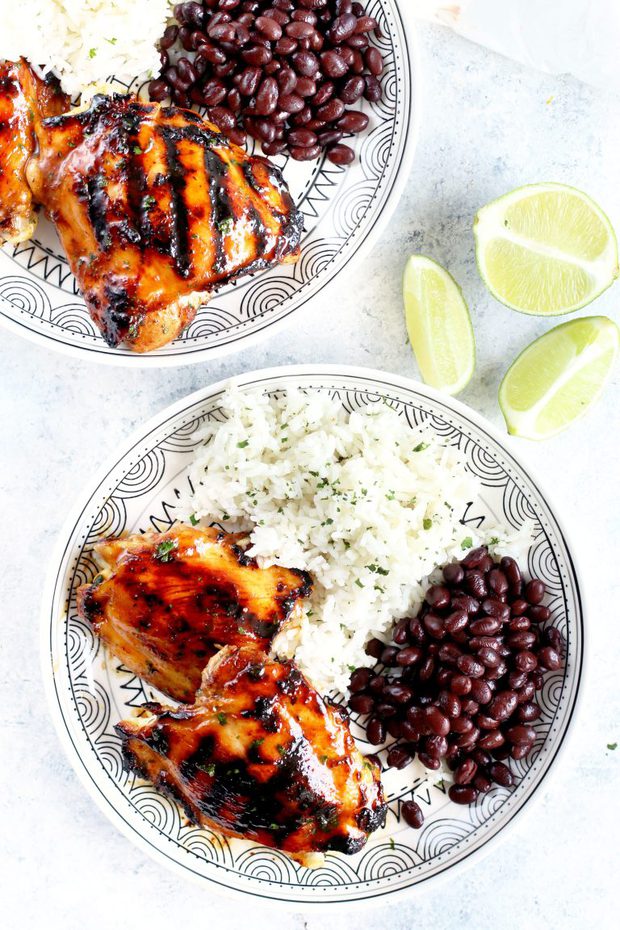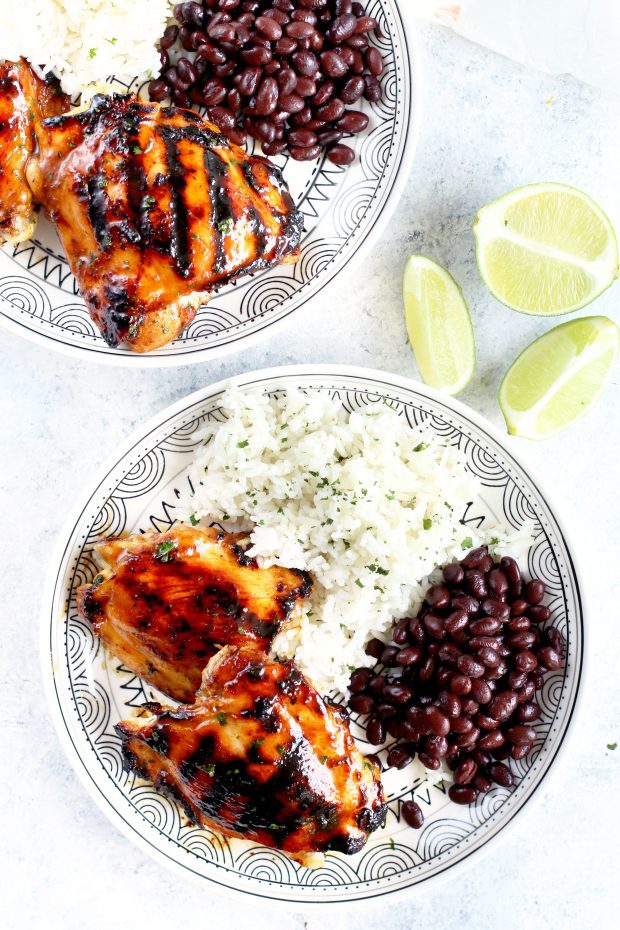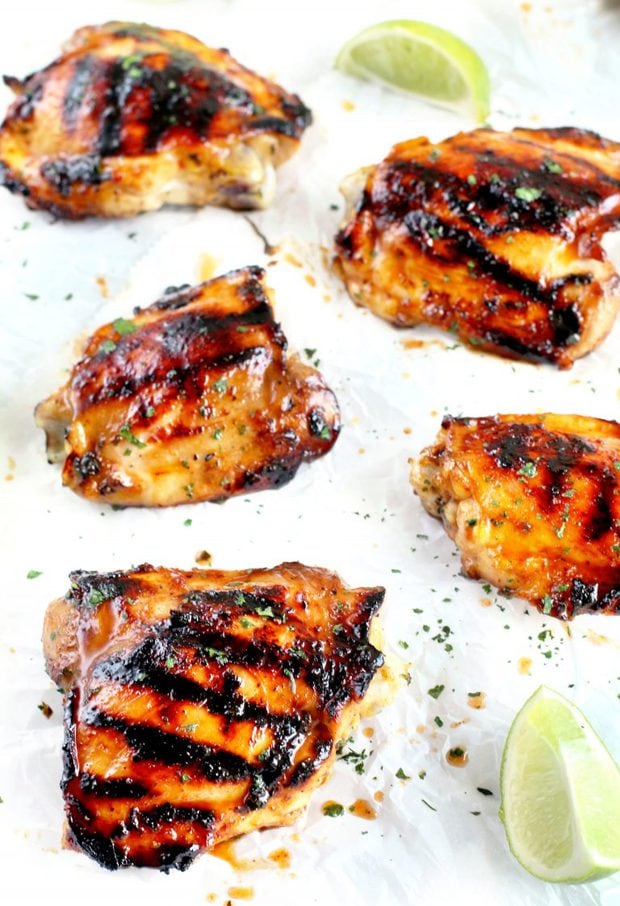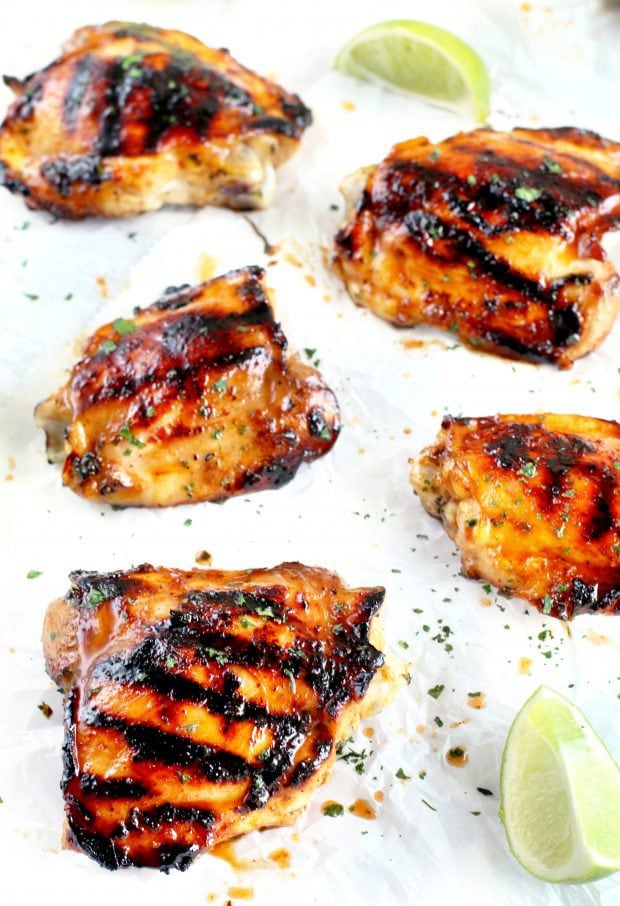 When I dive into chicken fresh off the grill, I want it to be flavorful. I want it to be juicy. I want it to be sticky and kinda messy, in the best way possible. Even when it's not barbecue, I want to be grabbing for the wet wipes and licking my lips with divine pleasure once I'm finished.
This chicken gives you just that, with its sticky glaze and kiss of charred flavor from the grill! I particularly love this recipe because not only is the chicken glazed with a tequila lime sauce, it's also marinaded in a tequila lime mixture to give the chicken extra flavor from the inside out.
It's a quick marinade, however you can totally marinade the chicken overnight if you are prepping for a get together the next day (Memorial Day, perhaps?).
This recipe pairs perfectly with margaritas or beer, because you get the smoke, the tang, the bite of tequila, and a little bit of heat on the back of your taste buds in every bite.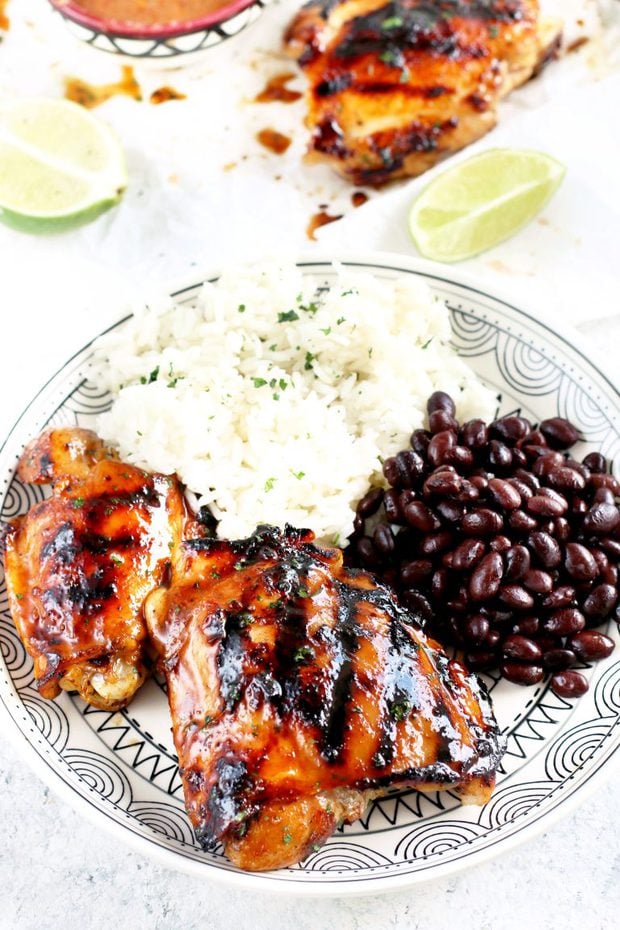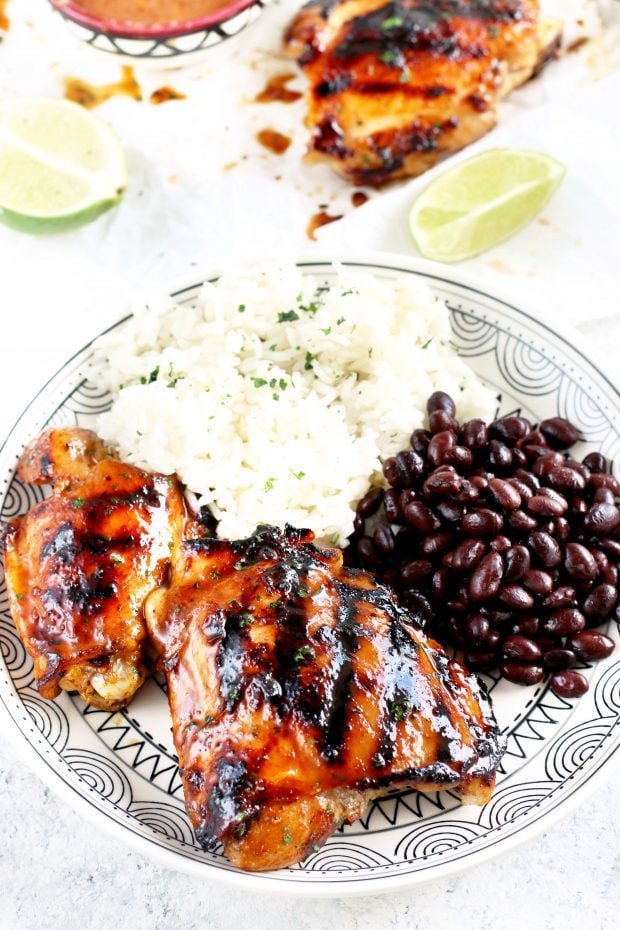 You won't believe how much you are going to love this dish – I can promise you it'll become a staple for parties and weeknight dinners!
So get ready to get messy this weekend and plan to have this oh-so tasty chicken on the menu. Pair it with cilantro lime rice and seasoned black beans, serve it up in tacos, or serve it with a side of potato salad and grilled corn.
Any way you serve it, it'll disappear FAST.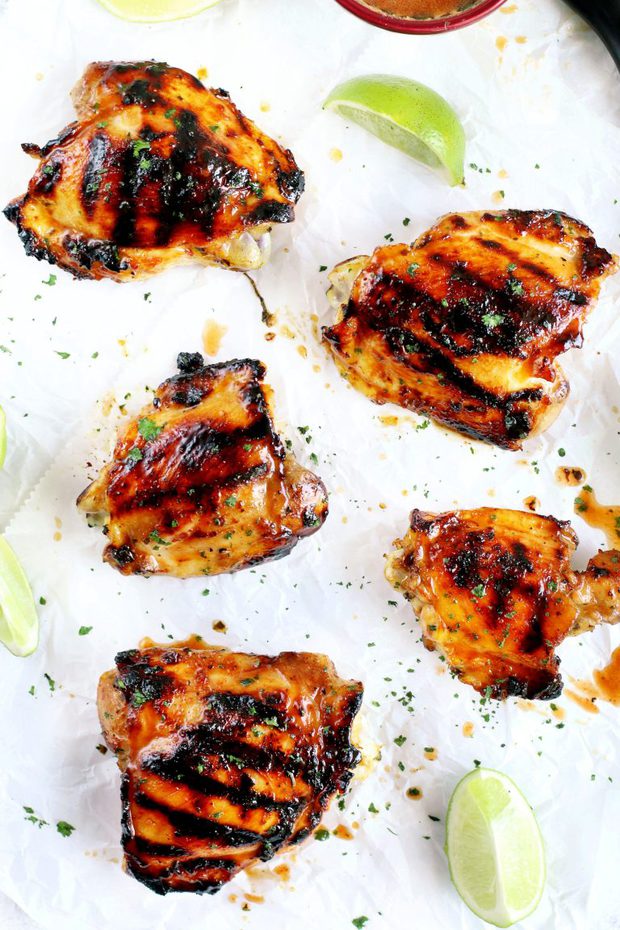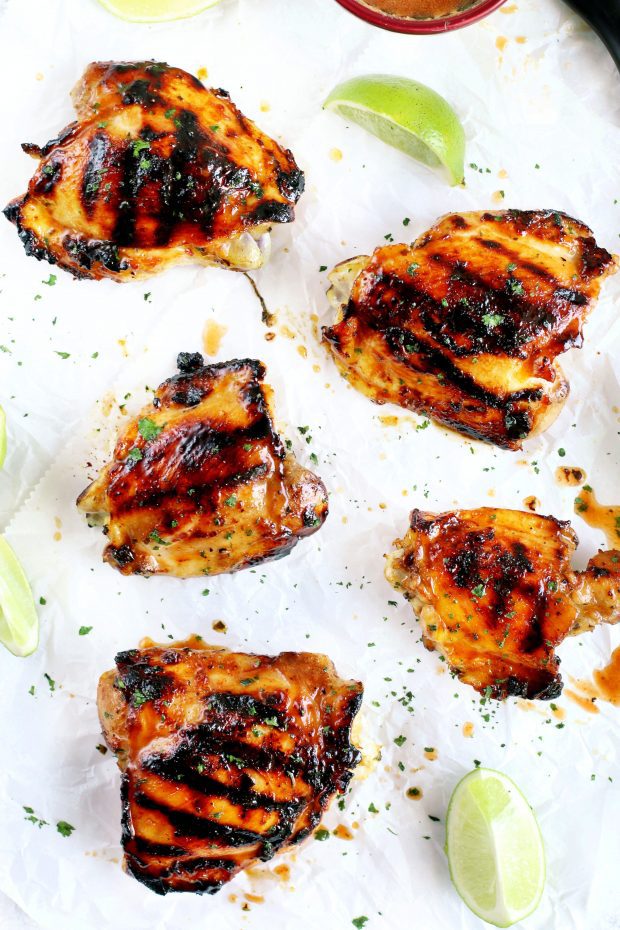 This Recipe's Must Haves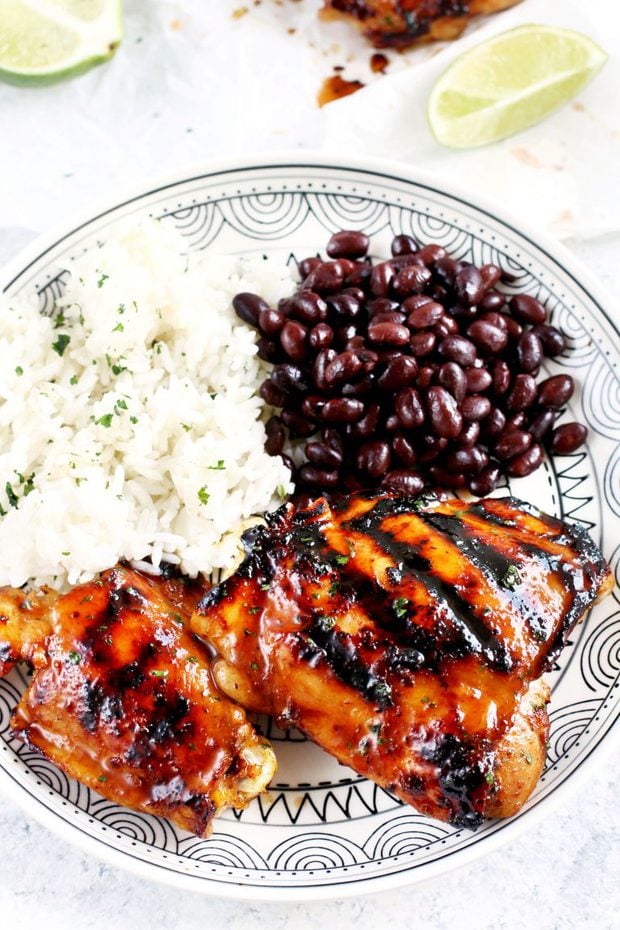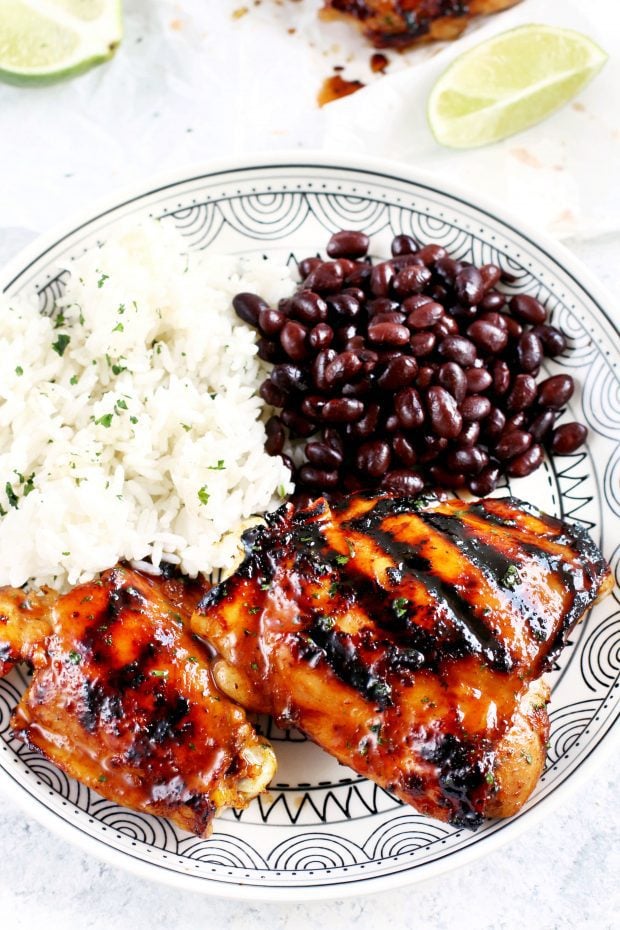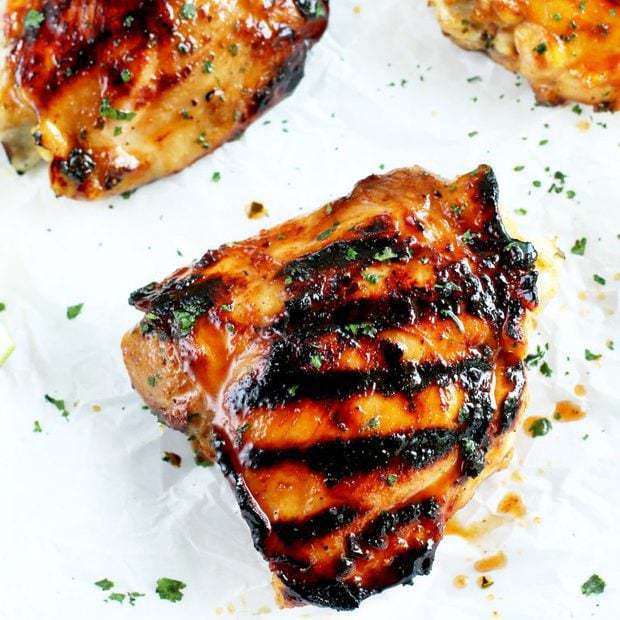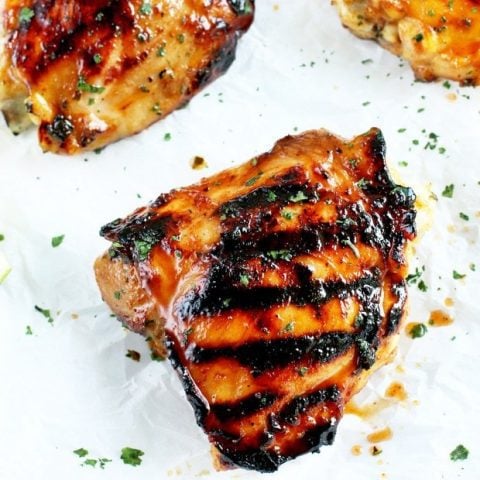 Tequila Lime Chicken Thighs
Total Time:
2 hours
25 minutes
Marinaded and glazed in a rich, slightly sweet tequila lime sauce, these grilled thighs are the bomb diggity meat that's juicy and irresistible.
Ingredients
Chicken
2 lbs bone-in chicken thighs, skin removed
1/4 cup lime juice
1/4 cup honey
1/4 cup gold tequila
1 tsp garlic powder
1/4 tsp black pepper
2 tsp Sriracha
1 tsp salt
1/4 cup chopped cilantro
Glaze
2 Tbsp honey
1 1/2 Tbsp tequila
Pinch of red pepper flakes
1/2 Tbsp Sriracha
1 Tbsp unsalted butter
1/2 Tbsp lime juice
Garnish: chopped cilantro
Serve With
Cilantro lime rice
Seasoned black beans
Instructions
In a medium bowl, combine lime juice, honey, tequila, garlic powder, black pepper, Sriracha, salt and chopped cilantro for the chicken. Whisk until well combined.
Add chicken thighs to a large ziplock bag. Pour in marinade and seal. Shake up the bag so that all of the thighs are covered well with the marinade. Marinade for at least 2 hours, up to overnight.
When ready to cook, heat up grill.
While the grill heats up, bring ingredients for the glaze to a boil. Reduce to a simmer and keep warm over low heat.
Add chicken to the grill and cook on one side for 15 minutes. Turn and brush with the glaze. Cook for another 10 minutes, or until the internal temperature reaches 165 degrees F.
Remove chicken thighs from grill and glaze again on both sides. Garnish with a sprinkle of freshly chopped cilantro.
Serve with cilantro lime rice, seasoned black beans and lime wedges.