I have to say it again.
Best. Meatballs. EVER.
Seriously, it's downright insane how good these meatballs are. They literally melt in your mouth because they are so luscious and silky. There are some things in life everyone needs to master how to make. For me it's chocolate chip cookies, the perfect gin and tonic, and anything Italian, especially meatballs.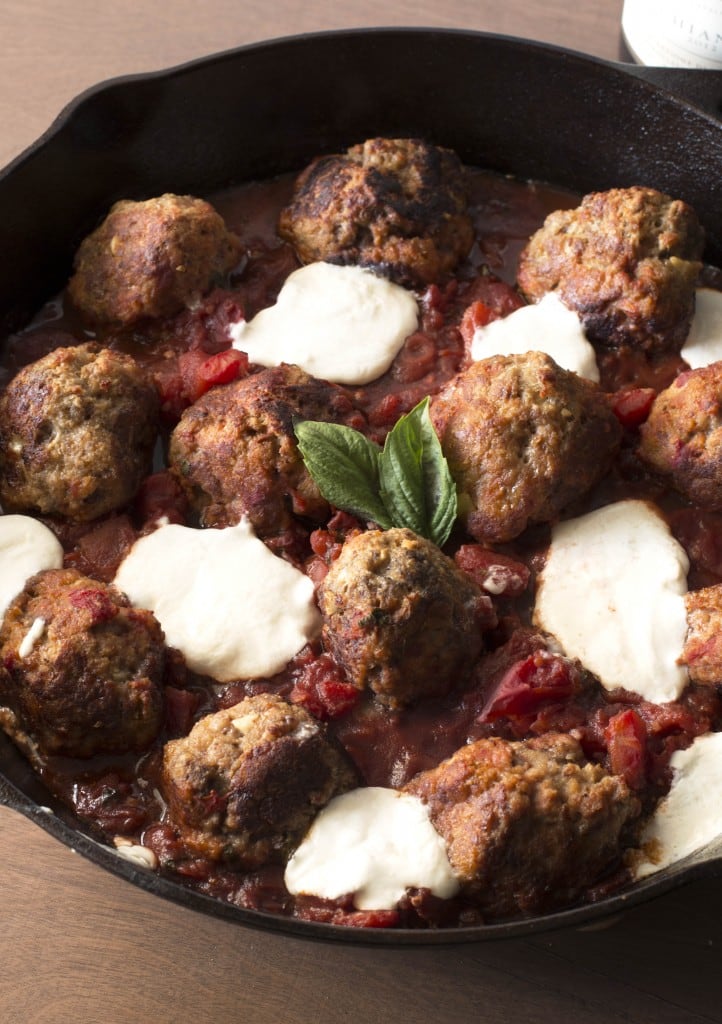 No one in their right mind would turn down an incredible meatball (aside from vegetarians and vegans of course).
It's a magical experience when you bite into a delicious meatball. Smooth and flavorful, you can't help but melt from the inside out as you devour one after another…. after another… It's pretty incredible how much flavor you get from this quick tomato and chianti sauce. It's the perfect bath for the meatballs, and then you add in burrata aaaaaaaaand you are basically in heaven.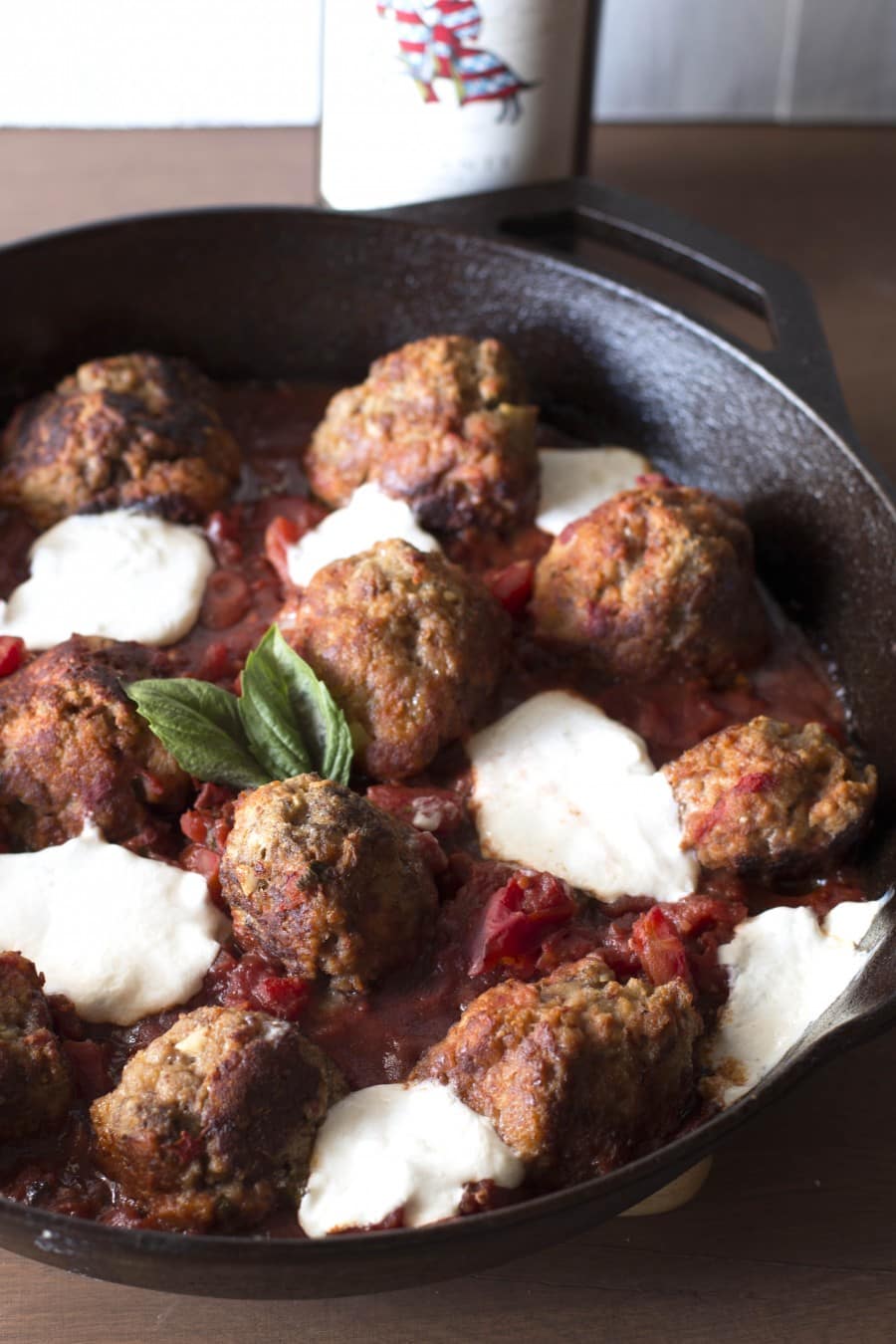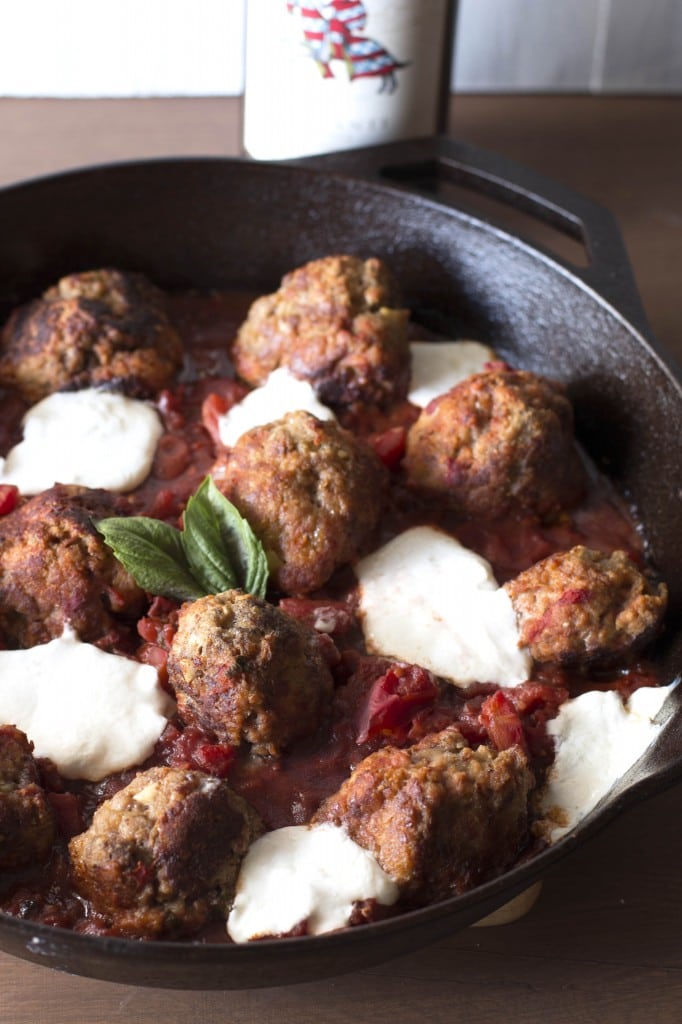 A rich, decadent cheesy heaven (is there any other kind worth mentioning?).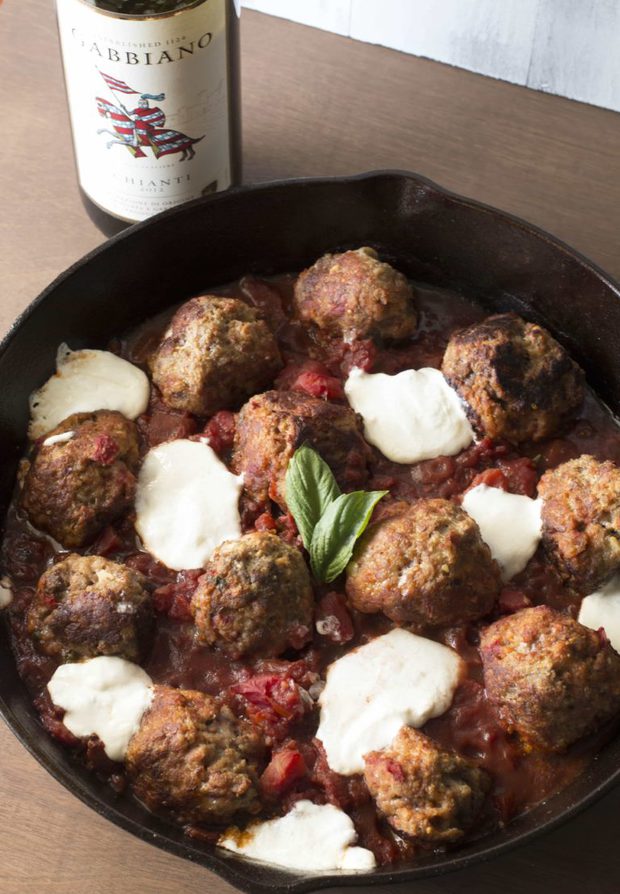 Tomato & Chianti Braised Meatballs with Burrata
The BEST meatballs you will ever taste!
Ingredients
Meatballs
1/2 lb ground pork
1/2 lb ground beed
1/2 lb ground veal
2 cloves garlic, diced
2 eggs
1 cup parmesan cheese
1 cup breadcrumbs
Pinch of red pepper flakes
1/2 cup water
1/4 tsp salt
1/4 tsp freshly cracked pepper
Sauce
1 28oz can of diced plum tomatoes, drained and juices reserved
1 Tbsp dried oregano
3 garlic cloves, diced
1/3 cup Chianti
Salt & pepper
4 oz ball of burrata cheese, sliced
Instructions
In a medium saucepan over medium heat, stir together the ingredients for the sauce. Add in approximately 1/4 cup of the reserved juices from the canned tomatoes. Bring to a boil, then reduce to a simmer over low heat. Add salt and pepper to taste.
In a large bowl, combine all the ingredients for the meatballs using your hands until the mixture comes together and all the ingredients are well-combined. Form meatballs into your desired size (I like mine to be medium-large, but others like smaller sized meatballs).
Preheat oven to 415 degrees.
Brown the meatballs on all sides in a large cast iron skillet over medium-high heat. Once browned, add the tomato and chianti sauce into the cast iron skillet. Place the skillet in the oven and bake until the meatballs are cooked through, approximately 15 minutes.
Remove skillet from oven, add pieces of burrata to the skillet between the meatballs, and return to the oven until the cheese is melted, approximately 3 to 5 minutes.
Serve immediately with creamy polenta or spaghetti.