Please note this post contains affiliate links.
Smashed Mixed Berry Pavlova is a pillowy slab of heaven covered in puffy whipped cream, a tart and tangy mixed berry sauce, and loads of fresh fruit. Sounds like pure heaven, doesn't it? This dessert is beyond simple to make and really wow's a crowd! It's the ultimate way to celebrate spring.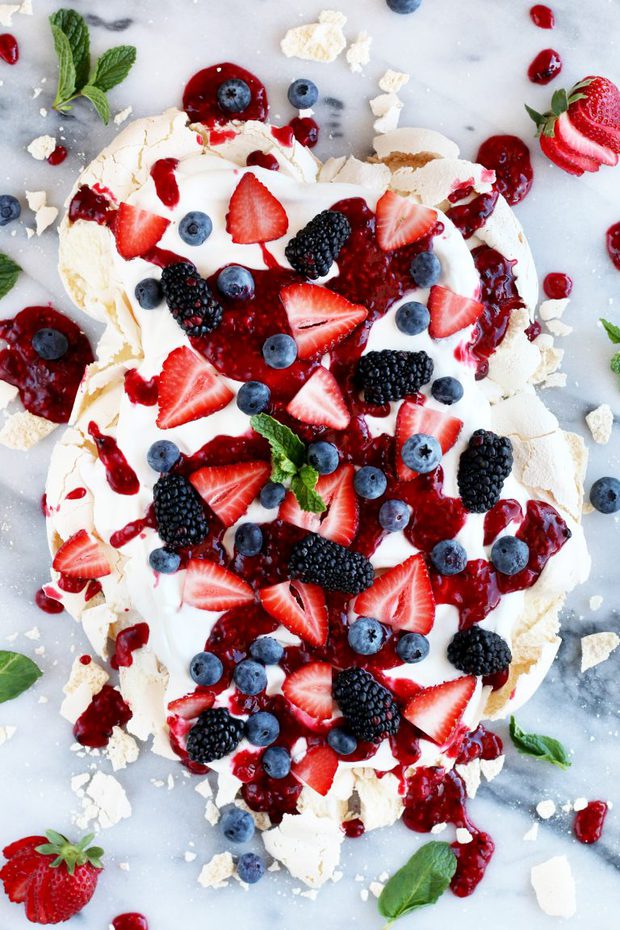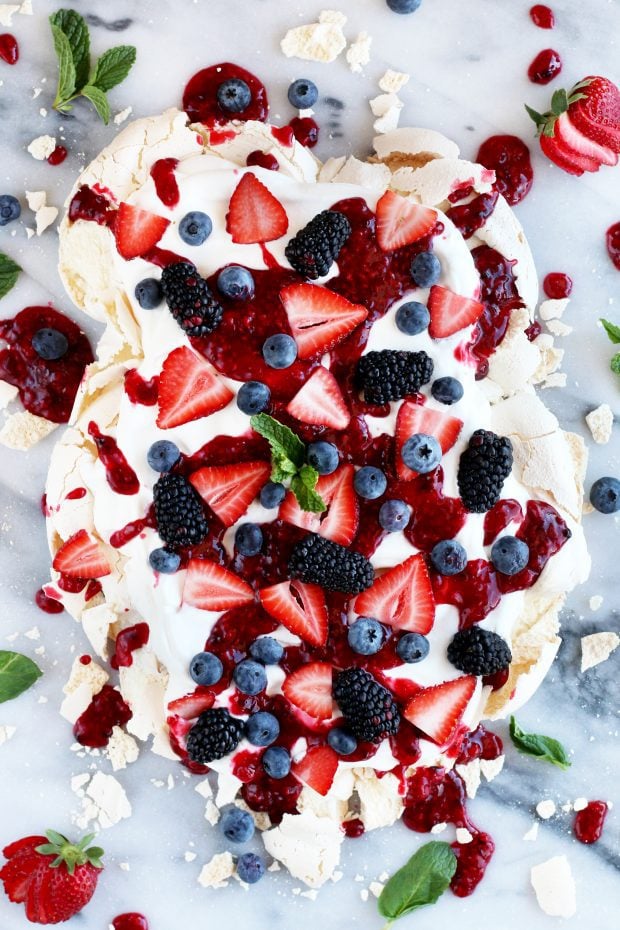 For me, pavlova is the ultimate way to celebrate the transition from winter to spring.
The texture of the pavlova is like a big puffy cloud with a slightly crispy exterior that literally melts in your mouth with the perfect sugary finish.
You top this miraculous dessert with homemade whipped cream and a homemade mixed berry sauce that both perfectly balance out the sweetness of the pavlova.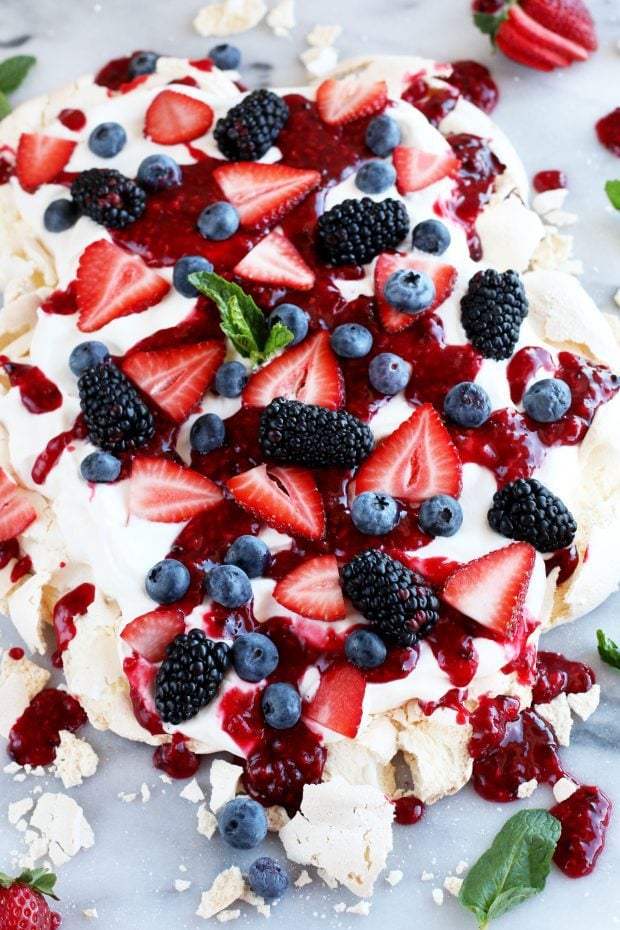 It is pure heaven on a plate. The best part, you don't have to make it look all perfect. The beauty is in the mess!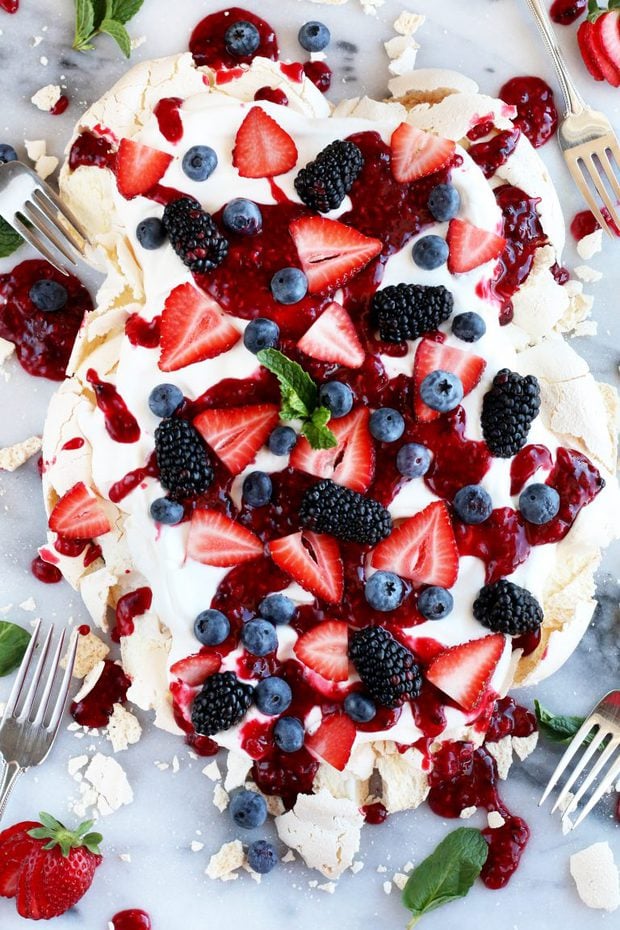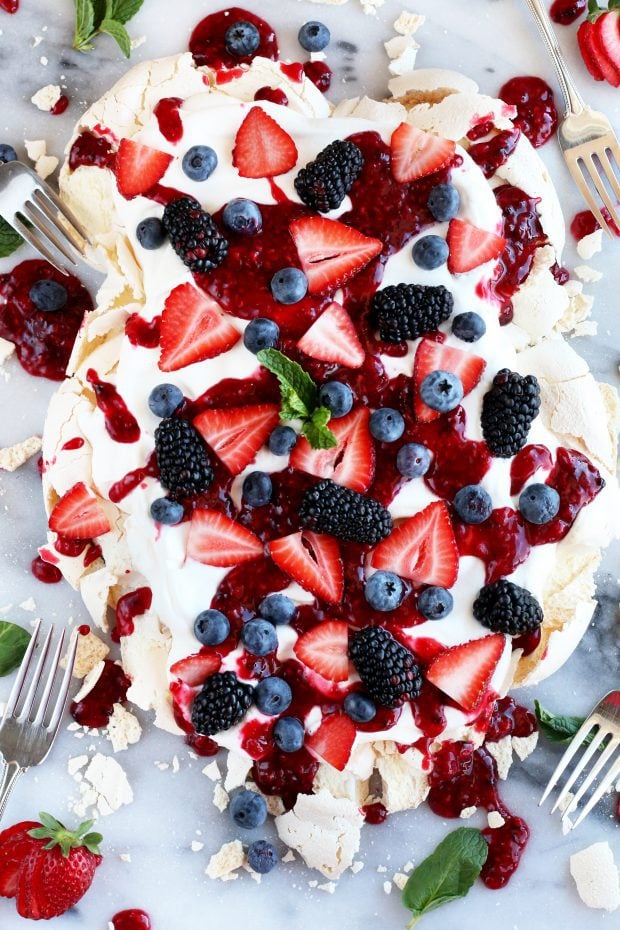 Finished with a plethora (no one uses that word enough, do they? Plethora… use it more) of mixed berries, it's an explosion of flavor in every single bite.
This smashed pavlova is a whole new way to serve pavlova that I totally love.
Instead of trying to make perfectly round pavlova slabs and stacking them up with layers of jam and whipped cream, you make blobs on a baking sheet and top it all once it's cooled.
There's no special artistic flair required to make this dessert look absolutely STUNNING.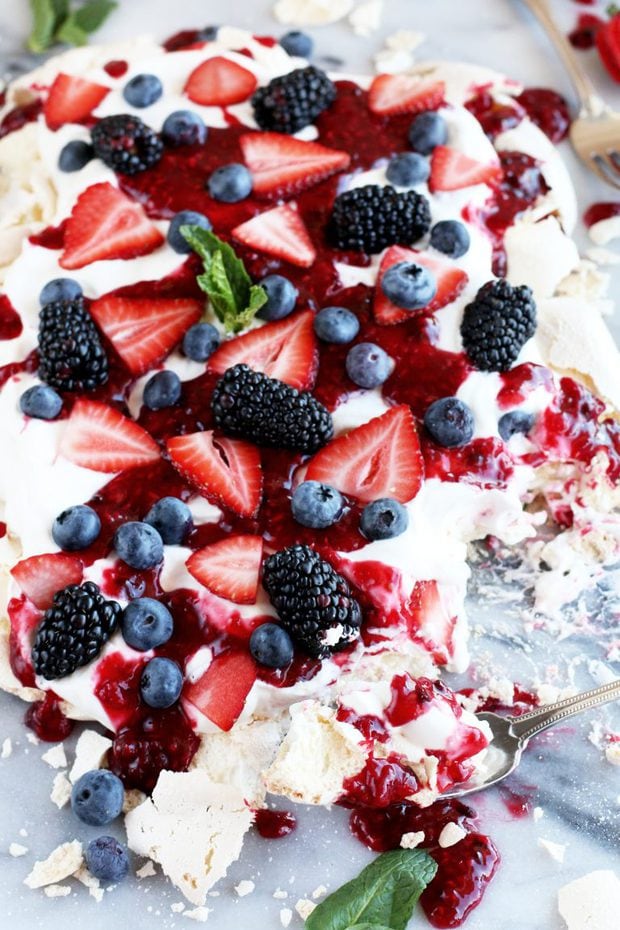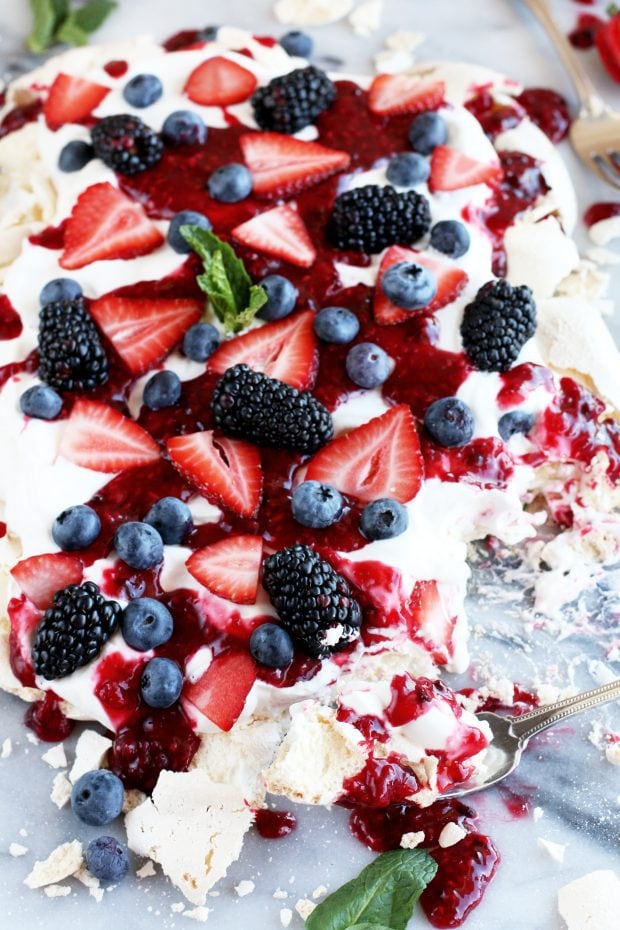 And THAT'S the kind of dessert I can get behind.
When the Man and I went on the Carnival Vista, there was this art dessert at the steakhouse on the ship. Simply put it was one of the most elegant and fascinating desserts I've ever had.
They made a giant platter into a work of freaking ART with jams and jellies, candies and cookies, and a giant white chocolate encased ball of ice cream that I got to smash open with the back of a spoon.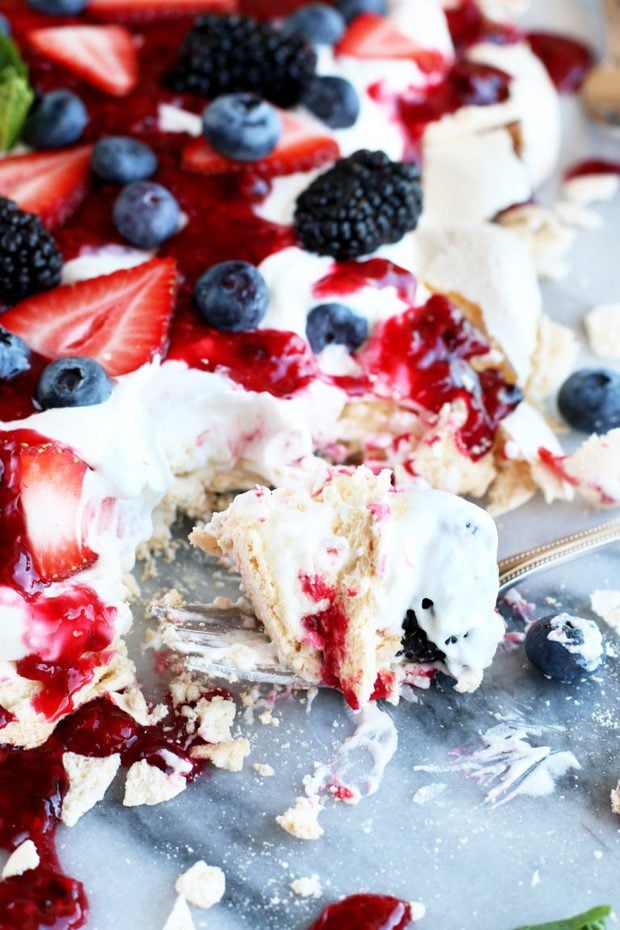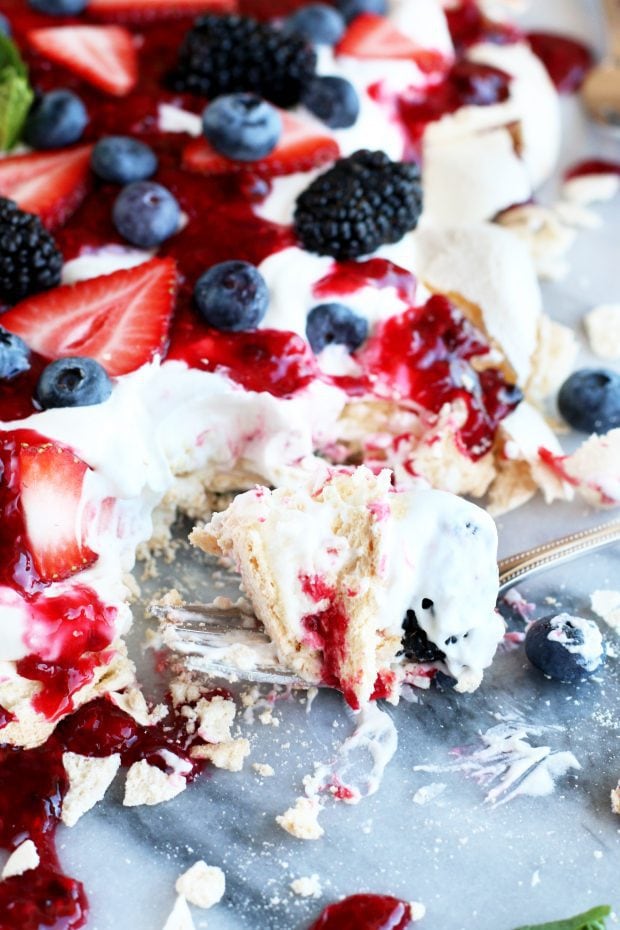 It was so much fun to see the whole thing created right in front of our eyes at the table, not to mention eat it.
I used that as direct inspiration for this dessert.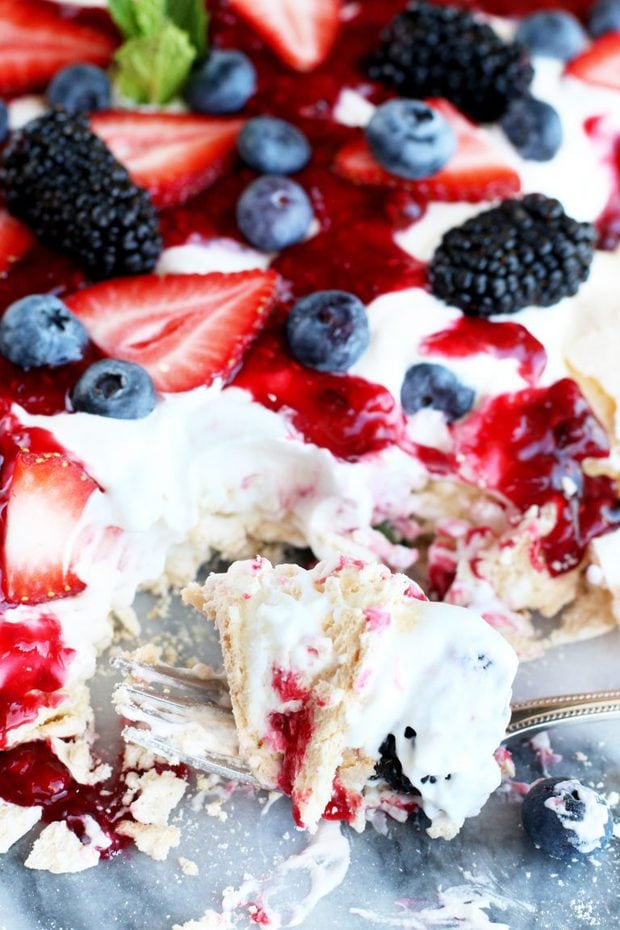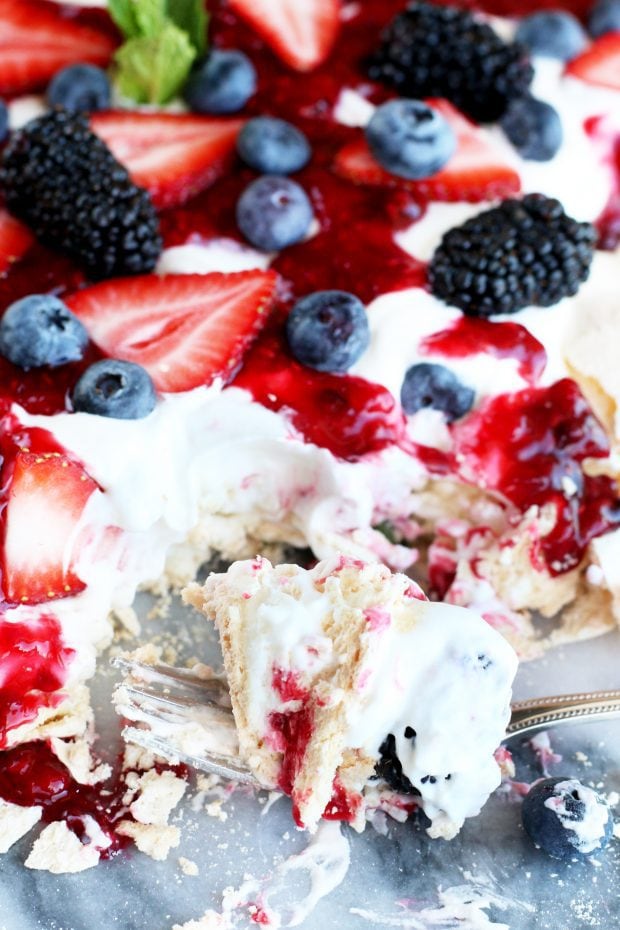 I highly recommend, once the pavlova is out of the oven and cooled, that you take inspiration from this to make your dessert the centerpiece of the table.
You can do the smashing with the back of a spoon right in front of everyone at the table!
Then fill those craters with freshly whipped cream and top it with the homemade mixed berry sauce. Finished with all the fruit and give everyone some forks!
It's the one dessert that is meant for everyone to gather around and enjoy.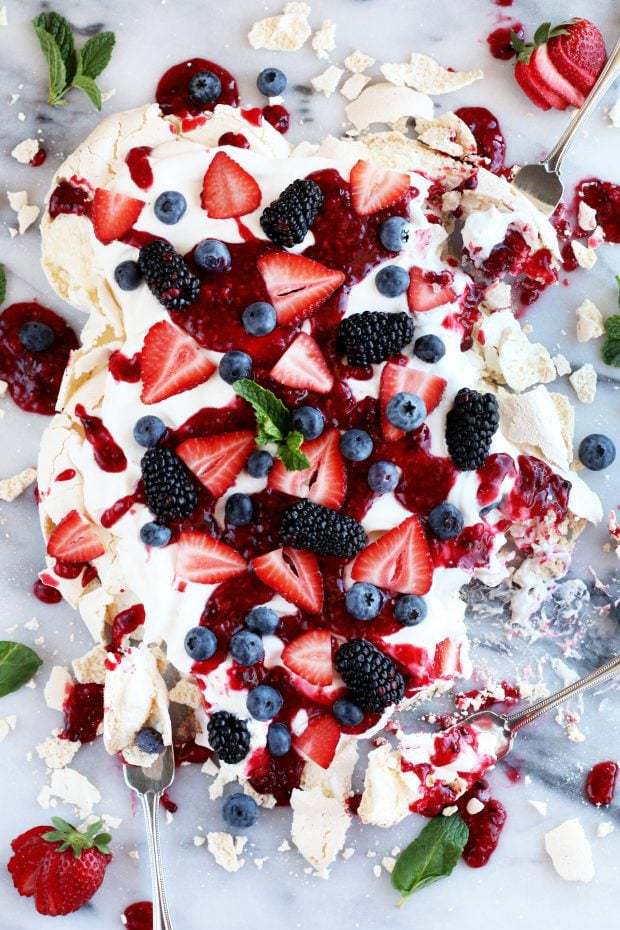 This Recipe's Must Haves
For baking this meringue, you will need a half sheet baking pan. This particular brand is my favorite!
You will also need a stand mixer to pull together the meringue, before you add it to the baking sheet.
Finally, you will need a saucepan to cook the raspberry compote.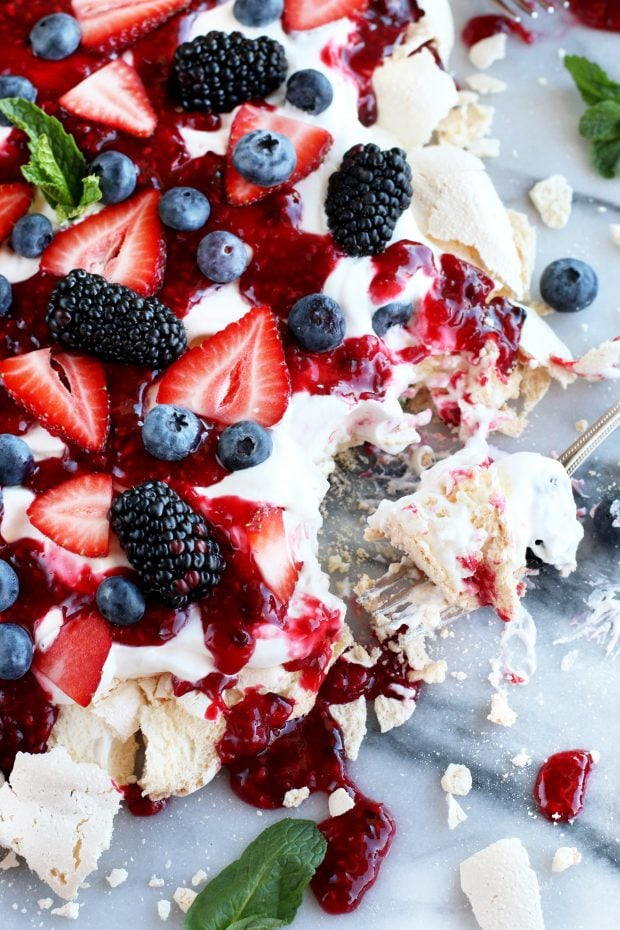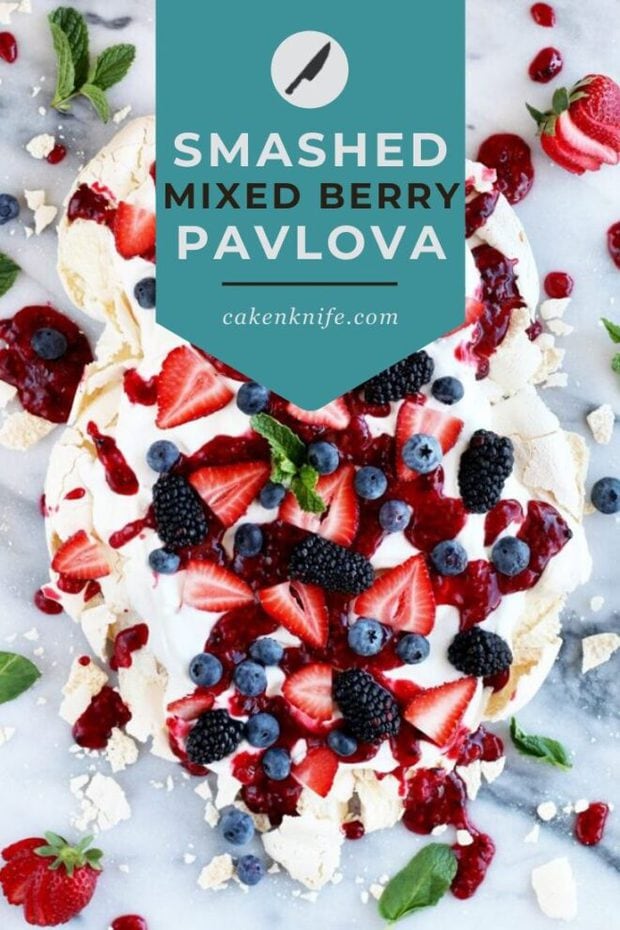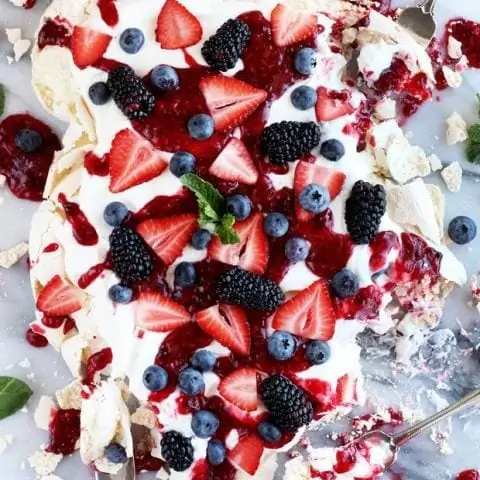 Smashed Mixed Berry Pavlova
Cook Time:
1 hour
15 minutes
Total Time:
1 hour
30 minutes
A mixture of berries tops fluffy whipped cream and a chewy smashed pavlova, making for a fun dessert centerpiece everyone will love!
Ingredients
Pavlova
4 egg whites (room temperature)
1/8 tsp salt
1 cup sugar
1 Tbsp cornstarch
Mixed Berry Sauce
1 tbsp cornstarch
1/2 cup sugar
1/2 cup water
2 tsp lemon juice
1 cup crushed blackberries
1 cup crushed raspberries
Toppings
1 1/2 cups fresh whipped cream (I made mine by whipping up 1 cup heavy cream in a blender until it formed soft peaks)
Blackberries
Raspberries
Blueberries
Strawberries, stems removed and sliced
Garnish: mint leaves
Instructions
Preheat the oven to 400 degrees F.
To make the pavlova, begin by beating egg whites and salt until soft peaks form. Gradually add sugar and cornstarch until the mixture reaches stiff peaks.
Place spoonfuls of the meringue onto a baking tray lined with parchment paper or a silicone baking mat. Reduce temperature to 250 degrees and cook for 1 hour. Turn the oven off and allow pavlova to cool in the oven.
While the pavlova is baking, combine ingredients for the mixed berry sauce in a medium saucepan over medium-high heat. Allow the mixture to start bubbling, then reduce to a simmer while smashing up the berries with the back of a wooden spoon. Cook for approximately 15 minutes until thickened and jam-like in consistency. Cool completely in the refrigerator until ready to serve.
Place the pavlova on a large serving plate or marble slab, and crush slightly with the back of a large spoon. Spoon over the whipped cream, then drizzle with the mixed berry sauce.