Please note this post contains affiliate links.
Halloween Cheesecake Brownies are the treat to match up with all your spooky tricks this spooky season. The made-from-scratch brownies are topped with a creamy cheesecake topping, making for a decadent combination! Perfect for a party or a sweet treat for your little ones after a night out gathering candy.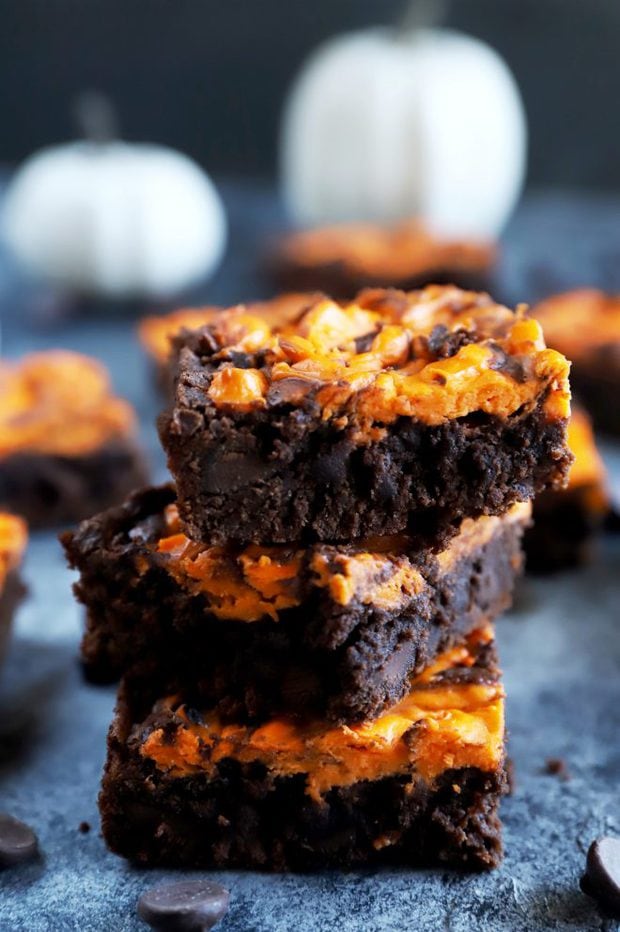 Don't you just love these outrageously orange and black brownies?
I mean, Halloween is already an outrageous holiday, so why not make some brownies with a brilliantly bright orange color on top?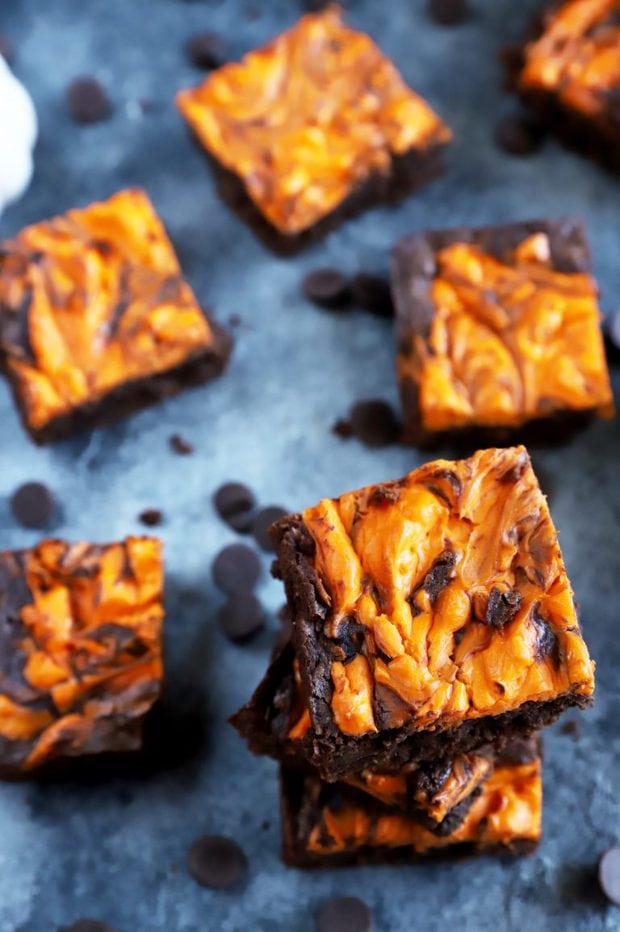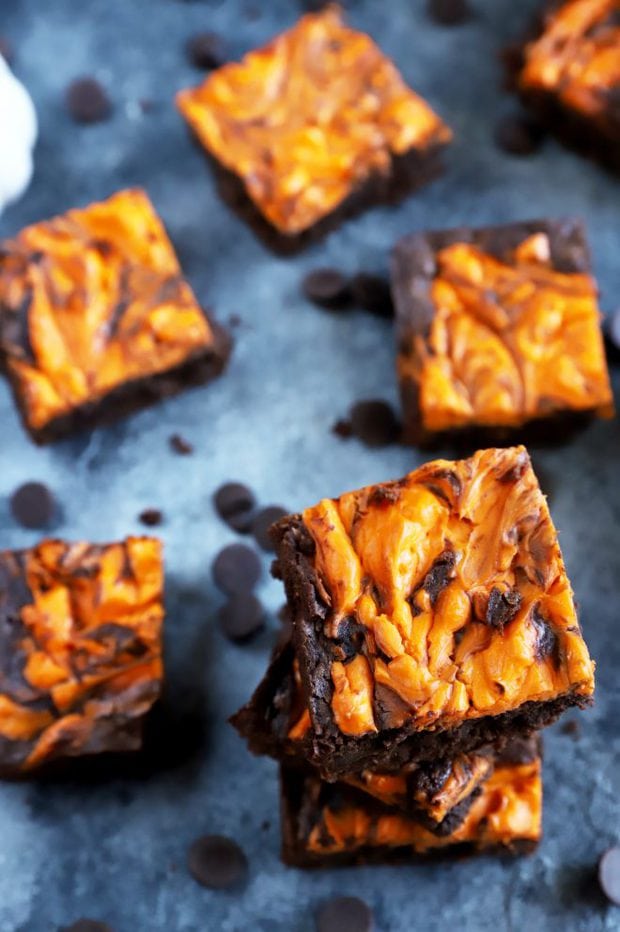 Cheesecake and brownies are a match made in heaven. My favorite cheesecake is brownie cheesecake, so I figured, why not turn it around and top some brownies with a cheesecake mixture.
The combination is so delicious – it's rich, creamy, chocolate-filled, and the crispy edges with the soft center is pure perfection.
You all know that Halloween is not my favorite holiday in the world, but it does hold a dear place in my heart. I still remember the magic of dressing up as a kid and running around the neighborhood with friends. It's easy to remember the sugar highs, and those epic crashes. I remember Halloween in college with way too many drinks…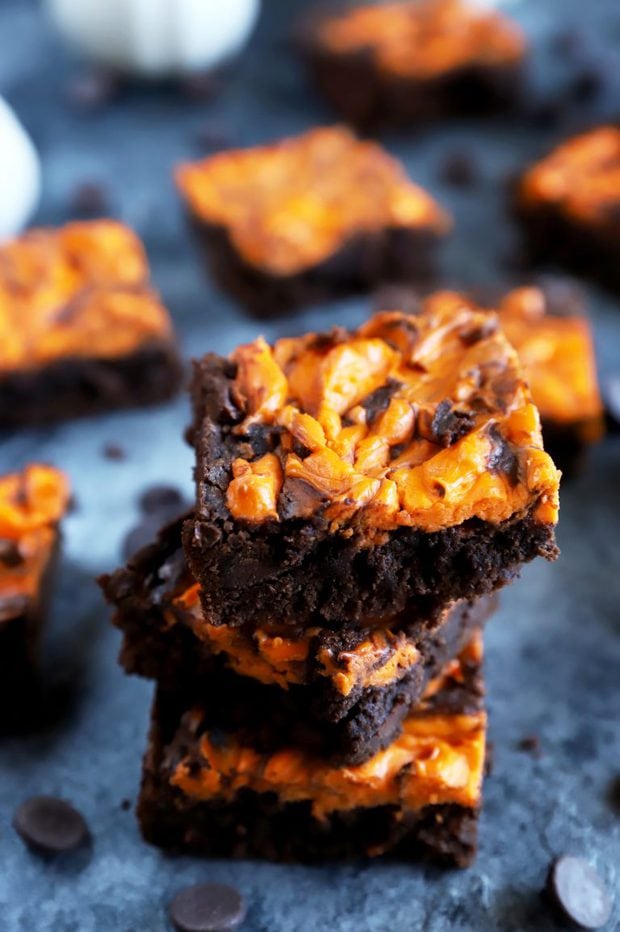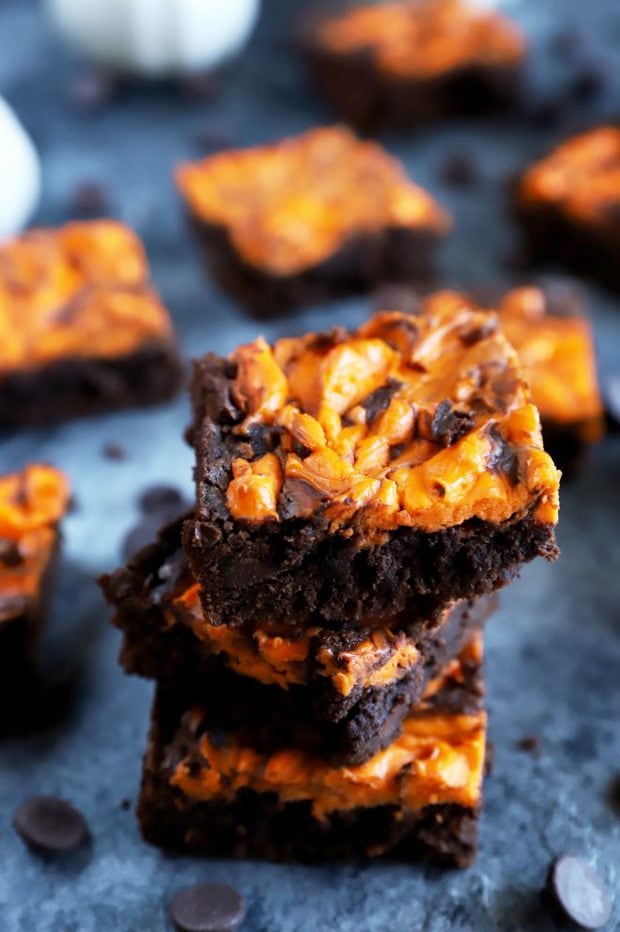 Now I look forward to the more relaxed Halloweens as an adult. Opting for sweats and a pot full of chili on the stove, cuddling on the couch with a movie and giving out candy to the neighborhood kiddos. The occasional blowout party on the weekend before or after is always welcome, but the night of Halloween, it's these traditions I look forward to the most.
These brownies are perfect for your Halloween traditions, whether it's a big party or a night in, or even a sweet treat for the kids (I mean, they get all the sugar anyway, am I right??)!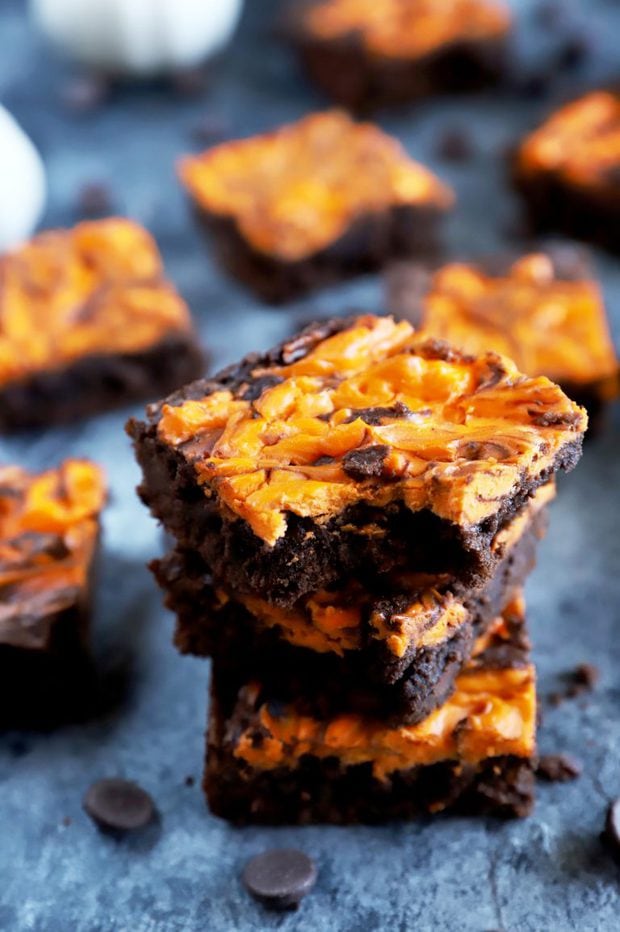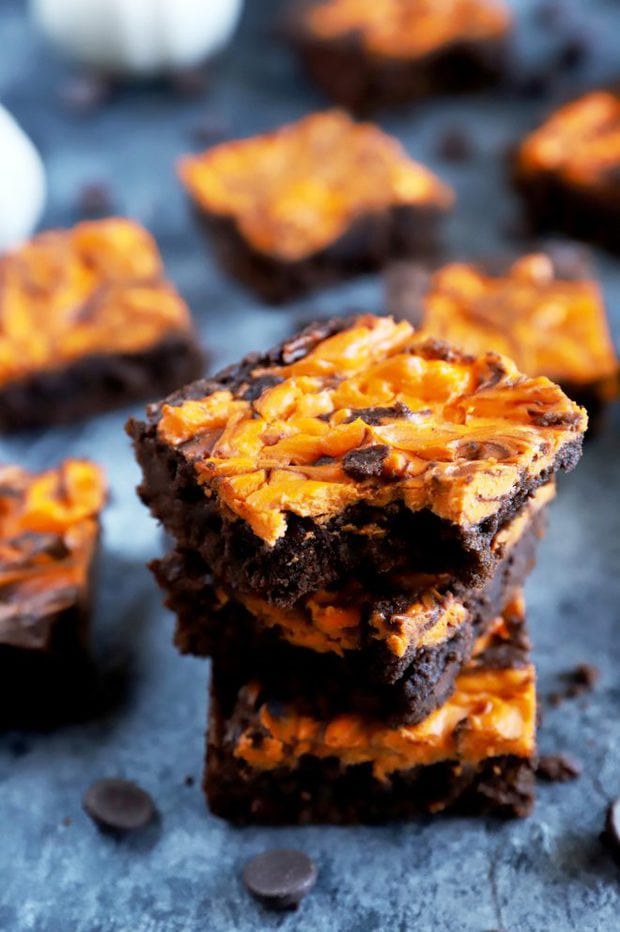 This Recipe's Must-Haves
For mixing up the brownie and cheesecake elements of this recipe you will need either a stand mixer or a set of mixing bowls and an electric hand mixer. I personally prefer to use a hand mixer and bowls, but it's totally up to you.
You will also want to have a wooden spoon or spatula handy to fold in the chocolate chips at the end for the brownies.
Finally, all you need is a square baking dish (metal or glass) to bake the brownies up in.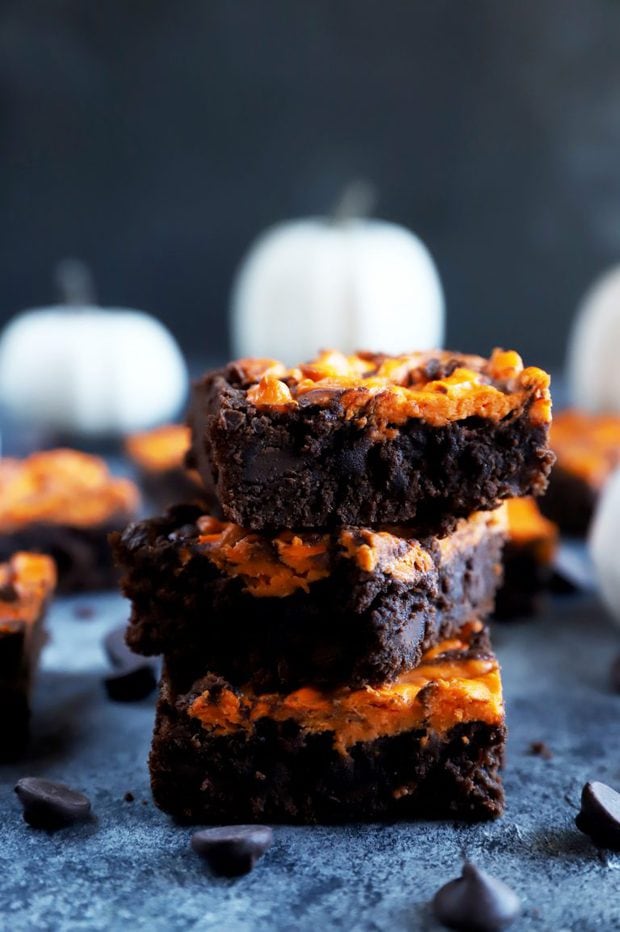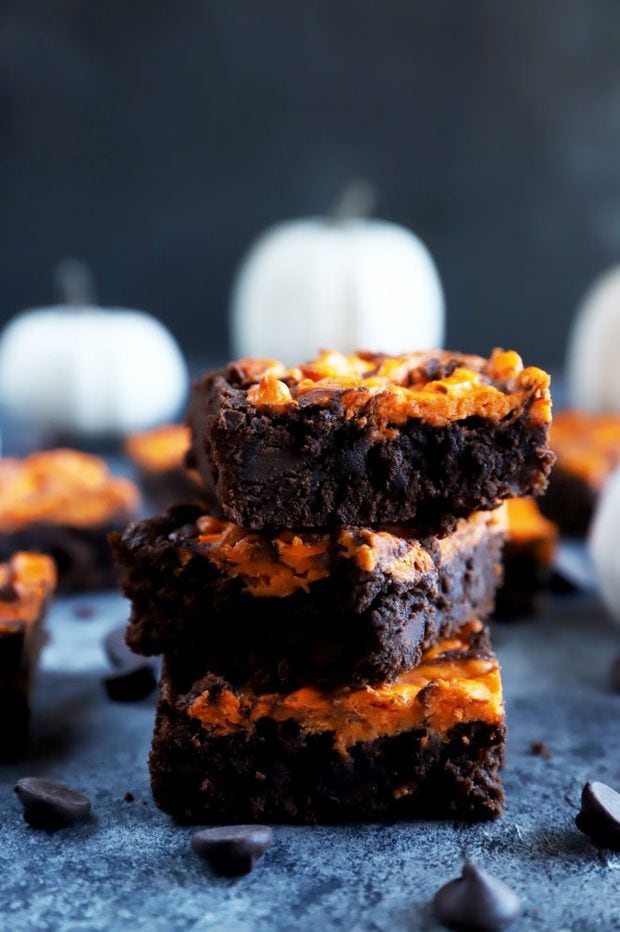 How To Make Cheesecake Brownies
Make Brownie Batter
To make the brownie batter, it will take a few more steps than a brownie mix, but not too many more.
First, you start by separating two of the three eggs you need, reserving the egg whites and discarding the yolks. Then you beat together the wet ingredients, before adding the dry ingredients to the mix.
Finally, fold in the dark chocolate chips and you have a brownie batter that you will have to resist licking off the spoon…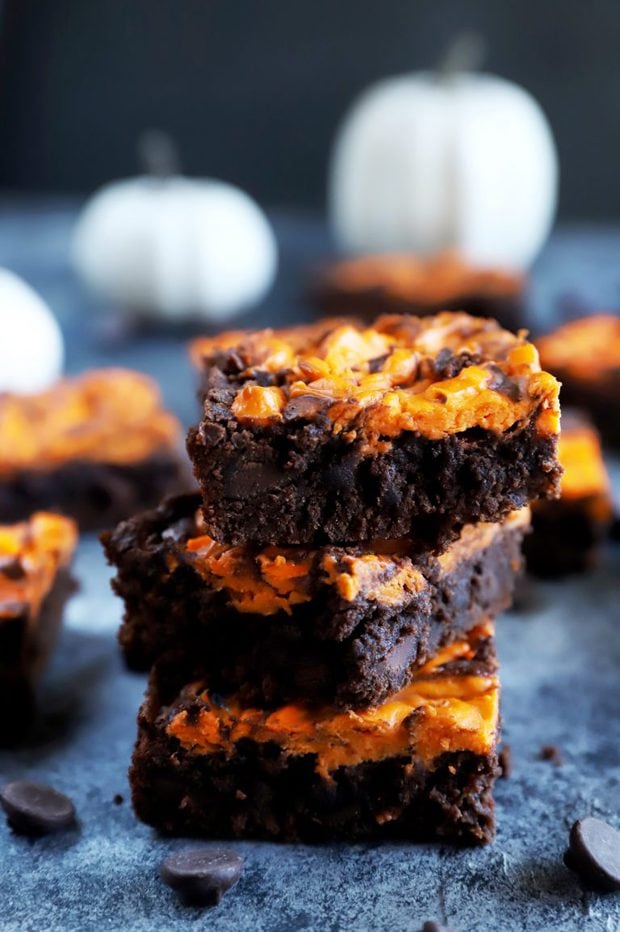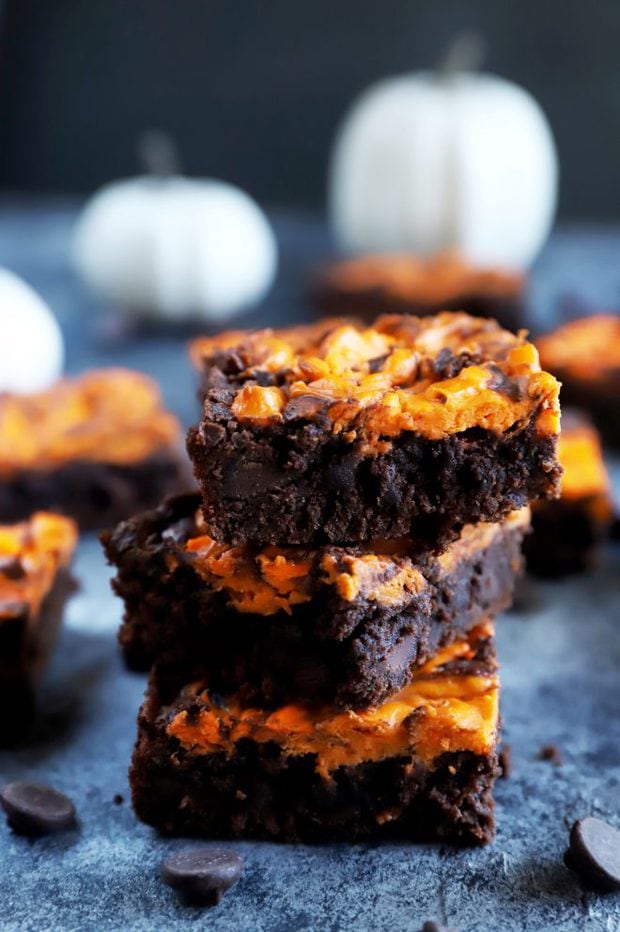 Make Cream Cheese Topping
After that, beat together cream cheese, some sugar, and food coloring to give the topping a lovely orange color. Once it's all creamy, you dollop it all over the top of the brownie. The cheesecake topping gets mixed into the brownies and voila! You have cheesecake brownies all ready to bake.
Bake
Bake it all up until everything is set and no longer wobbly. The edges will pull away from the sides at this point. Just make sure you don't over-bake it!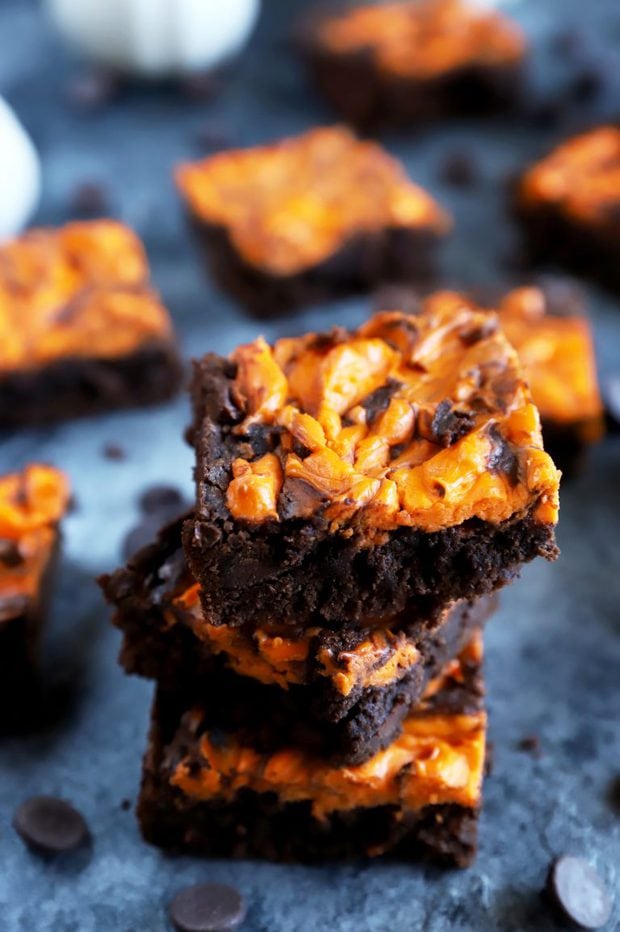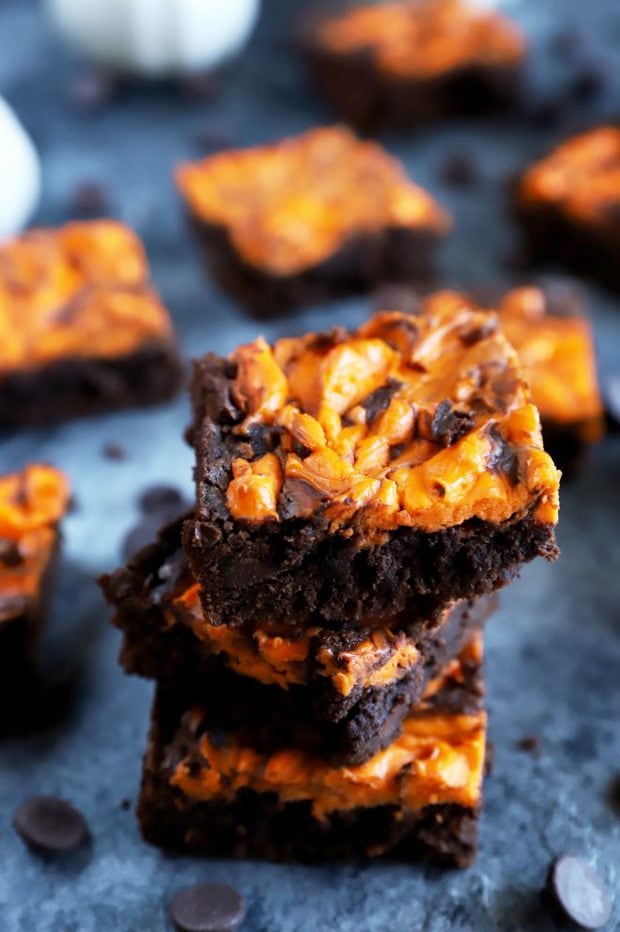 Do I have to use food coloring?
I know that some people out there are opposed to using food coloring, so you don't have to if you don't want to! You can leave the cheesecake topping white and it'll be more of a black and white combination.
How many brownies does this make?
Personally I like to cut these cheesecake brownies into 9 equal squares. You can cut them smaller if you prefer, but I think that 9 brownies gives you just the right size as an end result.
If you need a main to serve up before these Halloween cheesecake brownies, check out these mummified sirloin wellingtons! For a cocktail, whip up a skeleton key halloween cocktail.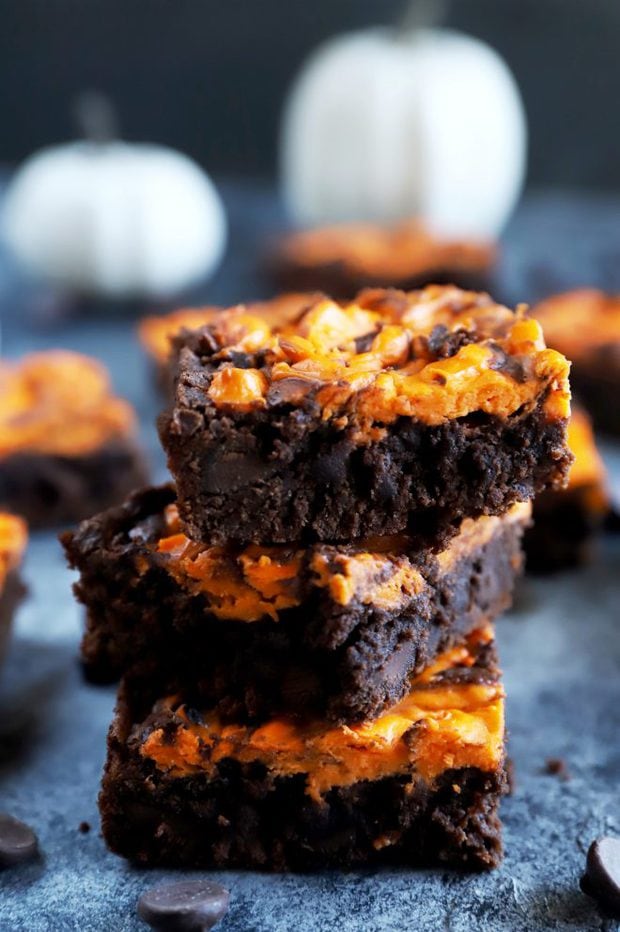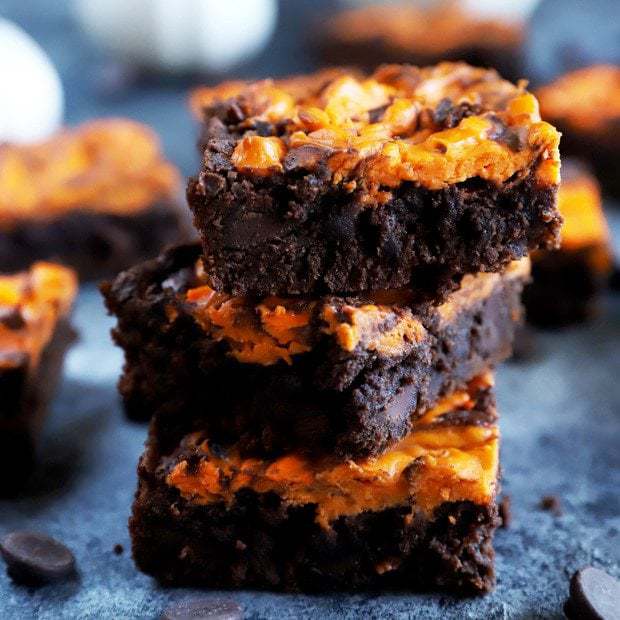 Halloween Cheesecake Brownies
Rich and decadent from-scratch brownies are topped with festive cream cheese, making for the perfect treat for all those Halloween tricks!
Ingredients
3 large eggs
6 Tbsp reduced-fat butter, room temperature
1 cup sugar
3 tsp vanilla extract
1/2 cup all-purpose flour
1/4 cup baking cocoa
1/2 cup dark chocolate chips
8 oz reduced-fat cream cheese
1 1/2 tsp orange food coloring
Instructions
Preheat oven to 350˚F. Coat a 9x9-inch square baking dish with cooking spray.
Separate two eggs, adding each egg white to a separate bowl and discarding the yolks.
In a medium bowl, use a hand mixer to beat butter and 3/4 cup sugar together until crumbly. Add one whole egg, two egg whites, and vanilla, beating until combined.
In a small bowl, stir together flour and cocoa powder. Gradually add the dry ingredients to the wet, beating until blended.
Fold in chocolate chips. Pour in batter into the prepared baking dish. Set aside.
In a separate small bowl, beat cream cheese, remaining 1/4 cup sugar, and food coloring until combined.
Drop the cream cheese mixture on top of the brownie batter in tablespoonfuls. Use a knife to cut it into the batter, making a swirl.
Bake for 25 to 30 minutes, until the edges are set and pull away from the sides of the pan. Cool in the pan completely on a wire rack.
Recommended Products
As an Amazon Associate and member of other affiliate programs, I earn from qualifying purchases.