When you need a hit of sweet and salty in the same bite, Olive Oil Salted Caramel Brownie Cookies are here to satisfy your craving! The Bertolli® olive oil in these cookies makes them extra soft, chewy and buttery without using any butter. The surprise gooey caramel center is the bomb diggity extra touch your homegating celebrations NEED.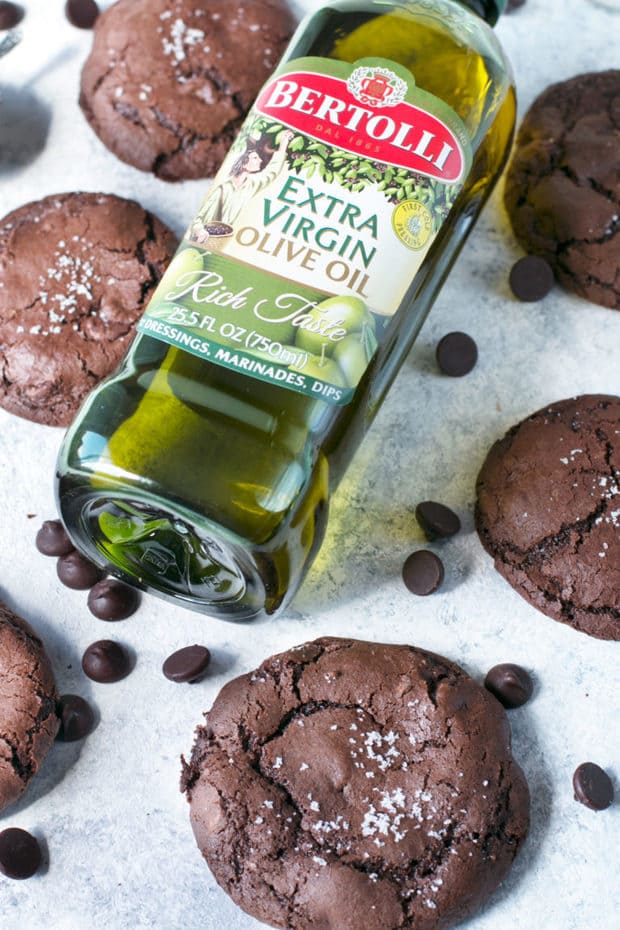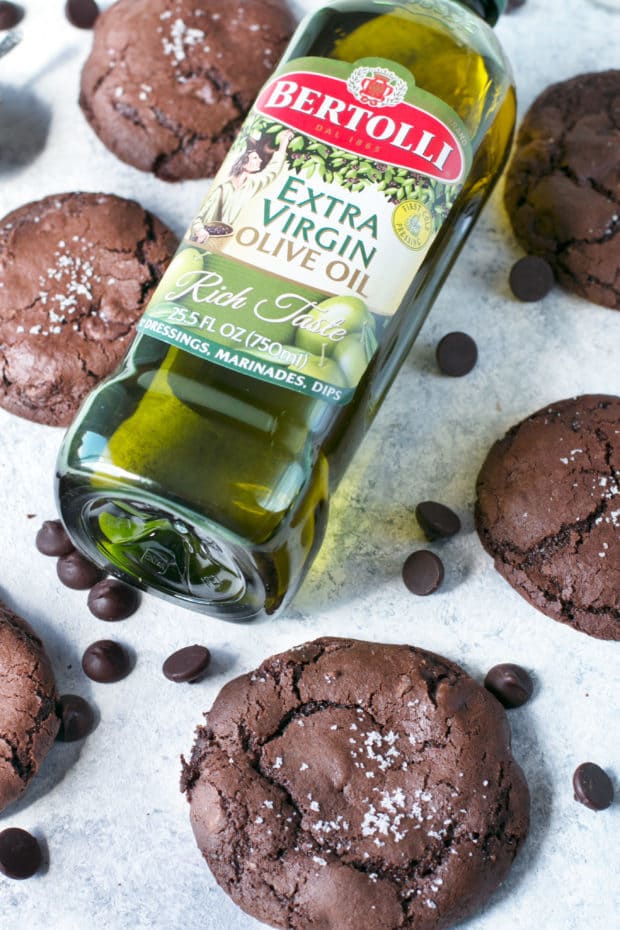 Disclosure: This post is sponsored by Bertolli® and Kroger Game Day Greats! As always, all opinions are my own. Thanks for supporting the brands that support Cake 'n Knife!
Let's talk olive oil, friends.
Obviously you know what olive oil is. As a youngling I knew it was that stuff my mom tossed veggies in before roasting them. You know, the normal stuff.
It wasn't until I spent time in Rome that I learned what EVOO could really do. That's where it hit me that this oil was so much more than a mere cooking ingredient.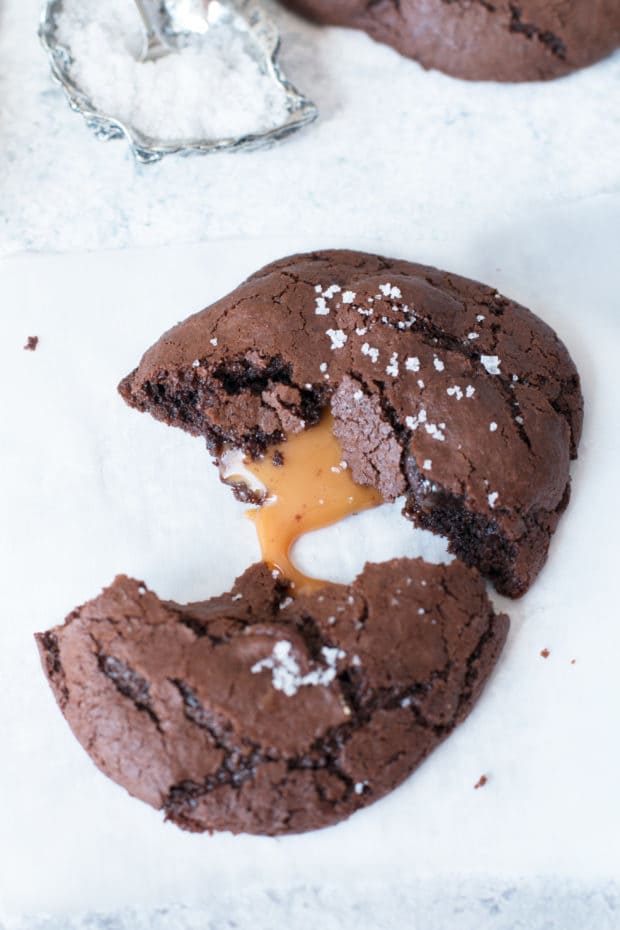 The sumptuous flavor of extra virgin olive oil can elevate a multitude of recipes, specifically these insane brownie cookies.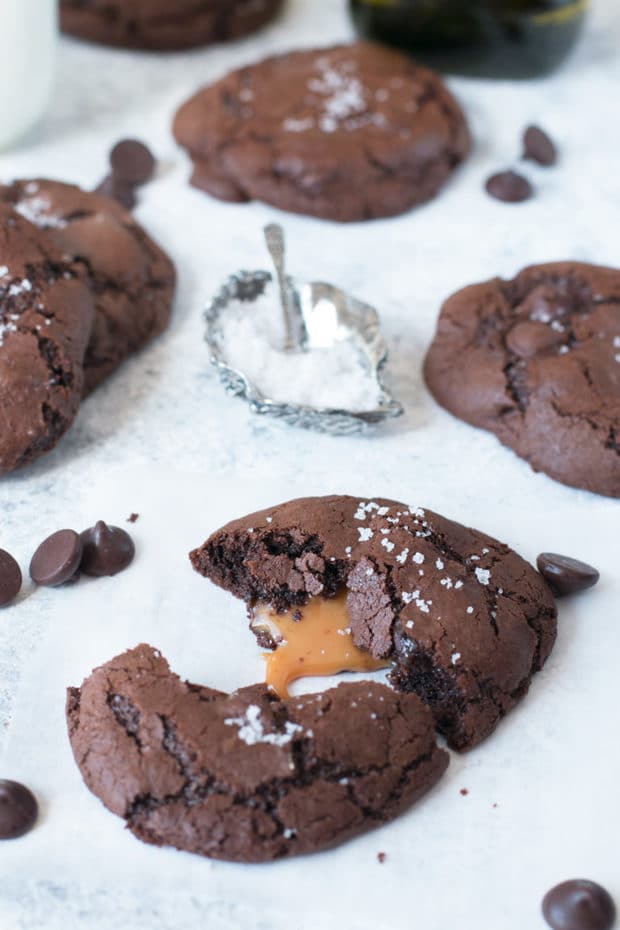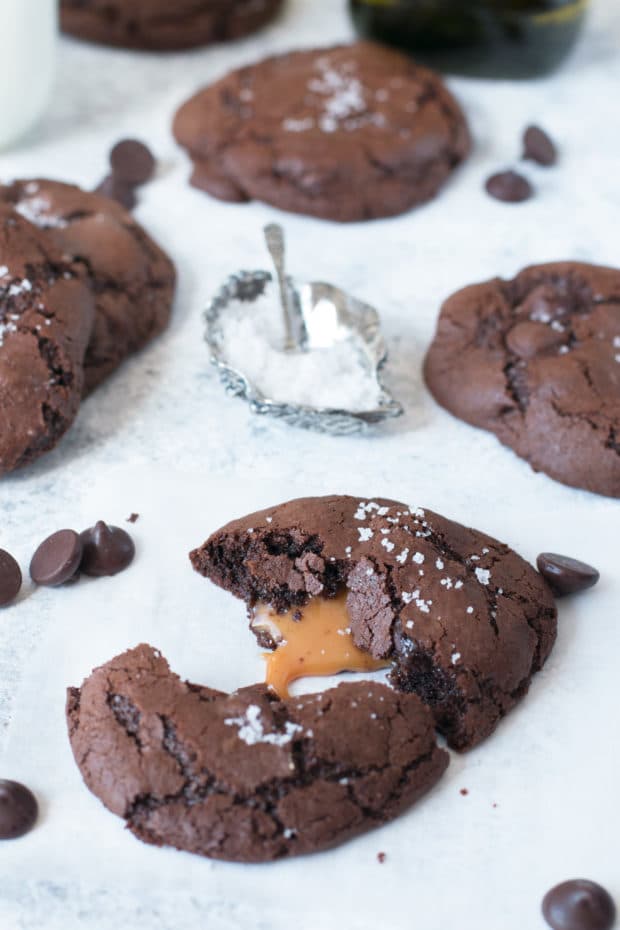 It's a simple ingredient that is flavorful and rich, without being overly indulgent. The key is to get an extra virgin olive oil that is pure and full of flavor…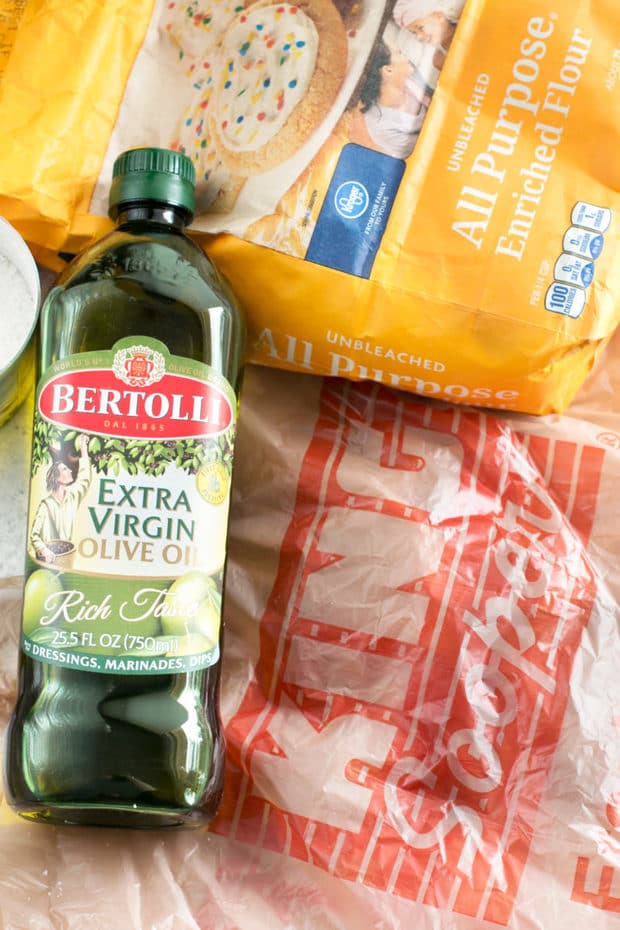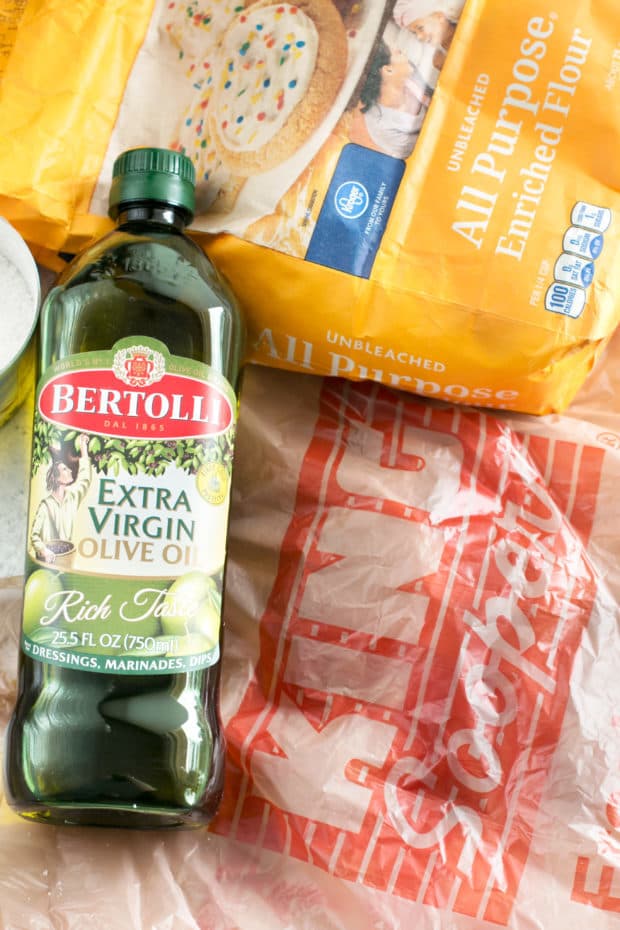 Please note that some of the links below are affiliate links. If you make a purchase through one of these links, I will receive a small commission. Thank you for supporting Cake 'n Knife!
That's where Bertolli® Organic Extra Virgin Olive Oil comes in.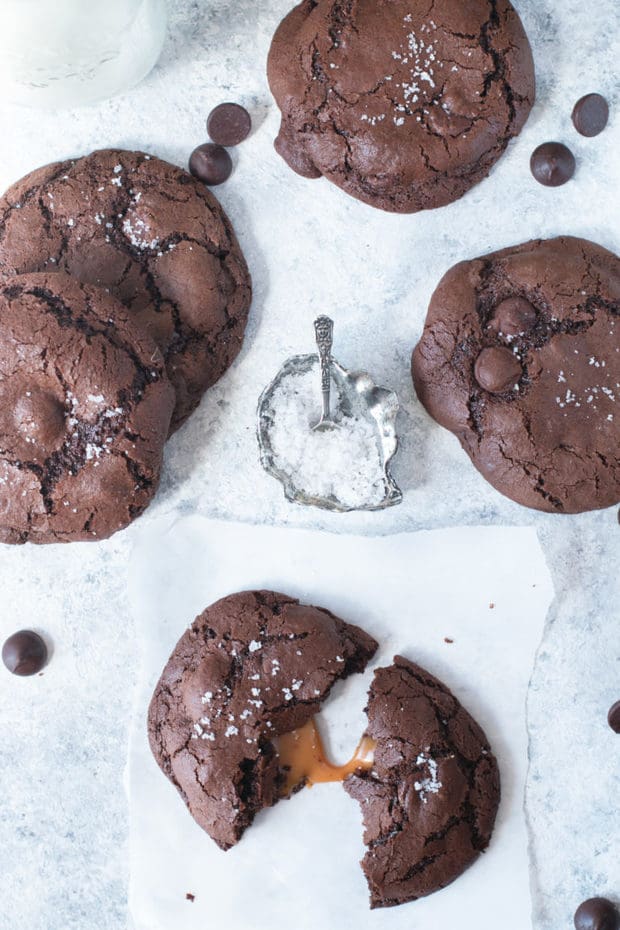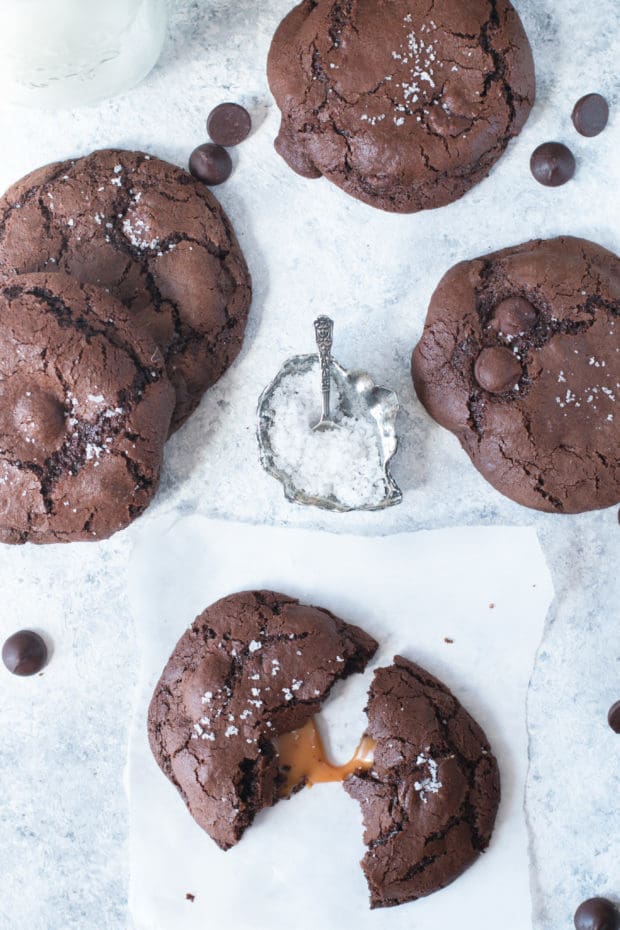 I hadn't used olive oil in baking very often until recently and it completely opened my eyes when I tried a friend's cookie recipe. Olive oil makes cookies so soft and chewy, it's like a pillow of sweet deliciousness in your mouth.
The subtle flavor of the olive oil is a great complement to the dark chocolate and caramel in these cookies, making them buttery without using any butter at all!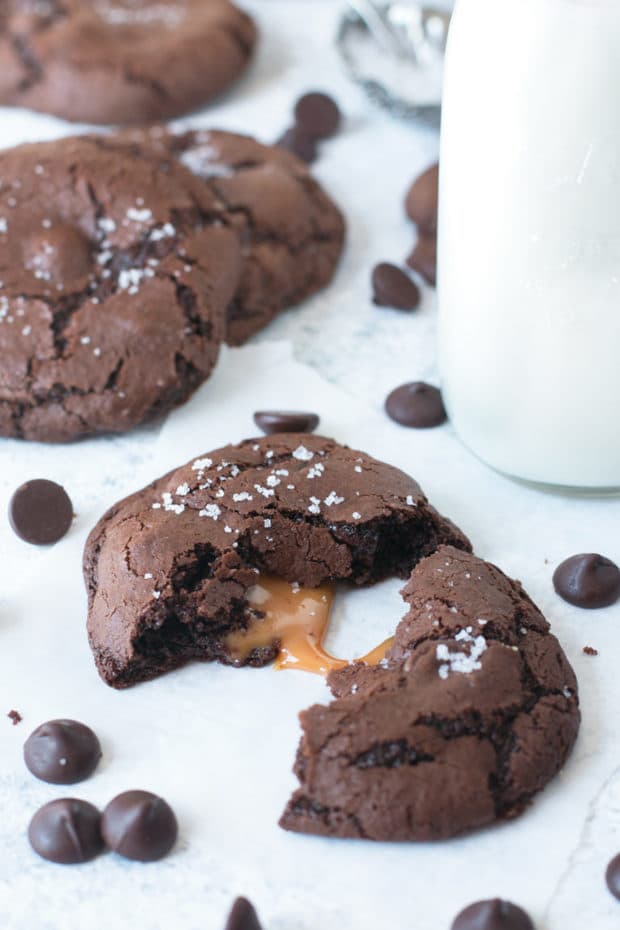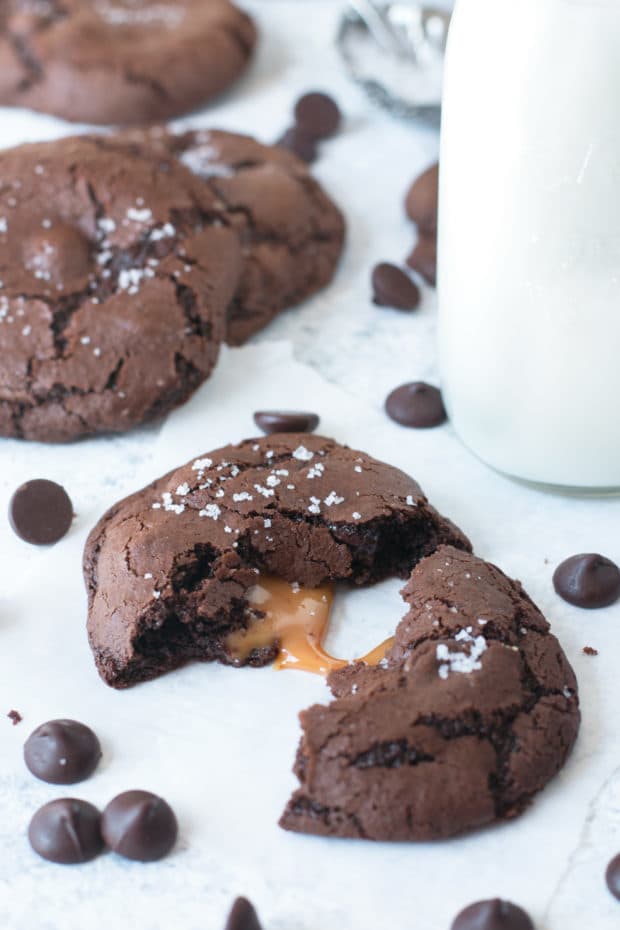 Just be sure to serve these guys up warm to maximize that gooey caramel center. If you make them ahead, I find a quick 10-15 seconds in the microwave does the trick ?
You know what these cookies are perfect for….?
HOMEGATING SEASON.
Homegating = tailgating at home. Get it?!?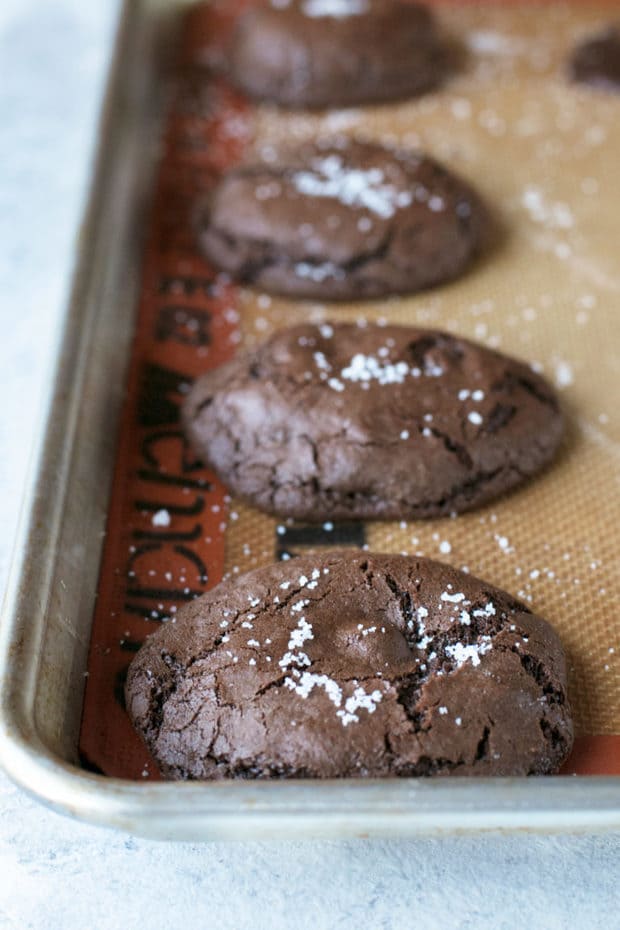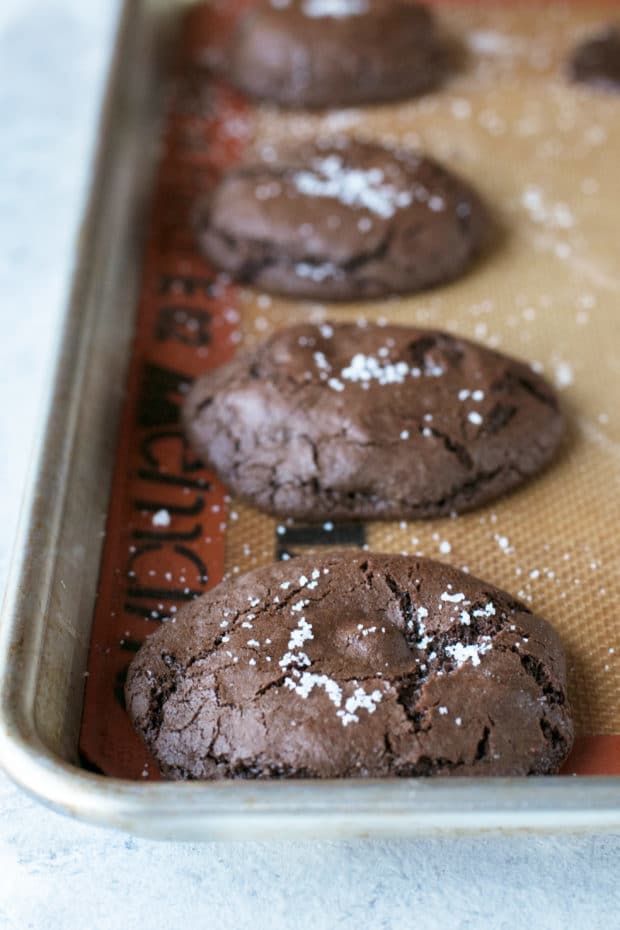 To make sure I make it through game day prep, I go for one place… Kroger!
You never have to worry about where to find Bertolli products when you have Kroger and their Game Day Greats program by your side! You can find everything you need to make these cookies, and anything else you might need for the homegating you plan to do this season. From ingredients to marinated meats and so much more, Kroger is THE one-stop shop to help you pull off a WIN.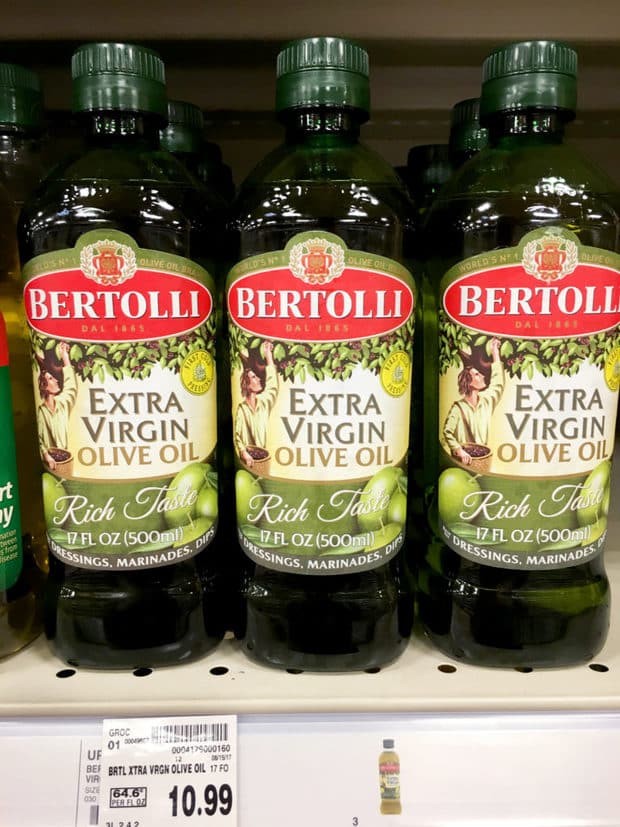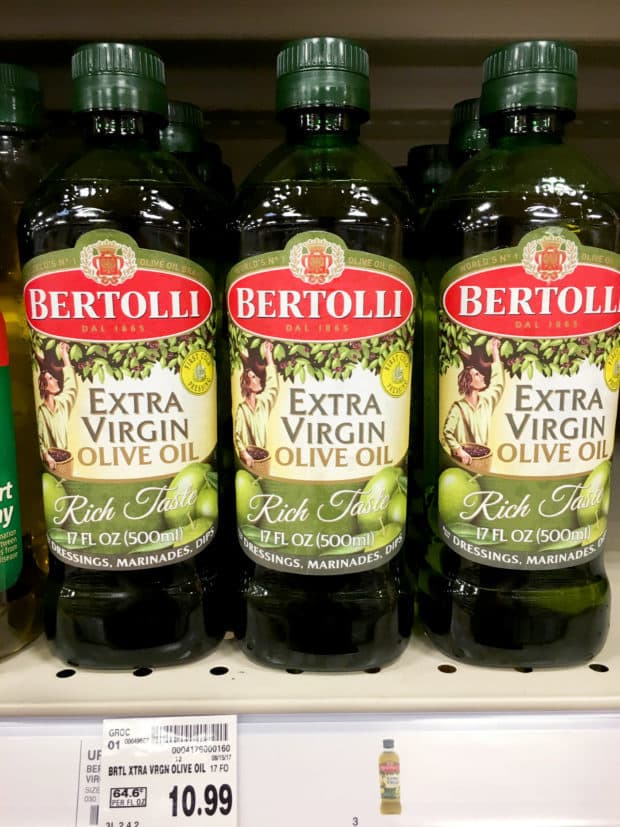 These simple cookies are a game day hit that will satisfy everyone's sweet tooth whether you are celebrating an epic win or comforting yourself after a tough loss.
So go grab this magical Bertolli® Organic Extra Virgin Olive Oil olive oil in any Kroger store close to where you live (hint hint: it's in the baking aisle!).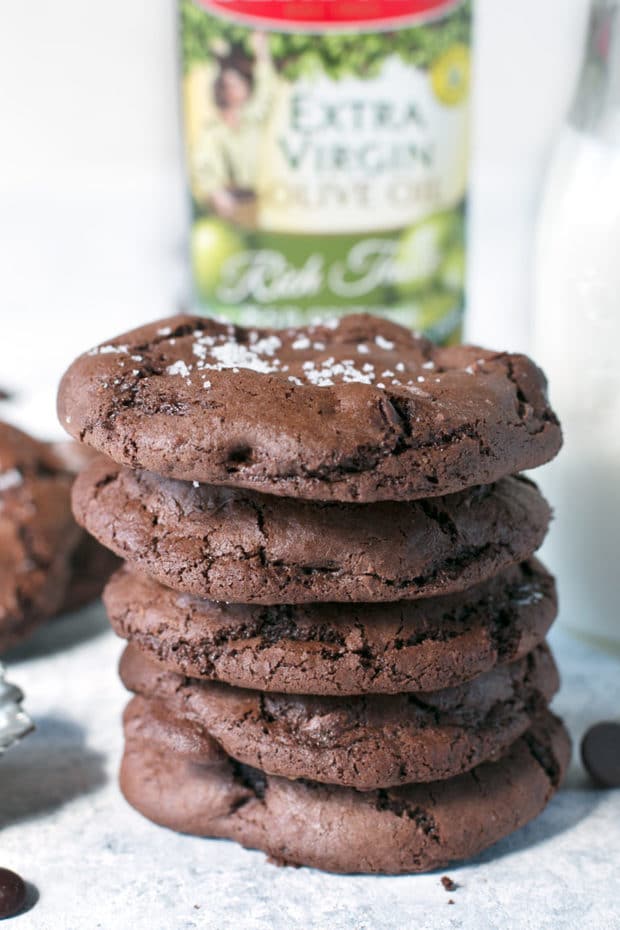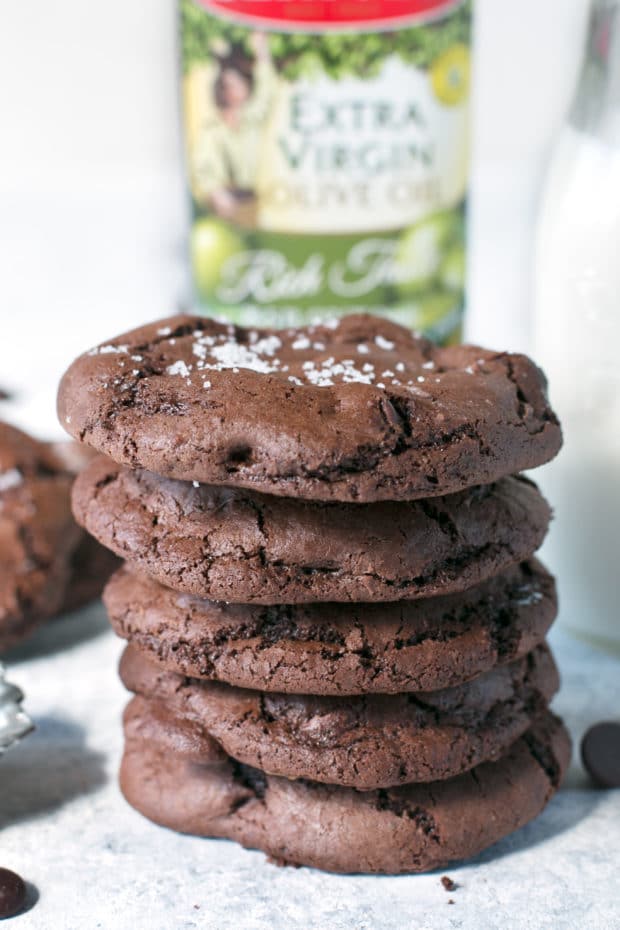 As an added bonus, Kroger is sharing a coupon with you all! Click here to grab a $1 OFF Kroger Click List digital coupon to get your game day plans started with savings. It's available September 11th through October 13th!
Be sure to hit up gamedaygreats.com for more tips on a killer homegating celebration!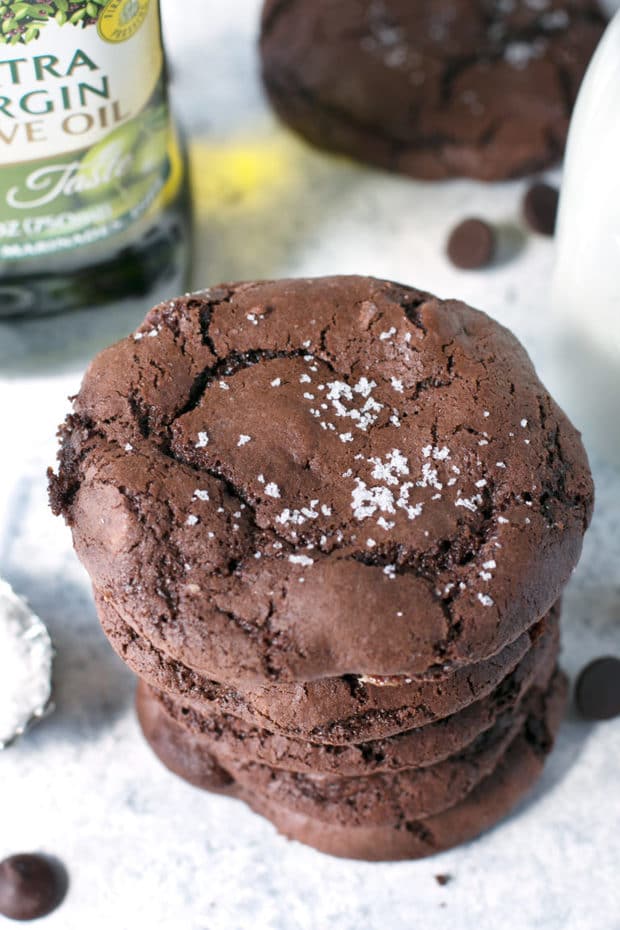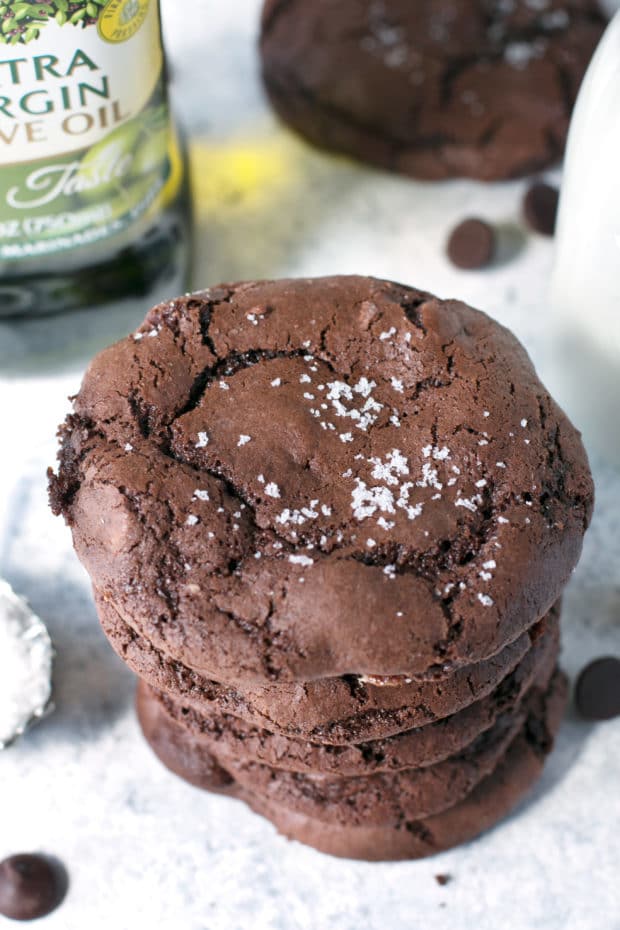 To learn more about Bertolli, you can visit Bertolli.com or their Facebook Page. Plus, check out more Bertolli game day recipes at www.tailgatingwithbertolli.com!
This Recipe's Must Haves
Pin this Olive Oil Salted Caramel Brownie Cookies recipe for later!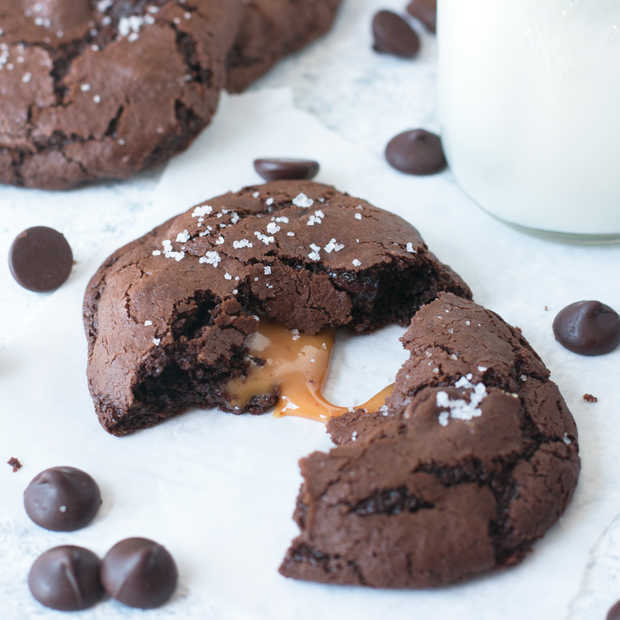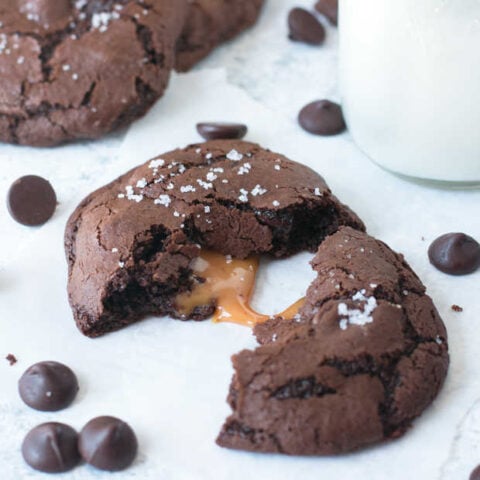 Olive Oil Salted Caramel Brownie Cookies
Yield:
Makes 12 to 14 cookies
The olive oil in these cookies makes them extra soft, chewy and buttery without using any butter. The surprise gooey caramel center is the bomb diggity extra touch you need all day, erry day.
Ingredients
1/2 cup Bertolli® Organic Extra Virgin Olive Oil
1 cup sugar
2 eggs
1 cup flour
3/4 cup + 2 Tbsp unsweetened cocoa powder
1/2 tsp coarse sea salt
1 tsp baking soda
1 Tbsp hot water
1 tsp vanilla
1 1/4 cups dark chocolate chips
12-14 caramel candies, unwrapped
Fleur de sel for sprinkling
Instructions
In the bowl of a stand mixer, beat together olive oil and sugar until well combined. Add eggs and beat until combined.
Add cocoa powder, flour, and salt. Beat until the dough comes together. Note the dough will be thick and running like brownie batter.
In a small bowl, whisk together baking soda and hot water until the baking soda is dissolved. Add the mixture and vanilla to the batter, beating until combined. Stir in chocolate chips.
Chill batter in the refrigerator for at least 1 hour, and up to overnight.
When ready to bake, preheat oven to 350 degrees. Line two baking sheets with parchment paper or silicone mats.
Lightly flour your hands and clap together to shake off the excess. Scoop 1 ½ to 2 Tbsp of the batter and flatten in the palm of your hand. Add one caramel candy to the center of the dough disk. Wrap the dough up and around the candy, covering it completely and pinching the dough together well. Place the dough ball seam side down on the lined baking sheet. Repeat with remaining dough and caramel candies.
Sprinkle each dough ball with a little fleur de sel. Bake for 12 to 15 minutes, until the edges are set. Let cool for 10 to 15 minutes on the baking sheets, before removing to wire racks to cool completely.
Recommended Products
As an Amazon Associate and member of other affiliate programs, I earn from qualifying purchases.