Please note this post contains affiliate links.
What do you do with the leftover seeds after carving your pumpkin? Make the best roasted pumpkin seeds, of course! The simple blend of spices brings out the roasted and nutty flavor, making it your new favorite snack.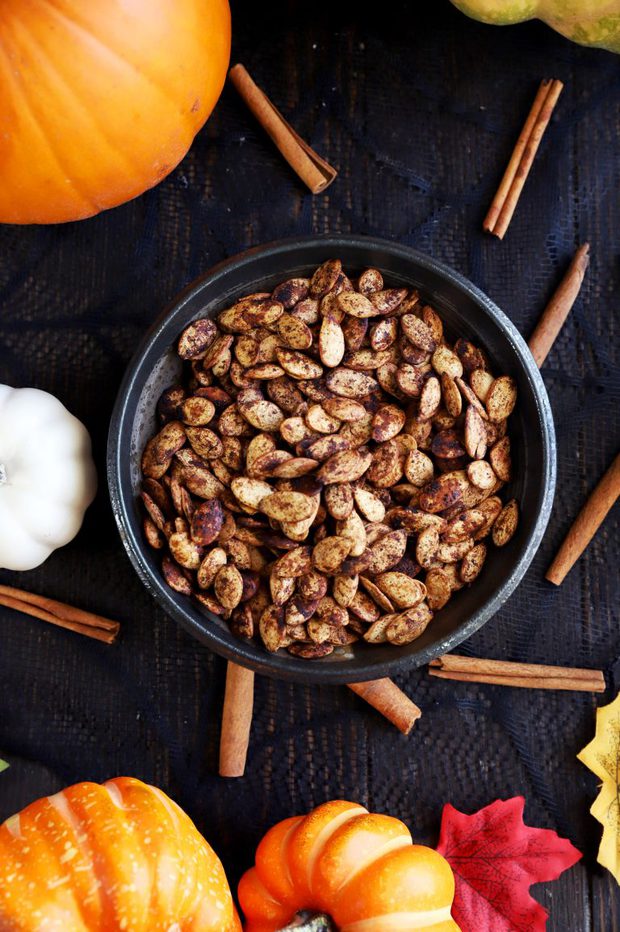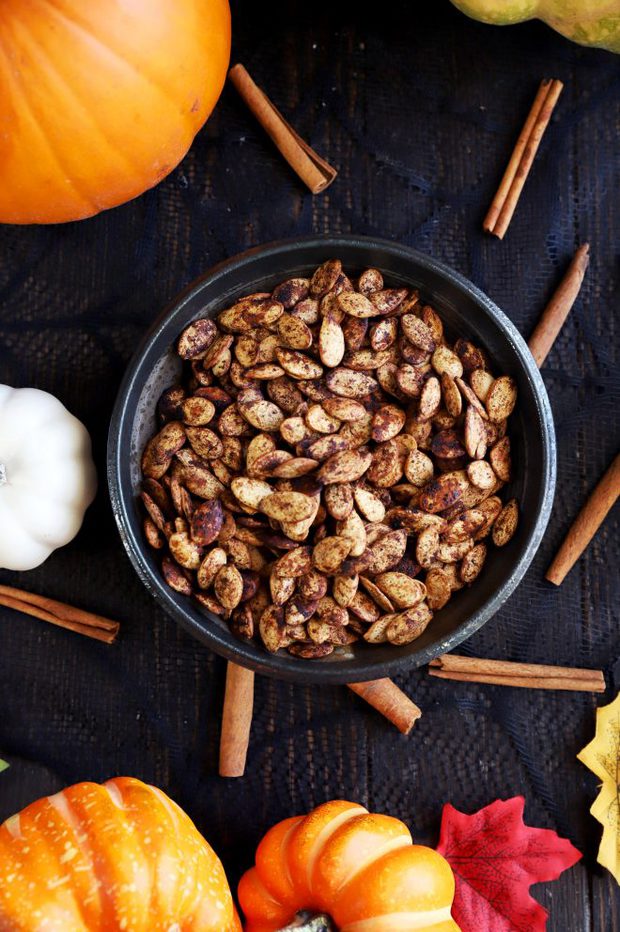 When it comes to Halloween, there's one memory that really sticks in my mind – you know, aside from massive amounts of candy and all…
That's the pumpkin carving.
Now, I was never very talented at carving pumpkins and I don't think that my mom and I did it every year… I would have to chat with her to see, because as I write this, I am racking my brain, unable to remember.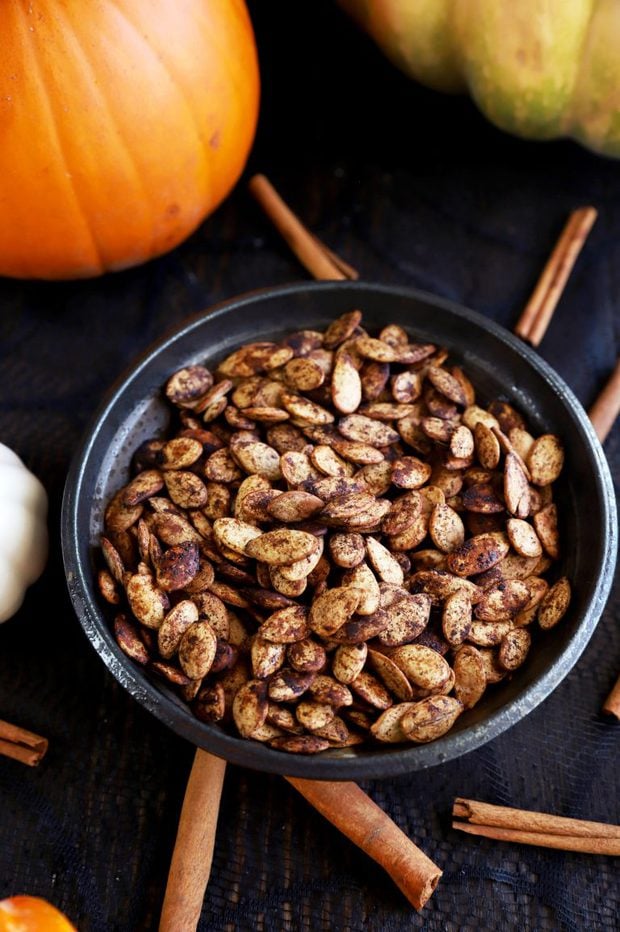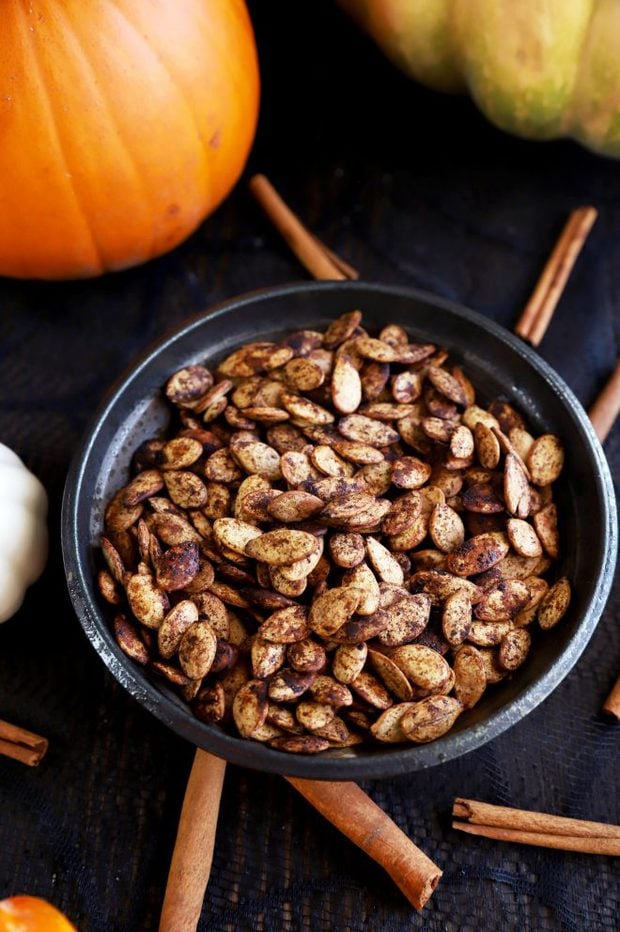 I DO remember that my designs were never super awesome.
Another thing that I remember that my mom loved to save the seeds to roast them later.
Roasted pumpkin seeds are one of my favorite snacks, but I rarely make them because I rarely carve pumpkins nowadays. When you roast the seeds, they get this warm and nutty aroma… But it's even better when you coat them in a seasoned butter. Because butter is awesome. As are spices.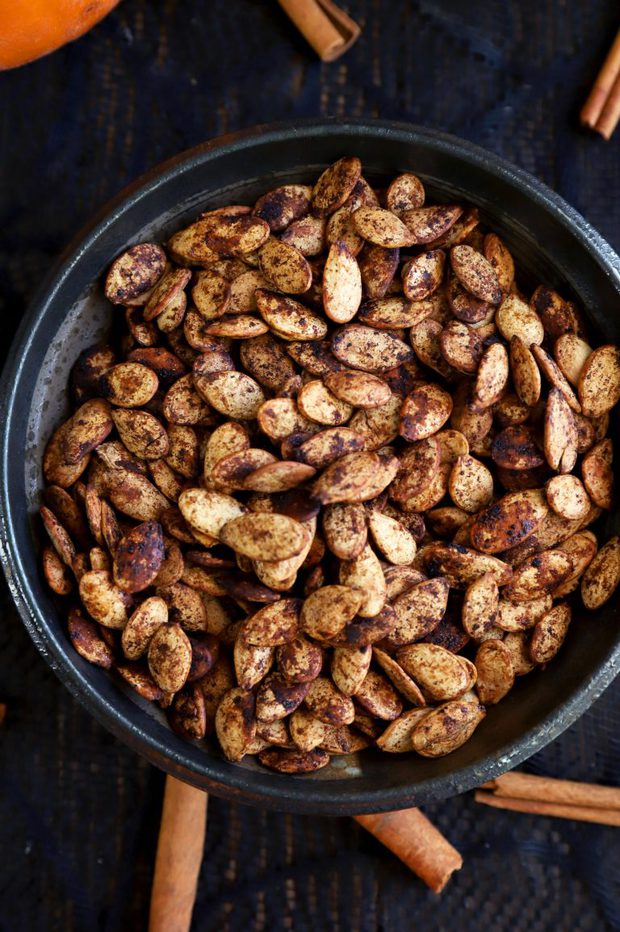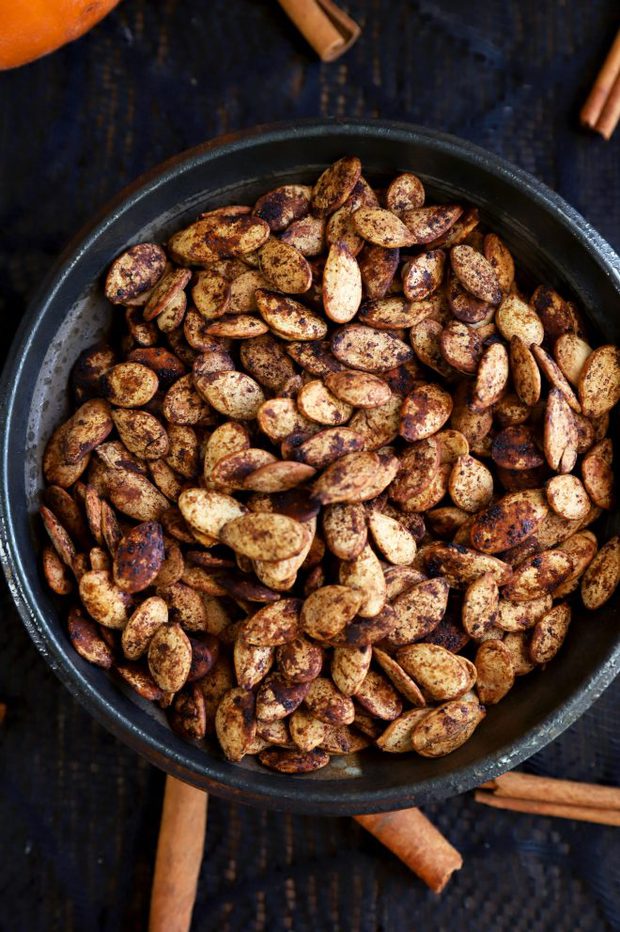 This recipe couldn't be easier – you can either use up your pumpkin seeds from the pumpkins you carved for Halloween, or you can run to the store and buy some unsalted ones if you are lazy like me 😉
They are nutty, warm, a little spicy, and totally addictive. These will disappear before you know it, so you might want to make a double or triple batch!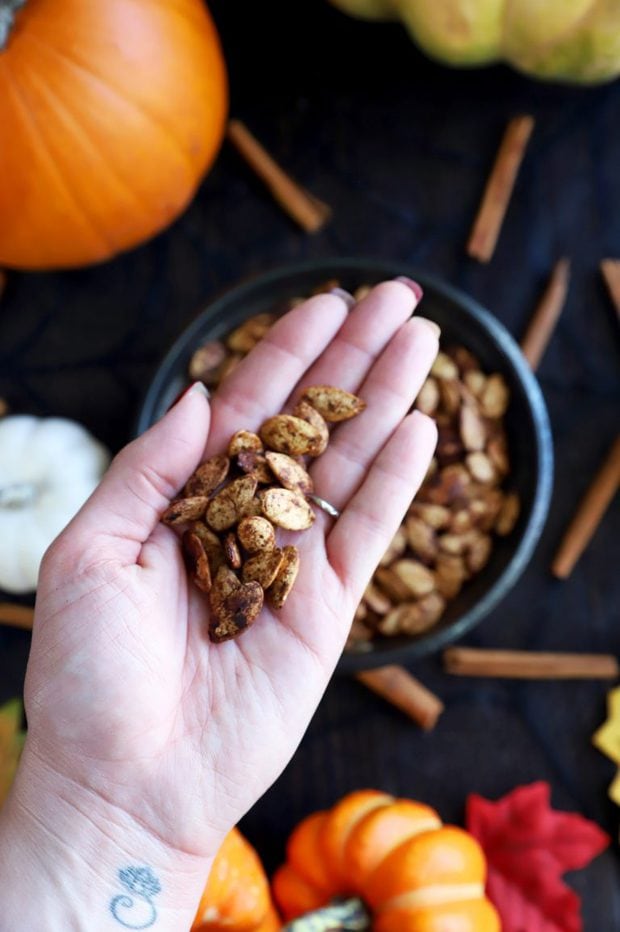 This Recipe's Must-Haves
Since these roasted pumpkin seeds are so simple to make, you don't need a lot of tools to make them! First you need a set of mixing bowls to make the seasoned butter, and then to toss the pumpkin seeds with said seasoned butter.
Next all you need is a half sheet baking pan and a wooden spoon to stir the seeds halfway through cooking.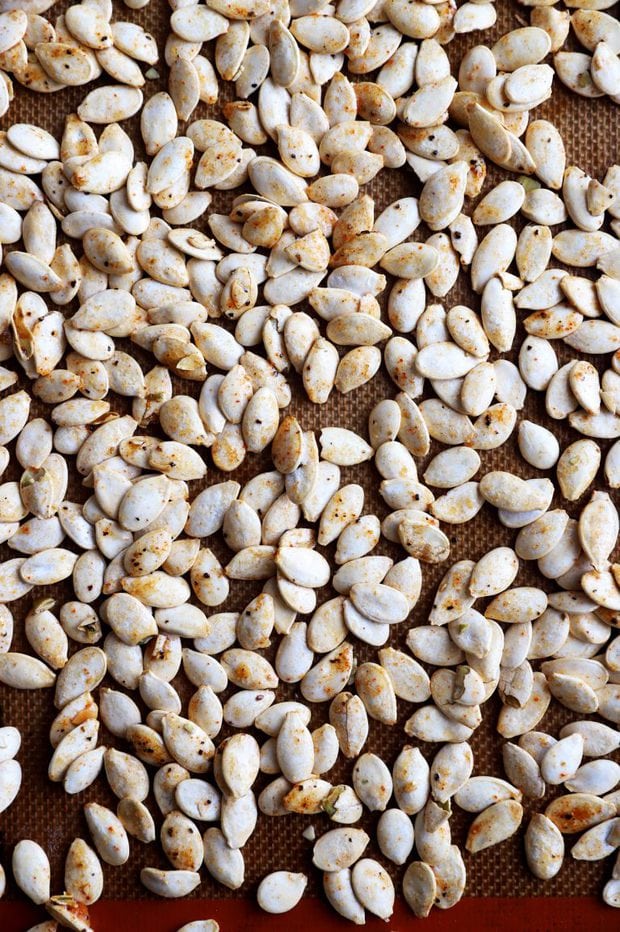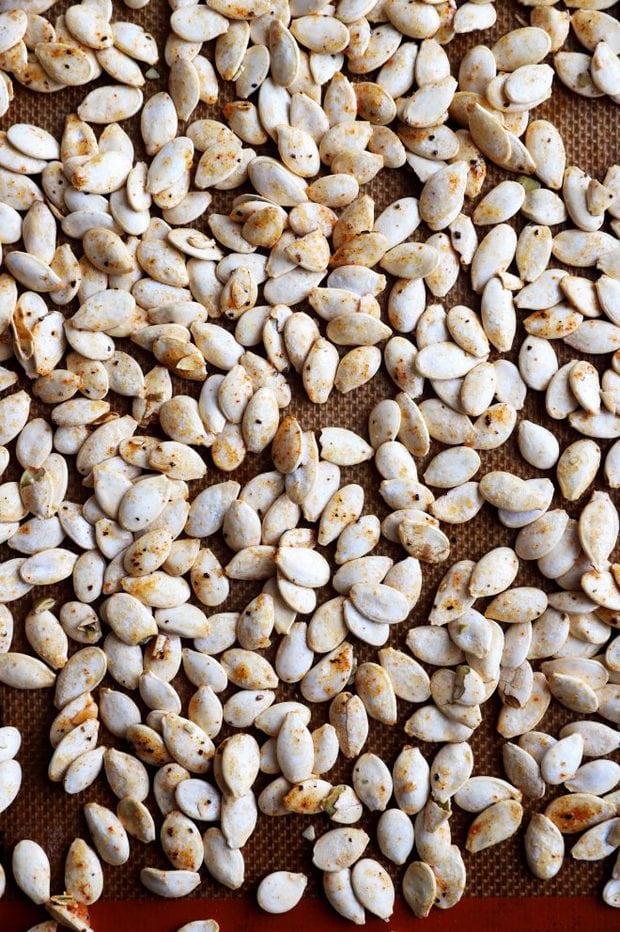 How To Make Roasted Pumpkin Seeds
Clean Seeds
If you are using seeds that you got from your pumpkin carving adventures, make sure that you clean them well. Rinse them in a colander in cold water until they are clean. Then make sure to pat them dry with paper towels before you start the recipe.
If you are using unsalted pumpkin seeds that you bought at the store, you can skip the cleaning step.
Make Seasoned Butter
To make the seasoned butter, simply stir together melted butter and spices as listed on the ingredients list. Toss the seeds in the butter well to coat them evenly.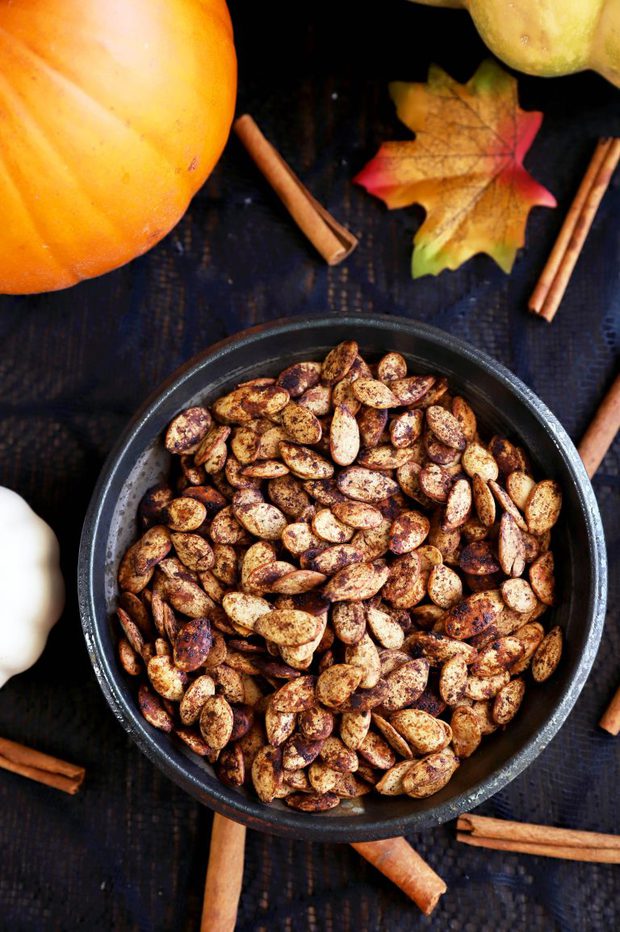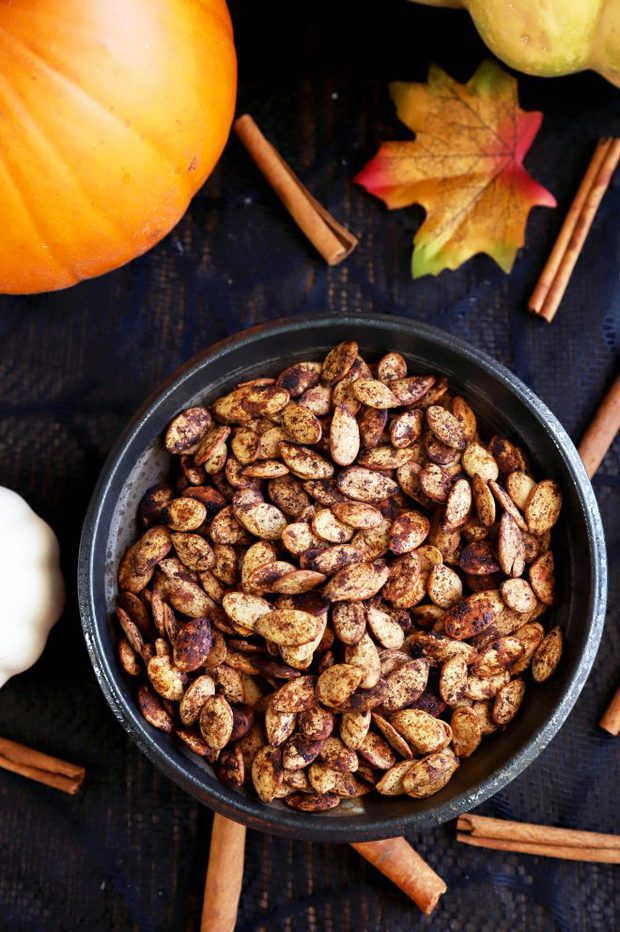 Bake
Spread the seeds out in an even layer on the prepared baking sheet, then roast in the oven. Just make sure that you stir them halfway through the roasting time so they evenly roast on both sides.
Change up the flavors if you want to!
If you like your snacks a little spicier, you can up the heat with additional cayenne pepper.
You can also adjust any of the seasoning amounts depending on the flavors you like the most. I recommend making the recipe as is, then if you have any changes, you can adjust the seasoning the next time you make them (trust me, you'll want to make them again!).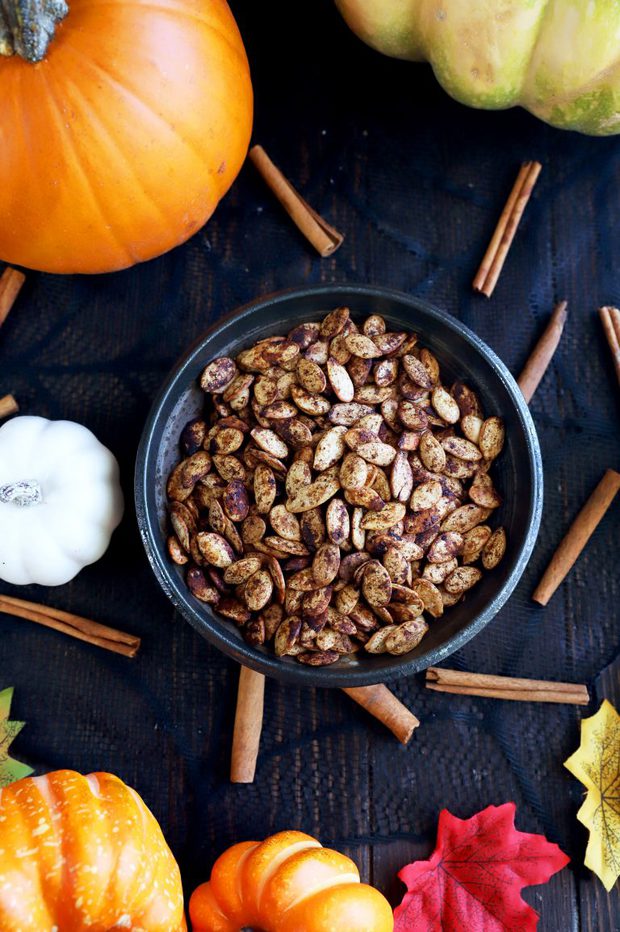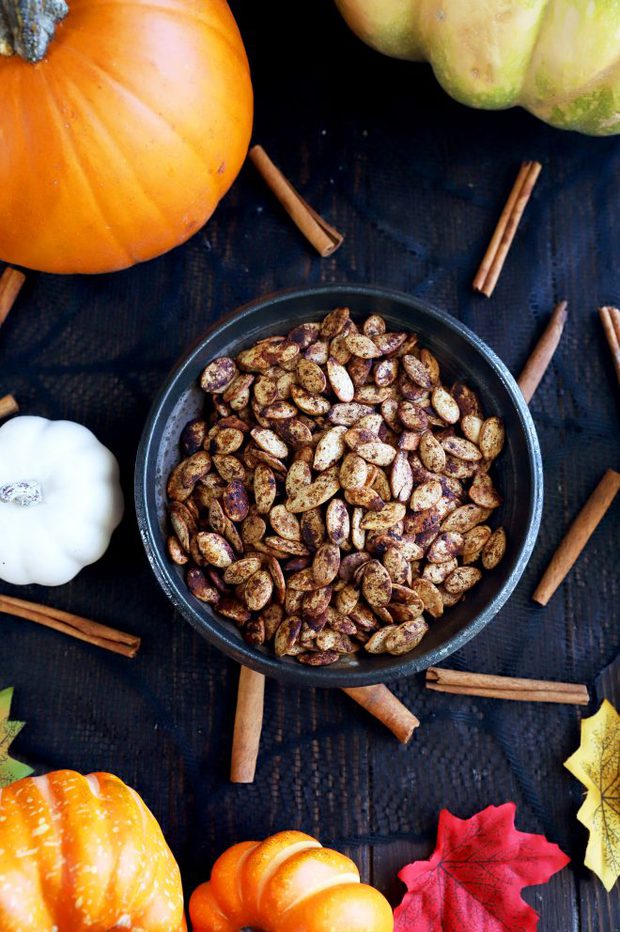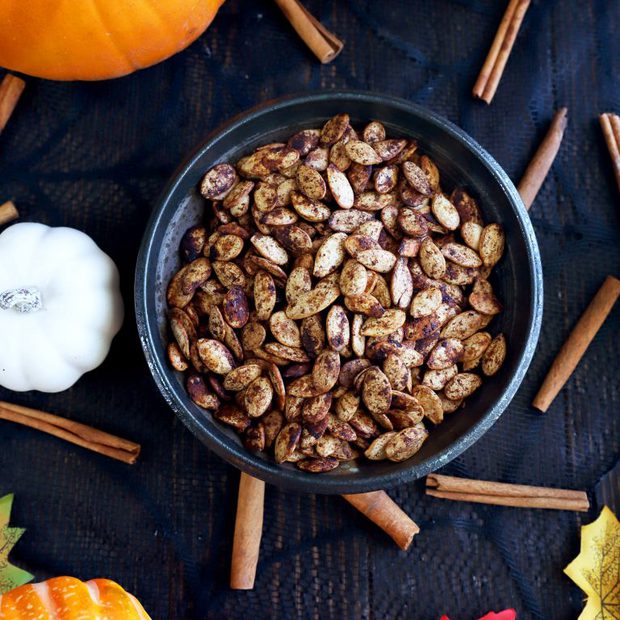 The Best Roasted Pumpkin Seeds
Literally the best roasted pumpkin seed recipe EVER. It's the best way to use up those pumpkin seeds from your carved pumpkins!
Ingredients
1 1/2 cups pumpkin seeds, well-cleaned, well-dried
2 Tbsp melted butter
1/2 tsp salt
1/4 tsp ground cinnamon
1/4 tsp garlic powder
1/4 tsp cayenne pepper
1/4 tsp black pepper
Instructions
Preheat oven to 375˚F. Line a rimmed baking sheet with parchment paper or a silicone mat.
Add butter, salt, cinnamon, garlic powder, cayenne pepper, and black pepper to a small bowl. Stir to combine.
Add pumpkin seeds to a medium bowl with the seasoned melted butter. Toss to coat evenly.
Spread seeds on the prepared baking sheet in an even layer, making sure no seeds overlap each other.
Bake for 25 to 35 minutes, until seeds are golden, stirring halfway through. Remove from oven and cool for a couple of minutes before enjoying.
Recommended Products
As an Amazon Associate and member of other affiliate programs, I earn from qualifying purchases.