Please note this post contains affiliate links.
Dark Chocolate Peanut Butter Avocado Brownie Bites are the healthier way to indulge in that chocolate peanut butter craving you've been having lately! We all want to start the New Year in a healthy way, but sometimes you need a little indulgence. It's the best of both worlds, in cute little bite-sized form!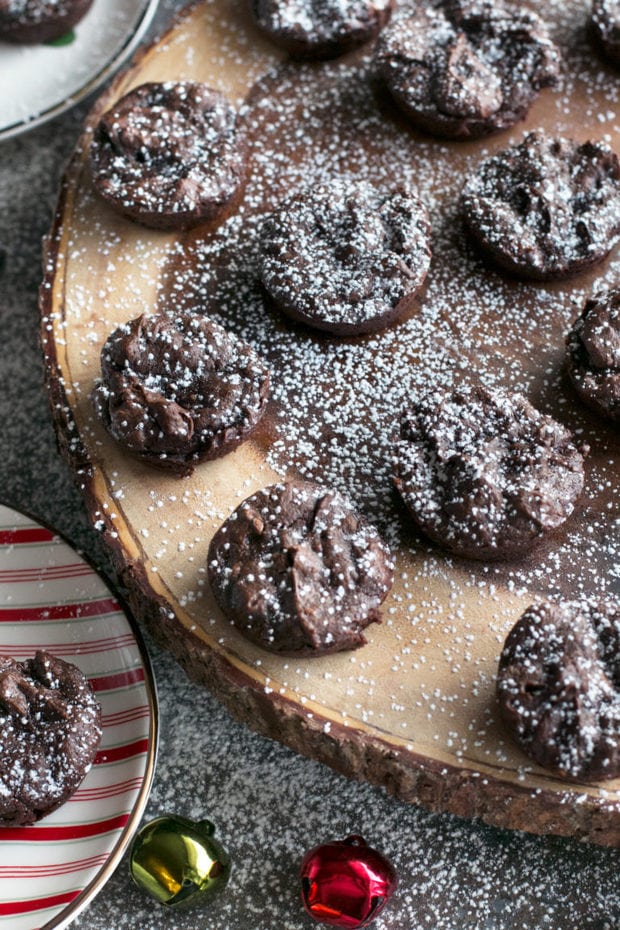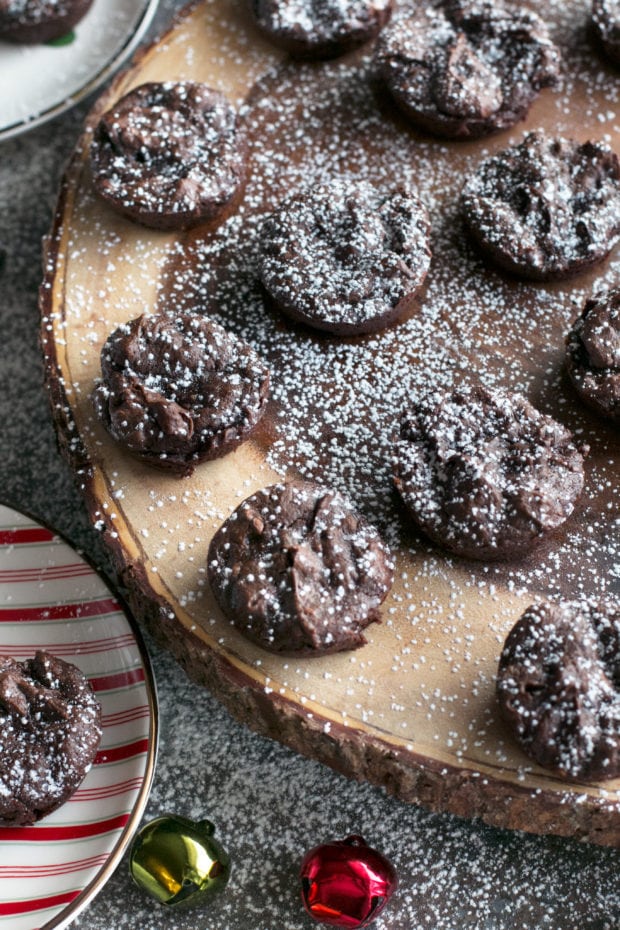 Please note that some of the links below are affiliate links. If you make a purchase through one of these links, I will receive a small commission.
Chocolate is my passion.
Avocado is my obsession.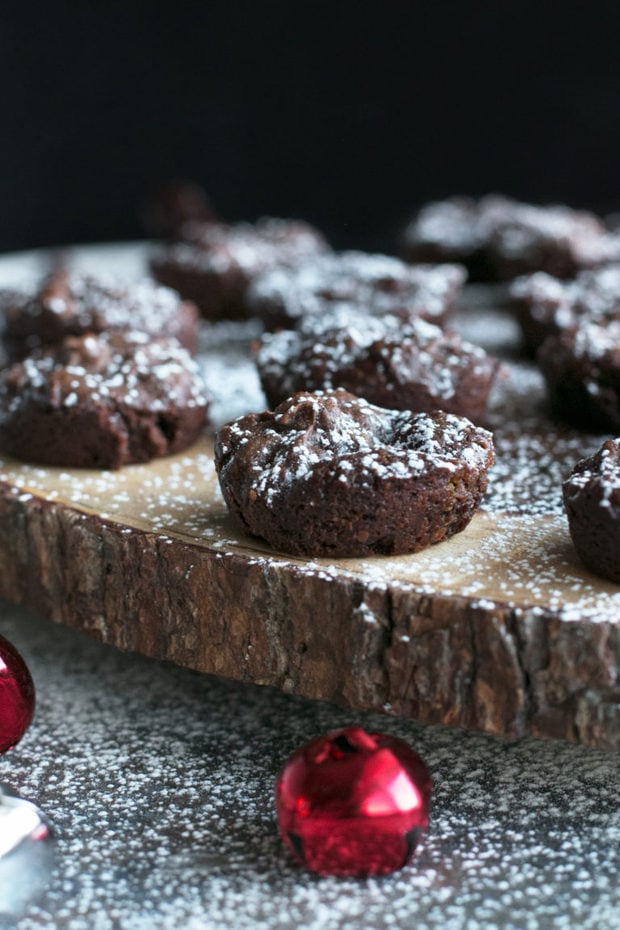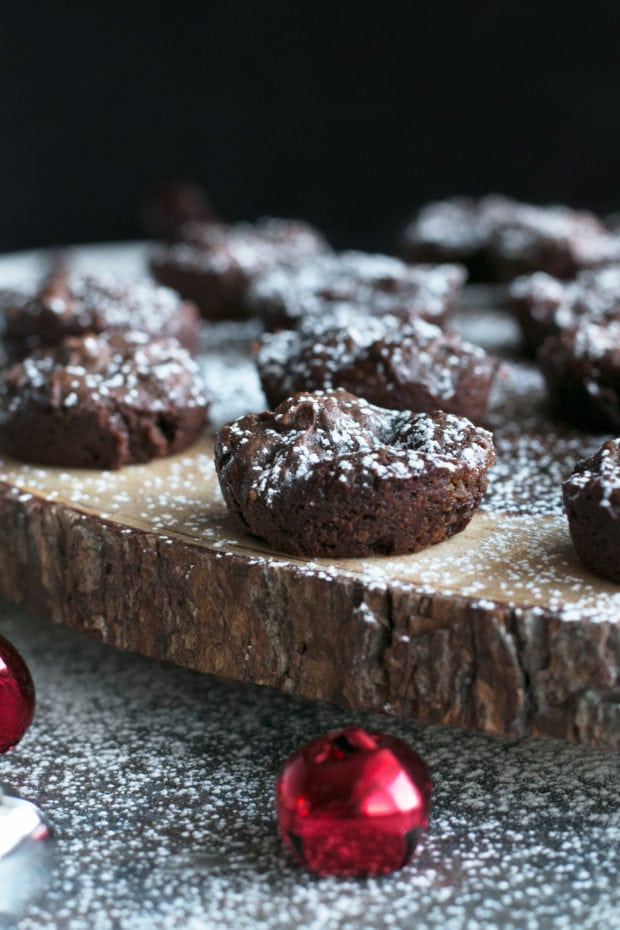 So I decided to put them together with some tasty peanut butter to get your chocolate fix, in a healthier way!
Every time the new year rolls around, I strive to revisit my habits and make small adjustments to get a little healthier. Of course, I say that, but I can't give up on my chocolate…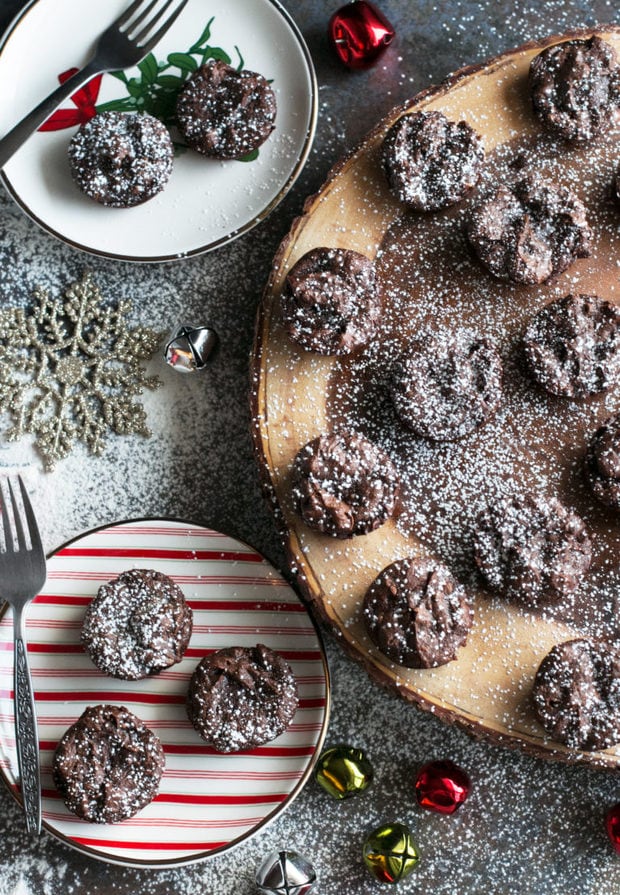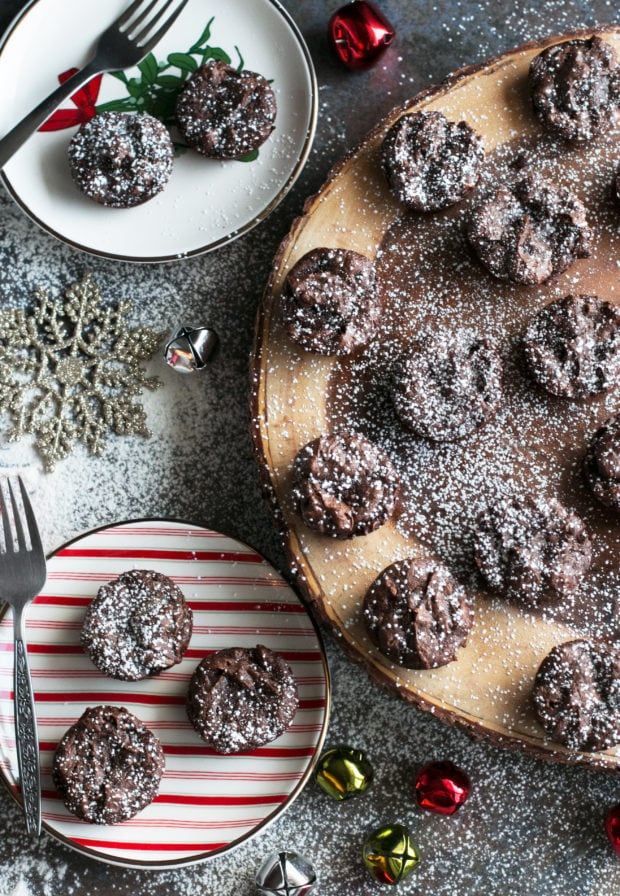 Brownies are one of those treats I rarely make at home. Usually it's because the chocolate is wayyyy too addictive and I will shovel those things in my mouth two at a time.
Before you know it they are gone and I'm making more to satisfy my addiction.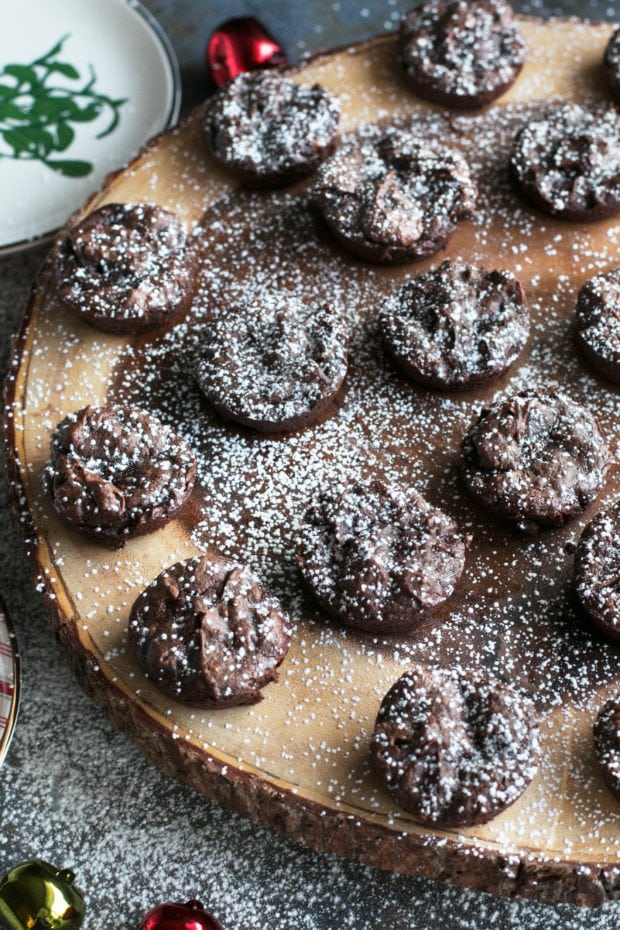 So I try to avoid making them like the plague.
Until now, that is.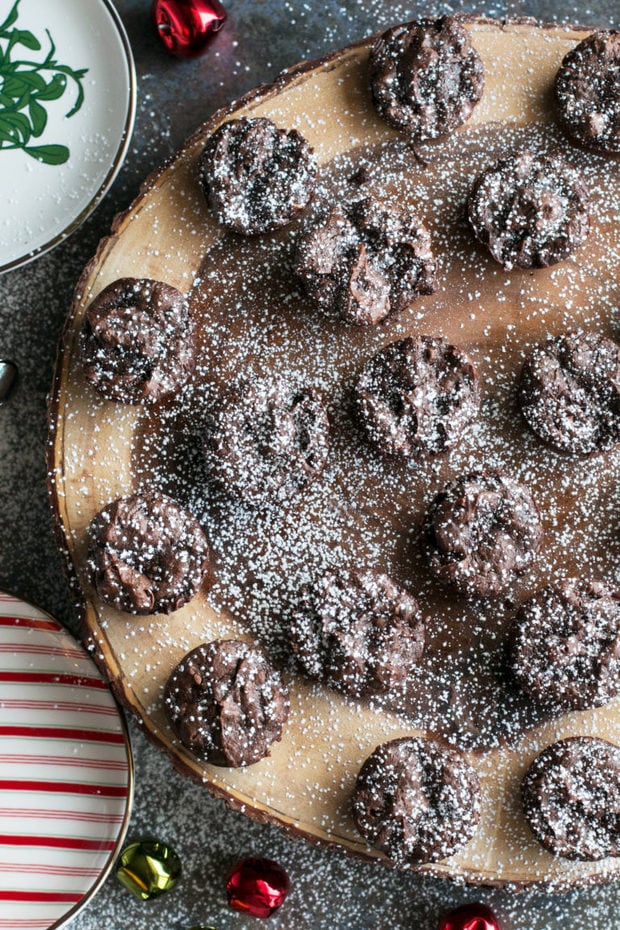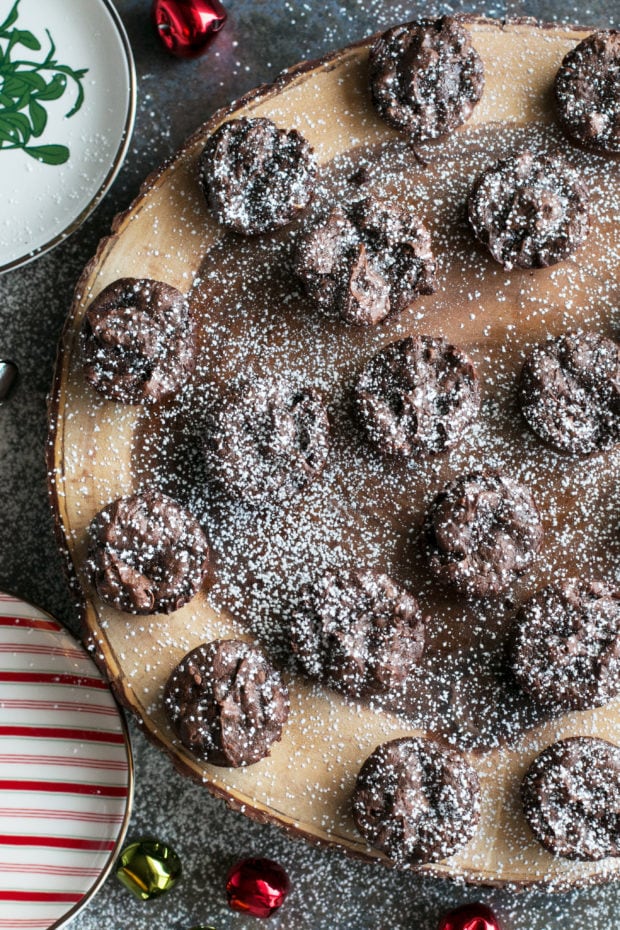 These little brownie bites are healthier because they have high-protein avocado instead of butter. They are also in bite-size form so that you don't have to be concerned with eating a giant brownie! You can instead have a couple of these little guys, and you won't be devouring too many calories.
You may be a little hesitant to try avocado in baking, but I swear, the flavor is not overpowering and you really wouldn't even know it's in there!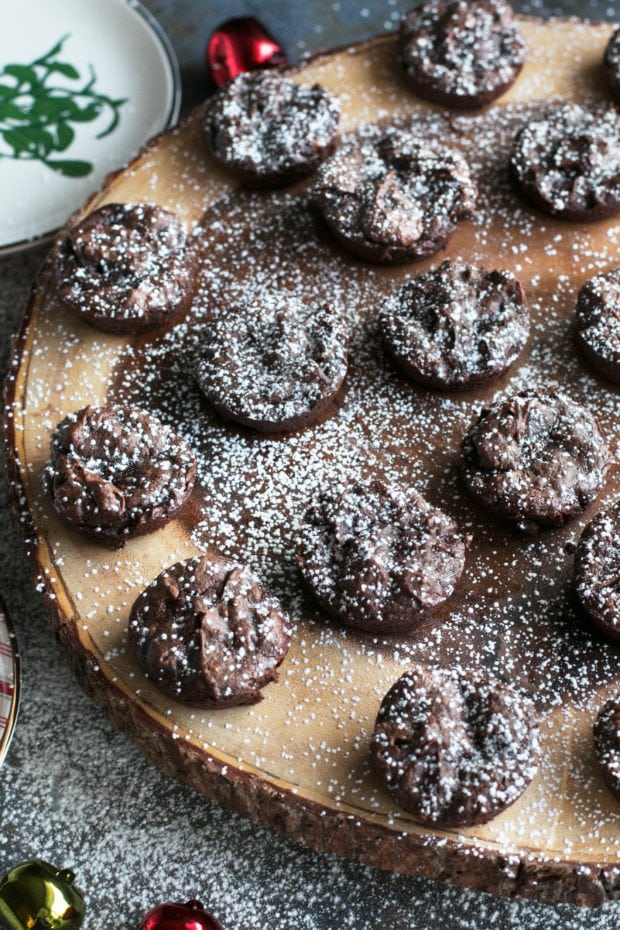 It makes these brownie bites super dense and moist (*shudders* I still hate that word…), and the double dose of chocolate with peanut butter gives them the best, rich flavor.
So grab a glass of your favorite milk and saddle up to the yumminess!
This Recipe's Must Haves
To make the batter, grab your metal mixing bowls and wooden spoon.
A mini muffin pan makes the perfect bite-sized brownies!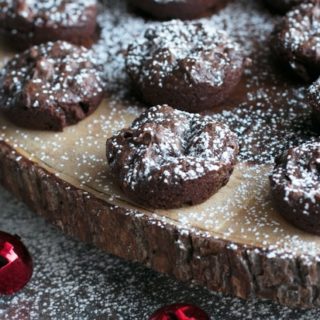 Dark Chocolate Peanut Butter Avocado Brownie Bites
Yield:
Makes 24 brownie bites
We all want a little indulgence, but this also has a healthy spin to it. It's the best of both worlds, in cute little bite-sized form!
Ingredients
1 Avocado, mashed
1/4 cup Unsalted Butter, melted
1/3 cup Creamy Peanut Butter
1 Egg
1/2 cup Granulated Sugar
1 cup Brown Sugar
2 teaspoons Pure Vanilla Extract
1 cup Unsweetened Cocoa Powder
1/2 cup Dark Chocolate Chips
Powdered Sugar
Instructions
Preheat oven to 350°F. Grease a mini muffin pan with nonstick spray.
In a medium bowl, mash avocado with a fork or a potato masher until creamy.
Add peanut butter, melted butter, egg, granulated sugar, brown sugar, and vanilla. Stir to combine.
Add cocoa powder and chocolate chips. Stir until combined.
Pour batter into each muffin cup, approximately 2/3 full.
Bake 18-20 minutes. Cool completely. Sprinkle with powdered sugar before serving.
Recommended Products
As an Amazon Associate and member of other affiliate programs, I earn from qualifying purchases.