'Tis the season to build your own festive mule bar cart! All of your holiday gatherings definitely need to feature this easy-to-assemble car cart, featuring some of your favorite spirits—including Kahlúa Original, Malibu® Original, Jameson® Whiskey, Absolut® Original, and Altos® Tequila. With festive garnishes and holiday flair, your guests will be able to create their own custom creations all night long!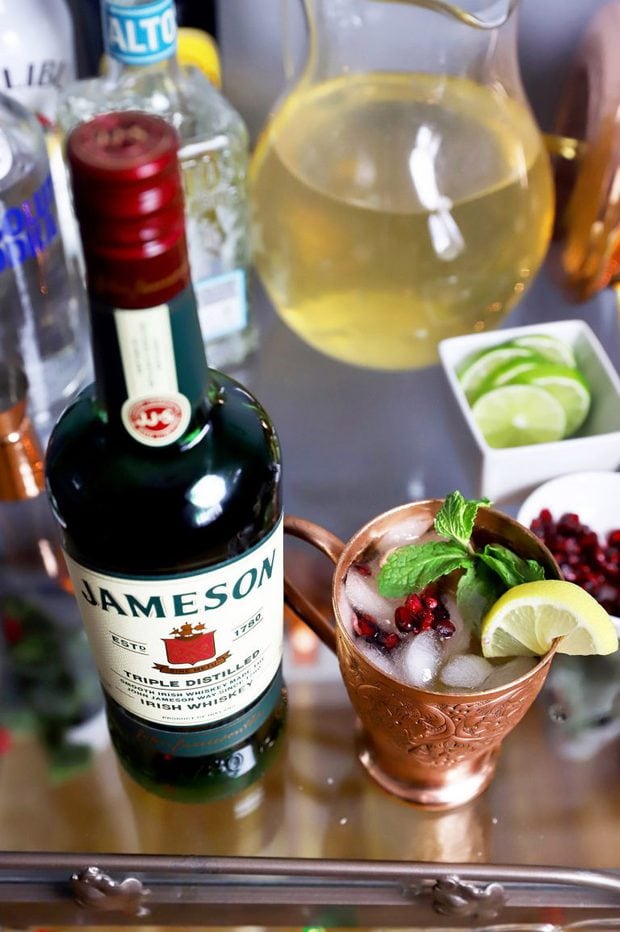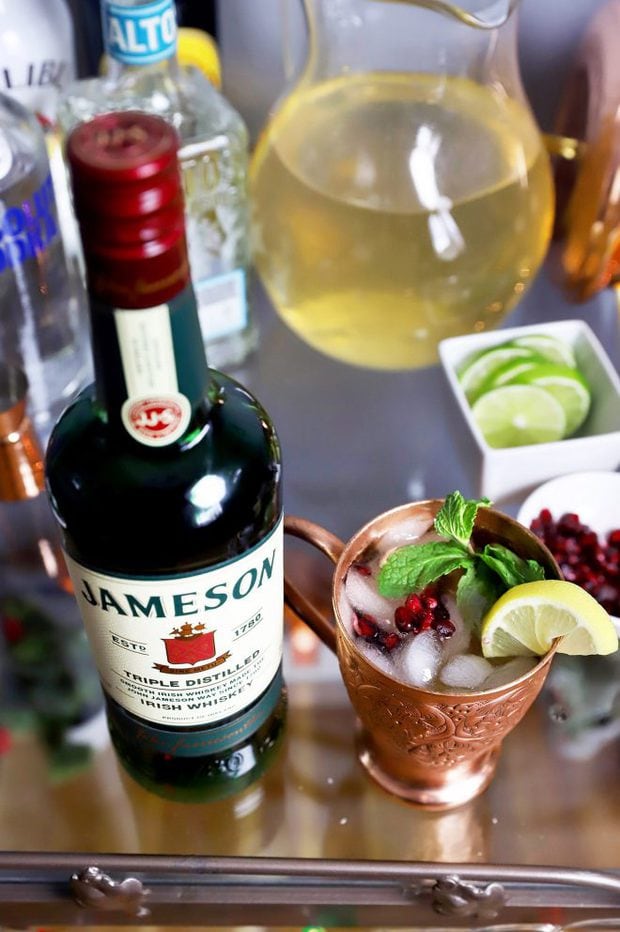 This post has been sponsored by Pernod Ricard USA. All thoughts and opinions are my own.
Holiday season is here and I am just so, so thrilled!
There's something about this time of year that brings happiness to my heart. The music, the cheer, the decorations, the excuse to get together with friends and family as much as I want… It's pure magic.
When it comes to hosting, I always love to make sure to have some sort of drink station out. Whether it's a featured cocktail for the evening or simply a wine tasting, the libations are a big part of the festivities with my friends and family.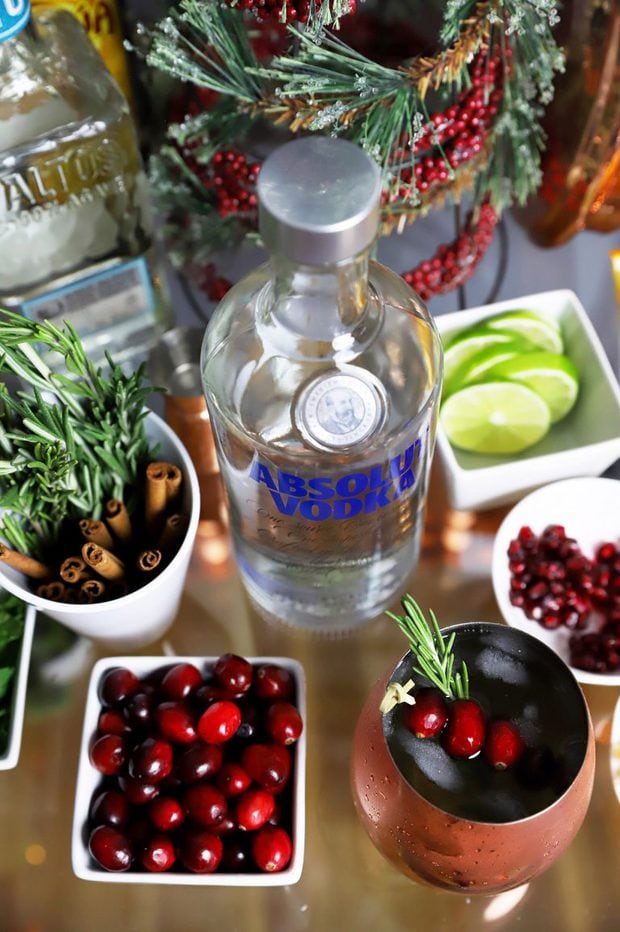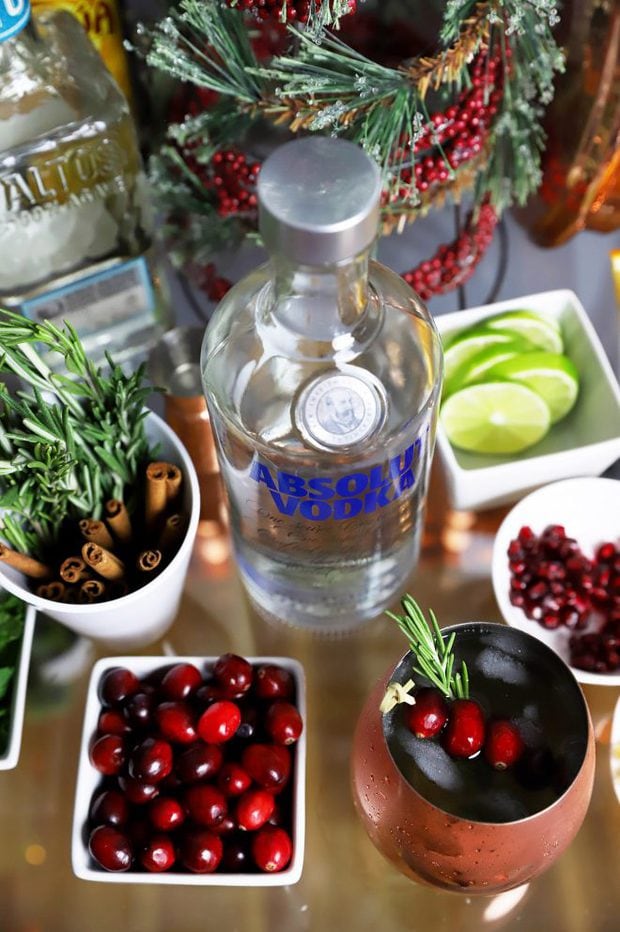 After all, how could people not expect something fantastic when they are coming to a food blogger's house—am I right?
Since there are so many different gatherings going on this time of year, I like to make things a little bit easier on myself. This is where the festive mule bar cart comes into play.
With a setup like this, all you have to do is set it and forget it. From a variety of garnishes, to ginger beer, to your favorite spirits, a bar cart like this allows guests to make their favorite mule to their liking. Not to mention, it allows people to have fun and experiment!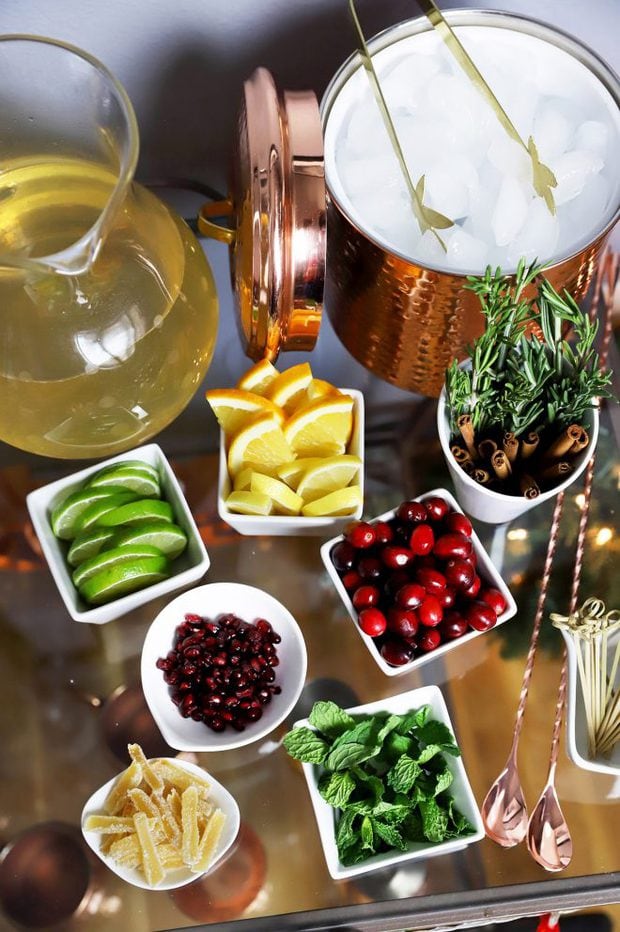 For this bar cart, there are only five spirits you need to give your party enough variety to accommodate everyone's drink preferences: Kahlúa Original, Malibu Original, Jameson Whiskey, Absolut Original, and Altos Tequila. All of these spirits make for incredible mule combinations!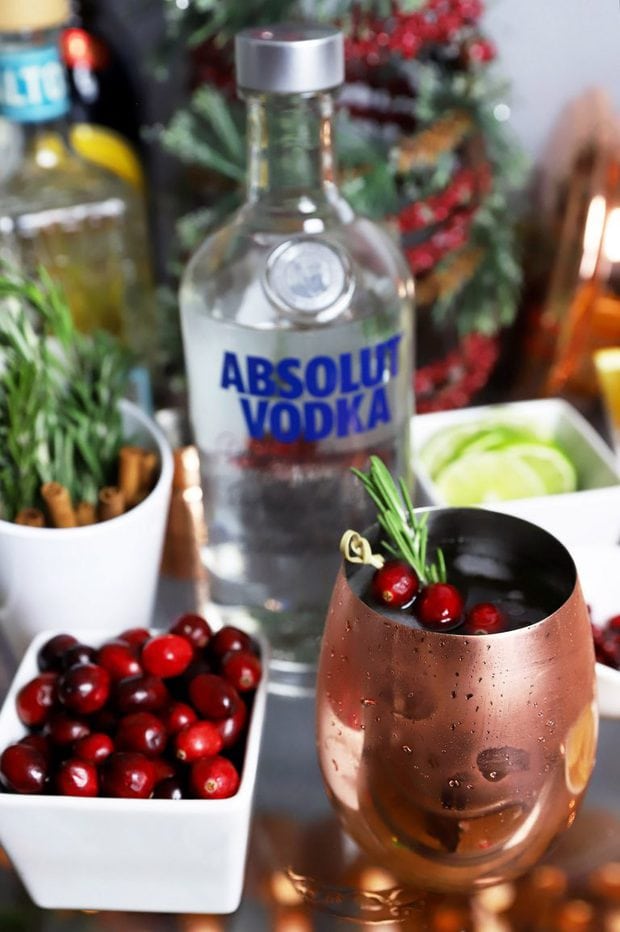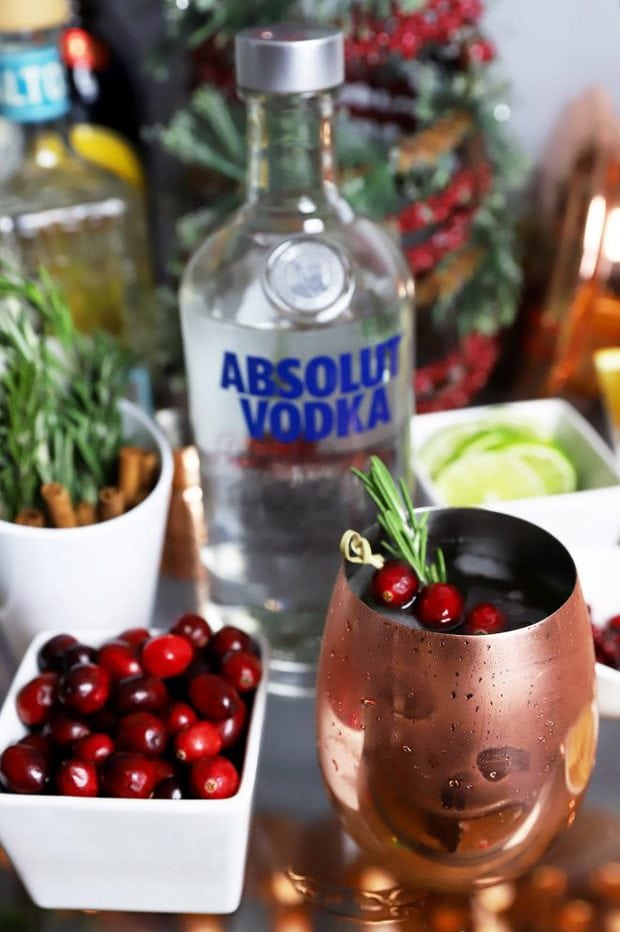 First, you have the classic—made with Absolut Original. All you need is a festive garnish of cranberries, rosemary, and a bit of candied ginger to turn it into something festive and fun. Absolut is light and refreshing, so it's always a great combination with ginger beer.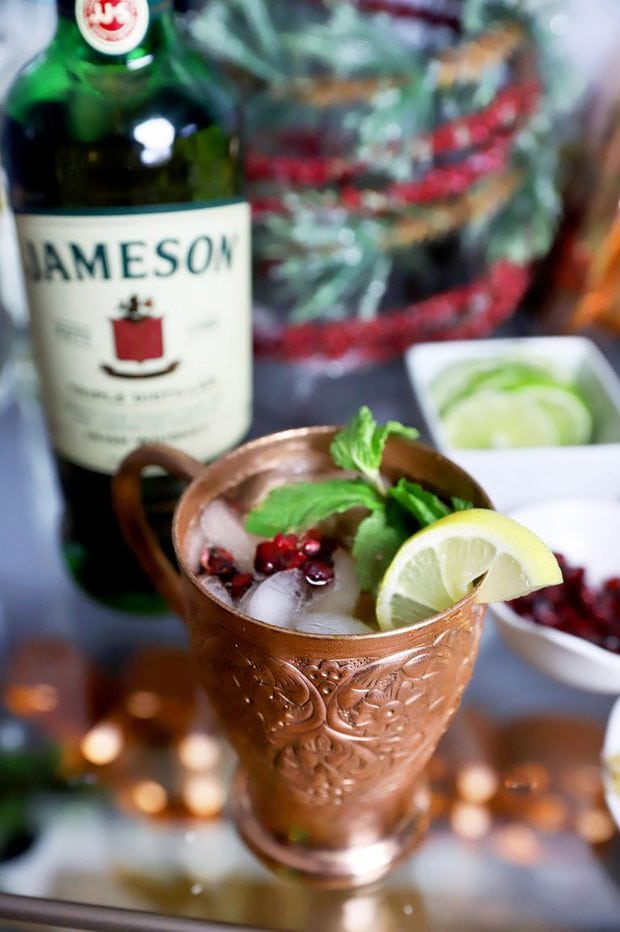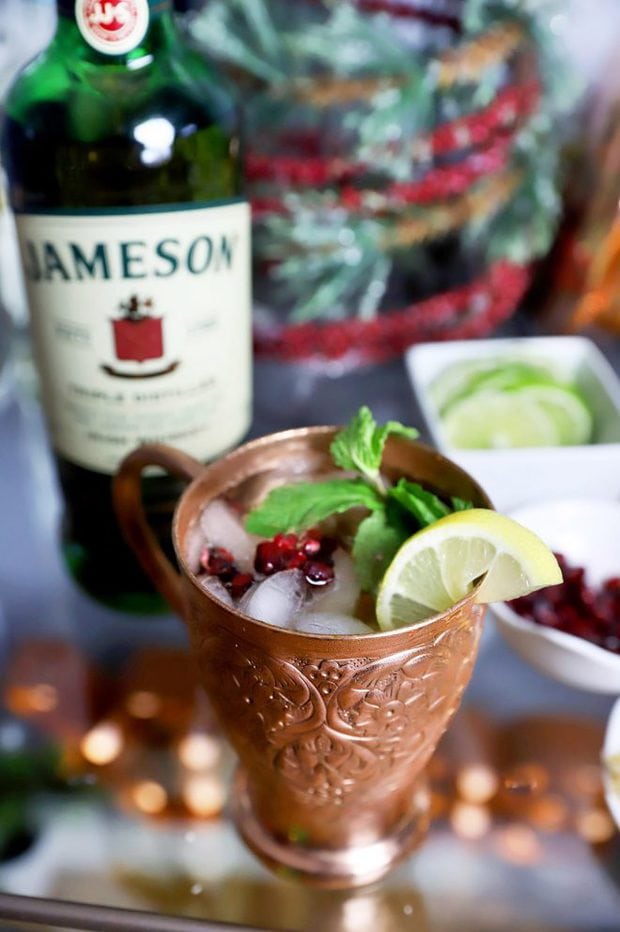 For a twist on the classic—and one that I love to drink regularly—try out Jameson Whiskey. Jameson Whiskey is super smooth and silky, bringing a richness to the ginger beer. Garnish the drink with a lemon slice, a sprig of mint, and a sprinkle of pomegranate seeds!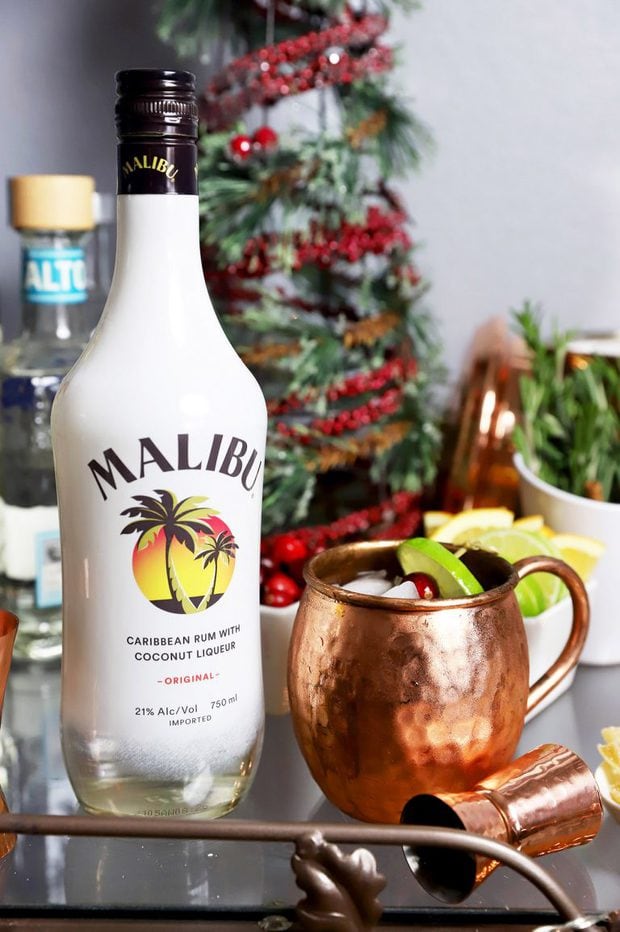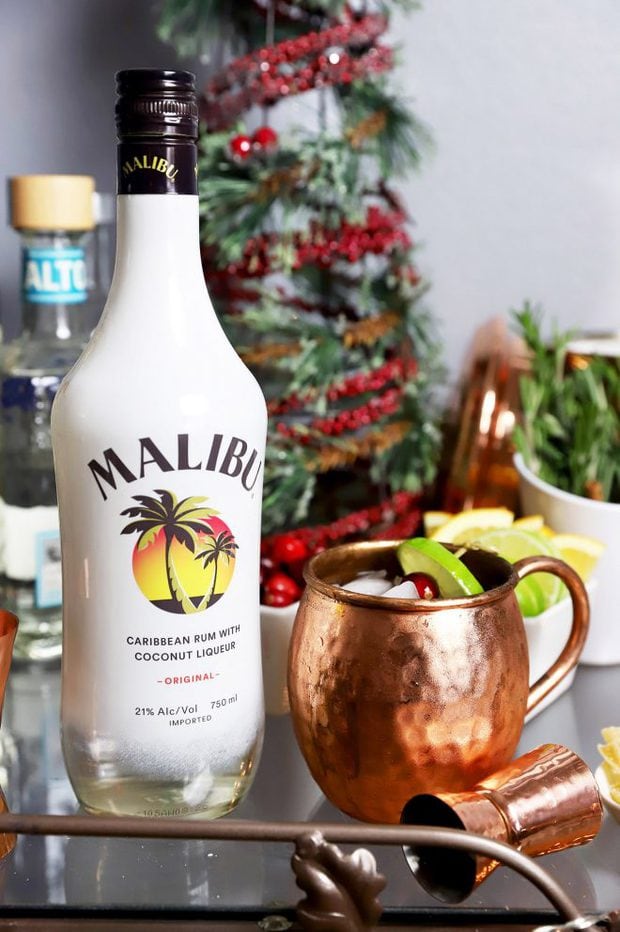 If you want to go tropical, add light and coconut-y Malibu Original as the main spirit for the cocktail. The result is a flavorful combination that makes you feel like you are heading to the islands for the holiday. I love to go with a garnish of lime and cranberries.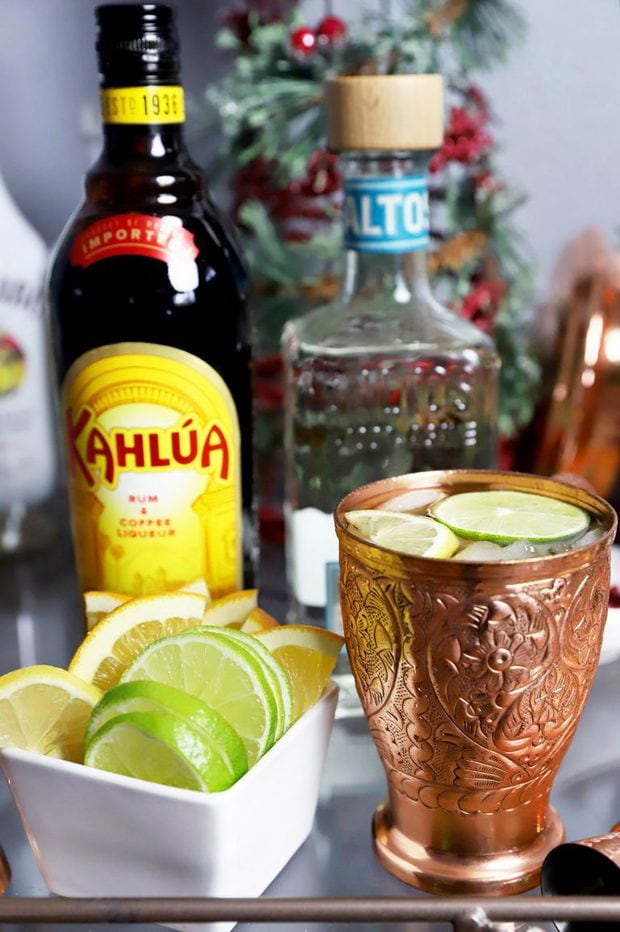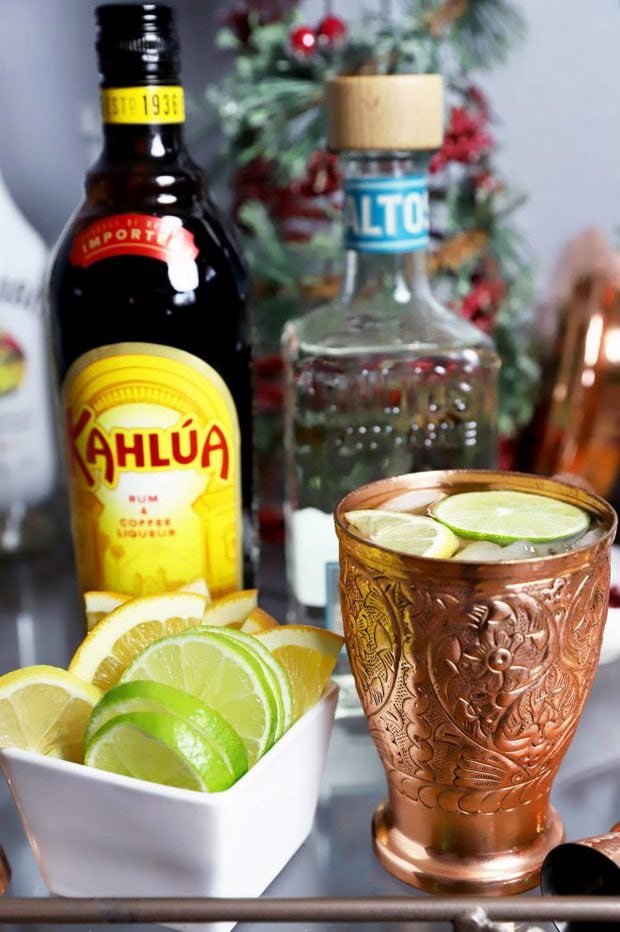 Finally, try out the Coffee Mule with Altos Tequila and Kahlúa Original. The refreshing combination of Kahlúa Original and Altos Tequila is a fun twist, and it'll surprise your guests! Garnish is simple with a lemon slice and lime slice.
How To Assemble A Festive Mule Bar Cart
Garnish Prep
Before you assemble the bar cart, make sure that you pull together your garnishes. Slice the citrus fruit, remove the pomegranate seeds from the fruit, slice candied ginger, and be sure to gather the rest of the garnish ingredients.
Each of the garnishes should go in its own small bowl or on a small plate.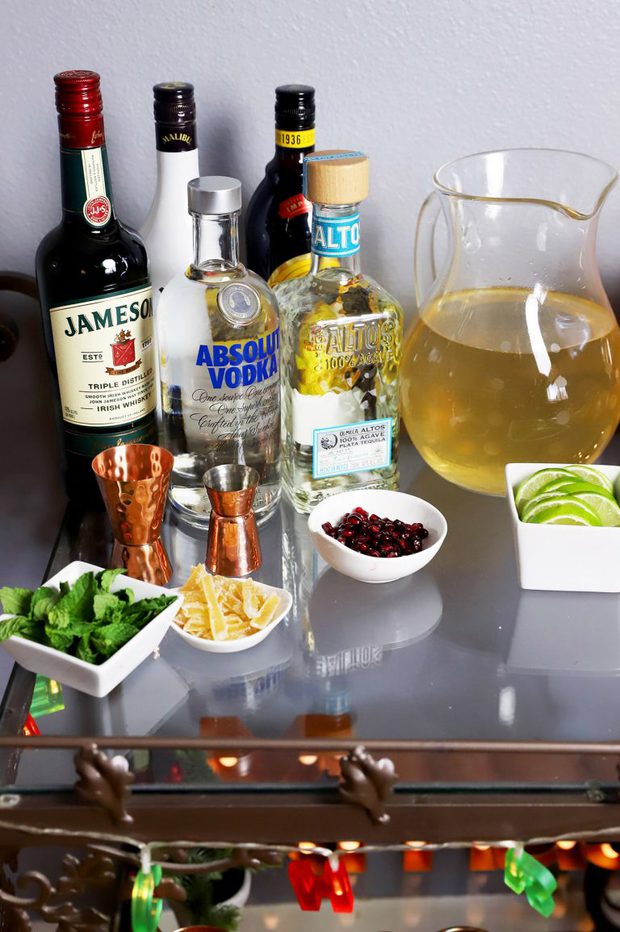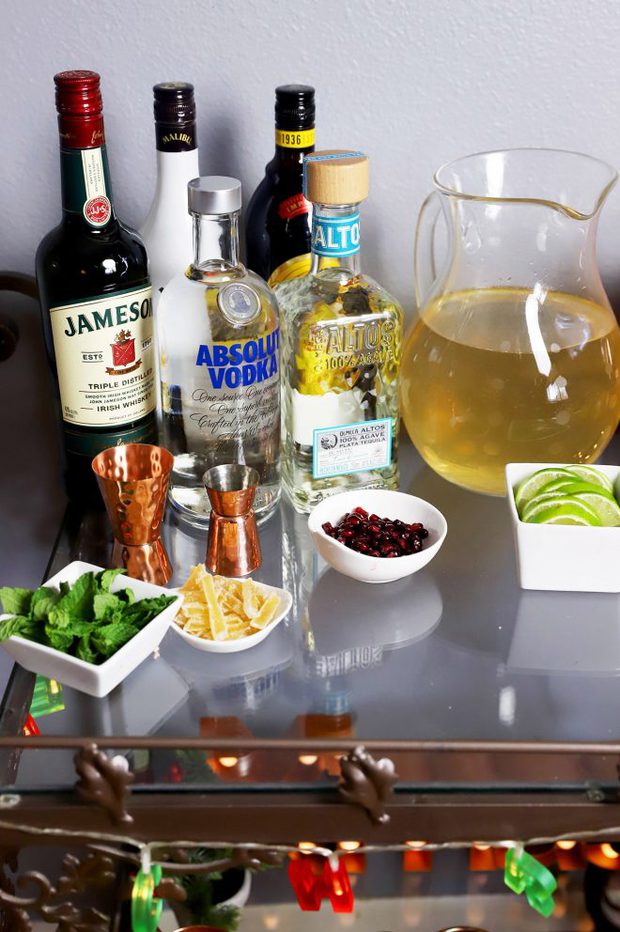 Assemble
To assemble the bar cart, make sure that you put out all the spirits, garnishes, tools, and mugs in easily reachable places. I like to keep things together and try to set up a kind of flow. I've got more detail on that down below!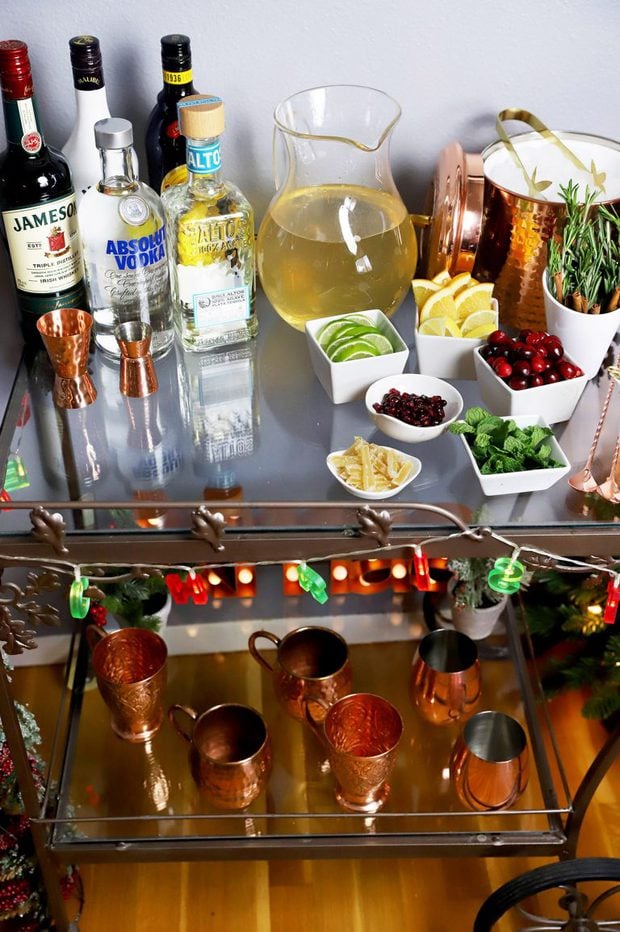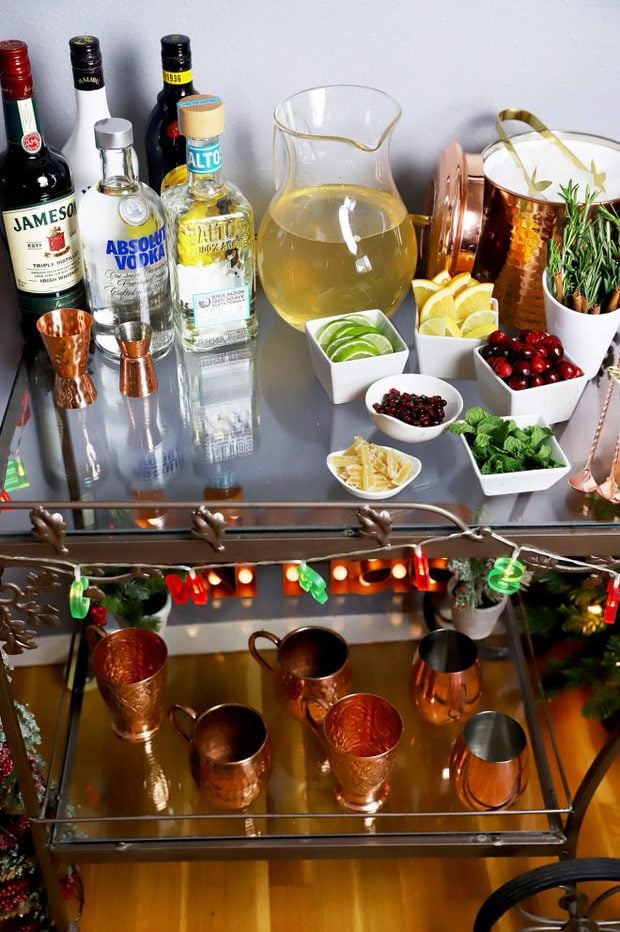 Decorate
Finally, get festive with it! Be sure to decorate the bar cart with whatever you have handy. This could be holiday lights, signs, trees, figurines, flameless candles or anything else that gets you in the festive mood!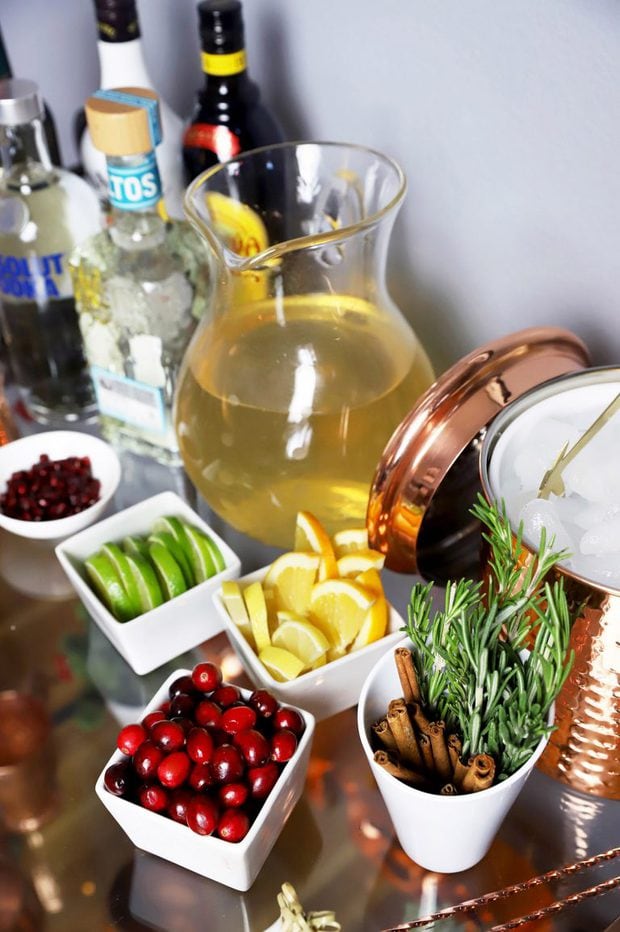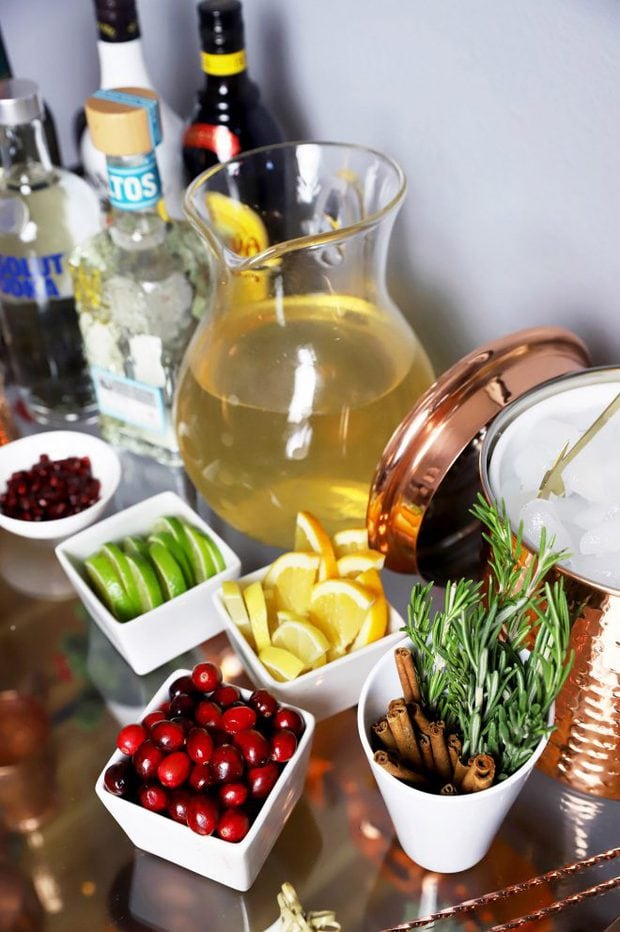 How do I organize my bar cart?
I like to organize the bar cart in little stations. Make sure that everything is easily accessible! One area should have a place for the mugs so people can easily grab them and then fill their mug with ice.
Keep all of the spirits together with a couple of jiggers nearby for easy measuring. Then, make sure the ginger beer is next to the spirits since that's a pretty important ingredient 😉
Make sure that you have spoons handy as well to stir it all together!
Have all the garnishes in one area with toothpicks close by! This will make it easy for your guests to get their garnish.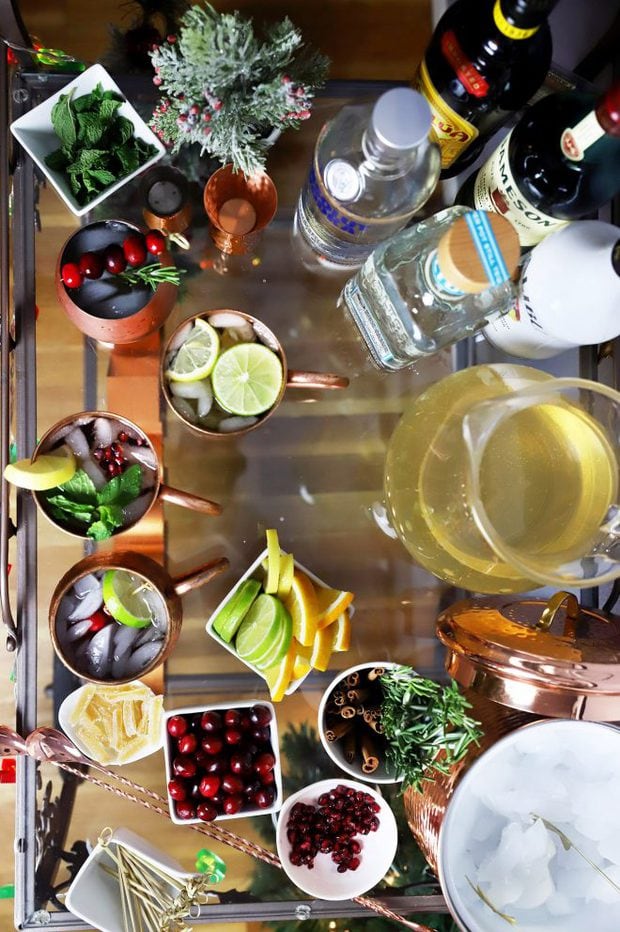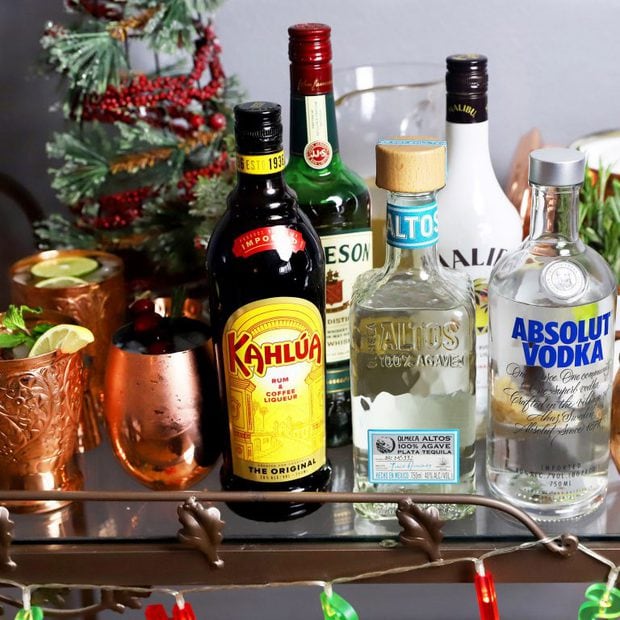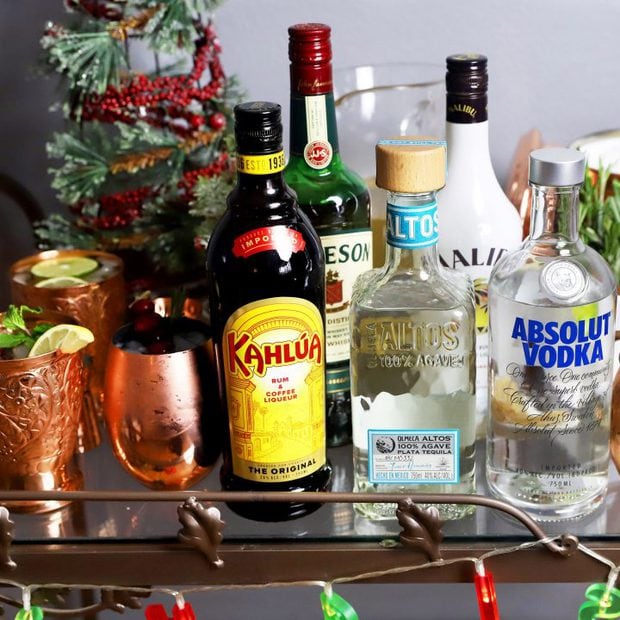 Festive Mule Bar Cart
This festive mule bar cart can serve any holiday party, big or small! Just adjust the amounts based on how many people you'll have at the party to customize.
Ingredients
Ingredients:
Kahlúa Original
Malibu® Original
Jameson® Whiskey
Absolut® Original
Altos® Tequila
Ginger beer, chilled
Rosemary sprigs
Mint sprigs
Cinnamon sticks
Orange slices
Lemon slices
Lime slices
Pomegranate seeds
Candied ginger
Ice
Ice bucket
Toothpicks
Mule mugs
Stirring spoons
Jiggers
Holiday decorations
Instructions
Fill ice bucket with ice.
Fill a pitcher with ginger beer. Skip the ice so the ginger beer doesn't get watered down!
Place all garnishes in small bowls and/or on small plates.
Place all bottles of spirits on a bar cart with pitcher of ginger beer, an ice bucket, garnishes, mugs, spoons, and jiggers.
Decorate the bar cart with festive decorations like lights, trees, signs, etc.