Please note this post contains affiliate links.
A Grilled Jalapeño Orange Shandy is a spicy, slightly sweet, and beer-focused drink to cool off with on a long, hot summer day! The mix of grilled jalapeños and orange slices in the homemade lemonade pairs perfectly with a simple pale ale. It's refreshing with just the right amount of heat to tickle those taste buds.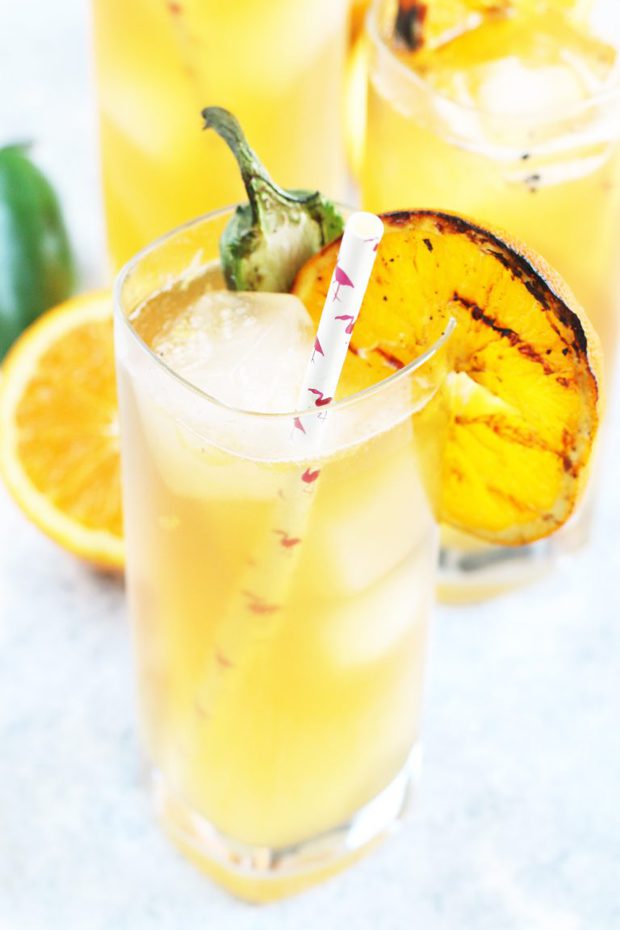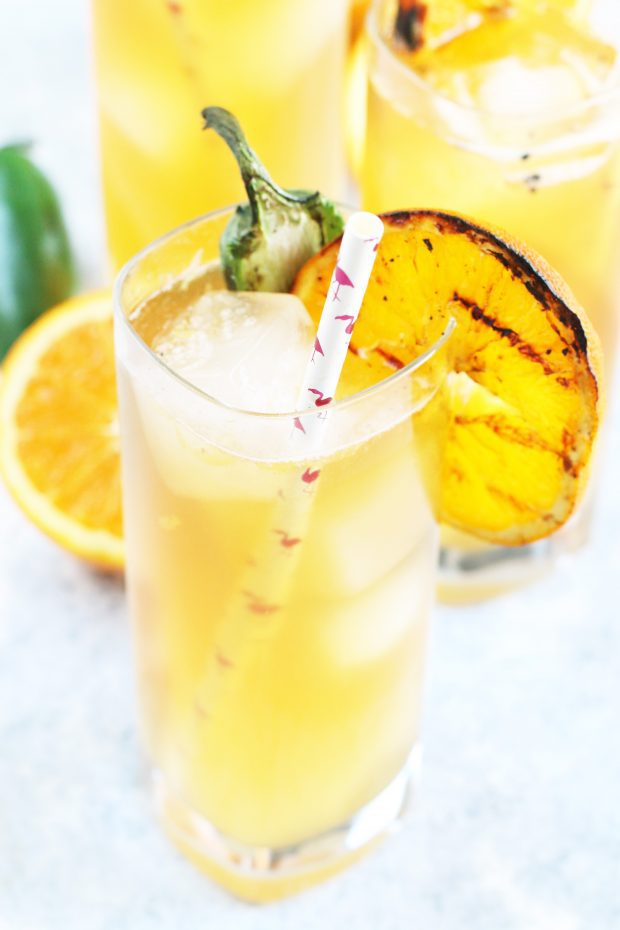 Disclosure: This post has been sponsored by Traeger. As always, all opinions expressed are my own. Thank you for supporting the brands that support Cake 'n Knife!
Grilling isn't just for meats, my friends.
If you haven't gotten on board with grilling fruit yet, it's time to fire up the good ol' grill and get on it.
Normally you see grilled fruits in a variety of desserts, but today, I'm bring you a whole new way to enjoy them.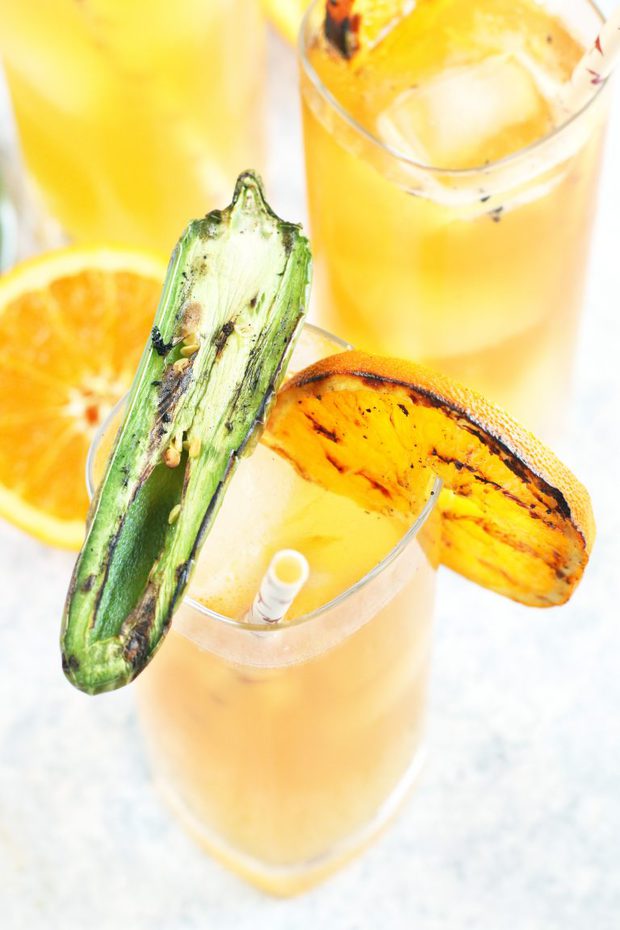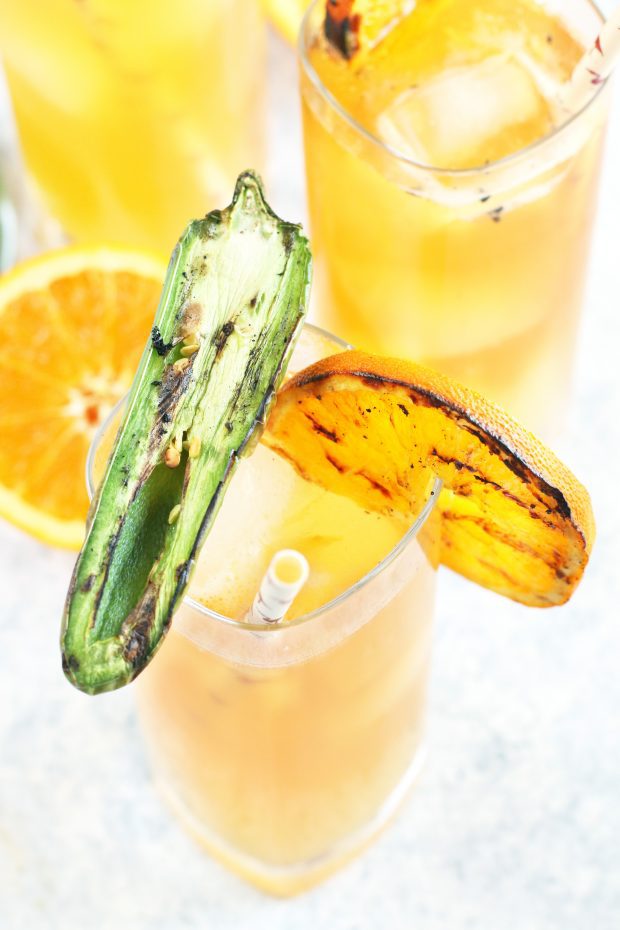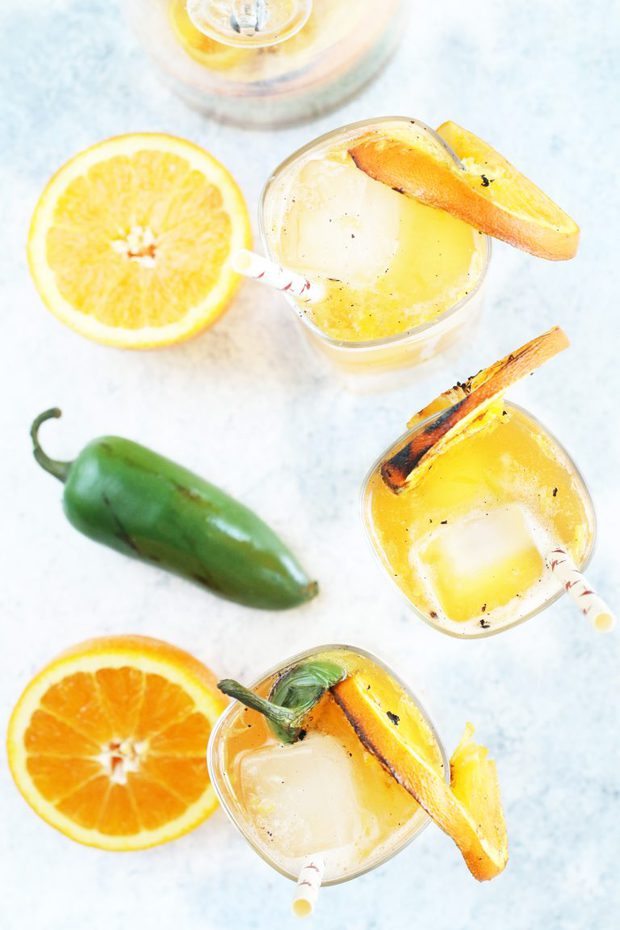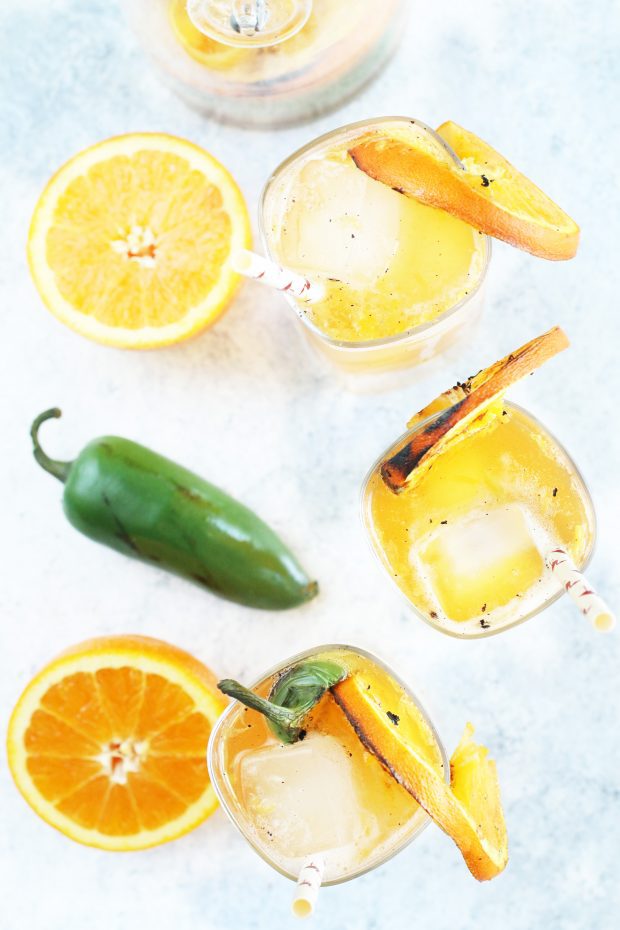 Please note that some of the links below are affiliate links. If you make a purchase through one of these links, I will receive a small commission.
With a cocktail.
When I used to have a traditional charcoal grill, I would honestly avoid grilling all the time. Every time I would think about firing up the grill, I would weigh how long it would take to get the grill hot against how badly I wanted to eat something fresh off the grill.
Patience happens to not be my strongest virtue, so the grill would remain unused a majority of the time.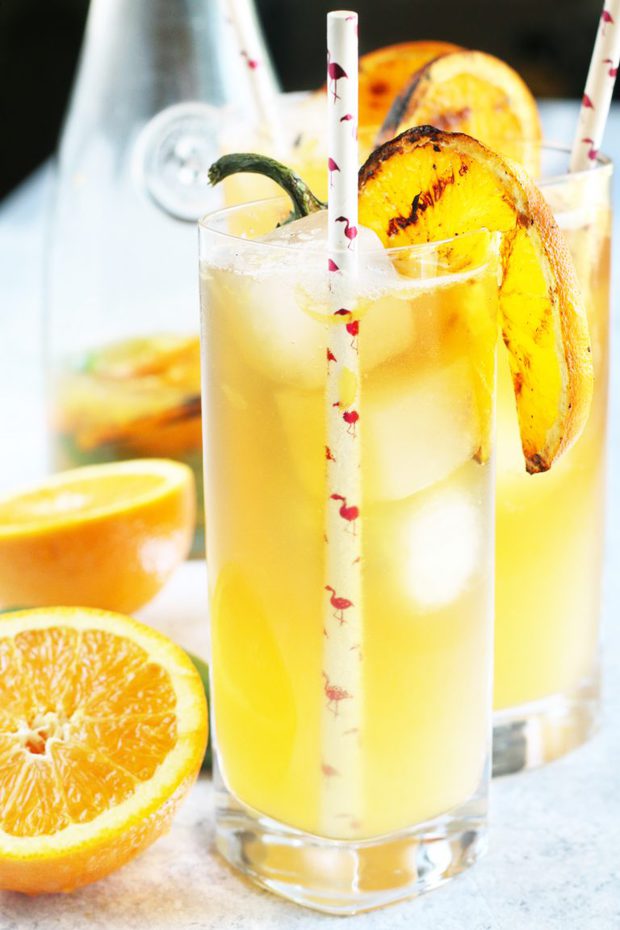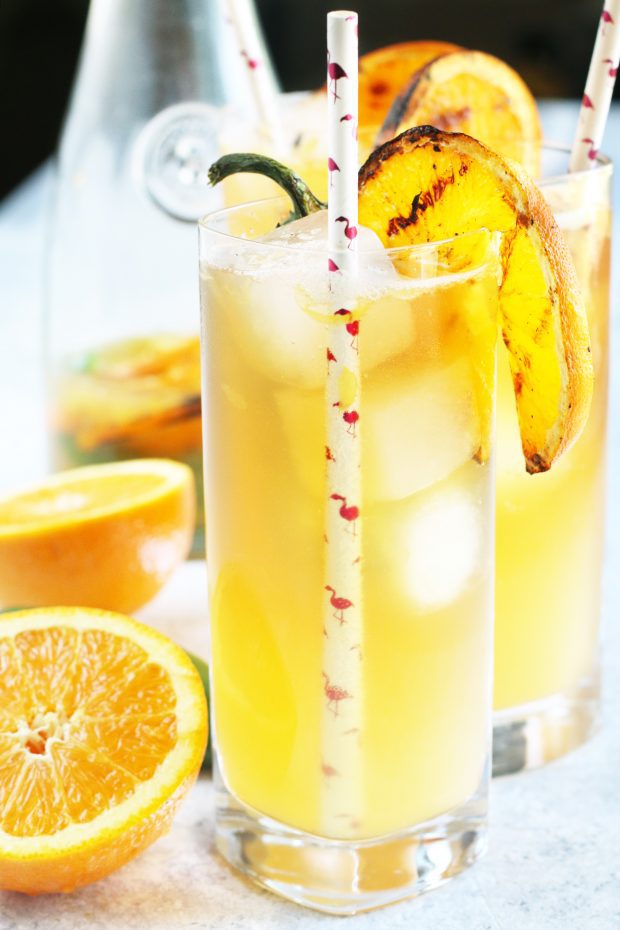 Of course, every since Traeger came into my life, all of this has changed. I have been grilling at least four to five times a week, and a lot of that is because of how EASY Traeger grills are to master.
It has all the ease of firing up a propane grill, but with so much more flavor, infused from those little wooden pellets that carry all sorts of flavor.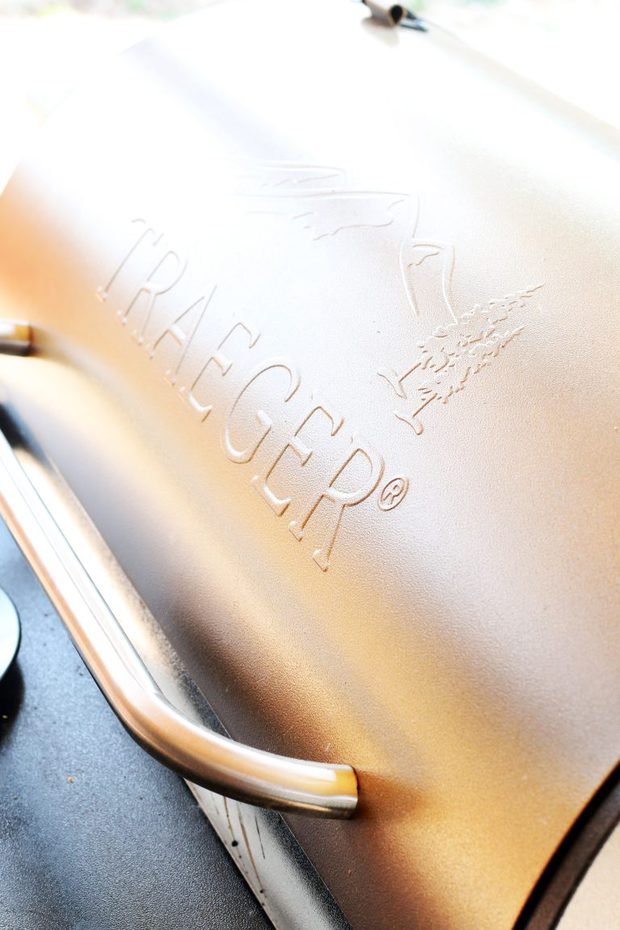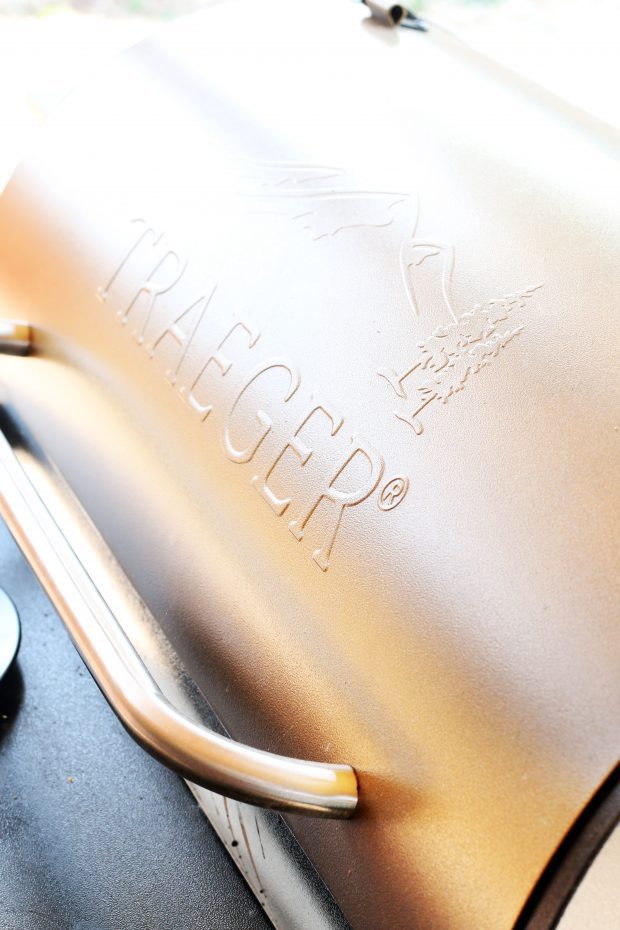 I have their Traeger Pro Series 34 Pellet Grill right now, and it is 100% a dream. However, the magic of their pellet technology applies to all of their grills, so it doesn't matter what level of model you go with. No matter what, you will end up with a grill that you will not be able to stop yourself from firing up every single week.
I personally love that using this magical grill means that I don't have to heat up my house by cooking on the stove or in the oven. That always heats up the rest of the house, and we all know, that's no fun at all.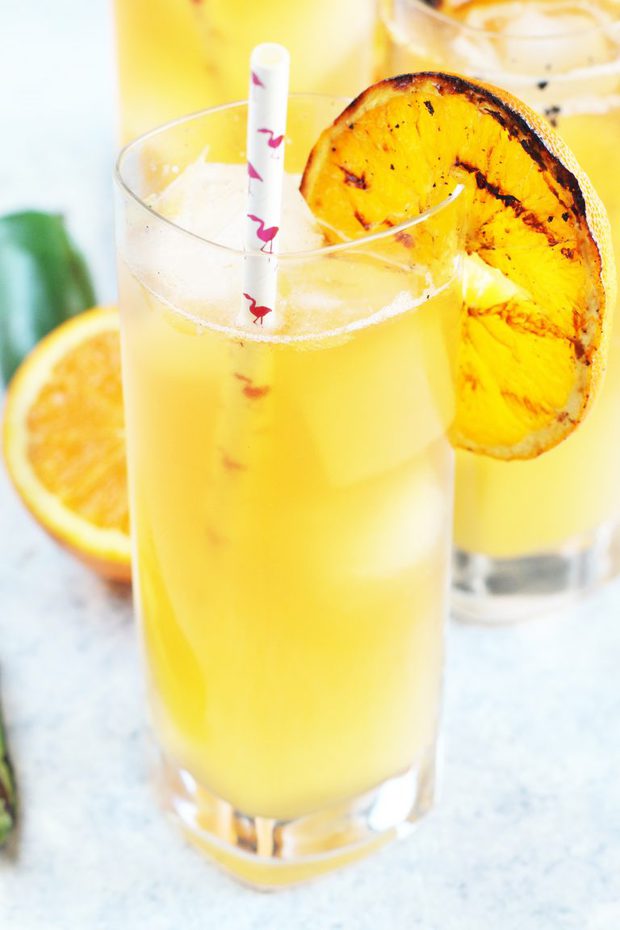 This is exactly why I've started to experiment with making cocktails with grilled ingredients.
There's something about that charred, smoky flavor that comes off a Traeger grill. It seeps into whatever you are grilling, but not in an overpowering way. It's just enough to impart the flavor of the wood pellets, essentially enhancing the natural flavors in the food you are cooking.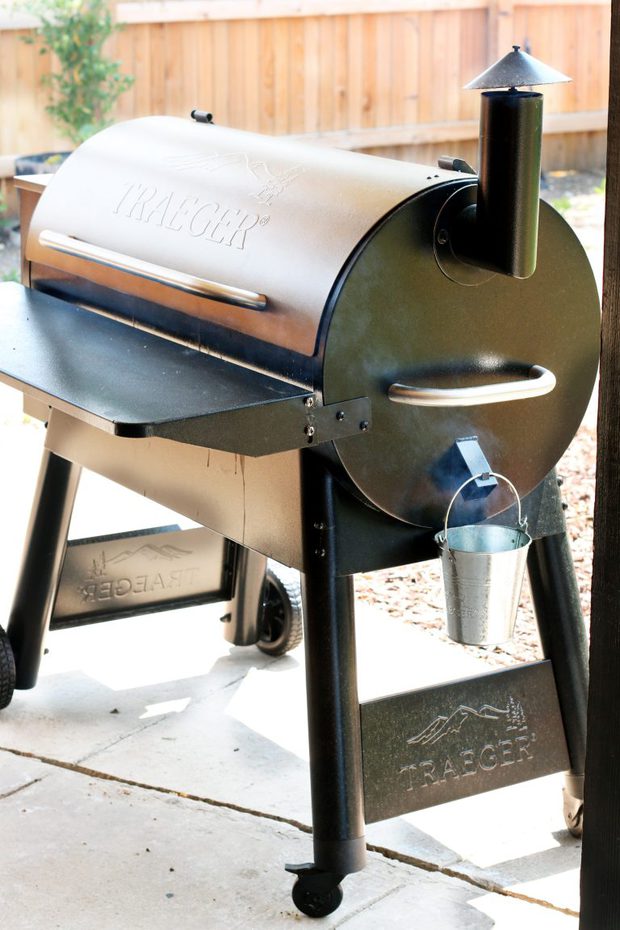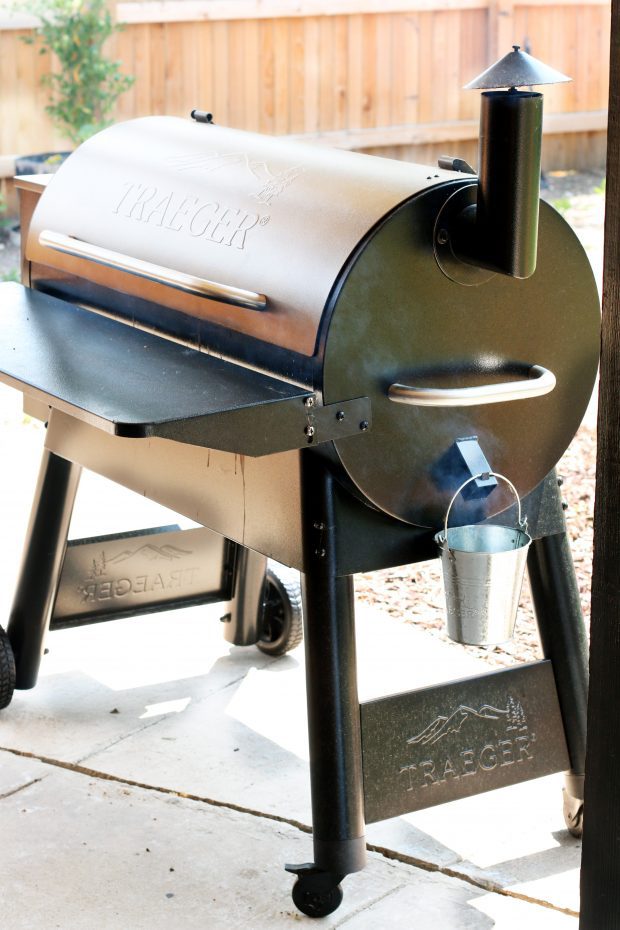 That's what happens with the orange slices and jalapeño halves that you grill to make the homemade grilled jalapeño orange lemonade used to make this shandy. The lemonade is tart, spicy and a little bit sweet, so once it's combined with a pale ale, the drink dances across your taste buds, giving them the flavorful ride of their lives.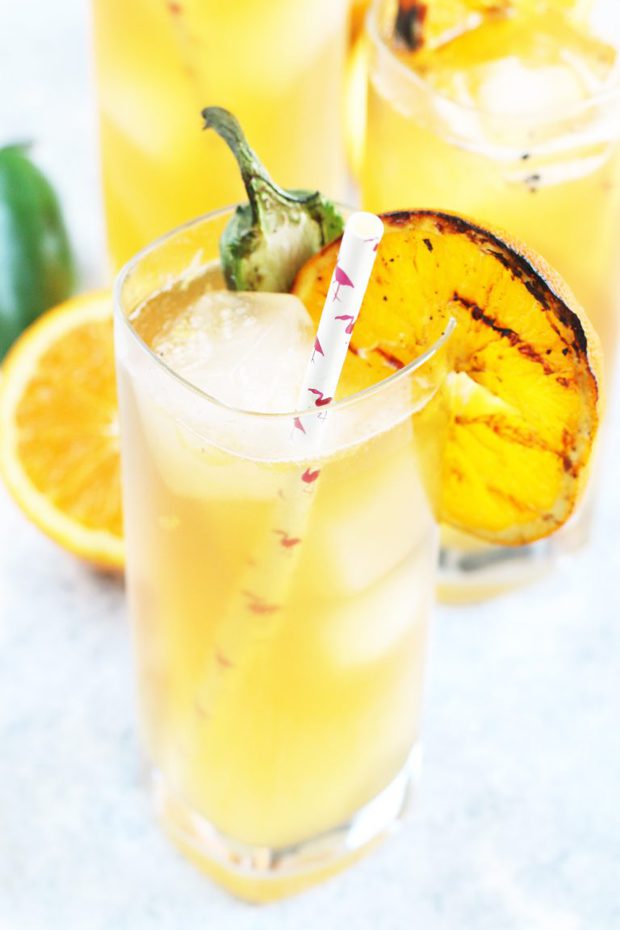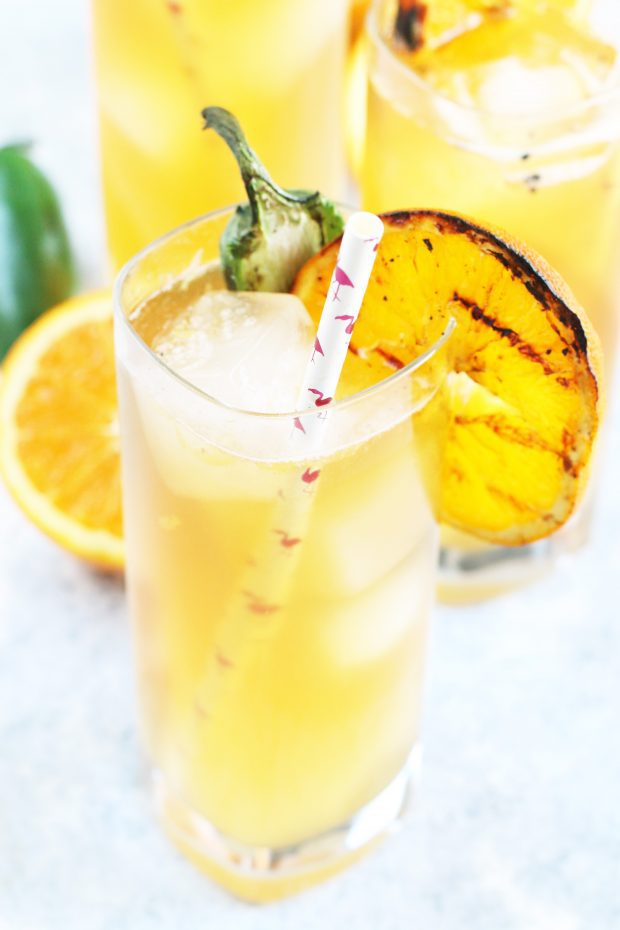 This Recipe's Must Haves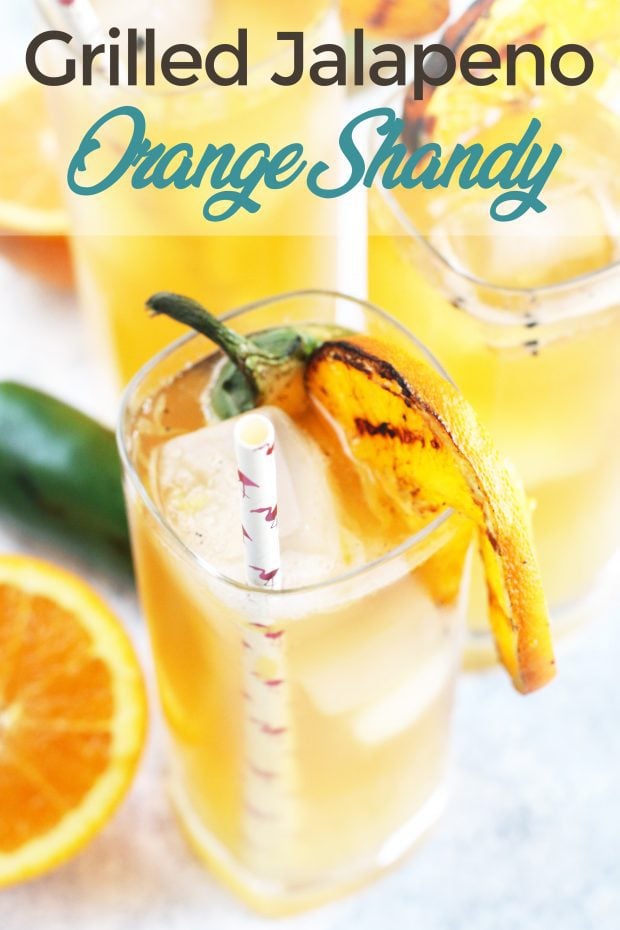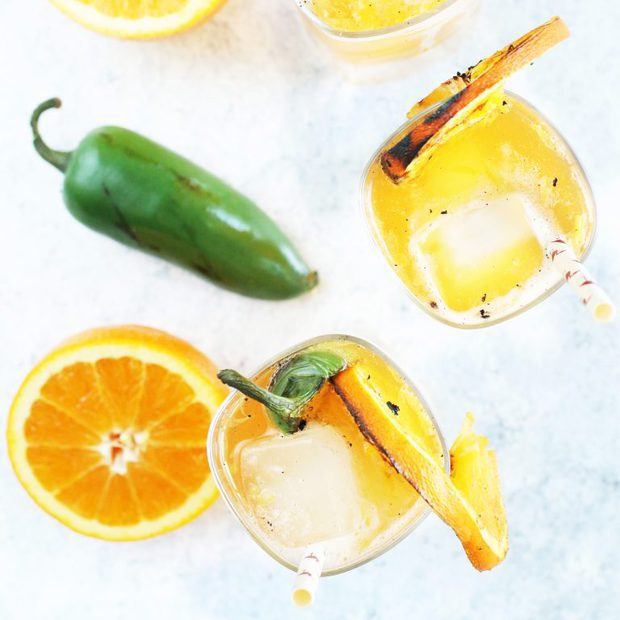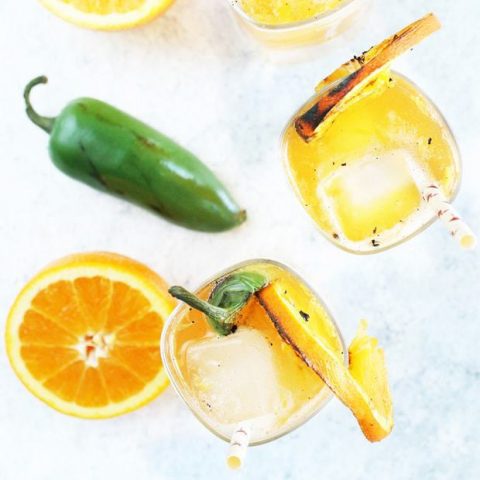 Grilled Jalapeno Orange Shandy
Additional Time:
10 minutes
Homemade grilled jalapeno and orange lemonade makes for an excellent upgrade on the traditional shandy! Perfect for pairing with whatever BBQ plans you have in mind.
Ingredients
Homemade Grilled Jalapeno Orange Lemonade
1 jalapeño pepper, cut in half
3 oranges, sliced
Traeger Wood Pellets (I like to use Hickory or Pecan for this particular recipe)
1/3 cup honey
1/3 cup lemon juice
2 cups water
Shandy
2 cups homemade shishito orange lemonade
2 cups pale ale
Instructions
Heat Traeger grill to high. Once the temperature reads at least 400 degrees, add orange slices and jalapeño halves to the grill.
Grill for approximately 5 minutes, flipping both pepper halves and orange slices halfway through until they have charred grill marks and are softened.
In a large pitcher, muddle together peppers, orange slices, honey and lemon juice (be sure to reserve 4 grilled orange slices for garnish). Add water and stir to combine.
Cool lemonade completely in the refrigerator.
When ready to serve, strain lemonade into another pitcher through a fine mesh sieve.
Fill 4 tall glasses with ice.
Fill each glass halfway full with the grilled jalapeño orange lemonade.
Top with pale ale until the glasses are full. Lightly stir to combine.
Garnish each glass with jalapeño and a grilled orange slice. Serve immediately.