Caramel Stuffed Peanut Butter Cookies are those dense and chewy peanut butter cookies you love, taken up about twenty notches after being stuffed with gooey caramel. These won't last long in your home!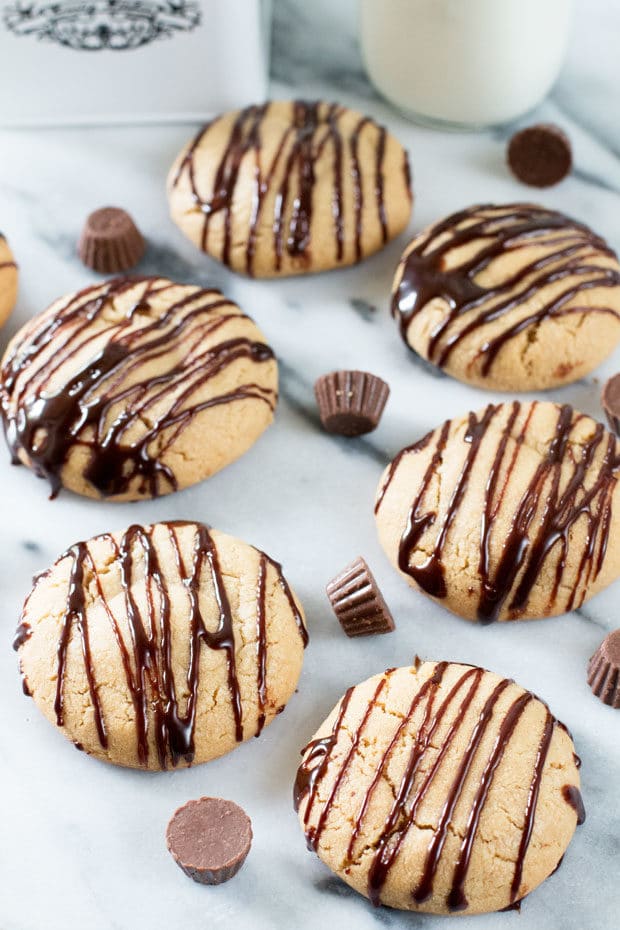 Aaaaaaaaaand I'm already so done with this week. There is so much exhaustion setting in and yet, I don't foresee sleeping more than 6 hours a night for the next week. Phew, you guys… I'm obviously gettin' old because this wouldn't have phased me for a second about 5 years ago.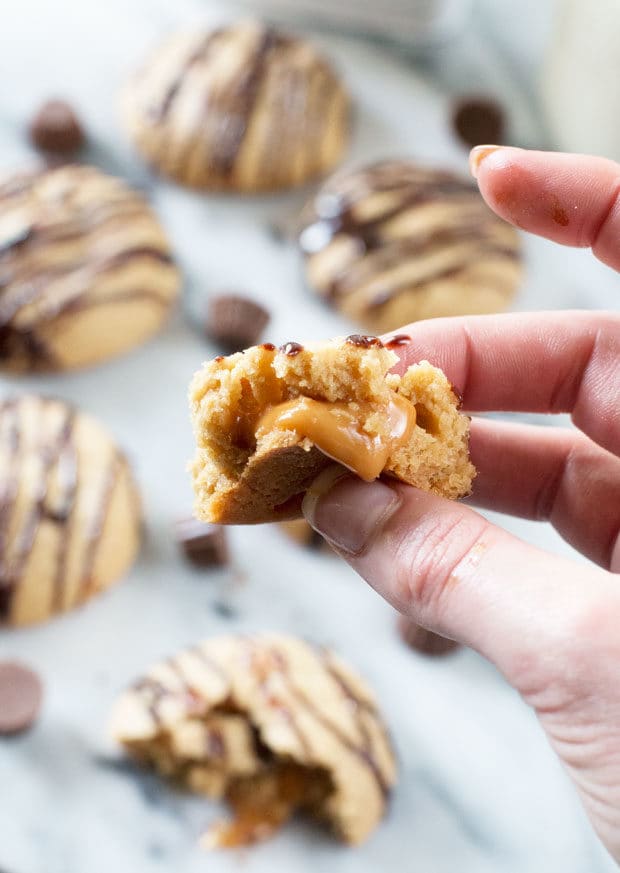 However cookies… Cookies always make it better. Cookies make almost anything better. They're the thing I crave in the middle of the night when I want a snack. They're the thing I indulge in when I'm feeling sappy, watching a chick flick and wondering why Ryan Gosling isn't showing up on my doorstep and professing his love.
Cookies are just that soulmate food that everyone can relate to, from chocolate chip to peanut butter to my grandma's famous Chinese Chews at Christmas time.
I mean, who doesn't remember sitting at the kitchen table with a couple of cookies and a big glass of milk?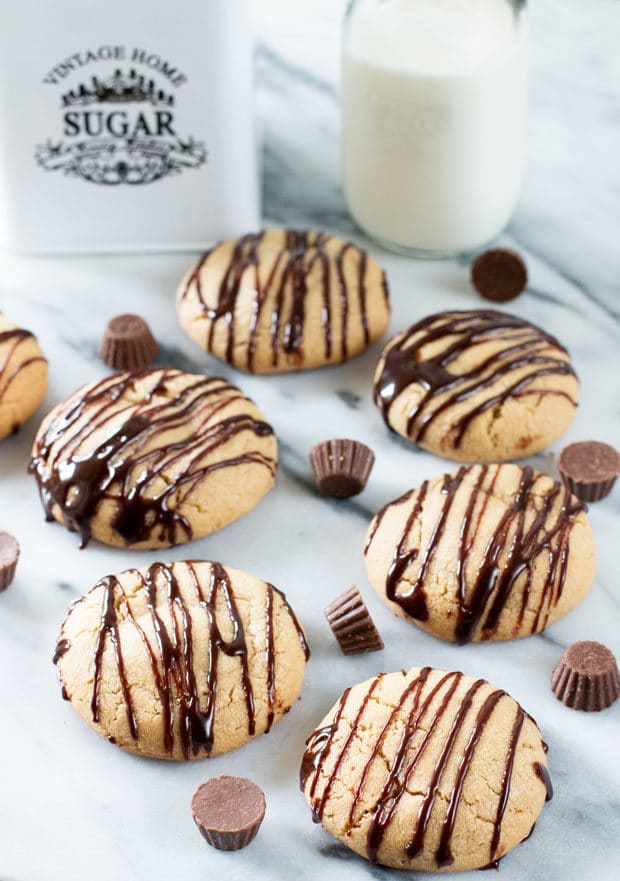 Of course, there ain't your mama's cookies. Nope, these are chewy, dense, rich ridiculous cookies that you just can't resist. They are just the right amount of indulgence that you literally can't stop going back to.
Like that giant piece of chocolate layer cake that you finish halfway, and say you'll stop eating, but then it's all… well, maybe one more bite.
You all know exactly what I'm talking about, don't lie.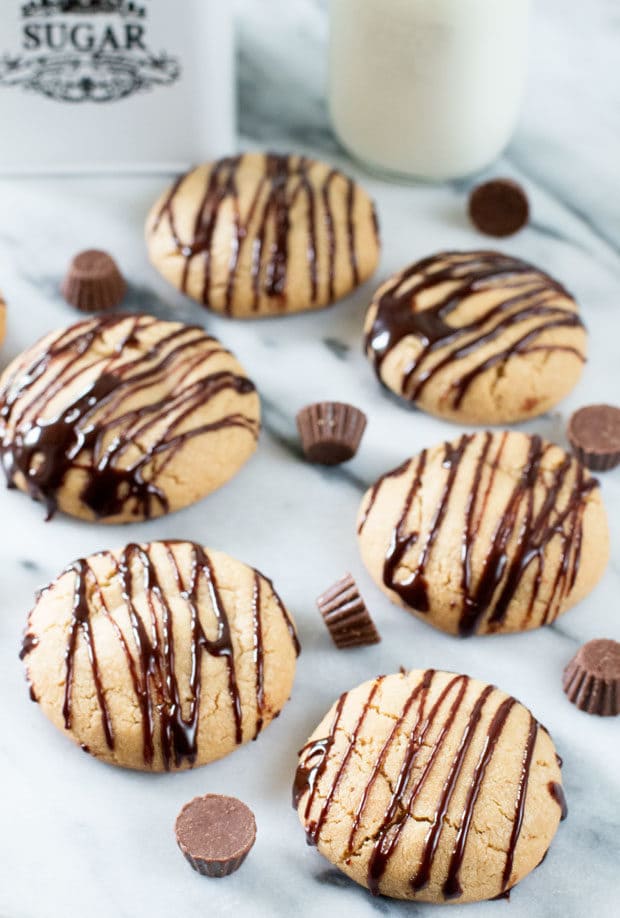 So screw that whole summer bod thing and make these cookies. Don't pin them and save them for later. Make them NOW. Eat ten of them. Down a glass of milk. Feel like the happiest girl/boy on the face of the planet.
Not a bad way to spend your Tuesday night, am I right?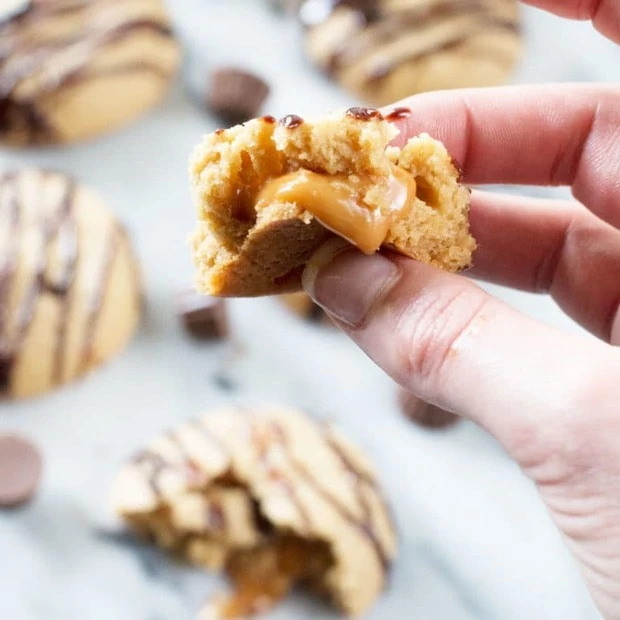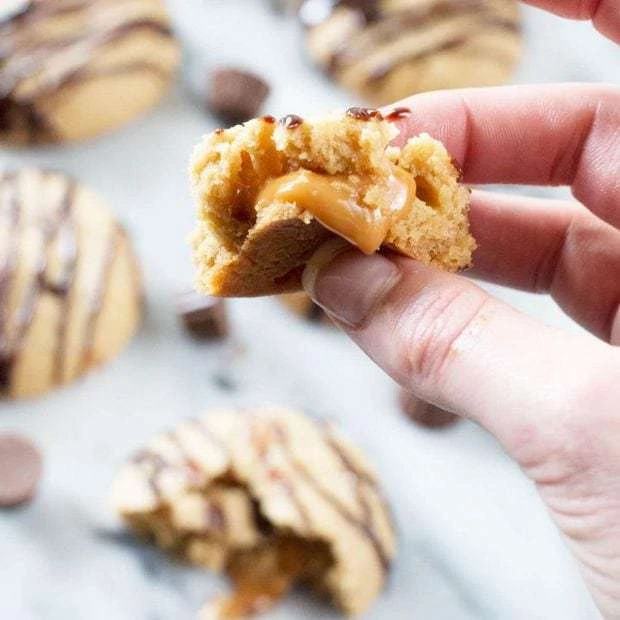 Caramel Stuffed Peanut Butter Cookies
Yield:
Approximately 2 dozen
Prep Time:
3 hours
10 minutes
Total Time:
3 hours
25 minutes
Chewy, dense and moist, these cookies are too good to resist!
Ingredients
1 cup unsalted butter, room temperature
3/4 cup granulated sugar
1 cup light brown sugar
2 eggs
1 1/2 tsp vanilla extract
1 1/4 cup creamy peanut butter
3 cups + 2 Tbsp all-purpose flour
1 tsp baking soda
1 tsp baking powder
1/4 tsp salt
24 to 28 caramels, unwrapped
Hot fudge or melted dark chocolate
Instructions
In the bowl of a stand mixer, cream together butter and sugars. Add eggs and beat until combined. Scrape down the sides of the bowl and add vanilla and peanut butter, beating again until combined.
Add flour, baking soda, baking powder and salt to the mixture. Mix on low until combined. Cover the bowl with plastic wrap and refrigerate for at least three hours.
When ready to bake, preheat oven to 350 degrees. Line 2 baking sheets with silicone mats or parchment paper.
Roll approximately 1 1/2 to 2 Tbsp of dough into a ball. Flatten the ball out and add a caramel to the center. Fold in the edges to form a ball of dough around the caramel, pinching the seam tightly. Place seam side down on the baking sheet and repeat with the rest of the dough.
Bakes 12 to 15 minutes. Cool for 10 minutes on the baking sheets, before removing to cooling racks to finish cooling. Finish with a drizzle of hot fudge or melted dark chocolate.