Chili Coffee Rubbed Steak served with a red wine jus and homemade steak fries is the elegant dinner you need to indulge in this week. The flavorful rub enhances the juicy meat, and with a savory, slightly tangy jus you are going to melt with every bite. Isn't it time you treated yourself and someone you love to a special dinner?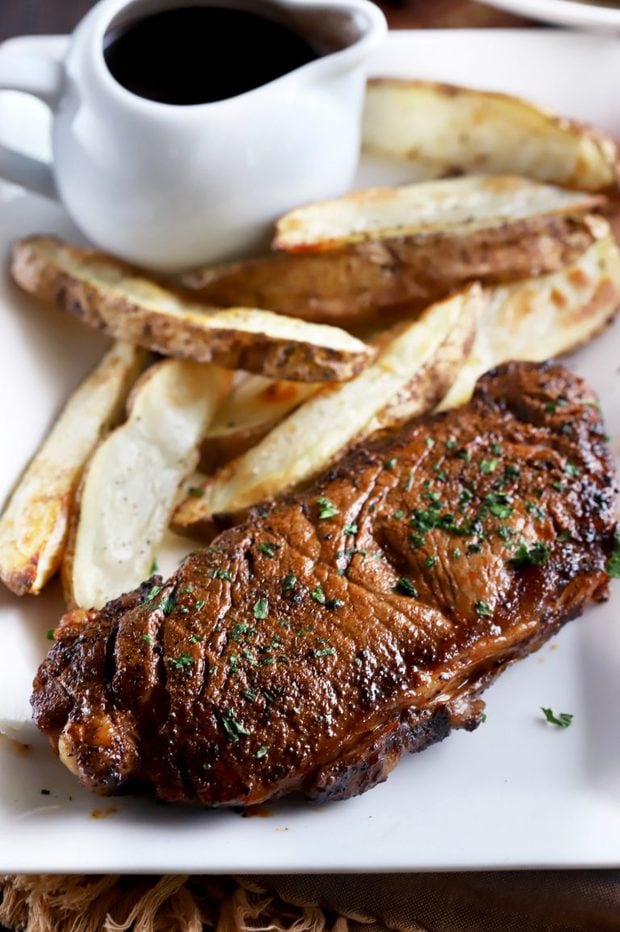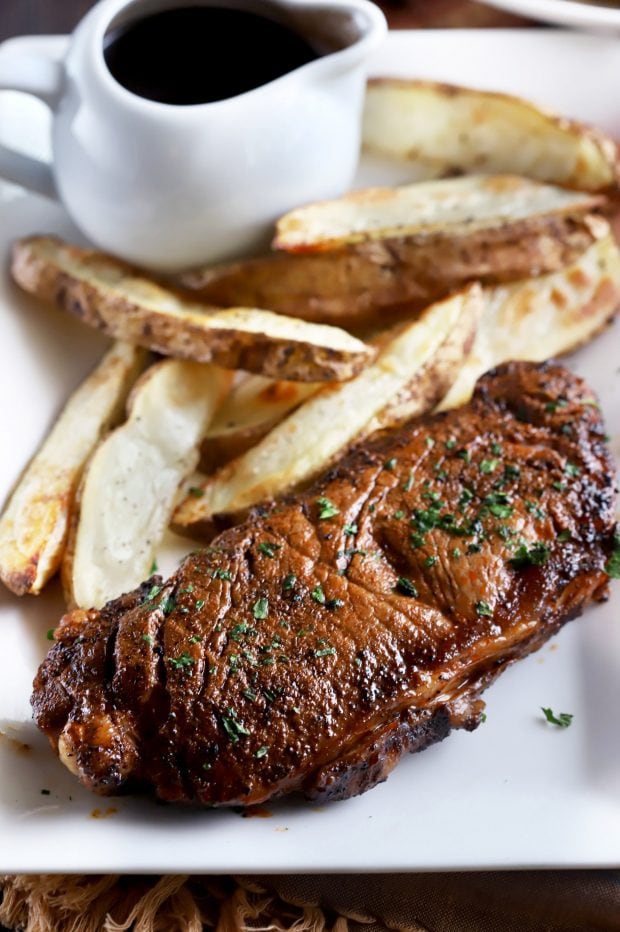 Please note that some of the links below are affiliate links. If you make a purchase through one of these links, I will receive a small commission.
Every year I try to treat myself to a special recipe for my birthday. I like to make a recipe I've been thinking about making, and have really been craving.
This year, I wanted STEAK.
Not just any steak though, I wanted a coffee rubbed, oh-so juicy steak.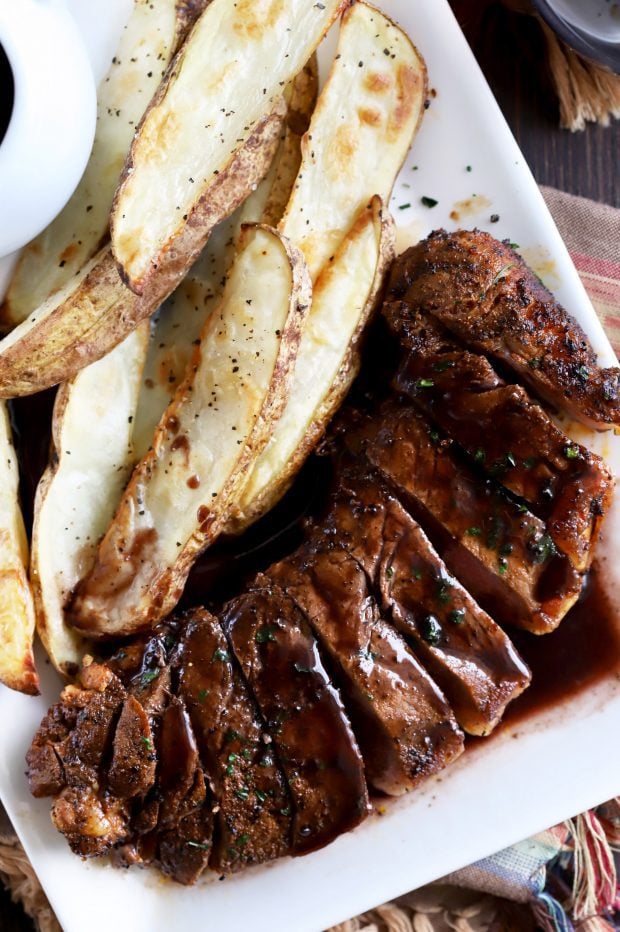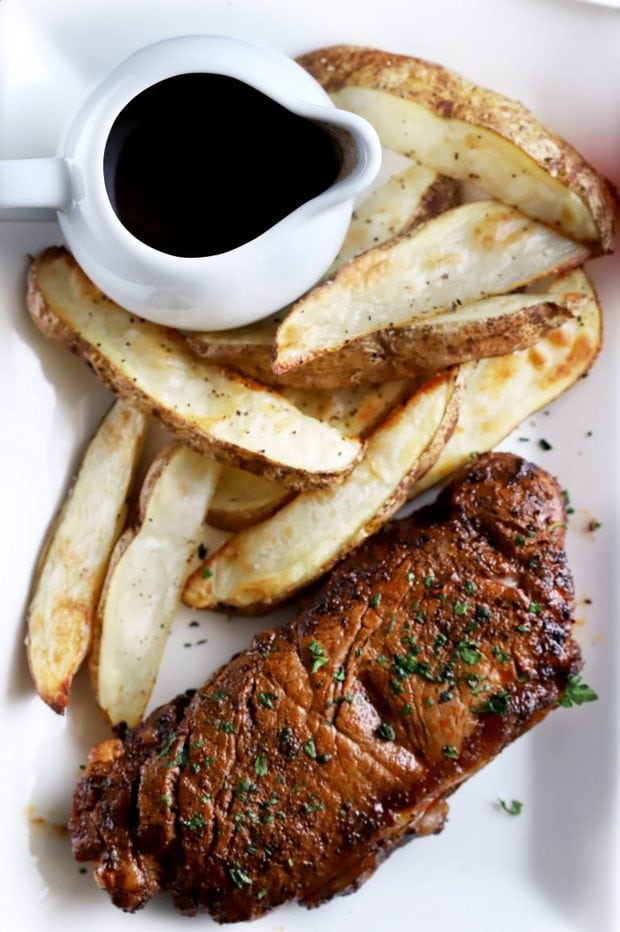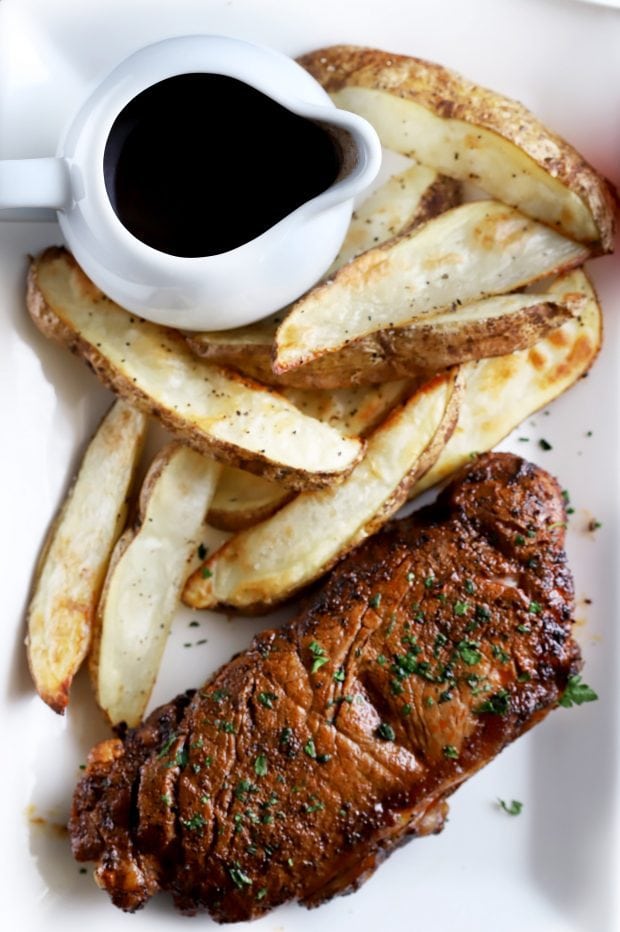 This is solely inspired by a coffee rub mix that I picked up in Kauai when my best friend Bridget took me on the 30th birthday trip to beat all others.
We went to this chocolate and coffee festival that we stumbled upon a sign for on the way to a luau, and it did not disappoint. After wandering through to try different coffees and chocolates, we wandered around the small town where the festival was located and stumbled upon a spice shop. This spice shop had it ALL, including the most flavorful coffee rub I'd ever tasted in my LIFE.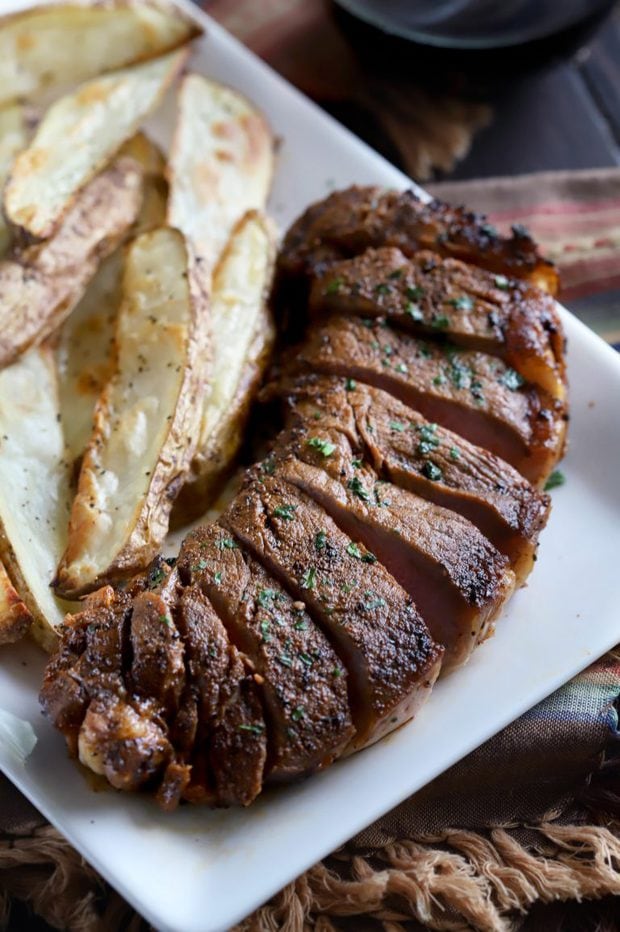 I brought home a bag of it and used it for anything I could think of, but then, it was gone.
Therefore, I was forced to get my coffee rub fix by making my own rub.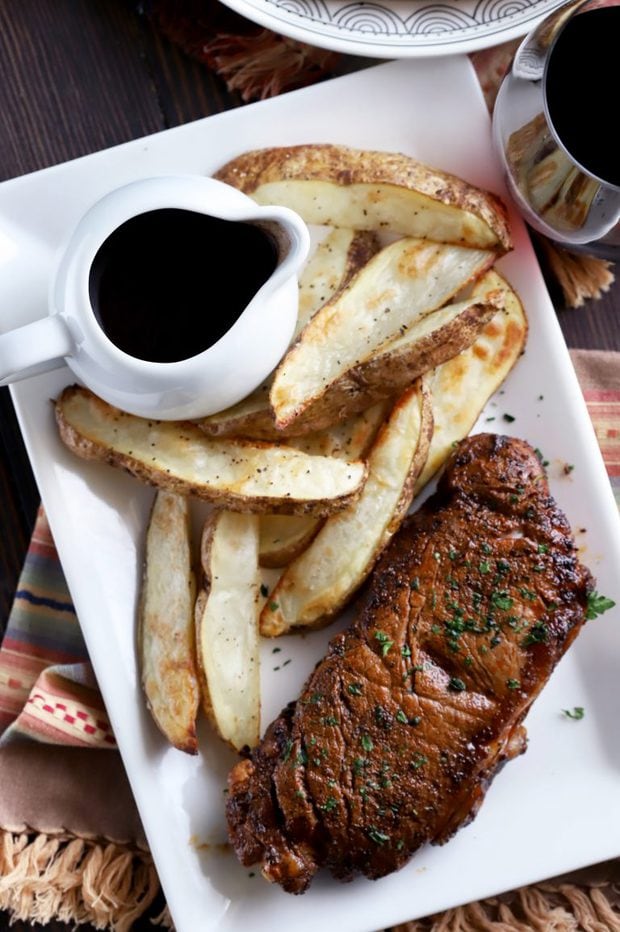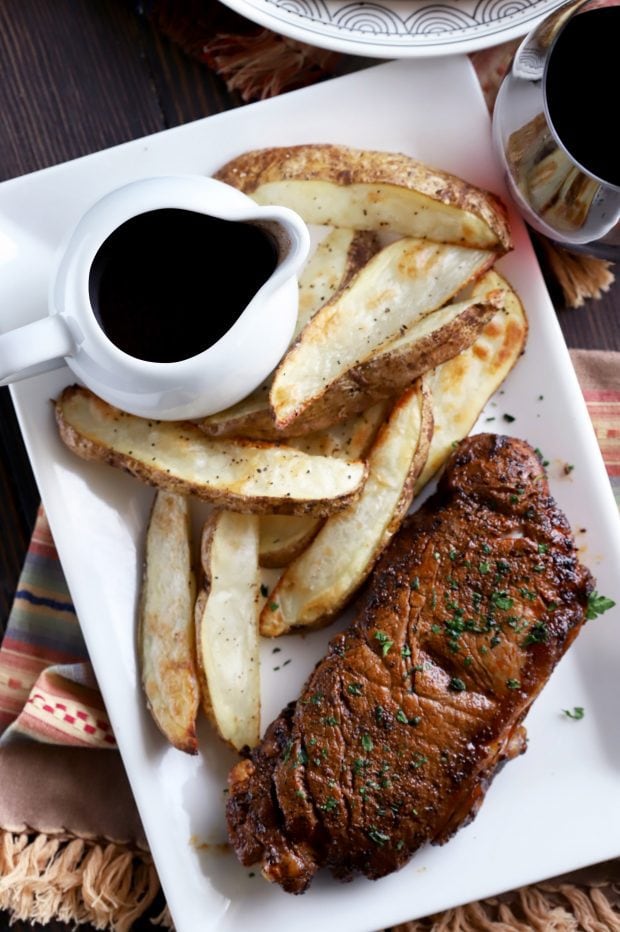 After tons of tinkering, I found the right mixture… and it is glorious. You can taste the coffee, you can taste the chili, and you can taste a light sweetness that is pure magic.
This recipe makes enough not only coat the steaks for this dinner, but leaves you with enough so you can store it in an airtight container to use again and again.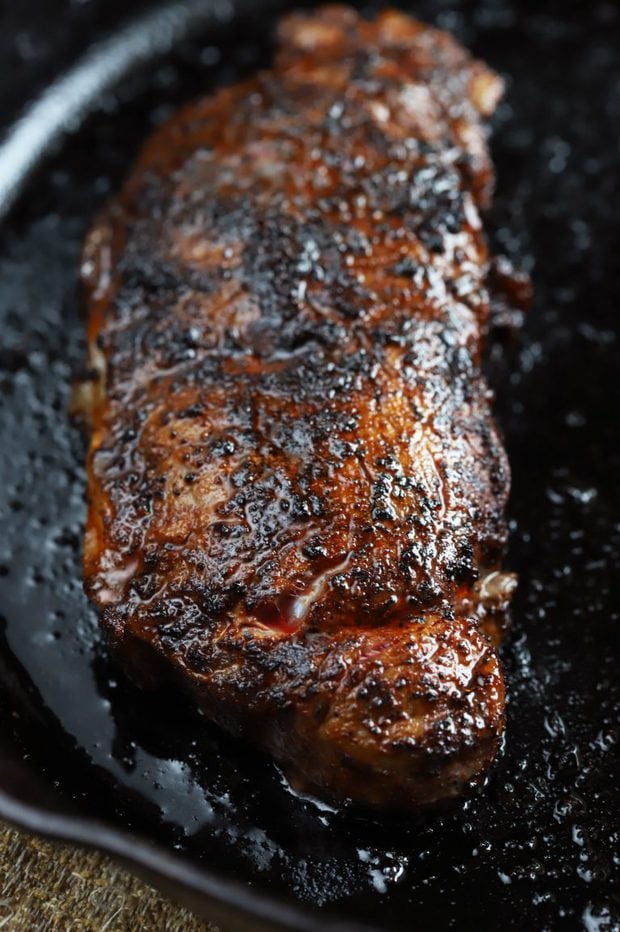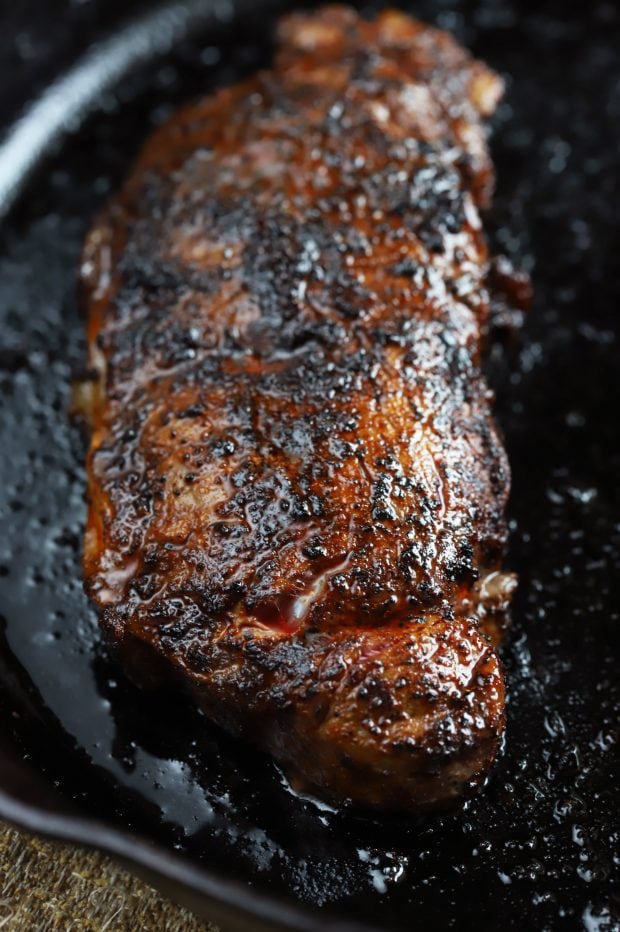 When you bite into the juicy steak, it takes you to a whole new level of happiness. However, once you add the red wine jus…. OMG the flavors jump and dance on your palette.
I like to serve my steaks with big ol' roasted steak fries seasoned simply with salt and pepper. You can totally switch this up and serve it with mashed potatoes, green beans, Brussel sprouts, or whatever else your heart desires.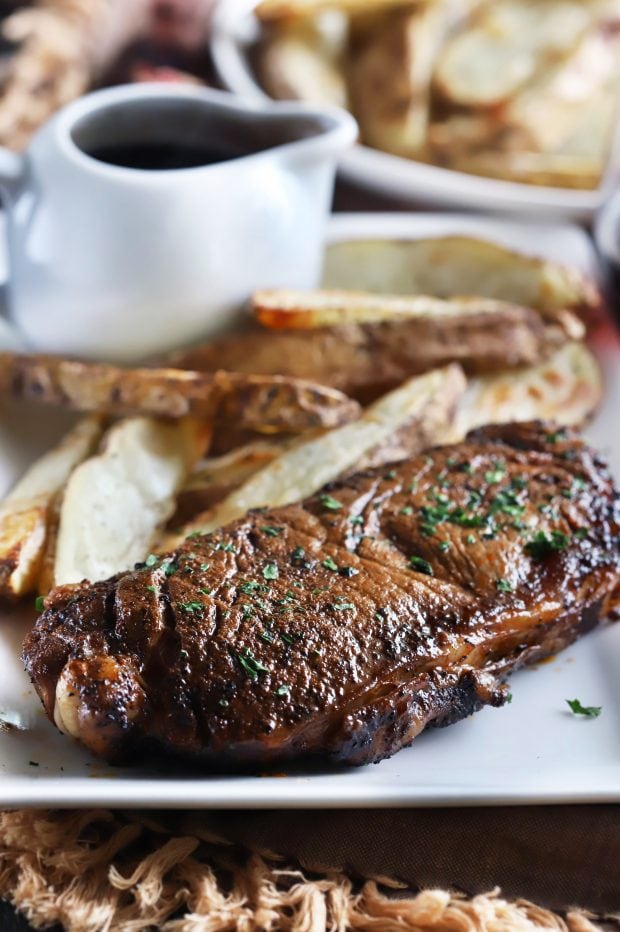 Just make sure you have a big, bold red wine to pair it all with.
Then just kick back and ENJOY.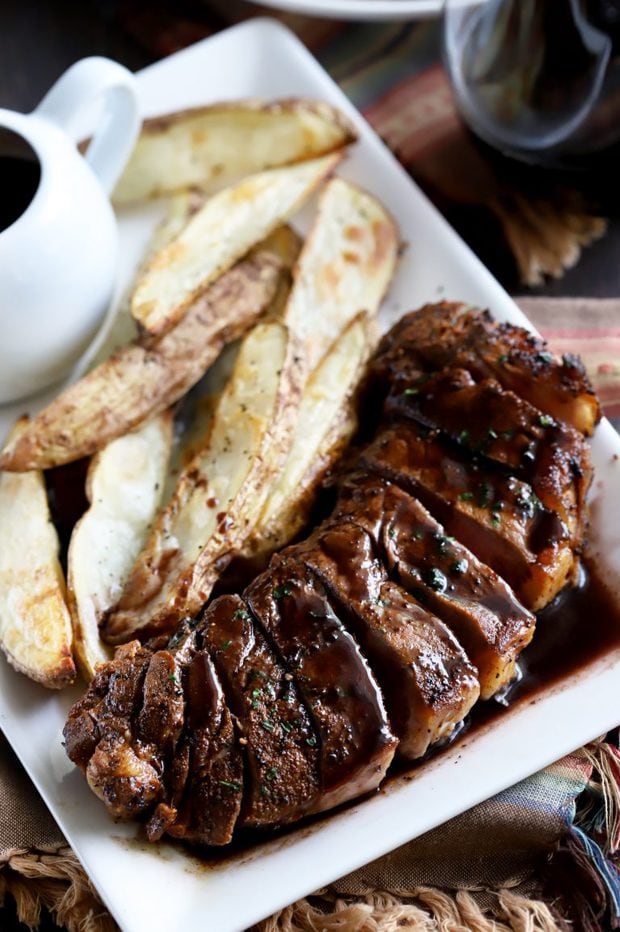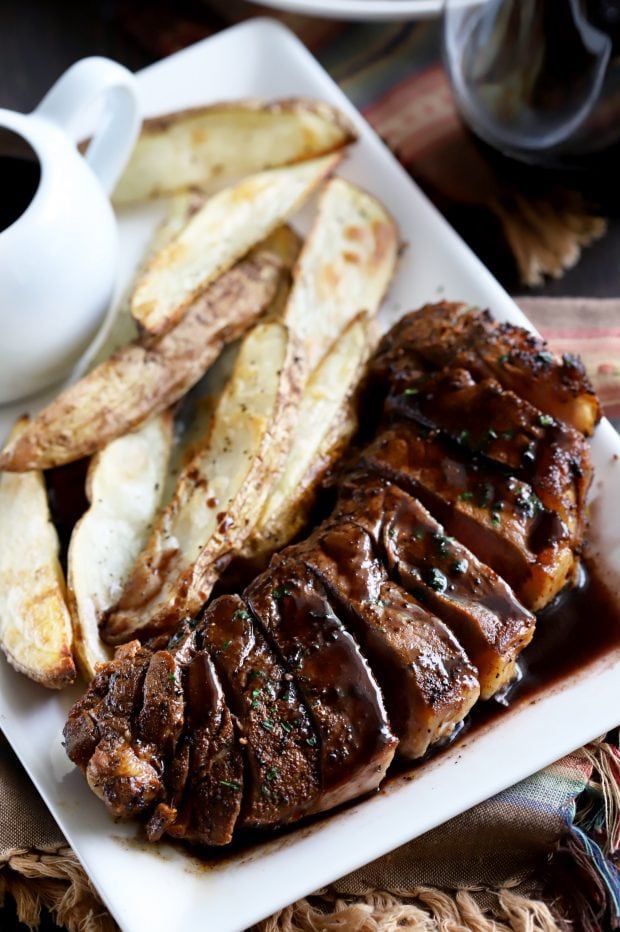 Happy birthday to me, indeed 😉
This Recipe's Must-Haves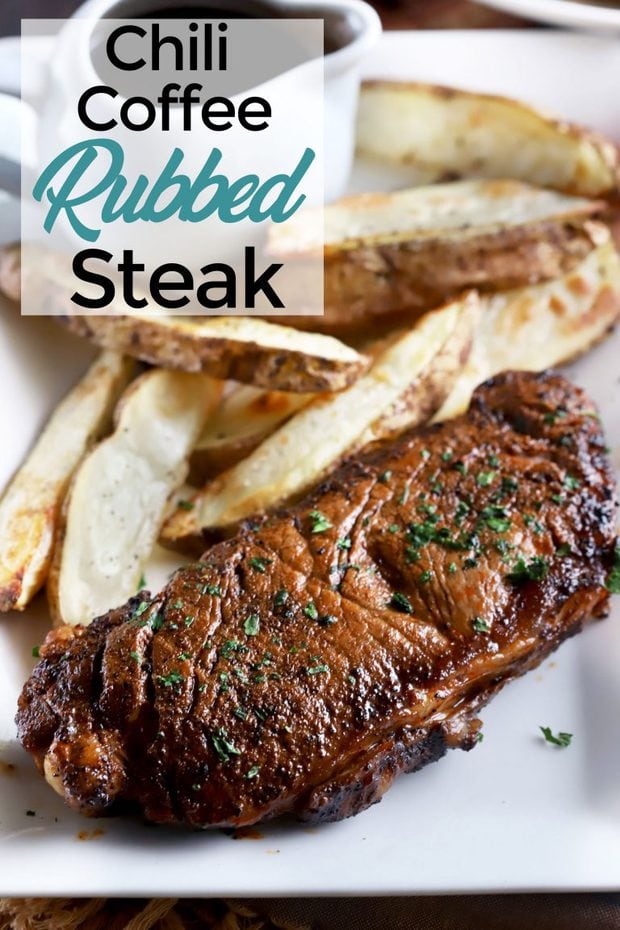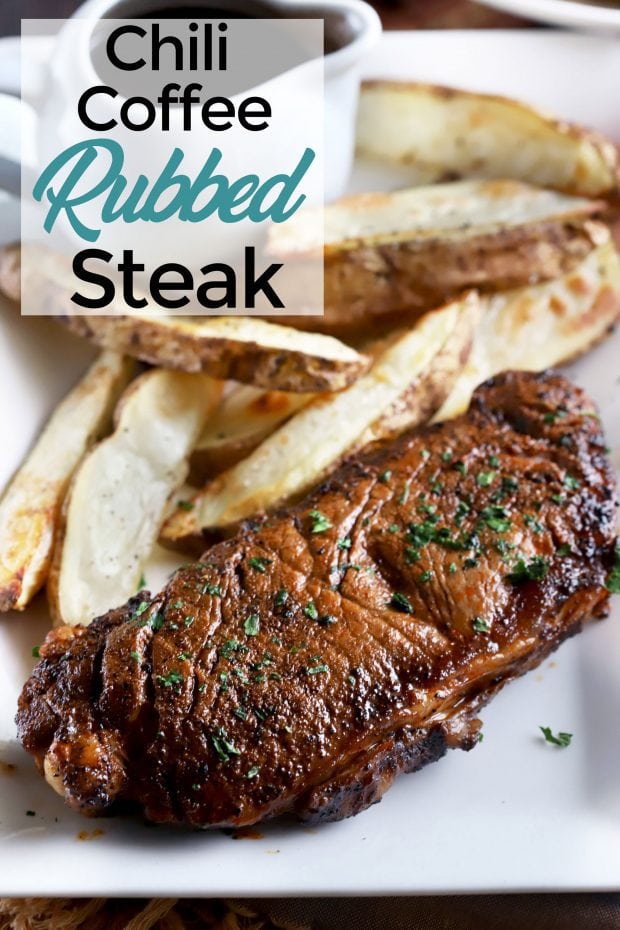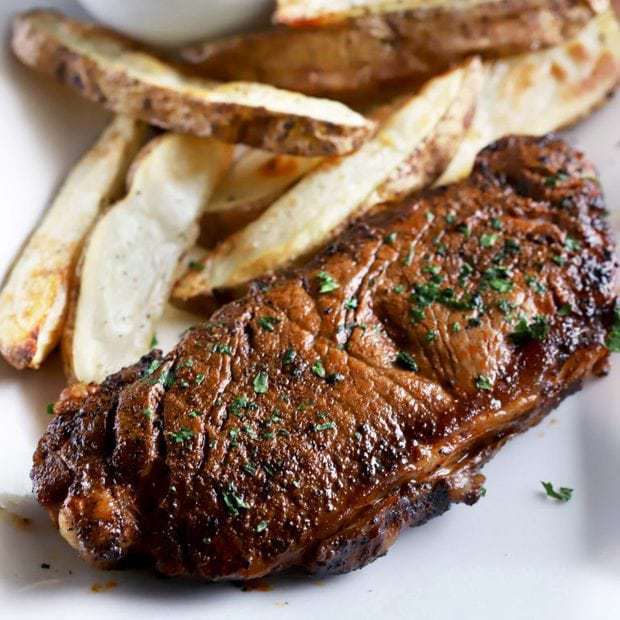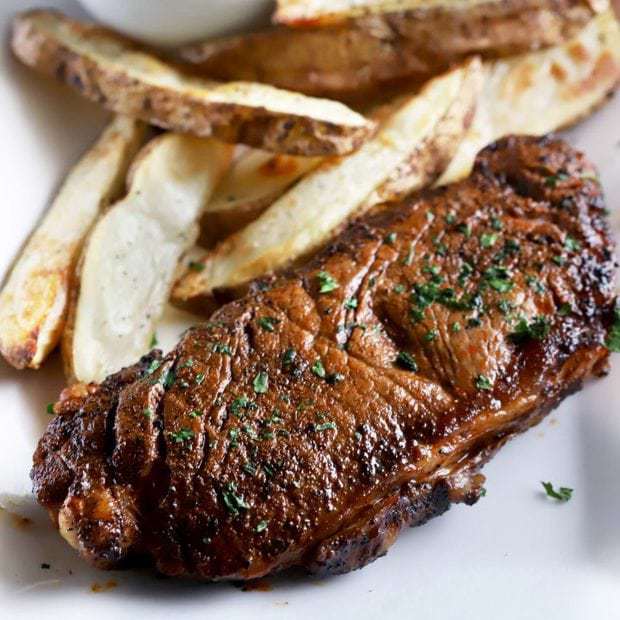 Chili Coffee Rubbed Steak
Additional Time:
3 hours
10 minutes
Total Time:
3 hours
46 minutes
A homemade chili coffee rub is the ideal match for steak! Pair it with an easy red wine jus and roasted steak fries, and you have a simple elegant meal.
Ingredients
1/4 cup finely ground dark-roast coffee
3 Tbsp cup ancho chile powder
1/4 cup light brown sugar, tightly packed
1 tablespoons smoked paprika
1 1/2 tablespoons kosher salt
1/2 tablespoon ground cumin
1/2 Tbsp chili powder
1/4 Tbsp cayenne pepper
1 1/2 tsp grapeseed oil
2 top sirloin steaks (approx. 1 1/2 to 2 lbs total)
RED WINE JUS
1 cup red wine
2 cups beef stock
Salt and pepper, to taste
Instructions
In a small bowl, stir together coffee, ancho chile powder, brown sugar, paprika, salt, cumin, chili powder, and cayenne until combined.
Coat each steak with about 3 to 4 tsp of the spice rub. Place on a wire rack set inside a rimmed baking sheet lined with aluminum foil. Chill for 3 to 4 hours.
Let steaks sit 1 hour at room temperature. When you are ready to cook, preheat oven to 400 degrees F.
Heat oil in a large cast iron skillet over medium-high heat. Cook steaks for 2 minutes on each side to form a crust.
Place skillet in the oven and cook steaks until they are 120 degrees F for medium-rare in the thickest part of the steaks. This should take about 5 minutes.
Remove steaks from the pan and add them to a cutting board to rest for 10 minutes before slicing.
While the steaks rest, pour 1 cup of red wine into the skillet and place it over medium heat. Use a wooden spoon to scrape up all those good browned bits on the bottom of the pan. Cook until the wine is reduced by half, about 5 minutes.
Stir in beef stock, stir to combine, and continue to cook until reduced by half, about 8 minutes. Be sure to continue stirring as the mixture reduces.
Taste and season with salt and pepper to taste. Serve alongside sliced steak.
Recommended Products
As an Amazon Associate and member of other affiliate programs, I earn from qualifying purchases.