Please note this post contains affiliate links.
Soy Marinated Flank Steak with Creamy Kale Peanut Noodles is the "date night in" meal your date will never forget. The creamy kale peanut noodles make the perfect base for the sliced umami-packed flank steak. It's the one jaw-dropping meal that you can make without wanting to pull your hair out!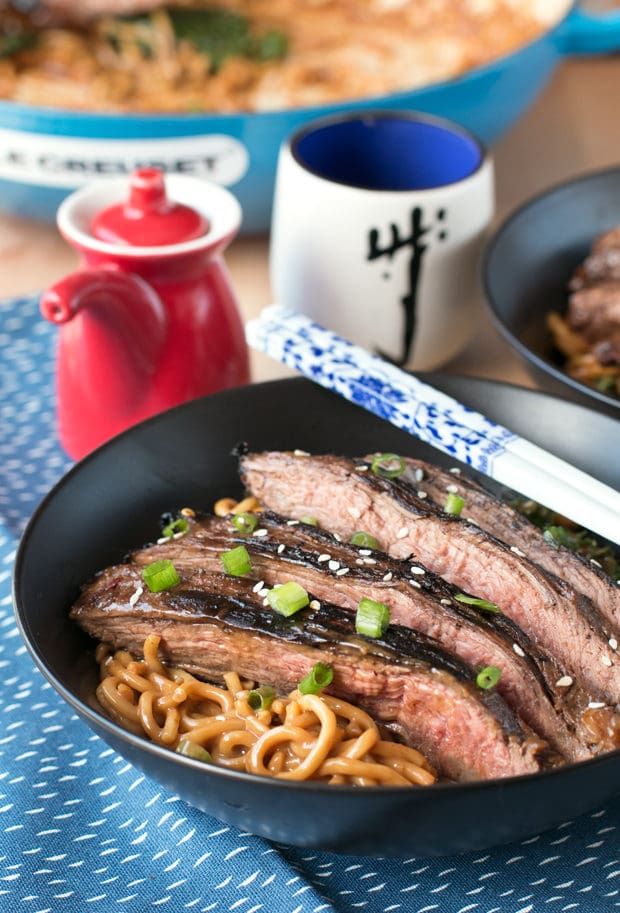 Disclosure: This post is sponsored by the Le Creuset. While I was compensated, as always, all opinions and the recipe are my own. Thanks for supporting the brands that support Cake 'n Knife!
It's crazy how busy life can get. Before you know it, seemingly in the blink of an eye, it's Friday and you swear last night was just Monday.
I feel like I sometimes lose those days in between weekends (i.e. those days that you work work work work work, only to eat and collapse into bed in the final hour of the night). It's hard to remember just how important it is to take time during the week to slow down and enjoy a good old-fashioned dinner date night in.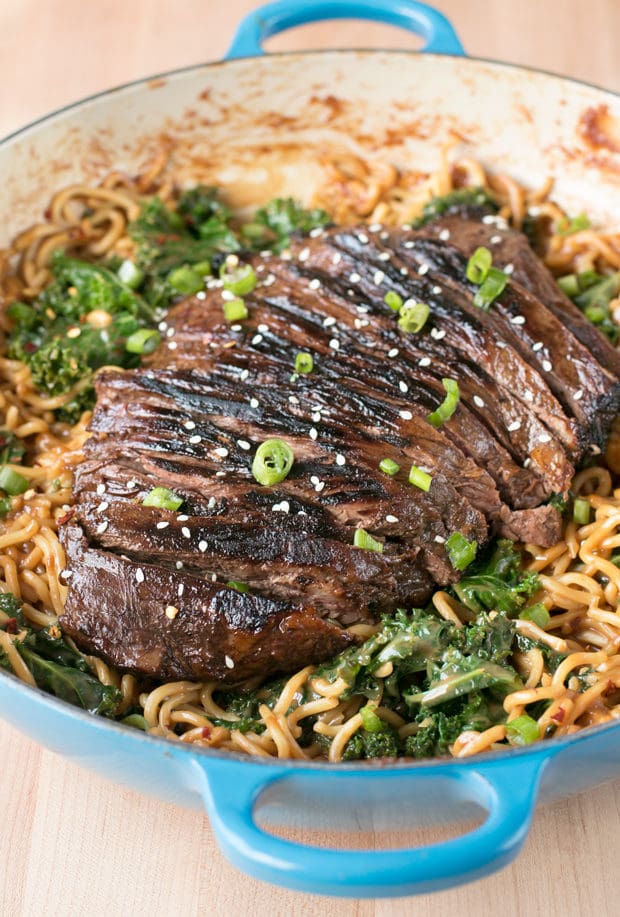 With all the cooking I do, you would think those date nights would be any ol' night.
However with all the catching up and getting back into the swing of things after Europe, the Man and I have been more concerned with simply getting some down time in before heading to bed each night. This past long weekend is what I needed to remind me, it really is ok to put the work aside a little early every once in a while in favor of some quality alone time with your significant other.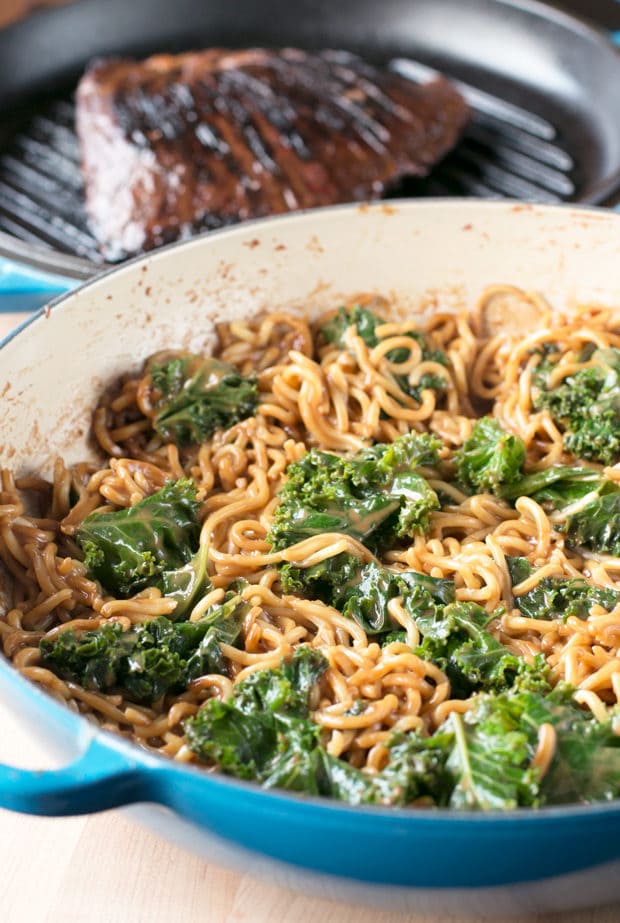 Please note that some of the links below are affiliate links. If you make a purchase through one of these links, I will receive a small commission. Thank you for supporting Cake 'n Knife!
That is exactly what inspired this meal!
Technically it was the desperate need to take time for ourselves during the week and make a dinner that's perfectly portioned for two (sometimes I just don't need all those leftovers!).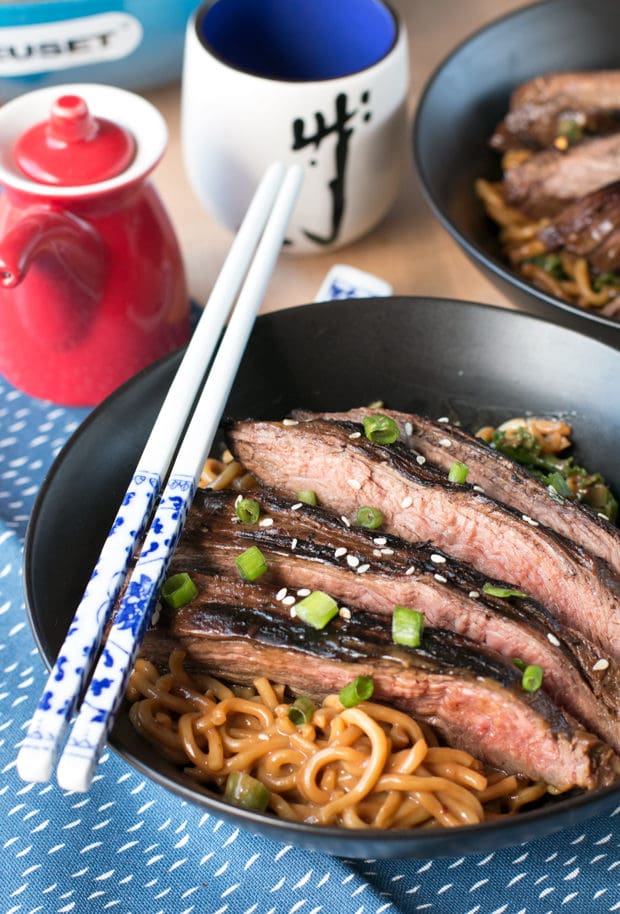 When I went to Fate Brewing Company for my 48-Hour Foodie Guide: Beer Lover's Guide to Boulder, I had a soy marinated hanger steak with cold peanut noodles that literally blew my mind. The meat melted in my mouth, the creamy peanut noodles were the perfect counter for the umami flavors in the steak, and when I saw the Man's eyes basically roll back into his head after the first bite, I knew I needed to recreate the magic at home.
This dish is ideal to make for two people, especially when you have the right tools to make it with.
Enter the Le Creuset Braising Dish with Grill Pan Lid.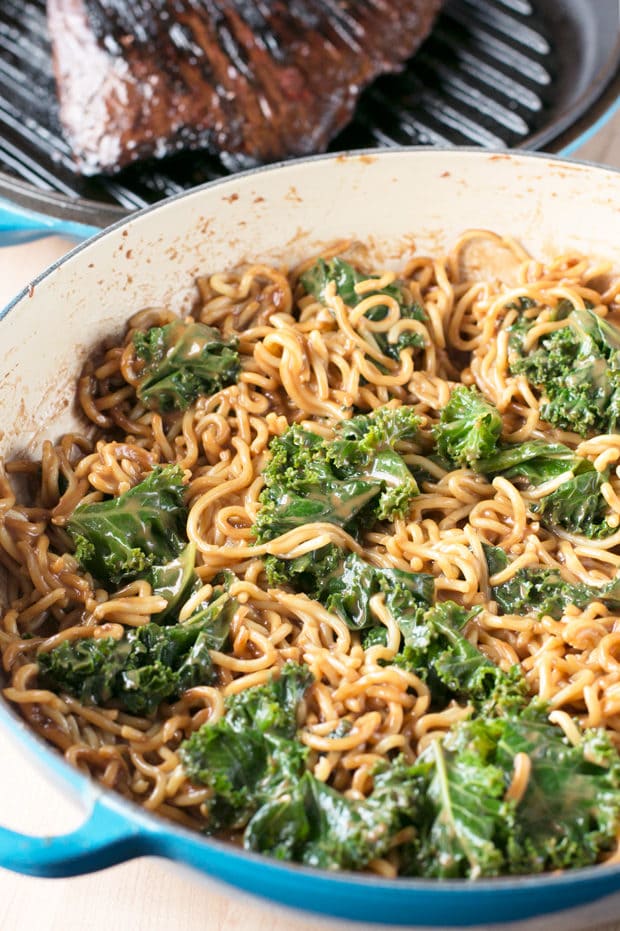 Honestly, can we talk about how brilliant it is to have any dish with a grill pan lid? Forget having a bunch of lids taking up space in your cabinets that you'll only use every once in a while! With this match up you get two dishes in one, PLUS a lid. With the quality of Le Creuset's cookware, these are the kind of dishes you want to stock your cabinets with because they'll be there for a good long time.
Not to mention, having a burst of color in the kitchen brings a little more fun into the whole cooking process!
The marinade for this steak is my favorite marinade of the summer so far. It's full of rich and deep flavors, so you really get that true "umami" flavor that's impossible to describe in any other way except for DELICIOUS. The creamy peanut noodles with fresh kale are a rich base that complements the steak perfectly. I highly recommend eating it all warm, but if you like cold noodles (or want to give them a try), the noodles totally work well if they are chilled. Serve up the steak warm on top and be prepared for a whole new level of date night happiness.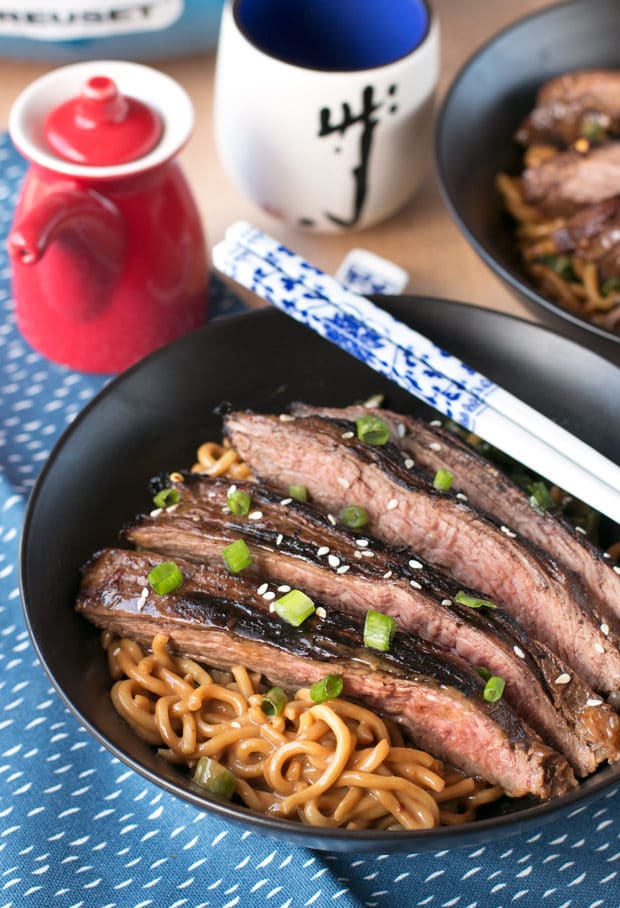 Le Creuset wants you to have the perfect "date night in" dinner too, so they are oh-so graciously giving away one of their Le Creuset Multi-Function Oval Ovens with Grill Pan Lid (a $300 value)! This set isn't the exact one you see pictured here; it's even BETTER. You get a full sized oval oven to work with so you can not only make this dish, you can make soups and stews in the deep dish while grilling up your favorite meats and seafood with the grill pan! Check out the giveaway below the recipe. GOOD LUCK!
This Recipe's Must-Haves
When you slice into a steak, you have to have the right equipment. I've said it before and I'll say it again, this Shun Chef's Knife
is the only knife you need.
Premium Organic Bamboo Extra Large Cutting Board for slicing up everything from kale to the final cooked steak. Extra large so you never run out of room!
Le Creuset Multifunction Oval Oven with Grill Pan Lid (unfortunately this item is no longer in stock, but this oval oven still is! You can use your grill or a grill pan for the rest steak!)
– because two insanely high-quality dishes in one is basically the best way to win at life (well, at least life in the kitchen).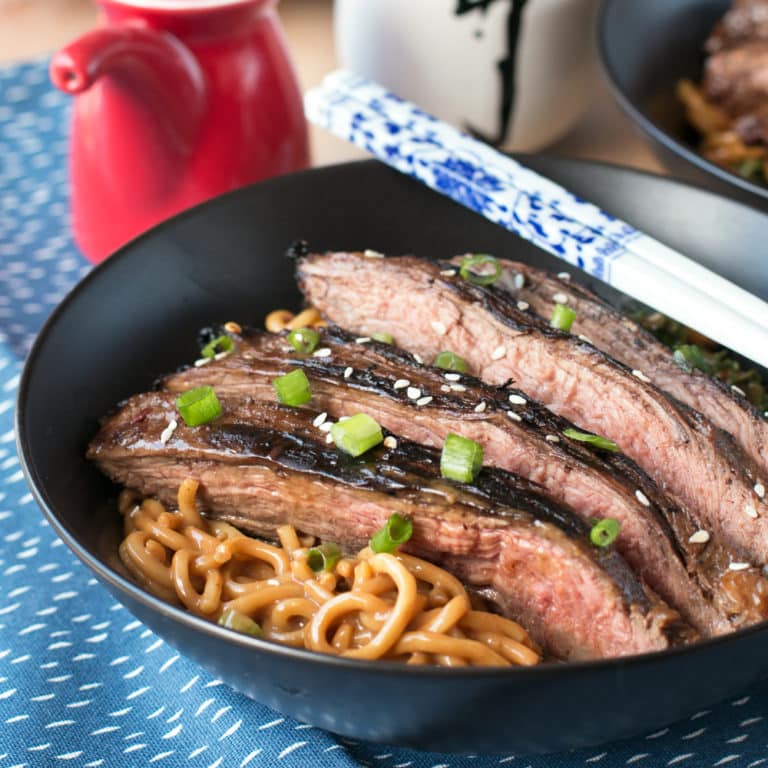 Soy Marinated Flank Steak with Creamy Kale Peanut Noodles
Additional Time:
5 minutes
Flank steak gets a flavor injection with an sumptuous soy marinade! The tangy umami flavor pairs perfectly with rich and creamy kale peanut noodles, making this the ultimate "date night in" dish.
Ingredients
1 16 ounce hanger steak
1/2 bunch kale
11 ounces fresh udon noodles
Marinade
1/4 cup soy sauce
2 cloves garlic, minced
1 Tbsp hoison sauce
Dash of sesame oil
1/2 tsp black pepper
2 tsp lime juice
Peanut Sauce
1 tsp sesame oil
1/4 cup soy sauce
2 tsp Sriracha
1/2 tsp fish sauce
1/3 cup creamy peanut butter
Garnish: chopped scallions, sesame seeds, chili flakes
Instructions
In a large ziplock bag, combine soy sauce, garlic, hoison sauce, sesame oil, black pepper and lime juice for the marinade. Add steak and turn to coat in the marinade. Let rest in the refrigerator for at least 1 hour, up to overnight.
Fill a large pot with water and bring to a boil. Blanch kale for approximately 2 to 3 minutes. Remove from boiling water to a large bowl filled with cold water. Set aside.
Heat grill pan over medium-high heat. Remove steak from marinade and grill until desired doneness. I recommend approximately 4 to 5 minutes per side for medium rare. Remove from heat and rest 15 minutes before slicing.
While the steak is cooking, add sesame oil, soy sauce, Sriracha, fish sauce, and peanut butter for the noodles in a braising dish or oval oven dish. Heat over medium heat, stirring constantly, until the sauce come together. Drain kale and add to the sauce. Stir in noodles.
Cook noodles and kale in the sauce for approximately 2 to 3 minutes, over medium-low heat.
Serve sliced steak over creamy noodles with kale immediately. Garnish with chopped scallions, sesame seeds and, if you want a little extra heat, chili flakes.