Peanut Butter Monster Cookies
I don't know why I decided to make giant cookies.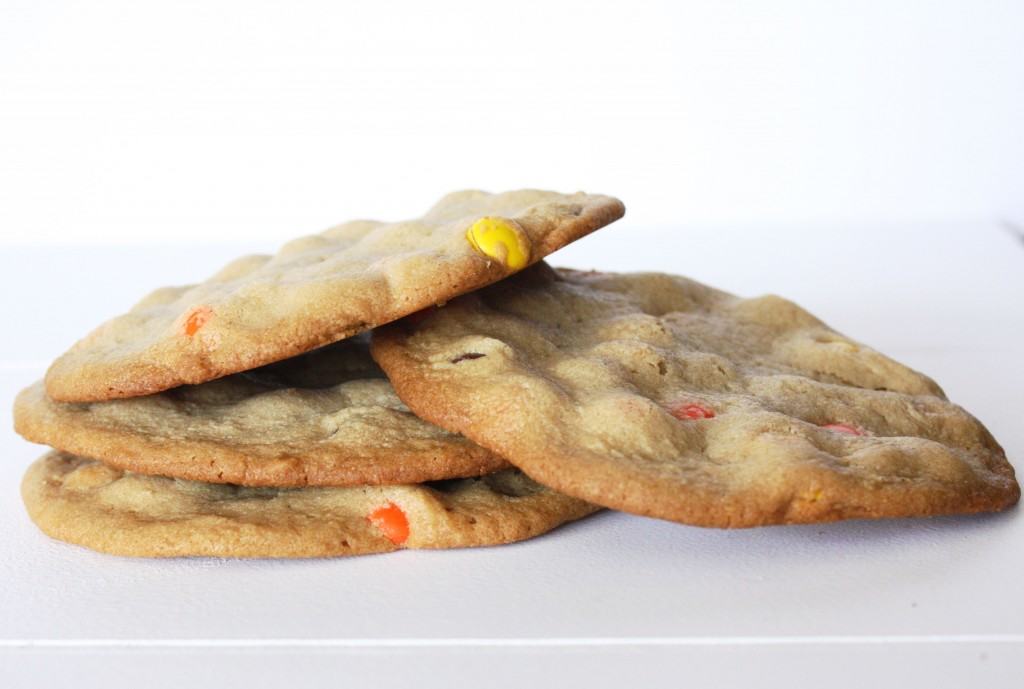 Probably because I am deep in the thralls of a peanut butter obsession and one normal sized cookie just won't cut it. If you hadn't noticed already from the donuts that I posted last week. I am approaching the point of no return.
In case you are wondering what that point is, it's me on the couch in sweats with a jar of peanut butter and a spoon. I have been there before, particularly on those particular dark Friday nights when I was left without a thing to do and even my mom had more exciting plans than I did. Aaaaaaand I've said too much. Let's shift gears, shall we?
Is it just me, or are Reese's Pieces severely underrated in the candy universe? I feel like Reese's peanut butter cups get all the attention, even those little mini ones get more attention than Reese's Pieces (by the way those mini unwrapped Reese's cups are OMG ridiculous and I inhale them whenever I get my hands on them). The poor little Reese's Pieces get jipped in my opinion.
Which is insane because those candies are the one thing that make these cookies completely drool-worthy. Without them, these cookies would just be plain ol' peanut butter cookies. Don't get me wrong I like the plain ol' peanut butter cookies (especially when thick and chewy) but come on, candy makes everything better!
That's my philosophy in life at least. Had a hard day? Eat some candy! That cute guy from the bar didn't call you? Candy. You fell up a flight of stairs today? Again, CANDY. Candy answers all of life's dilemmas.
The key to candy bliss is to eat these cookies while they are still warm. Then you get a mouthful of warm, gooey peanut buttery goodness….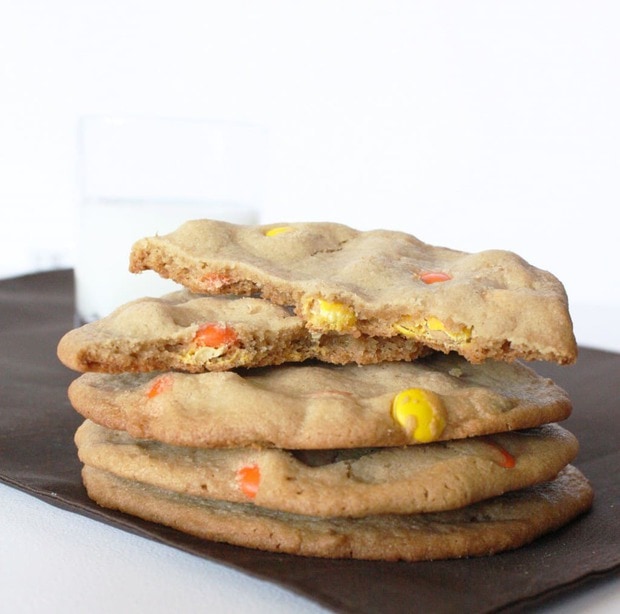 Gah, I die.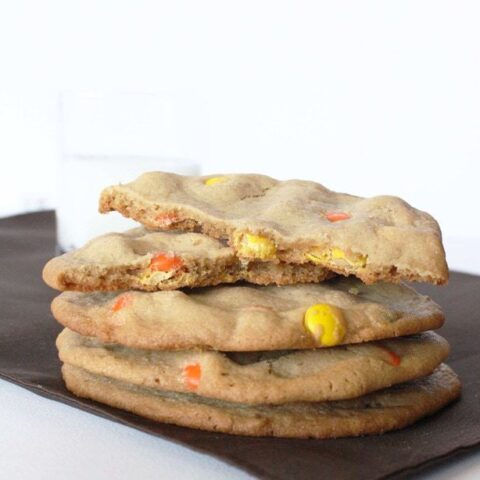 Peanut Butter Monster Cookies
Yield: 18 to 20 giant cookies
Prep Time: 10 minutes
Cook Time: 25 minutes
Total Time: 35 minutes
Peanut butter packed giant cookies, the best partner for a giant glass of milk.
Ingredients
2 cups all-purpose flour
½ tsp baking soda
¼ tsp salt
1 ¼ cups dark brown sugar, firmly packed
1 ¼ cups white sugar
1 cup salted butter, softened
3 large eggs
1 cup creamy peanut butter
2 tsp pure vanilla extract
1 15 oz bag of Reese's Pieces
Instructions
Preheat oven to 300 degrees.
In a medium bowl combine flour, soda, and salt. Mix well with a whisk and set aside.
In the bowl of a stand mixer (or large bowl using a hand mixer), blend sugars at medium speed. Add butter and mix to form a grainy paste, scraping down the sides of the bowl. Add eggs, peanut butter, and vanilla, and mix until light and fluffy on medium speed.
Add the flour mixture and mix at low-speed until just mixed; do not overmix. Gently fold in the Reese's Pieces with a wooden spoon until distributed evenly throughout the dough.
Drop large balls of dough onto an ungreased cookie sheets, the balls should be about the size of your palm. I fit 6 balls of dough onto each large baking sheet. Bake for 18-22 minutes until cookies are slightly brown on the edges. Transfer cookies to cookie racks to cool.