One of the simplest dishes to make and one of those dishes that always brings me back to my time in Italy.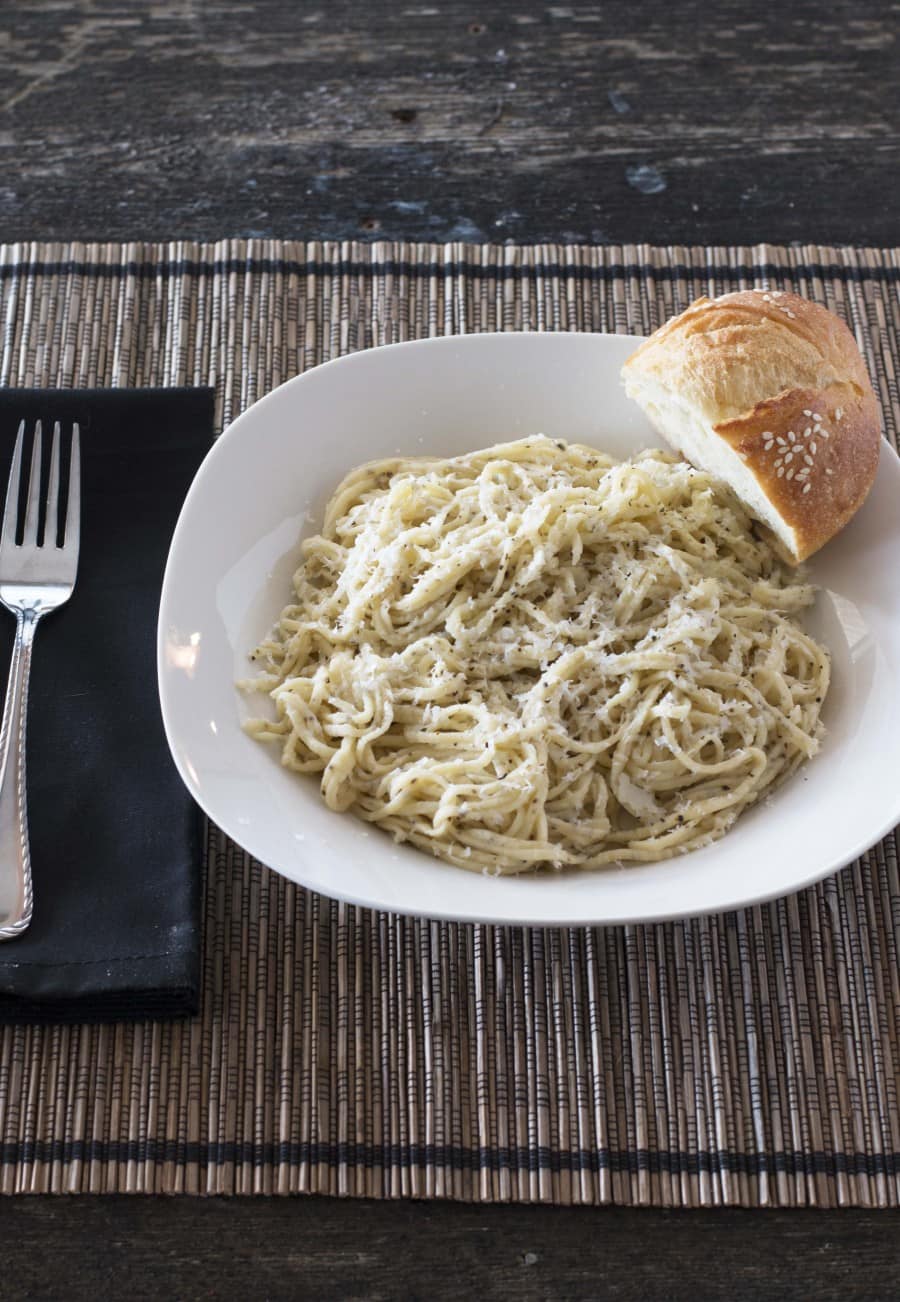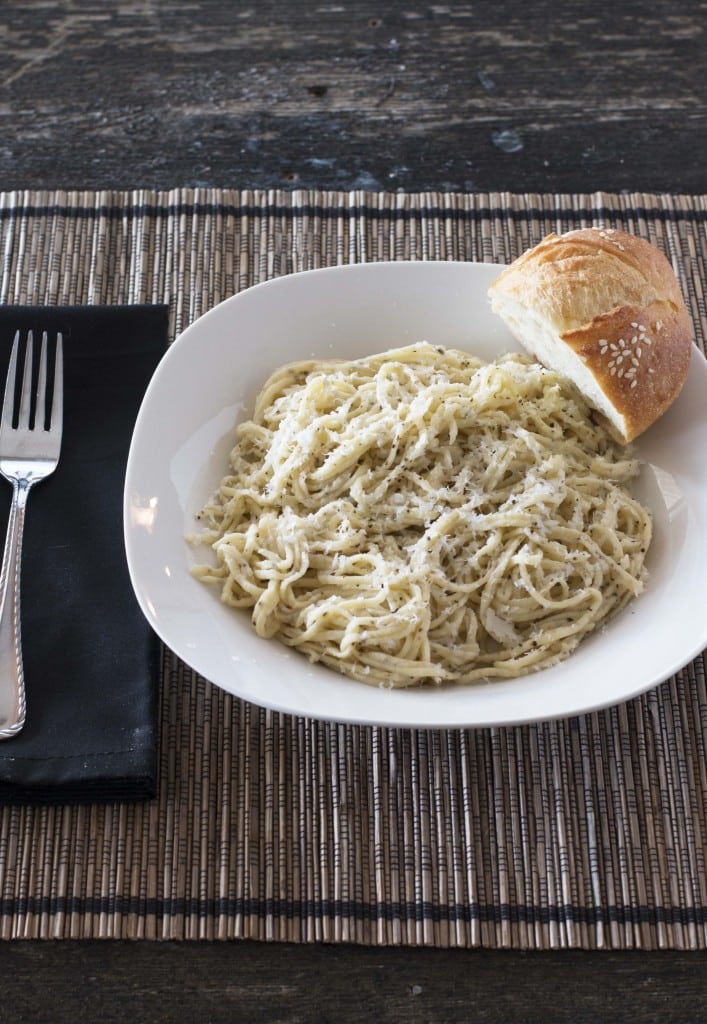 When I was in Rome, I was a broke college kid who didn't know much about cooking and I was saving most of my money for travel. My meals were usually made up of the cheapest ingredients I could find so I cooked A LOT of pasta. I was in Italy, so it just made sense!
I had never heard of cacio e pepe before I got to Rome. I knew a little Italian so when I saw it on a menu, I couldn't believe there was a pasta dish with just cheese and pepper. It seemed way too simple to be good.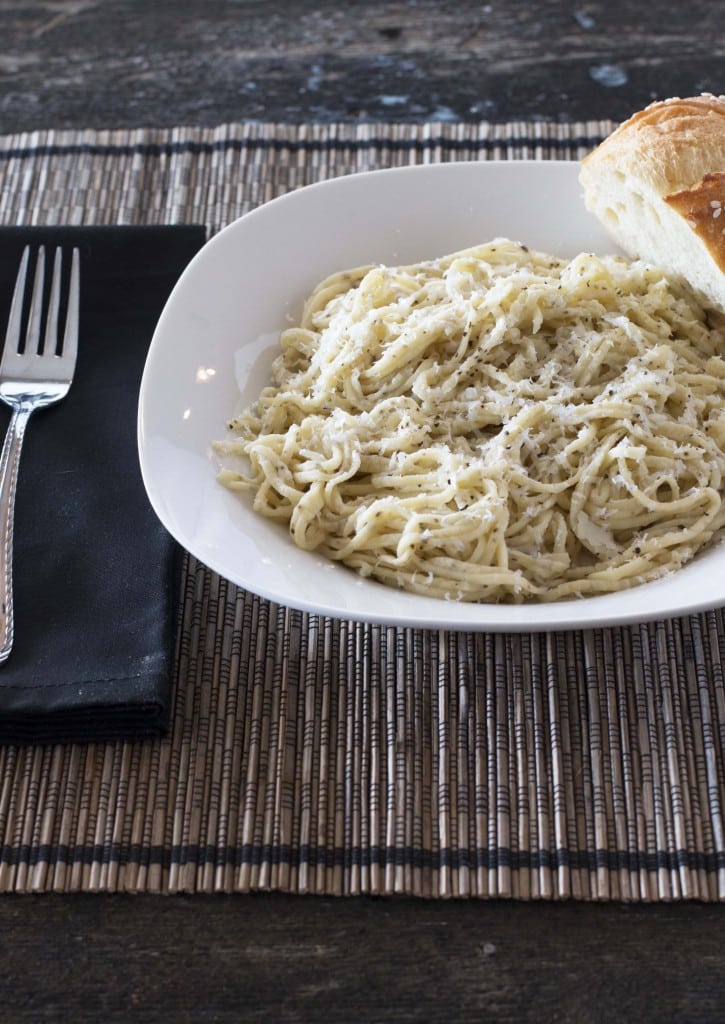 Boy was I wrong! Of course it's a simpler dish but it is so classic and delicious, it's impossible not to love it.
Now that I have a pasta roller and have learned the joys of cooking, I thought I would make my own version of cacio e pepe featuring a black pepper pasta dough. GAH it is so so soooooo good. The black pepper runs throughout each gorgeous strand of spaghetti so every bite has that perfect amount of pepper.
Top it with a little cheese and presto! Finito!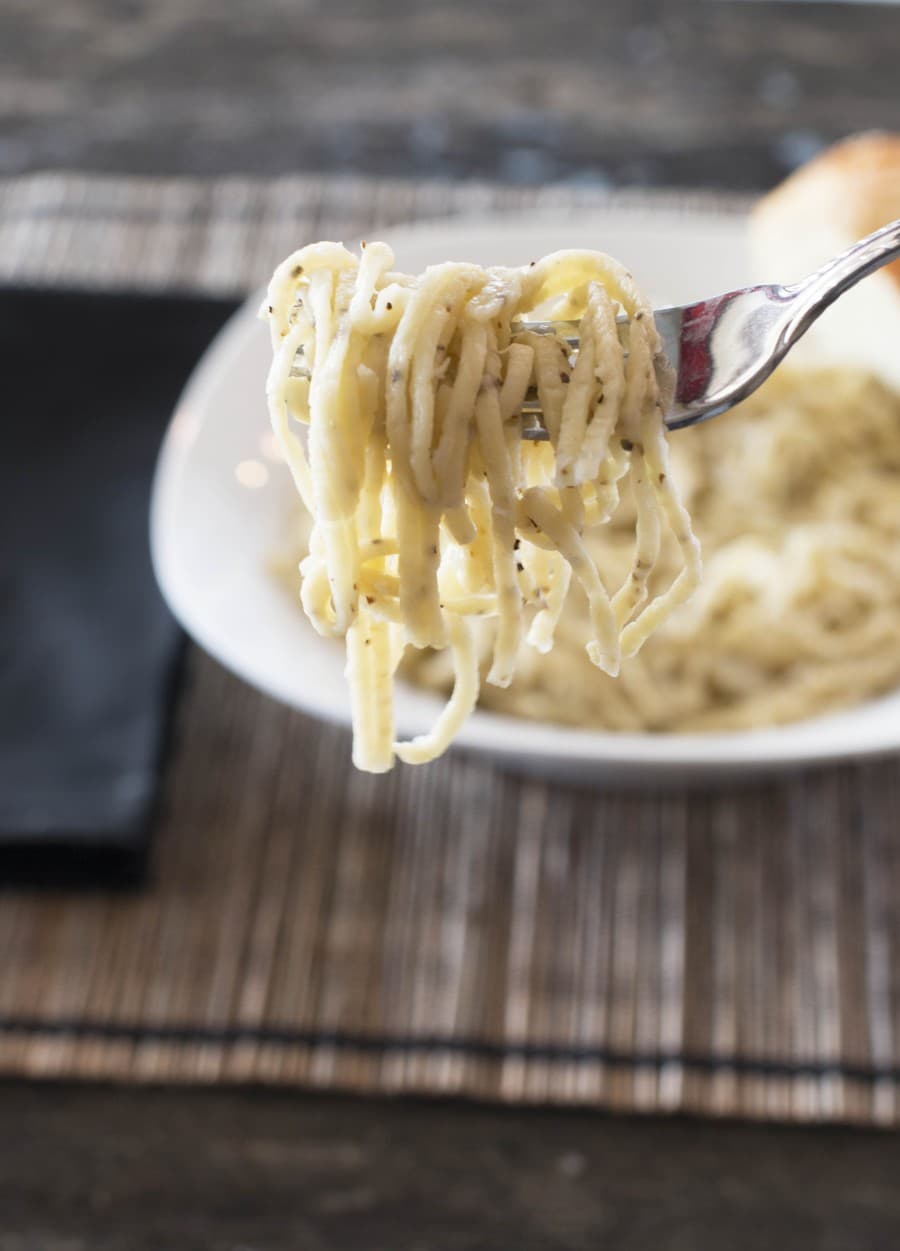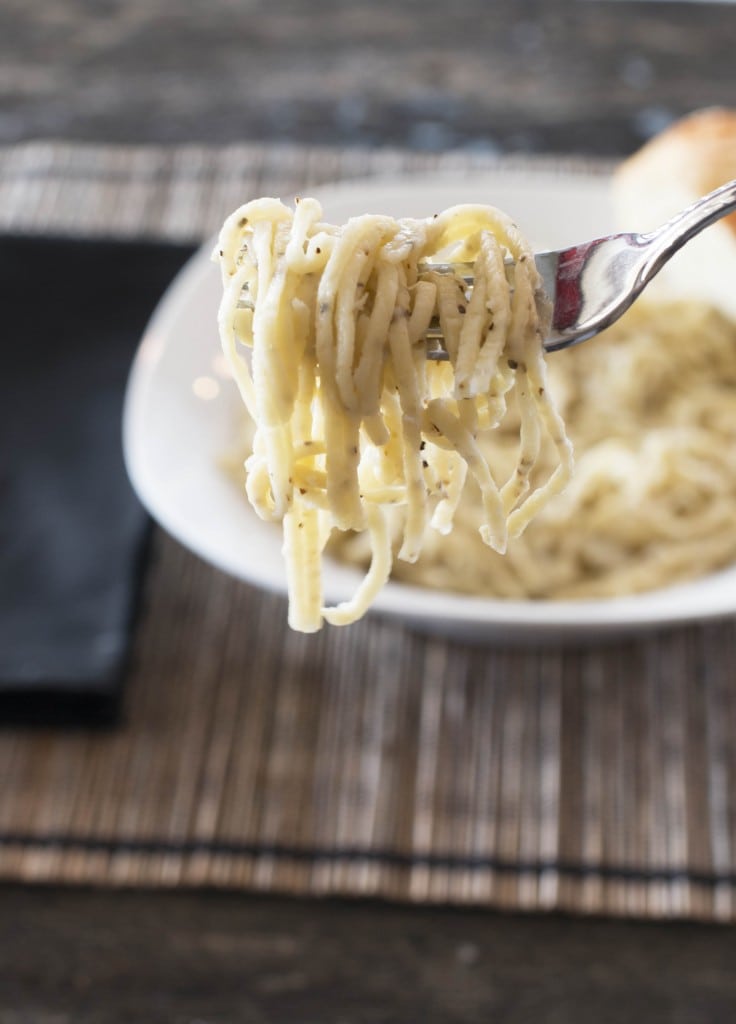 Simple perfection.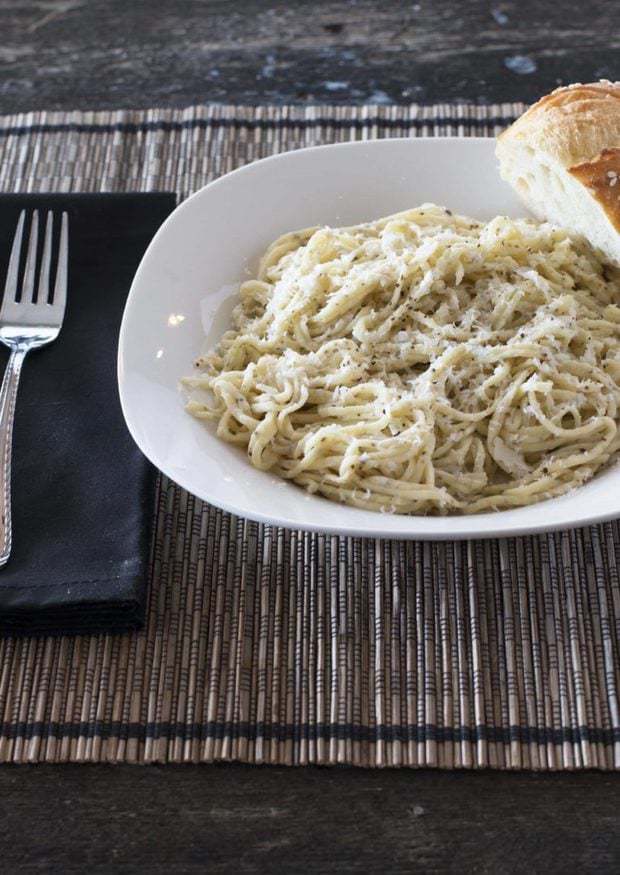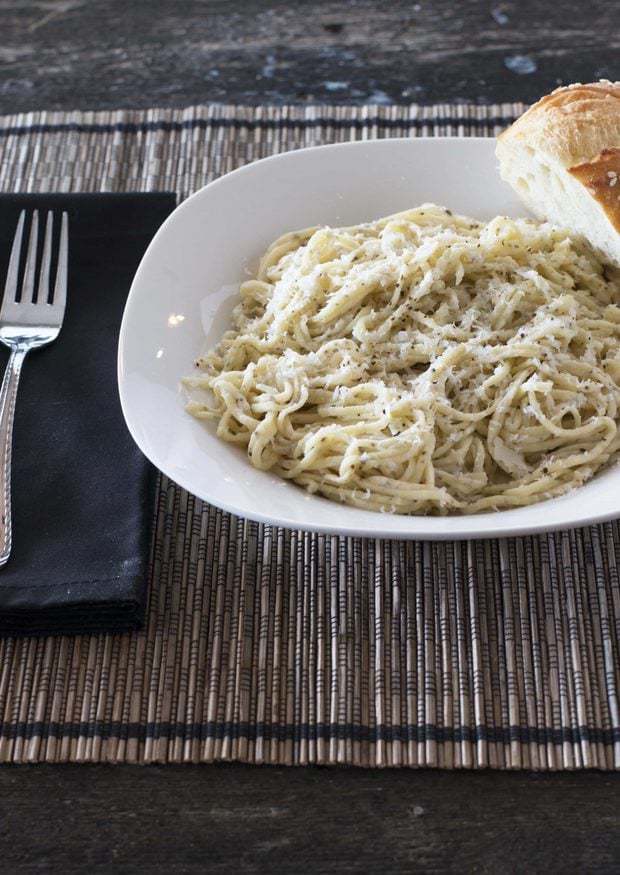 Cacio e Pepe with Black Pepper Pasta
A classic Italian dish made with fresh black pepper pasta.
Ingredients
Pasta Dough
4 large eggs
1 Tbsp water
3 1/2 cups all-purpose flour
1/2 tsp salt
1 1/2 Tbsp freshly cracked black pepper
Toppings
1/2 cup pecorino
3/4 cup parmesan
3 Tbsp butter
Instructions
Pour flour on your clean, flat work surface and make a large, wide well. Add eggs, water, salt, and pepper to the well and beat together with a fork being careful not to break the edges of the well. Slowly incorporate flour as you mix, until the mixture begins to come together and is less of a liquid, more of a loose dough. Set aside the fork and bring together the rest of the dough with your hands. It will take a little time, but work and knead the dough until all the flour is fully incorporated and the dough is smooth and supple. If your dough isn't coming together, trying adding a 1/2 Tbsp of additional water. Wrap your ball of dough in plastic wrap and let rest at room temperature for 20 minutes.
Once the dough has rested, use a pasta machine or a rolling pin to roll the pasta out into wide sheets. After it has been rolled into thin, wide sheets, put your dough through a spaghetti cutter or cut the sheets yourself into thin spaghetti. Refrigerate the spaghetti until ready to cook.
Bring a large pot of water to a boil and add a good amount of salt. Boil spaghetti in batches for about 5-7 minutes (the pasta will cook fast!). Drain the spaghetti and add to a large bowl. Stir in the butter, pecorino, and parmesan until the butter has melted. Serve immediately.