Ricotta Gnocchi with Lemon Cream Sauce & Peas is the one pasta dish you need to make the official crossover from winter to spring recipes. It's rich and creamy with a bright, acidic finish and the pop of sweet green peas gives it the extra burst of freshness you're craving right now.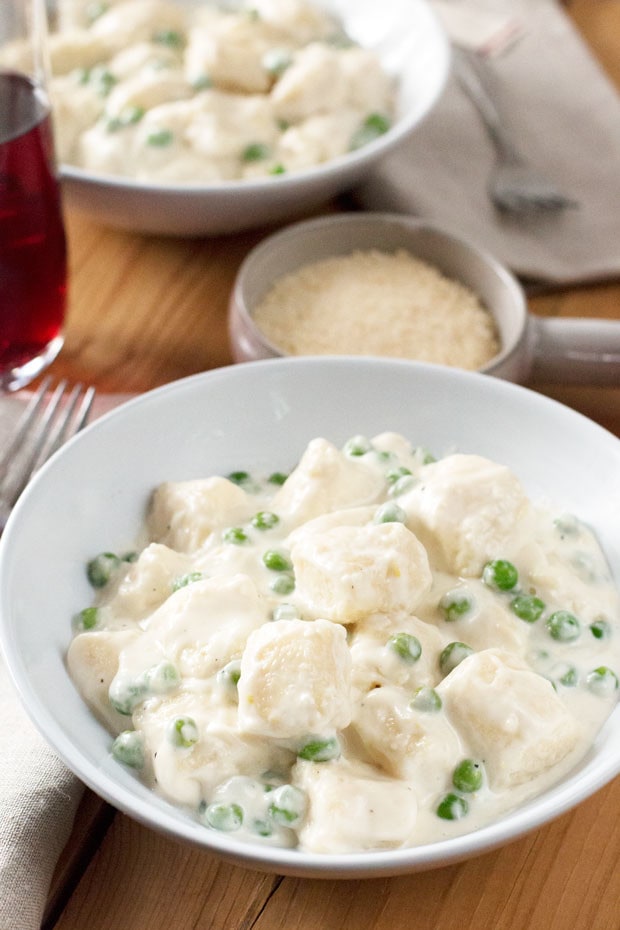 It is FINALLY warming up in Denver (of course, the moment I say that means it'll snow tomorrow…). It's been so up and down with the weather lately, I'm both suffering from the head cold that'll never go away and feeling deprived of the happy sunshine I need to survive. Now that it seems like we are in the clear here, I'm ready to start embracing the spring recipes I've been pinning all day, erry day.
That is the main reason I made this dish. The melt-in-your-mouth ricotta gnocchi is the ultimate vehicle for this lemon cream sauce that's both rich and bright in every bite. Add a pop of sweet green peas in every bite and you have just the right blend of winter and spring classic dishes to help you let go of winter and usher in spring with a flavor explosion in your mouth.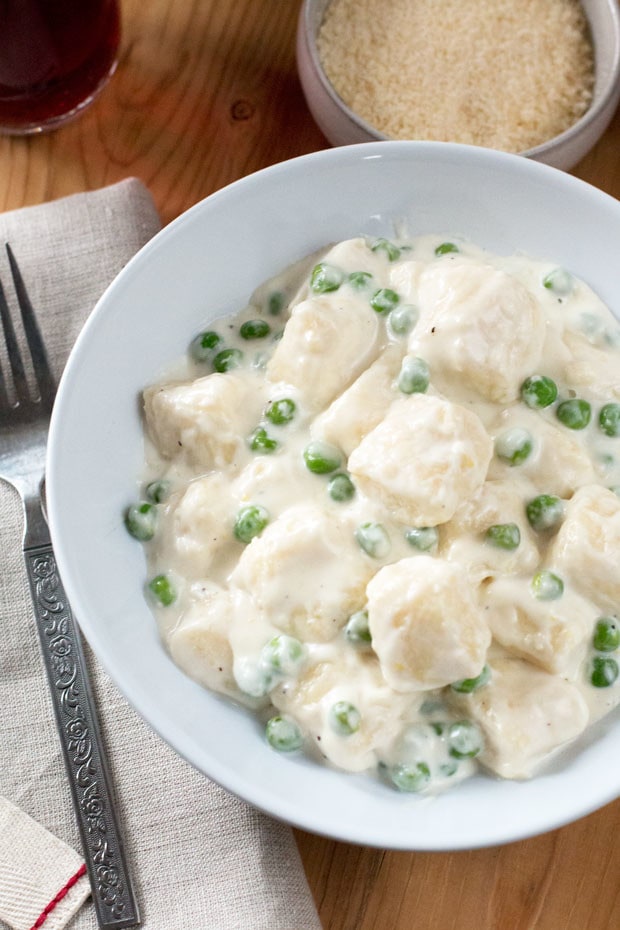 Yes, I did just say 'flavor explosion in your mouth' and you love me for it.
Right now, I am in the middle of tax hell. I am actually procrastinating running the numbers for what feels like the thousandth time writing this post because I just. don't. wanna.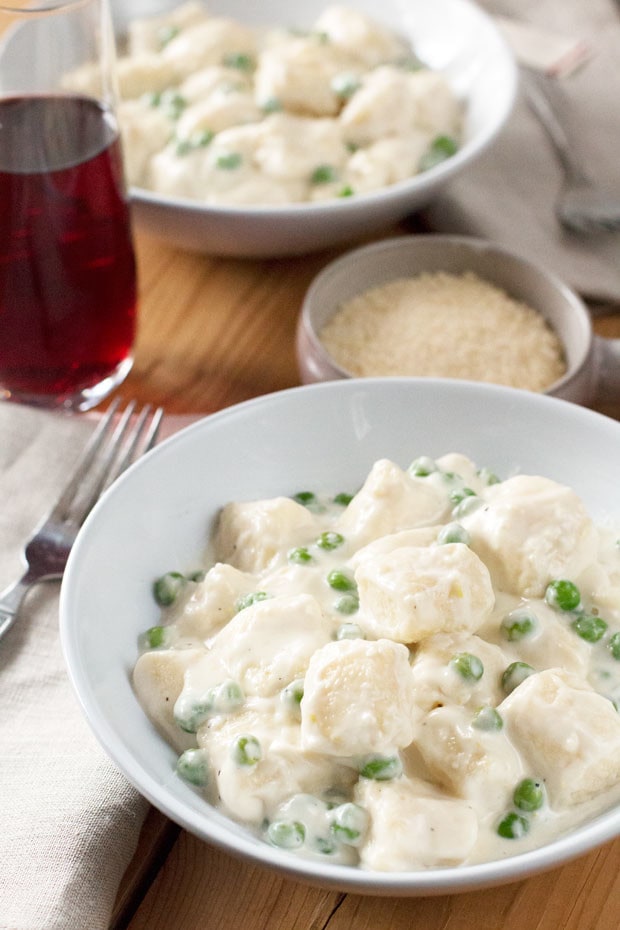 With everything that's happened in the last year, apparently that just makes taxes all the more fun (as if they weren't fun to begin with, right?). Thankfully I have a CPA helping me through it, but I still have to do things… Argh. Adult responsibilities really aren't all they're cracked up to be sometimes.
However, I do get to indulge in this pasta whenever I want and I can say I'm getting a serving of vegetables with it…
I can hear my mother rolling her eyes right now.
#adultingsohard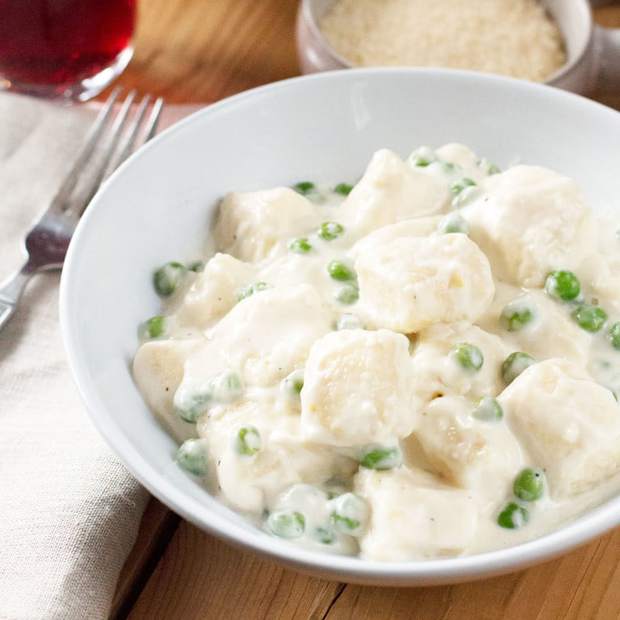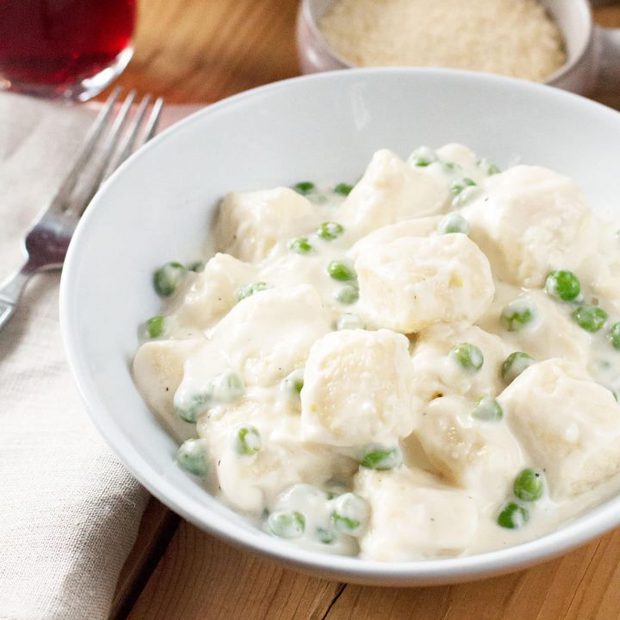 Ricotta Gnocchi with Lemon Cream Sauce & Peas
Rich and creamy, with a bright acidic finish, this pasta dish is the perfect crossover from winter to spring.
Ingredients
Ricotta Gnocchi
15 oz ricotta cheese
1 egg
3/4 cup freshly grated Parmesan + more for garnish
3/4 to 1 1/4 cup flour
Lemon Cream Sauce
1 Tbsp butter
1 Tbsp flour
3 cloves garlic, diced
1 cup heavy cream
3 Tbsp lemon juice
1 tsp freshly grated lemon zest
1/4 tsp pepper
1/2 tsp salt
1 cup frozen green peas, thawed
Instructions
To make the gnocchi, combine the ricotta, egg, Parmesan, and 3/4 cup flour in a large bowl. Stir until the mixture is well combined. Cover and refrigerate for at least 15 minutes.
While the gnocchi is chilling, make the sauce. In a large saucepan over medium-high heat, melt the butter. Add in the garlic and brown for 1 minute. Whisk in the flour and brown for 30 seconds. Stir in the heavy cream, lemon juice, lemon zest, salt and pepper. Cook until thick and creamy, approximately 5 minutes. Keep warm on low heat.
Bring a large pot of salted water to a boil.
Flour a clean, flat work surface. Take a large handful of dough and, using your hands, roll it into a long ¾ inch thick log. Use a bench scraper or a sharp knife to cut the log up into ½ inch pieces. Place the cut pieces onto a lightly floured baking sheet. Continue this process until all dough is rolled and cut.
Drop the gnocchi into the boiling water, working in 2 batches. Give the water a quick stir to make sure the gnocchi doesn't stick together. When the gnocchi rises to the top of the water, remove with a slotted spoon and transfer to the saucepan with lemon cream sauce. Stir gently to coat the gnocchi and stir in the peas. Garnish with freshly grated parmesan. Serve immediately.