It's time for a hearty meal.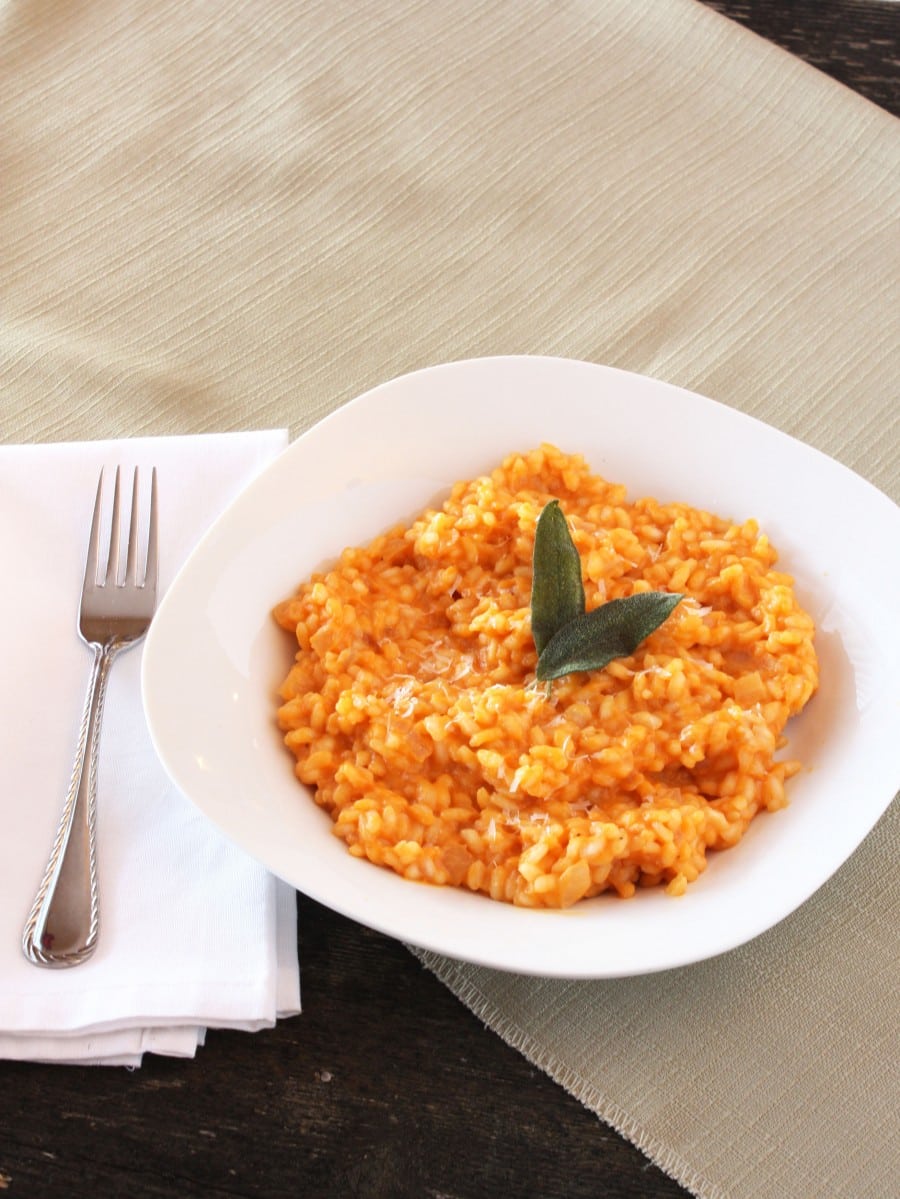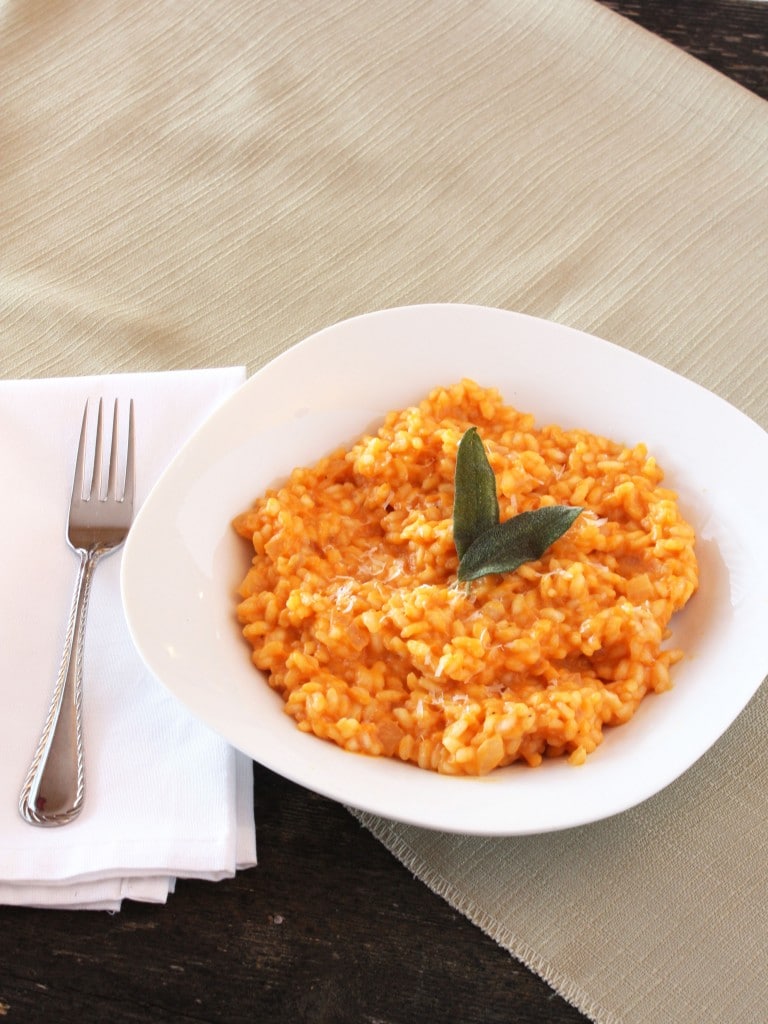 I am on such a sugar high and have been ever since Thanksgiving. There have been so many cookies in my life right now, I just can't stop eating them! I needed a nice hearty, filling meal to ween me off the sugar diet I've been on so I turned to my favorite dish – risotto.
You do know that I love risotto right? If not, just know it's my favorite dish to both make and EAT.
Sweet potato is one of my favorite foods to eat around the holidays. However, I get tired of the classic casseroles covered in mini marshmallows so I figured making a more savory sweet potato dish would cure me. The risotto comes out so delectably creamy and rich that you can't help but melt right into the bowl with it.
Speaking of melting into things, I made a batch of this hot chocolateagain this year and holy moly, this stuff is addictive. I am already planning on making it on Christmas morning. And the week after that. And the week after that. And the week after that….
Then in between cups of hot chocolate and marshmallows I will stuff my face with sweet potato risotto. That sounds like a plan right?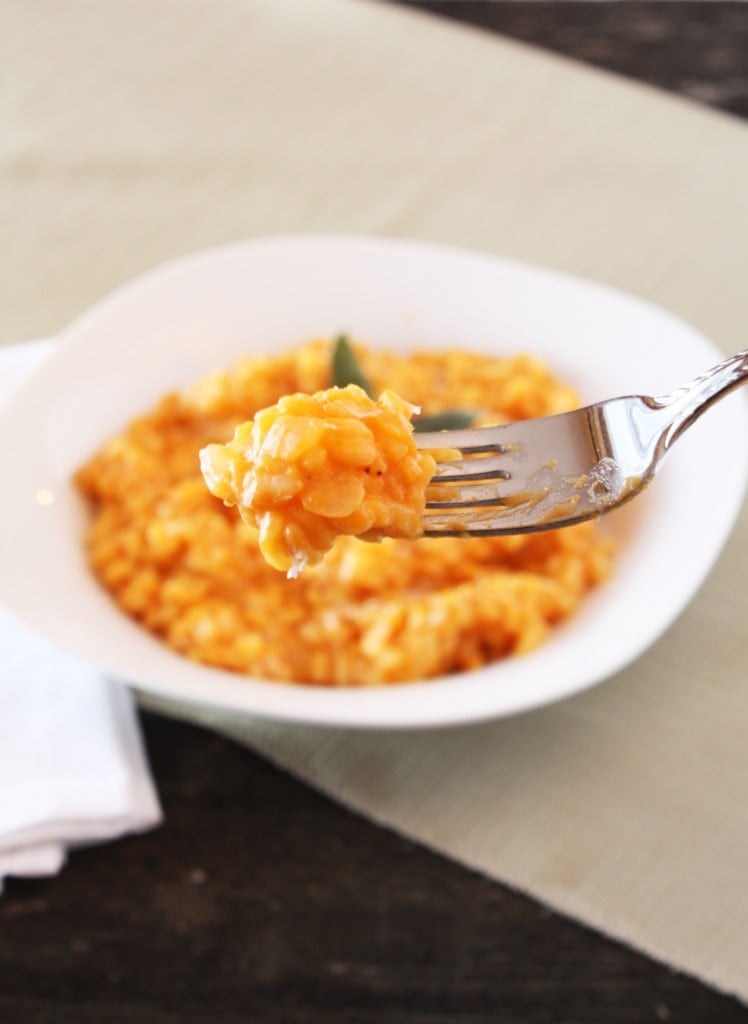 The diet starts January 1st, I swear…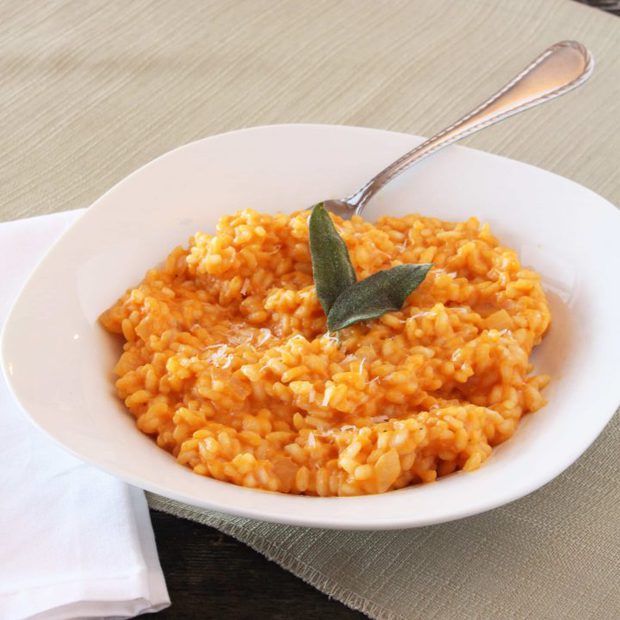 Sweet Potato Risotto
Delicious savory risotto with creamy sweet potato. Perfect for a chilly fall or winter night!
Ingredients
1 medium sweet potato
1 Tbsp butter
½ tsp smoked paprika
2 Tbsp extra virgin olive oil
½ yellow onion, diced
2 Tbsp garlic, minced
1 ½ cups Arborio rice
1 ½ cups dry white wine
3 to 4 cups chicken stock
½ cup grated Parmesan
Sage for garnish (I fried 4 leaves in 2 Tbsp of olive oil over medium-high heat, just for a little extra crunch!)
Instructions
Place sweet potato in the microwave for 2 minute increments until it is cooked through and you can easily poke a fork through it. Remove skin and add a food processor (or blender) with butter and paprika. Puree until smooth and set aside.
Heat oil in heavy saucepan over medium heat. Add onion and garlic and sauté until the onion is softened, about 3-4 min. Add rice and stir until each grain is coated and toast briefly, about 2 min. Add wine and stir until absorbed.
Add chicken stock a cup or so at a time. Wait until the liquid is absorbed between each before adding more. Once the rice is tender yet still slightly firm in center and looks creamy, about 20 min, stir in sweet potato puree and cheese. Stir until combined and cheese is melted. Season to taste with salt and pepper. Serve immediately.