Pan Fried Curry Ricotta Gnocchi in Chile Lime Brown Butter Sauce is going to expand your mind into a whole new world of flavor. The deep and savory flavors in the easy-to-make gnocchi pair perfectly with a rich and spicy brown butter sauce. It's weeknight pasta night, done right!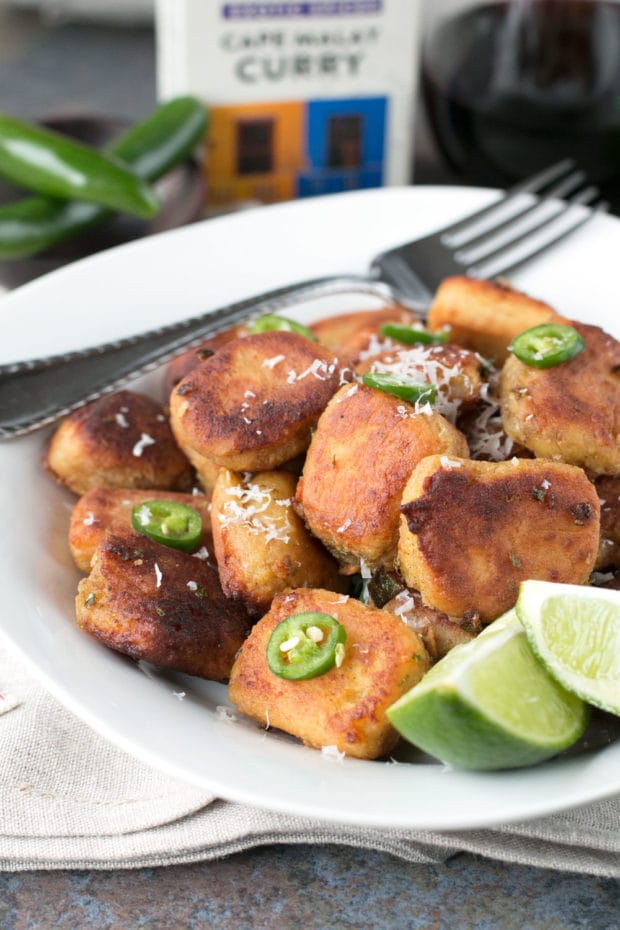 Happy Valentine's Day everyone!
I know I should probably be filling your screens with heart-shaped foods right about now, but I feel like I did enough of that last week with these cookies to cover ya.
Instead, I'm bringing you a new twist on ricotta gnocchi to make for dinner this week.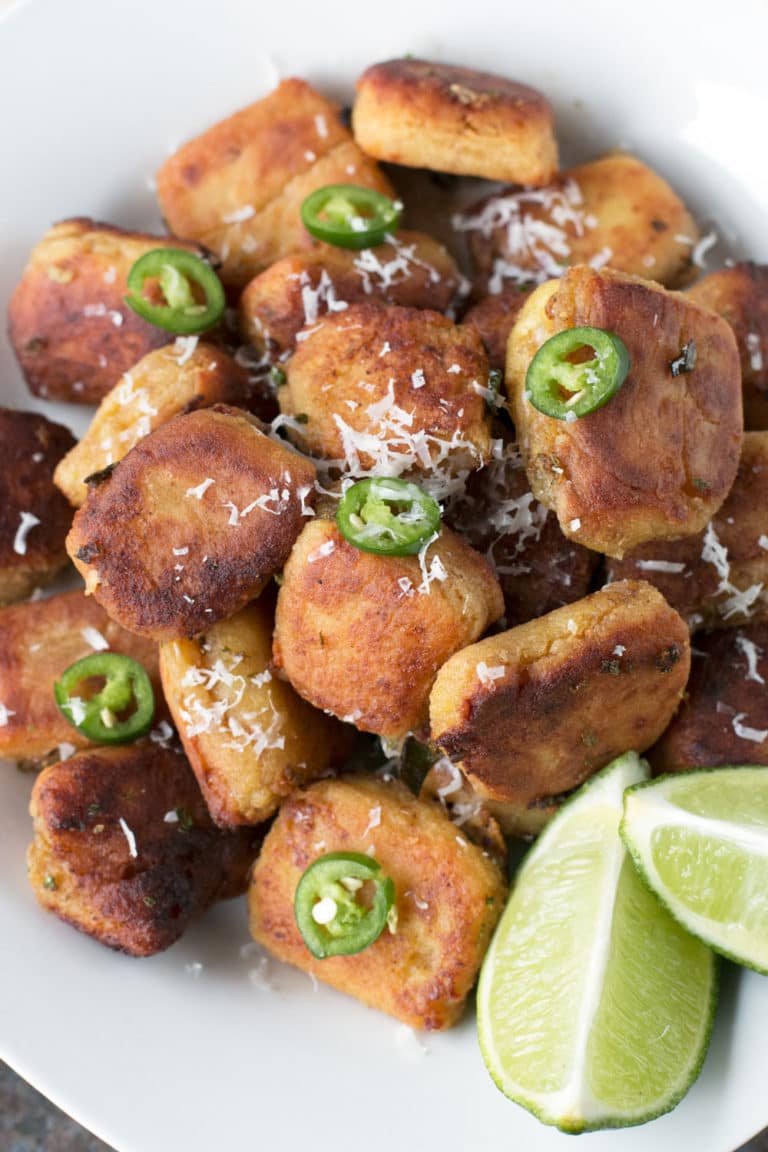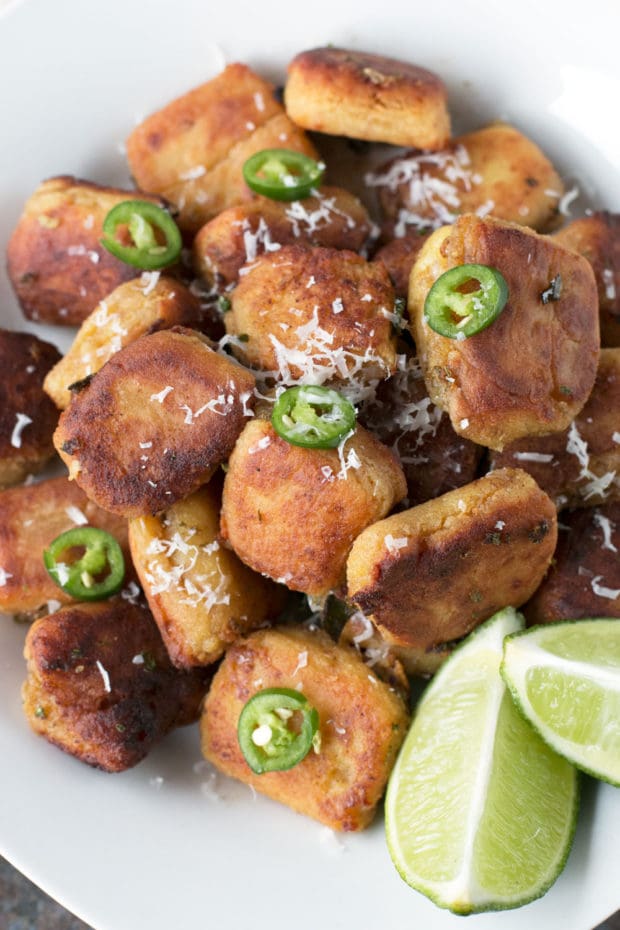 Nothing says I love you like curry and pasta, right?
Right.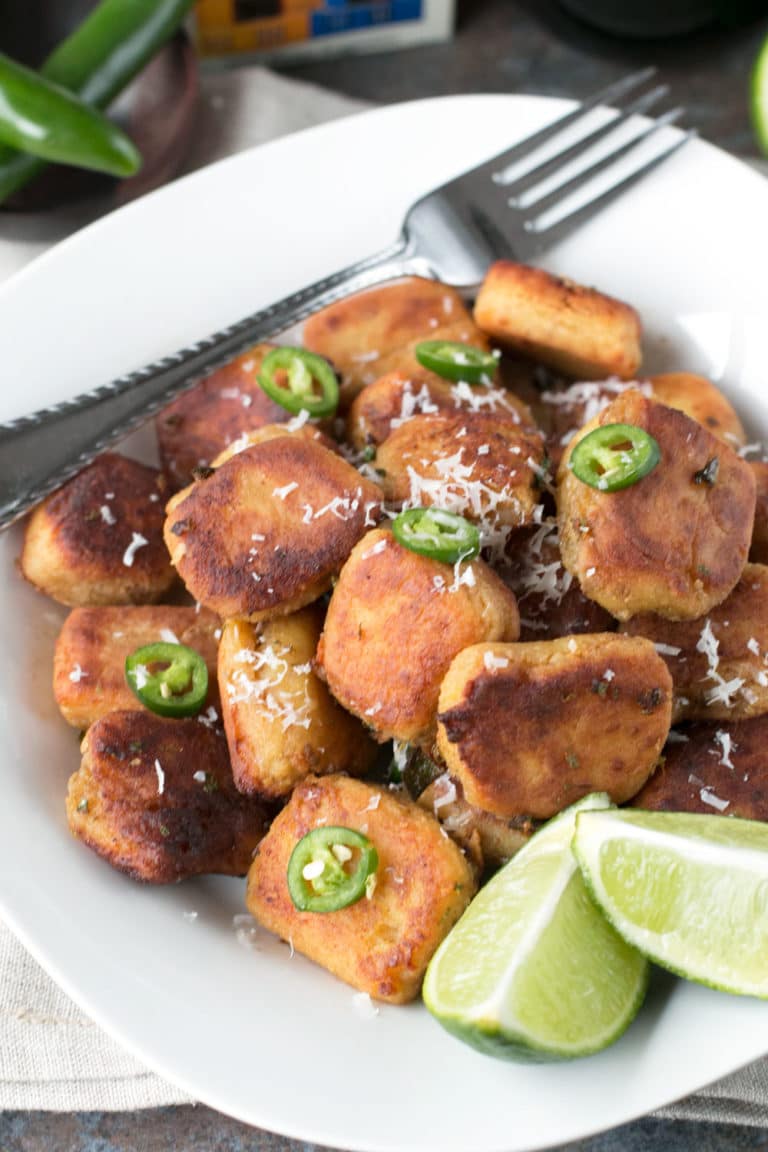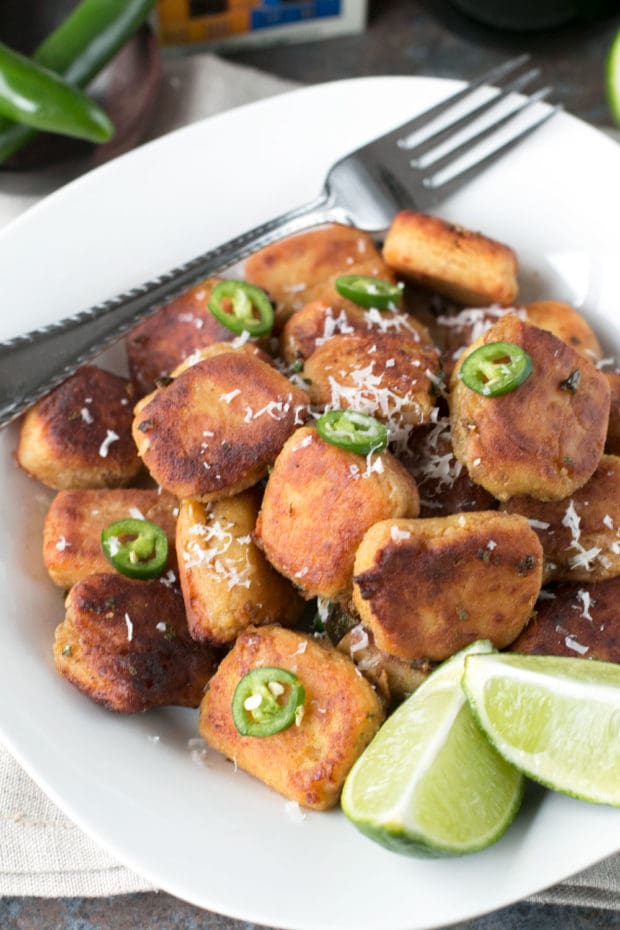 One of my fav ricotta gnocchi recipes is this baked three cheese ricotta gnocchi with tomato sauce that I made a longgggggg time ago (well, what feels like a longgggggg time ago). I wanted to change things up an Indian riff on the dish.
Instead of boiling the gnocchi this time and baking it up in the sauce, I pan-fried the gnocchi to give it a little extra crispiness on the outside. That way I could toss it in a heaping helping of spicy brown butter, because brown butter is eve-ry-thing in life.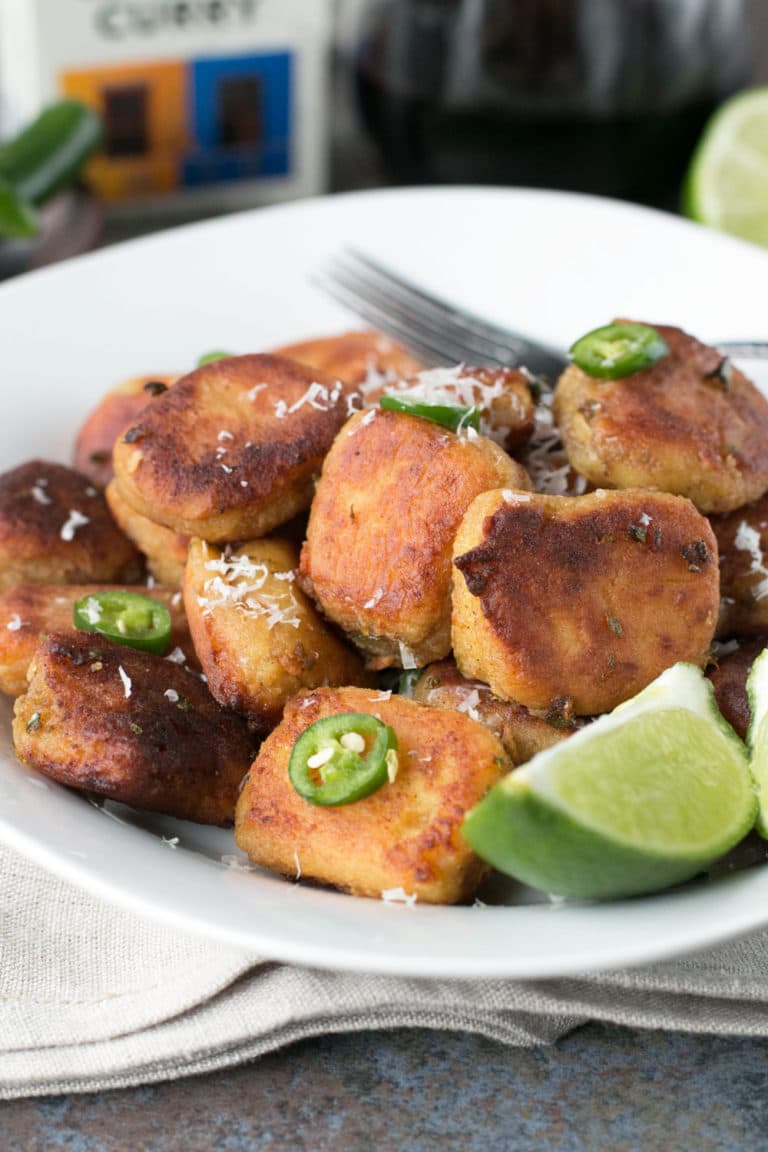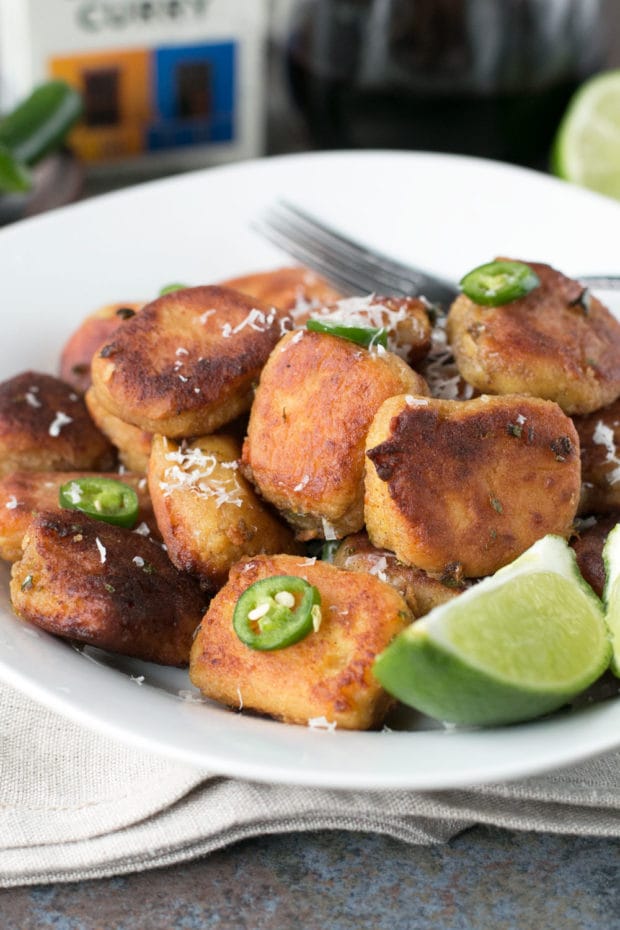 Seriously, if you don't like brown butter, I feel like you are missing out on so much happiness… Please don't miss out on the happiness… I beg you.
The flavors in the gnocchi dish jump off the plate with a spicy kick. The deep and savory notes of the curry powder folded into the creamy ricotta makes the gnocchi melt in your mouth. When you pair that with a rich brown butter that lingers on your tongue with a touch of acidity and spice…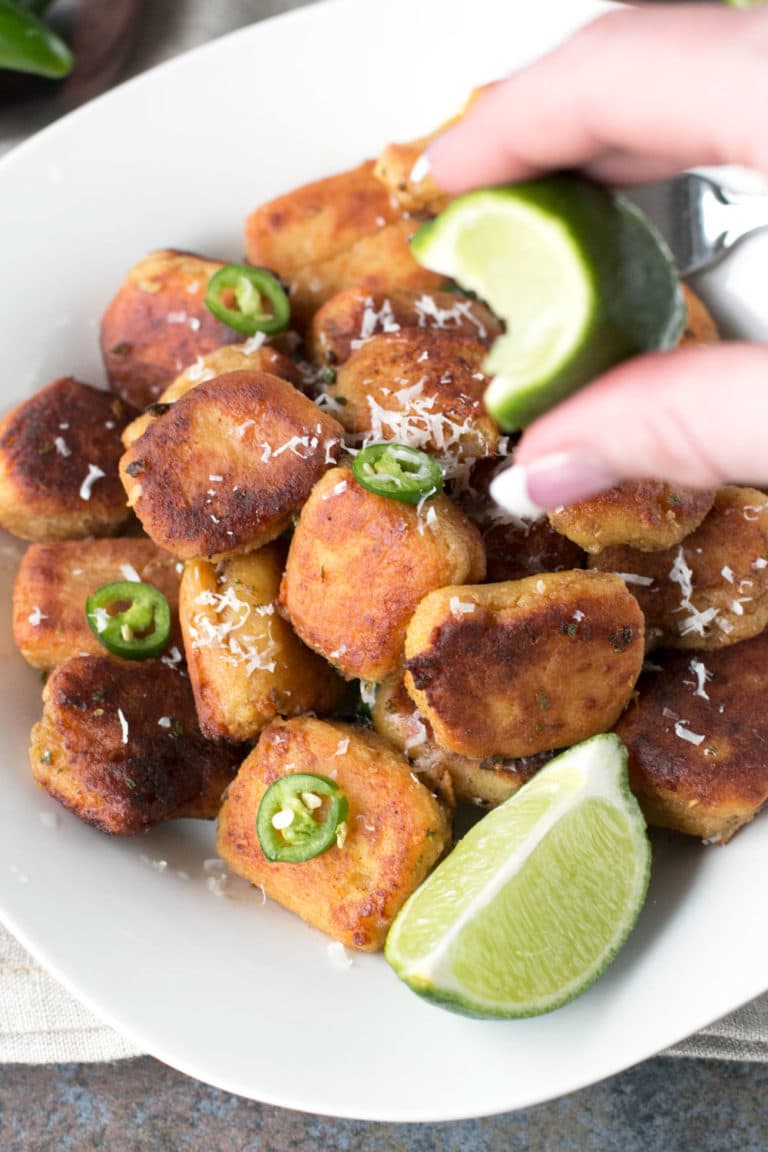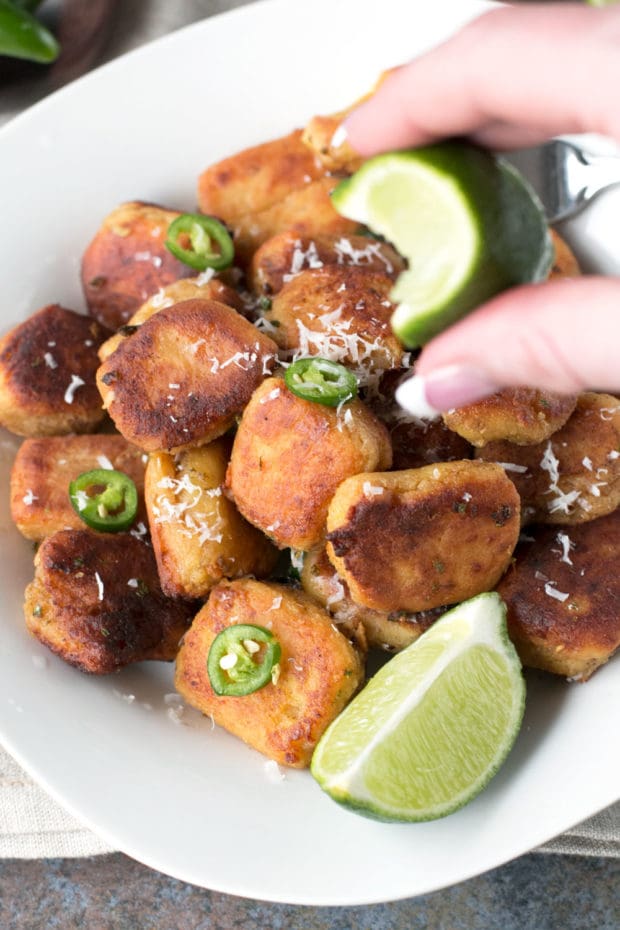 It's absolutely irresistible.
Plus ricotta gnocchi is SO much easier to make than potato gnocchi, so really there's no excuse not to make it.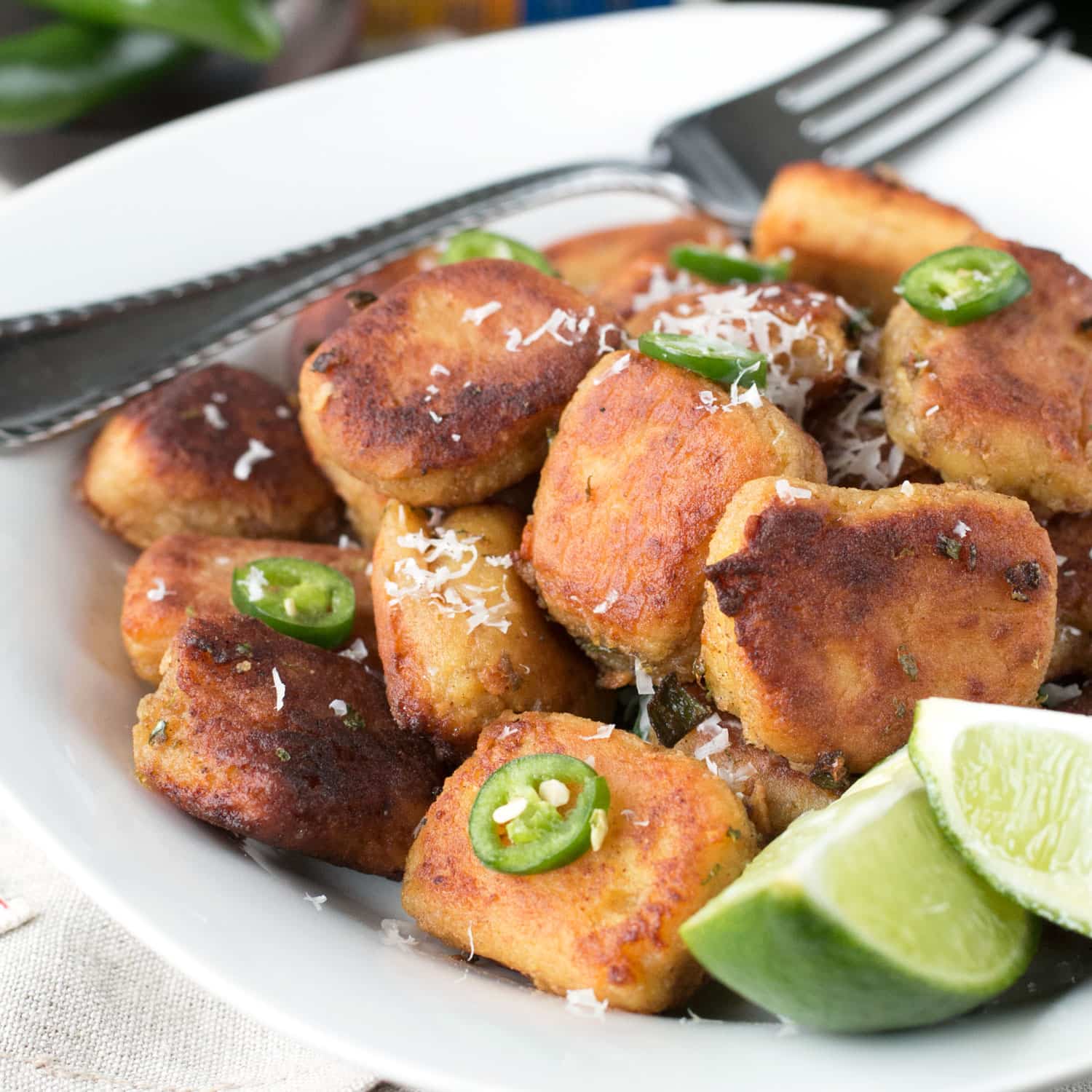 Pan Fried Curry Ricotta Gnocchi in Chile Lime Brown Butter Sauce
Ricotta gnocchi gets a flavor blast of curry, then is tossed in a chile lime brown butter sauce that will have your mouth watering...
Ingredients
15 oz ricotta cheese
1 egg
1/2 cup freshly grated Parmesan
1/4 cup freshly grated Pecorino
3/4 to 1 1/4 cup flour
2 tsp curry powder
1/4 tsp red pepper flakes
2 Tbsp unsalted butter
1 Tbsp olive oil
1 tsp minced serrano peppers
1 tsp lime zest
1 Tbsp chopped parsley
Instructions
To make the gnocchi, combine the ricotta, egg, Parmesan, Pecorino, 3/4 cup flour, curry powder and red pepper flakes in a large bowl. Stir until the mixture is well combined. Cover and refrigerate for at least 15 minutes.
Flour a clean, flat work surface. Take a large handful of dough and, using your hands, roll it into a long ¾ inch thick log. Use a bench scraper or a sharp knife to cut the log up into ½ inch pieces. Place the cut pieces onto a lightly floured baking sheet. Continue this process until all dough is rolled and cut.
In a skillet over medium-high heat, melt butter with the olive oil. When butter is just lightly browned, add gnocchi in a single layer. Fry on one side for 2 minutes, then flip over. Add chiles and lime zest. Fry on the other side for 1 to 2 minutes. Serve with lime zest, serrano peppers and parsley.
Pin this Pan Fried Curry Ricotta Gnocchi in Chile Lime Brown Butter Sauce recipe for later!