Messy Eggs & with Rough-Cut Potatoes are one of the simplest breakfasts that I've ever made, but WOW does it taste like it took you hours to make. I mean, you fry the eggs in chorizo oil. WHAT.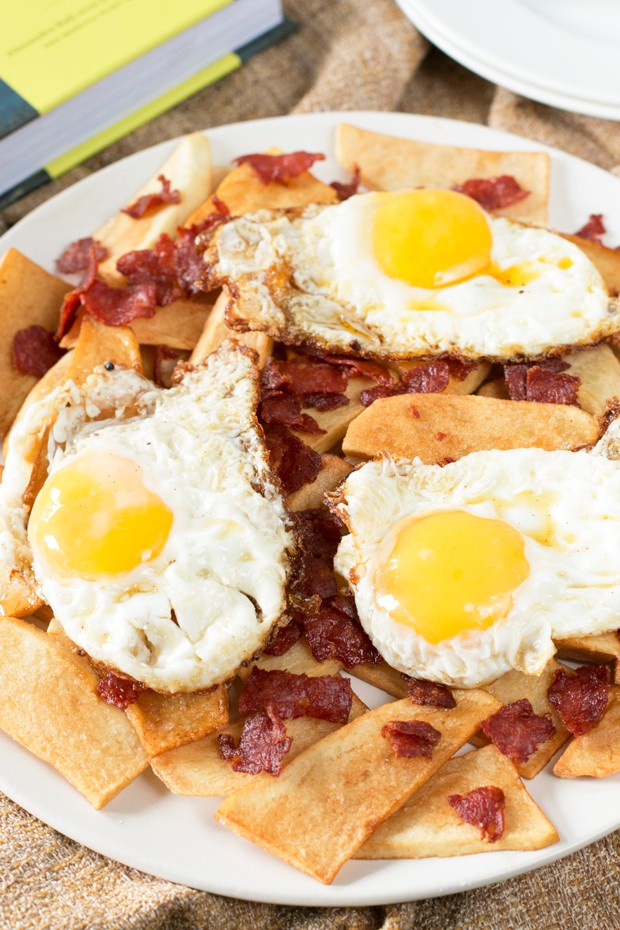 You all know I am normally not a huge breakfast person. If I am, I'm going for a giant breakfast burrito smothered in green chile or French toast piled high with whipped cream, berries and chocolate syrup (#noshame).
However all of this has changed, ever since I tried this ridiculously delicious and simple breakfast. It has everything you would want from a basic breakfast – eggs, meat and potatoes – but it doesn't taste like a bland pile of diner food that you order at about 2am in the morning after an all-night drinking binge.
Nope. This is purity of ingredients, frying of everything and the simple happiness of a breakfast cooked at home.
It's all due to this amazing cookbook, The Basque Book. This cookbook is a must for anyone who loves simple recipes, amazing flavors and loves really being brought into someone else's home. The recipes are straightforward, the stories are heartwarming and the photos are honest and anything but fussy.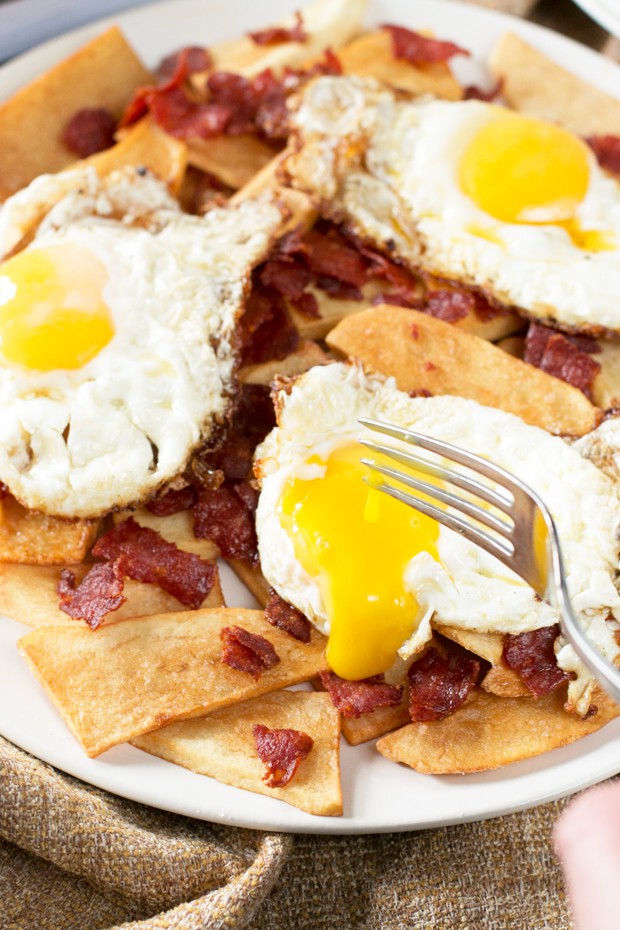 This is the book you want to pick up to bring tradition back into your lives. That's exactly what I think of when I open this cookbook. These recipes are ones that I want to use for years and years to come. They are the ones that you'll refer back to, staining the pages with oil and water, memorizing the ingredients until eventually it all becomes second nature to you. I've been diving into this book with such excitement because it is so unbelievably approachable. It's honest and filled with so much cooking tradition that it takes me right back to my grandmother's kitchen.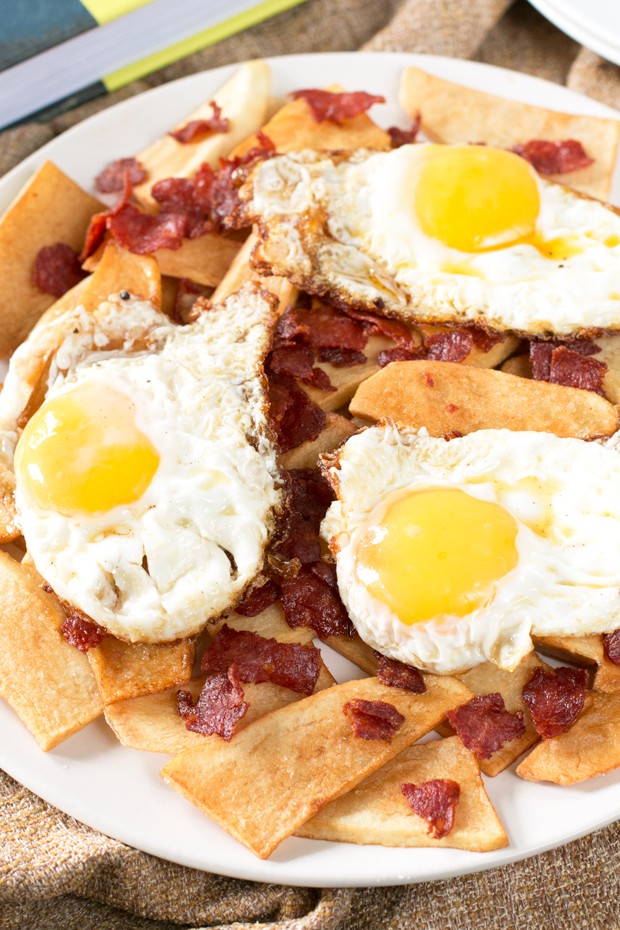 Don't worry, though. This book is 100% approachable but there are some incredible recipes that will challenge any cook in the kitchen (just the right amount of course. We all love a challenge right?). I mean, homemade squid ink sauce. It's in there. You can make it and it's not something you should be totally terrified of.
Disclosure: I received a copy of this book from the publisher/Blogging for Books in exchange for my honest review. I received a copy of this book from the publisher in exchange for my honest review.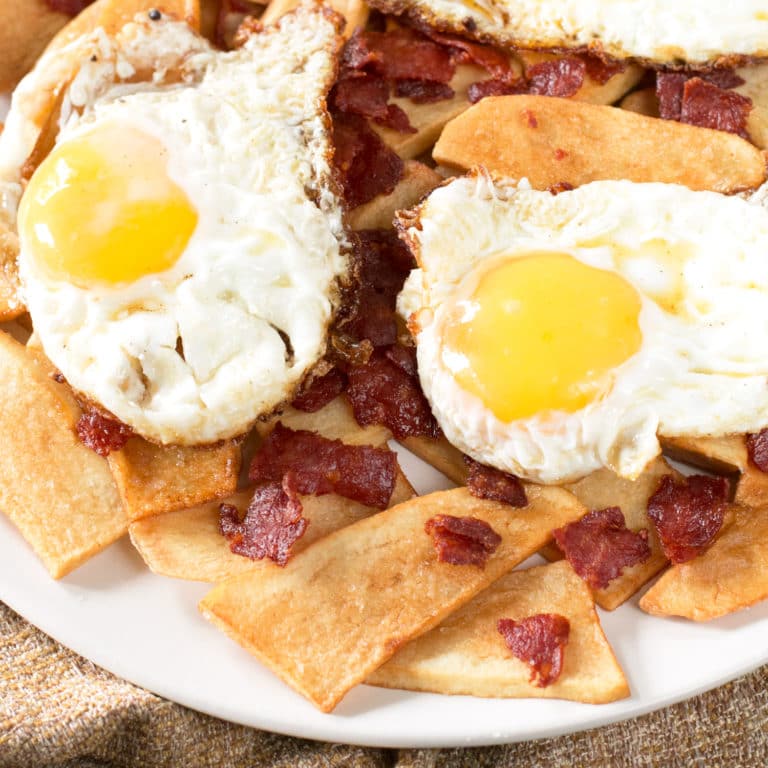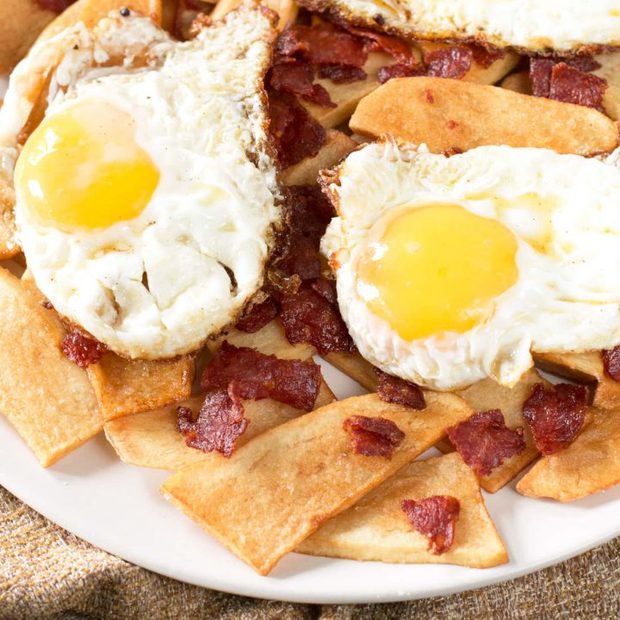 Messy Eggs & with Rough-Cut Potatoes
This is a typical way of serving fried eggs, the Basque equivalent of what in diner parlance would be "two eggs sunny-side up over fries, wreck em!" Much fuss is often made over the best way to cook French fries, but Basque fries are their own thing. They are golden and crispy on the outside, extremely tender on the inside, and more shards than sticks. The best are boiled first and then fried in olive oil. My grandmother Victoria made them this way, too, so eating fries in the Basque Country carries a remarkable nostalgia for me. As I eat them, I always remember how the two of us would fry potatoes and then eggs from her hens and eat them together as a late-night snack.
Ingredients
Kosher salt
2 russet potatoes
Extra-virgin olive oil, for frying
3 ounces dry-cured chorizo, casing removed and thinly sliced
4 eggs, at room temperature
Instructions
Bring a large saucepan filled with water to a boil and season it with plenty of salt. Line a baking sheet with a kitchen towel.

While the water is heating, peel the potatoes, cut them in half lengthwise and then cut each half into roughly wedge-shaped pieces about ¼ inch thick. Add the potatoes to the boiling water, turn down the heat to a simmer, and cook for 3 to 6 minutes, until just cooked but still firm. Drain well and scatter the pieces over the towel-lined pan to cool and dry.

Fill a wide, deep sauté pan about one-third full with oil and place over medium heat. When the oil is hot, working in batches, scatter the potatoes in the oil so they are mostly submerged and fry for about 2 to 3 minutes, until golden brown, adding more oil as needed. Using a slotted spoon, lift out the potatoes and divide them among 2 to 4 plates, then season with salt.

When all of the potatoes are fried, pour off the oil into a heatproof dish, leaving a layer about ¼ inch deep in the pan, and return the pan to the stove top. Working quickly, heat the pan over medium-low heat, add the chorizo, and let it weep into the oil for about 30 seconds. Using the slotted spoon, lift the chorizo out of the oil, shaking off the excess oil into the pan, and scatter it over the potatoes, dividing it evenly.

Raise the heat to medium. Crack the eggs into the pan two at a time and fry them in the chorizo-infused oil as directed for fried eggs on page 000. (To achieve the lacy golden edges that are a Basque signature, use the slotted spoon to poke at and perforate the egg whites to create air bubbles.)

Drape the eggs over the chorizo-topped potatoes. Just before serving, use scissors to cut open the yolks, or let the diners cut them open themselves. Serve immediately.