Thanksgiving is coming and since pecan pie is one of my favorite things to eat on turkey day, I had to whip something extra special up, just for you.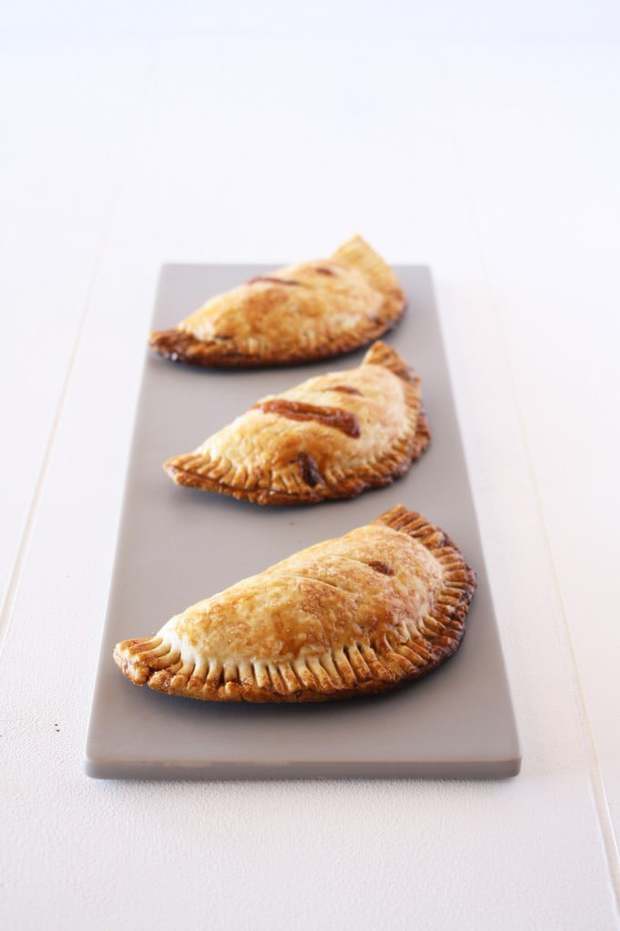 I am so in love with this sinfully delicious filling. It's even better than the typical pecan pie filling with all that caramel goodness packed in. I literally found myself eating spoonful after spoonful as I filled each little hand pie (which I must admit resulted in far fewer pies than I intended and a very happy sweet tooth… and probably a thicker waistline…).
For some reason, I tend to reserve my pie eating for Thanksgiving. Isn't that a terrible thing to do? Really, I should be eating pie all year round. I am sure there are enough pies out in the world to occupy pie eating for an entire year, or more.
And now that pie can come in little portable hand pie form, how am I not seeing people walking around every day with pie in hand? I am thinking hand pies might be a nice holiday surprise in lieu of cookies this year…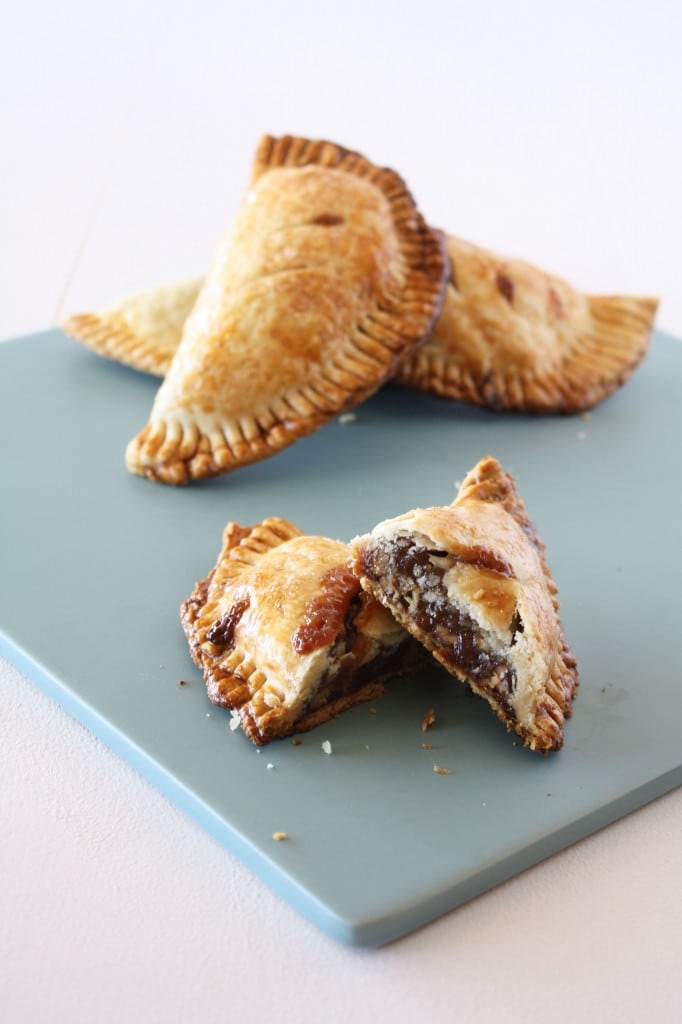 Side note: Using store bought pie crust for these is 100% acceptable, particularly if you are baking them for others and are worried about handmade crust not keeping its shape. It'll be our little secret; they'll never know it wasn't made from scratch! 😉
Do you have any foods that you wait to eat on Thanksgiving (or for those who don't celebrate Thanksgiving, any other holiday/event)? Or is that just a terrible habit I have formed for myself? Let's discuss.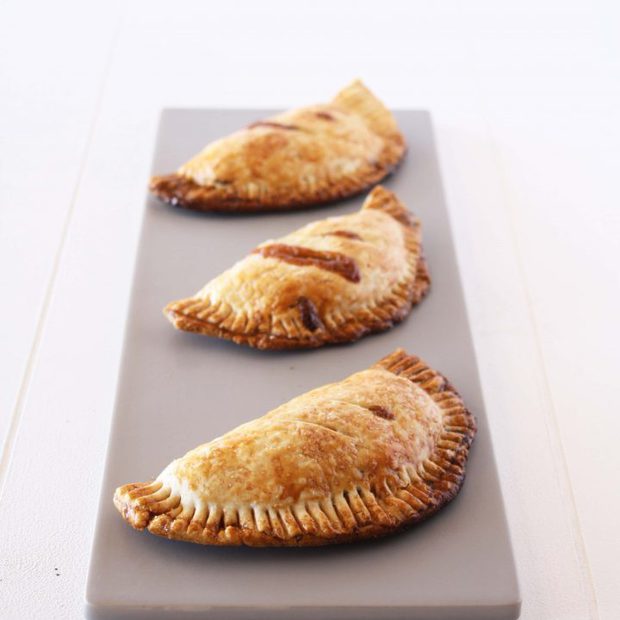 Caramel Pecan Hand Pies
Cook Time:
1 hour
25 minutes
Additional Time:
40 minutes
Total Time:
2 hours
30 minutes
A new twist on a classic!
Ingredients
Pastry
2 cups flour
¼ tsp salt
2 tbsp sugar
14 tbsp unsalted butter
3-4 tbsp cold water
Filling
1 1/2 cups pecans (6 ounces)
2 cups sugar
6 tablespoons unsalted butter
1/2 cup heavy cream
2 teaspoons pure vanilla extract
Pinch of salt
1 cup corn syrup
5 large eggs, 1 egg beaten
Additional sugar for sprinkling
Instructions
In a food processor, combine the flour, salt, and 1 tablespoon of the sugar. Add the butter and pulse until the mixture resembles a coarse meal. Add cold water, 1 tablespoon at a time, and pulse until the dough comes together but is still slightly crumbly (approx. 3 to 4 Tbsp total). Turn dough out onto a lightly floured surface and knead for a couple of minutes. Shape the dough into 2 disks, wrap in plastic wrap, and refrigerate for 20 minutes.
On a clean, lightly floured work surface, roll out 1 disk of the dough until it is 1/4" thick. Using a small pot lid or plate with a 6" inch base, cut out as many rounds as you can. Repeat this process with the second disk of dough. Reroll the scraps if you have to, making sure you have 8 rounds of dough. Transfer to parchment paper–lined baking sheets and refrigerate 20 minutes.
Preheat oven to 375 degrees. On a rimmed baking sheet, spread out the pecans and toast for about 8 minutes. Cool and then coarsely chop.
In a medium saucepan over medium heat, combine 1 cup of sugar with 1/2 cup of water. Swirl the pan gently once the caramel begins to form until the mixture is a medium color, approximately 9 minutes. Remove from heat. Whisk in butter, cream, 1 tsp vanilla and salt.
Transfer 1 cup of the caramel to a large bowl to cool slightly. Whisk in remaining cup of sugar and 1 tsp vanilla extract and corn syrup. Whisk in the 4 unbeaten eggs until smooth. Stir in pecans.
Grease a 9x13" baking pan. Pour pecan filling into the pan and bake for 30 minutes. Scrape out into a bowl and stir gently to combine. Refrigerate until chilled, approximately 1 hour.
Brush the pastry rounds with some of the beaten egg. Add 1/4 cup of the pecan filling onto each round and fold pastry over to create a hand pie. Press edges to seal and crimp closed with a fork. Repeat with the remaining dough rounds.
Brush tops of the pies with beaten egg and sprinkle with sugar. Make 2 slits in the top of each pie. Bake for 40 minutes, until golden brown. Cool before serving.