The Ultimate Boozy Coconut Hot Chocolate is an indulgent, creamy, and oh-so coconut-y way to warm up on a chilly night. The key is to go overboard with the whipped cream and toppings, because over-indulgence is SO in right now.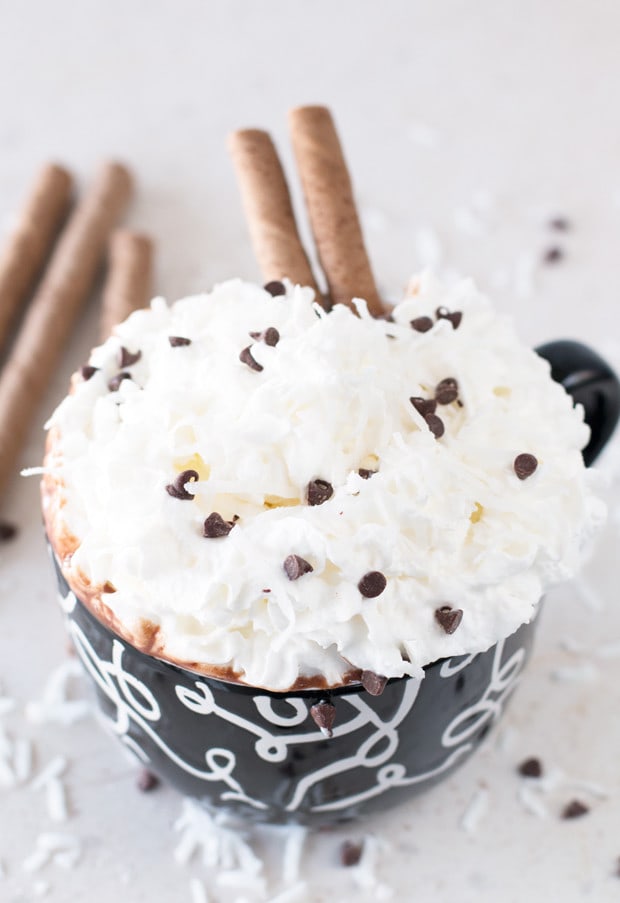 I was going to start out by saying that I might have gone a little overboard with this one, but I've since changed my mind. This is just the right amount of over-the-top deliciousness and crazy indulgence. When you drink this, it's an event. It's own party with a parade, marching band, and fireworks exploding everywhere (well really just on your tastebuds and in your brain, but you get what I'm trying to say, right?).
Right now, I am deep in the middle of a chocolate obsession. Yes, this is a general state of being for me, but it's amplified this week for some reason. It all started with this hot chocolate and now that I'm making a dessert with Snickers (stay tuned for that awesomeness!), it's like it exploded. I've been trying to be good and the best thing I've come up with is freezing a bag full of various chocolate chips (white, dark, milk and those Reese's ones). Somehow the cold chocolate tastes amazing and makes me eat less of them!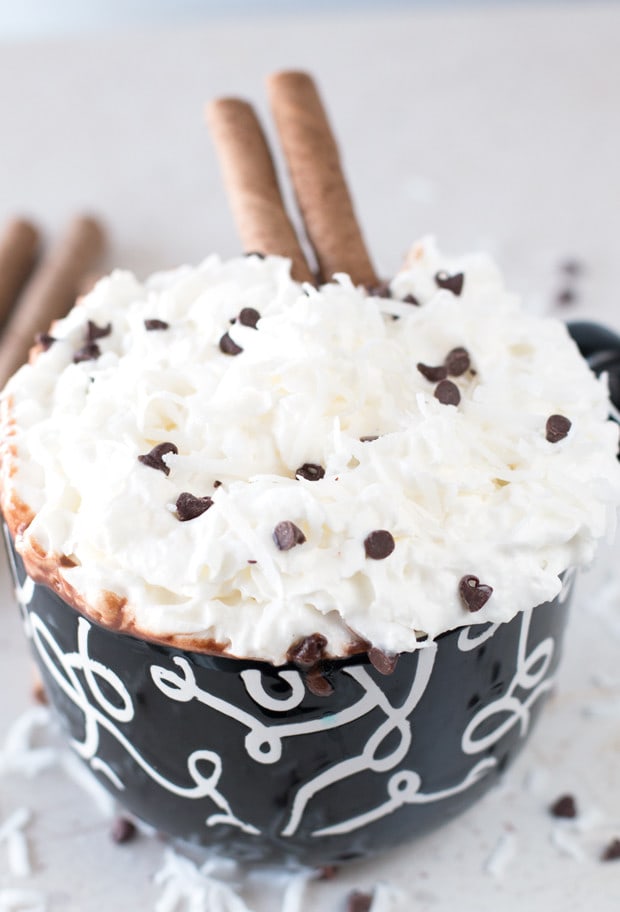 I might have picked up this little trick from a guy I went on a total of two dates with. He proved his weird on the second one, but this little chocolate chip tip has been a saving grace. Typically I'd be buying up every chocolate bar and making chocolate cakes/brownies 24/7 in this state of obsession.
Ah the random things you pick up in the dating world… SO fun, right?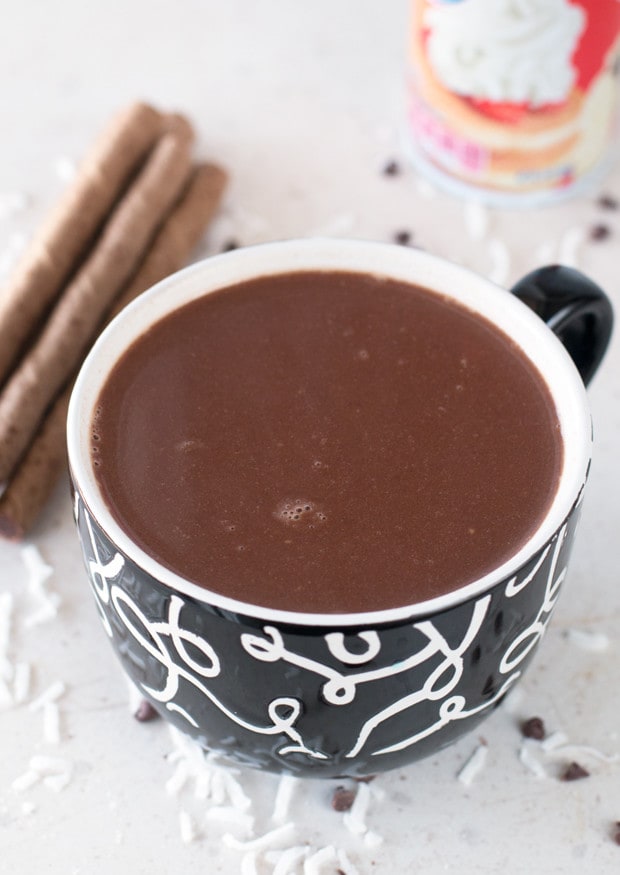 Anyways, if you love coconut and chocolate, this ultimate boozy hot chocolate is the one for you. Let's cuddle up, watch Disney movies, and pretend it's the weekend already, shall we?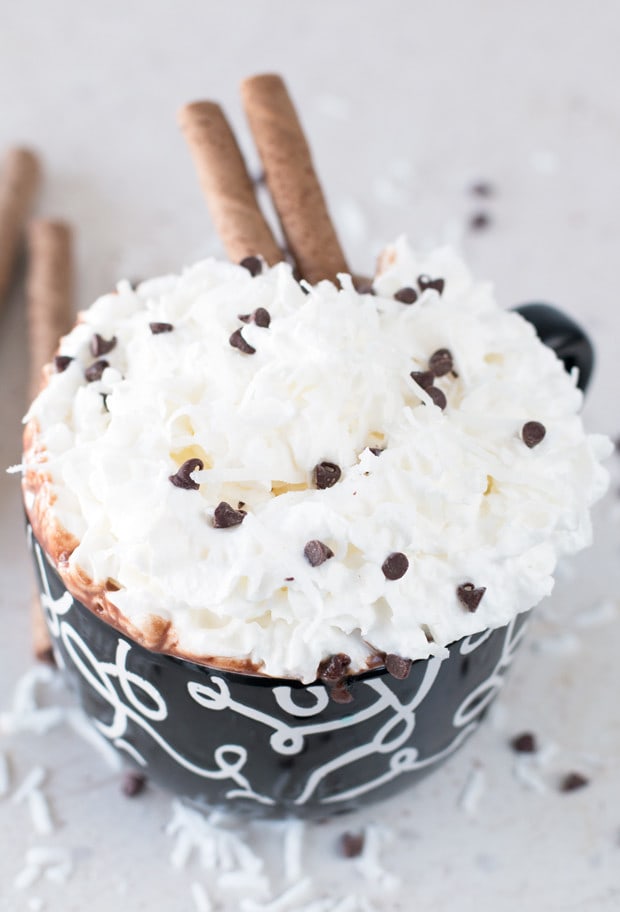 This Recipe's Must Haves
Pin The Ultimate Boozy Coconut Hot Chocolate recipe for later!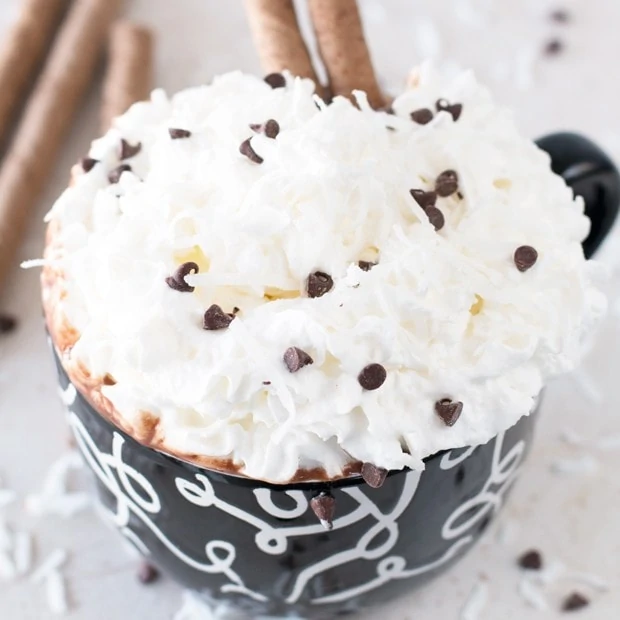 The Ultimate Boozy Coconut Hot Chocolate
Warm up with chocolate and coconut goodness, spiked with a little spiced rum to make it perfection.
Ingredients
1 cup whole milk
1 cup coconut milk
6 oz milk chocolate chips
4 oz spiced rum
Toppings: marshmallows, sweetened coconut flakes, mini chocolate chips, whipped cream, etc.
Instructions
In a medium saucepan over medium heat, melt the chocolate chips with the milk and coconut milk.
Heat the mixture, stirring constantly, until the chocolate is melted and the mixture begins to simmer, approximately 5 to 10 minutes.
Remove from heat and stir in spiced rum.
Divide between two large mugs and serve with all the toppings your heart desires.