A Spicy Rotisserie Chicken Pressed Sandwich is the elegant way to do a picnic lunch! The layers of chicken, cheddar cheese, red onion and spinach make a vibrant sandwich with a spicy bite from homemade Samurai sauce (read below to find out what that is, if ya don't know already!). Time to up your sandwich game, my friends – the easy way.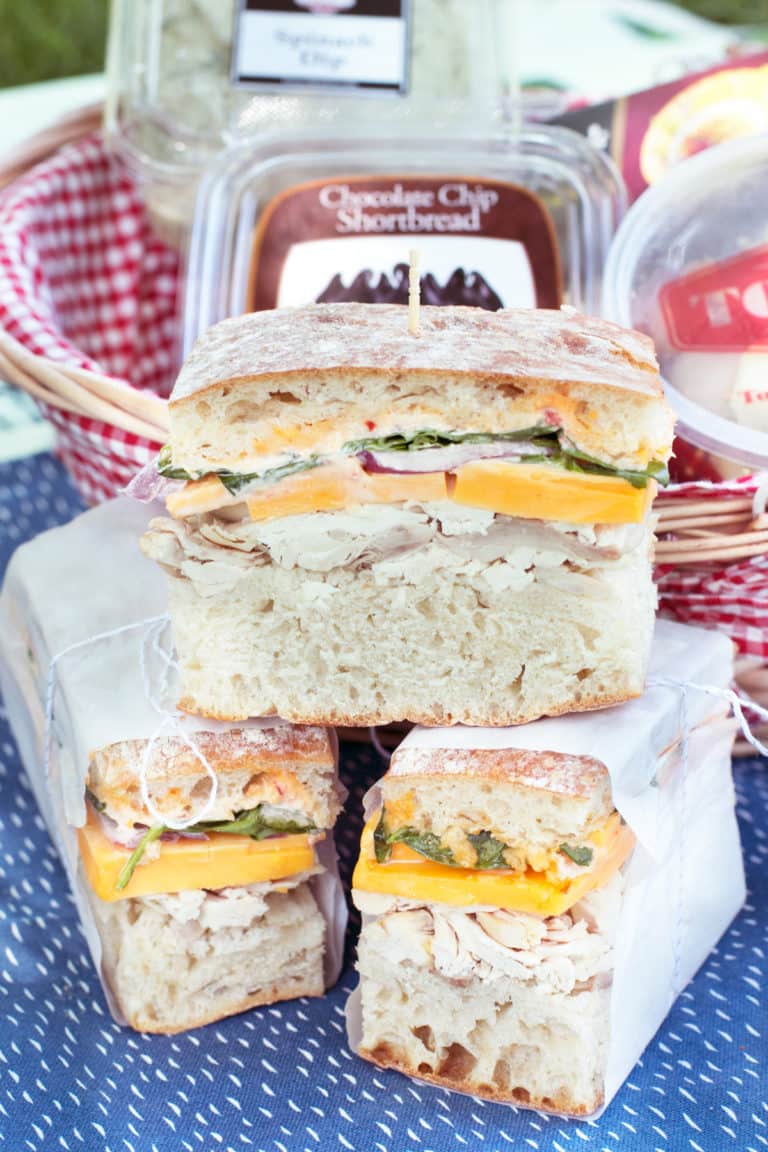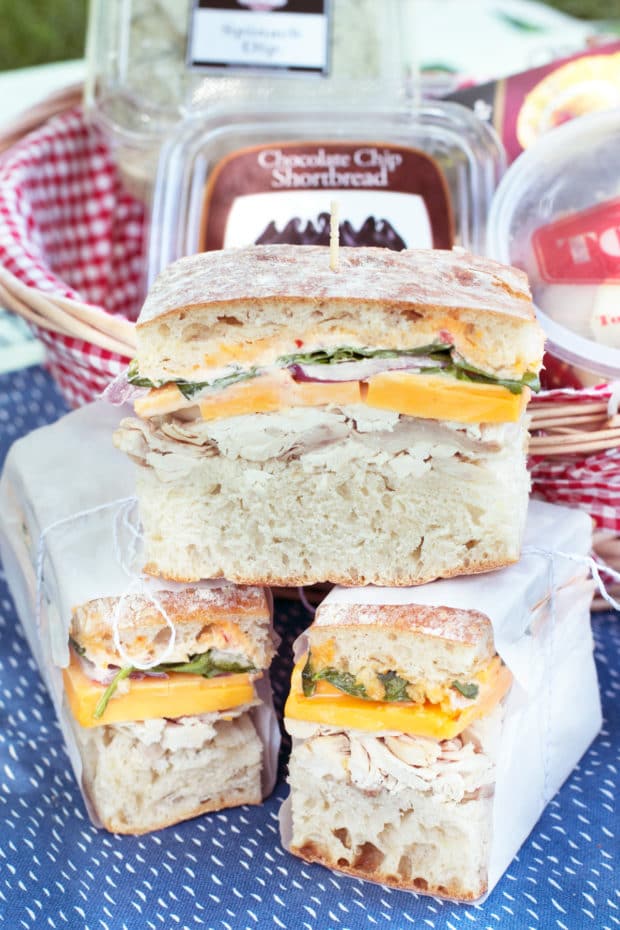 Disclosure: This post is sponsored by Tony's Market! While I was compensated and given product in exchange for this post, as always, all opinions and the recipe are my own. Thanks for supporting the brands that support Cake 'n Knife!
Picnics are something I always look forward to during the summer. It seems like everyone wants to be outside at all times during the Colorado summers and I have to say, I catch that bug too. Despite my aversion to actual bugs, I do relish the opportunity to sit down on a comfy picnic blanket with a basket full of goodies to enjoy the sunshine and each other's company.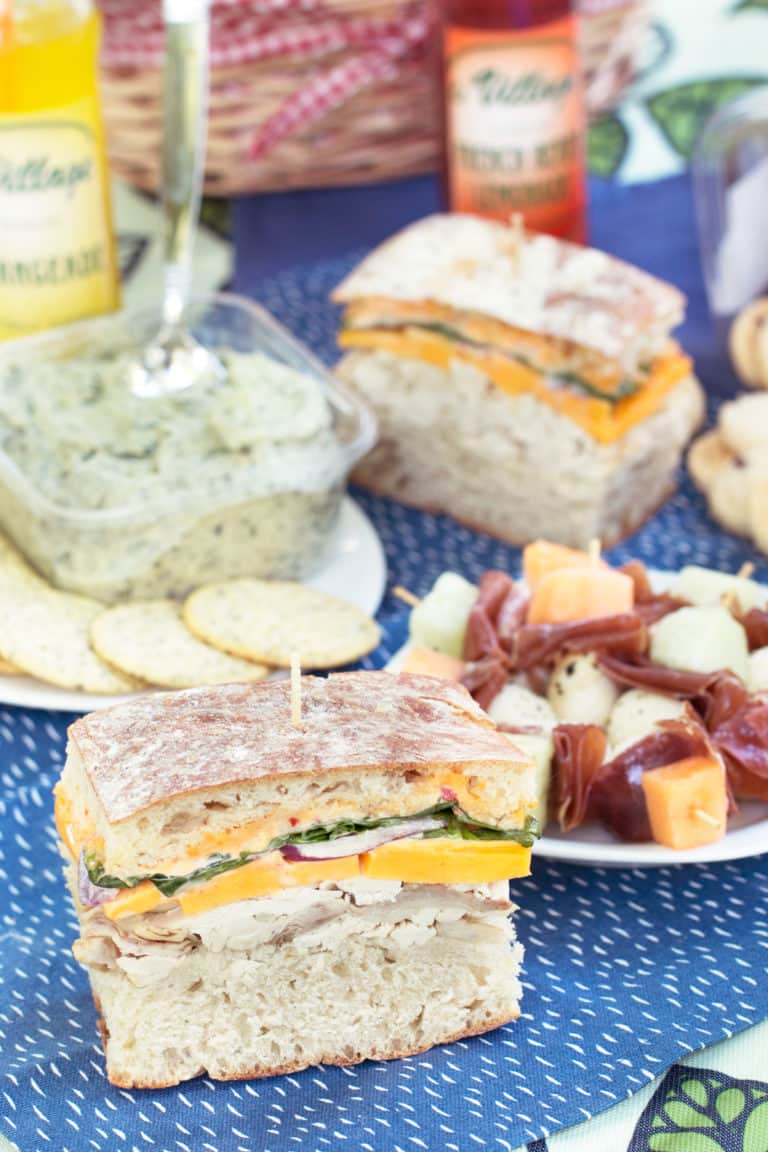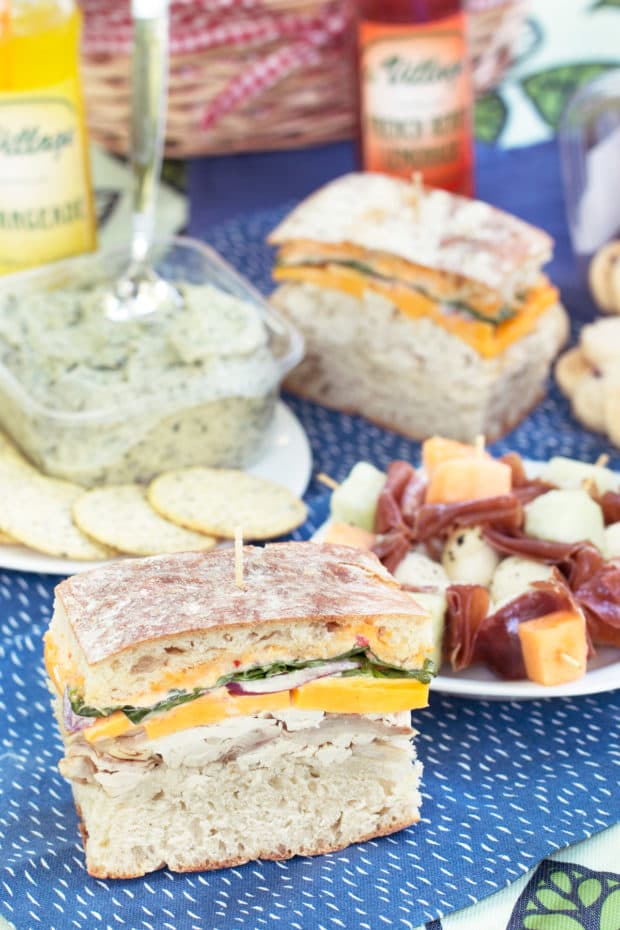 To me, picnics are an excuse to pack a basket of all those items you rarely ever treat yourself to. It's a special occasion to plan a picnic, especially if you are planning a romantic picnic date, so I like to treat it like it's a big event!
That's why I turn to one place for all my picnic needs… Tony's Market.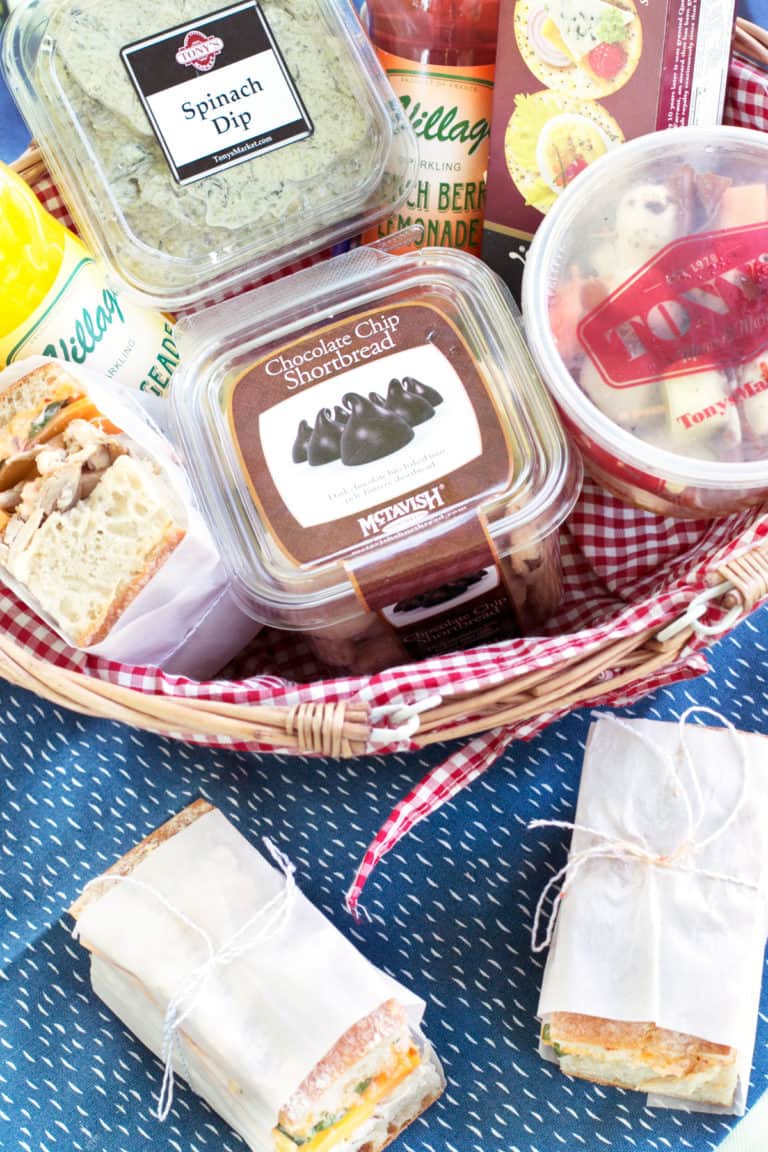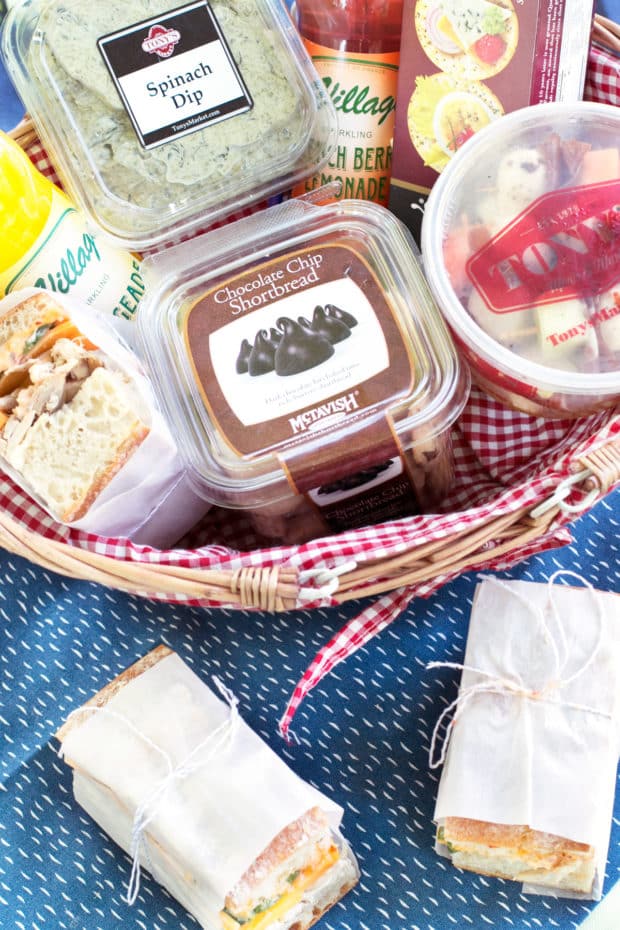 Please note that some of the links below are affiliate links. If you make a purchase through one of these links, I will receive a small commission. Thank you for supporting Cake 'n Knife!
Tony's Market is a staple here in Denver with their top-quality meats (I can always rely on them to find the cut I am looking for) and everyday grocery shopping. They are especially known for their incredible weeknight dinner solutions and grilling ideas with their gourmet burger patties, kebabs, giant pantry selection, fresh bakery items and varied deli section.
With so much variety, you can put together the most epic picnic basket in the world, no matter how many people you are trying to feed.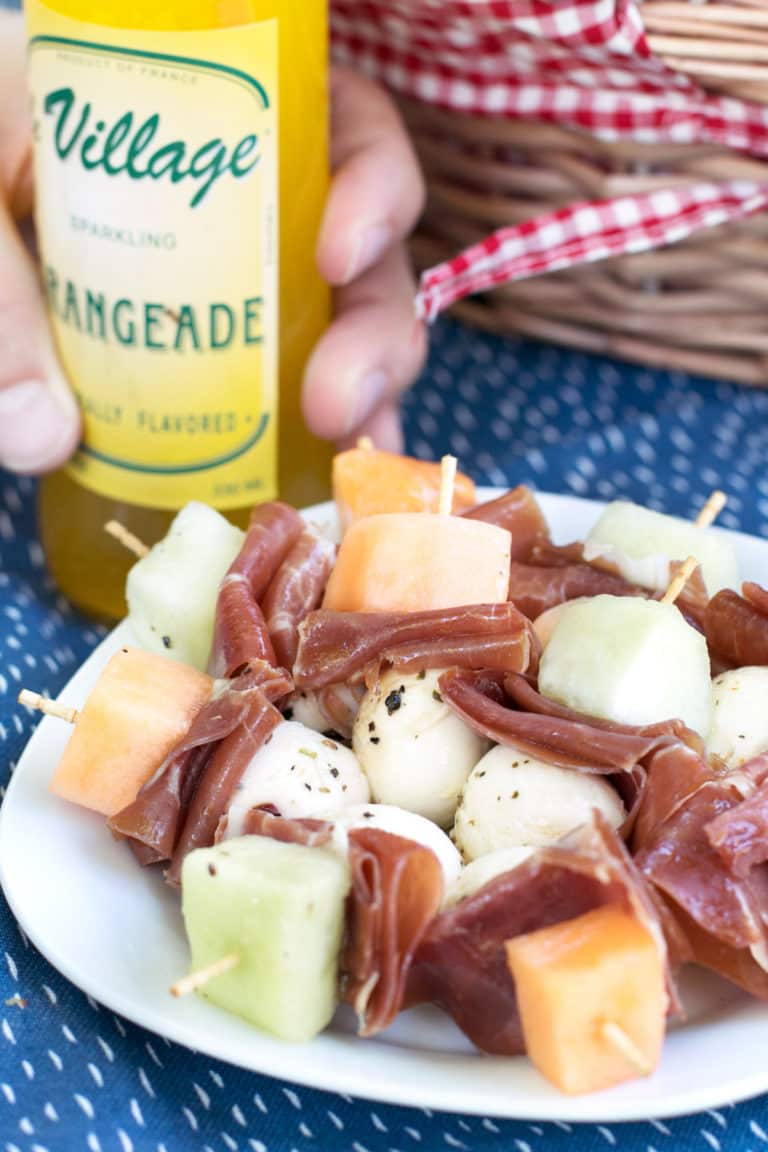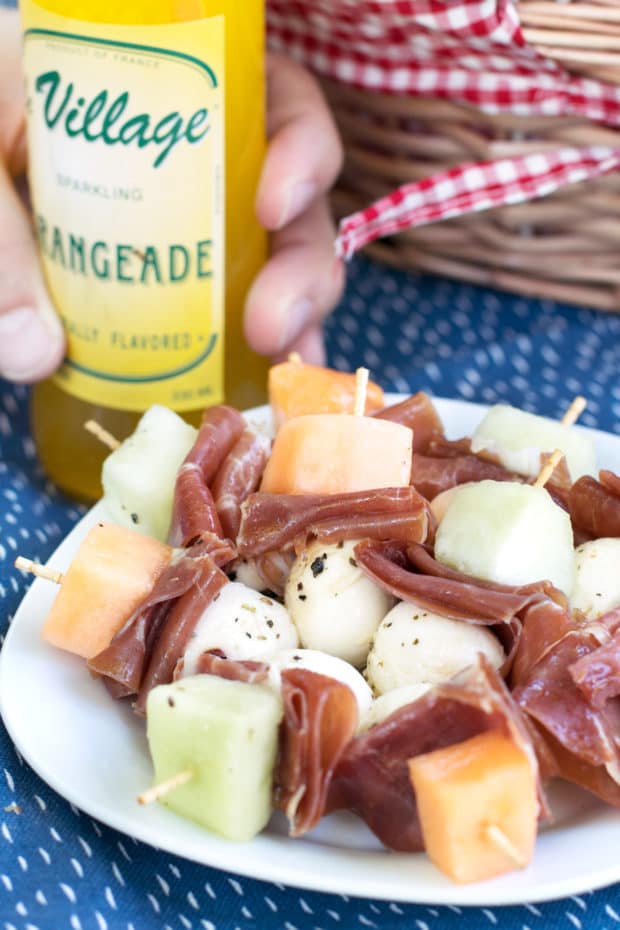 When I told the Man about this post idea, he was super into it. Tony's Market is such a huge supporter of local bloggers like myself and he really wanted to make it something special for both of us to enjoy. I was a little surprised when he offered to pack the basket and find the perfect picnic spot, but considering how much he already loves Tony's Market, I rolled with it. I mean, how can you not want to gobble up all this tastiness?
Here's the quick and dirty rundown of what I picked out:
Spicy Rotisserie Chicken Pressed Sandwiches (recipe below!) or Mango Chicken Salad Sandwiches
Prosciutto, Melon and Marinated Mozzarella mini skewers (I put these together in seconds, by the way)
Tony's Market Spinach Dip
Crackers
Chocolate Chip Shortbread Cookies
Sparkling Lemonades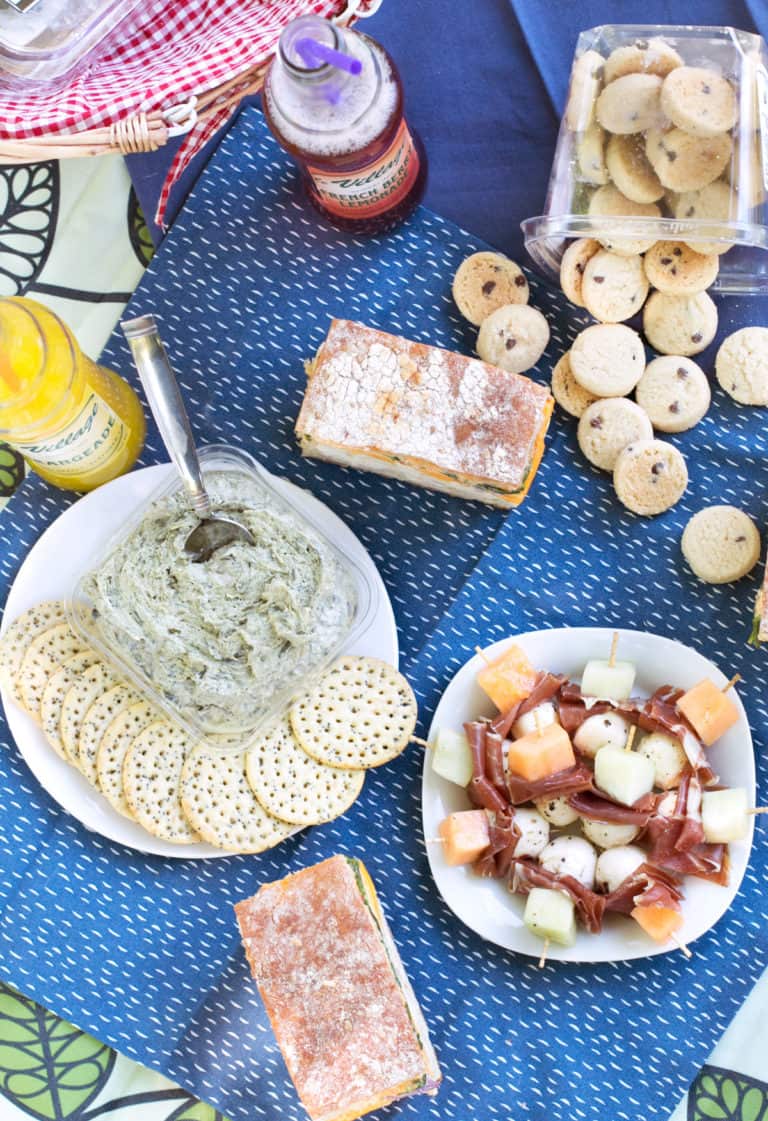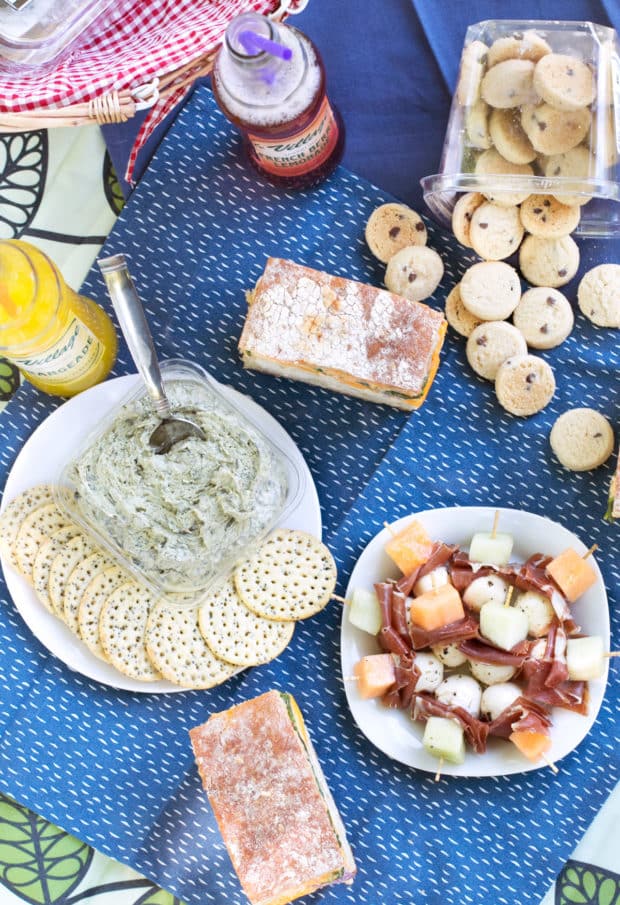 That's a pretty amazing spread to enjoy on a leisurely afternoon in the park, if I do say so myself. No surprise the Man was so on board, am I right?
The real star of the basket is the Spicy Rotisserie Chicken Pressed Sandwich. I can't even begin to tell you how easy these sandwiches are to throw together. You simply pick up a delicious rotisserie chicken from Tony's Market (any flavor!) and layer it up with cheddar cheese, red onion, spinach and Samurai sauce.
Now some of you might be asking "what the heck is Samurai sauce?"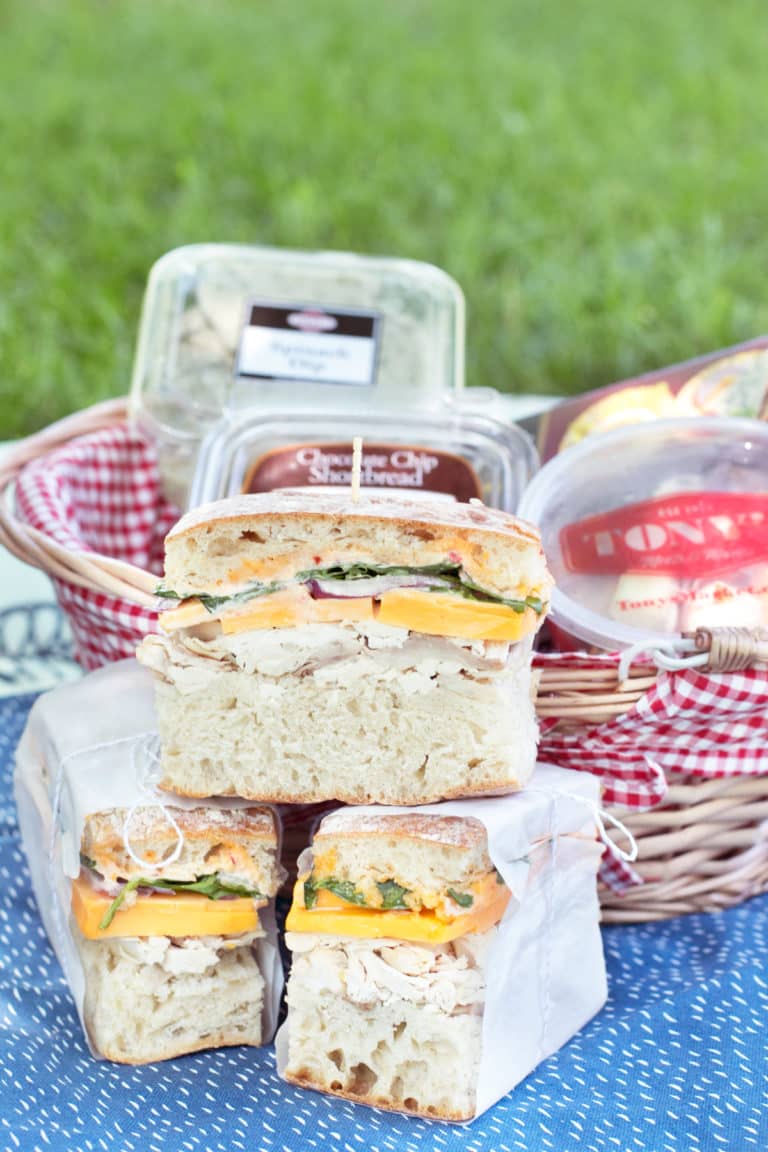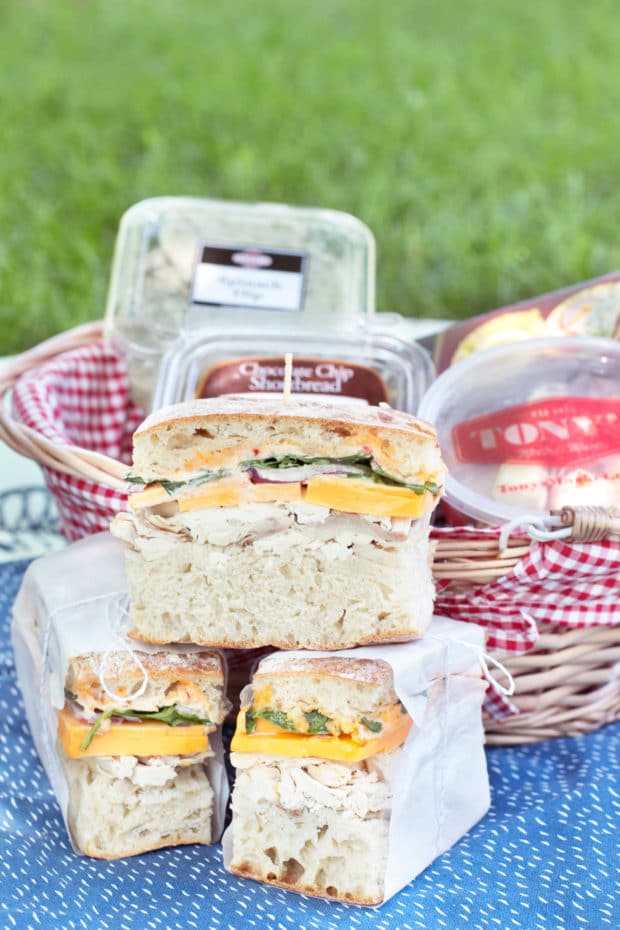 This is one of the best discoveries I made in Belgium. With all the fries they serve up there, they have about 5 million sauces to go with them. One of the standard sauce I fell in love with was Samurai sauce. It's essentially a spicy Asian mayonnaise and it's amazing. I knew it would be perfect for some sort of sandwich, and I really wanted it to shine in this pressed sandwich. The simplicity of the delicious ingredients already in the sandwich make the sauce stand out in a delightfully creamy and spicy way. I promise you're going to want to put this sauce on everything the moment you taste it (you must try it with fries. MUST.).
Once the basket was all packed up, the Man and the Maid (the Maid is me, btw) set off for an adventure in the park. We had our basket, we had our spot, and now it was time to capture the moment for you all.
So there I was, taking some photos of the park…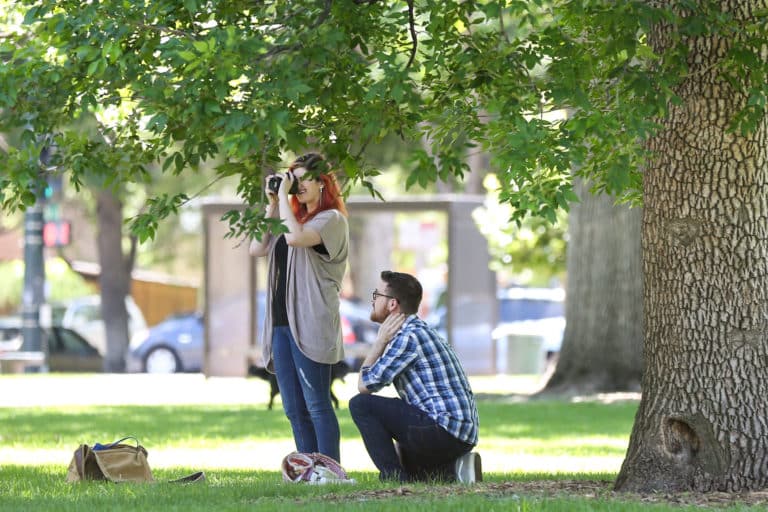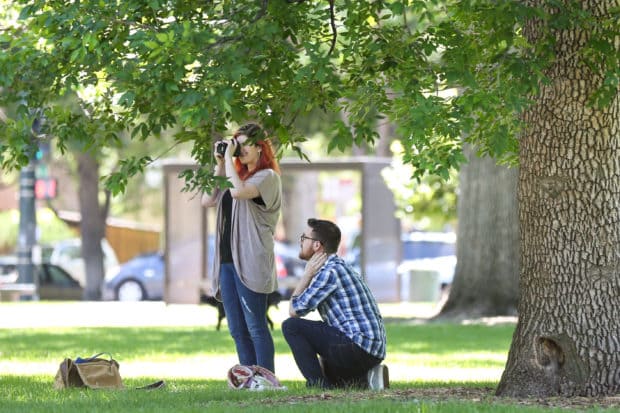 Don't judge my camera face, btw… LOL
Pause to look at just how green and pretty it was!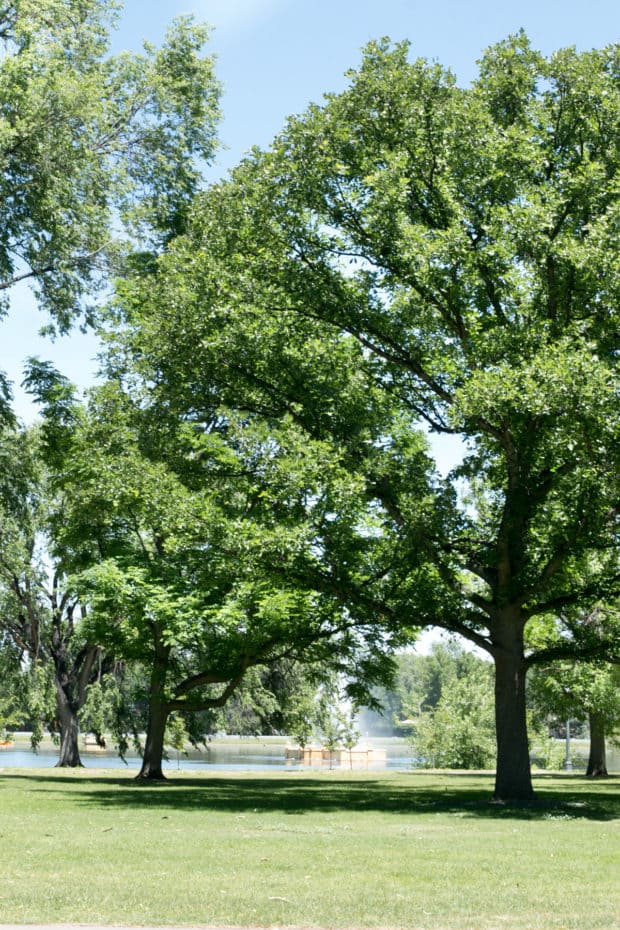 Out of nowhere, I got the biggest surprise of my life – I wasn't going to be just a Maid forever…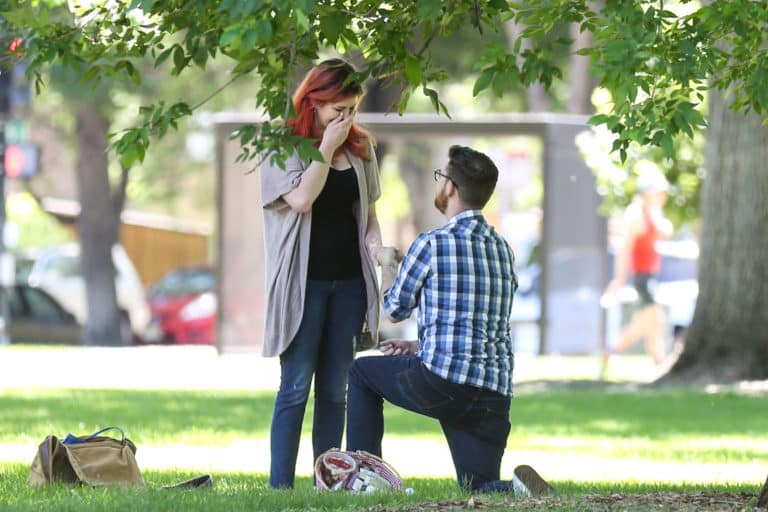 There the Man was, on one knee, asking me to spend the rest of my life with him.
Queue all the happy tears.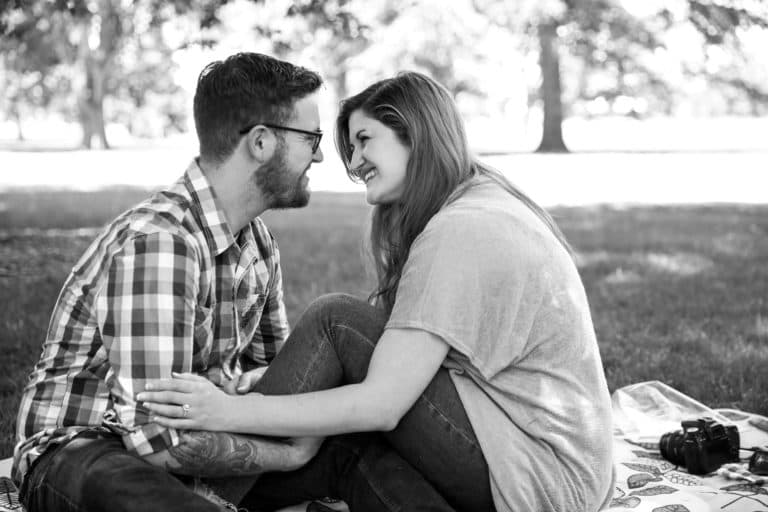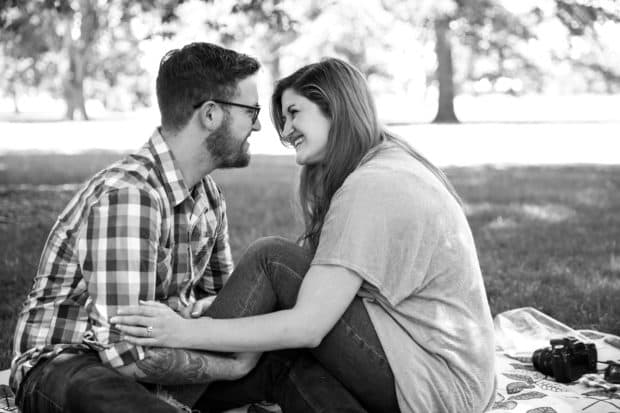 All I can say is I was floored. I have literally been sporting a smile from ear to ear all week long, DYING to tell you all this story. The picnic, the park, my friend Bridget (engagement photo credit to the amazing Bridget Marie Images) secretly capturing every emotional moment… It was one of those fairy tale moments you never forget.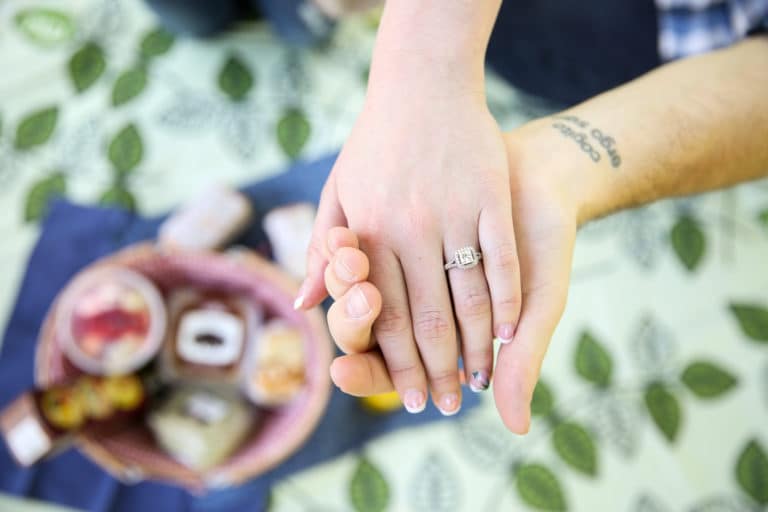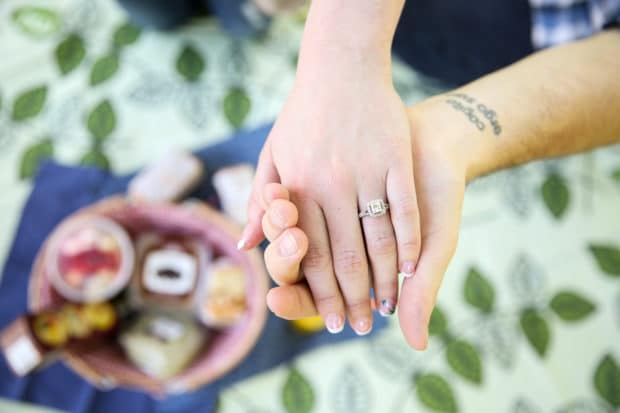 I AM GETTING MARRIED!!!
There's a lot of happy dancing going on over here so don't mind me…
Even if you aren't planning a secret proposal like the Man so stealthily did, this picnic date does magical things for your soul (and your taste buds). Take the time this summer to spend a special afternoon with the one you love.
Yes, I am a big mushy ball of love right now. It's not going away anytime soon, so deal with it. 😉
This Recipe's Must Haves
Pin this Spicy Rotisserie Chicken Pressed Sandwich recipe for later!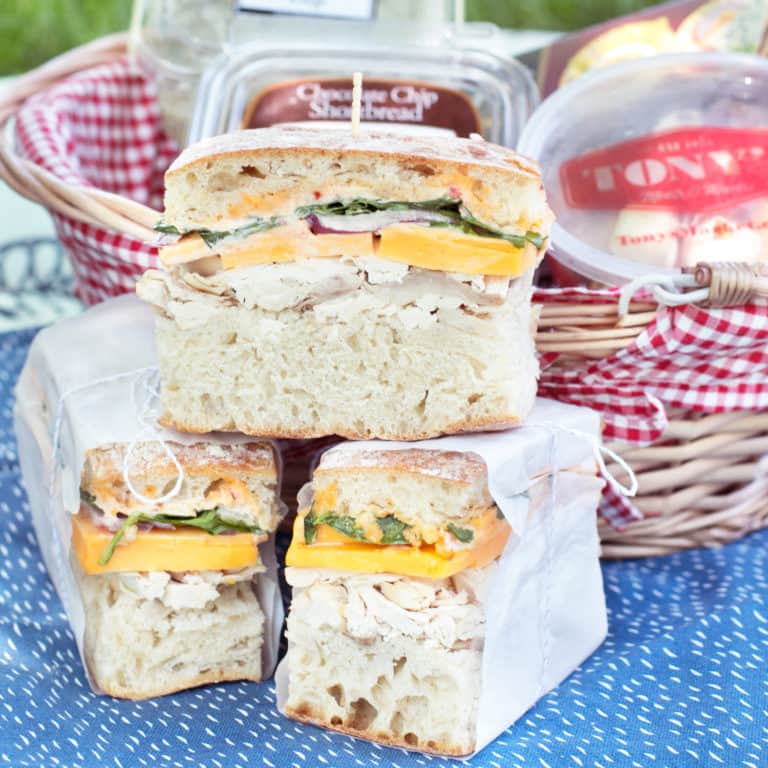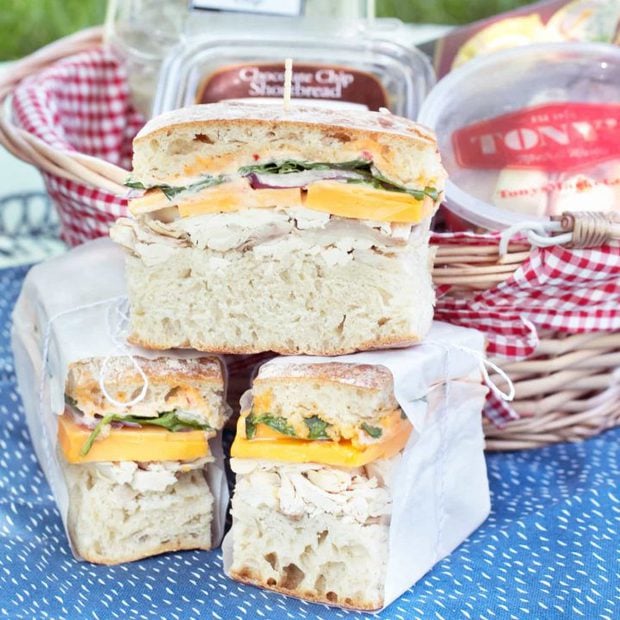 Spicy Rotisserie Chicken Pressed Sandwich
Yield:
Makes 4 sandwiches
This easy chilled sandwich will blow you away with savory rotisserie chicken, cheddar, veggies and a spicy homemade Samurai sauce! You'll love taking these along for picnics or a quick work lunch.
Ingredients
Sandwich
Samurai Sauce
1/4 cup high-quality mayonnaise
3 tsp sambal oelek
Instructions
In a small bowl, whisk together ingredients for the Samurai sauce. You can add more sambal oelek if you want it spicier, but start with the 3 tsp because it has a good kick!
Cut the loaf of ciabatta in half horizontally. Begin by layering the hand torn chicken on the bottom half of the loaf. Top with cheddar cheese in a thick layer, followed by thick layers of red onion and spinach.
Spread the sauce on the top half of the ciabatta loaf and top the sandwich off.
Wrap the sandwich loaf tightly with plastic wrap. Place on a plate or sheet pan large enough for the sandwich to lay flat.
Add the plate to the refrigerator and place a heavy skillet large enough to cover the entire sandwich on top. Let press in the refrigerator for at least 6 hours (it's better if you do it overnight).
When ready to serve or pack up for a picnic, trim the sides of the sandwich to form a rectangle. Cut the rectangle into four sandwiches (approximate size shown in pictures above). Serve immediately or chill until ready to eat.