Here's my second trimester recap covering all the feelings, thoughts, ramblings, and some pregnancy must-haves for any other preggo mamas out there!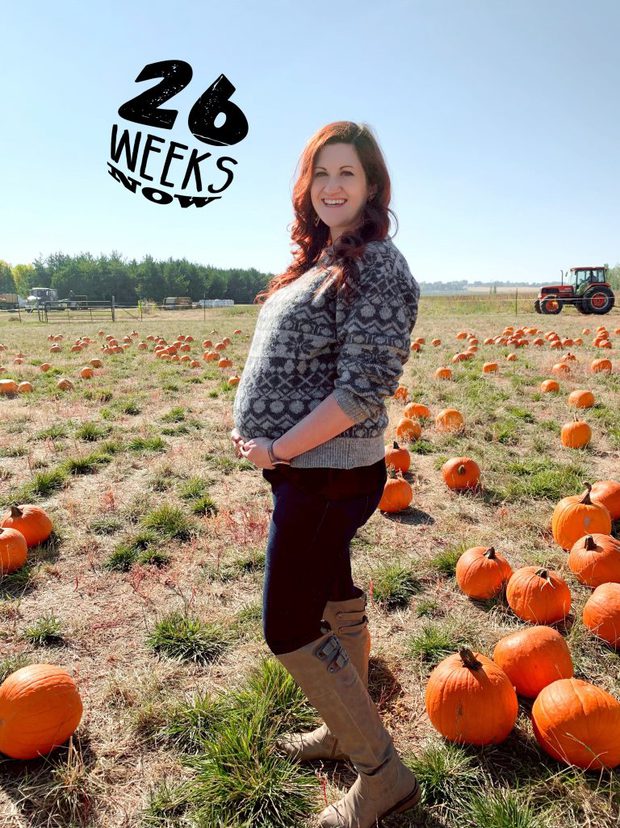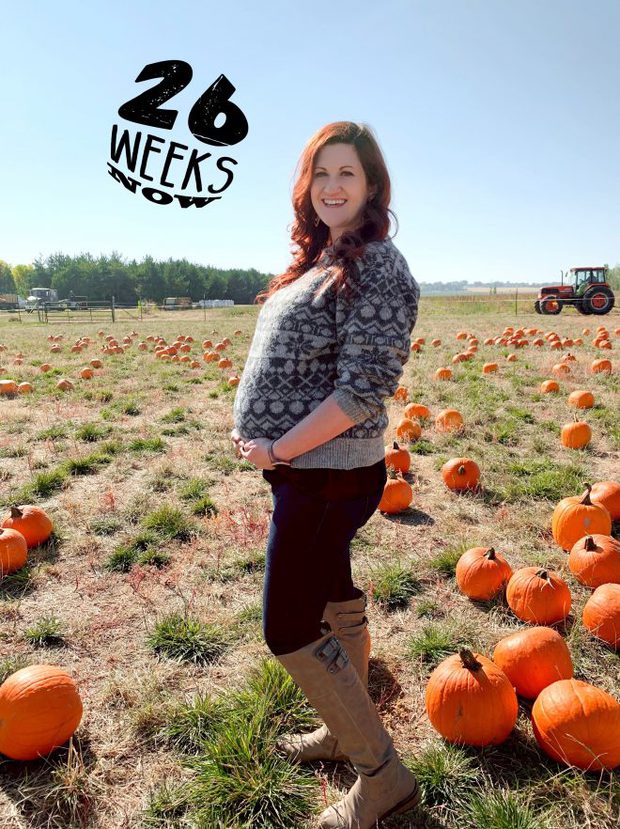 Well my friends, we are officially wrapping up the second trimester in a little over a week! It's INSANE to see this pregnancy flying by. Some days it feels like it is taking forever to meet our baby boy, but other days it feels like the weeks are sped up.
We are in full house prep mode over here and things are getting done all over the place! The nursery is starting to come together with furniture (including a new chair that I wanna sit in every second I possibly can!) and decorations here and there.
My office has been moved to make room for the nursery and I'm actually really enjoying the new space. It's kind of nice to get a new perspective and have everything consolidated down to one room. Plus, I'm even closer to the snacks now, soooo that's awfully convenient for me, LOL.
Our baby shower is also coming up (and my birthday too!), so there's lots of little reasons to celebrate this month. I am just super excited to have the nursery wrapped up soon. Since we are doing a socially distanced shower, my biggest goal is to have the nursery done so everyone can peek in the window and take a look!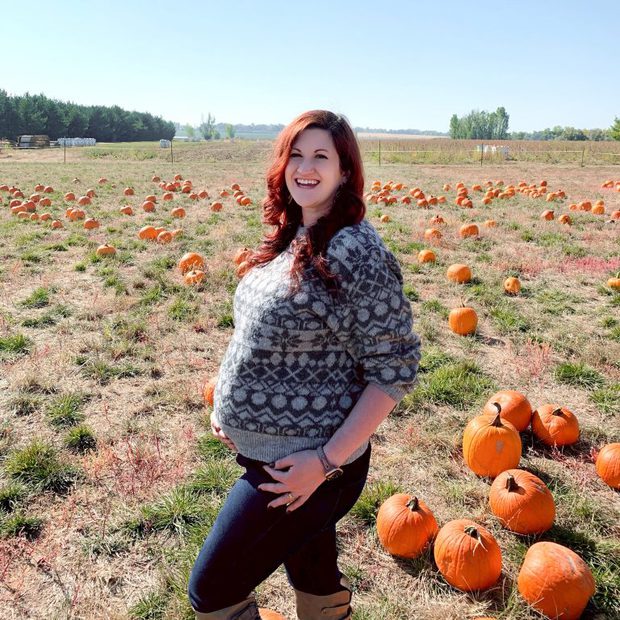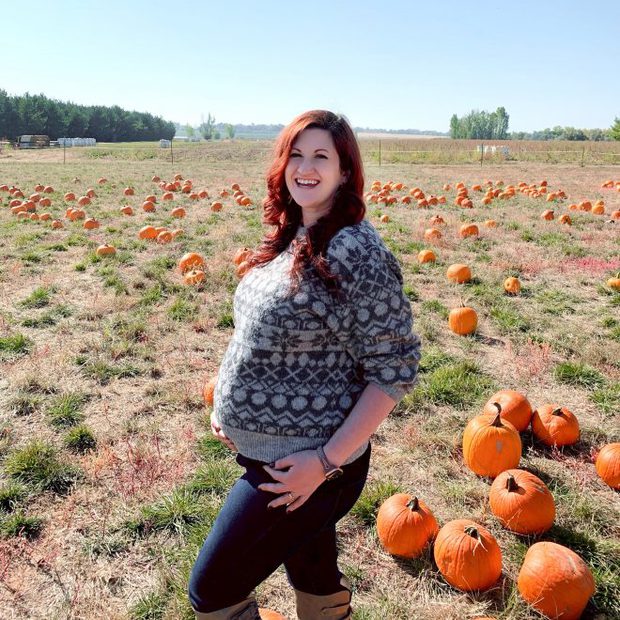 The Man is the one who made it all possible, so I'm grateful that he has been on board with me getting it finished as soon as possible. I can already feel what a big relief it'll be to have it done well before we have to worry about labor and such. It's become a cozy place for Mochi and I to hang out already 🙂
The second trimester has been good, but also a little bit rough. Towards the end I have begun to hit a wall. Sleeping is much more difficult, my back is killing me, and I am getting exhausted quicker and quicker. Going up a full flight of stairs too fast leaves me winded LOL.
With all the changes your body goes through (your mind too!), I rounded up another list of my pregnancy must haves like I did for my first trimester. Here's everything I've been loving for the past few months!
Apps
For our registry I used Babylist and I LOVE it. Super easy to add things from anywhere on the web and it's nice because you can keep track of things in categories, even creating your own if you want.
If you are pregnant, you know that kegel exercises are super important. Therefore, I've been using PFM, an app that reminds me to do daily exercises for one minute. Plus, it's discreet.
In preparation for the upcoming trimester, I've downloaded both Count The Kicks and BabyConnect. I'll report back once I use them more, but I already love the simplicity of the kick counter.
Also BabyConnect looks like it has EVERYTHING I could ever want post baby to help track feedings, diapers, sleep, pumping, and more. This one did cost ($4.99) but considering how Type A I am, it's well worth the small investment to have everything in one place.
Books
I've been tearing through audiobooks as I reorganize our entire house and as I try to get ahead on cooking. So right now, books are definitely on my list of pregnancy must haves. Here are some of my favorites:
The Goldfinch – this book is SO AMAZING. I decided to pick it up on Audible since I saw it's a movie on Amazon Prime, and I'm so glad I did. I haven't watched the movie yet, but will definitely do so once I get through the book!
Stillhouse Lake – I just started this thrilling series and it's fantastic! I'm a huge fan of thrillers and this one is SO GOOD.
City of Girls – I FINALLY got around to reading the novel by Elizabeth Gilbert and I am so glad I wasn't disappointed. It is such a magical storytelling, and I thought the narrator was particularly good for the audio version.
Tell Me Lies – this is a shorter book and an Audible exclusive, but it is a fab thriller. If you like psychological thrillers, this is a quick one to listen to.
The Perfect Nanny – another thriller, are you sensing that I went through a phase at the beginning of my second trimester…? Probably not the BEST choice while being pregnant and starting to think about childcare post-birth. It's a really good thriller nonetheless lol.
Clothes
In my world right now, headbands are where it's AT. As much as I would love to have the energy to do my hair every day, I do NOT. Since I know this trend is only going to continue, I decided to turn to some new headbands! I love these plain elastic headbands because they go with everything! Also these sweater ones are SO cute and double as earmuffs. Definitely pregnancy must haves as we go into colder weather.
I've been living in these comfy Levi jeans all pregnancy long. They are still fitting and are just as comfy. I am planning on buying a second pair that are a bit longer for winter in black!
I got this body con dress at the beginning of the second trimester and I LOVE IT. There is a possibility of me getting it in a couple different colors for the third trimester – it's just so perfect with cardigans and even throwing a big t-shirt over and tying a knot just over the belly. I even wore it to my friends baby shower on a particularly hot day with a light floral shawl. SO cute.
These comfy casual pants are AMAZING. If I could wear them all the time I would. I just bought three more pair LOL forget jeans unless I absolutely HAVE to look presentable for some reason. I want COMFY THINGS.
Random Things
It's the little things that make the difference on the list of pregnancy must haves!
Mama Mio Body Butter. This stuff is pure GOLD. I haven't seen any new stretch marks show up (*knocks on wood*) and it smells SO GOOD.
As we took on the task of redoing our living room and me decorating all the things for fall, I stumbled upon this knitted chenille throw. This is the softest blanket every and it comes in really pretty colors.
I've been getting into the habit of having afternoon tea thanks to a good friend of mine. I got this gorgeous gooseneck electric kettle so that we can also dive into the world of pour over coffee. Will is already a coffee nerd and I'd really like to hop on board, if only to start a morning ritual that helps me start the day on the right foot! It's also just gorgeous.
As many of you who have been pregnant or are pregnant know, the back pain is REAL. So I got this belly band that's been helping while I'm in the kitchen cooking in the afternoons. I still have pain, but heat and the Man's helpful massages make it much more manageable.
Food Things
Since everyone is always asking me, here's all the food cravings and aversions for the trimester!
Food Cravings – Nutella, Nutella, and MORE NUTELLA. All the sweets to be honest are on my list including Oreos, Sour Patch Kids, and Milk Duds. I'm also officially STARVING all the time. Seriously want to eat everything in the house at all times.
Food Aversions – nothing out of the ordinary which is awesome! It's nice to be able to be flexible eating again.