Being pregnant in the middle of a pandemic is weird. Thankfully we were able to do a mini babymoon in nearby Colorado Springs at Cloud Camp at The Broadmoor! This wilderness haven located atop Cheyenne Mountain is a totally different experience and takes you, literally, above the clouds. It's a quiet and serene getaway, ideal for couples.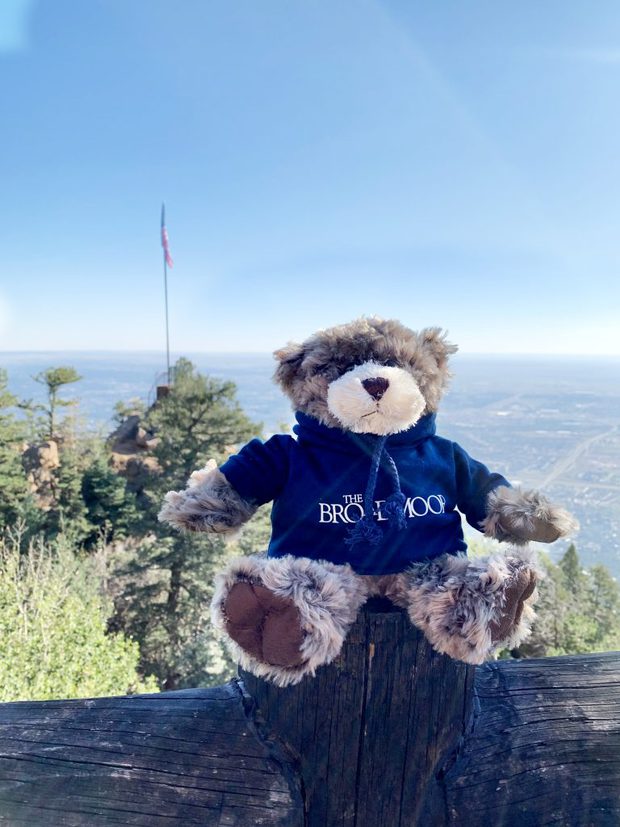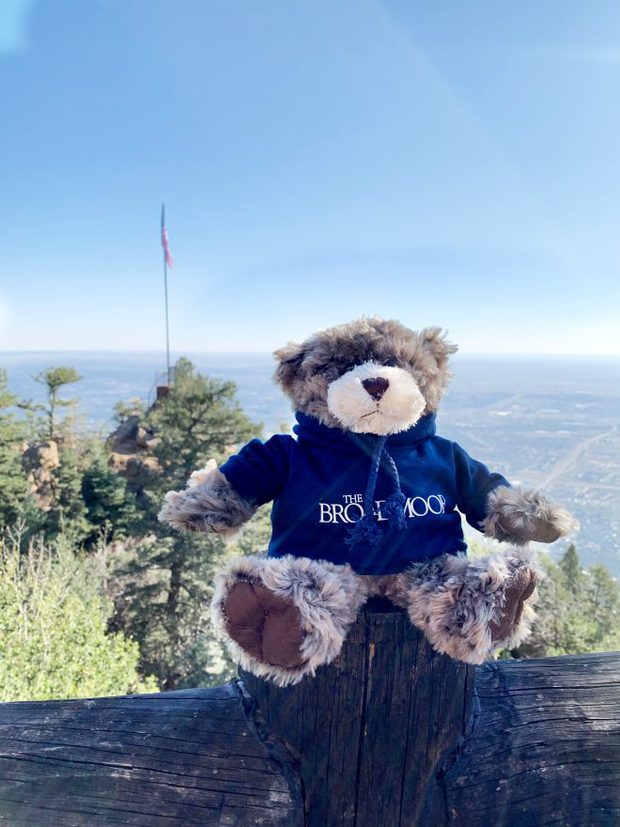 Disclosure: This post is sponsored by The Broadmoor. As always, all opinions are my own. Thanks for supporting the brands that support Cake 'n Knife!
Well, this year sure isn't turning out how any of us thought it would be, am I right? The year has gone to being a dumpster fire faster than you can say 2020. And at this point, I'm just trying to make the most of it.
I do have to say, having a little bundle of joy on the way does help you find the good in everyday life. So I am even more grateful for our little nugget.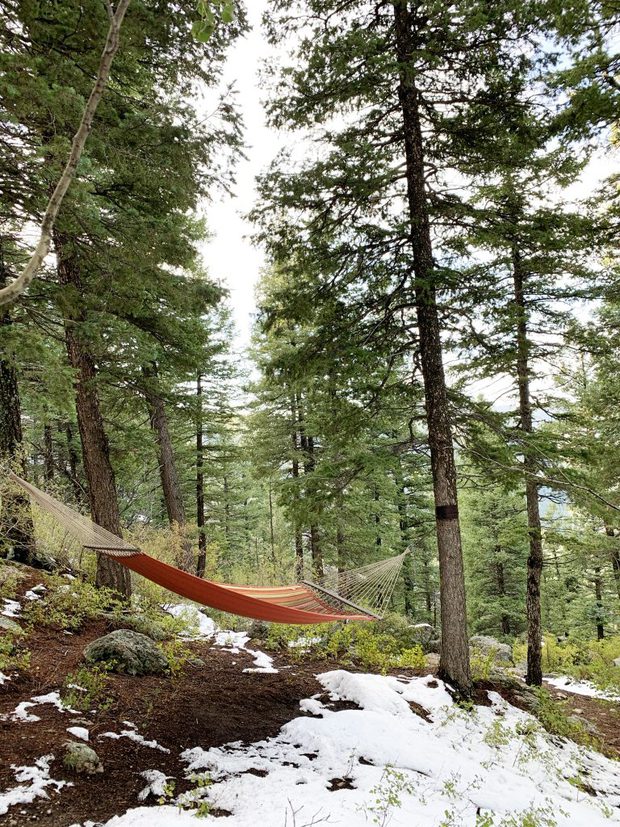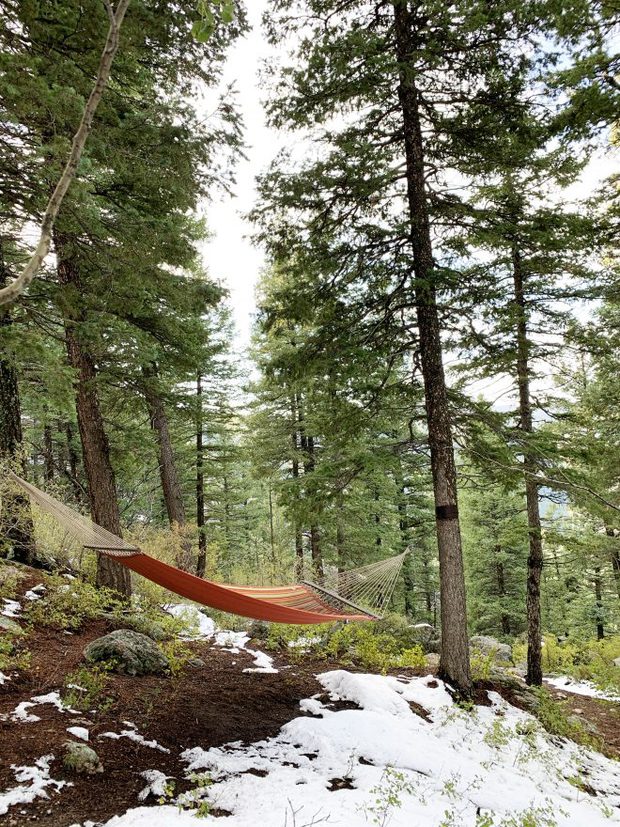 The Man and I were hesitant about doing a babymoon at all given the state of the world, but we decided that if we kept close to home and made it a super secluded getaway, we would both be more comfortable with getting away for a couple of days for a mini babymoon.
So, off the The Broadmoor we went!
Instead of staying at The Broadmoor as we have in the past, we made our way up, up, up Cheyenne Mountain to Cloud Camp.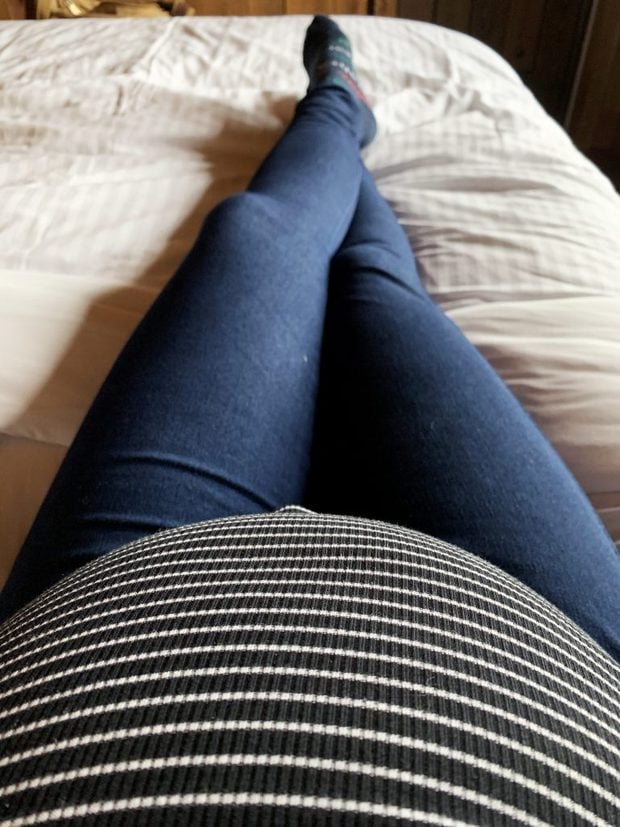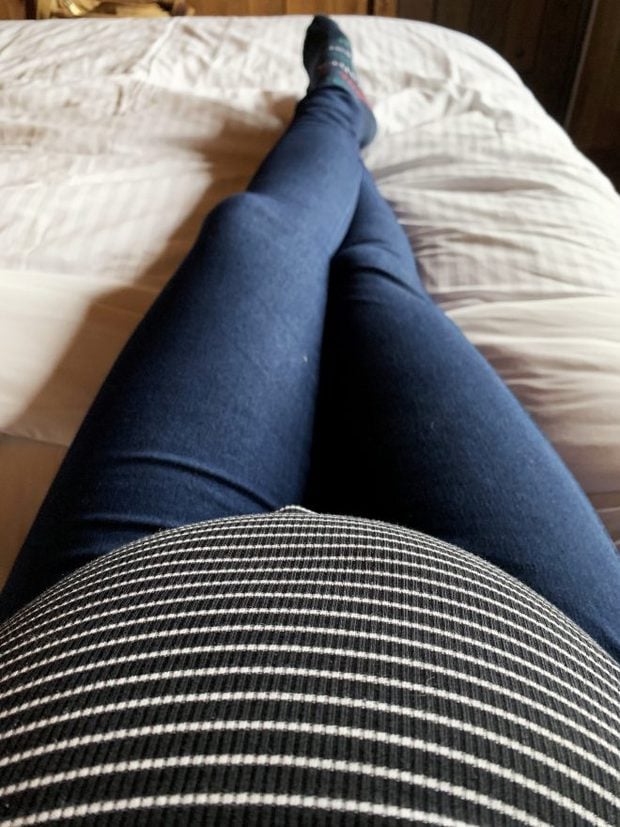 Cloud Camp is definitely a different experience, and I would say it is one ideally made for couples and those who enjoy getting out into the wilderness. While we had a lovely time overall, I am not sure I would 100% recommend it as a mini babymoon location. Considering how far along I am and how winded I get normally, at elevation it was a bit harder and the swelling was a little more than I thought I would encounter! Lessons we don't learn until we go, am I right?
However, if you are looking to spend some extra time with your honey, it's a lovely way to spend time together and feel secluded.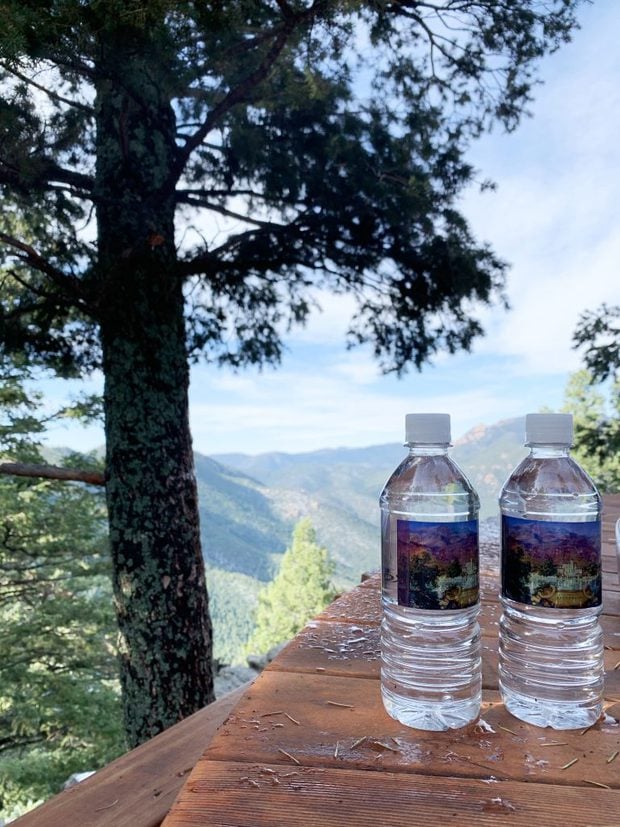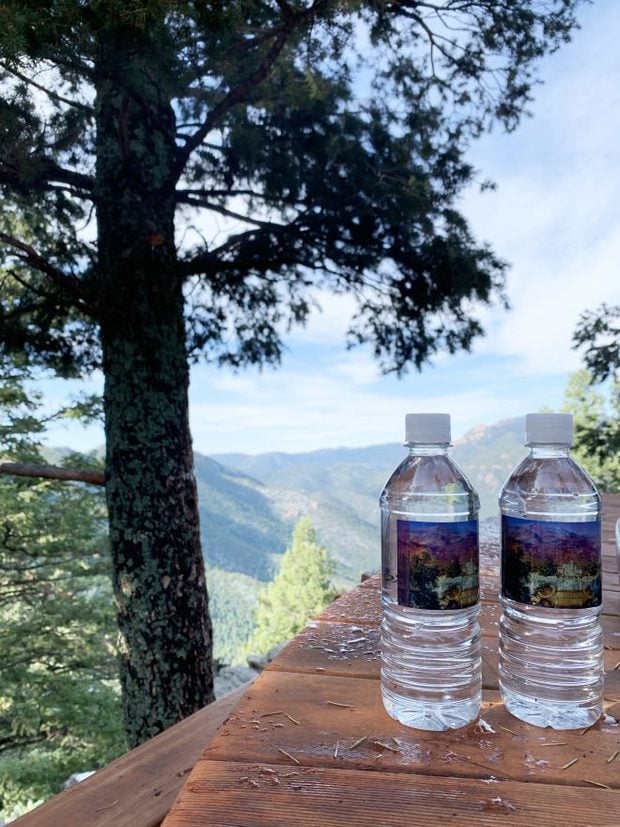 What is Cloud Camp?
To talk about Cloud Camp, you have to go way back to the founder of The Broadmoor, Spencer Penrose. Back in the day, he built a beautiful retreat at the top of Cheyenne Mountain where he hosted guests along with a variety of wild animals (no really, I'm talking bears, cougars, snakes, and more). It has since been renovated and is now a small camp for adults. At least that's how I like to see it! With a handful of private cabins and rooms in the main lodge, everything is included from drink to food to some activities. It's a completely unique setting with The Broadmoor flair, making it a lovely place to getaway to in order to relax.
That was the biggest focus for us – RELAXING. After all, we've been dealing with insane amounts of stress so far this year already. Add to that preparing for a baby, training a puppy, and navigating our way through pregnancy? Suffice to say, we needed a couple of days off the beaten path to just be.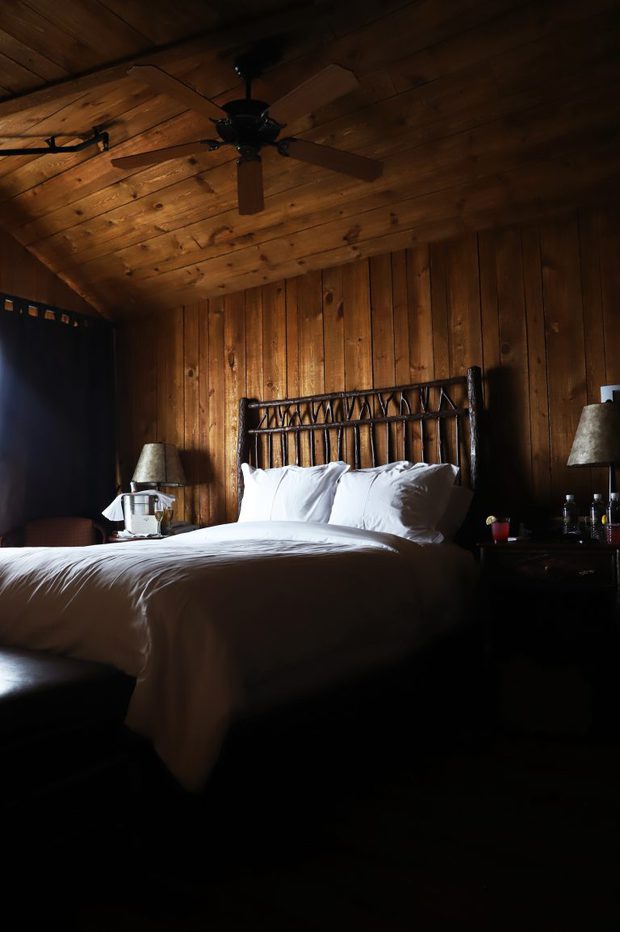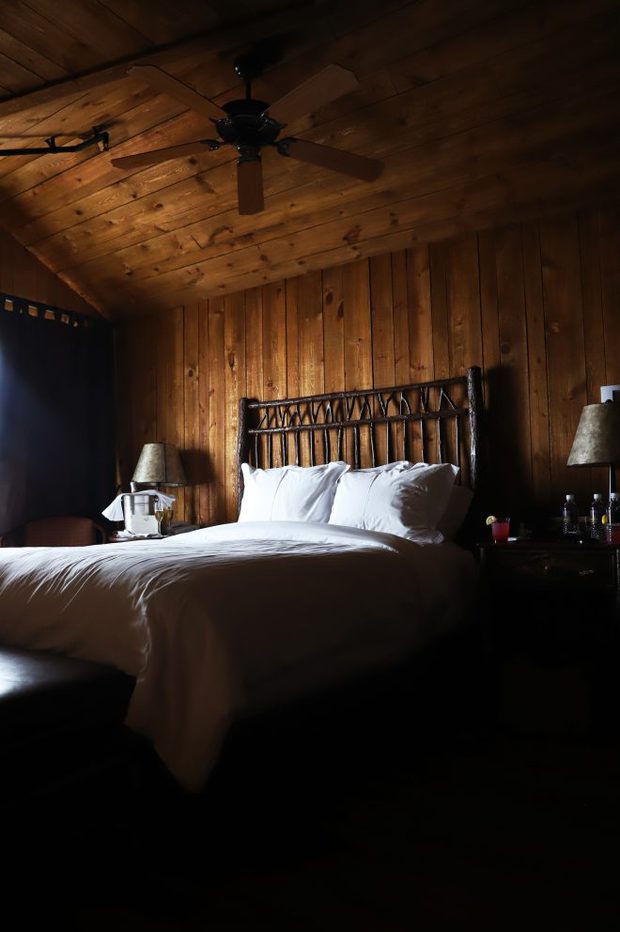 Driving up to Cloud Camp, you pass straight through the Cheyenne Mountain Zoo (somewhere I haven't even been yet, I'm sad to say!). You climb further and further up, passing through trees and clouds, until you arrive at the main lodge.
The day we arrived happened to be extra foggy and a little chilly. I thought it was even more fun because the drive was kind of spooky. As if we were transported through another place in time altogether.
There is the option to do a mule ride up the mountain to arrive to Cloud Camp, but as a 5 month preggo lady, that wasn't really an option. I'm sure it would be memorable though!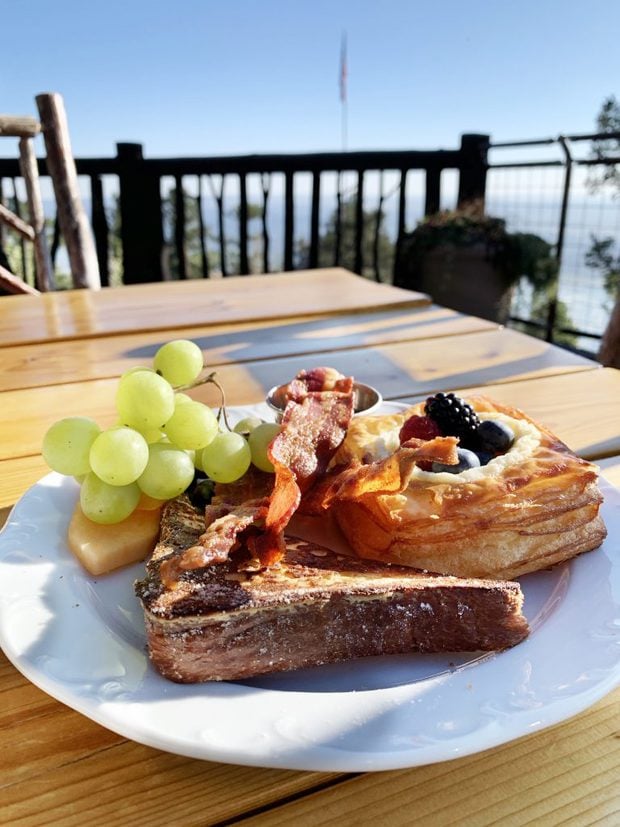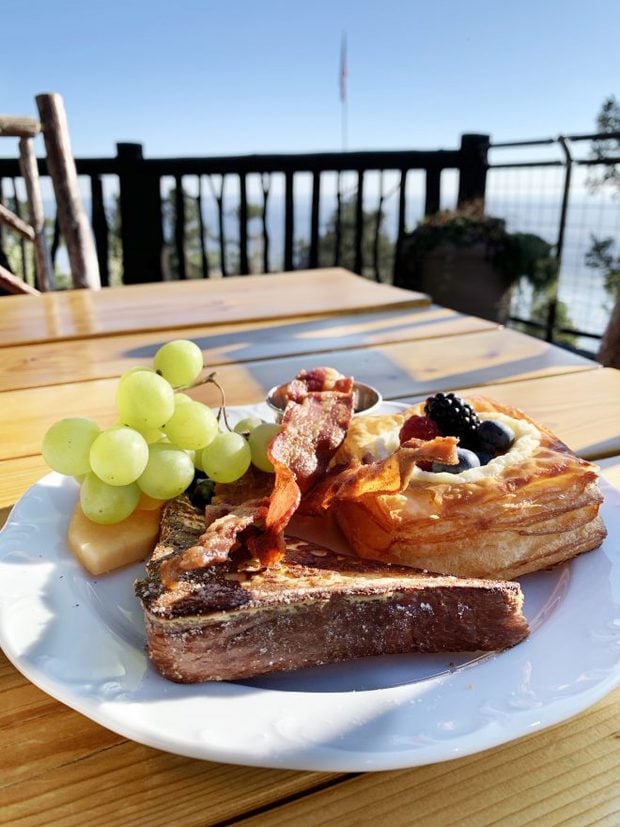 Dining
The dining experience at Cloud Camp is totally different from what you would get down at The Broadmoor. Normally they serve breakfast, lunch, and dinner at a large communal table. Of course, with COVID precautions, it's completely different, but still just as gorgeous in the rustic cabin dining room.
Breakfast is a buffet, lunch is straightforward with a couple of options for a starter, main, and dessert. Dinner is four course dinner that you can select from alongside a list of wines or whatever you want from the bar.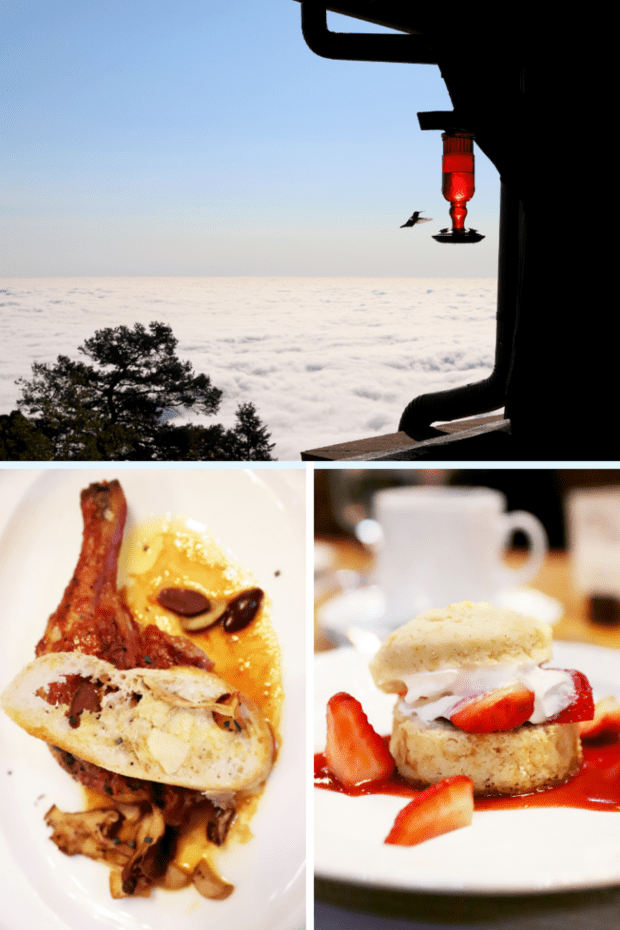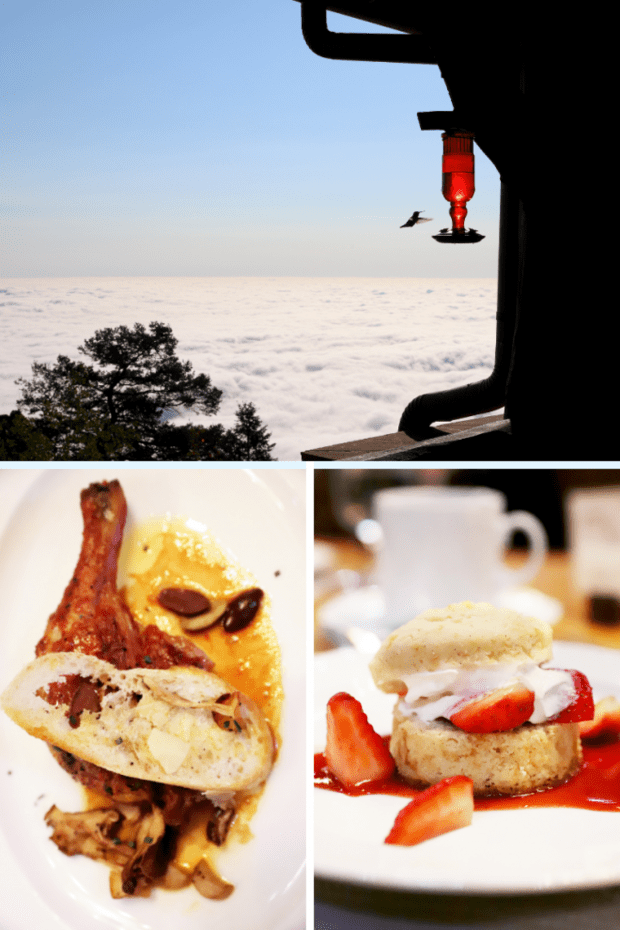 Their mocktail game was fantastic! It was lovely to sit and sip and pretend like I was imbibing along with everyone else LOL.
I did love the snack spread each day, complete with cookies and salt snacks. I am ravenous all the time after all. It's nice not to have to hunt someone down to feed me every couple of hours 😉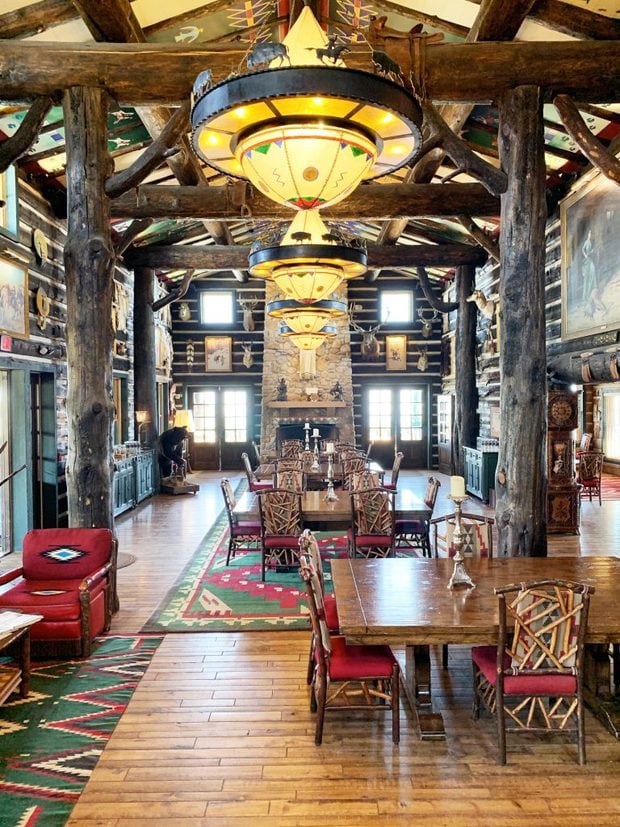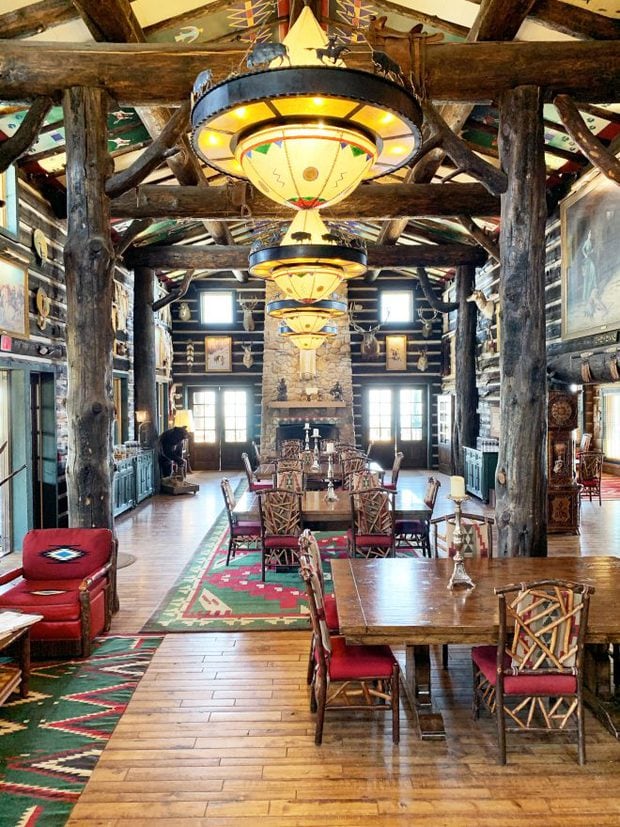 Activities
There are endless activities at Cloud Camp, so if you aren't necessarily interested in just kicking back, you can stay busy. There's morning yoga, a guided morning or afternoon hike (or grab a map and adventure like we did!), corn hole, mule rides, archery instructions (me personal favorite!! I even got a bulls eye!), cooking club (a brief demo by the head chef which we enjoyed!), and s'mores making after dinner at the fire pit.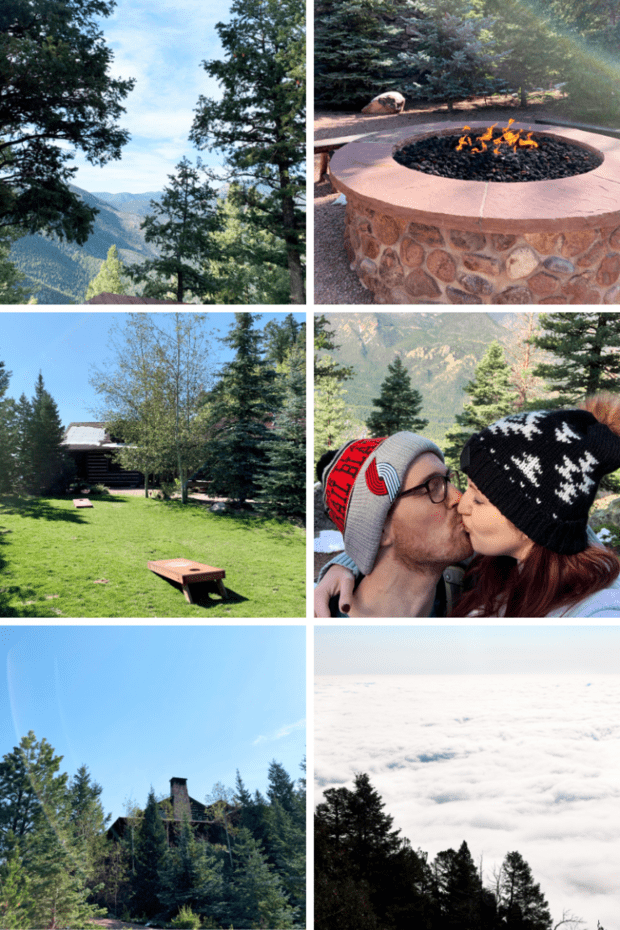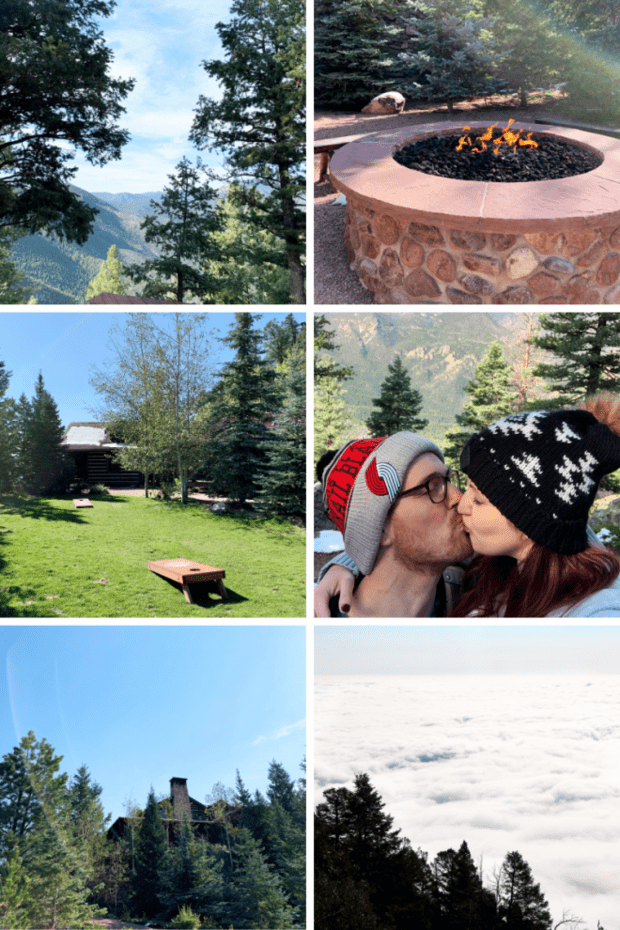 You can also play horseshoes, lawn games like corn hole, crafts (we made wood burned ornaments for ourselves and one for my mom who was kind enough to take care of our pups while we were away!), stargazing, disc golf, board games, bird watching, pickle ball, and last, but certainly not least, hot tubs.
I do wish I could have gone for a soak in one of the hot tubs… The view from them is absolutely STUNNING. I can only imagine how romantic it would be to cuddle up with your partner and a couple mugs of their mulled cider.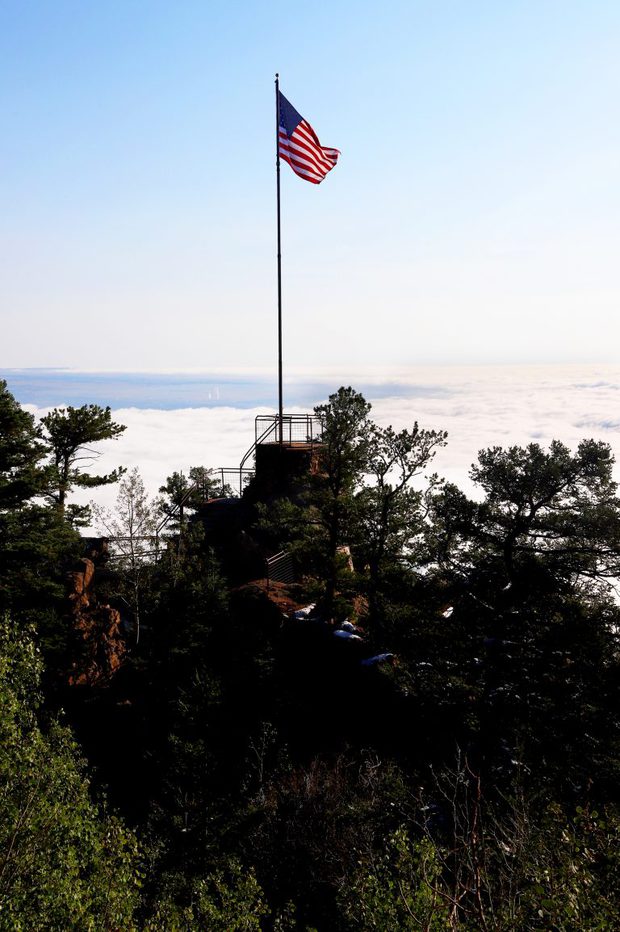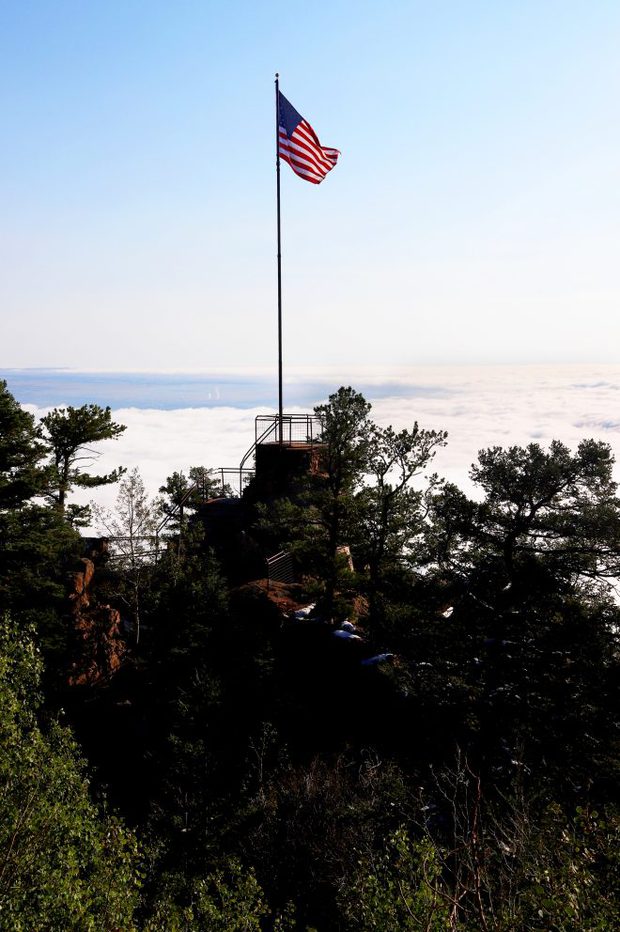 When can you go to Cloud Camp?
Cloud Camp is open seasonally, through mid-October this year. It will reopen again in May 2021! Do note that they have a very unique opportunity for one family (or group) to take over the entire lodge for Thanksgiving or Christmas dates. You can find more on that here if you are interested. Given the times, it would be a fun way to getaway. You could still feel completely safe with your loved ones over the holidays in a little extra luxury!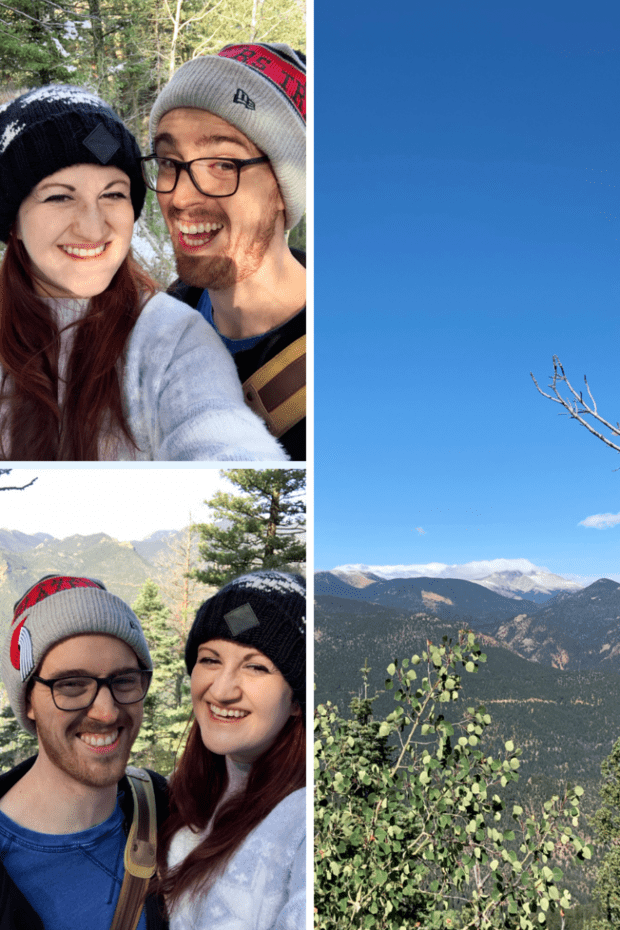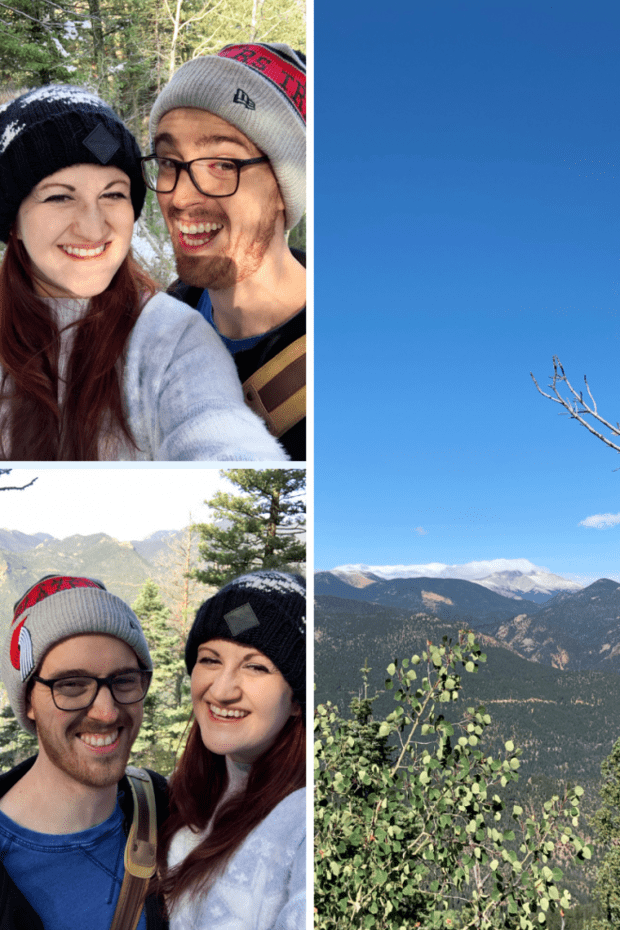 If you have any more questions about Cloud Camp and our mini babymoon, drop them in the comments below!
Don't forget to check out the baby registry must-haves if you are planning your registry or are looking for a must-have for a soon-to-be mama!