Please note this post contains affiliate links.
Skip some of the calories with this lightened up Skinny Piña Colada this summer! It's got all your favorite flavors, but it's on the lighter side for calories.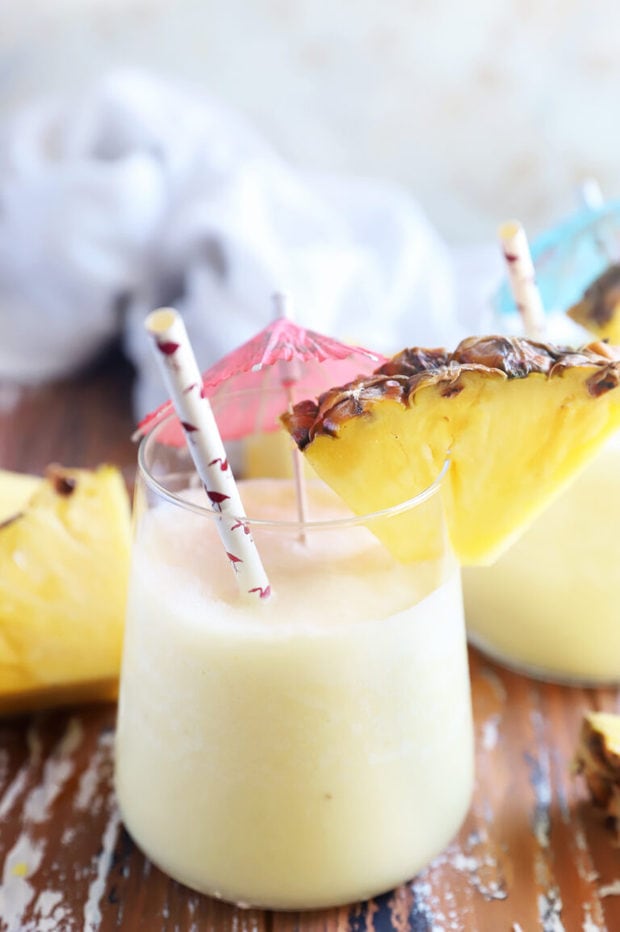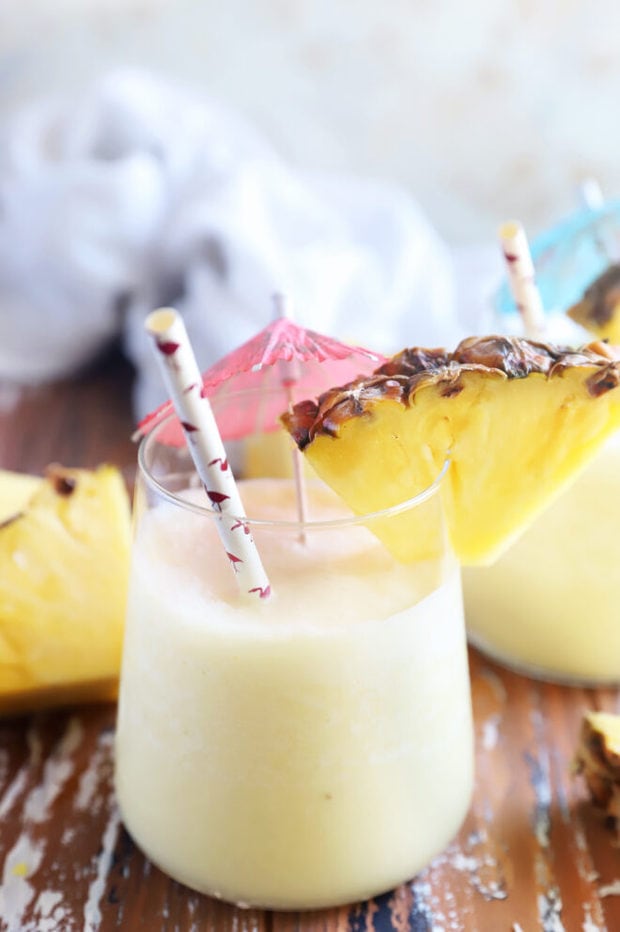 Note: this post is updated from the original version posted on June 11, 2015.
If I could live off of one cocktail for the rest of my life, it would be a piña colada. I literally had one every single day when I went to Mexico for the first time in my life.
The tropical pineapple and coconut flavors just scream kicking back on the beach, getting tan (or in my case sunburned) and watching the tide roll in.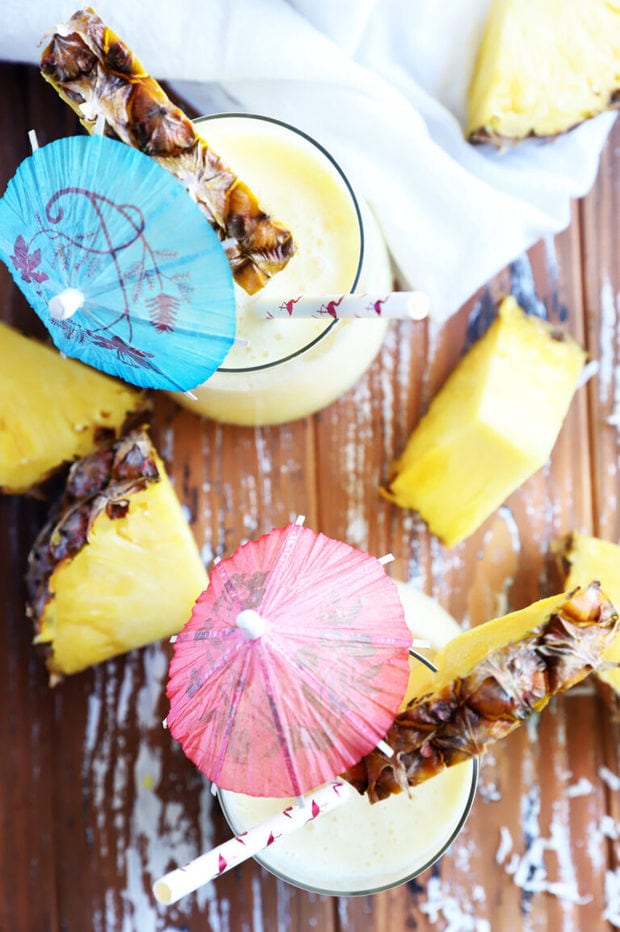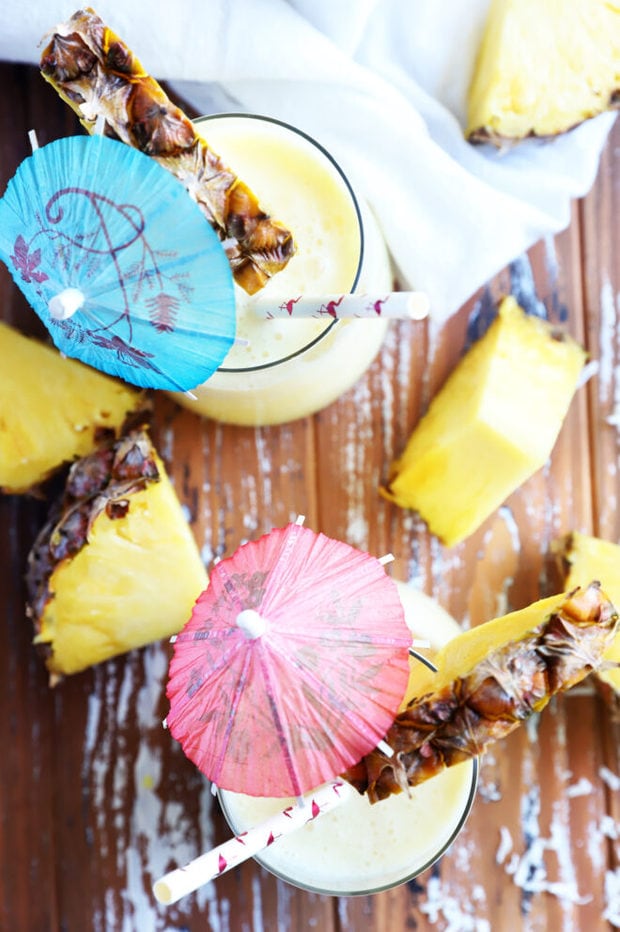 It was so lovely to roll out of bed in the morning (very late in the morning of course – it was vacation after all!), and get one of those creamy, cold drinks in the morning as I walked down to the breakfast buffet.
Hey, it was vacation AND an all-inclusive hotel. I do what I WANT.
Of course the coconut cream typically included in the drink isn't the most friendly to my waistline.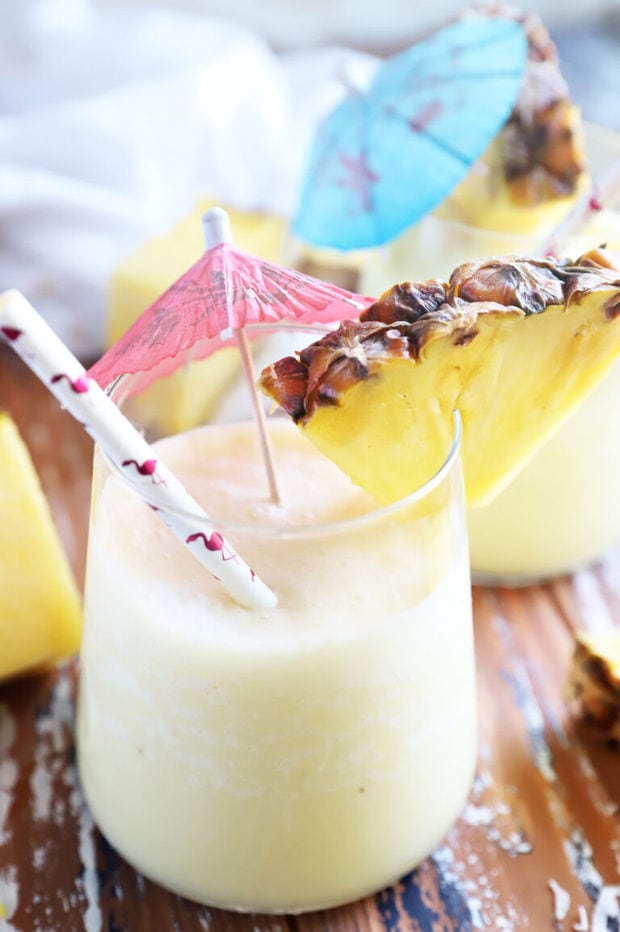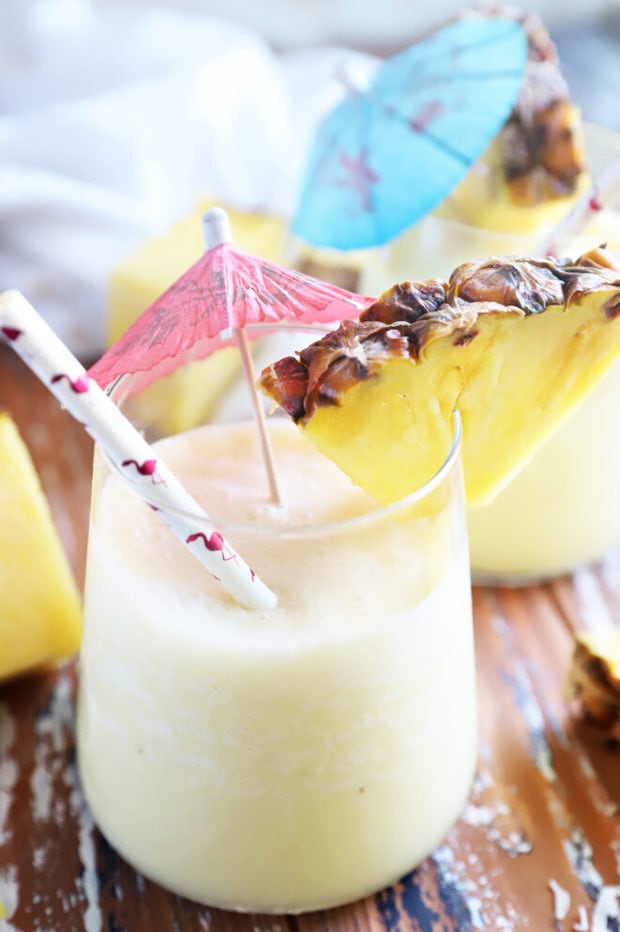 So I've lightened things up with light coconut milk in this skinny piña colada!
The bonus was finding these tiki mask glasses to serve them in – how fun are they?!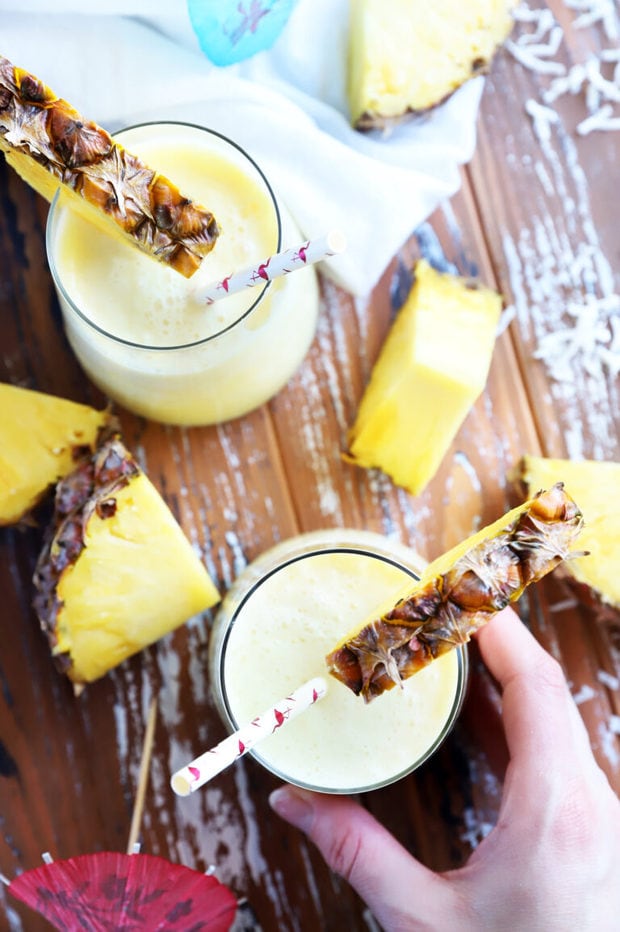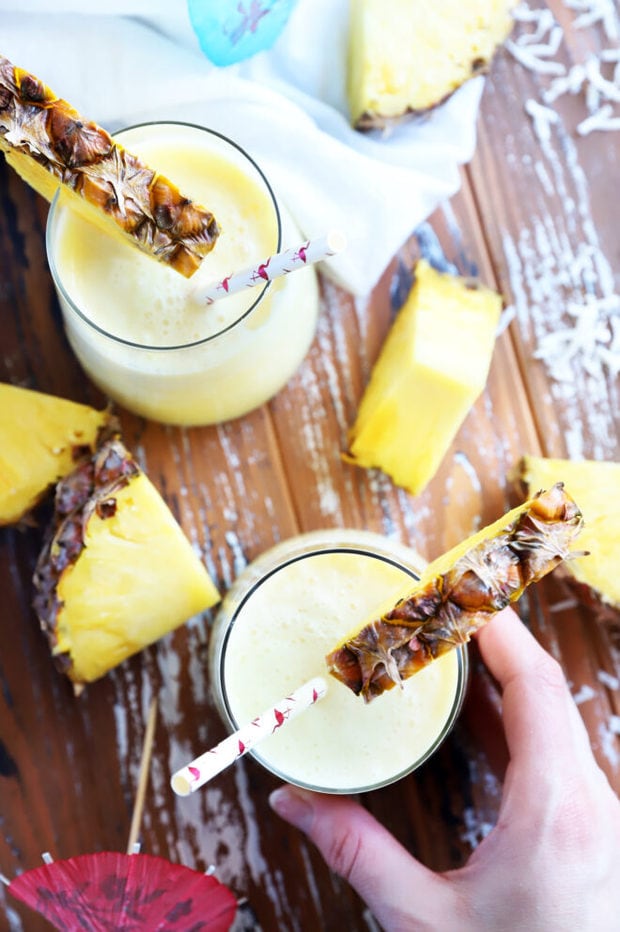 Let's Make A Tasty Skinny Piña Colada!
Blend It All Up
All you have to do is throw all the ingredients into a blender (like a Vitamix) and blend until smooth! Then you can drink it all down. This makes it super easy to make, but also easy to double, triple, or quadruple the recipe for a party!
I love to make these in the summer because it helps you not feel bloated when you sit by the pool, but you still get all the tropical flavor that you could ever want.
Though it has a few less calories, it's still creamy and cold, bursting with those coconut and pineapple juices you love.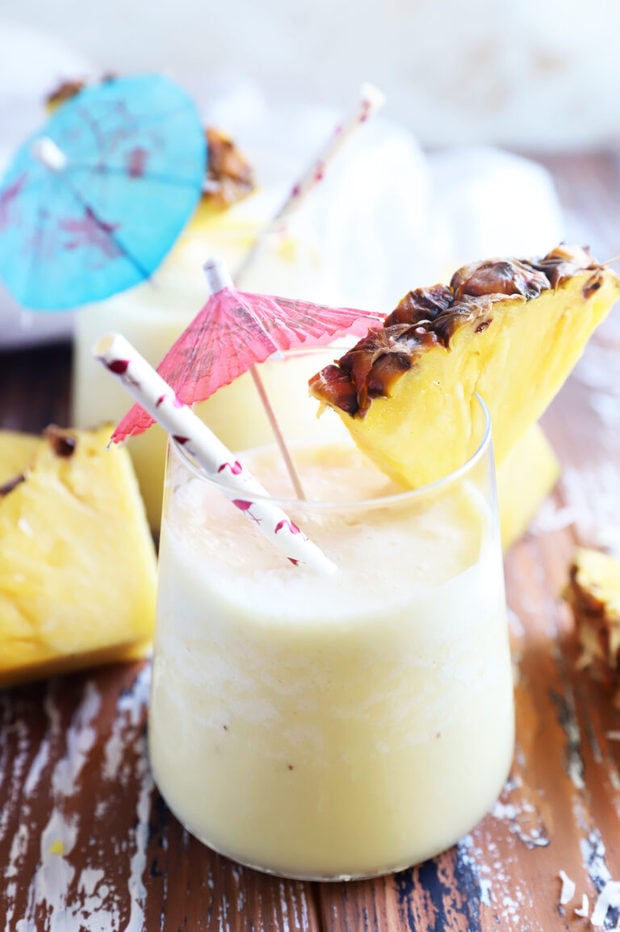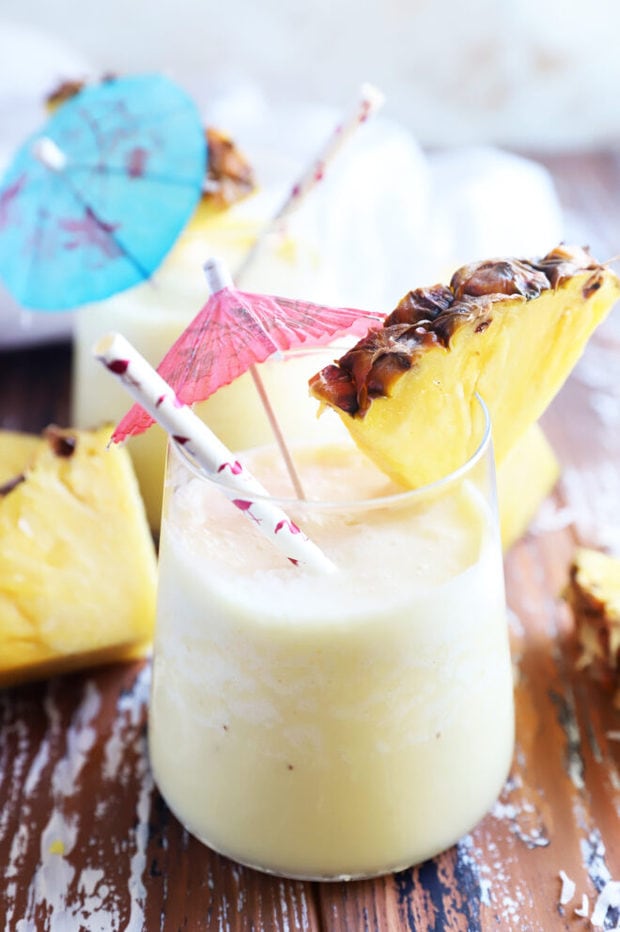 You'll feel like you're on a tropical island far far away, even if in reality you are just on the back porch.
Soak up the sun in that bathing suit anyway! We might not all be lucky enough to have access to a pool, but that doesn't mean my back patio won't do the trick. I'm just so glad that we redid the back patio with new concrete recently. It's the ideal place to lounge for me and our smelly furry pup LOL.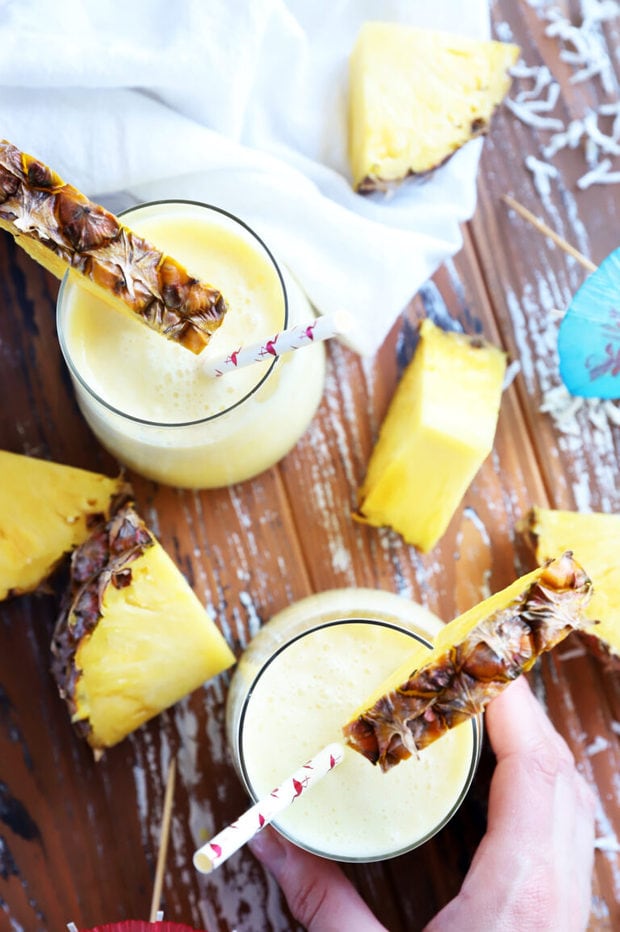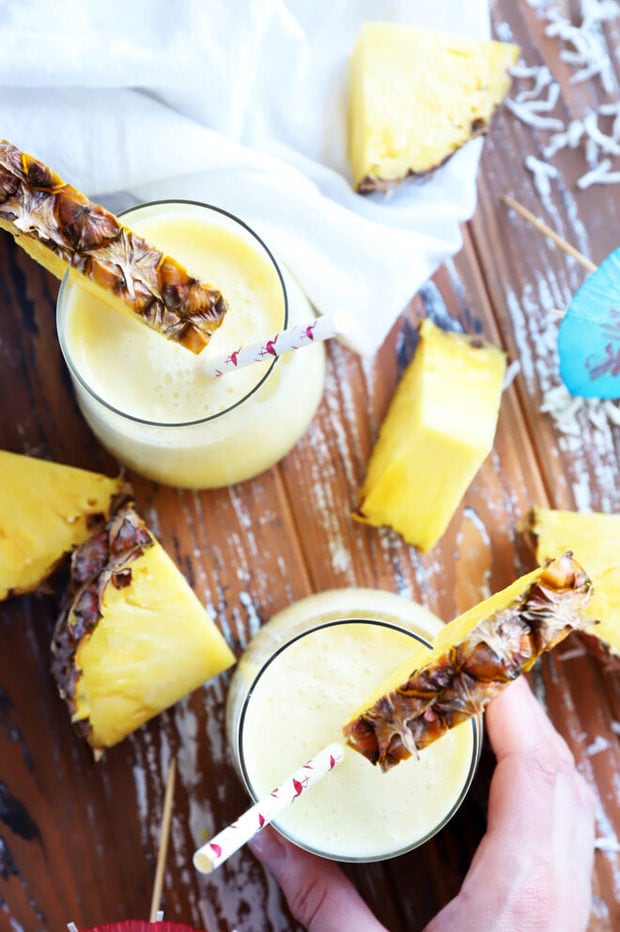 What makes this piña colada skinny?
The reason this piña colada is considered "skinny" is because it doesn't have the coconut cream that most piña coladas do! Instead, it's made with light coconut milk, fresh pineapple and fresh pineapple juice along with coconut rum. You get that perfectly balanced flavor that is in the traditional cocktail, but without all the calories.
The only question is will you be sipping this on the back patio or by the pool on a lazy summer afternoon? For me, it's all about a lounge chair and the back patio! Honestly, as long as the sun's out, what more do you need?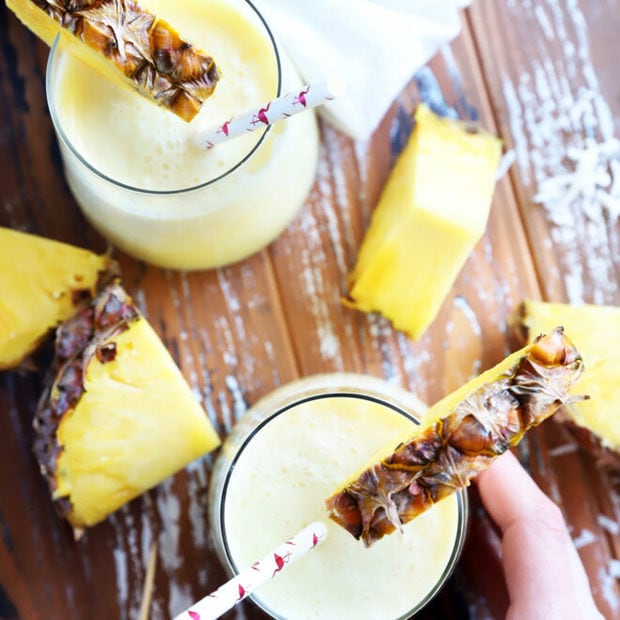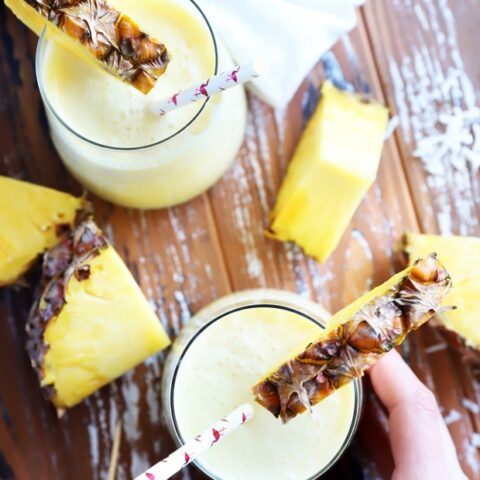 Skinny Piña Colada
All the flavor you love from piña coladas, lightened up just enough to get rid of the guilt.
Ingredients
1 1/2 oz Malibu rum
1/4 cup light coconut milk
1/4 cup fresh pineapple juice
1/2 cup fresh pineapple, cut into chunks
1 cup ice
Instructions
Combine all ingredients into a blender and blend until smooth.
Serve in a tall glass with a straw and tropical paper umbrella!
Recommended Products
As an Amazon Associate and member of other affiliate programs, I earn from qualifying purchases.