Please note this post contains affiliate links.
Beat the summer heat with a delicious Skinny Pina Colada. Our healthy recipe swaps out traditional ingredients for healthier alternatives to keep you cool and satisfied. Make it today and sip away!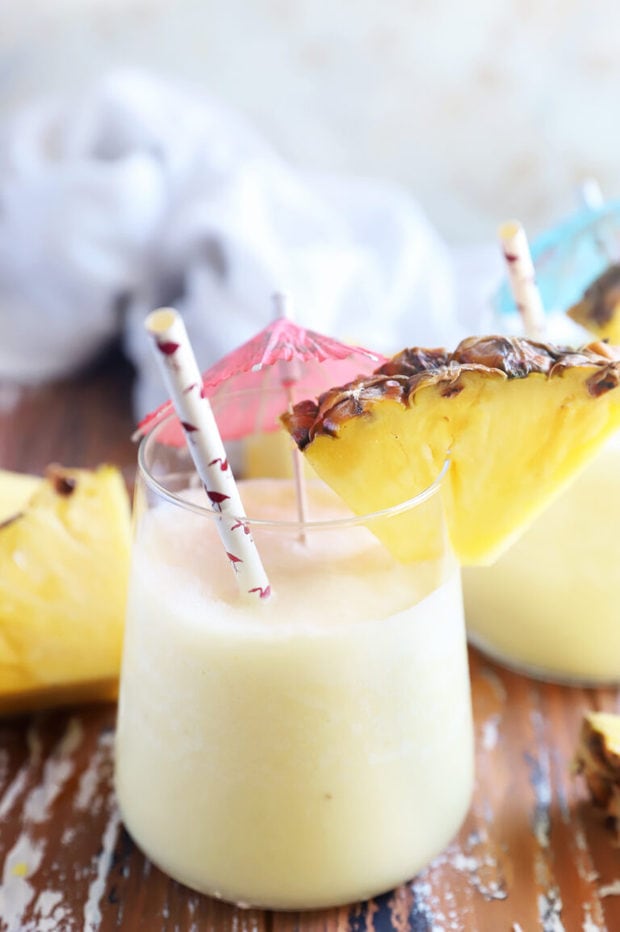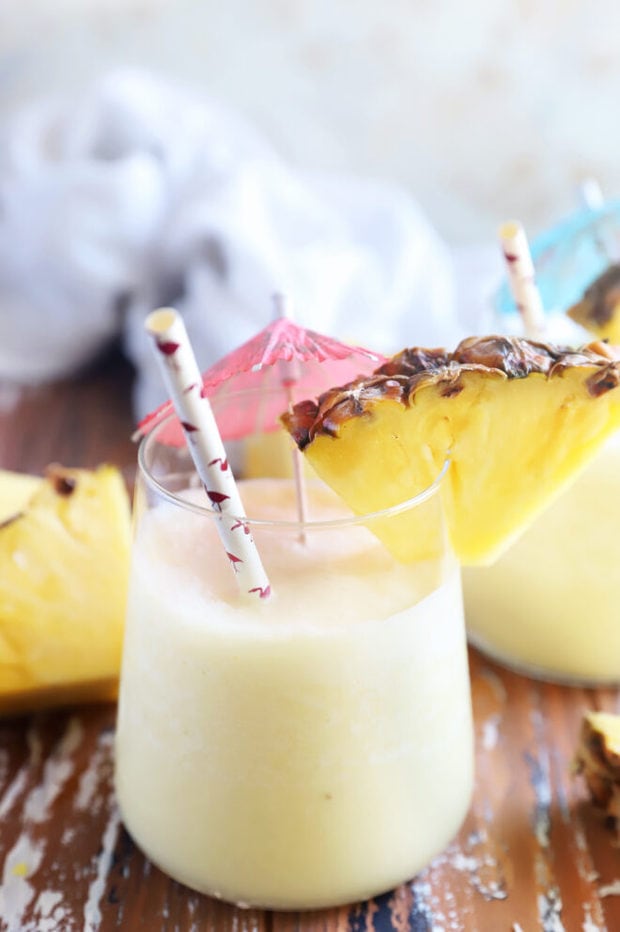 about this skinny piña colada
If I could live off of one cocktail for the rest of my life, it would be a piña colada. I literally had one every single day when I went to Mexico for the first time in my life.
The tropical pineapple and coconut flavors just scream kicking back on the beach, getting tan (or in my case sunburned) and watching the tide roll in.
It was so lovely to roll out of bed in the morning (very late in the morning of course – it was vacation after all!), and get one of those creamy, cold drinks in the morning as I walked down to the breakfast buffet.
Hey, it was vacation AND an all-inclusive hotel. I do what I WANT.
Of course the coconut cream typically included in the drink isn't the most friendly to my waistline.
So I've lightened things up with light coconut milk in this skinny piña colada!
The bonus was finding these tiki mask glasses to serve them in – how fun are they?!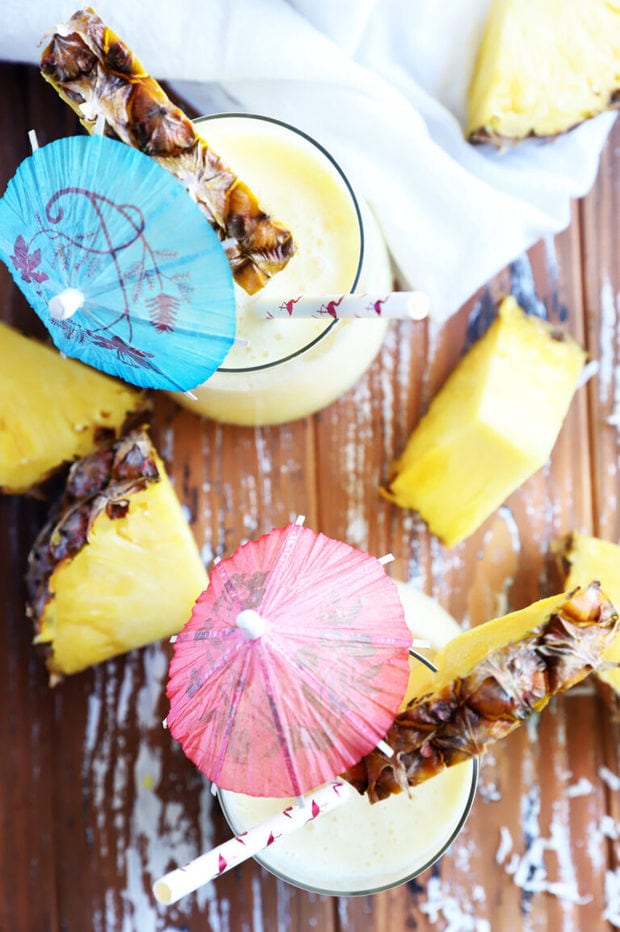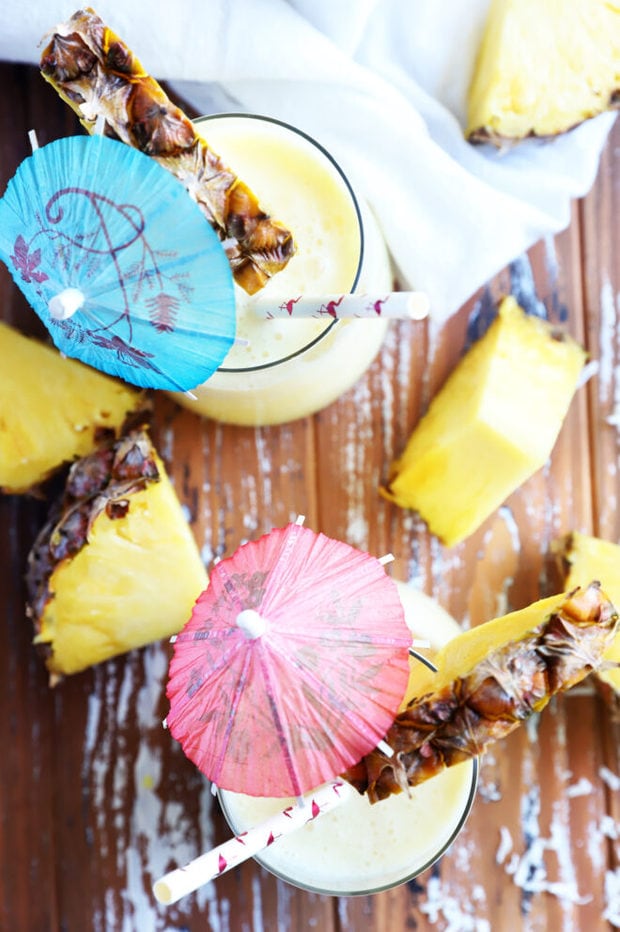 I love to make these in the summer because it helps you not feel bloated when you sit by the pool, but you still get all the tropical flavor that you could ever want.
Though it has a few less calories, it's still creamy and cold, bursting with those coconut and pineapple juices you love.
You'll feel like you're on a tropical island far far away, even if in reality you are just on the back porch.
Soak up the sun in that bathing suit anyway! We might not all be lucky enough to have access to a pool, but that doesn't mean my back patio won't do the trick. I'm just so glad that we redid the back patio with new concrete recently. It's the ideal place to lounge for me and our smelly furry pup LOL.
Note: this post is updated from the original version posted on June 11, 2015.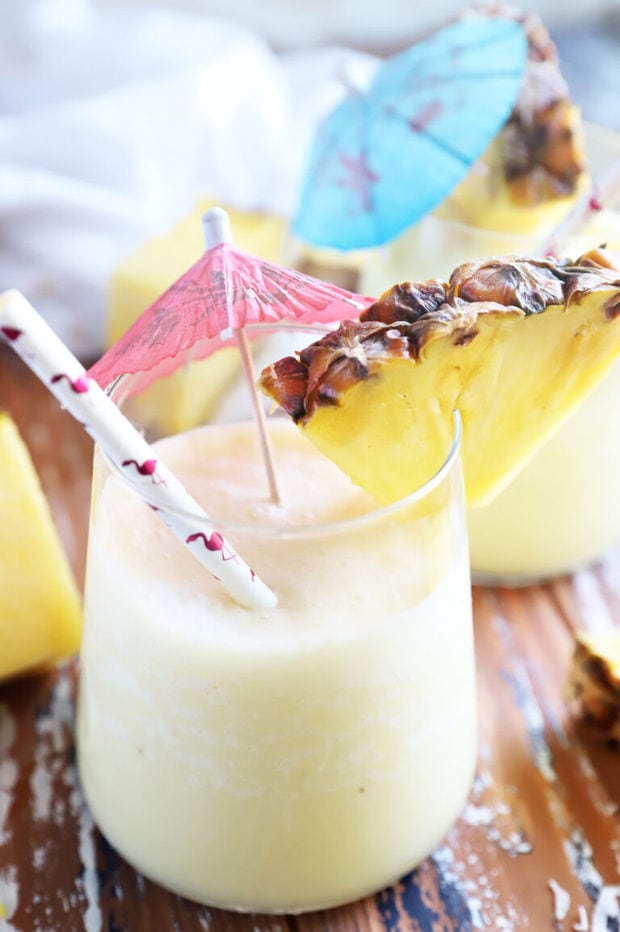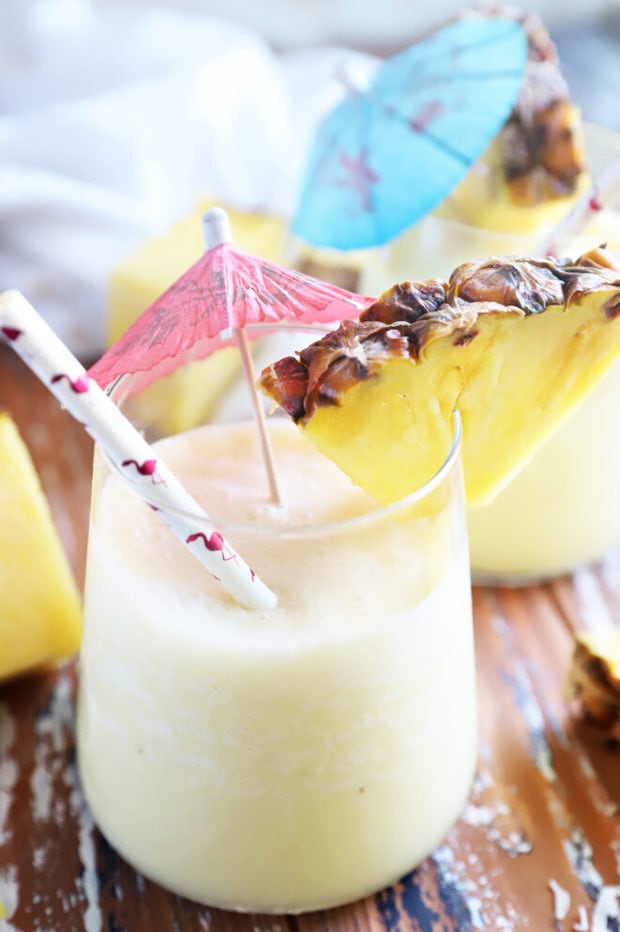 ingredients
rum. To get the best flavor possible in this skinny piña colada, you'll want to use coconut rum! I like to use Malibu rum, but you can use any brand you like.
coconut milk. Use light coconut milk to lighten up the calories in this blended drink! If you really want to cut the calories more you can use coconut water. However I find that this means you lack the creamy element of the drink so it's not worth cutting.
pineapple juice. Be sure that you get 100% pineapple juice! You won't need to worry about juicing the pineapple yourself, haha.
pineapple. Fresh pineapple is key here! You can use frozen pineapple as well, but I find that the texture of the fresh pineapple is much better when blended.
ice. You will need 1 cup of ice, so make sure your ice maker isn't empty when you go to make this recipe.
Looking for more tropical inspired cocktails? Here are some more to try: Spicy Mango Margarita | Orange Dreamsicle | Tequila Sunrise Champagne Punch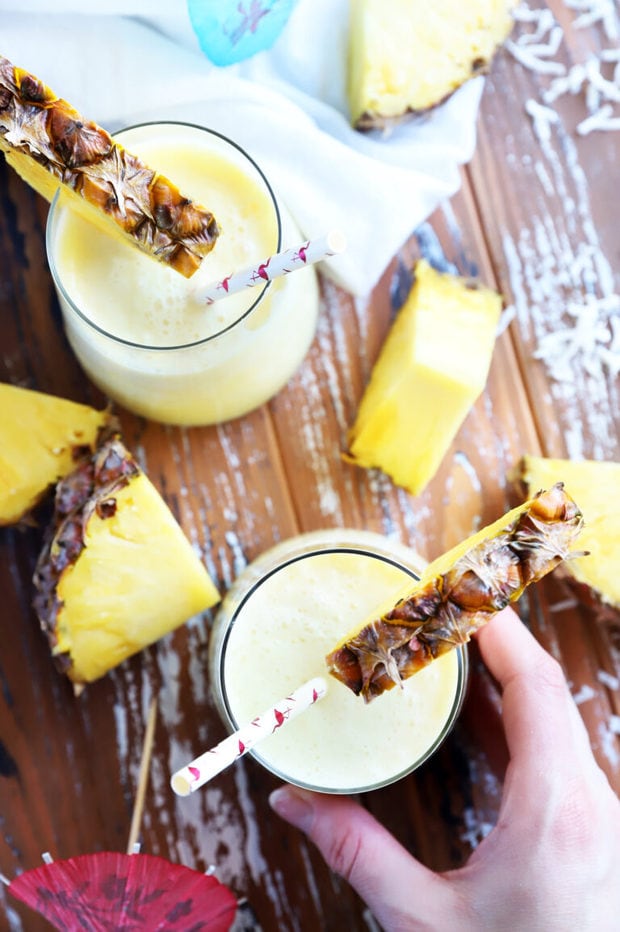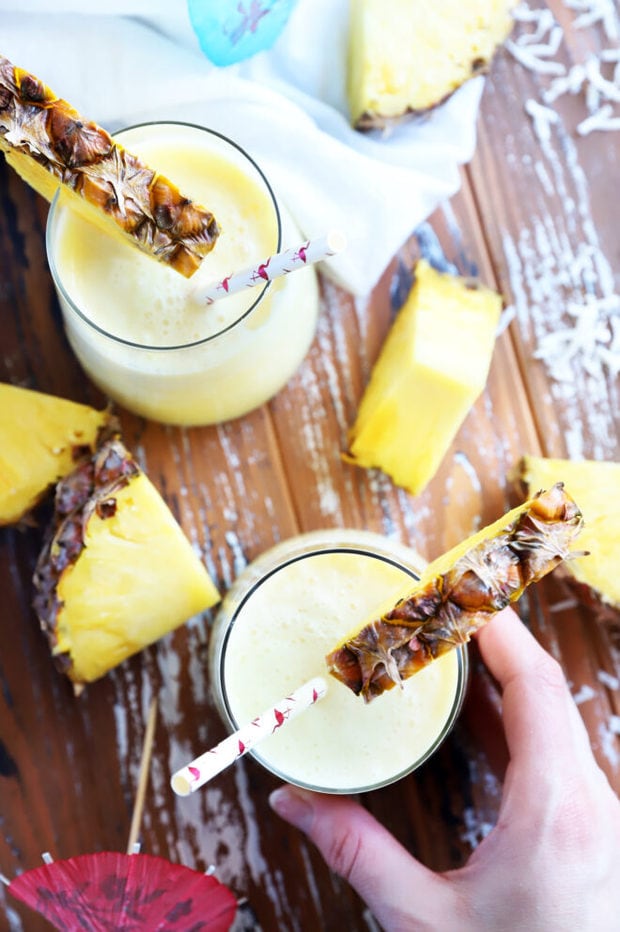 this recipe's must-haves
All you need to whip up this recipe is a blender! You'll also need measuring cups and a jigger to measure out the ingredients for the recipe.
here's how to make a skinny piña colada
blend it up
All you have to do is throw all the ingredients into a blender (like a Vitamix) and blend until smooth! Then you can drink it all down. This makes it super easy to make, but also easy to double, triple, or quadruple the recipe for a party!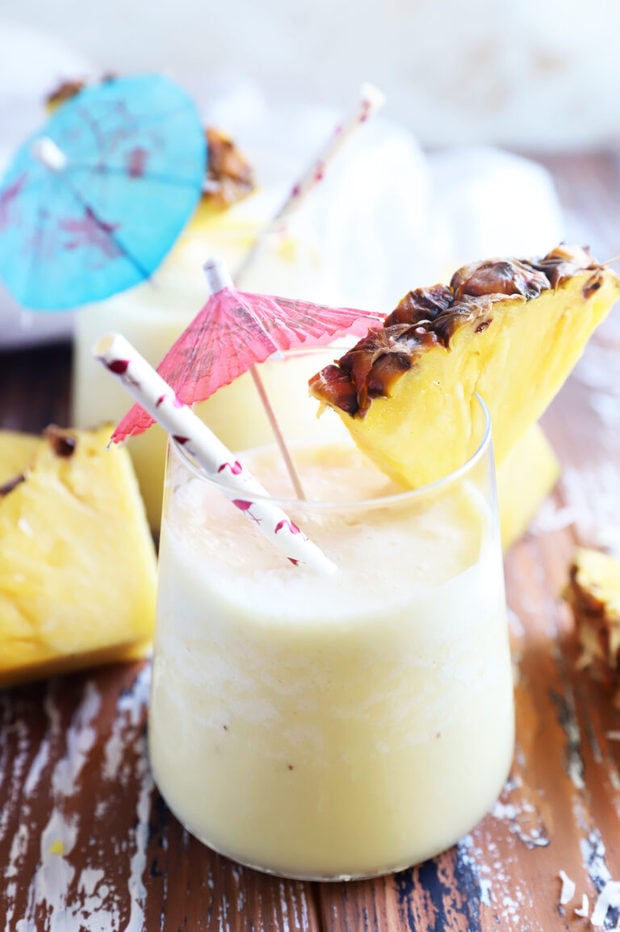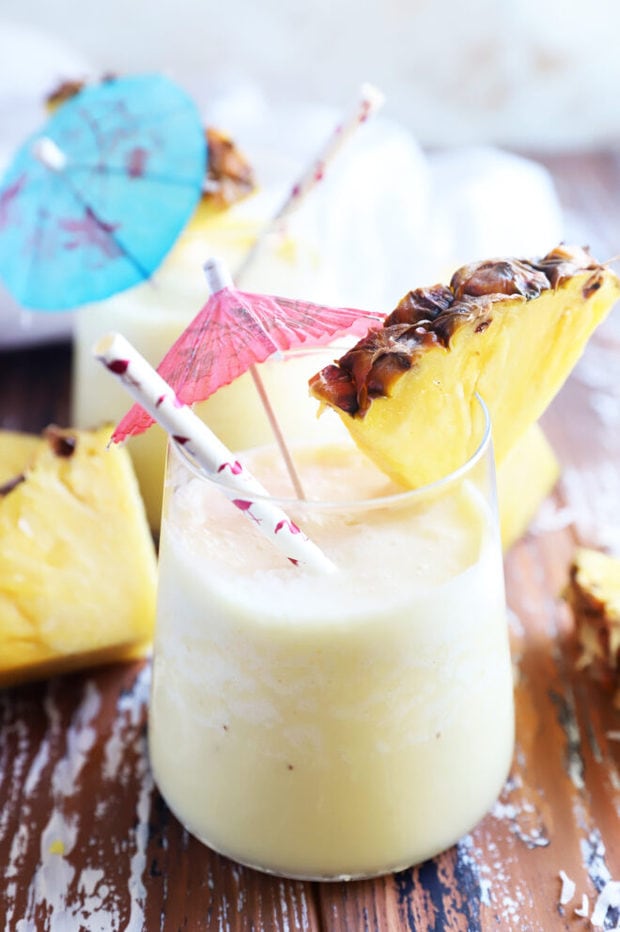 what makes this piña colada skinny?
The reason this piña colada is considered "skinny" is because it doesn't have the coconut cream that most piña coladas do! Instead, it's made with light coconut milk, fresh pineapple and fresh pineapple juice along with coconut rum. You get that perfectly balanced flavor that is in the traditional cocktail, but without all the calories.
The only question is will you be sipping this on the back patio or by the pool on a lazy summer afternoon? For me, it's all about a lounge chair and the back patio! Honestly, as long as the sun's out, what more do you need?
Need more inspiration for cocktail hour? Check out my cocktail recipes page!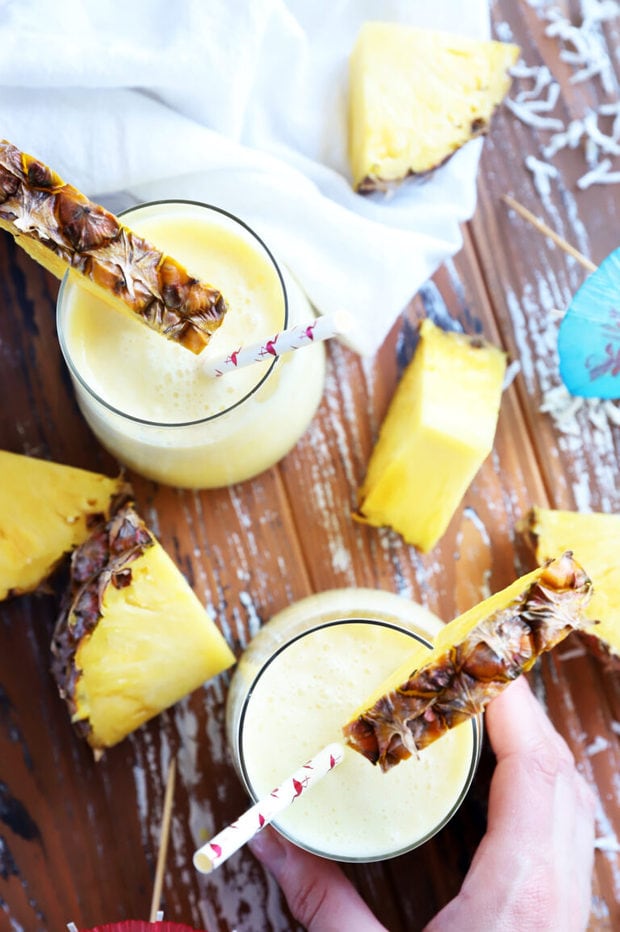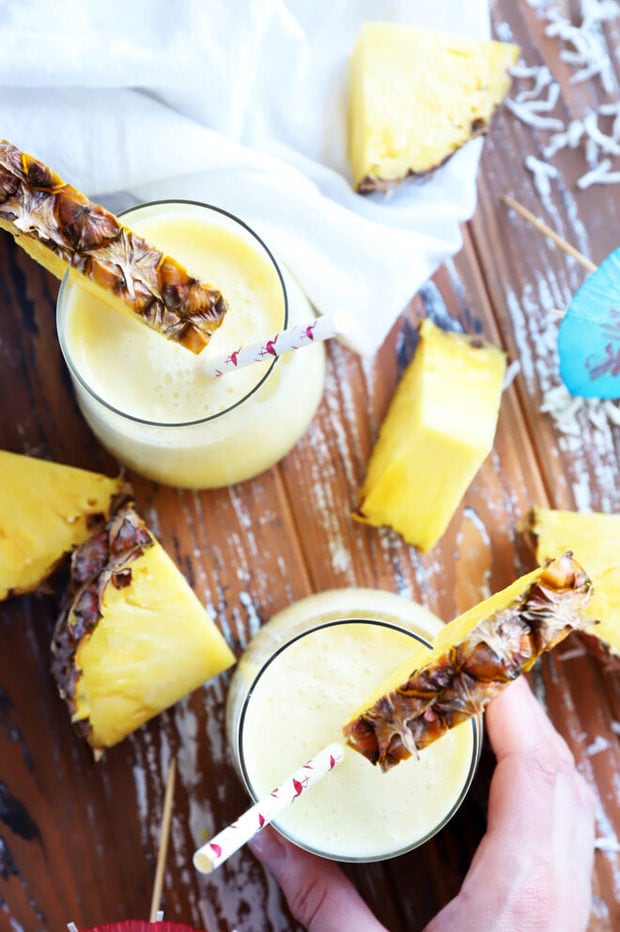 Finally, if you make this skinny piña colada recipe, please be sure to give this recipe a rating or leave a comment! I love to hear when you all make recipes, and I do take the time to respond to every single comment. Feel free to drop questions below too, if you have them!
Oh and be sure to tag me on Instagram if you make the recipe! I love being able to see these recipes come to life in your homes – it's my favorite thing to look through those photos. It really means the world to me!
everyday seasonal cookbook
With seasonal produce guides, recipes, and more, this cookbook is filled with seasonal food for every occasion.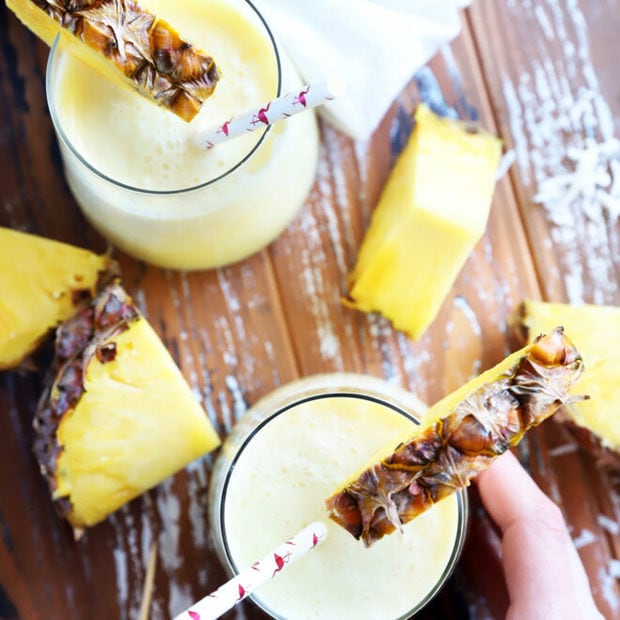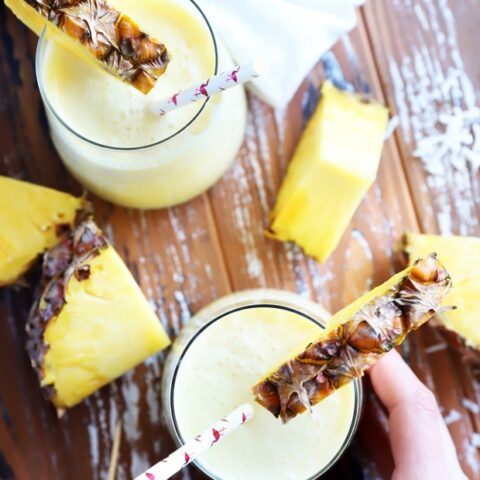 Skinny Piña Colada
All the flavor you love from piña coladas, lightened up just enough to get rid of the guilt.
Ingredients
1 1/2 oz Malibu rum
1/4 cup light coconut milk
1/4 cup fresh pineapple juice
1/2 cup fresh pineapple, cut into chunks
1 cup ice
Instructions
Combine all ingredients into a blender and blend until smooth.
Serve in a tall glass with a straw and tropical paper umbrella!
Recommended Products
As an Amazon Associate and member of other affiliate programs, I earn from qualifying purchases.