Please note this post contains affiliate links.
Double Chocolate Chip Raspberry Waffles are the OMFG breakfast you've been waiting for. When you stack fluffy chocolate chip and chocolate chocolate chip waffles together, it's an explosion of sweet bliss in every bite. Douse it all in a heaping helping of smashed raspberry compote and chocolate sauce; then sprinkle on the powdered sugar. Jaws will be hitting the floor in no time.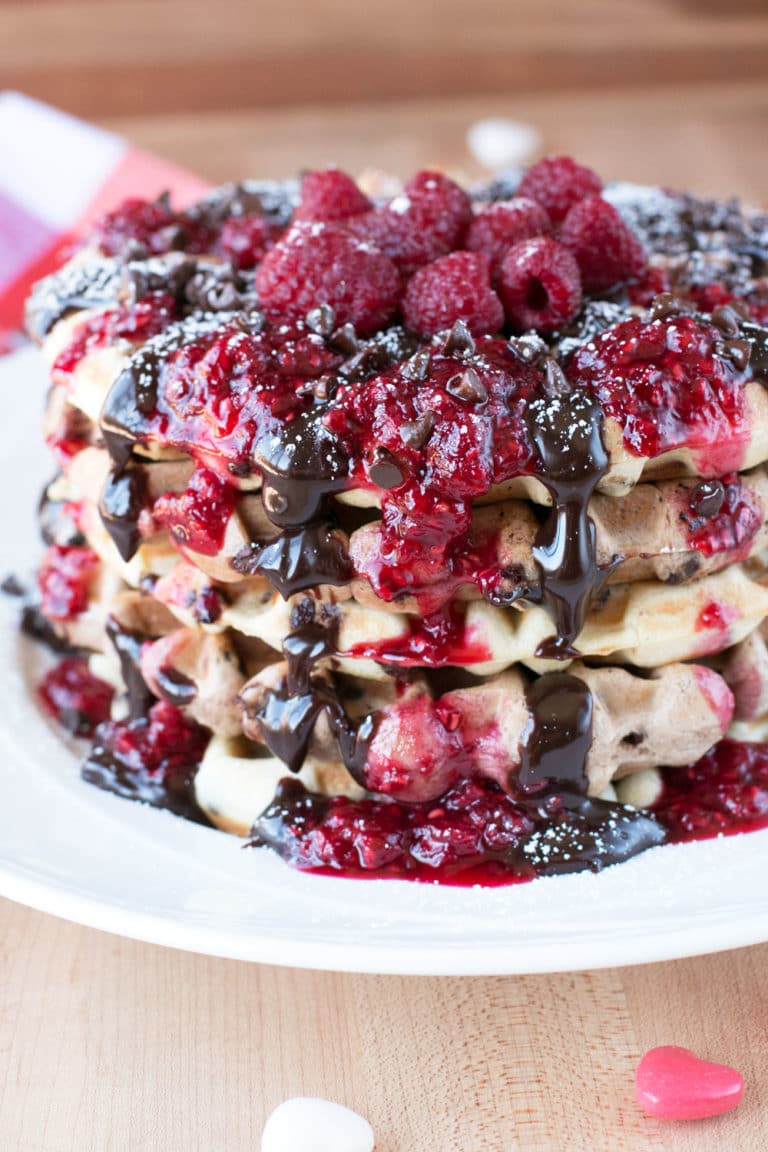 Be mindful, all yee who enter here… for there is no hope of dieting in this place.
EVER.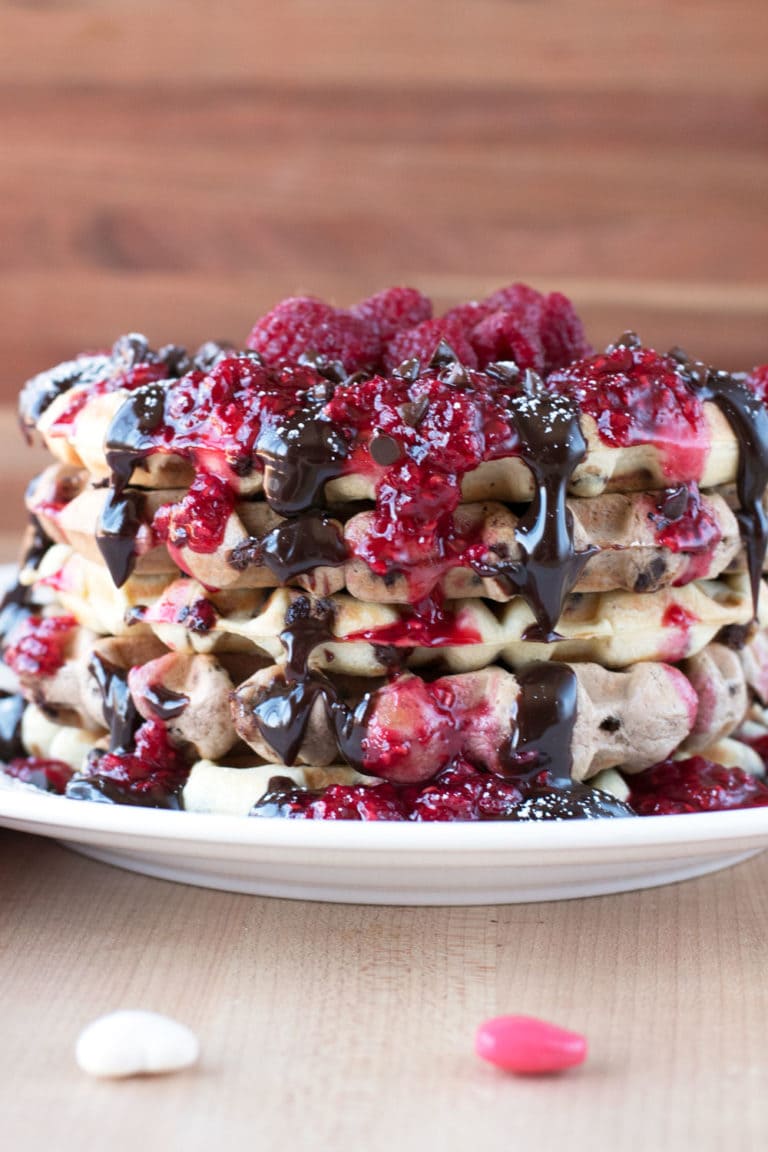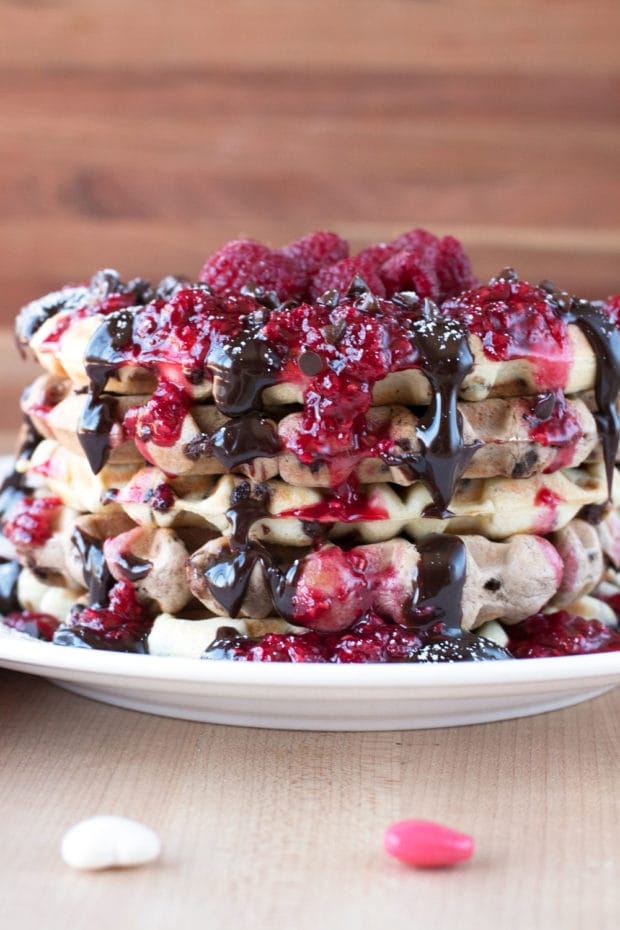 I'm getting a little dramatic with my introductions this week aren't I? I suppose I'm in a bit of a mood with all the running around, hustling and stressing I've been doing this week. All I know is kitchen dance parties, puppy snuggles and plenty of chocolate are the things keeping my brain somewhat sane.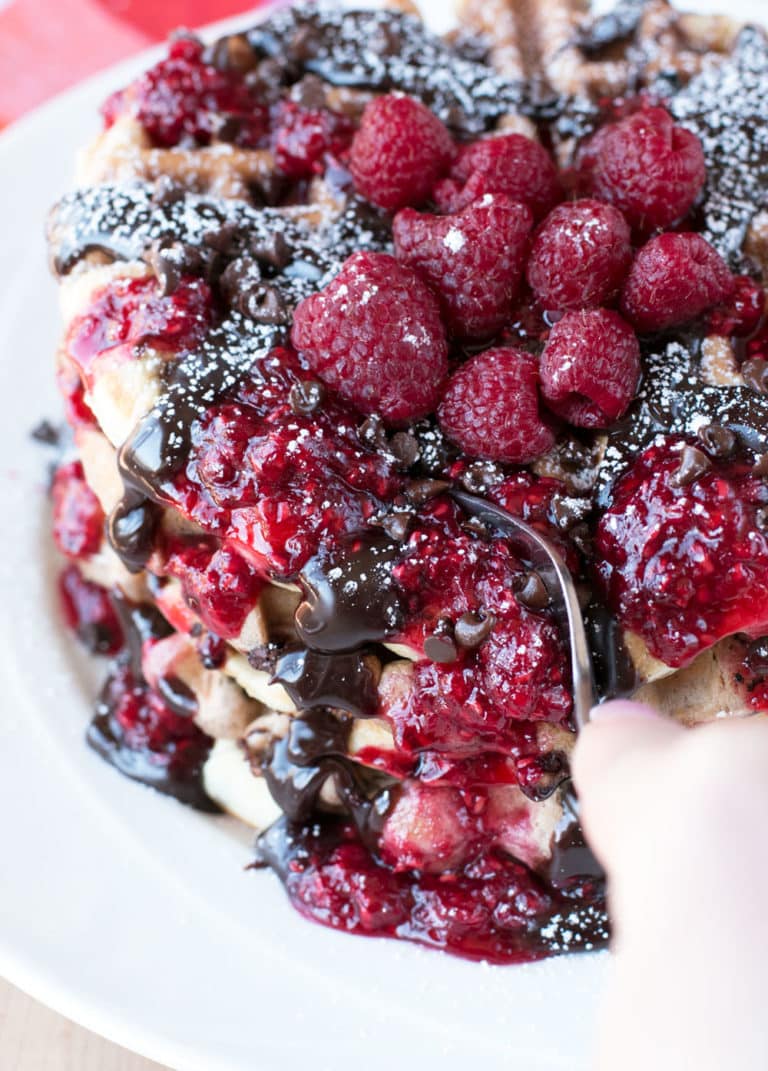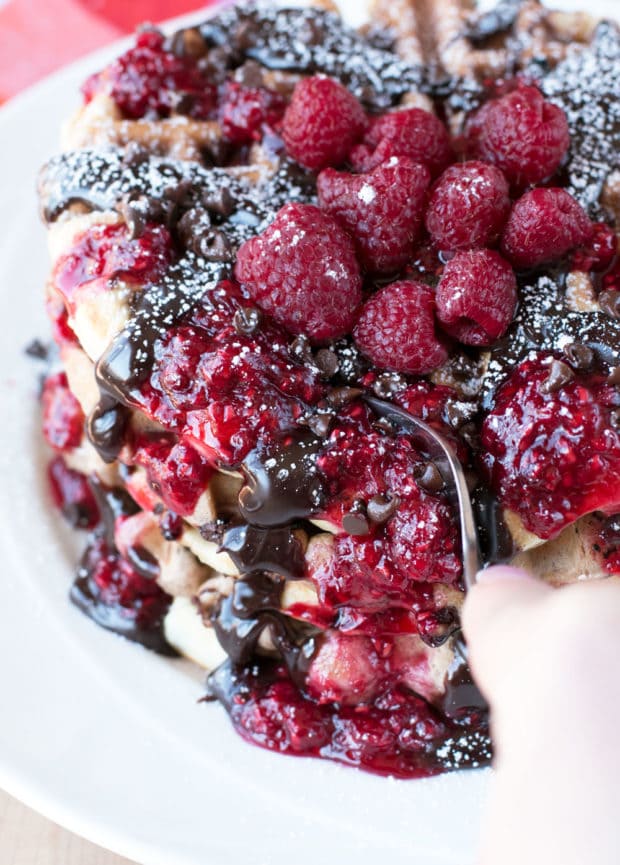 Does anyone else out there have kitchen dance parties? I swear, sometimes it feels like I am the only one who does it. Someone please tell me you like to bounce around like a maniac while stirring a pasta sauce or baking up some cookies…
These double chocolate chip raspberry waffles will put you in a dancing mood, even if you absolutely hate dancing.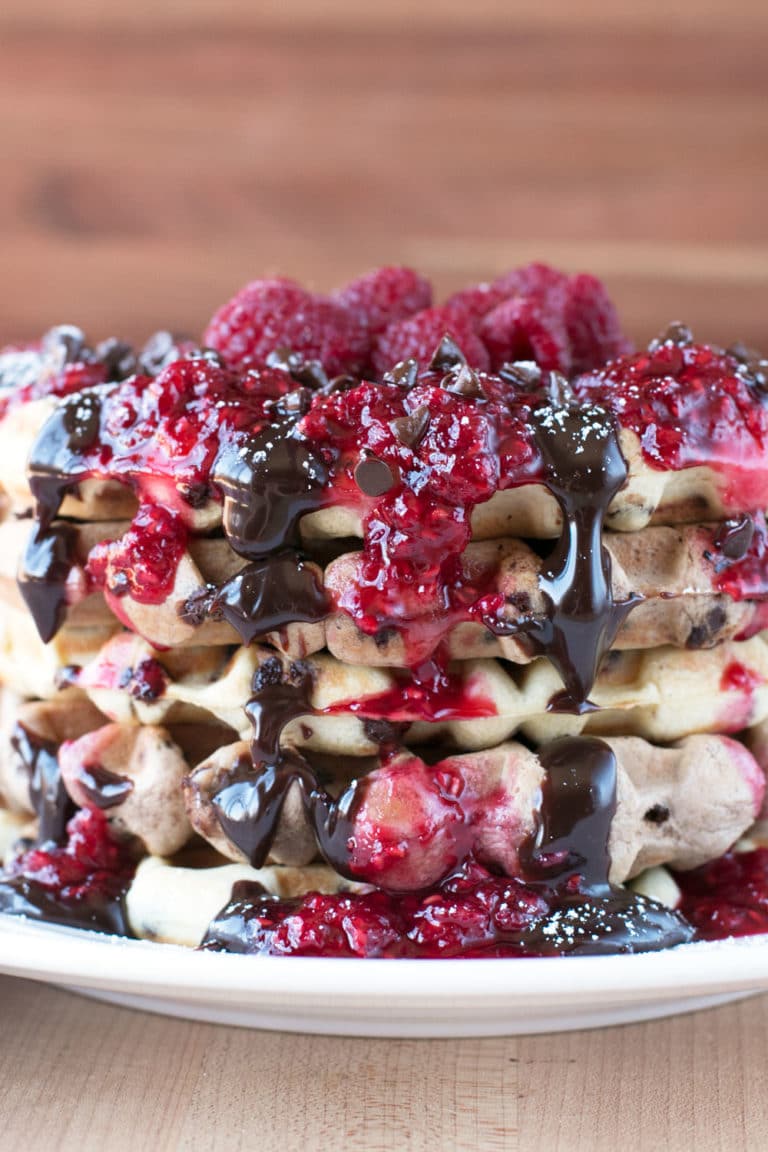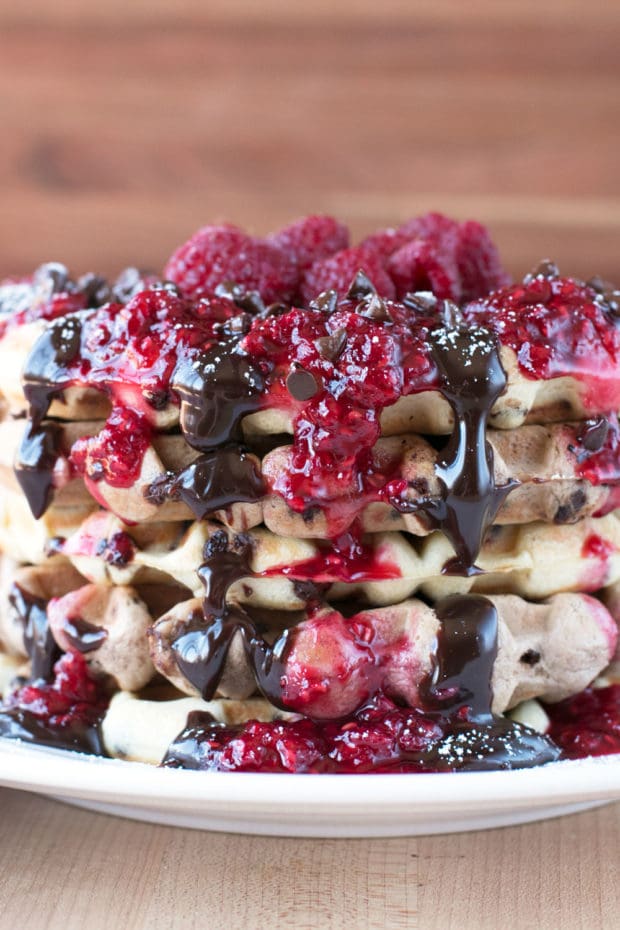 Instead of just handing you one kind of waffle, I'm giving you two (that's right, TWO) kinds today! Chocolate chip and chocolate chocolate chip waffles! That's double the amount of chocolate and double the amount of sweet goodness to start your day off with. The waffles come out all fluffy and perfectly golden, but then you top them off with some of my famous smashed raspberry compote and chocolate sauce. A sprinkle of chocolate chips and a flurry of powdered sugar later, you'll have a stack of indulgence that you will be (quite literally) drooling over.
It's sweet, it's tart, it's layered, and it's the one breakfast that'll make anyone's jaw slam down on the ground.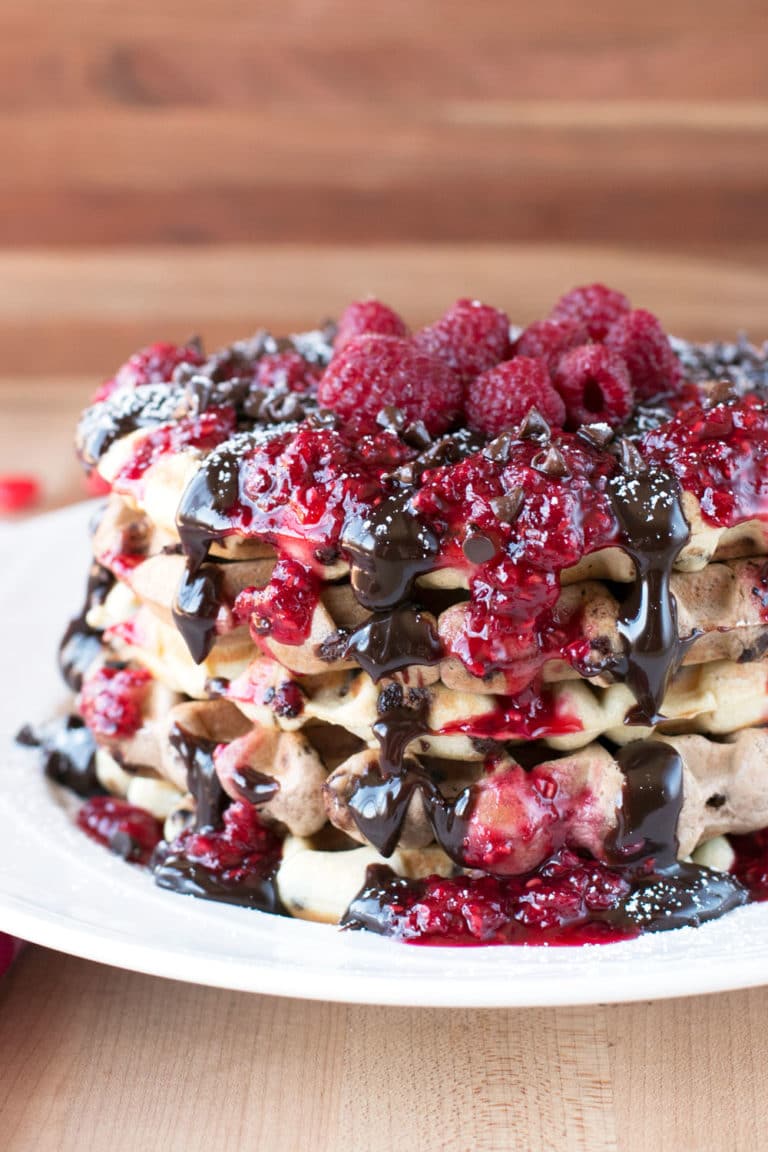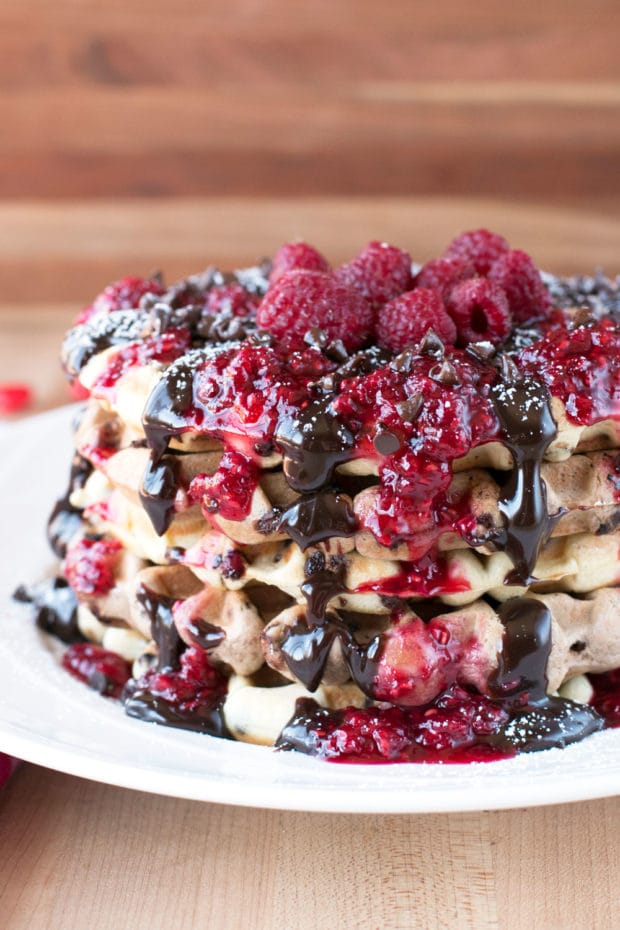 Which is good because they'll need as much room as possible to shovel all this breakfast magic into their faces.
This Recipe's Must-Haves
Obviously you will need a Waffle Iron to make these tasty waffles!
You will also need a couple of your mixing bowls to mix up the batter for the two types of waffles.
Finally, this Powdered Sugar Wand is my FAVORITE way to get that perfect powdered sugar toppings. YUM.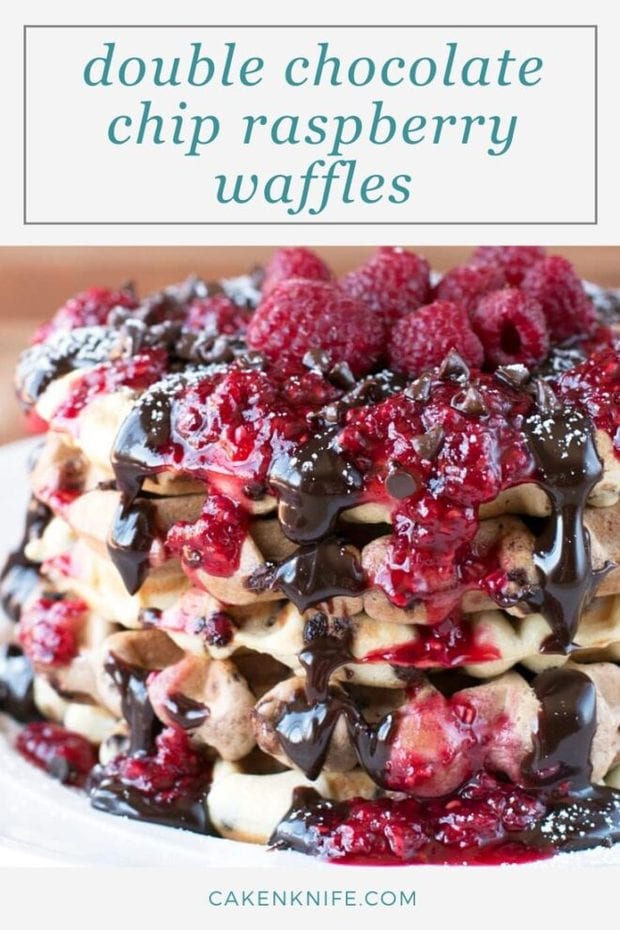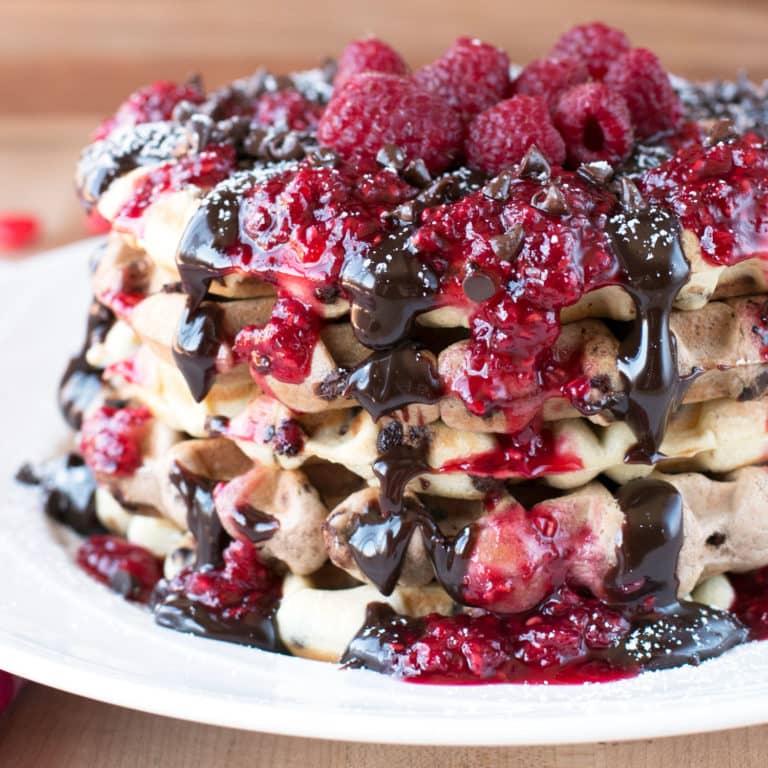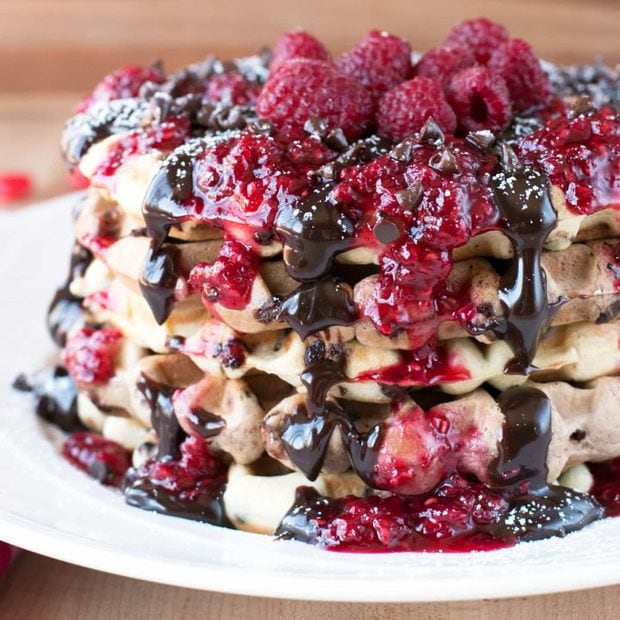 Double Chocolate Chip Raspberry Waffles
Double the chocolate and top it all off with some smashed raspberry compote - now this is what I call a real breakfast.
Ingredients
2 cups all-purpose flour
1 Tbsp baking powder
1/4 tsp salt
3 Tbsp sugar
3 large eggs
1 cup milk
3 Tbsp unsalted butter, melted
3 Tbsp vegetable shortening, melted
1/2 tsp vanilla extract
2/3 cup mini chocolate chips
1 Tbsp unsweetened cocoa powder
Cooking spray
Smashed Raspberry Compote
Fresh raspberries
Chocolate sauce (or if you want to be extra indulgent, hot fudge sauce!)
Instructions
Whisk together flour, baking powder, salt, and sugar in a medium bowl. Set aside.
In a separate medium bowl, whisk together eggs, milk and vanilla. Whisk egg mixture into flour mixture until combined. Whisk in melted butter and shortening.
Fold in chocolate chips.
Preheat a waffle iron and spray with cooking spray. Add 1/2 cup to 2/3 cup of batter to the waffle iron to create your first waffle. Cook until golden brown.
When you've made it through half of the batter, stir in cocoa powder. Continue making waffles until all the batter has been used.
Divide the waffles between 2 plates, making sure both get both types of waffles. Drizzle over chocolate sauce, smashed raspberry compote and fresh raspberries. Serve immediately.