Raspberry Nutella Brie Waffle Sandwiches are just the over-the-top indulgent grilled cheese you need in your life. Sinfully rich and way too addictive, you won't be able to eat Nutella (or waffles) any other way again!
Oh hiiiiiiiiiiii guys… See something you like?
If you say no, get the heck back to work because this Friday fanciness obviously doesn't concern you.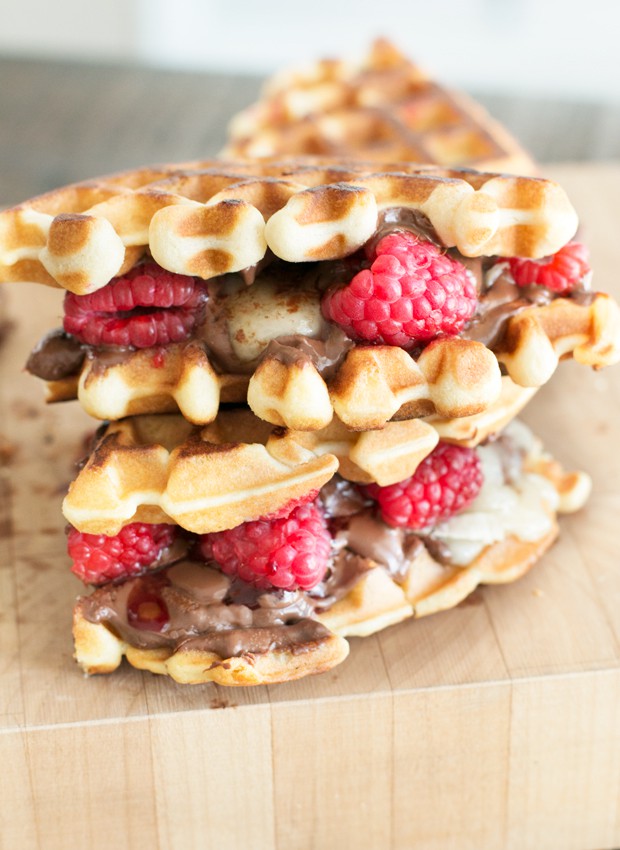 There was this one time I collaborated with my lovely Denver blogger friend, Chloe of Mile High & Hungry, and we decided it would be the best idea to make the most drool worthy food we could think of. That afternoon consisted of a lot of Nutella, waffles and fries (which are coming to the blog shortly so get excited for THAT one).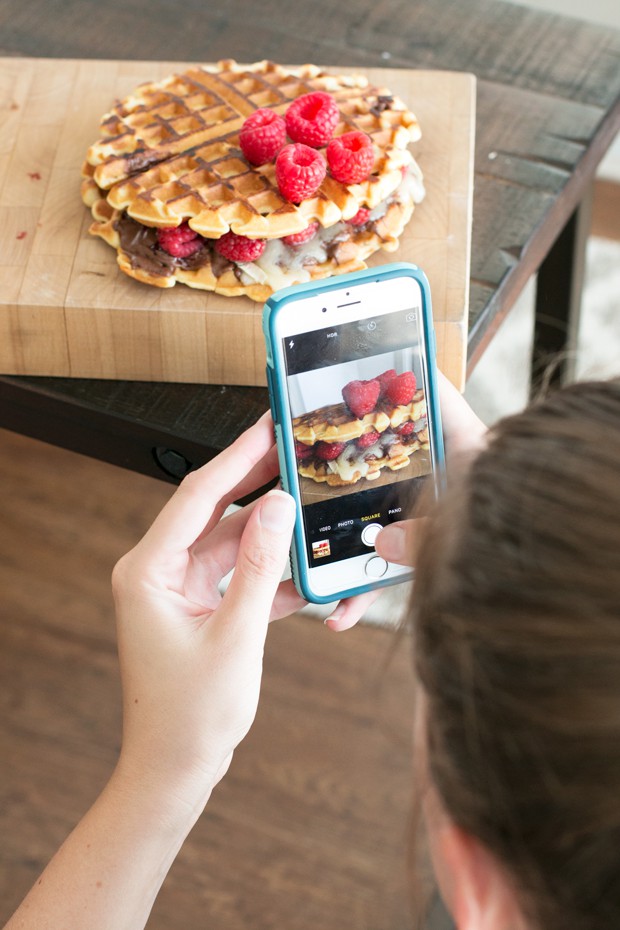 You know, sometimes I have these ideas pop in my head and I immediately shut them down for being too crazy or too decadent. This was not one of those times. When Chloe said "let's make some serious food porn," my mind was like "FINALLY ALL THE BAD THINGS WE WANT TO MAKE CAN BE MADE!"
I give you the best grilled cheese sandwich you'll ever sink your teeth into – and it can also technically be considered a dessert.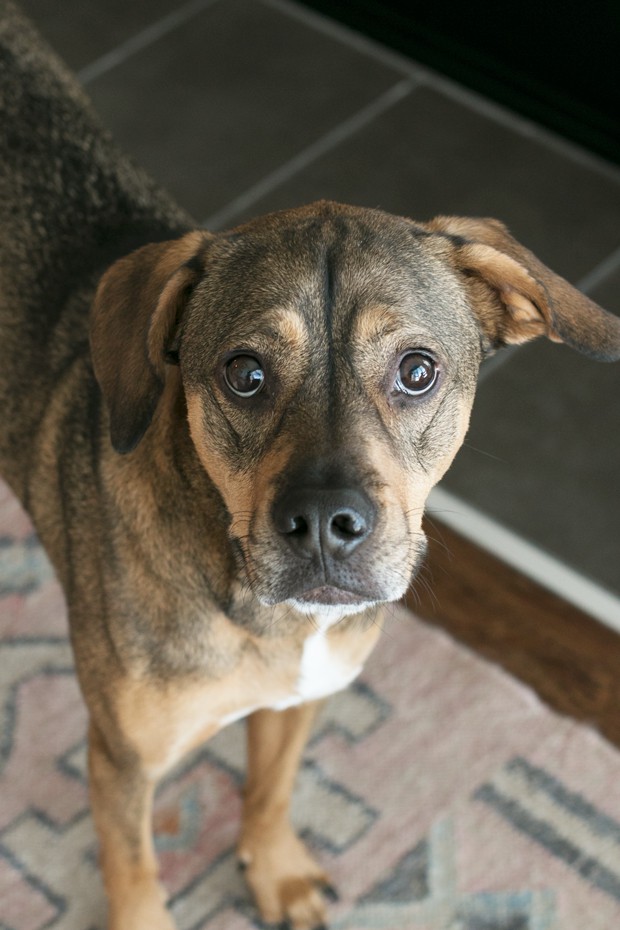 My sweet tooth was the happiest it's ever been when I shoveled this bad boy into my mouth. I definitely finished my entire portion in seconds, while Chloe being the smart woman she is slowly ate it as we cooked that afternoon. I seriously am the fat-kid foodie, you guys. #noshame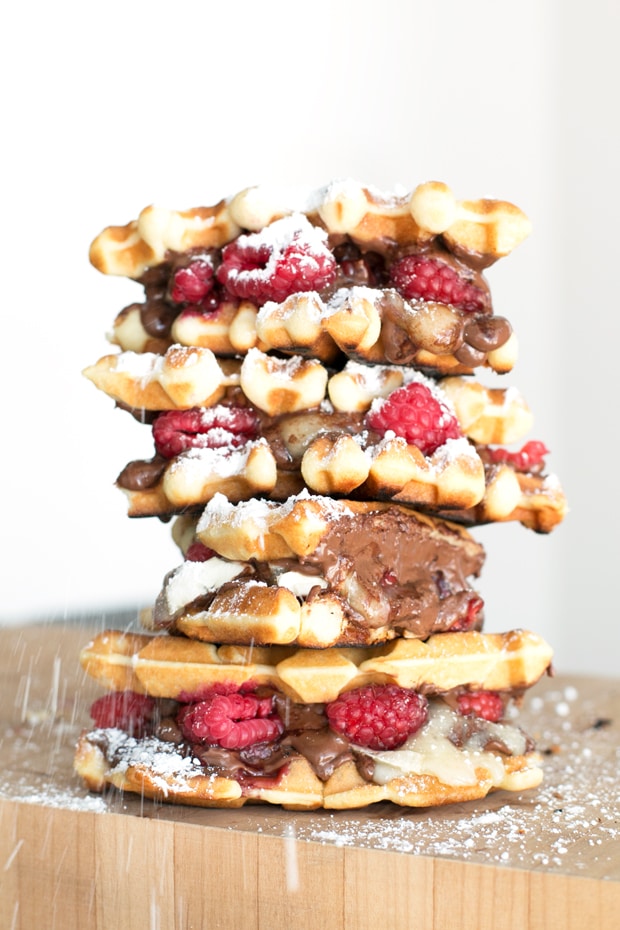 Looking at these pictures already has me dying for another round of these sandwiches. I think if I was stranded on a desert island with only these sandwiches, I would be 100% happy with that. It has all my favorite food groups – carbs, cheese, berries and Nutella (which is its own food group in my household, naturally).
Smash it all together and melt it down, then shower it with powdered sugar (ok this is a little too much, I know. You get a little carried away when you try to catch that perfect action shot sometimes…)!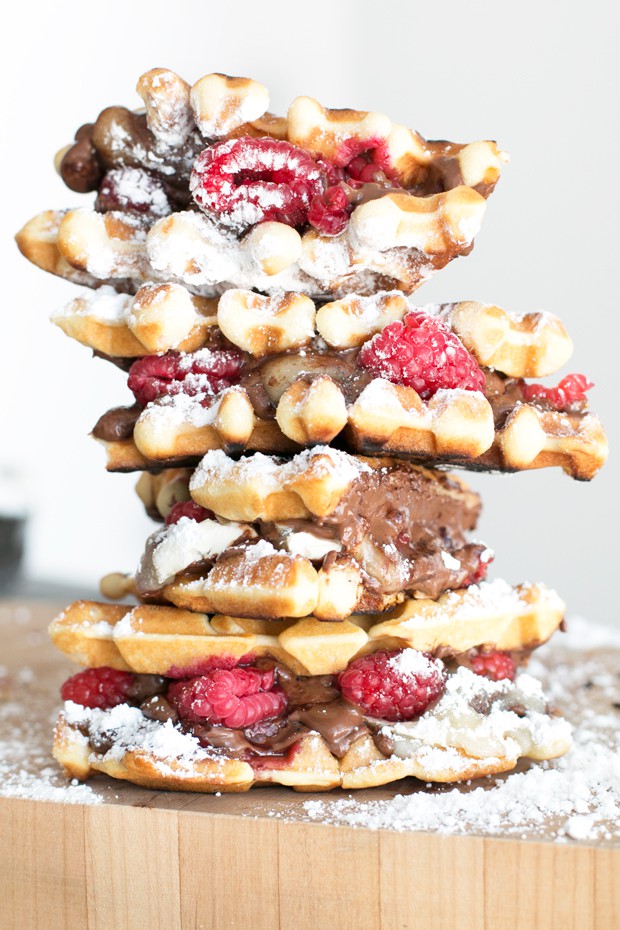 Food porn, drool worthy, all the magic foodie feelings. If you aren't licking the screen by now, I seriously don't know what's wrong with you.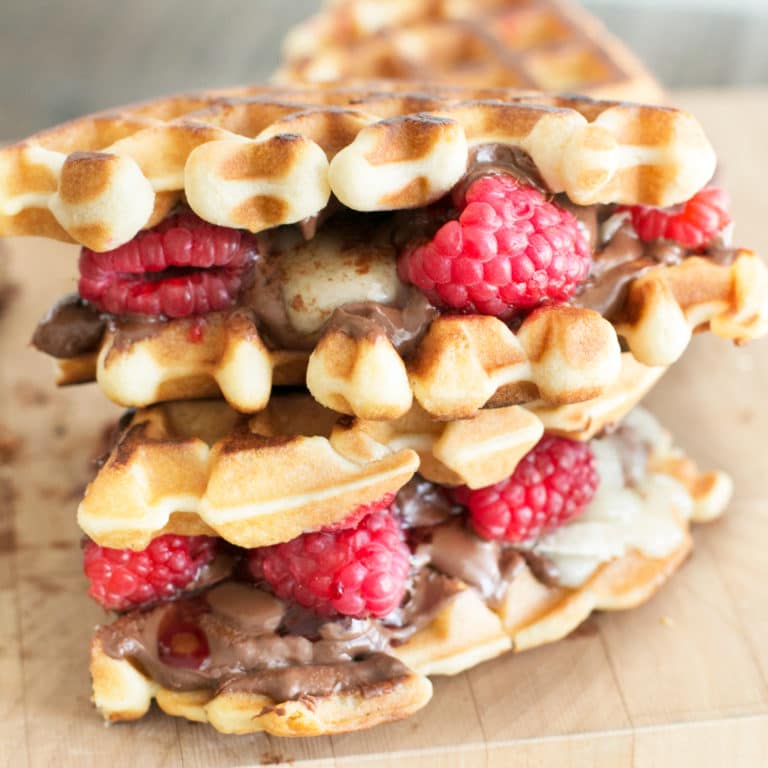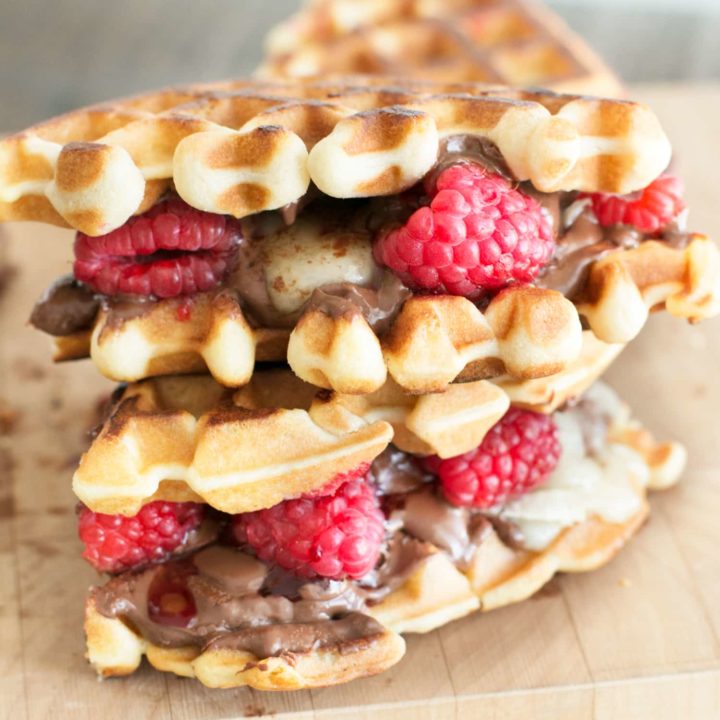 Raspberry Nutella Brie Waffle Sandwiches
Brie is the perfect cheese to use for this rich and fruity waffle sandwich!
Ingredients
4 oz raspberries
5 Tbsp Nutella
4 oz brie, sliced
Garnish: powdered sugar
Instructions
Assemble your grilled cheese by spreading both waffles with an even amount of Nutella.
Top one waffle with sliced brie, then add the raspberries. Top with the other waffle (Nutella side down).
Heat a medium skillet over medium-high heat. Add the waffle grilled cheese to the pan and cook until the cheese is melted, approximately 2 to 3 minutes per side.
Remove from pan. Cut in half and serve each half as its own sandwich (trust me, it's rich so this'll be PLENTY).