Thank you Castello Cheese for sponsoring this post. Enjoy this delicious recipe with your favorite Castello Cheese products today!
Jalapeño Chicken Havarti Mac and Cheese is a simple step up from the classic dish we all love. The result is a creamy, cheesy homemade mac and cheese with a little kick of spice. It's SO much better than the boxed kind! Serves 6.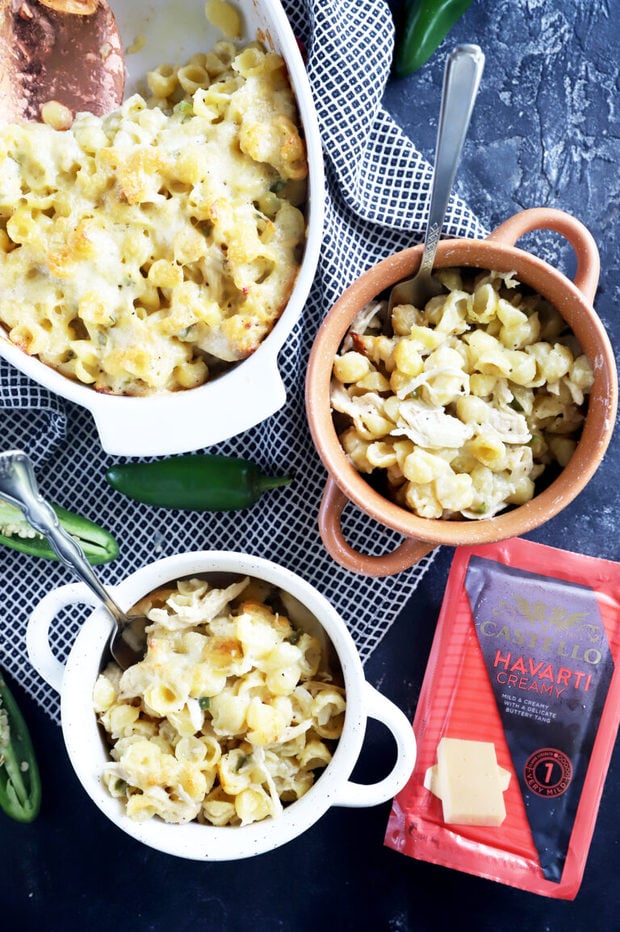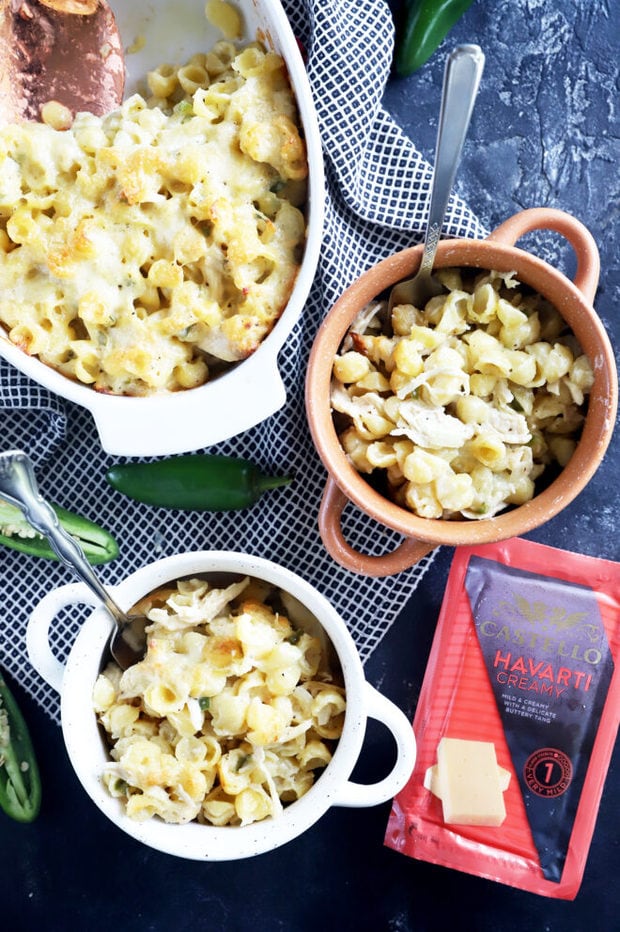 Mac and cheese is one of the Man's favorite dishes. I swear, he could eat mac and cheese for every meal of the day and never get tired of it.
Honestly, what's not to love about a creamy bowl of mac and cheese?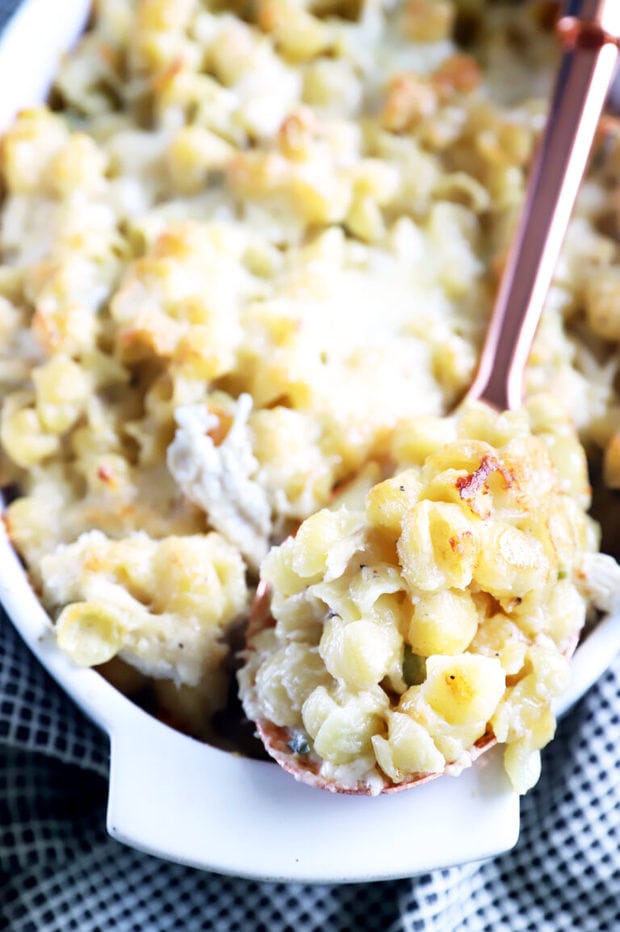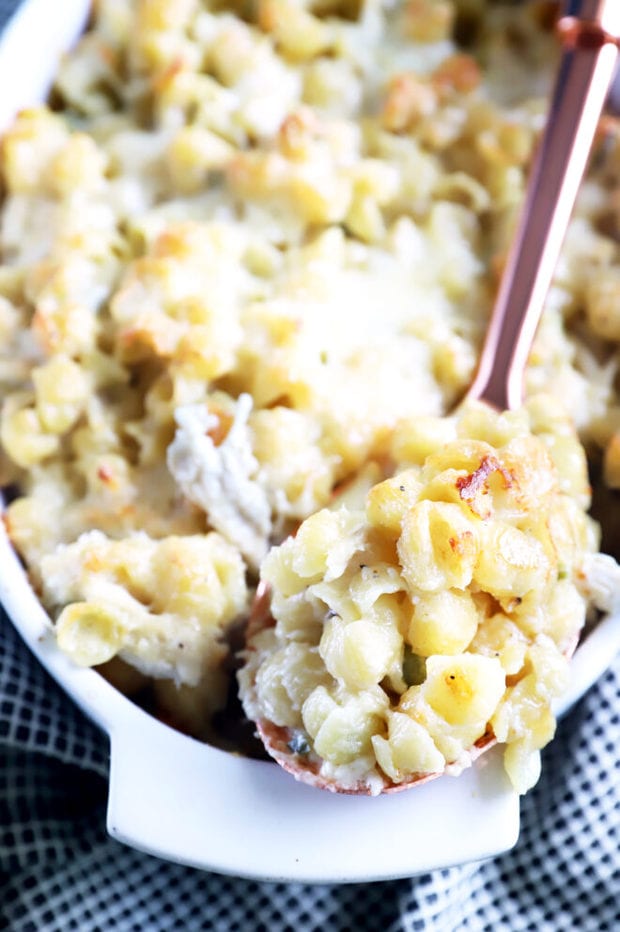 It's one of those foods that transports me straight back to childhood. You know the days when your mom would make you a big bowl and you would just sink into the comfort of CHEESE.
I remember when I was in college and had my first kitchen in a house I shared with a few girls. My grandma had given me a ton of old cookbooks and one of them had a mac and cheese made with a combination of white cheeses.
I had only grown up with yellow cheeses (cheddar and the like), so let me tell you, my mind was completely blown with these new flavors.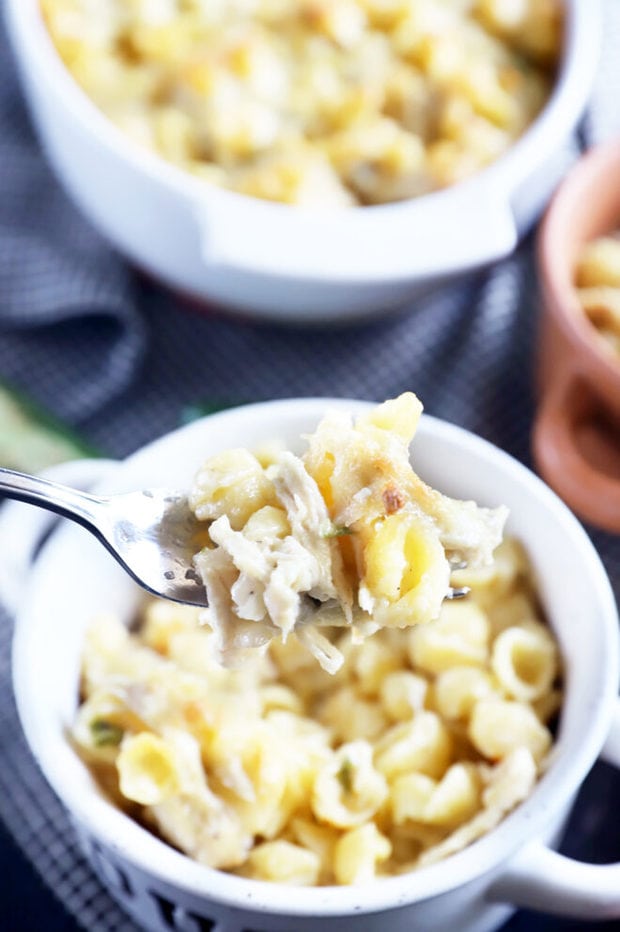 This particular recipe is my grown-up take featuring one of my favorite cheeses – Havarti.
Castello Creamy Havarti is a mild cheese with a hint of tanginess, which really elevates the mac and cheese. It just so happens to be a killer flavor pairing for the chicken and jalapeño! It's a cheese that I usually eat on crackers since it's so creamy and still sliceable, but it can be grated for dishes like this one as well.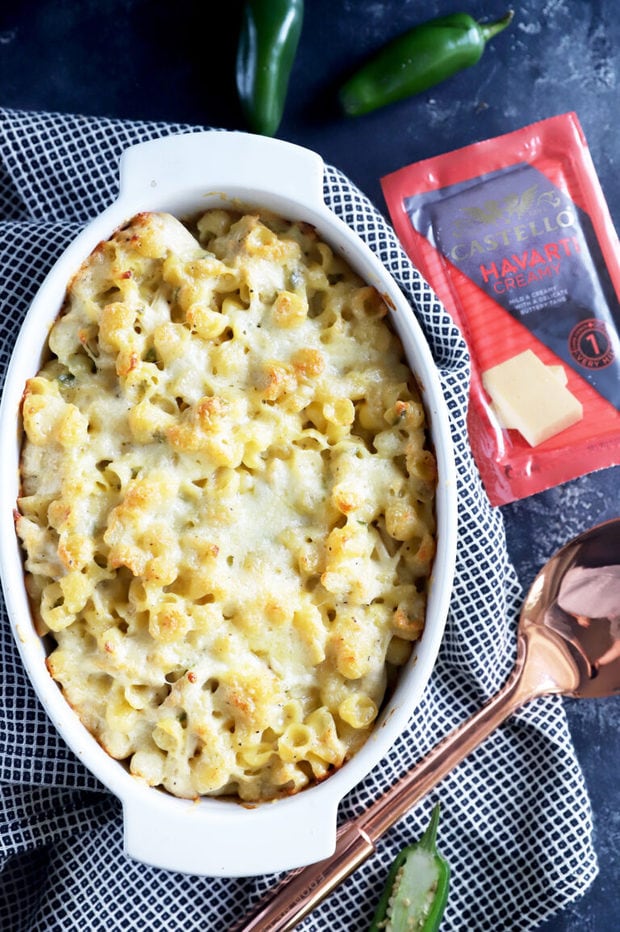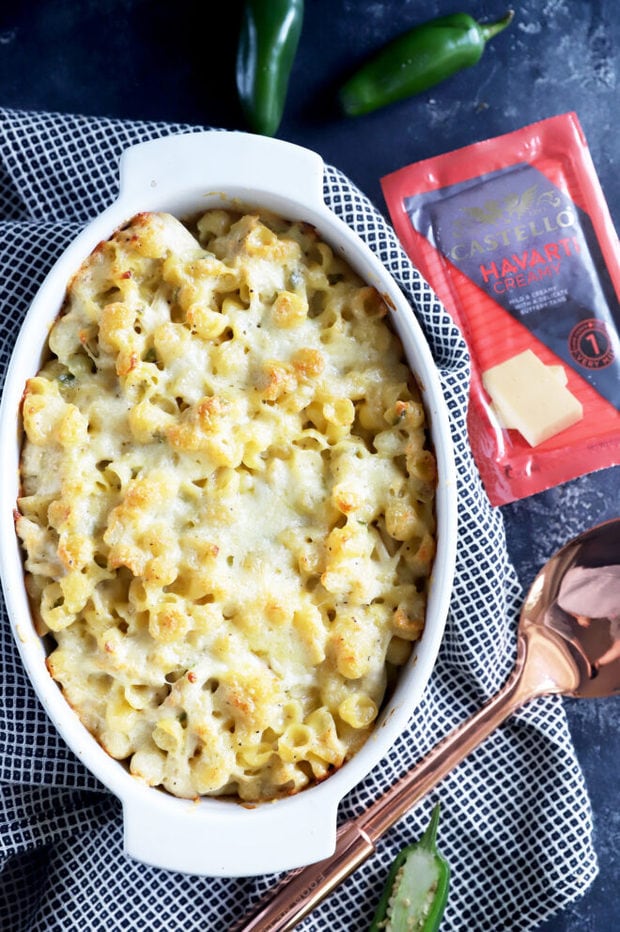 If you haven't tried Castello Cheese before and want to expand your cheese knowledge, any of their cheeses are a great place to start.
Why?
Because of their packaging! With one look, you can see the flavor strength of any of their cheeses to tell you how intense the taste experience is based on the flavor, texture and smell. As you can see, Castello Creamy Havarti is definitely one of the more mild cheeses, making this dish a family favorite for kids and adults alike!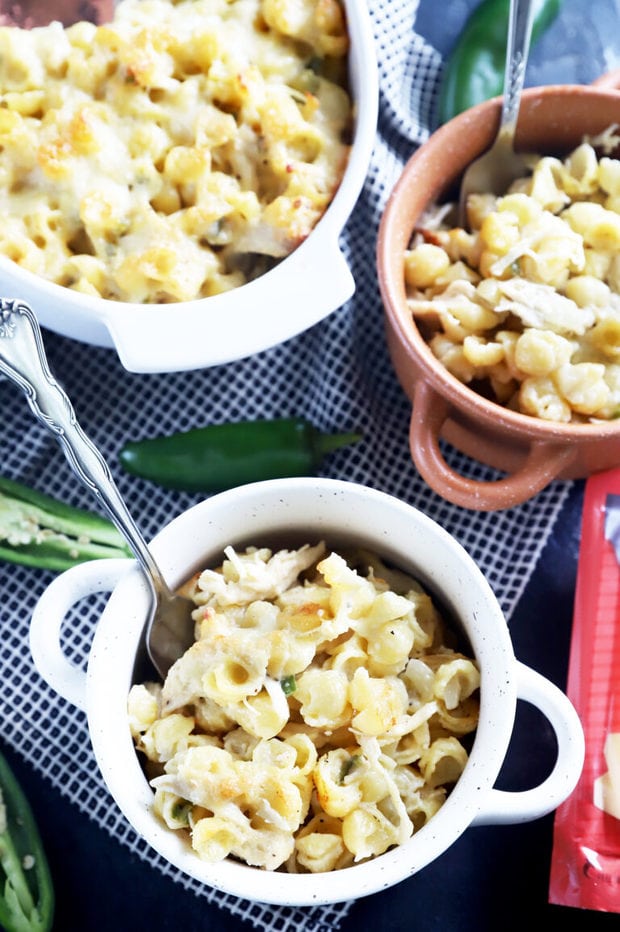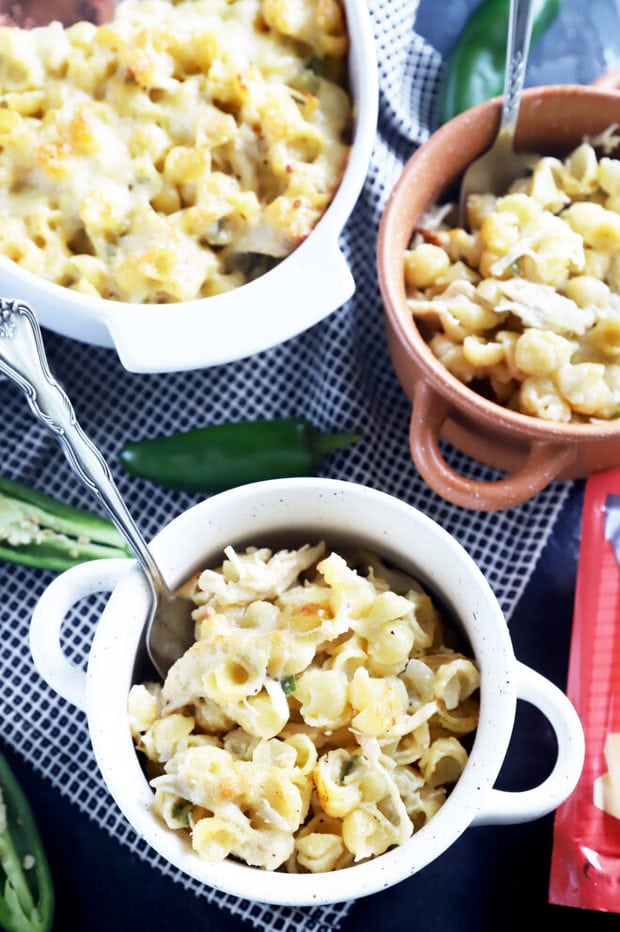 We're making Havarti mac and cheese!
Make Pasta
Bring a pot of salted water to a boil and cook the shells until they are almost al dente. This should take about 8 minutes, but you can always double check the packaging on the pasta to make sure.
Once the pasta is done, drain in a colander and place the empty pot back on the stove.
Cook Veggies
While the pasta is boiling away, cook up the veggies! All you need to do is saute the jalapeño and onion in olive oil in a medium skillet with seasoning for about 2 minutes. Then stir in the garlic and cook another minute before setting aside.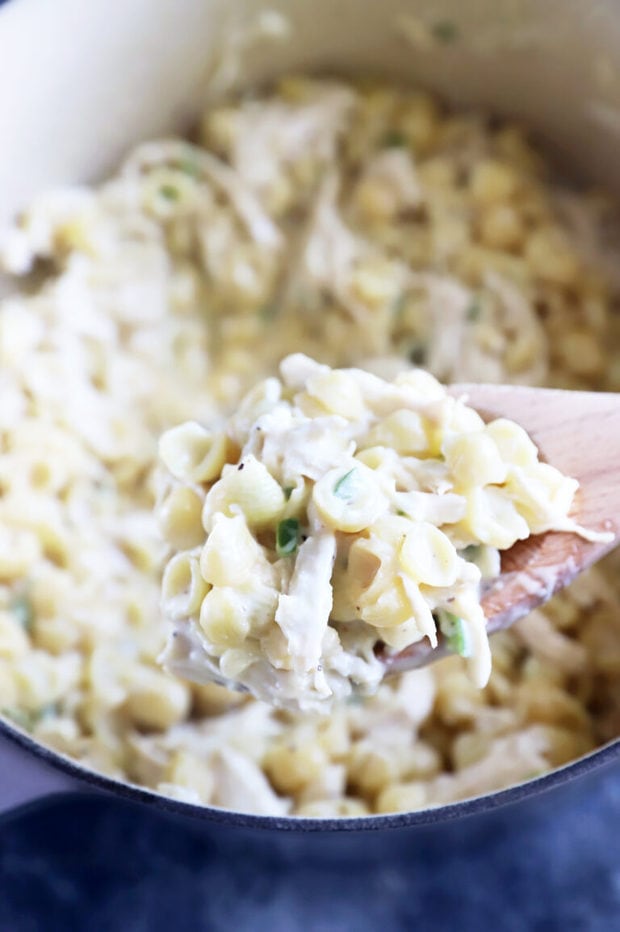 Make Sauce
The sauce gets made in the same pot you used for the pasta (less dishes = less mess to clean up later!). Melt the butter, then whisk in the flour cooking until it's golden brown. Slowly whisk in the milk until it's thickened, then add 3/4 of the grated Castello Creamy Havarti.
When the cheese is melted, add in the veggies, pasta and chicken.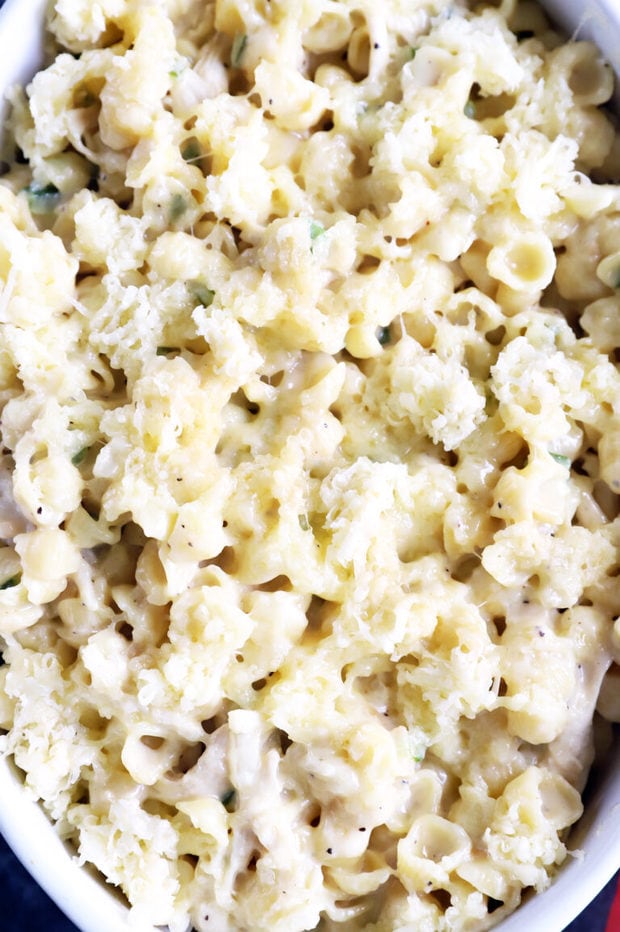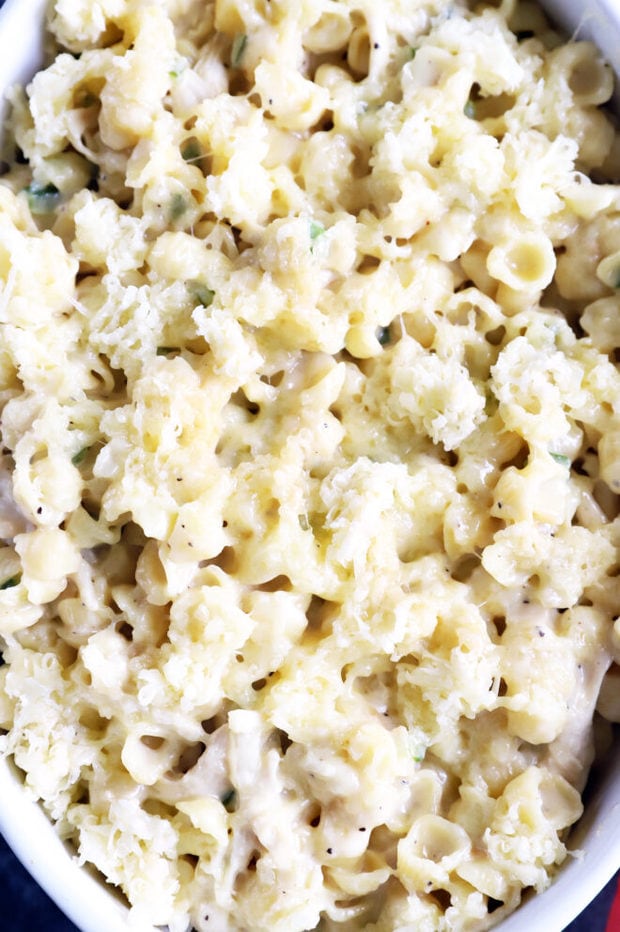 Assemble and Bake
Now we throw it in a casserole dish! Spread it out evenly and then sprinkle over the remaining grated cheese.
Place in the oven and bake for 30 minutes. The top should be nice and golden brown and the inside should be hot and bubbly. Serve right away!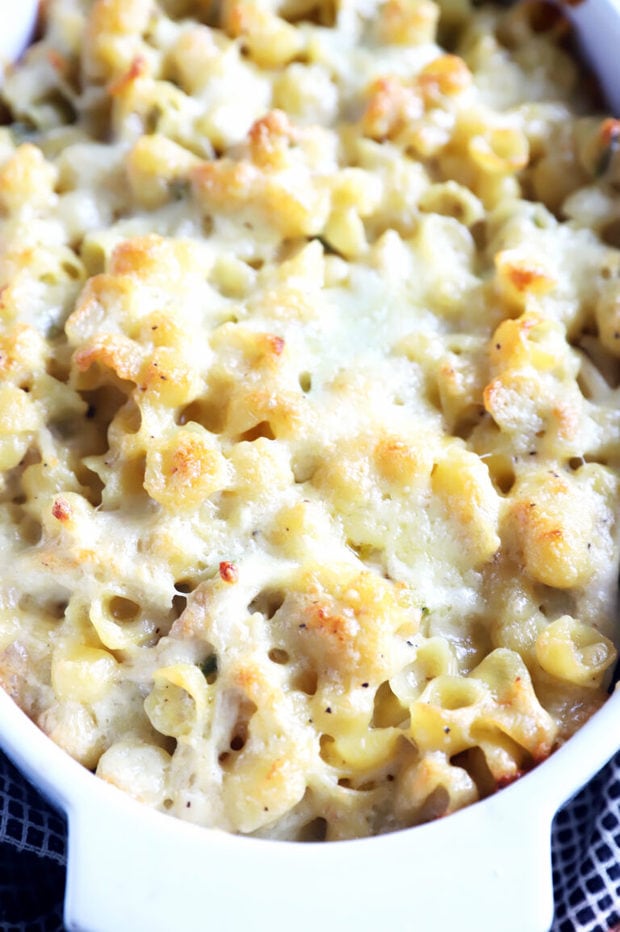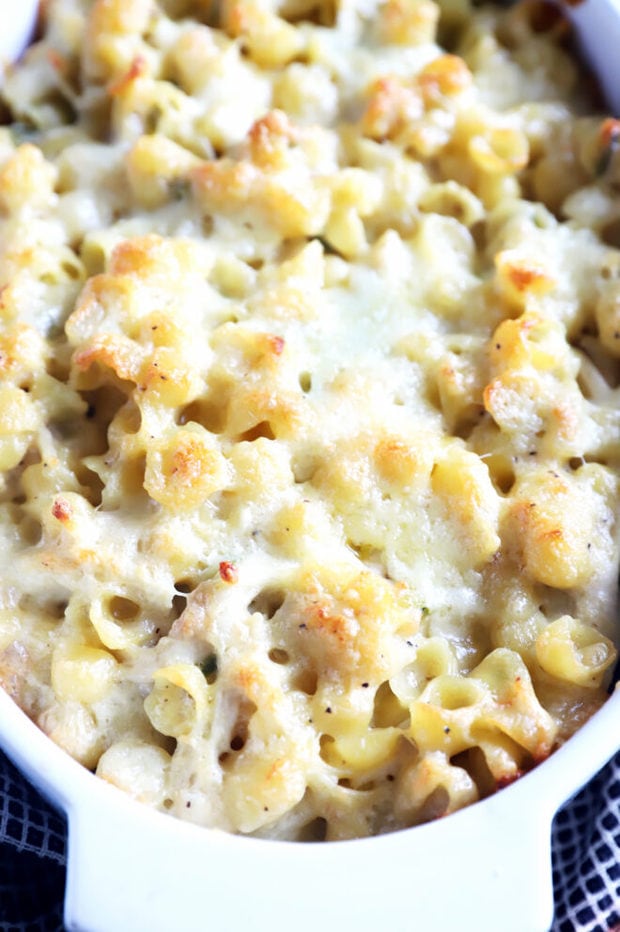 Got questions?
How spicy is this Havarti mac and cheese?
The jalapeño isn't too spicy at all! Really, you get the flavor of the jalapeño instead of the heat since the seeds are removed. That means those who hate spicy things will still love this dish.
If you want to amp up the heat, leave the seeds in and use them in the recipe. I recommend only doing this with one of the jalapenos, unless you really want to light your mouth on fire.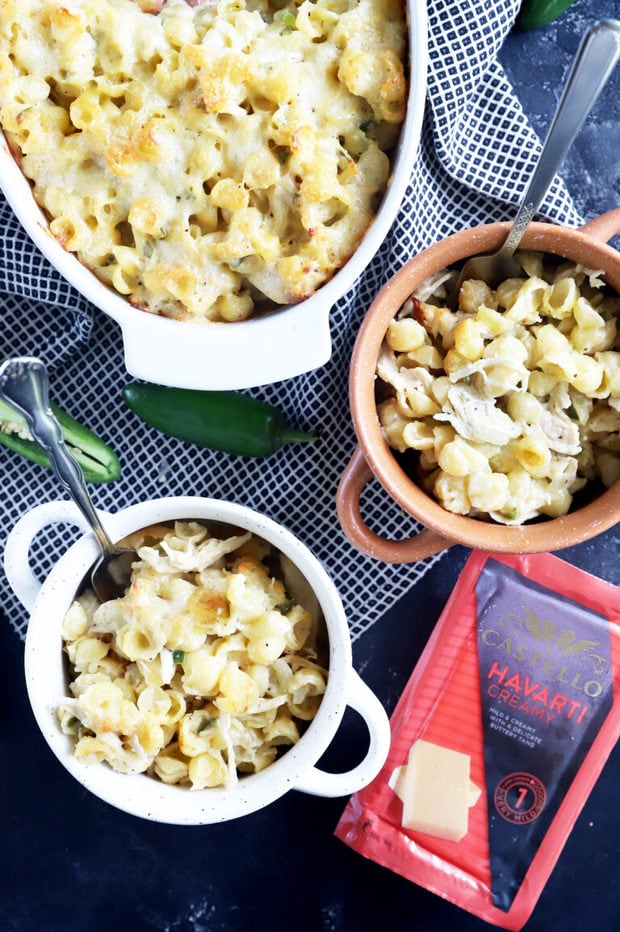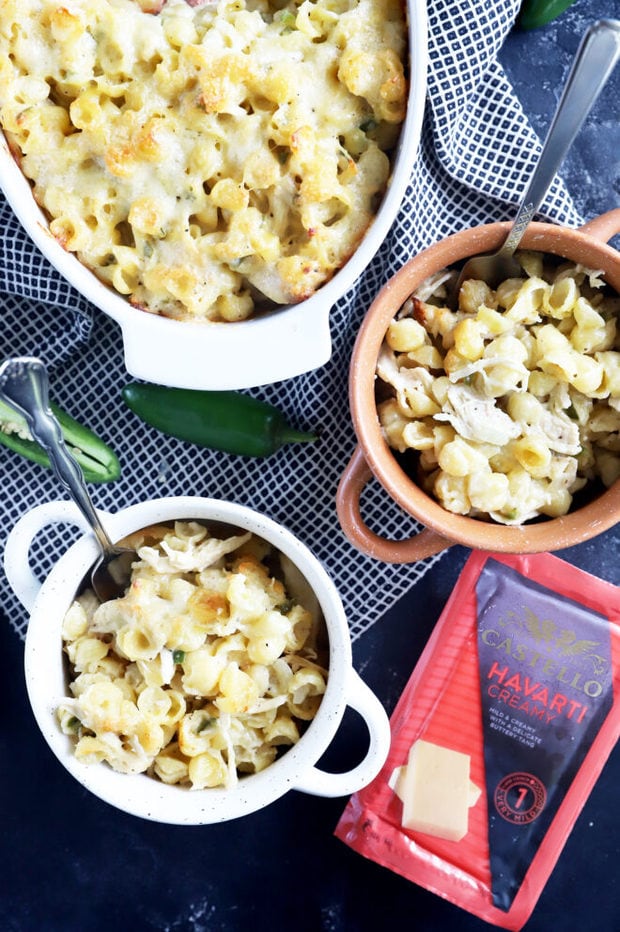 Can I prep this ahead of time?
Generally, I don't recommend preparing mac and cheese in advance to guarantee that the sauce doesn't break and get greasy.
If you really want to, assemble the whole thing, but do not bake it. Cover it and place in the refrigerator for up to 2 days. When you are ready to bake, just throw it in the oven. You will likely have to add on some extra time to the bake because it will be cold.
Can I double the recipe?
Of course! This recipe is fantastic for a party
Jalapeño Chicken Havarti Mac and Cheese
Creamy and cheesy with a hint of spice, this baked havarti mac and cheese is total comfort food.
Ingredients
1 tsp extra-virgin olive oil
1/2 yellow onion, diced
2 to 3 jalapeños, seeds removed and diced
1/2 tsp salt
1/2 tsp black pepper
3 cloves garlic, minced
3 cups uncooked pasta shells
1 Tbs. butter
1 Tbs. All-purpose flour
1 cup milk
14 oz (about 1 3/4 blocks) Castello Creamy Havarti, grated
1 1/2 cups cooked, shredded chicken
Instructions
Preheat your oven to 375˚F.
Bring a medium pot of salted water to a boil. Cook the shells until almost al dente, about 8 minutes. Drain pasta in a colander and return the pot to the burner.
While the pasta is cooking, heat the olive oil in a medium skillet over medium to medium-high. Cook jalapeños, onion, salt and pepper, stirring occasionally for about 2 minutes. Stir in garlic and cook for an additional minute. Remove from heat and set aside.
Add 1 Tbsp butter to the pot you used for the pasta. Once melted and foaming, whisk in flour and cook, whisking constantly, until golden brown, about 2 minutes. Slowly whisk in the milk, cooking until it thickens slightly.
Stir in 3/4 of the grated cheese until melted and sauce is thick. Stir in jalapeño onion mixture, shredded chicken and cooked pasta.
Pour the mixture into a casserole dish (about 2 to 3 quarts). Top with remaining shredded cheese. Bake for 30 minutes, until cheese is browned and bubbling.
Remove from heat and serve immediately.
Recommended Products
As an Amazon Associate and member of other affiliate programs, I earn from qualifying purchases.