Strawberry Balsamic Semifreddo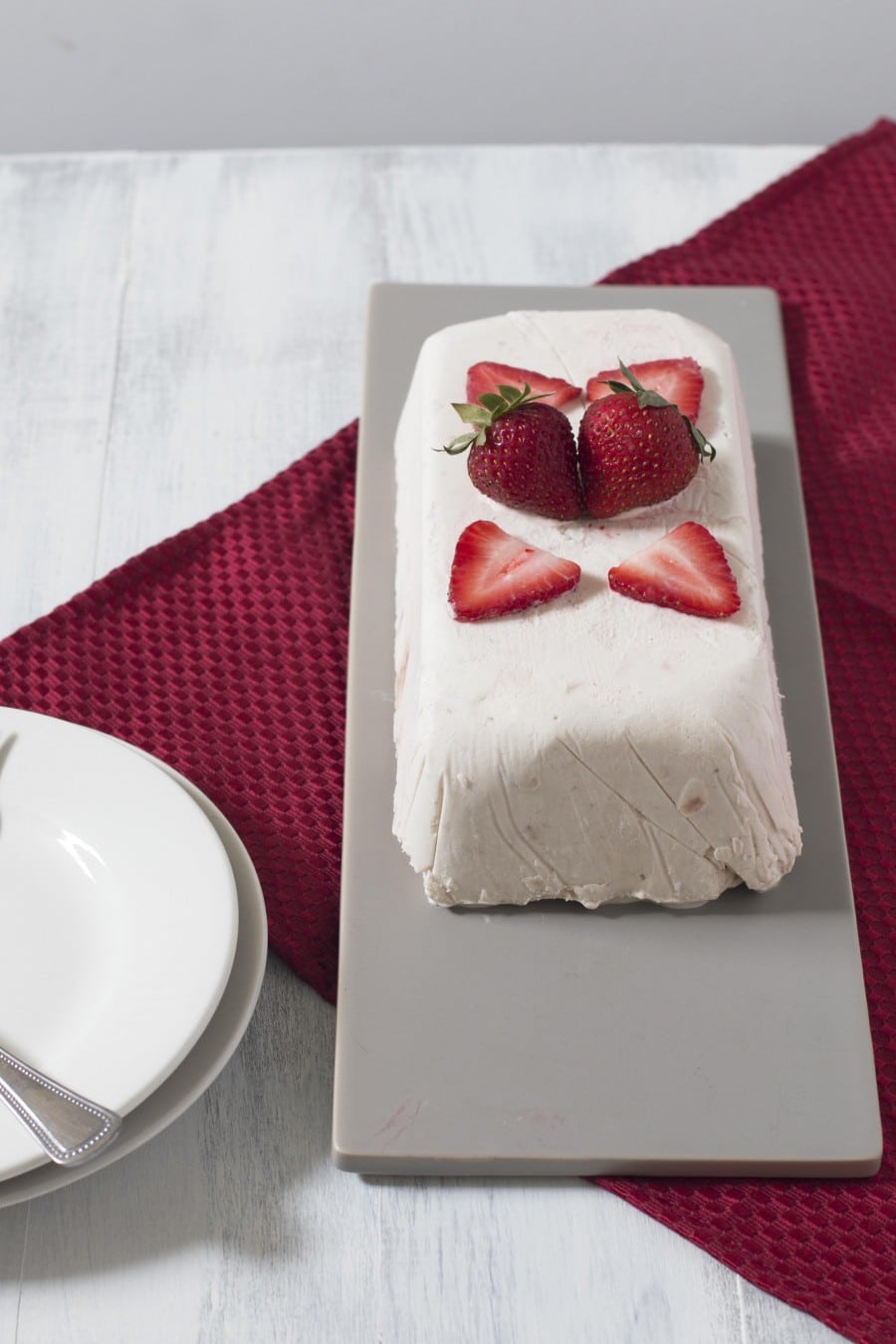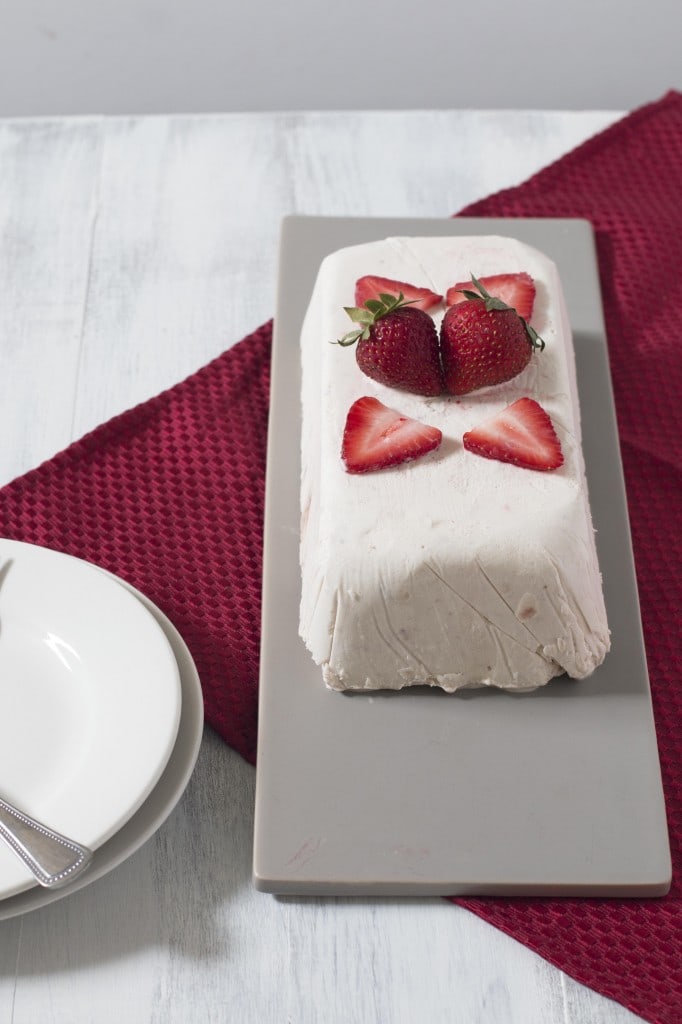 Sweet, light, and refreshing – those are the words that pop into my head when I take a bite of this ever-so simple strawberry semifreddo. But then! As soon as you get to a surprise bite of strawberry jam and balsamic vinegar, a whole new set of words come to mind like tangy, smooth, and surprising. 
I just love finding the little dollops of the strawberry balsamic mixture within. It's like a hidden jewel!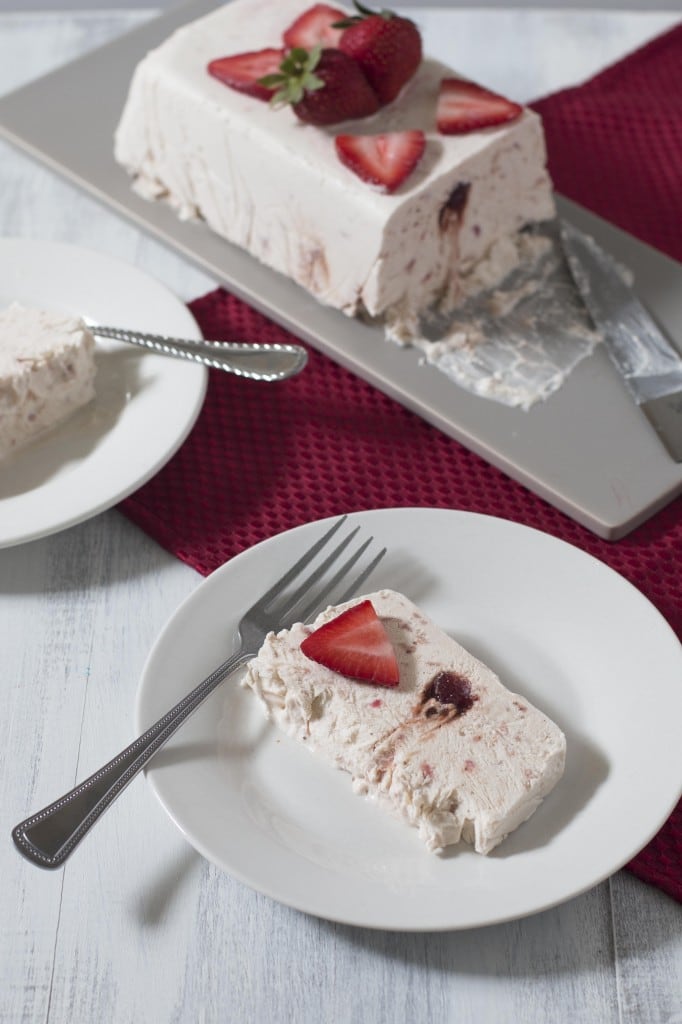 My favorite thing about this semifreddo is the texture. It's just so gosh darn luxurious, like cool velvet melting in your mouth. That might be hard to imagine but as soon as you take a bite of this, you'll totally understand what I'm talking about. I was completely terrified that after spilling my first attempt at this semifreddo on the kitchen floor and all over my freezer, the second would not come out right.
I don't know if you've noticed me a being a little more absent since that incident – I lost a little confidence after the day of terrible cooking that I couldn't turn around for the life of me.
Thankfully I was pleasantly surprised with my second attempt! Turns out the key was not spilling it all over the floor and freezer… *face palm*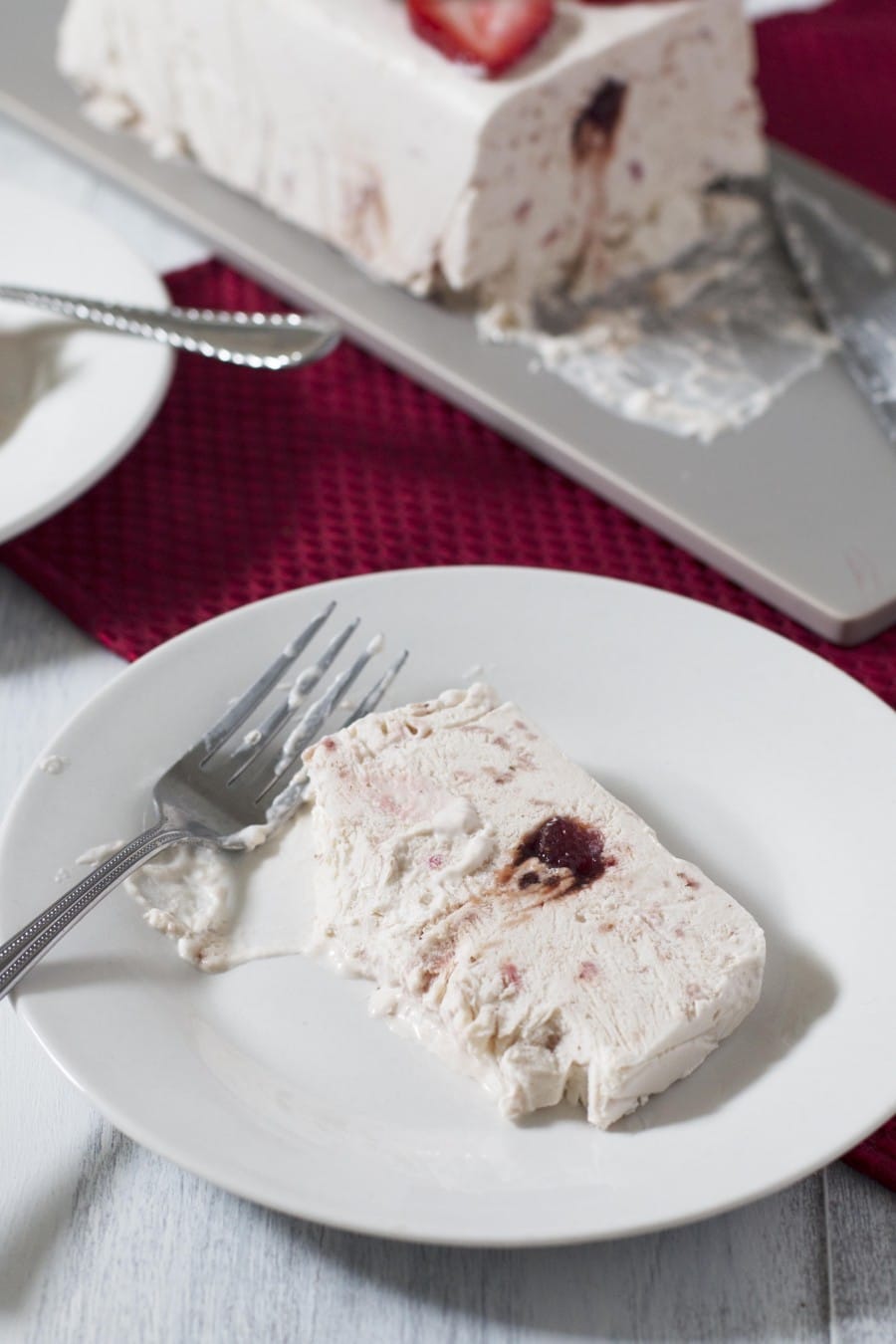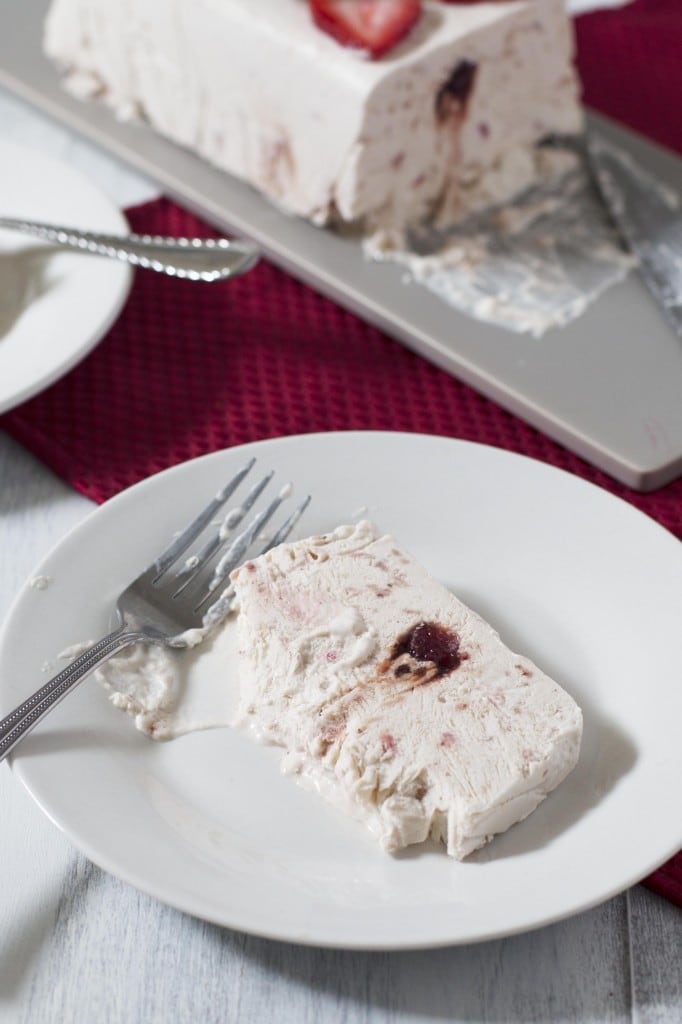 This dessert is so perfect for summer and it's E-A-S-Y. Plus, it slips right out of the pan when you serve it so it'll look gorgeous with minimal effort! 🙂 Happy eating!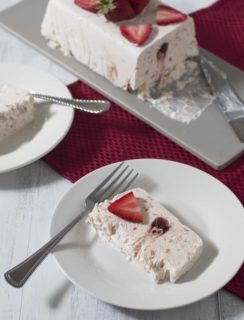 Strawberry Balsamic Semifreddo
Yield: Serves 6 to 8
Prep Time: 15 minutes
Cook Time: 15 minutes
Total Time: 30 minutes + chill overnight
Light and refreshing, this semifreddo is an incredible summer dessert.
Ingredients:
Semifreddo
1/2 lb strawberries, hulled and sliced thin
1/2 cup + 2 Tbsp sugar
3 large egg yolks + 1 large egg
1 3/4 cups heavy cream
Strawberry Balsamic Jam
1/4 cup strawberry jam
2 Tbsp balsamic vinegar
Directions:
Line a 9x5 inch loaf pan with plastic wrap. Use a couple small pieces of tape to stick the plastic wrap to the outside of the pan to prevent it from falling in on itself when you pour in the semifreddo. Set aside.
In a medium saucepan, cook the sliced strawberries with 1/4 cup of sugar over medium heat for approximately 6 minutes, or until the berries begin to break apart. Remove from heat and set aside.
Fill a large bowl with a couple of inches of ice water and set aside.
Using a separate medium saucepan, find a metal bowl that can rest inside the saucepan without touching the bottom. Add about 1 inch of water to the saucepan and bring to a boil. Reduce the heat to low-medium. Add the egg yolks, egg, and 1/4 cup sugar to the metal bowl, whisking until combined and pale yellow. Add the strawberry mixture and whisk to combine. Set the metal bowl over the saucepan and whisk constantly until the mixture is thick, approximately 3 to 4 minutes. Remove the bowl from the saucepan and set in the bowl of ice water. Whisk the mixture every so often until it is cool, approximately 3-5 minutes.
In the bowl of an electric stand mixer fitted with the whisk attachment, add the heavy cream and beat on medium-high speed until it forms soft peaks, approximately 2-3 minutes.
Fold the whipped cream into the strawberry mixture with a spatula until just combined. Pour the mixture into the lined loaf pan and smooth the surface.
In a small bowl, stir the strawberry jam and balsamic vinegar until well combined. Add drops of the jam mixture on top of the semifreddo mixture. You can either leave them as dollops or use a spoon to spread them out in swirls.
Cover the loaf pan with plastic wrap and freeze for at least 8 hours or overnight. Serve with sliced strawberries.