Boozy Pumpkin Spice Affogato is an indulgent way to end any holiday meal this fall or winter. The no-churn pumpkin spice ice cream topped with vodka and creamy espresso is so easy to make, you have no excuse to skip over this one!
Today I'm bringing you one of my favorite desserts from my time over in Italy. If you've never had an affogato before, it's basically ice cream drowned in espresso. Except this time I added vodka, because who doesn't need a little extra booze in their dessert?
The weather is finally getting really chilly here in Denver and I am soaking it all up every time the temperature drops one degree. It's that time of year where the weather goes between hot and cold randomly, so it's kind of fitting that I made this pumpkin spice affogato, isn't it?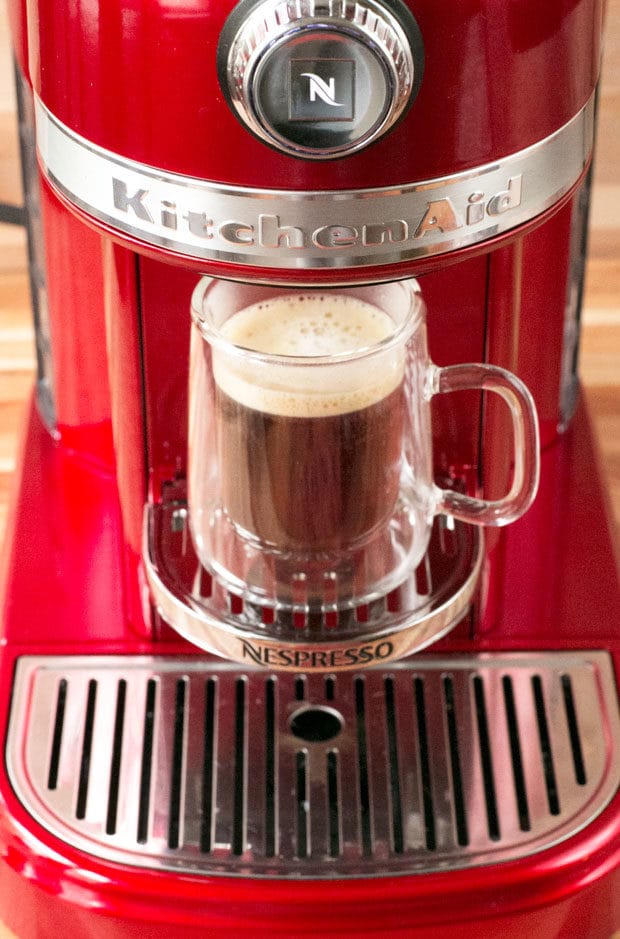 The combination of hot and cold comes together in this creamy, dreamy, pumpkin spiced dessert with a hint of booze and caffeine. It's just the right punch that you need at the end of a meal to really finish off your night the right way.
Making espresso at home is the one thing that's always held me back from making an affogato at home. I've tried working with espresso machines before, but let's just say the espresso is either off the mark or the machine is too dang complicated to figure out that I just give up and head out for dessert.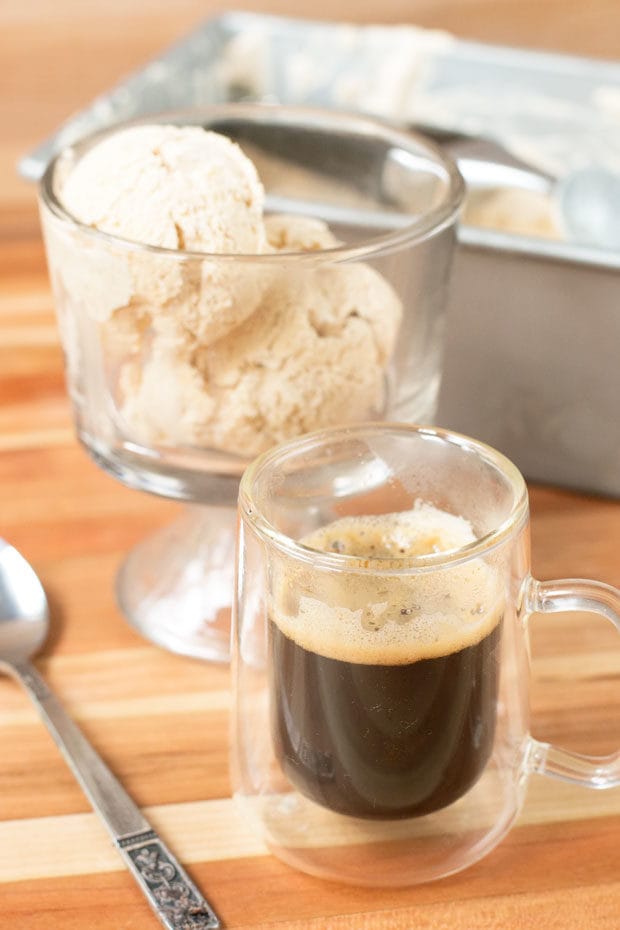 This gorgeous, red, glowing KitchenAid® Nespresso changed everything for me though. Rich, creamy espresso is right at my fingertips with the push of a button. No grinding beans, no messing with attachments, it's just popping in a pod and pressing a button to pick what size cup I want. I honestly can't believe just how good the espresso is that comes out of this KitchenAid® Nespresso – it actually rivals the deliciousness that I had in Rome (never tell anyone in Italy that I said that out loud, ok?).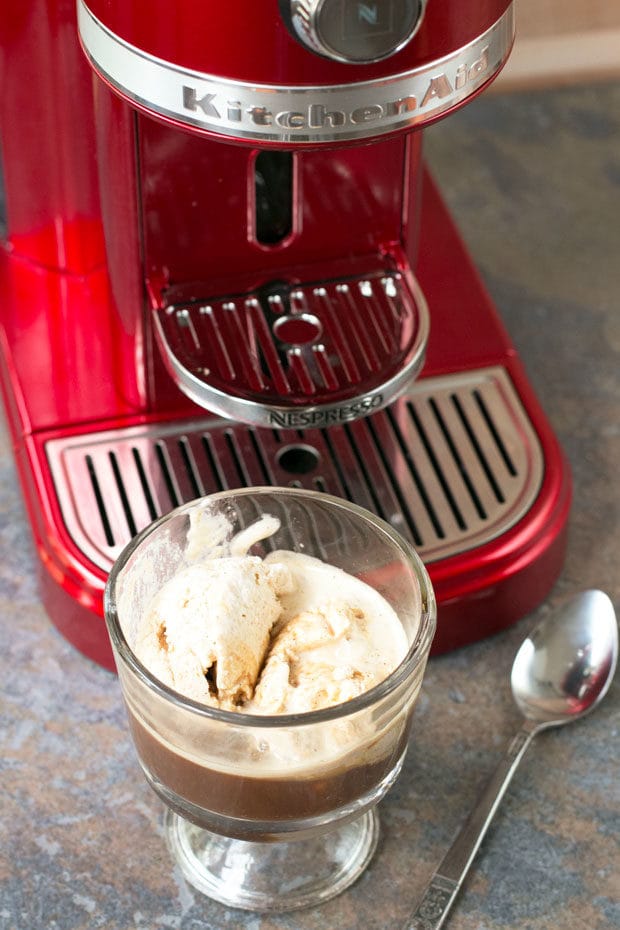 Pouring this insanely good espresso over homemade no-churn pumpkin spice ice cream (with a touch of vodka) makes the flavors in the ice cream come out times ten.
So make sure that you add this to any dinner menu you have coming up for the holidays this season and end the meal with a BANG – trust me when I say you won't regret it.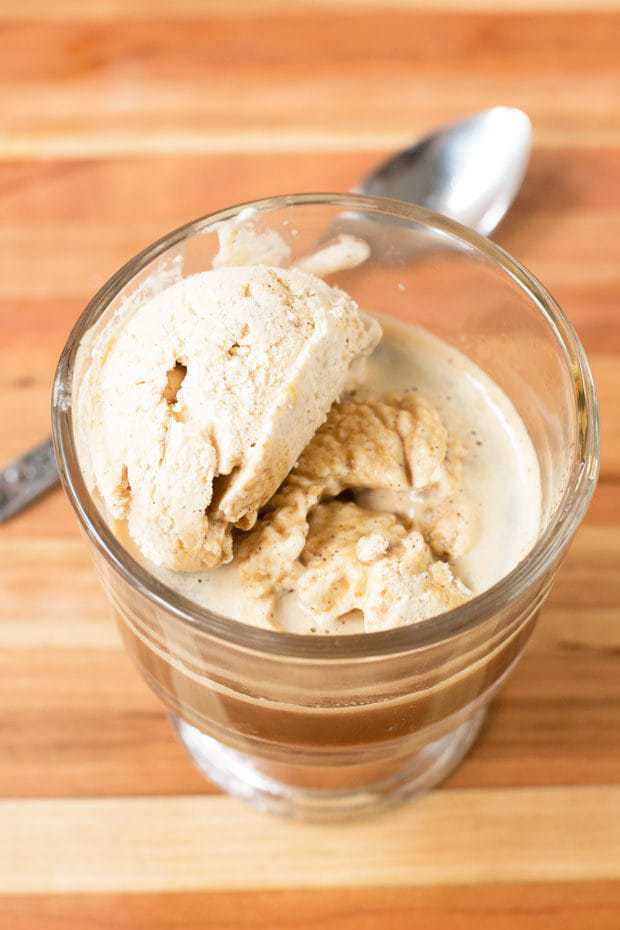 KitchenAid® is being oh-so incredibly generous so I'm giving away one of these killer Nespresso machines to one lucky reader! Be sure to enter the giveaway below the recipe so you can make this delicious affogato for yourself.
Disclosure: I received free product from KitchenAid® as part of this giveaway and post. As always, all opinions and recipe are my own. Thanks for supporting the brands that support Cake 'n Knife!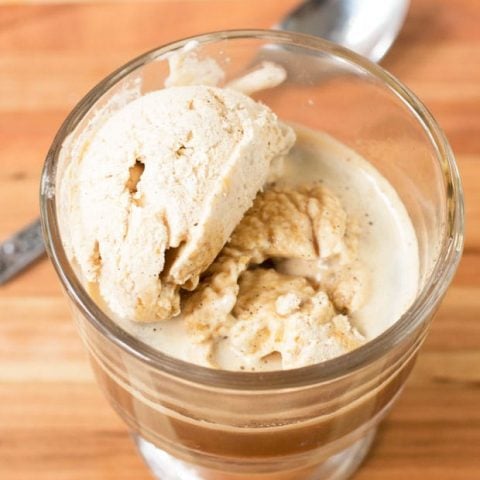 Boozy Pumpkin Spice Affogato
Total Time:
4 hours
5 minutes
Creamy espresso with a dash of vodka makes this delicious no-churn pumpkin spice ice cream come to life!
Ingredients
7 oz sweetened condensed milk
1 tsp pure vanilla extract
2 tsp pumpkin spice
7 oz pumpkin puree
Pinch of salt
2 cups chilled heavy cream
2 Nespresso espresso pods (I used Roma)
3 oz vodka
Instructions
In a medium bowl, whisk together sweetened condensed milk, vanilla, pumpkin spice, salt and pumpkin puree. Set aside.
In a large bowl, beat whipped cream with an electric mixer until stiff peaks form, approximately 2 minutes. Fold approximately 1 cup of the whipped cream into the pumpkin mixture until combined. Fold the pumpkin cream mixture back into the whipped cream until well combined.
Pour the mixture into a metal loaf pan and cover with plastic wrap. Freeze for 5 hours.
When ready to serve, brew desired Nespresso espresso in a small cup. Add one large scoop of pumpkin ice cream into large coffee mugs. Pour 1 1/2 oz vodka over the each scoop of ice cream, followed by one shot each of warm espresso. Serve immediately.
What You'll Need:
Pin this Boozy Pumpkin Spice Affogato recipe for later!