A Boozy Reese's Puffs Cereal Milkshake will make your childhood cereal wishes come true in an oh-so grown up way! Using homemade Reese's Puffs cereal milk, extra peanut butter, ice cream and vodka, this boozy milkshake is just the decadent treat to make every Friday night stand out.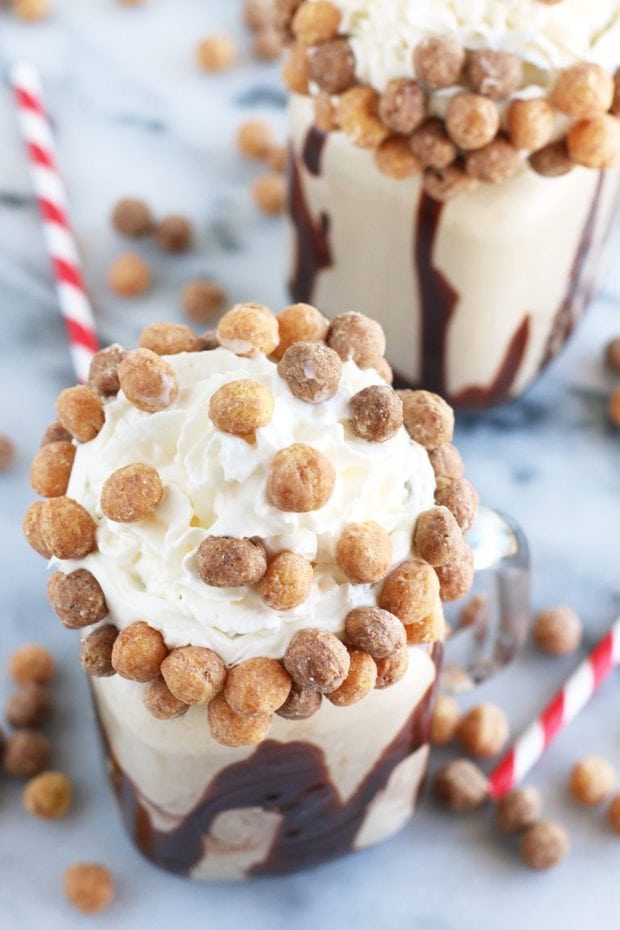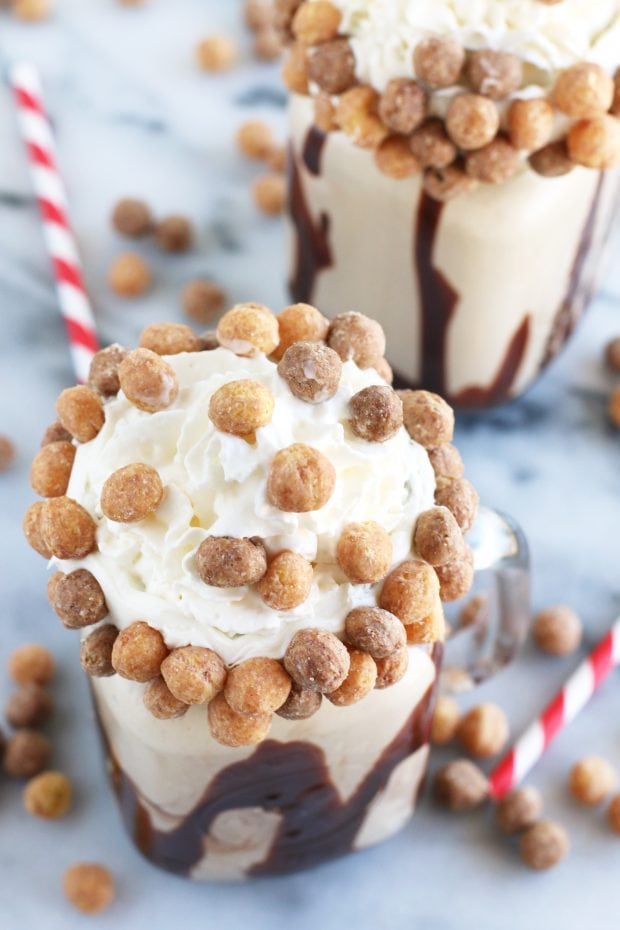 Please note that some of the links below are affiliate links. If you make a purchase through one of these links, I will receive a small commission.
It's FRIIIIIIIII-YAYYYYY!!
This happens to be one of those Fridays I am extremely excited for because… I am currently on jury duty. Yes, the first time I get selected for a jury, it's a 7 DAY trial.
SO I have to keep my mouth shut about all the details of the case for 7 DAYS and I am going insane.
It's quite the experience, and that's all I can say about it.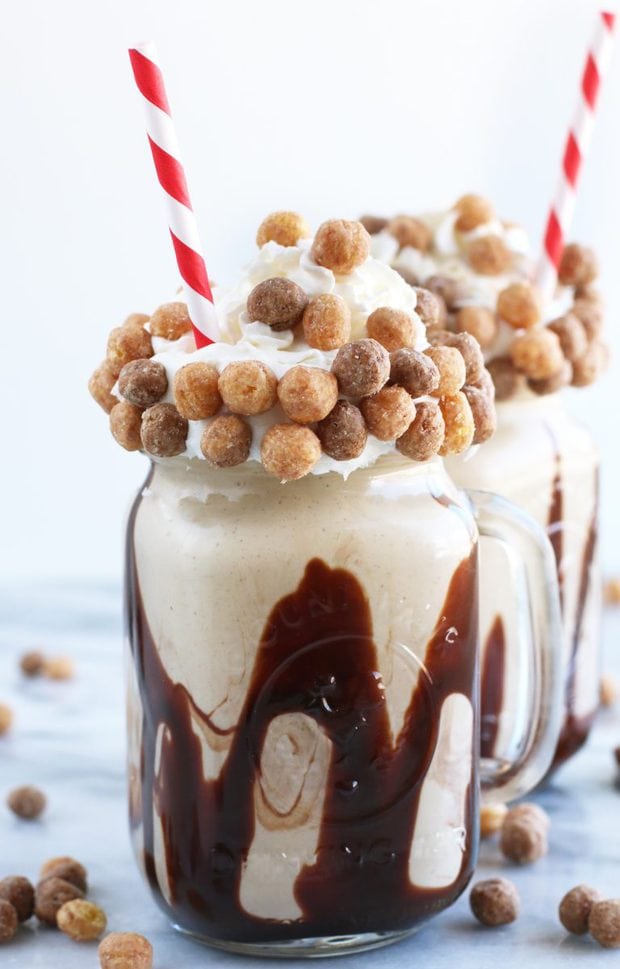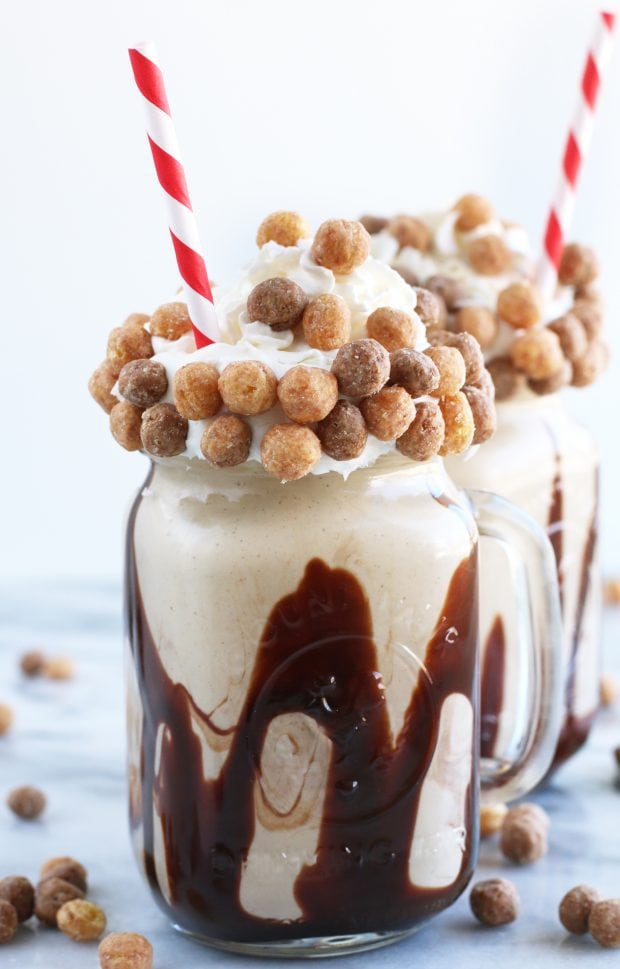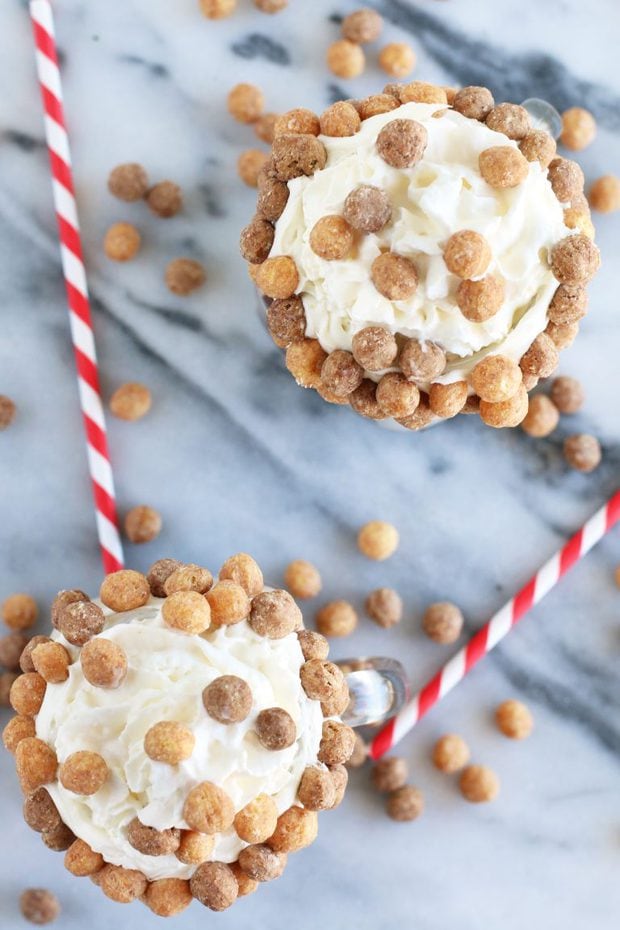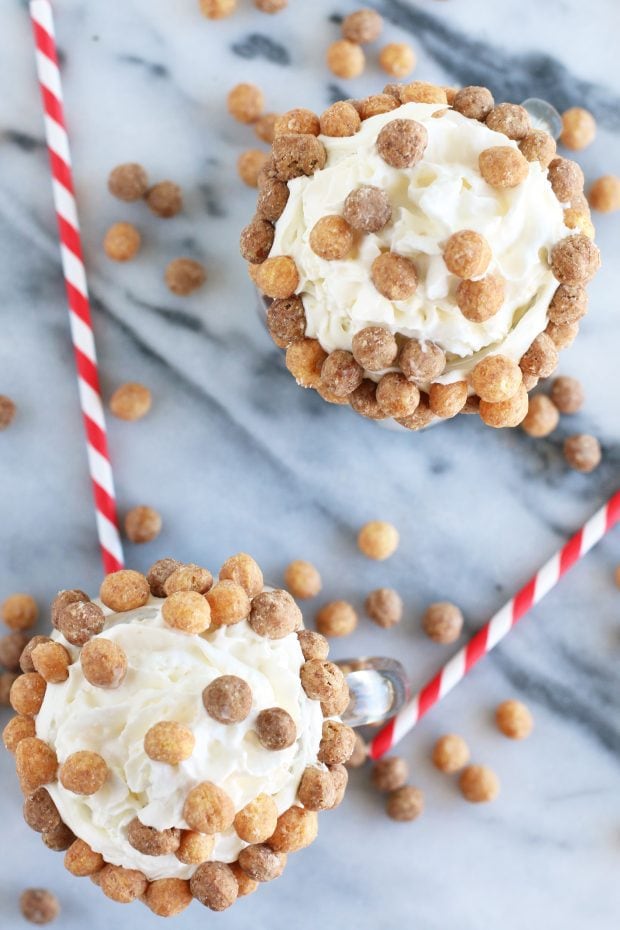 Since this Friday is such a big deal in my world since it means not going to sit in a jury box for two days, I decided to go a little crazy…
These boozy milkshakes are the most insane, delicious milkshakes EVER.
Honestly, the flavor takes me right back to my childhood (well, sans the vodka of course!). Reese's Puffs was one of my favorite cereals to indulge in.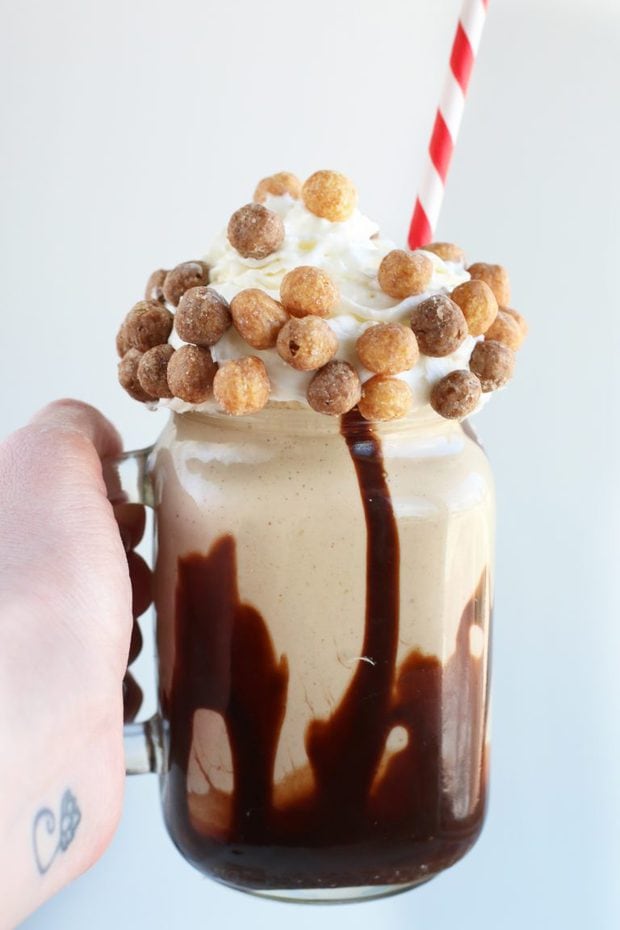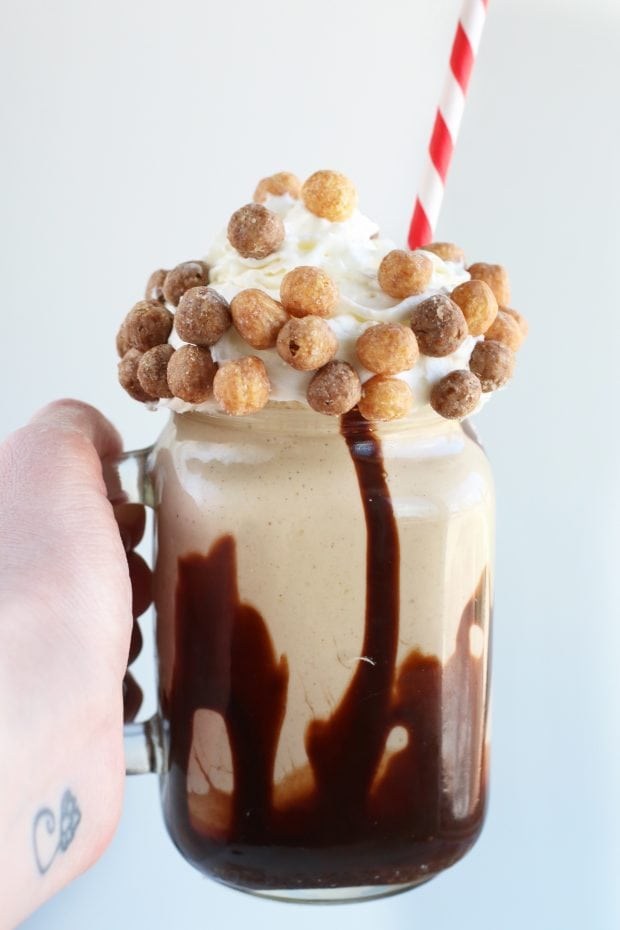 I am totally one of those kids that grew up on cereal. Cinnamon Toast Crunch, Reese's Puffs, and so many more were the breakfast I came to expect in the morning and quite honestly, as I grew into my college years and beyond, it was hard to part with the habit.
Now I that I have an appreciation for eggs benedict, pancakes, waffles and breakfast burritos, cereal has taken a backseat at my breakfast table.
So why not bring my favorite cereal to happy hour instead?
This cocktail is SO easy to make.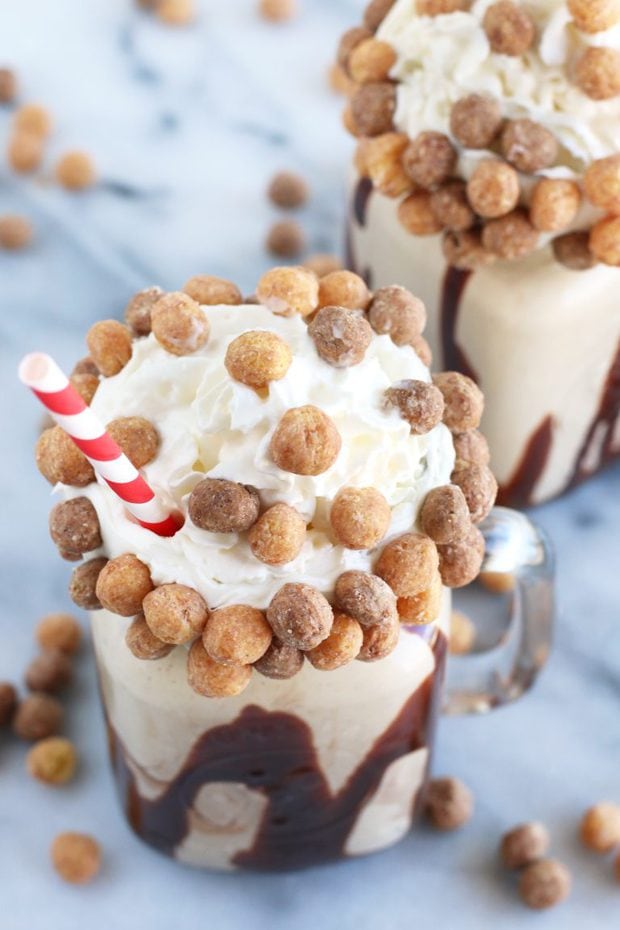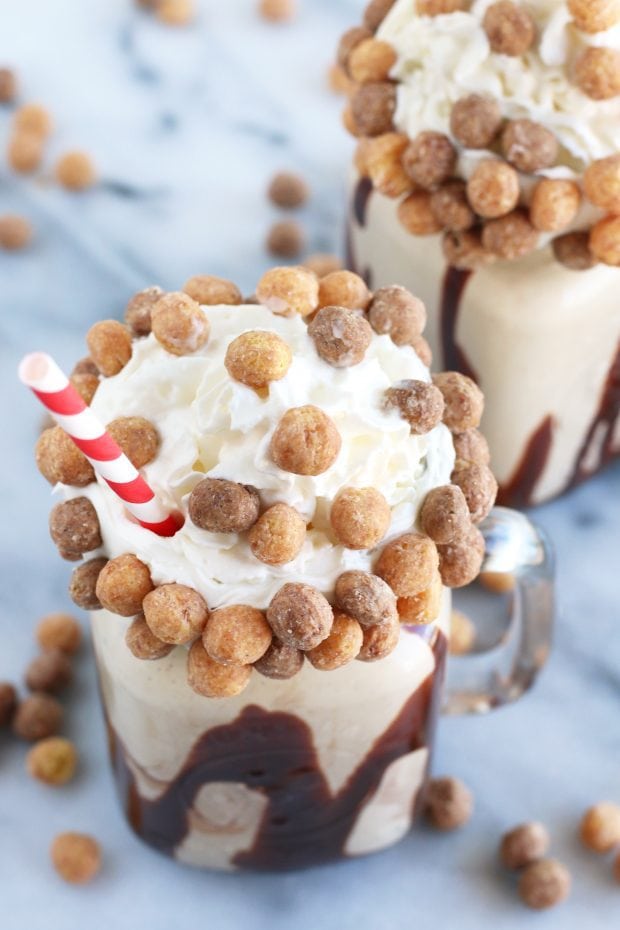 It's full of that Reese's Puffs cereal flavor, paired with a little extra peanut butter, creamy vanilla ice cream, chocolate syrup and vodka.
It's extra indulgent, boozy and basically makes me feel like I am floating on cloud nine with every single sip.
Cheers to the freaking weekend!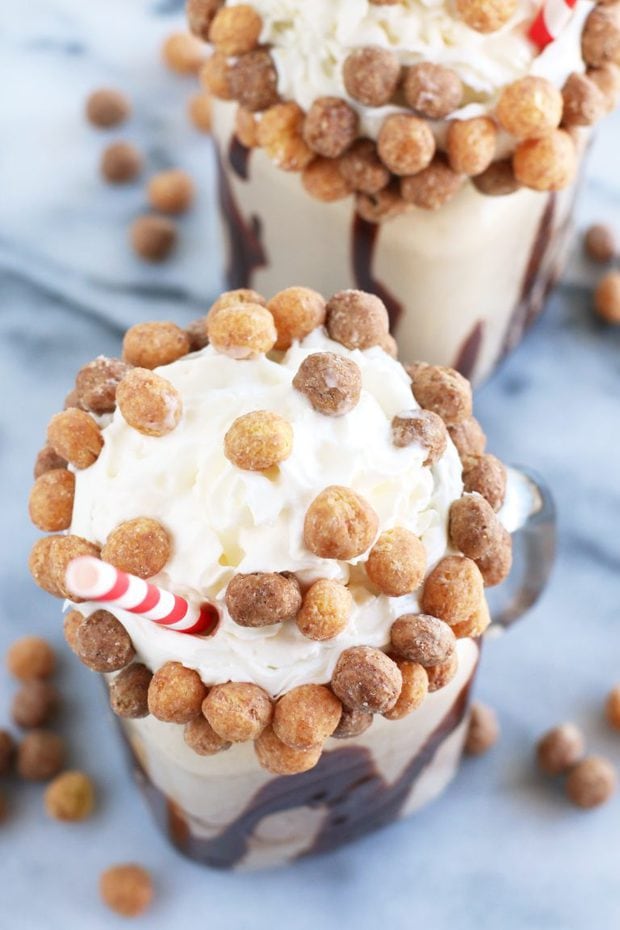 This Recipe's Must Haves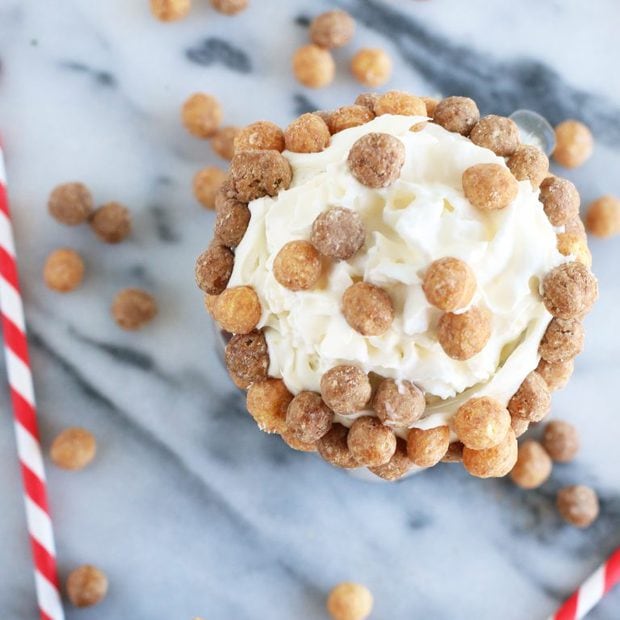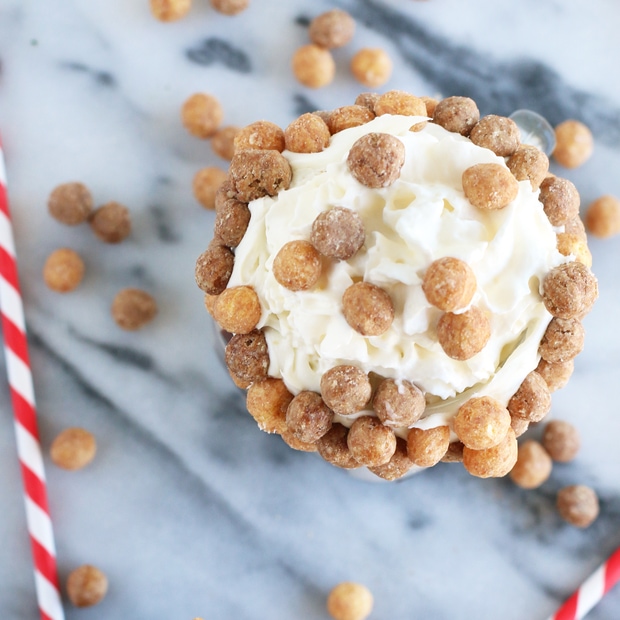 Boozy Reese's Puffs Cereal Milkshake
That delicious peanut buttery, Reese's Puffs flavor becomes a smooth and creamy milkshake, with a grown up twist!
Ingredients
2 cups Reese's Puffs cereal + extra for rim
1 1/2 cups milk
1/2 cup peanut butter
2 scoops vanilla ice cream
1 1/2 oz vodka
1/4 cup vanilla frosting
1/2 cup chocolate syrup
Garnish: whipped cream, extra Reese's Puffs cereal
Instructions
In the bowl of a food processor, powder the Reese's Puffs cereal. Add the powdered cereal to a bowl. Pour over milk and let sit for 20 minutes.
Add the milk cereal mixture to a blender. Add peanut butter, ice cream, and vodka to the blender as well. Blend until thick and creamy.
Rim a large glass (I used a mason jar mug) with vanilla frosting. Gently press a handful of Reese's Puffs cereal around the edge. Layer the chocolate syrup around the inside of the glass.
Pour in milkshake. Top with whipped cream and additional Reese's Puffs cereal for garnish.
Serve immediately.