Please note this post contains affiliate links.
Spicy Bourbon Sugar Rubbed Strip Steak is what's for dinner tonight! Homemade bourbon sugar gets added to a spicy rub mixture that forms a delicious crust on the outside of the strip steak. The sweet heat and juicy meat will take your steak game to the next level!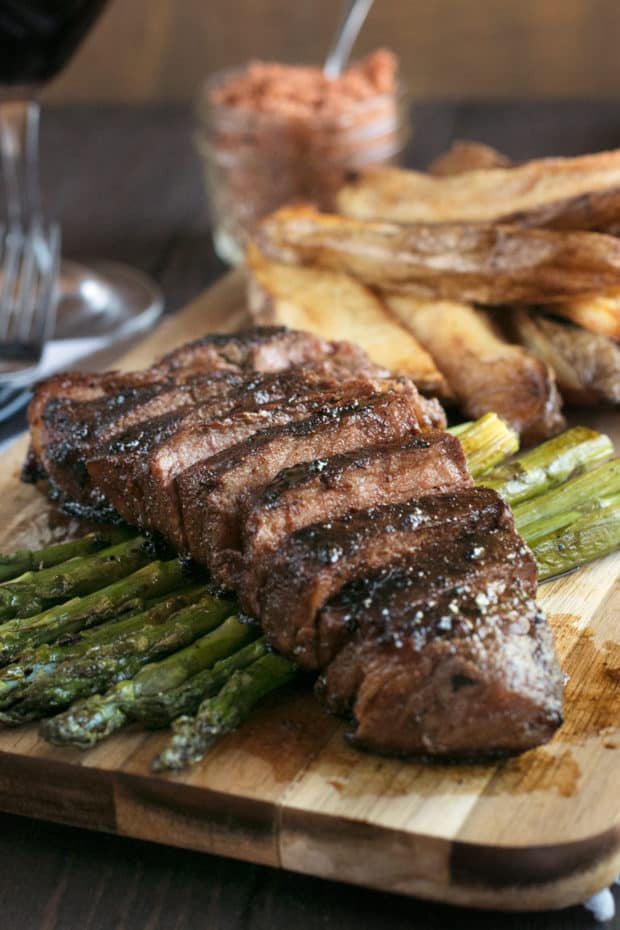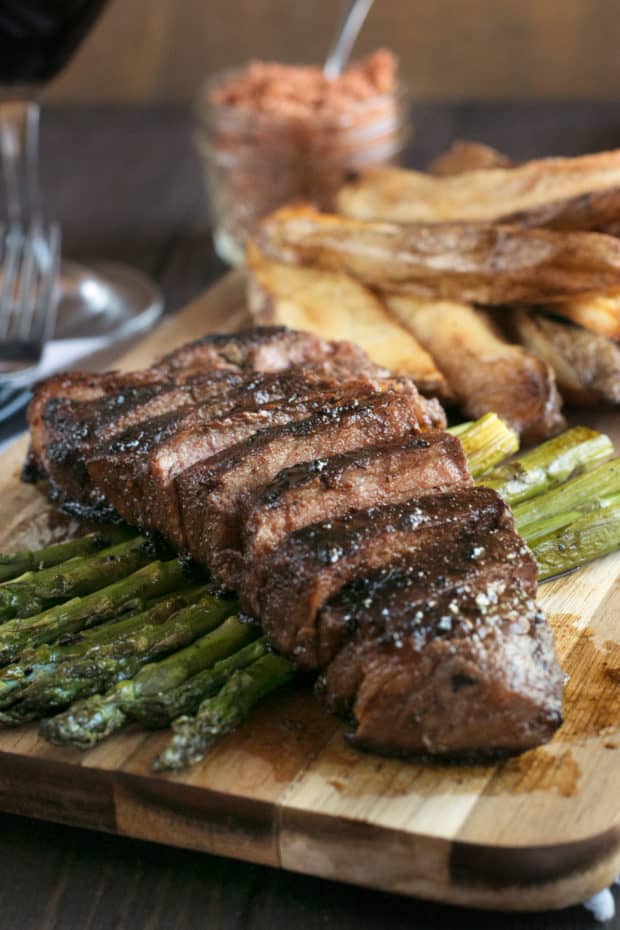 Please note that some of the links below are affiliate links. If you make a purchase through one of these links, I will receive a small commission. Thank you for supporting Cake 'n Knife!
A couple of months ago I went to an event with Sprouts and the Colorado Beef Council where I proceeded to make the BEST steak of my life.
And that's saying something considering this perfect ribeye steak I made a couple years back that has been an undefeated champion.
It was at this event that I tried cooking strip steak for the first time ever.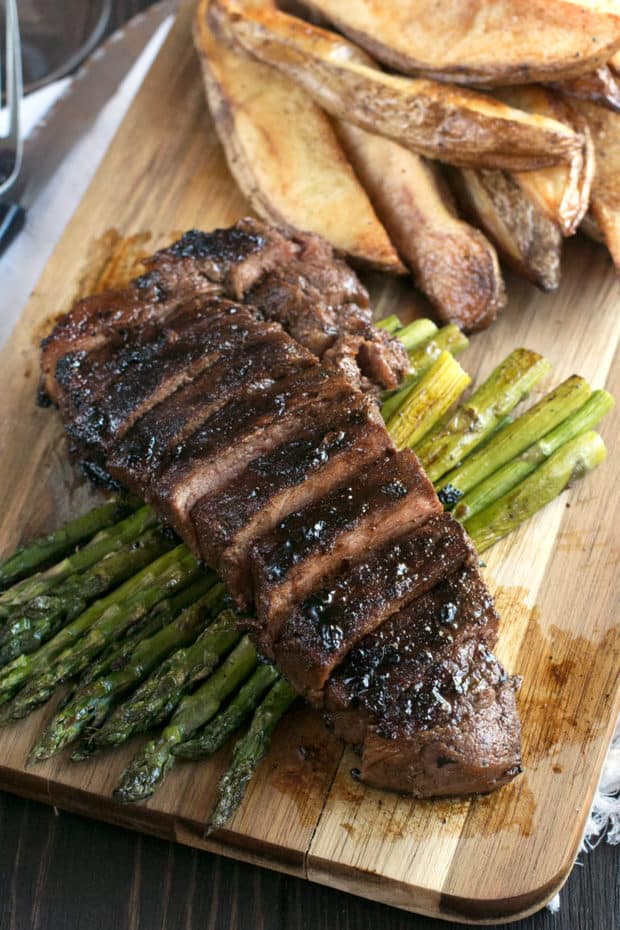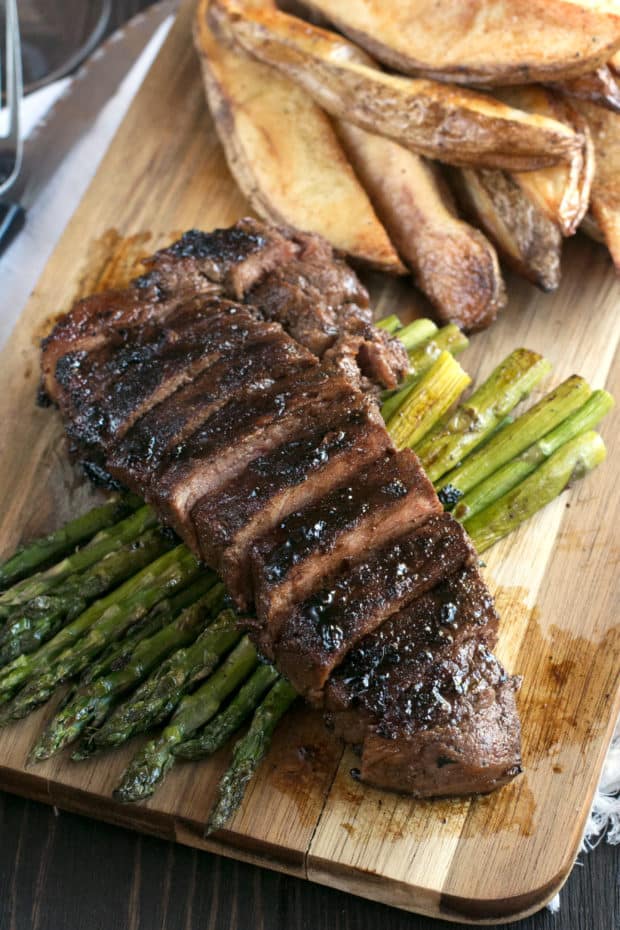 Don't scold me! I know I need to get outside my usual cuts of meat!
I was making it on the fly with a bunch of fellow bloggers, so I made a quick rub with a bunch of different spices that they had in the kitchen at the Colorado Beef Council. One of those ingredients was a bourbon sugar-based mix that I amped up the spice level to. The result was INSANE. It was rich in flavor, a little sweet and spicy, and it formed this amazing crust on the outside of the meat, making the meat even more juicy.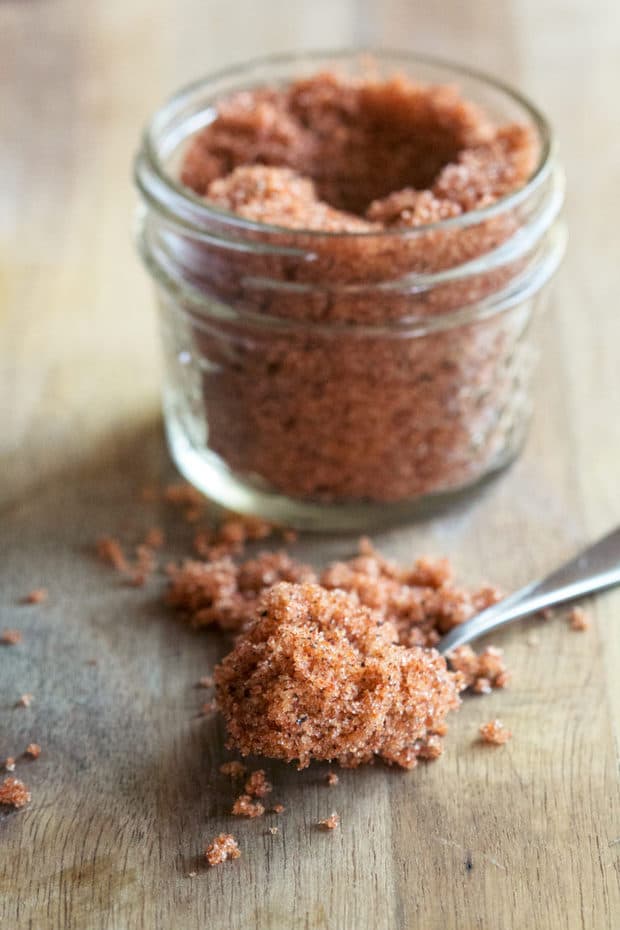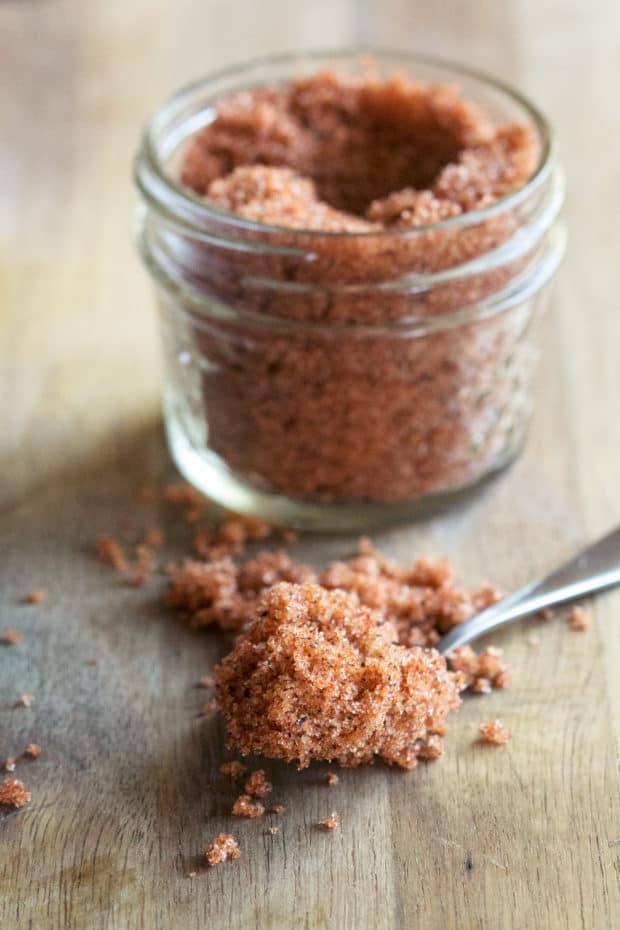 I've been working on creating the same kind of spice mix from scratch ever since and FINALLY here we are.
The rub starts by you making your own homemade bourbon sugar (not a bad thing to have in the house, you know?). Then you add that boozy sugar to a rich spicy rub so you get a little spice and a little sweet in every teaspoon.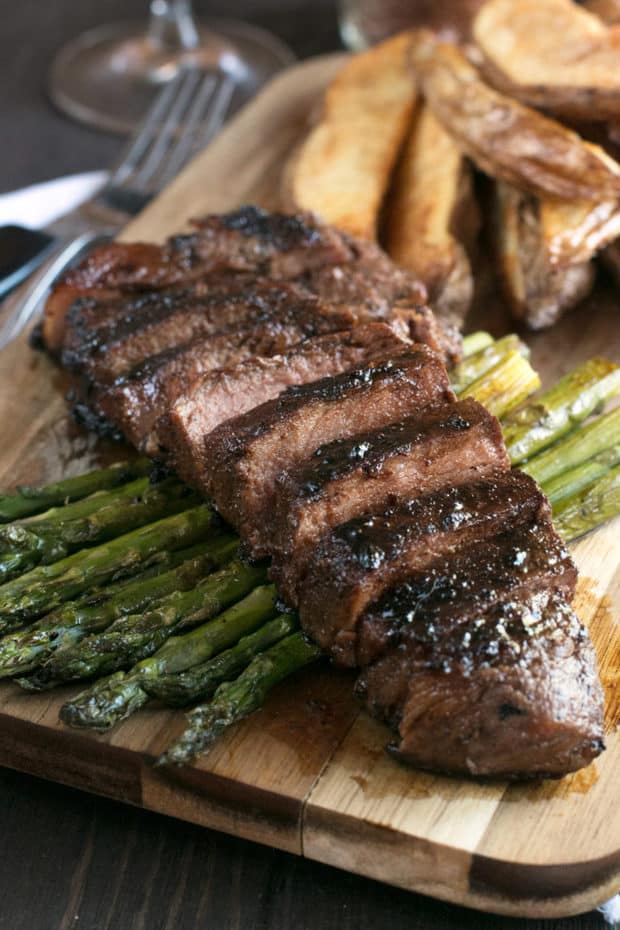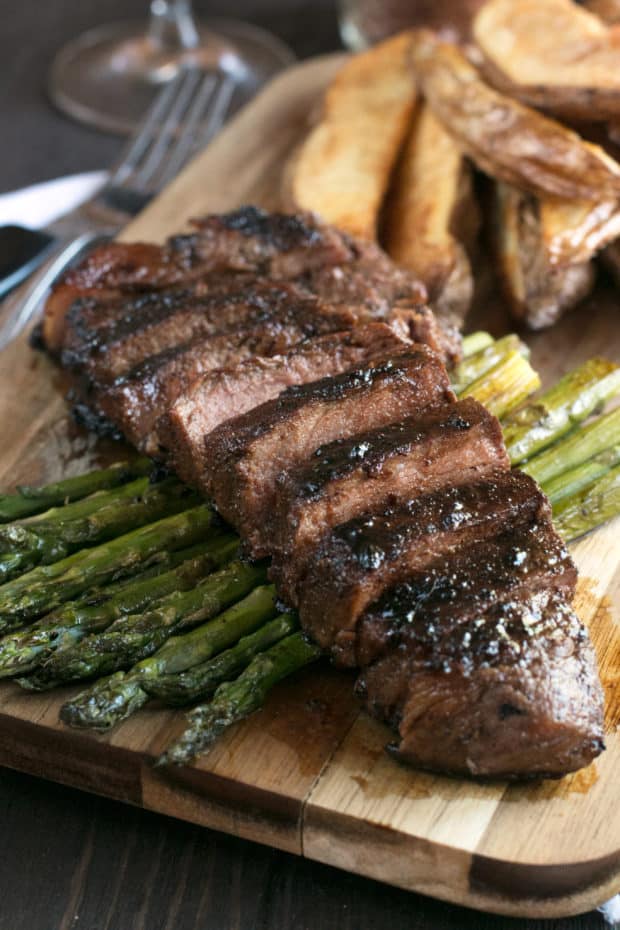 Then you rub down that gorgeous strip steak and cook it in your favorite cast iron skillet.
The result?
A savory, spicy, sweet, juicy, and tender steak that you won't want to stop eating. The meat practically melts in your mouth. Seriously.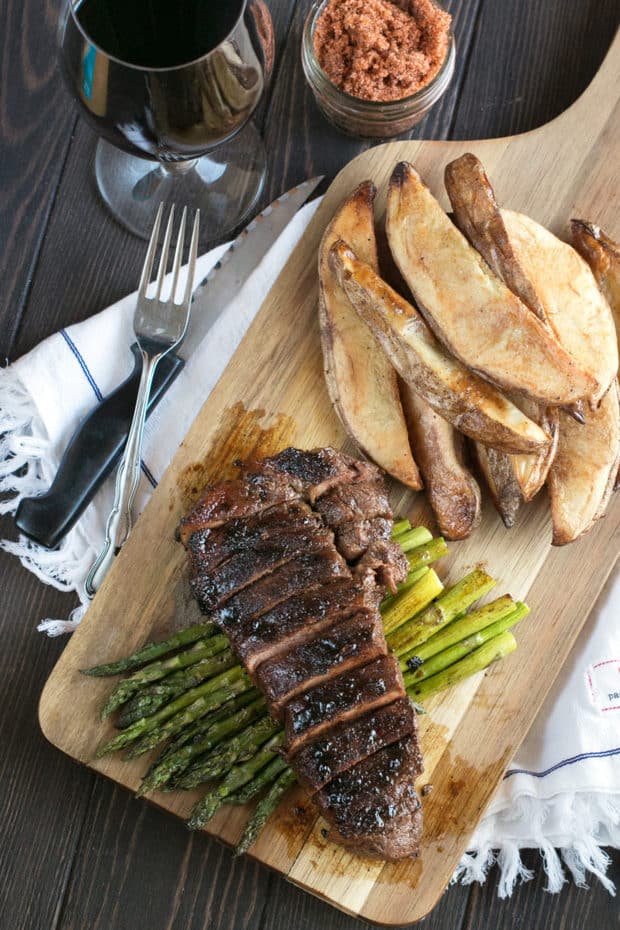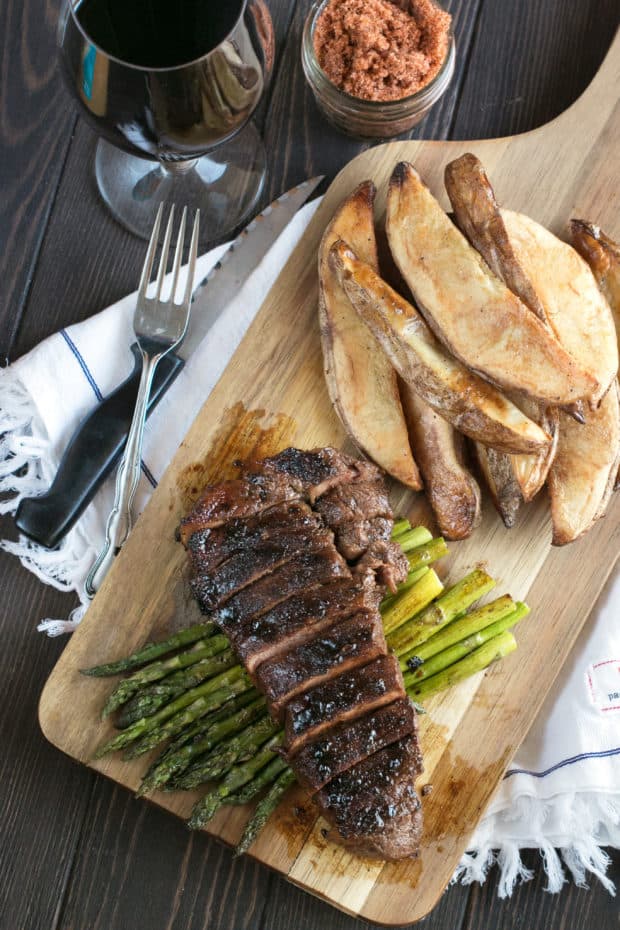 Serve it up with simple sides such as thick cut steak fries and roasted asparagus (you can't outshine the star of the meal!) and you have yourself a steak dinner that will get you all the love from your boo.
I can vouch for this personally. It's a date night W-I-N 😉
This Recipe's Must Haves
Pin this Spicy Bourbon Sugar Rubbed Strip Steak recipe for later!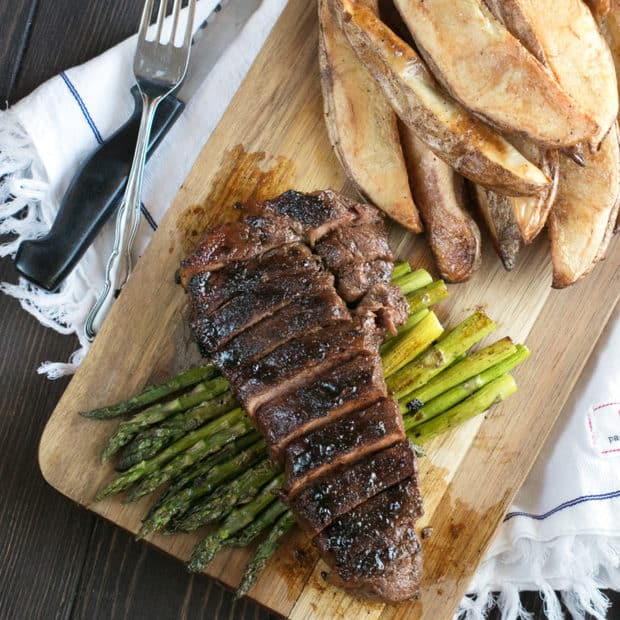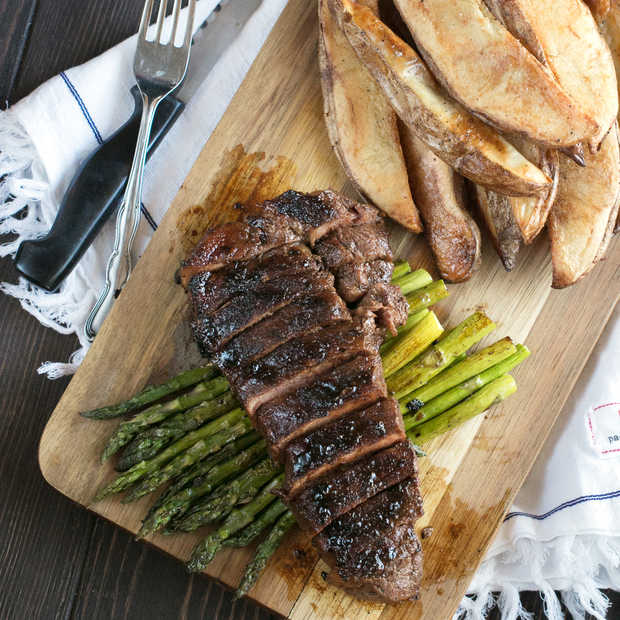 Spicy Bourbon Sugar Rubbed Strip Steak
Yield:
Serves 2 + extra spice rub
The spicy, sugary, boozy rub on the steak makes this steak a flavorful and juicy dinner that no one can resist!
Ingredients
Bourbon Sugar
1/2 cup sugar
2 tsp bourbon
1 vanilla bean, split lengthwise
Spicy Bourbon Sugar Rub
1/2 cup bourbon sugar
1 Tbsp salt
2 1/2 tsp smoked paprika
2 tsp black pepper
1/2 tsp cayenne pepper
1/2 tsp ground cumin
1 tsp garlic powder
Strip Steak
2 (3/4 to 1 lb) strip steaks
2-3 Tbsp Spicy Bourbon Sugar Rub
1 tsp canola oil
Instructions
To make the bourbon sugar, combine sugar, bourbon and vanilla bean in a mason jar. Shake well to combine, occasionally removing the lid to stir to make sure all of the sugar is coated. Seal and let sit for 24 hours.
Remove vanilla bean from sugar before use.
To make the spicy bourbon sugar rub, combine bourbon sugar, salt, paprika, pepper, cayenne, cumin and garlic powder in a small bowl. Whisk to combine.
Remove steaks from packaging and pat dry with paper towels. Coat both steaks in the spicy bourbon sugar rub on all sides.
Heat canola oil in a cast iron skillet over medium-high heat. Once hot, add both steaks. Sear on all sides until browned, approximately 1-2 minutes per side.
Cook until it reaches your desired temperature (approx. 5-6 minutes for medium rare).
Remove from the cast iron skillet. Rest for 10-15 minutes before slicing and serving.
Serve with roasted asparagus and crispy steak fries.
Notes
Store extra spicy bourbon sugar rub in an airtight container, in a cool dry place for up to 1 month.