Please note this post contains affiliate links.
The Perfect Ribeye Steak is only way I'll ever cook a steak. You end up with a buttery, juicy, oh-so tender steak that will make just about anyone fall in love with you.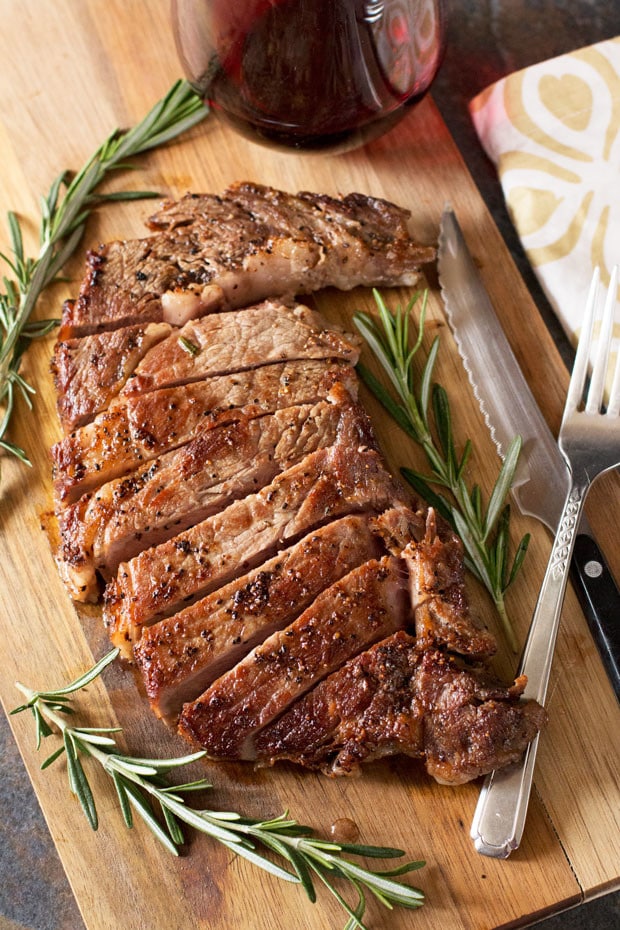 Yep, you read that right! I'm bringing you the perfect steak today, along with a special giveaway, and NO this is no April Fool's Day joke.
I'm pretty sure that would get me tons of hate mail if I pulled that trick on you all…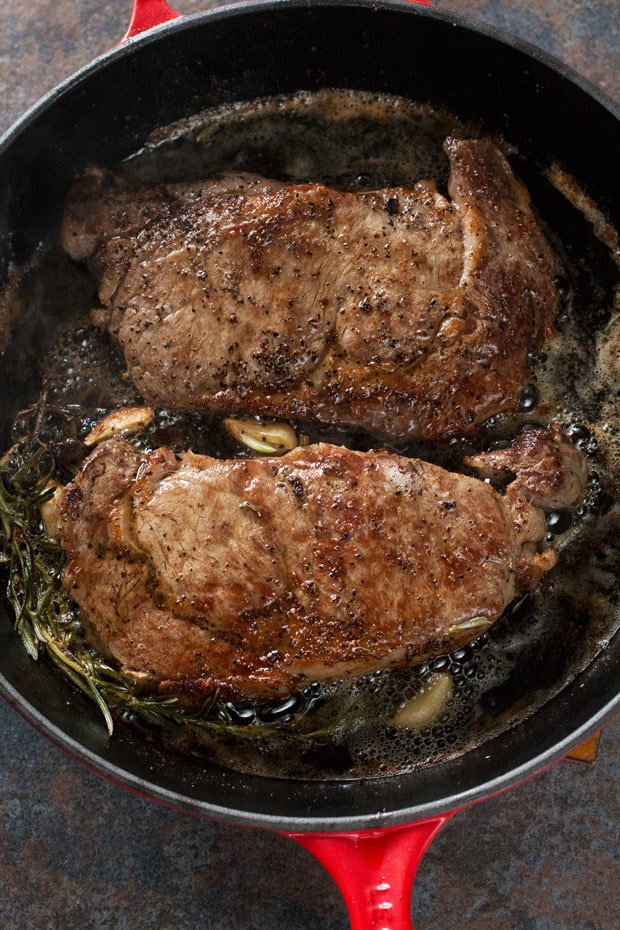 I have to tell you, I've never been the best at cooking steak. I never got that melt-in-your-mouth flavor out of steaks like the ones I would taste in restaurants. I mean, I practically lived in steakhouses with my last job and those steaks were so damn good. I would have given anything to replicate the deliciousness at home.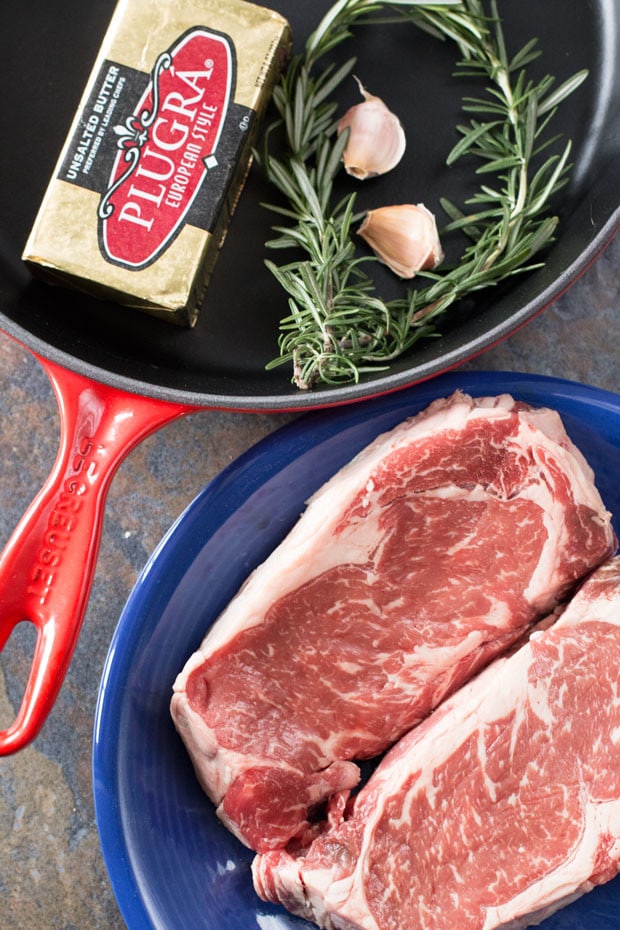 I decided since I'm approaching the big 3-0 this year, it was about time for me to really master the perfect steak. After a ton of research and watching about every YouTube video on the planet about cooking steaks, I finally found the right combination of all the advice.
The result? This luscious steak that is so flavorful and tender, you will melt right into your chair with every bite. Pair these steaks with some asparagus and a bold red wine – holy crap, people. It's heaven.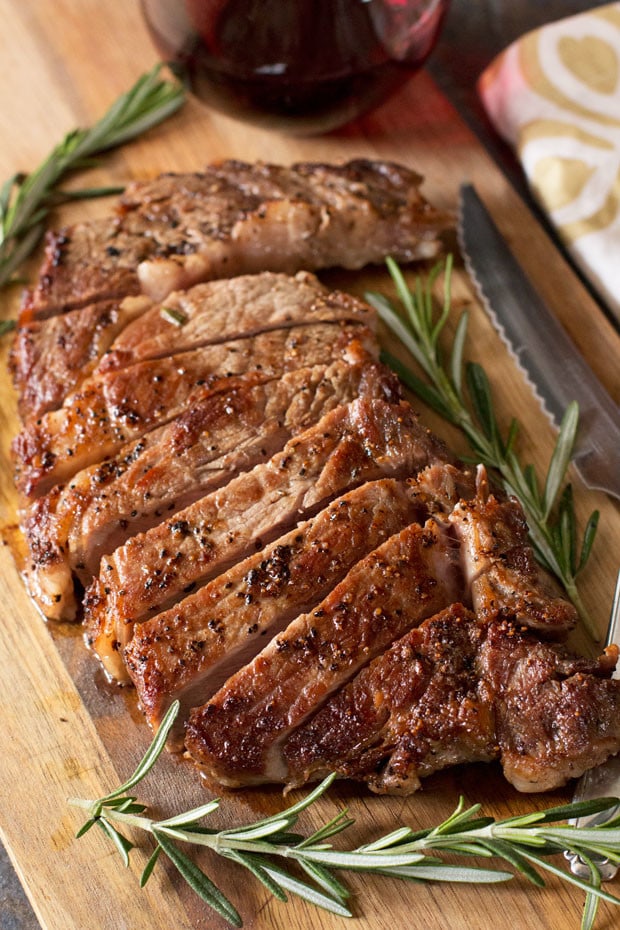 There is one secret to the perfect steak that you have to know first…. It's a cast iron skillet. Not just any cast iron skillet, but this Le Creuset cast iron skillet. It's unreal how quickly this skillet will cook the steak, but also how hot it gets. Over medium heat in about 5 minutes, the pan was screaming hot and it never lost that heat while I was cooking the steaks.
My grandma had about 10 cast iron skillets in her possession at one time and our family always used them. The only downside to the whole cast iron situation was the clean up and seasoning of the pans. UGH it took forever. Plus I always got shortening everywhere. I don't know what they've done to cast iron skillets in the past decade, but this Le Creuset cast iron skillet requires zero seasoning. It seasons while you cook and you just clean it off. Boom. Done.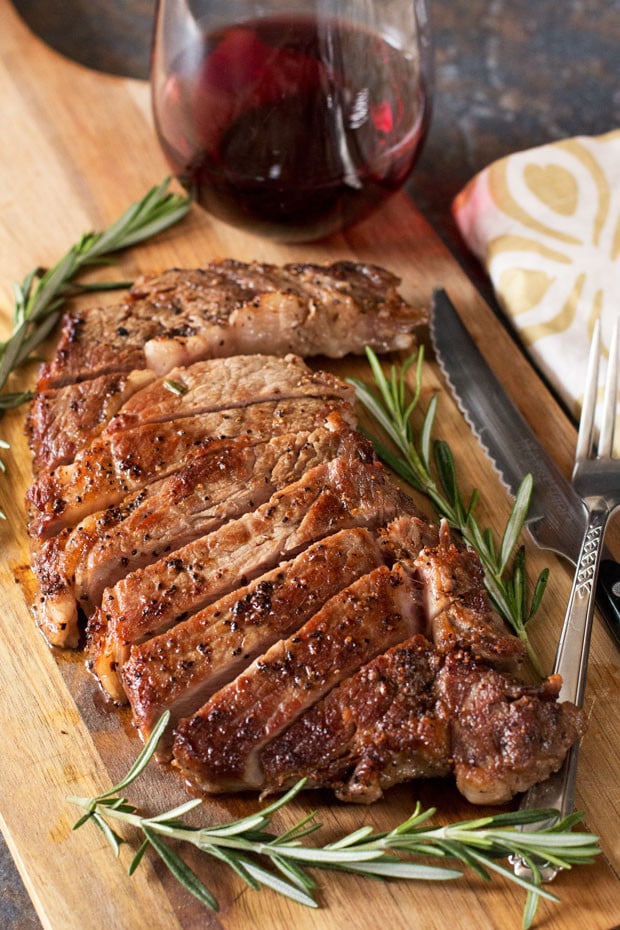 My mind was blown.
All I can say is that with this pan and these steaks in your possession, you're going to make someone fall in love with you. I'm still working on finding the guy that I'll use this magic on, but when I do, I guarantee this'll seal the deal for me.
Don't forget to check out the giveaway below the recipe!
Disclosure: I received free product from Le Creuset as part of this giveaway and post. As always, all opinions and recipe are my own. Thanks for supporting the brands that support Cake 'n Knife!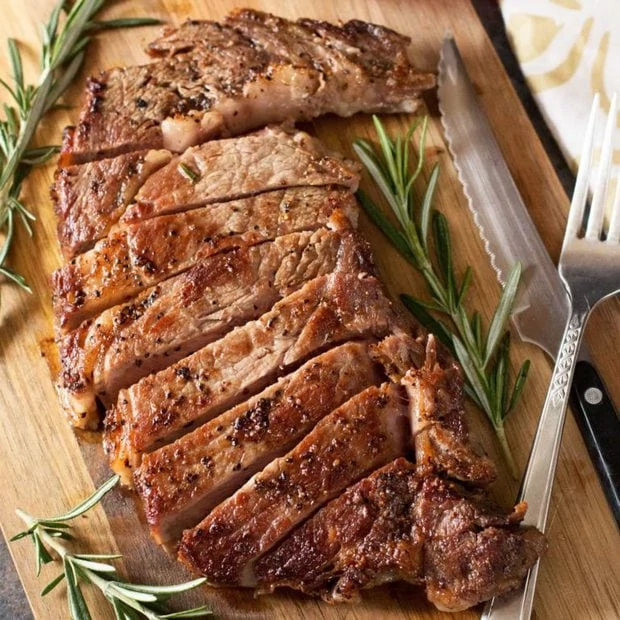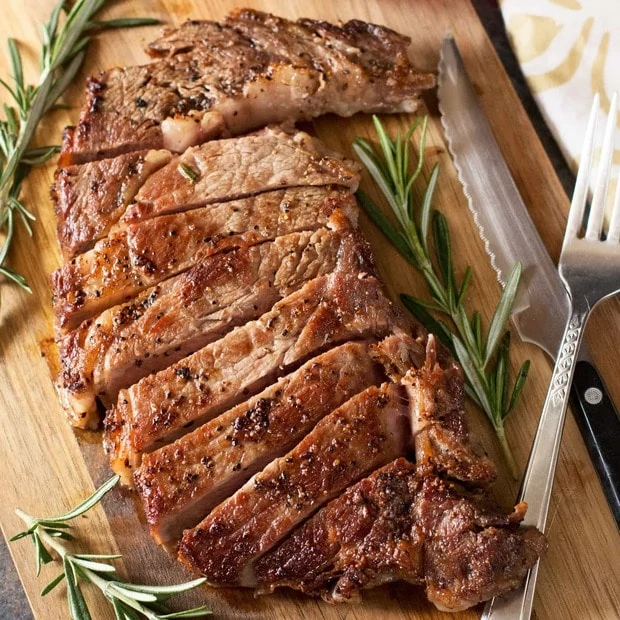 The Perfect Ribeye Steak
The only way I'll ever cook a steak - perfectly.
Ingredients
2 good quality ribeye steaks, rested at room temp for 20 minutes
1 tsp olive oil
2 tsp sea salt
4 tsp freshly cracked black pepper
5 Tbsp good quality butter
3 sprigs fresh rosemary
2 cloves garlic, cut in half
Instructions
Heat your cast iron pan over medium heat for 5 minutes (be sure to turn the fan on at this point, it'll help!).
While the cast iron is heating up, season steaks on both sides evenly with salt and pepper. Once the pan is hot, add the olive oil and swirl to coat the pan. Lay the steak in the pan (always away from you!).
Cook the steaks for 30 seconds and then flip and cook an additional 30 seconds. At this point, turn the steaks on their sides with the fat cap down in the pan. Render the fat for 30 seconds and then return to their original position in the pan.
Add the butter, rosemary and garlic to the pan. As the butter melts, baste the steaks using a spoon. As you cook the steaks, you'll want to turn them every minute until they reach your desired temperature so they color evenly on both sides.
When you're at your desired temperature, brush the tops with one of the cloves of garlic and remove to a cutting board to rest. Rest the steaks for at least 10 to 15 minutes before slicing and serving.
Notes
TIP: To know the doneness, this is the guide I tend to follow. For rare, touch your thumb to your index finger in the "OK" sign. Press the part of our palm right beneath your thumb with your other hand. That's the feel for rare. Touch your thumb to your other fingers one at a time to work up the doneness scale - middle finger for medium-rare, ring finger for medium and pinky for well-done.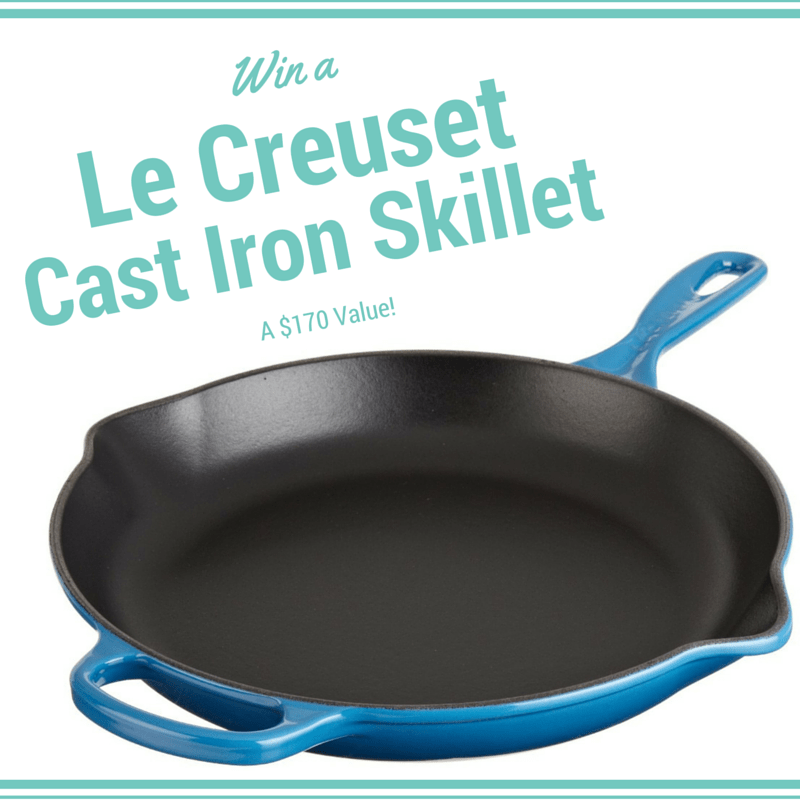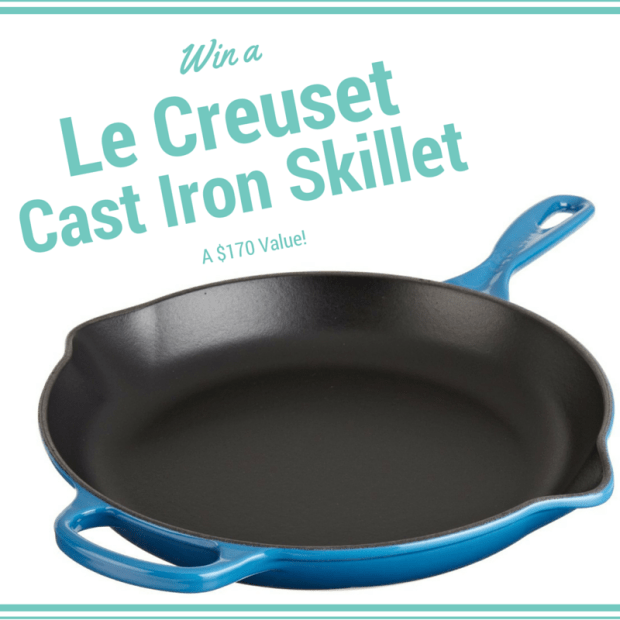 Ready to win the most amazing cast iron skillet for yourself?? See the Rafflecopter below to enter to win!
Giveaway rules:
1. Enter the giveaway through the Rafflecopter widget below. Everyone gets a free entry! You can enter multiple times, up to 25 total entries by following & sharing the giveaway sponsors on social media. (If you've followed in the past, that counts! Just enter the information as prompted.) All entries will be verified. No purchase is necessary to win.
2. The giveaway is open until Friday, April 15, 2016 at 11:59 p.m. MST. One winner will be chosen at random and e-mailed within 48 hours. Winners must claim prize within 48 hours of initial contact. The retail value of the prize is $170. Prize listed above is the only one available.
3. Open to U.S. residents with a valid shipping address only. Must be 18 years of age as of April 1, 2016.