Blue Cheese Buffalo Chicken Egg Rolls have all the flavors of your favorite buffalo chicken wings, wrapped in crispy fried egg roll wrappers. The spicy filling with homemade buffalo sauce is sure to satisfy all the heat-seekers in your life, with a cooling blue cheese dipping sauce to balance it all out. Everyone will be fighting over the last one!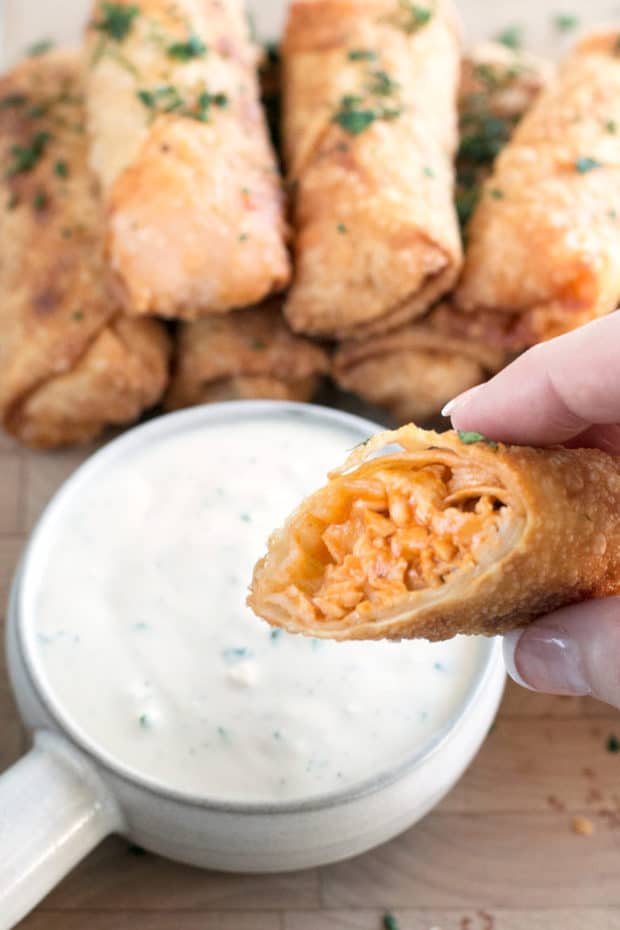 Please note that some of the links below are affiliate links. If you make a purchase through one of these links, I will receive a small commission. Thank you for supporting Cake 'n Knife!
For me, the holiday tradition of getting together, eating great food and spending time with family and friends doesn't start in November.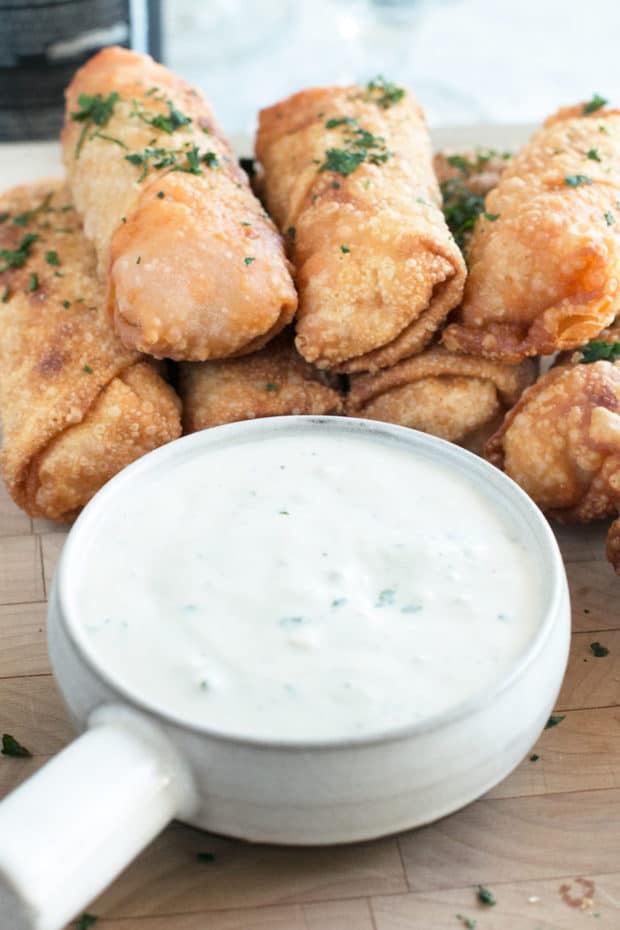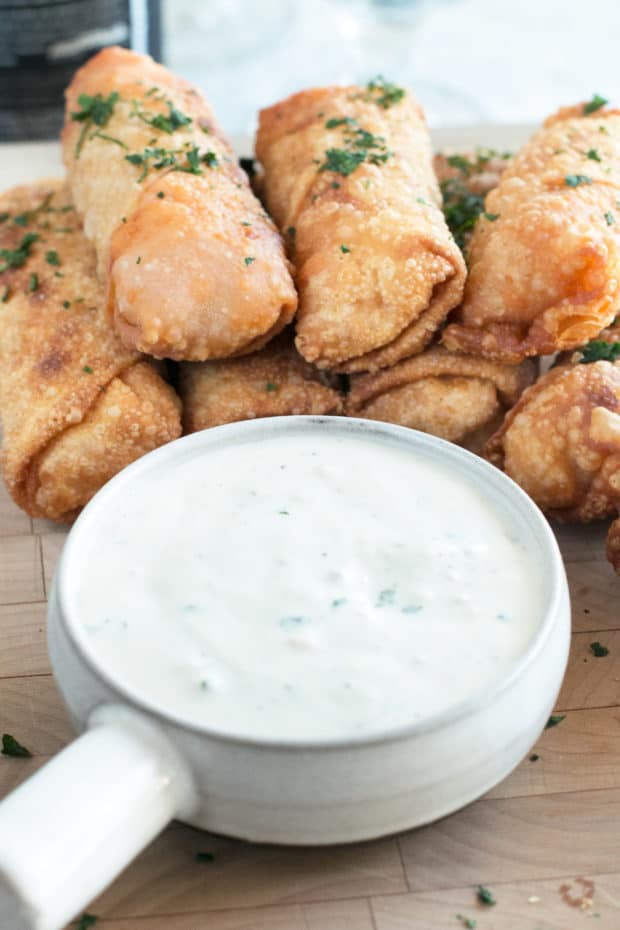 It's starts with football season.
I say this and then realize that I haven't hosted anyone for tailgating just yet… which makes me feel a wee bit silly for talking about how much I love to do it… moving is HARD ok? Gimme a break this year 😉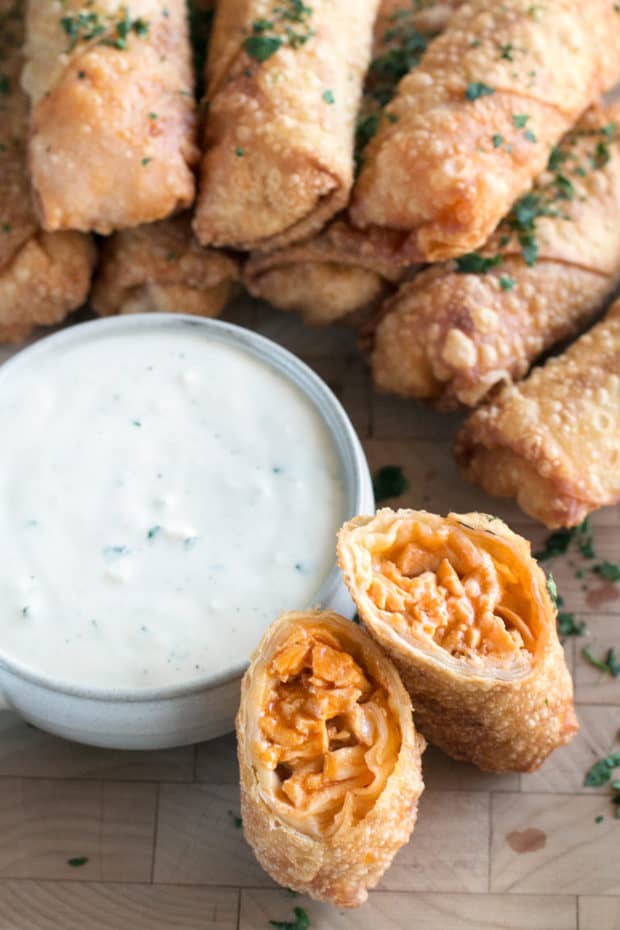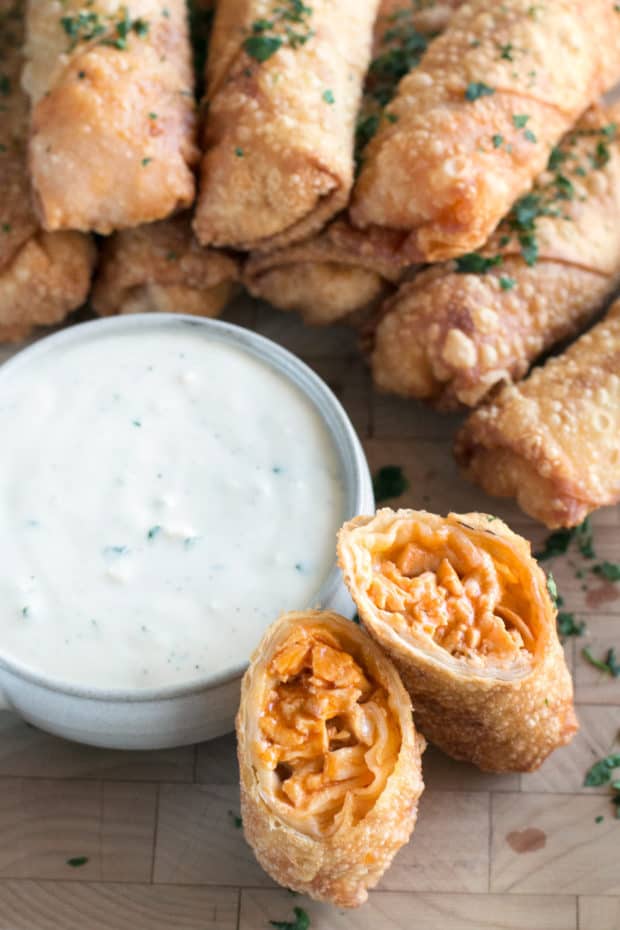 Football season is an amazing thing. It brings people together, it gets people competitive (especially with fantasy football, which I am not excelling at this year… le sigh), and it gives everyone an excuse to spend hours together with beers and amazing food, while screaming at the TV… each other…
Kinda sounds like the holiday season, doesn't it?
Egg rolls are such a fun thing to serve for tailgating parties. They are full of texture and handheld, making it easy to dunk and eat while you carry your beer in your other hand.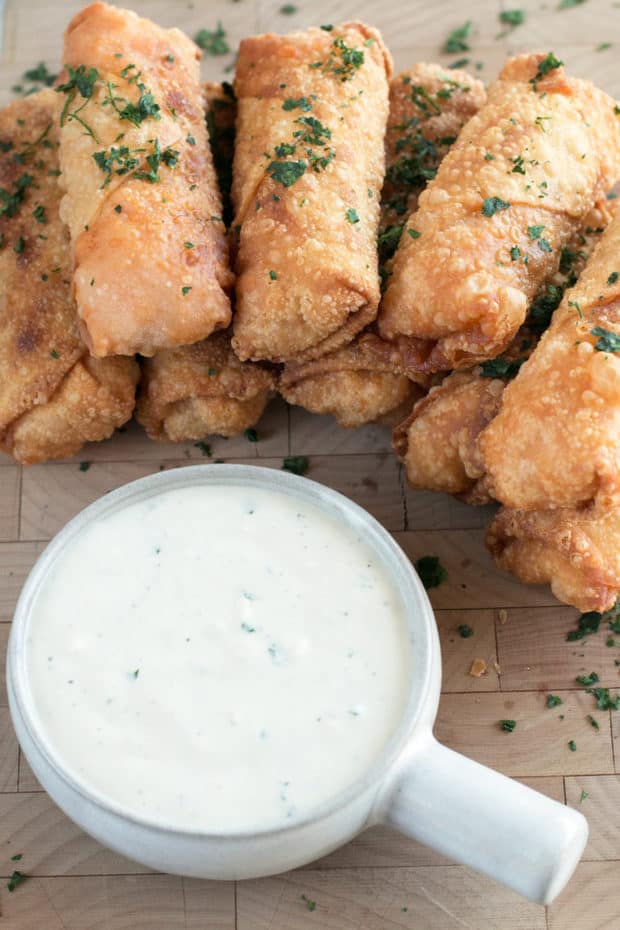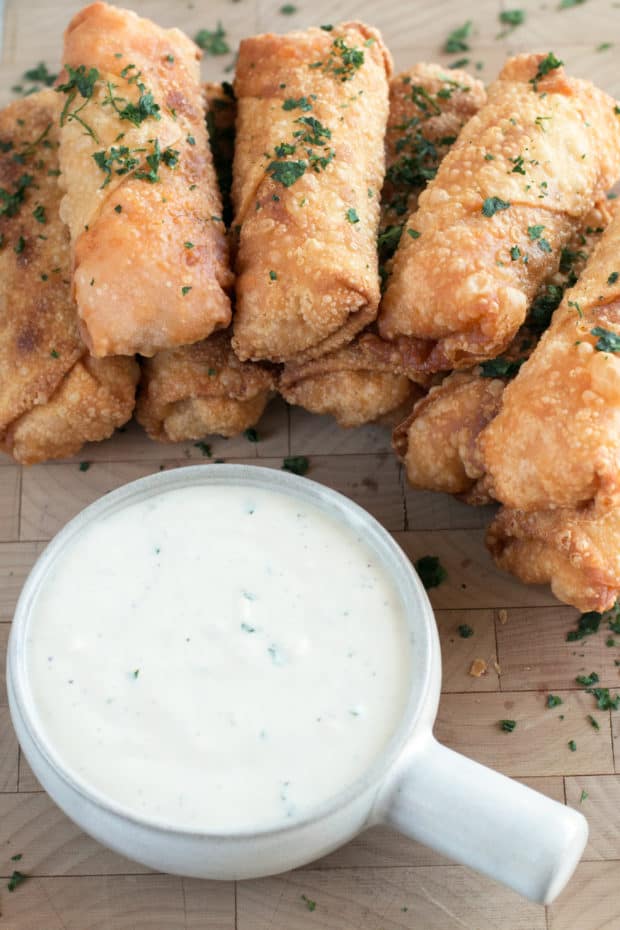 These spicy blue cheese buffalo chicken egg rolls are my new tailgating egg roll favorite. The filling is spicy and tangy, with a homemade buffalo sauce and a touch of blue cheese crumbles. You serve that up alongside a blue cheese dipping sauce to cool your mouths off from the fire, and you've got a game day hit on your hands.
Not to mention you are avoiding all the mess of buffalo chicken wings, while getting an extra crunch from the freshly fried egg roll wrapper!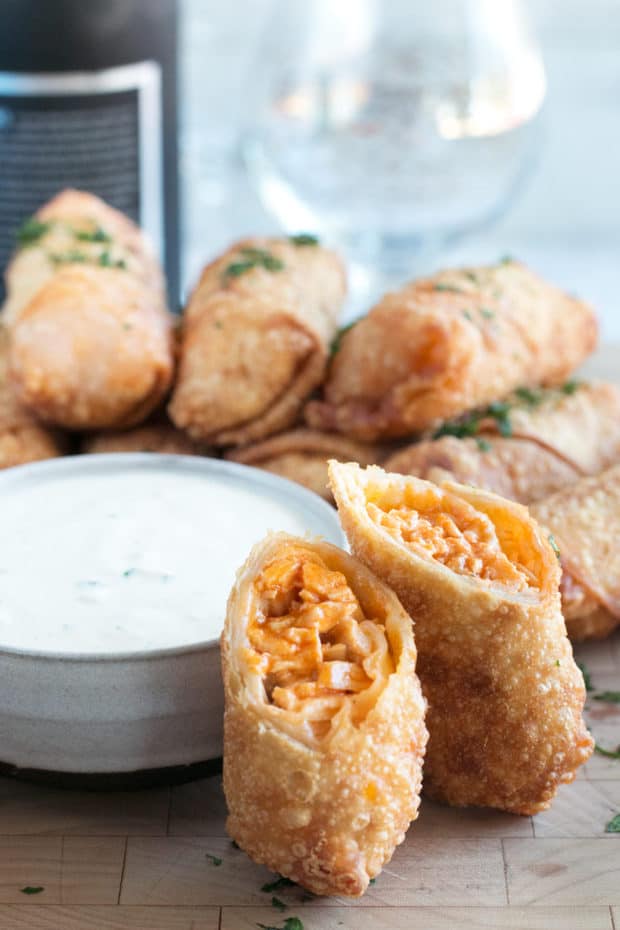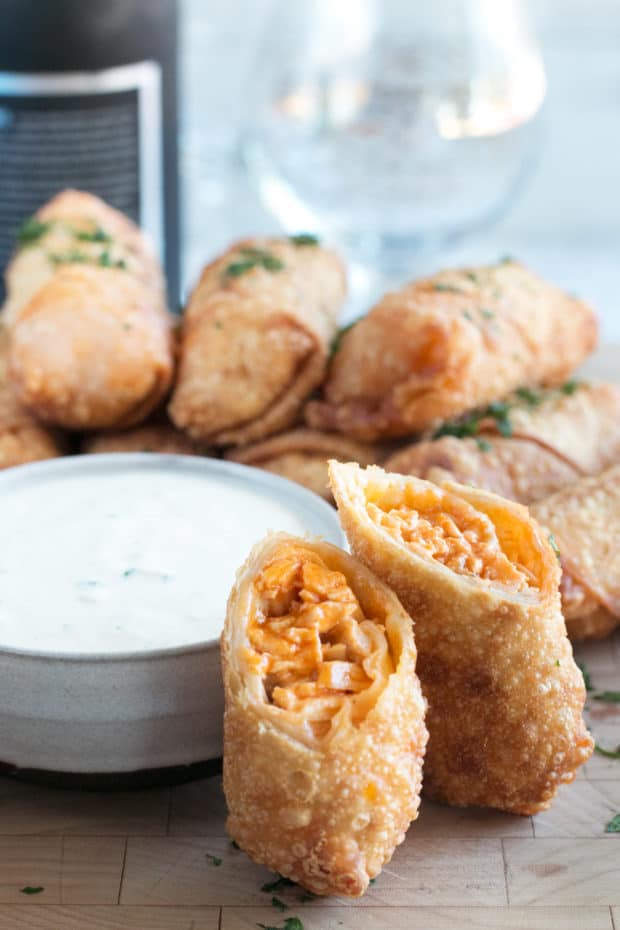 The whole pairing is creamy and spicy, crunchy and cooling, satisfying and not too terribly heavy. Pair it with golden ales and IPAs. Pair it with fresh bubbly cocktails. Pair it with ANYTHING, just make sure that you make 'em and eat 'em!
I am pretty sure once I get back from my trip to the ocean later this month, I'll be hosting an egg roll smorgasbord for the next tailgating get together…
Sounds like the best idea ever right? Join me by clicking here to check out all of my egg roll recipes!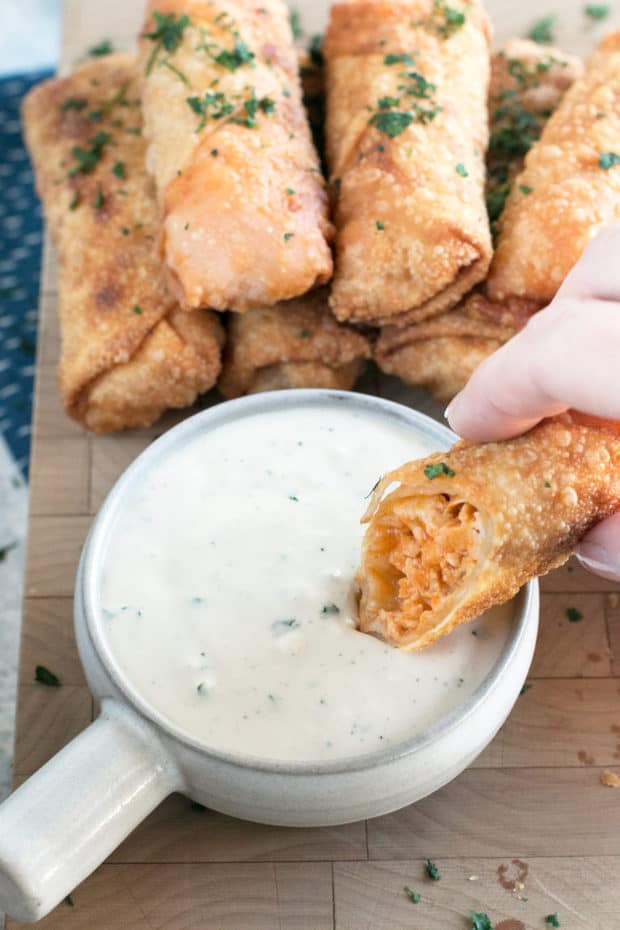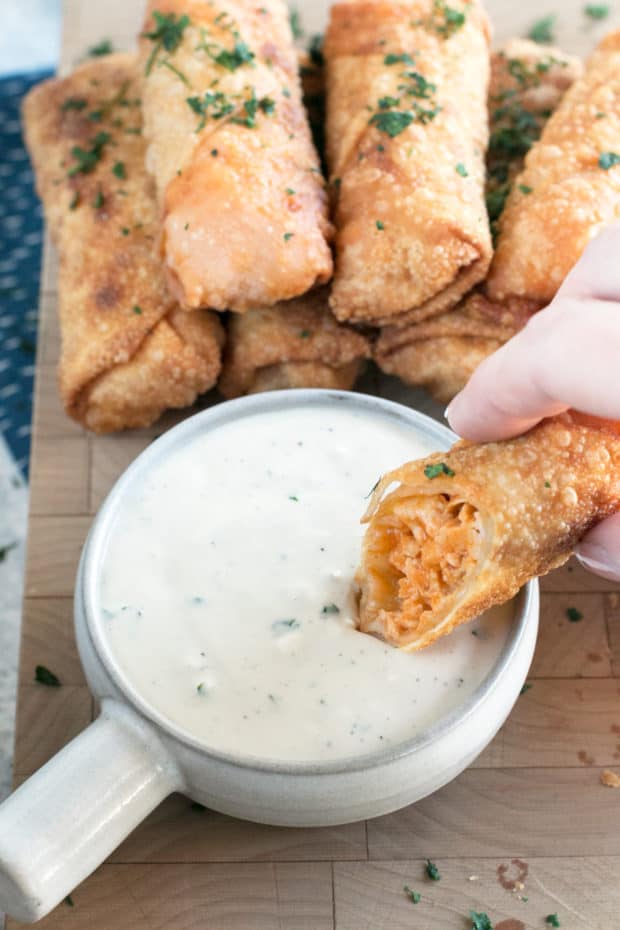 This Recipe's Must Haves
Pin this Blue Cheese Buffalo Chicken Egg Rolls recipe for later!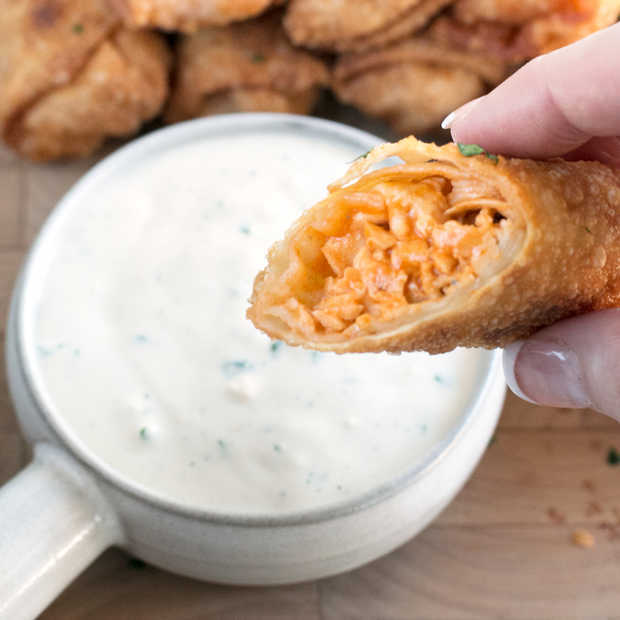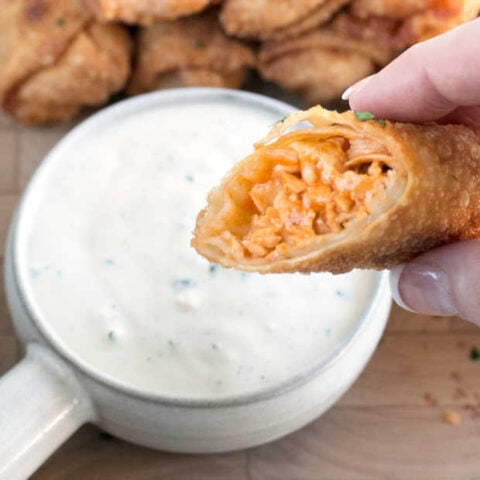 Blue Cheese Buffalo Chicken Egg Rolls
All of the buffalo chicken wing flavor you love, rolled up in a fried egg roll wrapper! Dip it in blue cheese dipping sauce and you have a game day hit on your hands.
Ingredients
Buffalo Sauce
3/4 cup melted butter
1 cup hot sauce
2 tsp Worcestershire sauce
1/2 tsp granulated sugar
Egg Rolls
3 cups cooked shredded chicken
1 cup buffalo sauce
1/2 cup crumbled blue cheese
1/2 tsp garlic powder
1/4 cup cold water
1 Tbsp cornstarch
14 egg roll wrappers
Oil, for frying
Blue Cheese Dipping Sauce
1/2 cup crumbled blue cheese
1/3 cup mayonnaise
1/4 cup sour cream
2 Tbsp milk
1 1/2 tsp Worcestershire sauce
1/2 tsp fresh chopped parsley
Salt and pepper to taste
Instructions
In a medium bowl, whisk together ingredients for buffalo sauce.
In a small bowl, whisk together ingredients for blue cheese sauce. Set in fridge.
In a large bowl, stir together chicken, sauce, blue cheese and garlic powder for the egg roll filling. Give it a taste and add a little more buffalo sauce to taste if desired.
In a small bowl, whisk together water and cornstarch for the egg rolls. Set aside.
To wrap your egg rolls, start with a clean, flat surface. Lay one wrapper so one of the corners is facing you (like a diamond). Dip your fingers in the cornstarch water and spread on each edge of the egg roll wrapper.
In the corner closest to you, spoon 1 1/2 to 2 tablespoons of the buffalo chicken filling into the center. Lift the bottom corner up and begin to roll away from you, making sure you tuck the corner under as you roll. Once you are halfway up the wrapper, fold in the left side and then the right side towards the center.
Continue rolling away from you until only the final corner is ready to roll. Dip your fingers in the cornstarch and water mixture you made earlier and brush it over the final corner. Finish the roll, brush a little more of the cornstarch mixture along the seam, and place seam-side down. Make sure you roll the egg rolls tightly. If they are too loose, they will fall apart when you fry them.
To fry the egg rolls, fill a pot with 4-5 inches of cooking oil. Heat the oil to 350 degrees. Gently add the egg rolls to the hot oil, frying no more than 3 or 4 at a time, turning occasionally. Fry until the egg rolls are golden brown on all sides, approximately 2 minutes. Place on paper towels to drain and cool.
Serve immediately with blue cheese dipping sauce.