Absolut Elyx Black Magic Martini
Please note this post contains affiliate links.
Get spooky this Halloween season with a festive Absolut Elyx Black Magic Martini! The blackberry thyme vodka martini is smooth, herbaceous, and tart with just a hint of sweetness. The magic of dry ice gives the martini a ghostly effect, making it just the ghoulish delight to indulge in this month.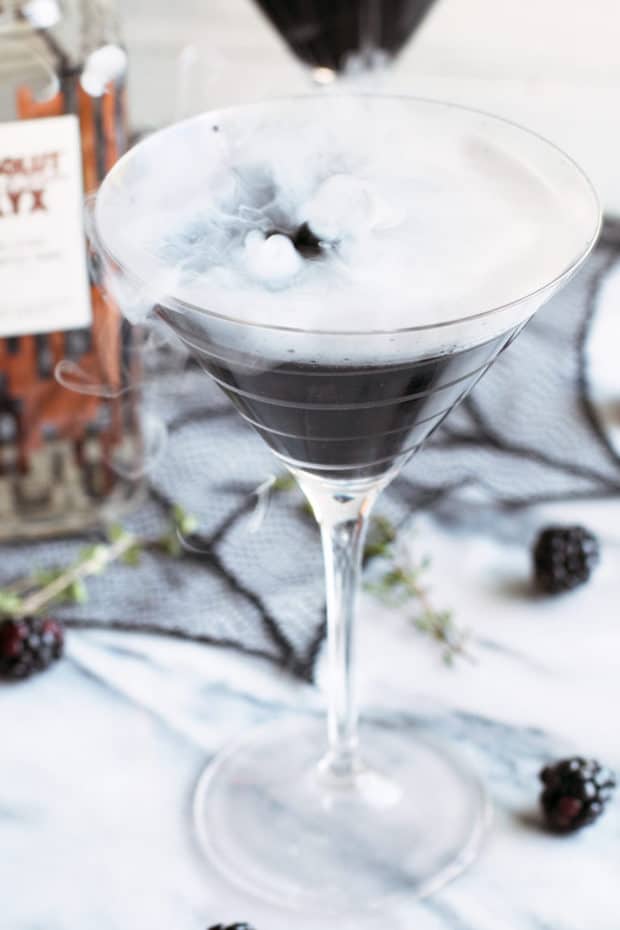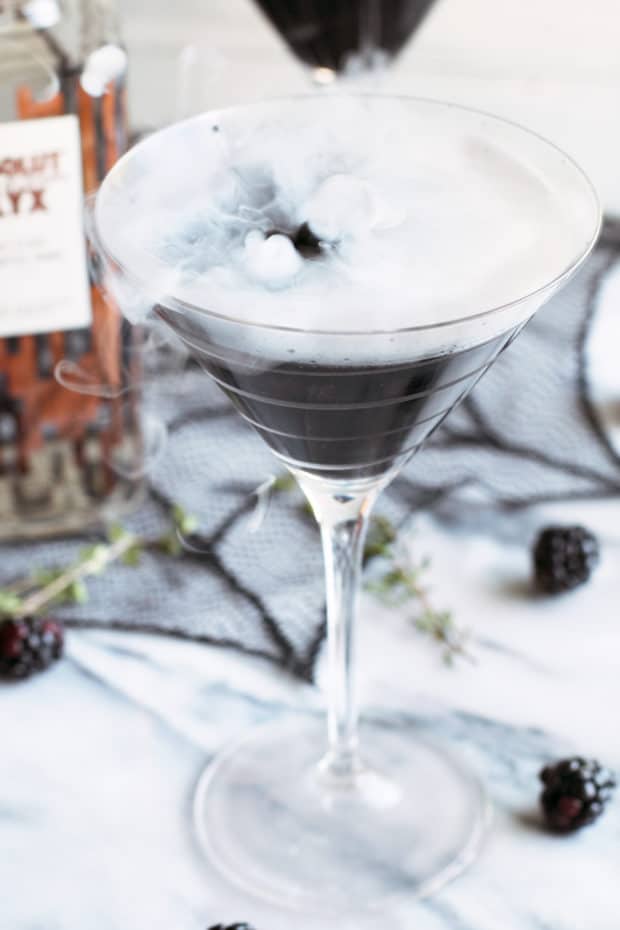 Disclosure: This post is sponsored by Absolut Elyx! As always, all opinions and the recipe are my own. Thanks for supporting the brands that support Cake 'n Knife!
Do you need something to make this year's Halloween a little more festive?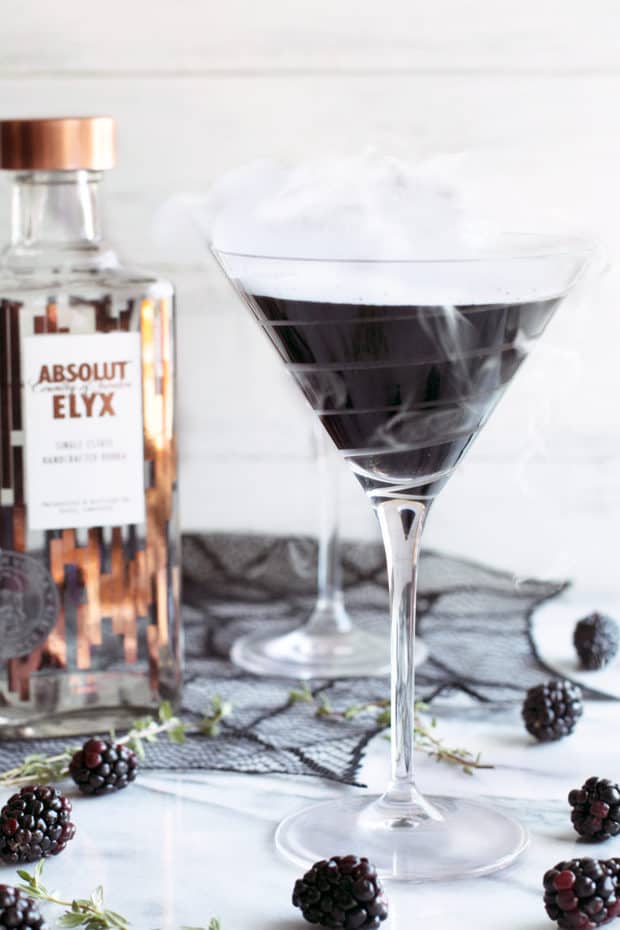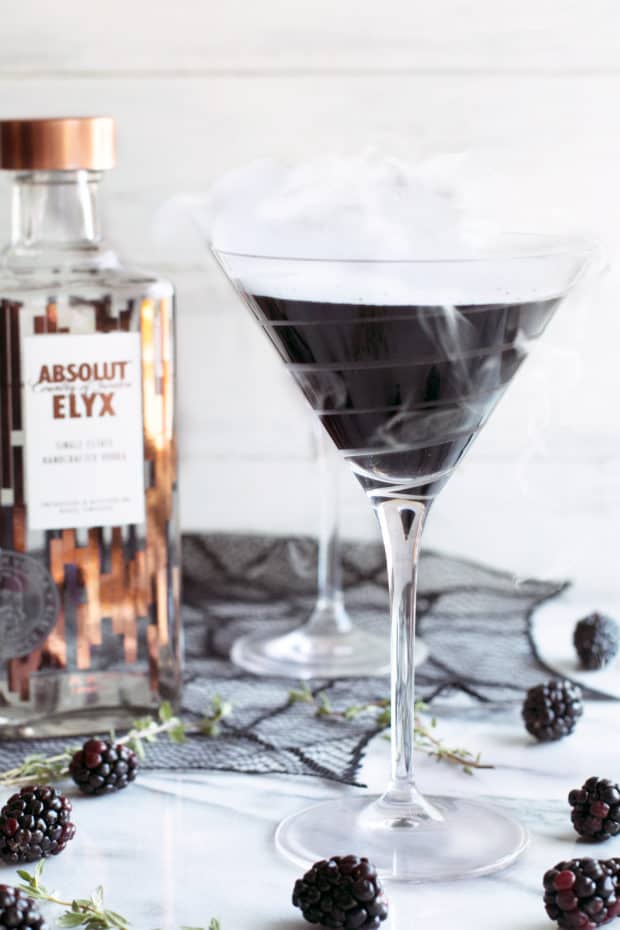 If you are anything like me, the days of going out all night to raging Halloween house parties and getting dressed up in costumes that aren't weather-appropriate are longgggg gone.
Nowadays, especially when Halloween falls on a weeknight, Halloween is the night to stay in. We give out candy to the neighborhood kiddos, cuddle up with movies (well really one movie. Hocus Pocus
. DUH), and indulge in all the good food .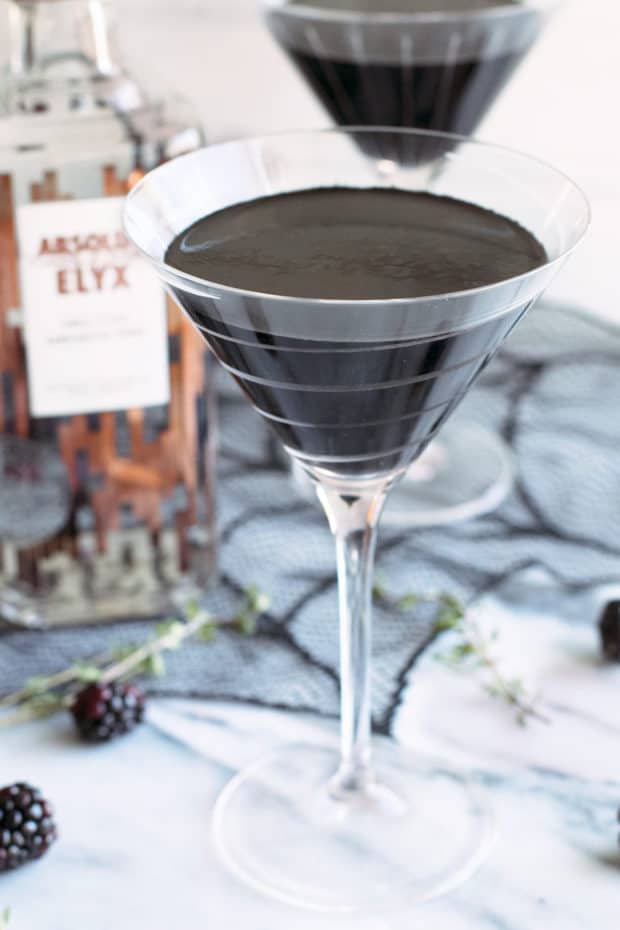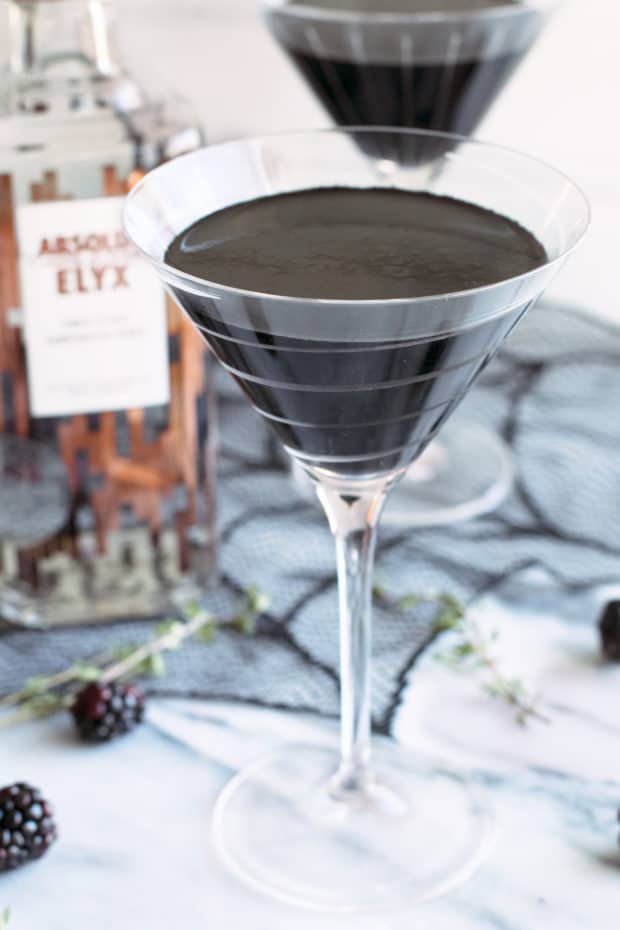 Please note that some of the links below are affiliate links. If you make a purchase through one of these links, I will receive a small commission. Thank you for supporting Cake 'n Knife!
Halloween wouldn't be Halloween without a little homage to the celebrations I used to have, so this cocktail is my festive solution to make the night in a little more special!
I mean, just look at those spooky wisps of smoke billowing over the top of the glass…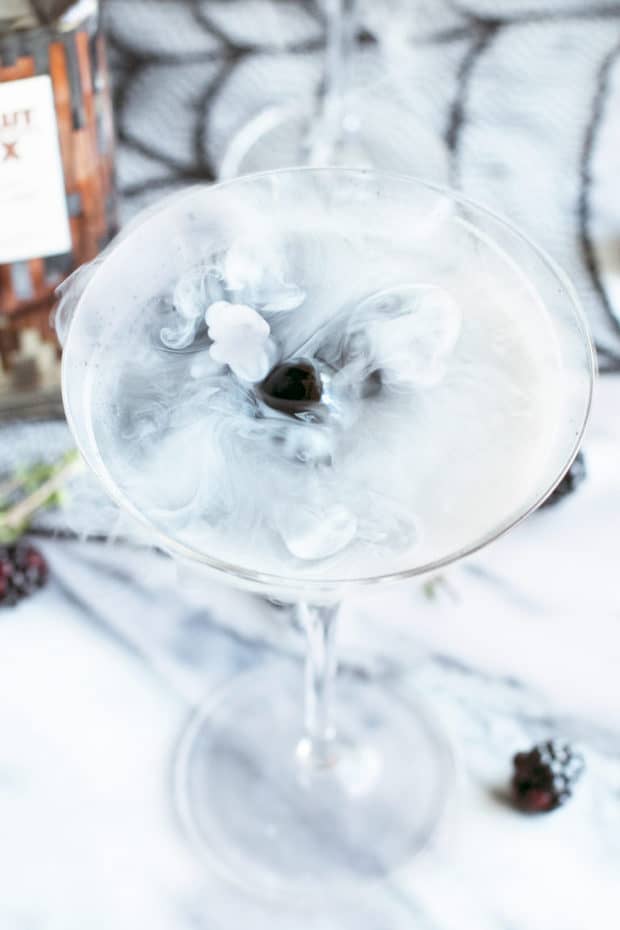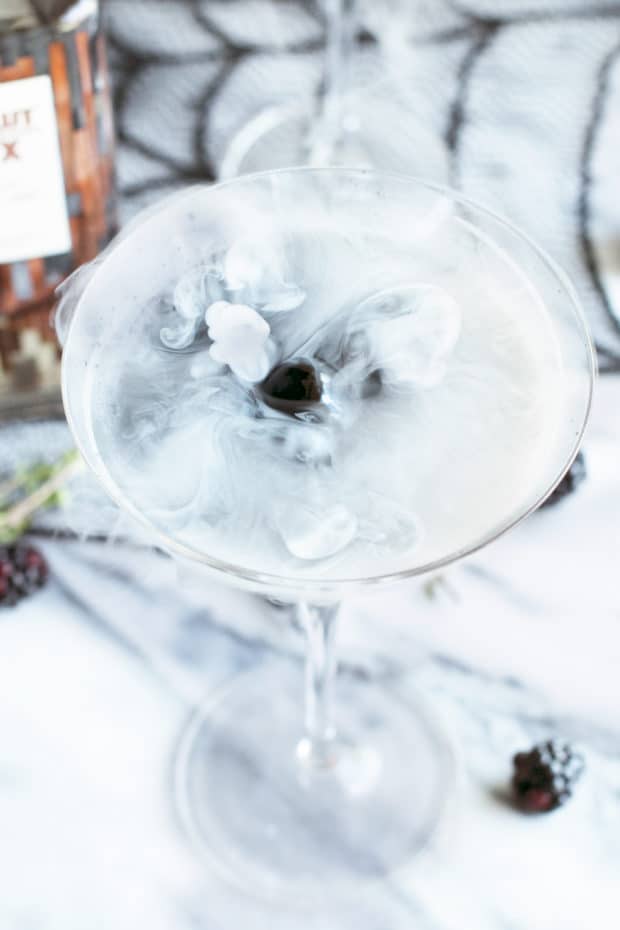 Spooky, right?!
I know this cocktail looks all spooky and Halloween-like, but that's not the real magic in this Absolut Elyx Black Magic Cocktail. The real magic is the smooth and silky main ingredient…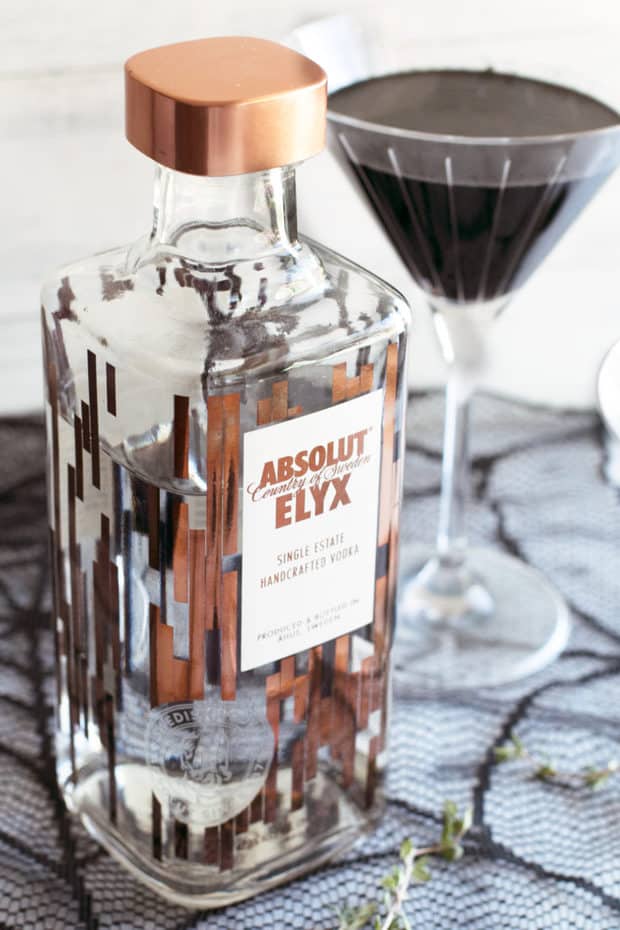 Absolut Elyx vodka, of course!
You saw that one coming, didn't you?
The cocktail is full of subtle tart, sweet and herbaceous flavors that pair wonderfully with the mellow flavors of Absolut Elyx. Absolut Elyx is one of those vodkas that actually turned me onto martinis. It's amazing how a high-quality vodka can make ALL the difference in cocktails – and this one is no different.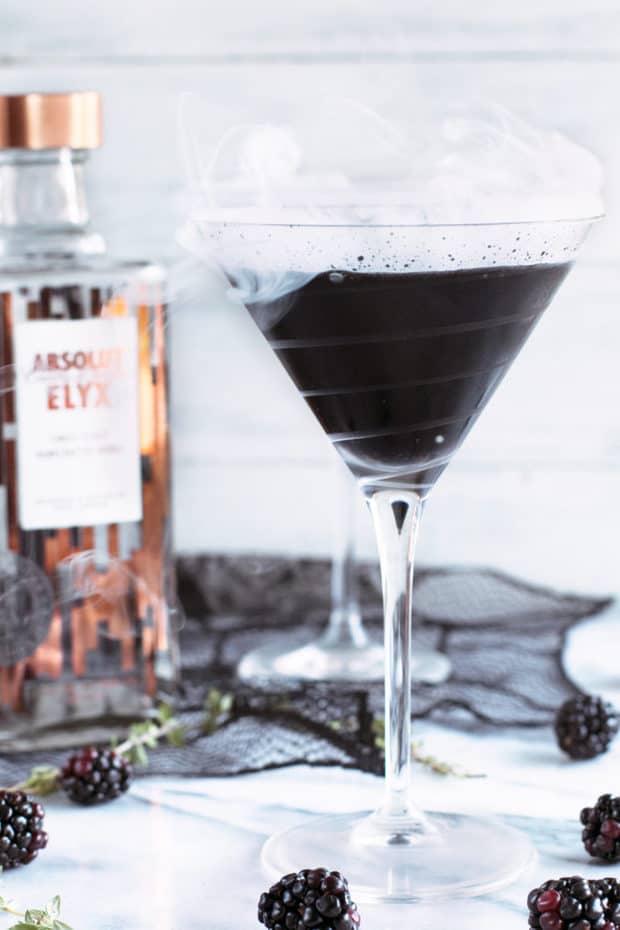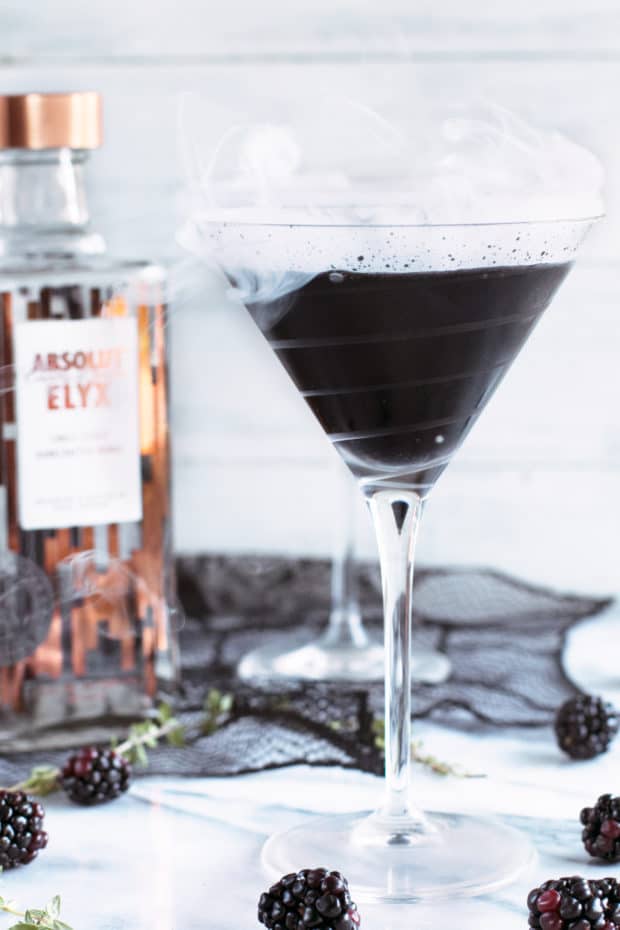 The cocktail is sultry and feels wickedly indulgent as you sip the pure black liquid in a fancy martini glass. You almost feel as though you are one of the witches from Hocus Pocus, except more elegant, calm, cool and collected. Like Melisandre from The Addams Family. Except more witchy.
You can spice up a Halloween night in, or if you are having people over, whip out this surprising cocktail for all your guests! The oooh's and ahhhh's when you add the dry ice are totally worth it.
Happy Halloween!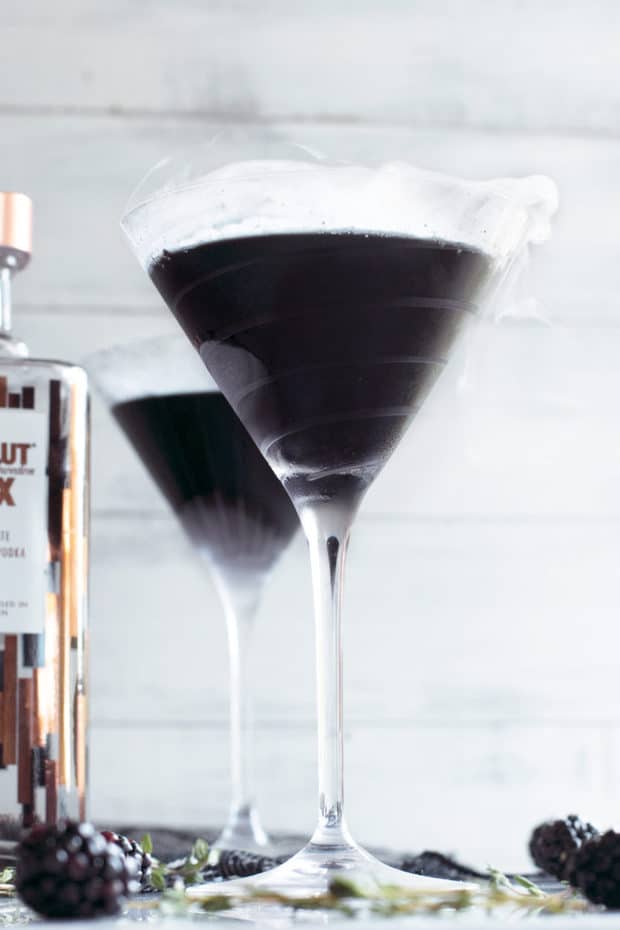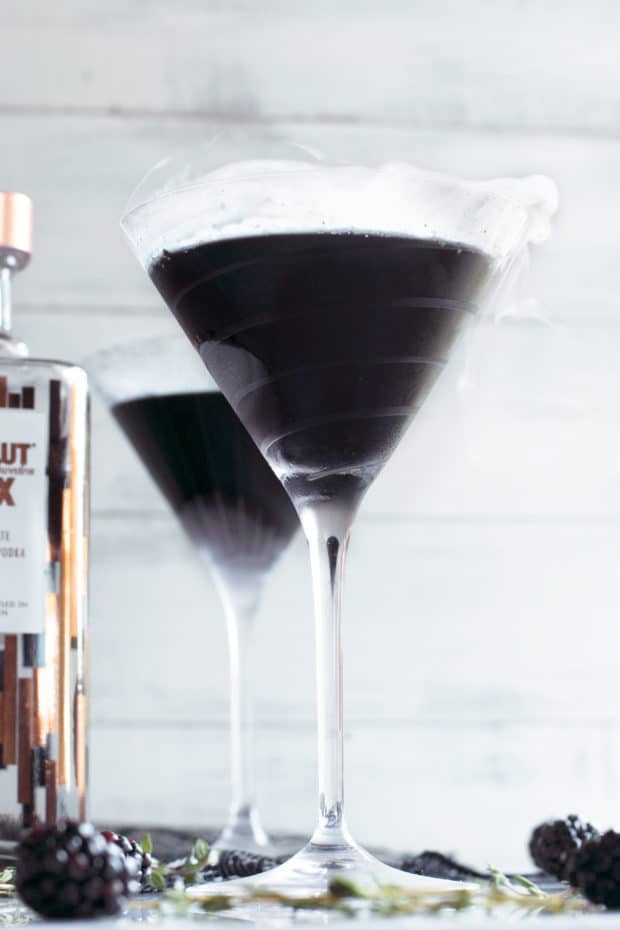 This Recipe's Must Haves
If you need more cocktail inspiration for your upcoming cocktail party or impromptu happy hour, check out Absolut Elyx's cocktail inspiration!
Pin this Absolut Elyx Black Magic Martini recipe for later!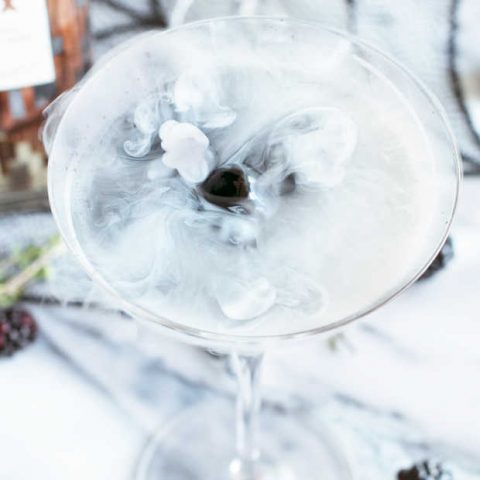 Absolut Elyx Black Magic Martini
Yield: Makes 2 cocktails
Prep Time: 5 minutes
Cook Time: 5 minutes
Total Time: 10 minutes
Ingredients
Blackberry Puree
6 oz blackberries
1 1/2 oz brandy
1/2 oz lemon juice
1/4 tsp black food coloring
Thyme Simple Syrup
5 sprigs fresh thyme
1/2 cup sugar
1/2 cup water
Cocktail
3 oz blackberry puree
1 oz thyme simple syrup
Ice
Crushed dry ice
Instructions
To make the thyme simple syrup, combine thyme, sugar, and water in a small saucepan over medium-high heat. Bring the mixture to a boil and stir to dissolve sugar. Remove from heat and cover. Steep for 30 minutes. Remove thyme sprigs and let cool completely.
To make the blackberry puree, combine blackberries, brandy, lemon juice and black food coloring in a blender or food processor. Puree until smooth. Set in the refrigerator until you make the cocktail.
In a cocktail shaker filled with ice, add Absolute Elyx vodka, blackberry puree and thyme simple syrup. Shake well and strain into a martini glasses.
Top (carefully!) with a small spoonful of crushed dry ice for the smoky effect!
Note: use caution when consuming the beverage with dry ice in it. I generally let it smoke and get cold, before removing dry ice chunks that didn't melt away at the bottom of the glass.
This is a sponsored conversation written by me on behalf of Absolut Elyx. The opinions and text are all mine.
This is a sponsored conversation written by me on behalf of Absolut Elyx. The opinions and text are all mine.