Please note this post contains affiliate links.
A Sparkling Rosemary Peach Mocktail is a slightly sweet and herbaceous non-alcoholic drink that's perfect for sipping on a hot day. It's super refreshing and balanced just like a craft cocktail. Serves 2.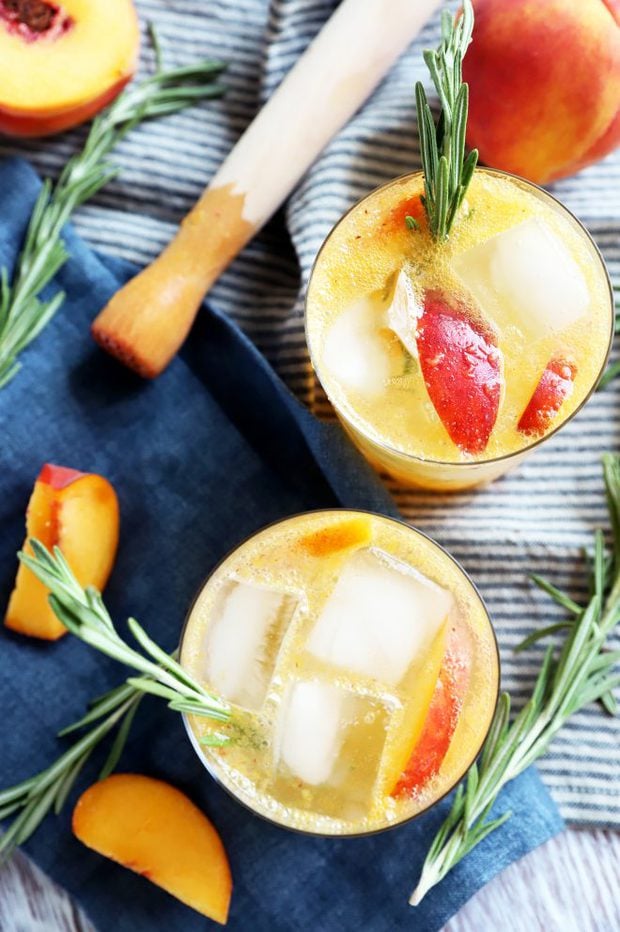 This peach mocktail is my final farewell to summer!
With September and all the pumpkin things already showing up on every feed, I'm in the mood to make the flip for the upcoming season.
However, one more drink for the road, mmkay?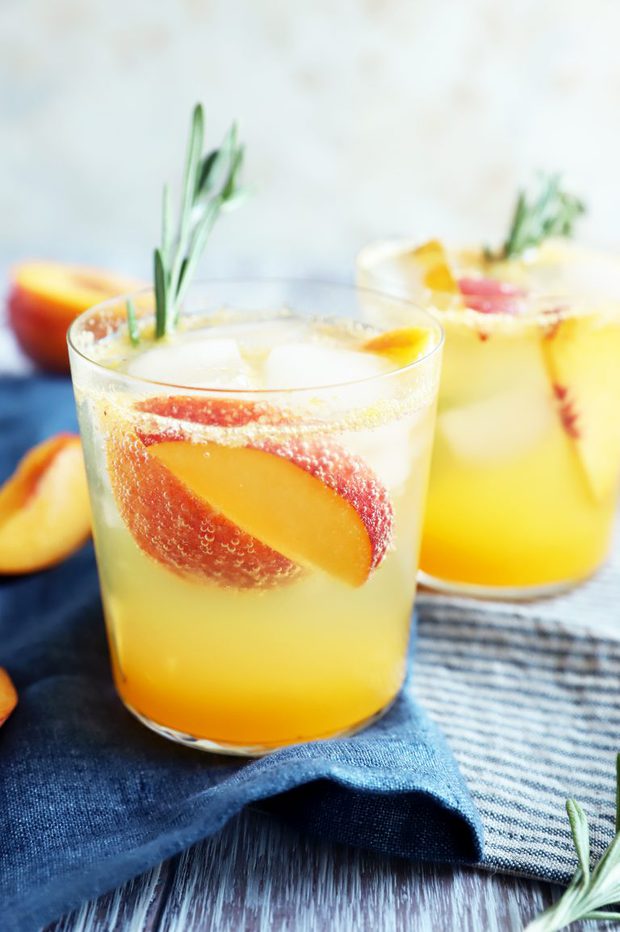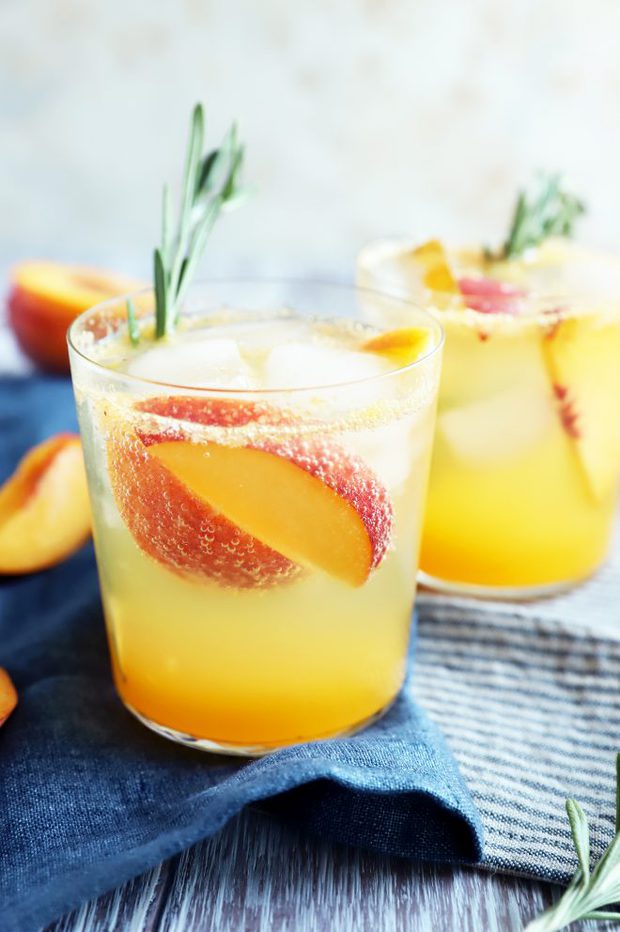 Since I am preggo, we're talking about mocktails instead of cocktails! A sparkling rosemary peach mocktail is my favorite segway from summer into fall.
The drink embraces the lovely flavor of peaches, with an added depth of flavor from the rosemary simple syrup. It's just the right balance of fruity, herbaceous, and sweet to sip on a hot afternoon as we close out this lovely month of August!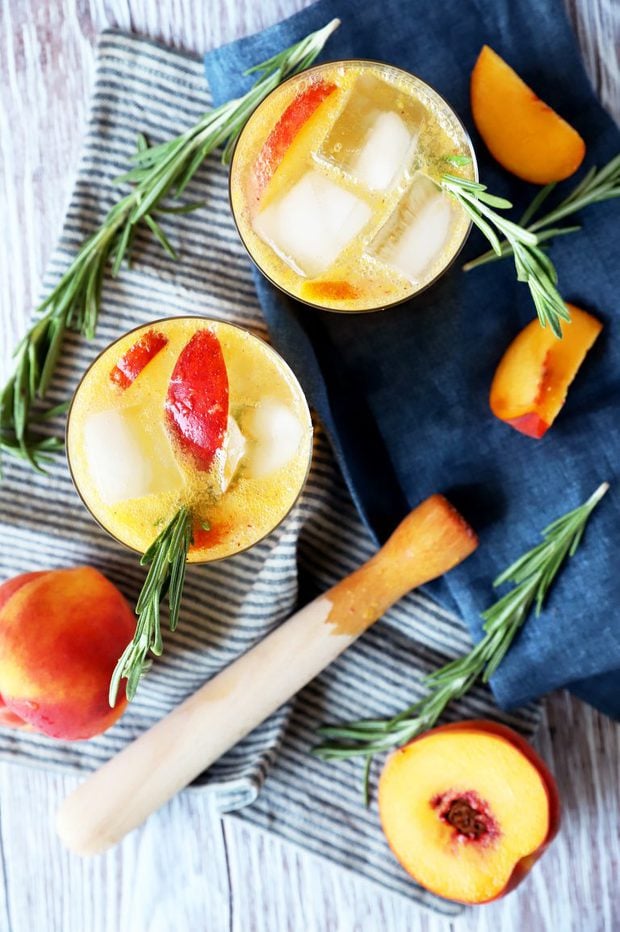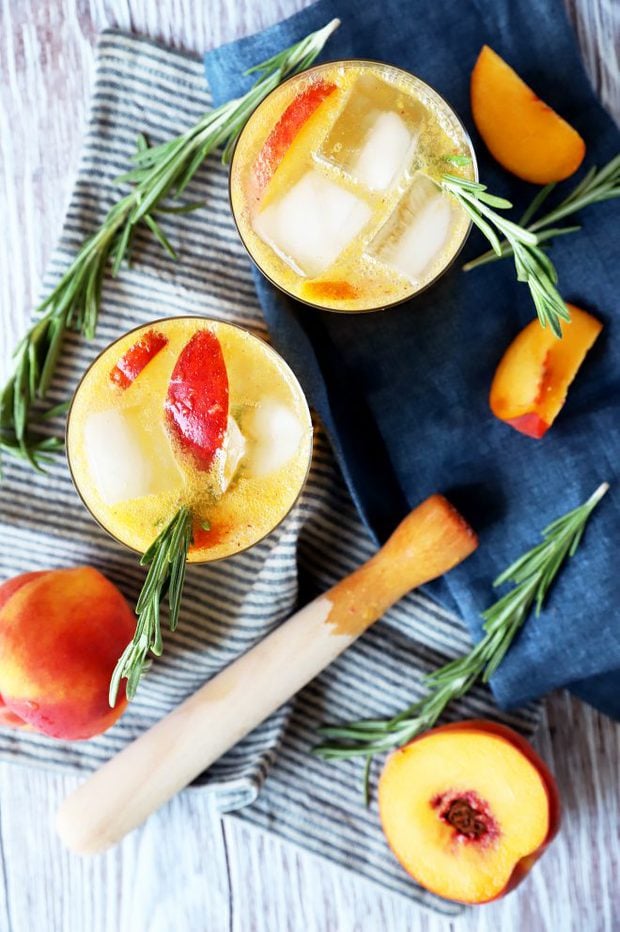 Can you believe it's going to be September in just a handful of days?! For me, it's even more surreal because that means we are one month closer to our little baby boy. EEEEE it's feeling more real now that we are halfway through officially!
Don't worry, I promise to have a baby update by the end of next week!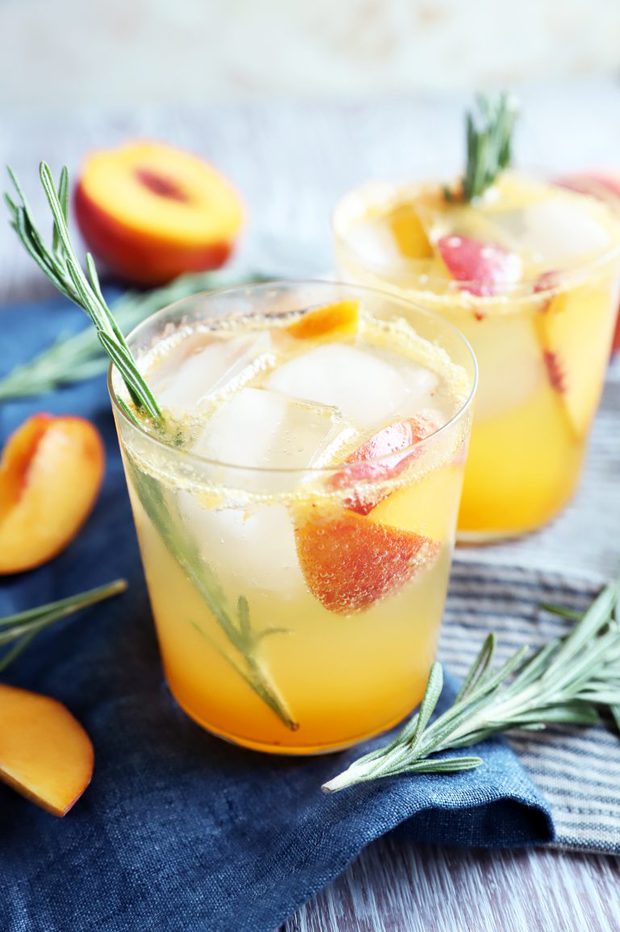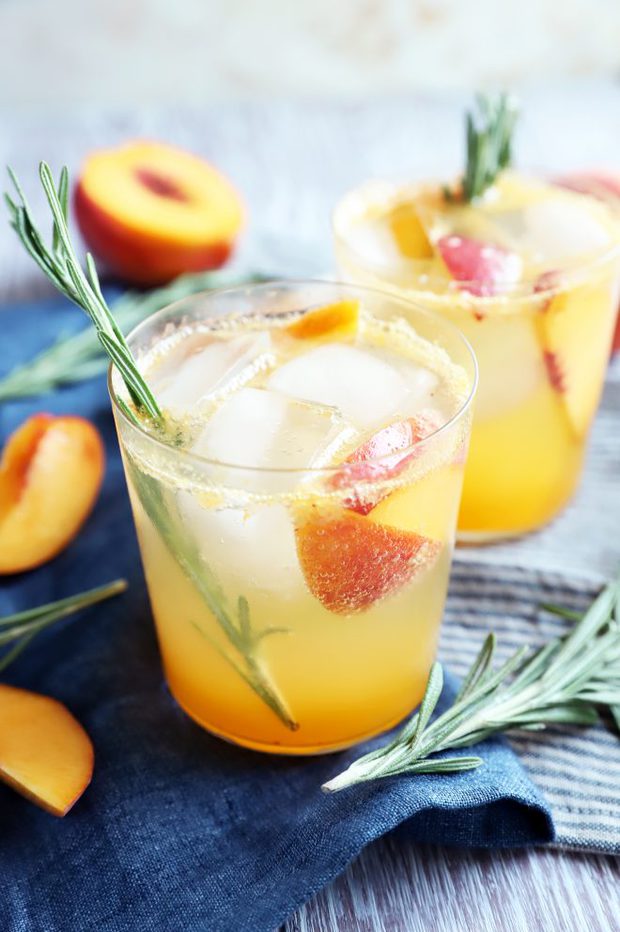 this recipe's must-haves
You will need a few difference tools to make this peach mocktail happen. First, you'll need a mixing glass and a muddler to build the drink.
For the simple syrup, you will need a saucepan and a fine mesh strainer.
You'll also need a cocktail strainer to pour out the final concoction.
Personally, I like to serve this mocktail in double old fashioned glasses because it makes me feel like I am drinking a fancy cocktail!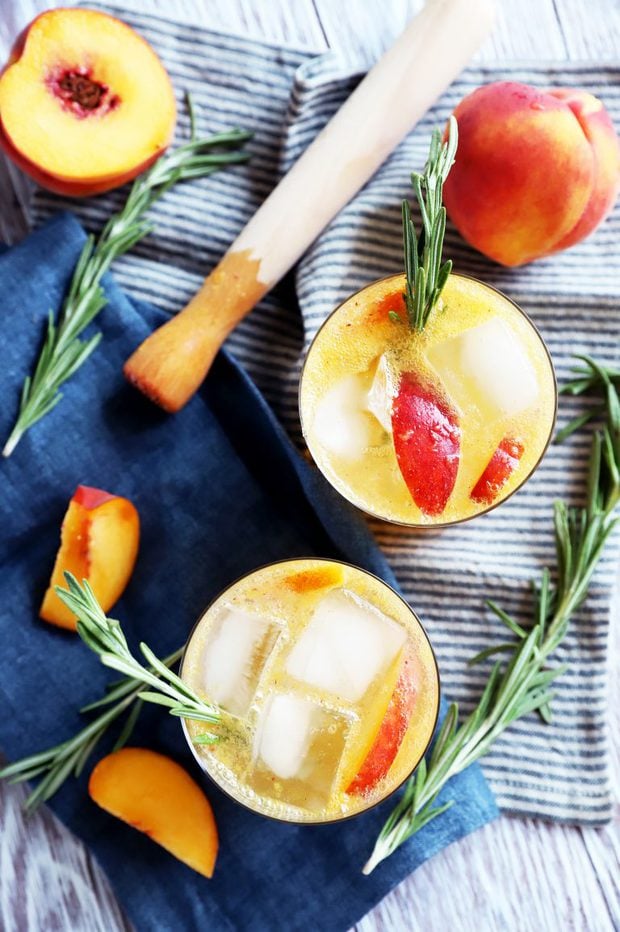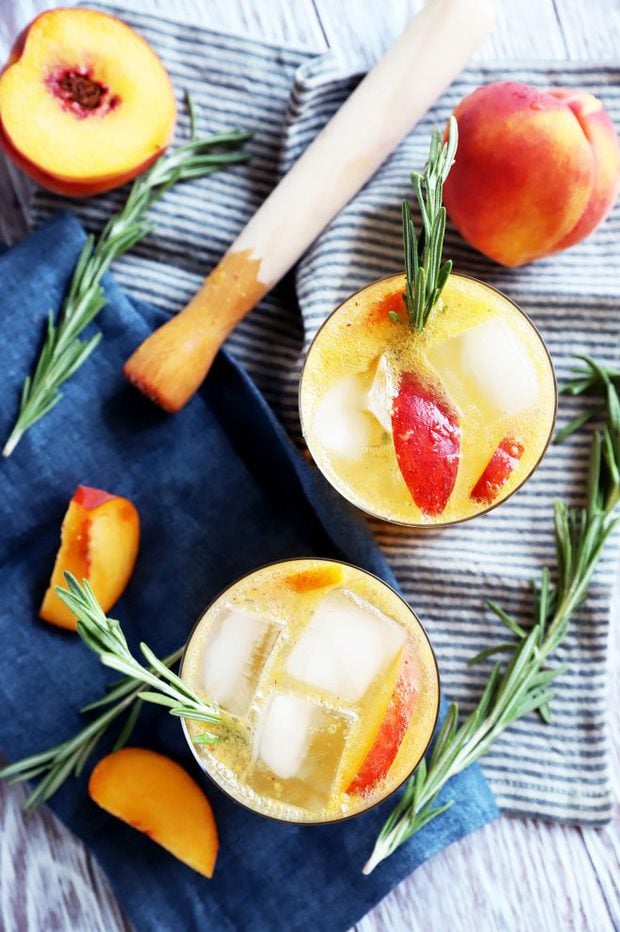 here's how to make a sparkling rosemary peach mocktail!
Make the simple syrup
Add rosemary, sugar, and water to a pan and bring it to a boil. Remove from heat and let the rosemary sprigs steep in the sugar water for about 15 minutes, at least. Strain out the leaves and let the syrup cool completely before you use it!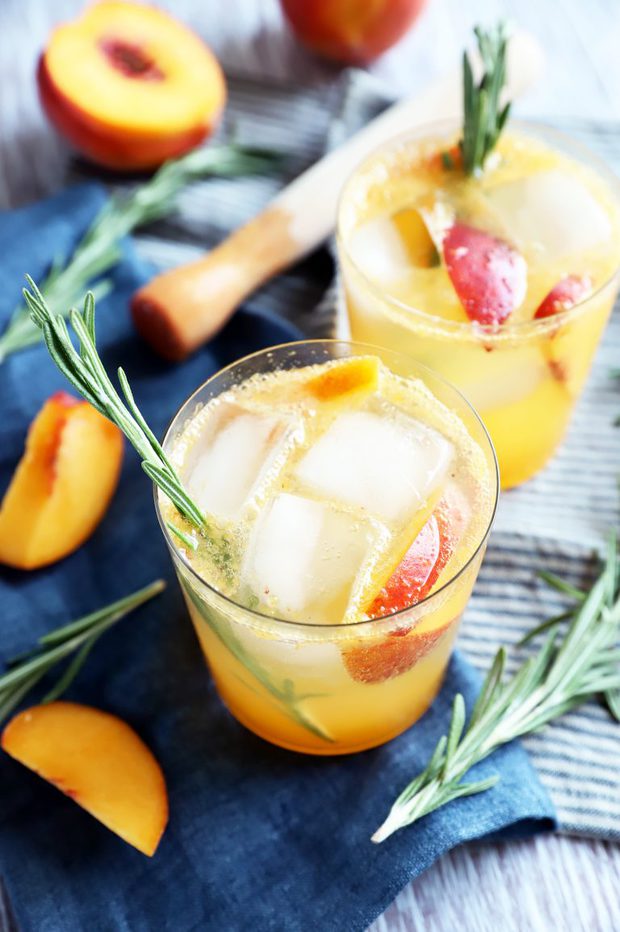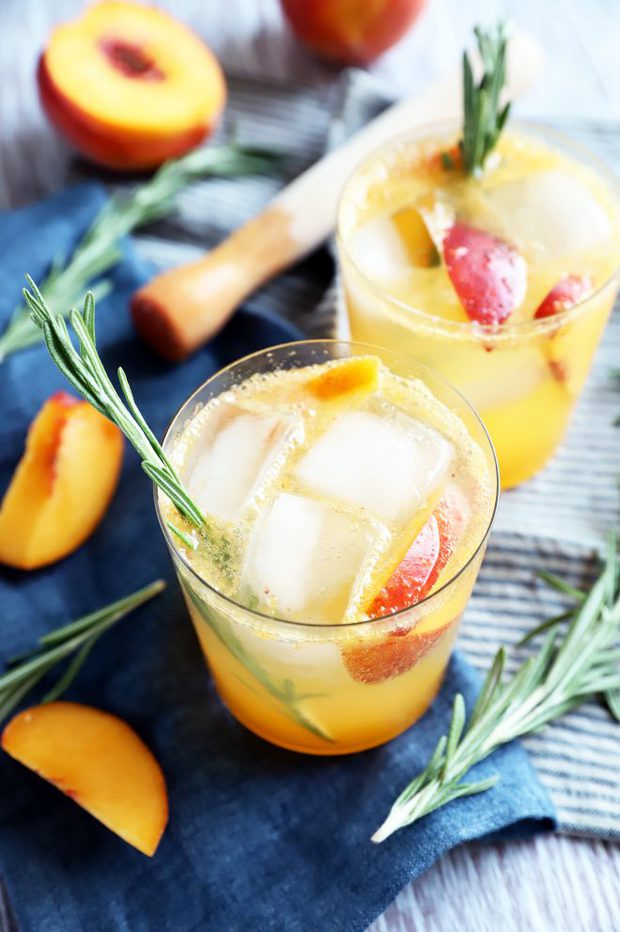 Muddle & Strain
Add peaches, rosemary simple syrup, and fresh lemon juice to a mixing glass. Muddle well. Strain the mixture into two glasses filled with ice.
My pro tip? Be sure to press down the fruit pulp to get out as much flavor as you can!
Assemble
Top the glasses with club soda and garnish with a rosemary sprig and peach slices.
Need some more inspiration for the final few days of summer? Check out my peach recipes page!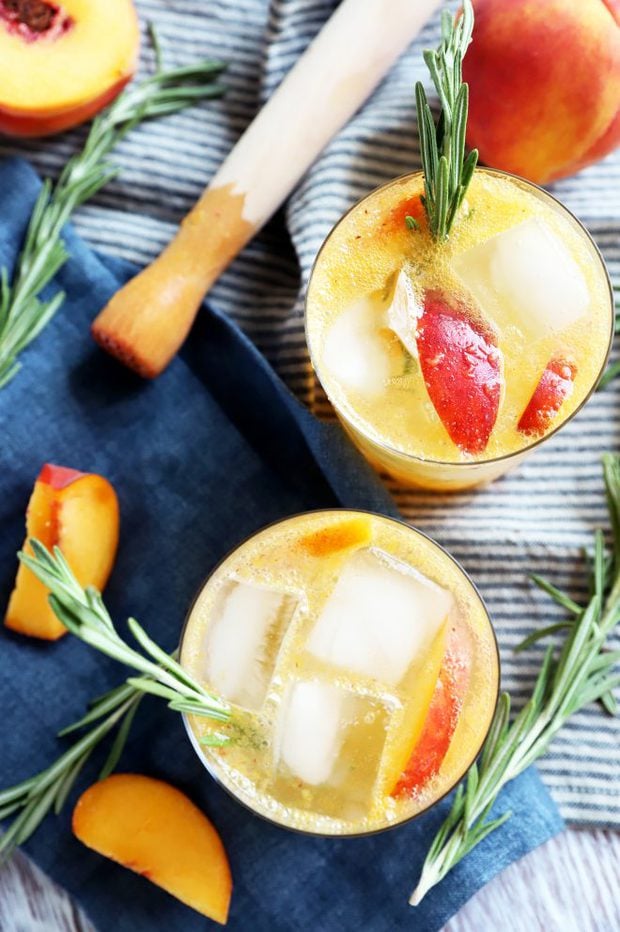 can I make this mocktail boozy?
Of course! Vodka or bourbon are killer options for the drink. I like to add 4 oz if you are making this recipe. Just add the spirit of your choice to the mixing glass with the peach, simple syrup, and lemon juice to muddle together. Then continue with the recipe as it's written below!
Want to pair this with a simple dessert? Roasted peaches are easy to make and oh-so flavorful.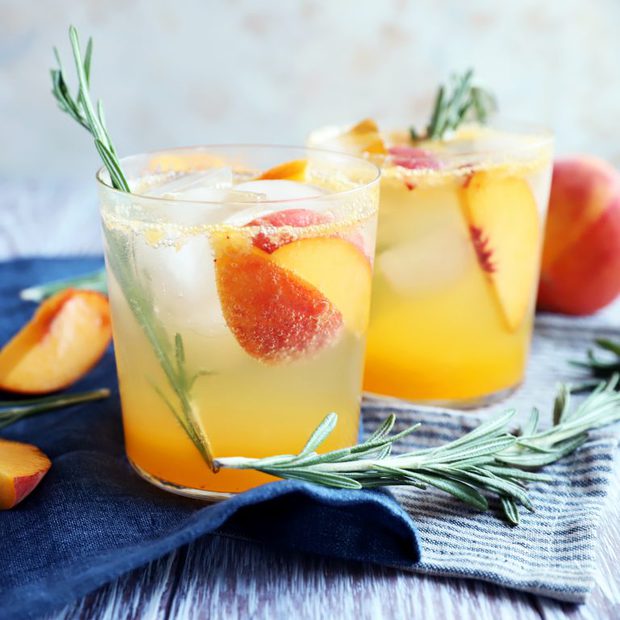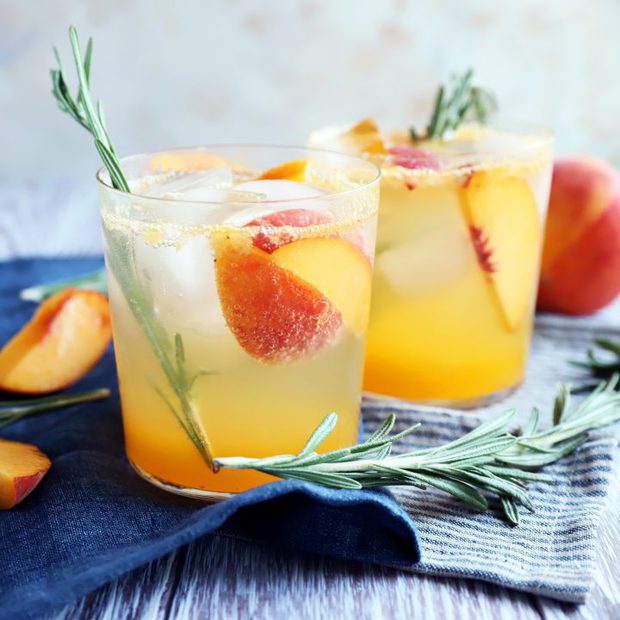 Sparkling Rosemary Peach Mocktail
Fresh fruit and a rosemary simple syrup is an ideal summer sipper!
Ingredients
Rosemary Simple Syrup
5 sprigs rosemary
1/2 cup sugar
1/2 cup water
Mocktail
1 peach, chopped
2 oz rosemary simple syrup
4 oz freshly squeezed lemon juice
Ice
Club soda
Garnish: rosemary sprigs, peach slices
Instructions
Add rosemary, sugar, and water to a small saucepan over medium-high heat. Bring to a boil and remove from heat. Cover and let steep for 15 to 30 minutes. Strain and let simple syrup cool completely before using.
Add chopped peach, rosemary simple syrup, and lemon juice to a cocktail mixing glass or pint glass. Muddle well.
Fill two double old fashioned glasses with ice. Strain the mixture into the glasses, dividing evenly between the two.
Top the glasses with club soda, giving them a quick stir before serving.
Garnish with rosemary sprigs and peach slices.
Recommended Products
As an Amazon Associate and member of other affiliate programs, I earn from qualifying purchases.