Please note this post contains affiliate links.
Happy hour in the middle of peak peach season = Sparkling Grilled Peach Sangria! Grilled peaches sing a loud and fruity song in this bubbly white sangria with just the right amount of sweetness to go along with the char from the grill. It's the perfect pitcher drink to serve up for any end-of-summer celebration, or simply to shake up a boring ol' Wednesday night.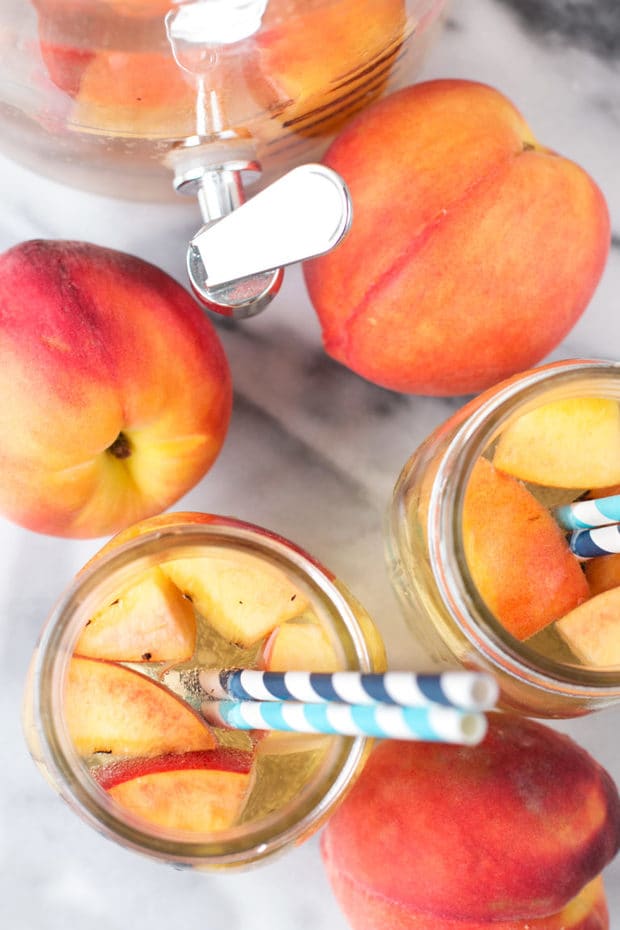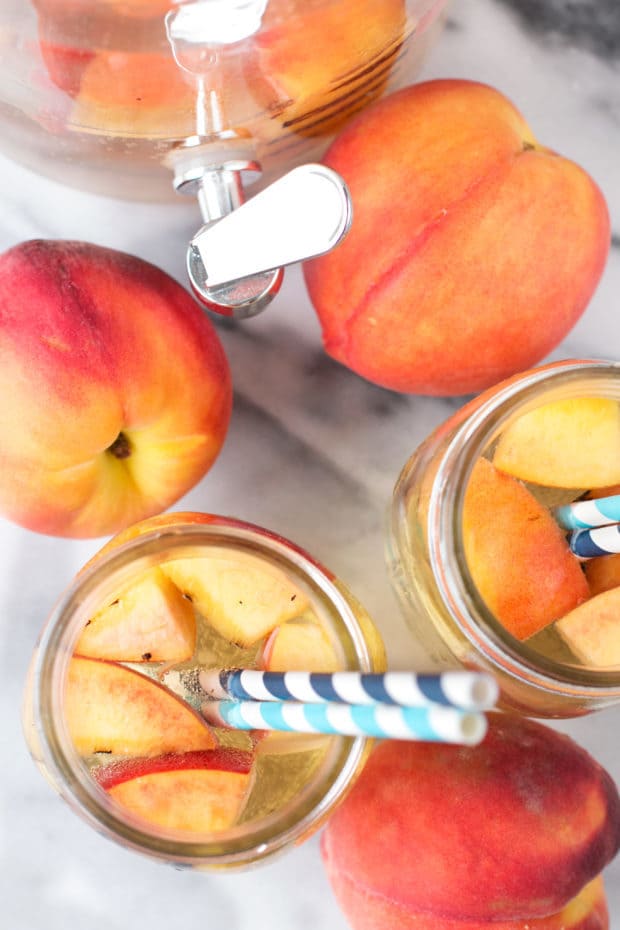 Please note that some of the links below are affiliate links. If you make a purchase through one of these links, I will receive a small commission. Thank you for supporting Cake 'n Knife!
Cooking and baking with peaches is what I'm alllllll about this time of year.
Being in Colorado does have it's advantages… Palisade Peaches are everywhere and I can't get enough!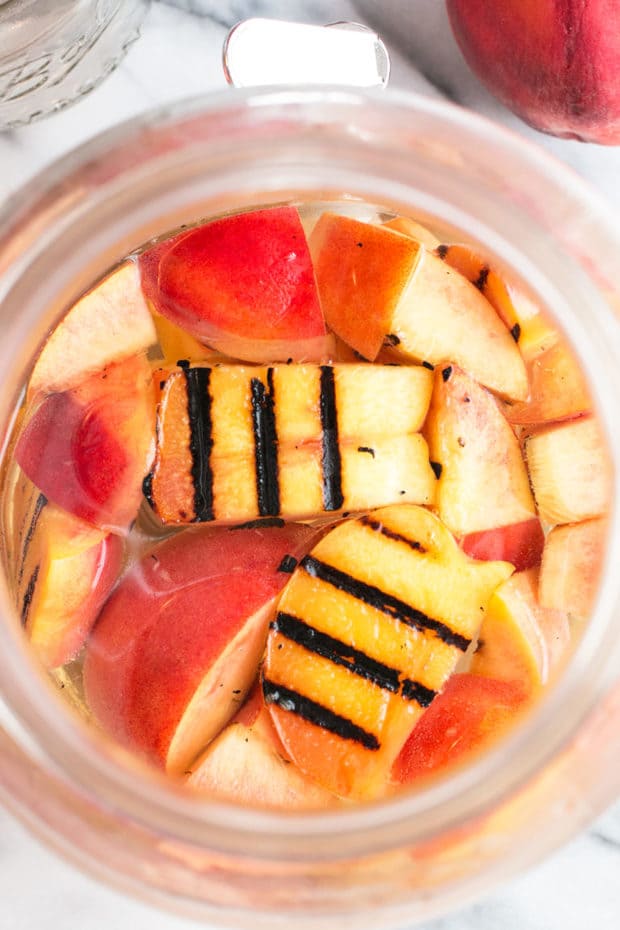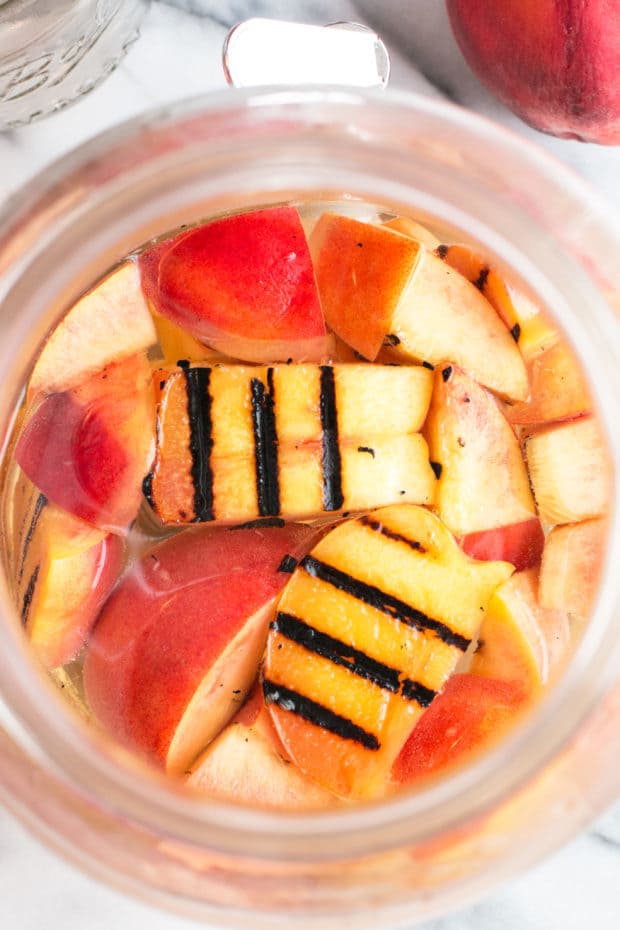 When you bite into a ripe peach, with those juices dripping down either side of your mouth, it brings you racing right back to childhood summer adventures.
I can imagine myself now as a young girl, with jet black hair and bangs, running around like a wild child with the other kids in the neighborhood. The babysitters or whatever adults watching us would yell at us to come in for a snack and there would be a pile of peaches, just waiting to be devoured.
Seconds later my hands would be sticky, my outfit ruined, and I'd have the biggest smile you've ever seen plastered on my silly little face.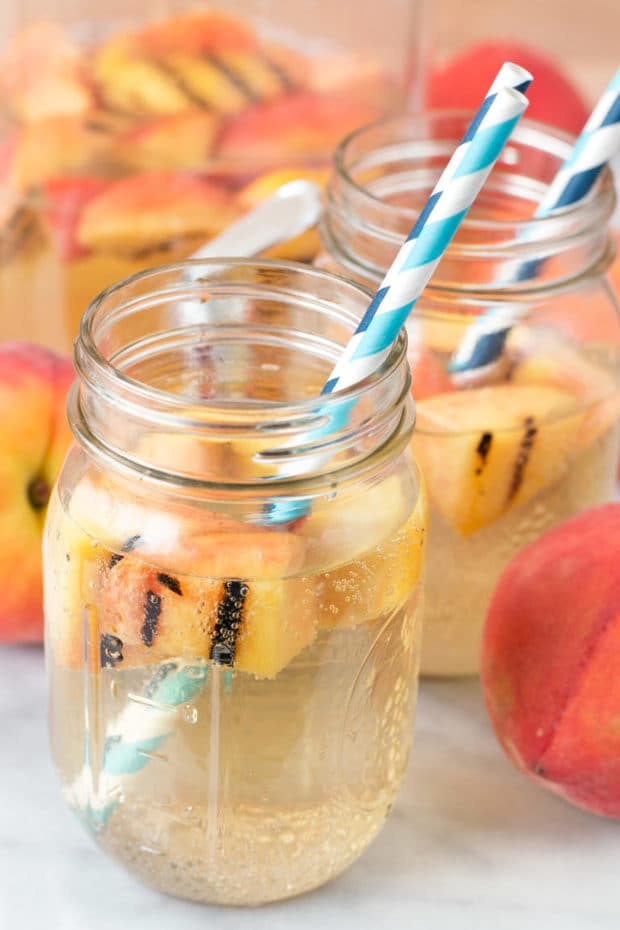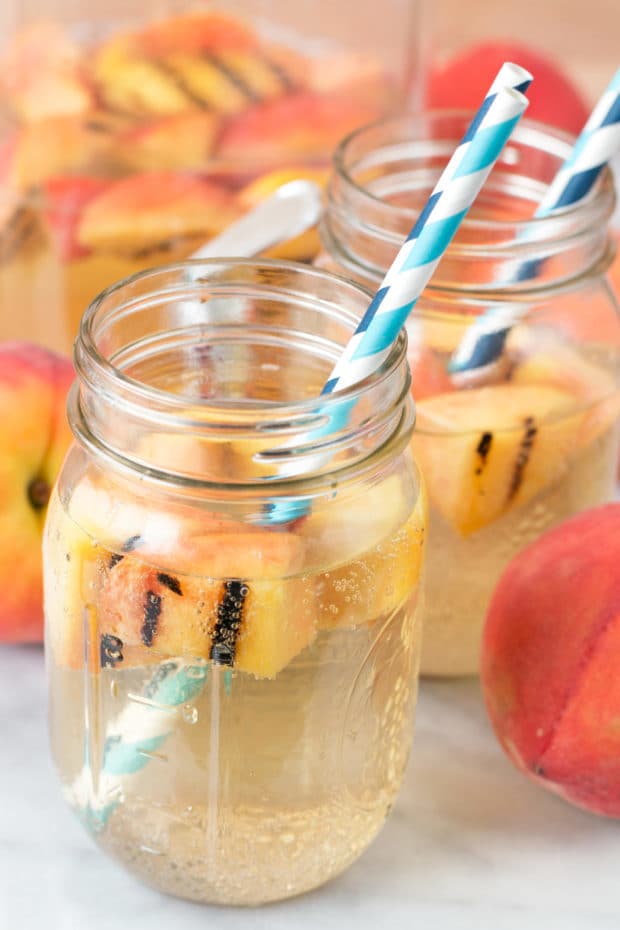 A ripe peach is an experience. It's rich. It's juicy. It's almost sinfully indulgent and yet still healthy because heck, it's a fruit!
Grilling peaches is something I only discovered as an adult and I only wish I had tried it sooner. When you throw peaches on the grill, they get this caramelization and char that is really tough to describe. It makes the peaches even more flavorful and brings out the richness of the juicy flesh in every bite.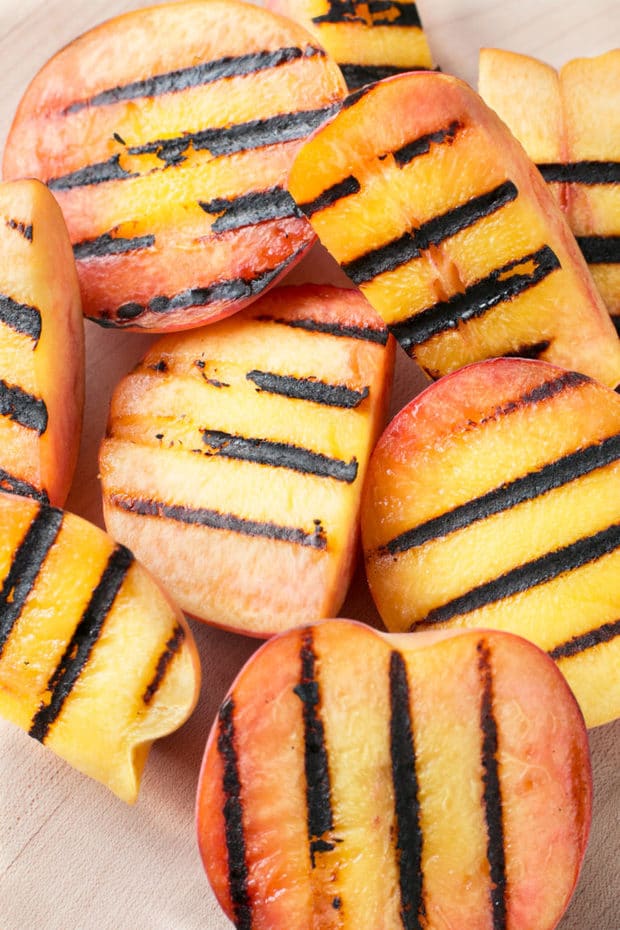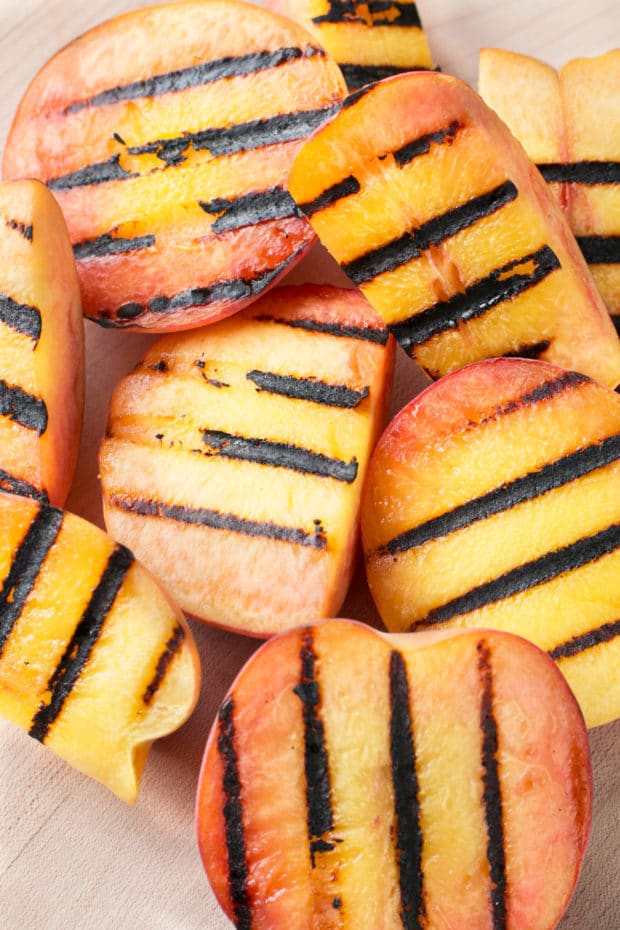 That's why this bubbly sangria is the ultimate homage to peach season. By grilling the peaches, you get a richer and fruitier flavor from the peaches, which seeps into the wine to make the drink full of peach goodness. The char of the grilled peaches balances out the sweetness and finishing it off with a dry champagne makes it oh-so festive!
It's that "sittin' on the back porch, gossiping with your friends while you watch the sun set" kinda drink.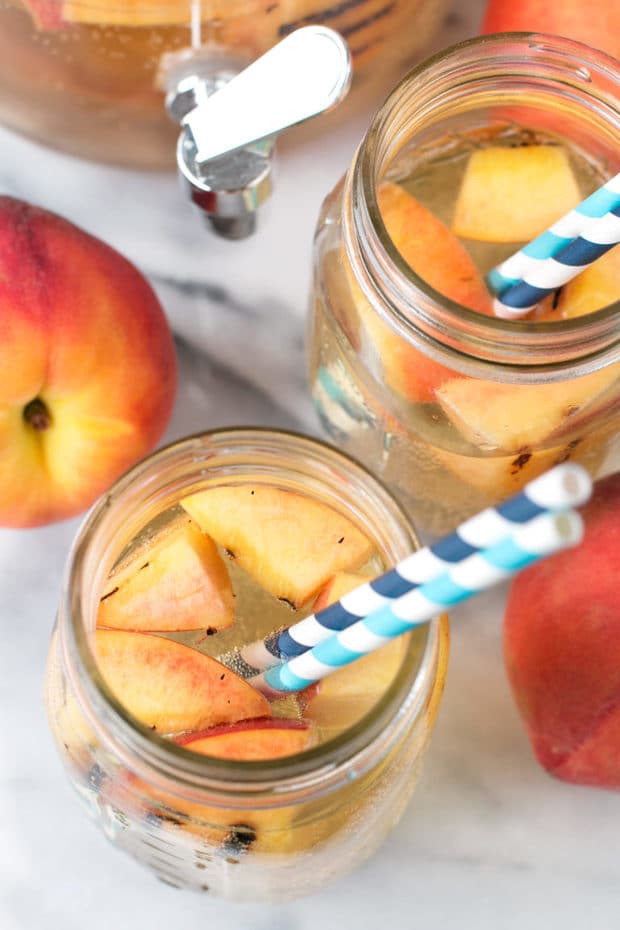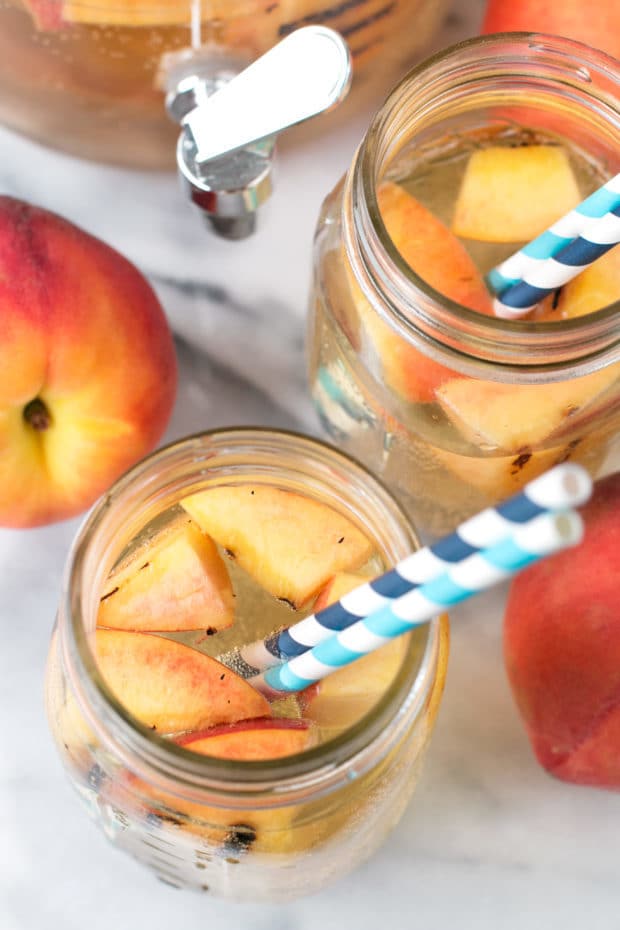 It's also that "I've had a long week and it's only Wednesday so let's brighten up things already" kinda drink.
Bonus points if you listen to Peaches by Presidents of the United States while you make it 😉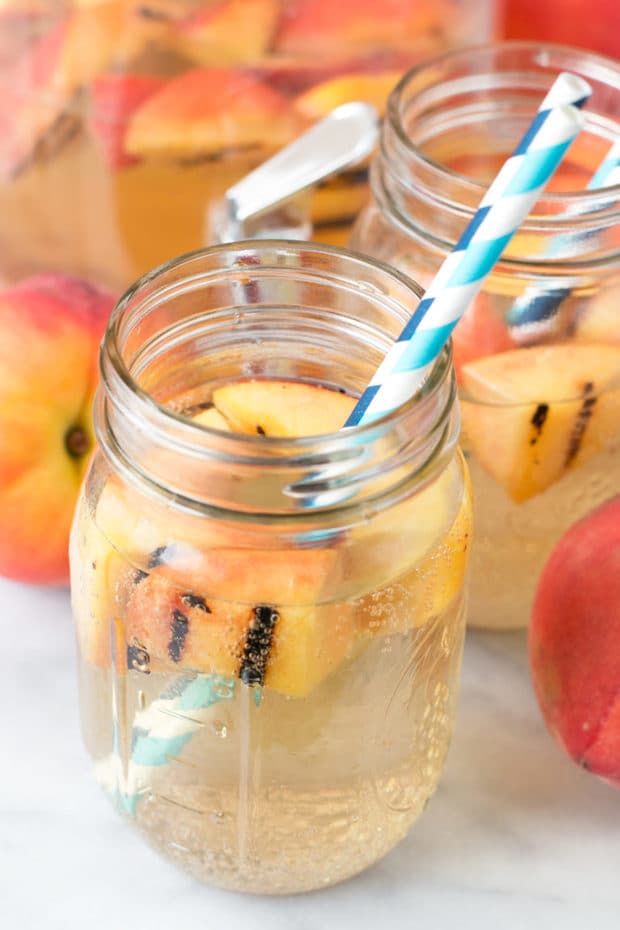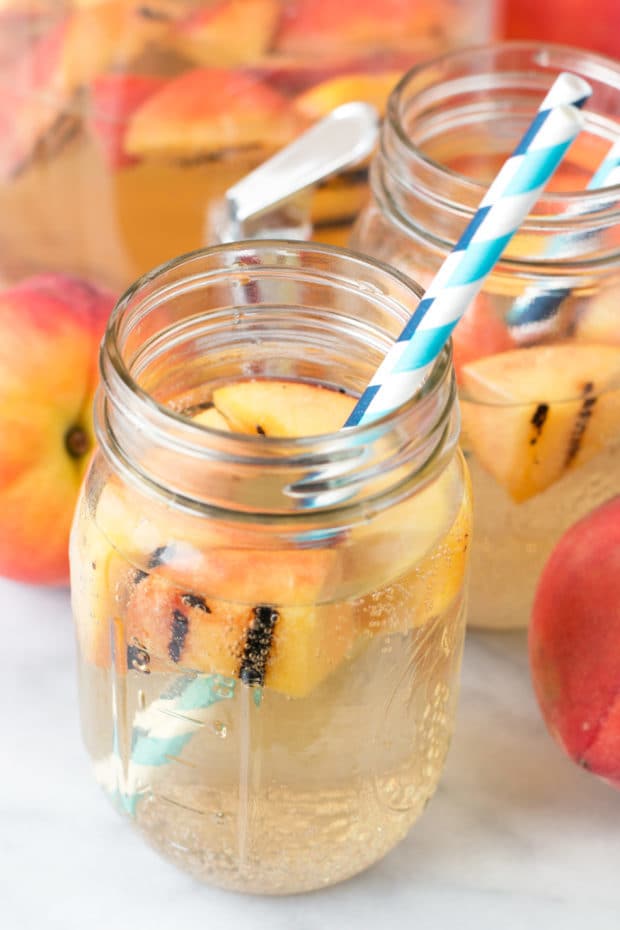 Hey, I'm a 90's gal. Don't judge.
This Recipe's Must Haves
Pin this Sparkling Grilled Peach Sangria recipe for later!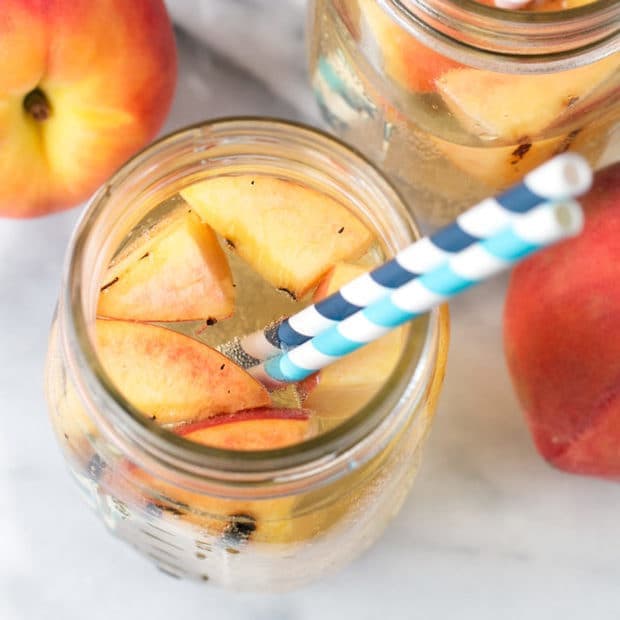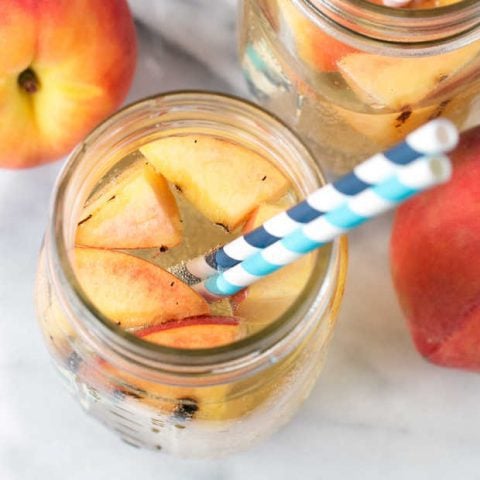 Sparkling Grilled Peach Sangria
Grilled peaches are all I like to eat during the summer and putting them in sangria is going to change your LIFE. The sweet charred flavor really comes through in this simple sangria!
Ingredients
3 peaches, quartered
1 750ml bottle Pinot Grigio
1/4 cup simple syrup
1/4 cup peach schnapps
1 oz lemon juice
1 750ml bottle brut champagne, chilled
Instructions
Heat grill or grill pan. Once hot, grill peach pieces cut side down for approximately 2-3 minutes. Remove from heat.
When the peaches are cool enough to handle, cube peaches.
In a large pitcher, add grilled peaches, Pinot Grigio, simple syrup, schnapps and lemon juice. Stir to combine.
Refrigerate the mixture for at least one hour.
When ready to serve, pour into champagne and stir. Serve chilled.