A Sparkling Cider Blackberry Peach Bellini Mocktail is the bubbly, fruity "mocktail" sipper that will define your summer. A homemade blackberry peach puree with the apple goodness of Martinelli's Sparkling Cider make this drink a bright refreshment that everyone will love. It's perfect for brunches, baby/bridal showers, and so much more!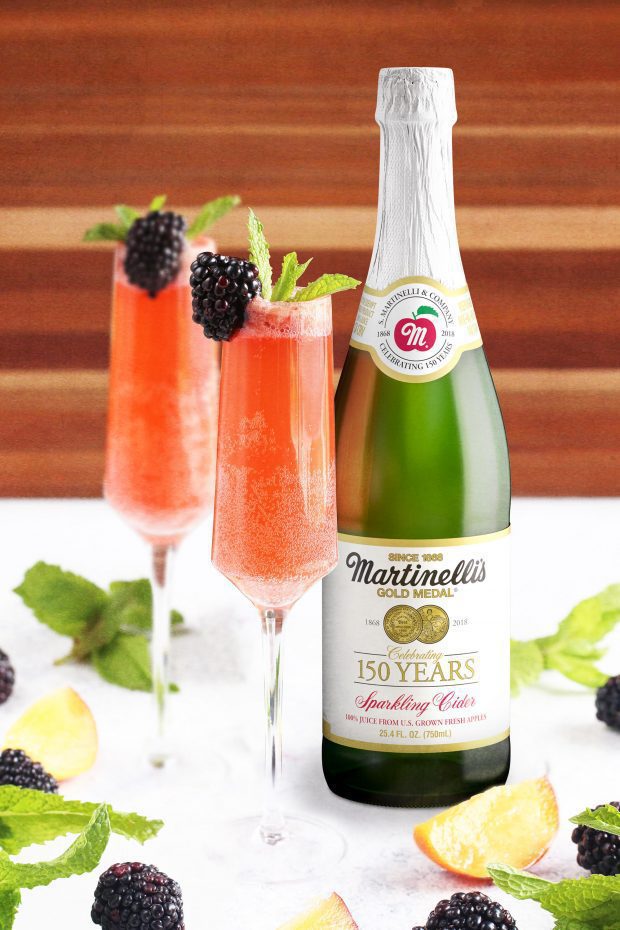 Disclosure: This post is sponsored by Martinelli's. As always, all opinions are my own. Thanks for supporting the brands that support Cake 'n Knife!
Have you ever indulged in a traditional bellini?
If you haven't, then it's about time that you did!
I remember having my first peach bellini with my mom at this fancy Italian restaurant in Denver when we were out to brunch one day.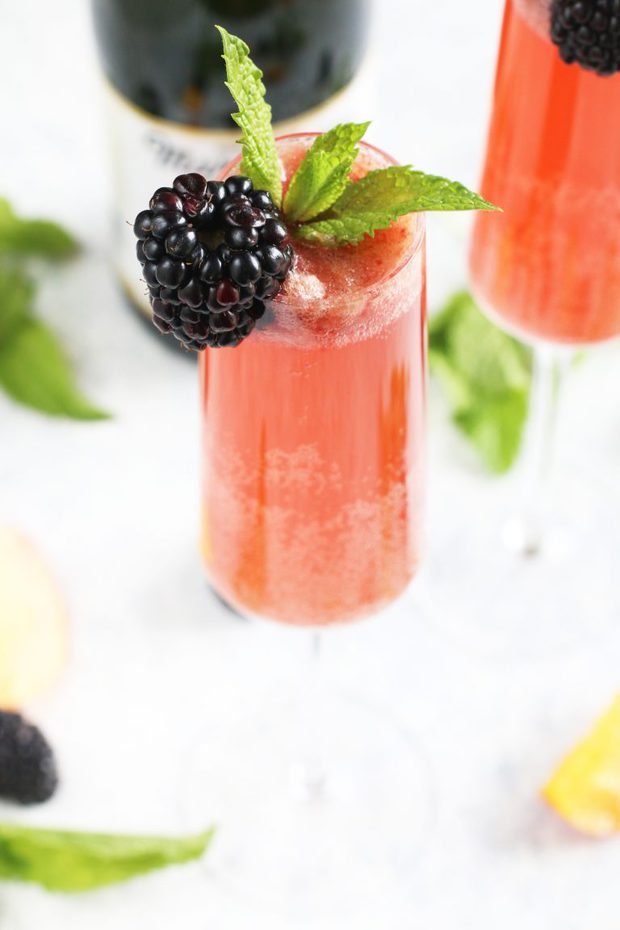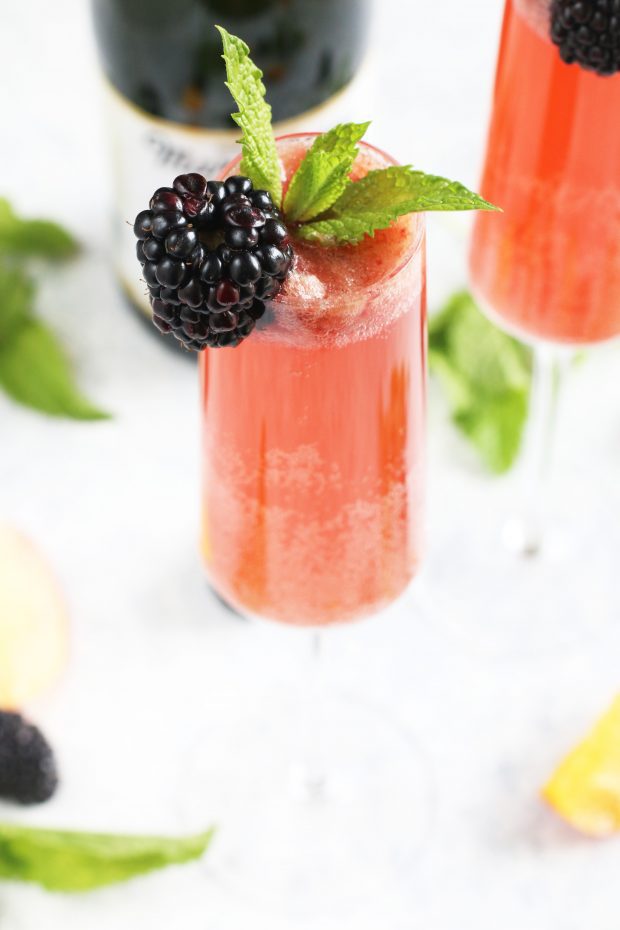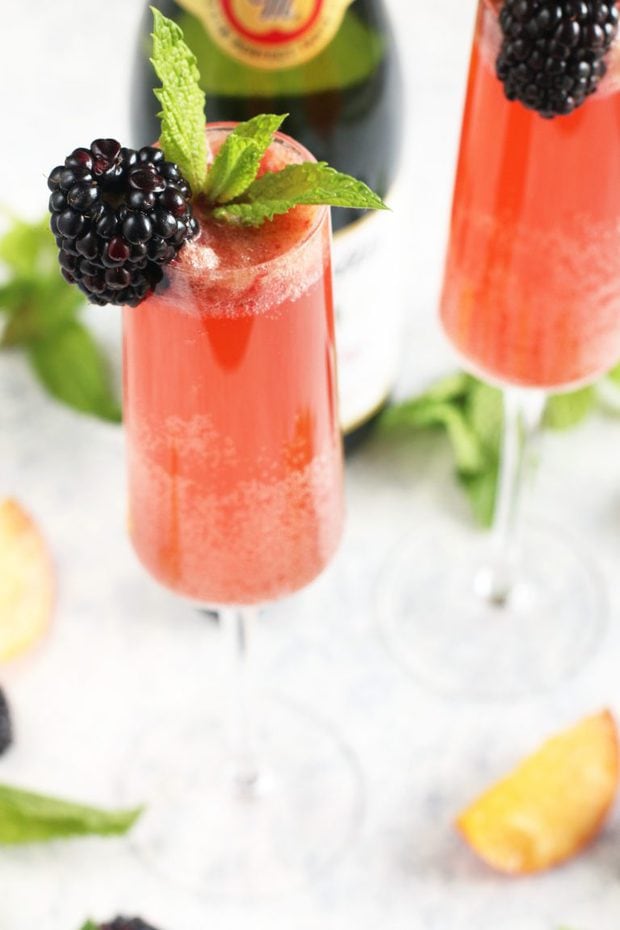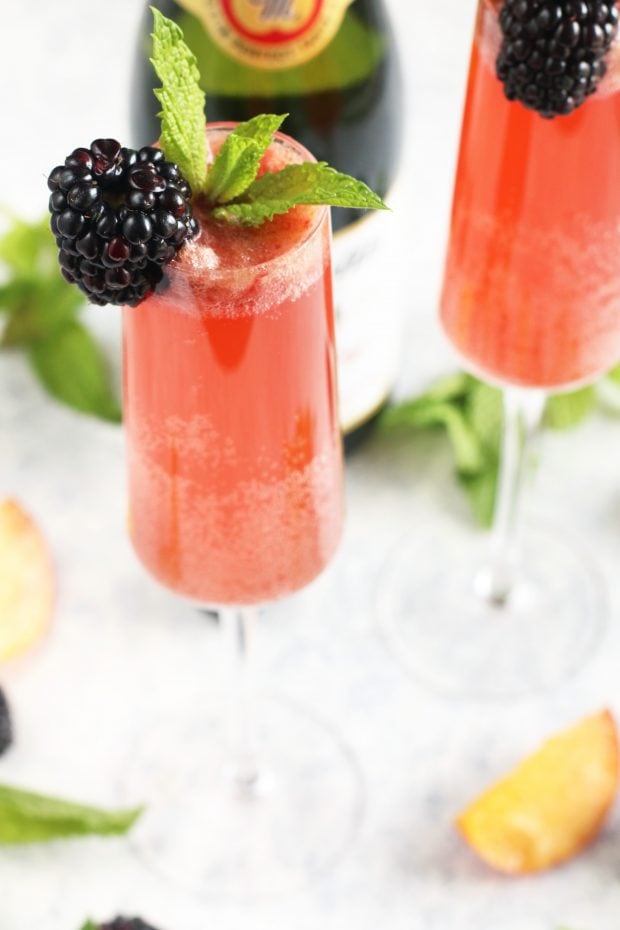 Please note that some of the links below are affiliate links. If you make a purchase through one of these links, I will receive a small commission.
You would think I would have learned about it in Europe by that point, but of course, I was a little too wrapped up in massive amounts of gelato to worry about bellinis.
The bartender who was serving us told us that a bellini was simply a fresh fruit puree, topped with champagne. The bubbly crispness paired with the richness of the fruit puree made for a delightful sipper that I couldn't stop sipping on!
That is exactly what inspired this "mocktail" version of the classic bellini!
Now that wedding season is here (something I can actually say with surety since I am a newlywed myself!! EEP!), all the bridal showers are happening. So are all the baby showers!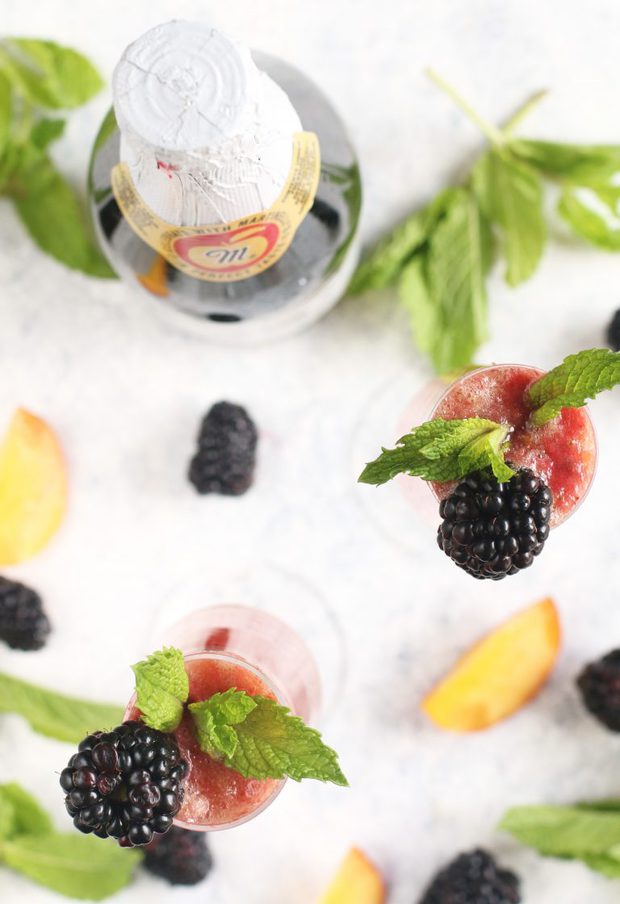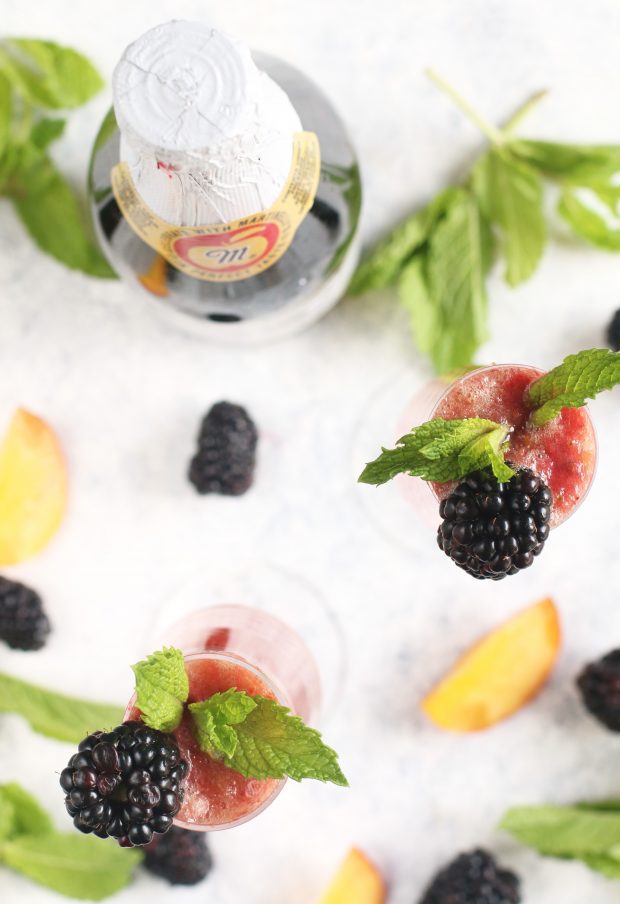 If you are hosting a shower of any kind or even a summer brunch, you will need a fancy drink to go alongside all the food you will be serving. That's where this delicious "mocktail" comes into play.
First, you start with a simple, homemade blackberry peach puree. The puree itself highlights the fresh flavors of the ripe fruits comes out in volumes. It's easy enough to whip up in your blender and you can leave it in the refrigerator during your gathering, making it easy peasy to serve it up as needed, on the fly!
Second, and this is the real hero of the drink I have to say, is adding in the Martinelli's Sparkling Cider. The bubbly cider is a perfect pairing for the blackberry peach puree, giving a touch of added sweetness and flair to every single sip.
If you haven't had Martinelli's Sparkling Cider before… well I feel like you may have been living under a rock because I grew up on the beverage. I remember New Year's Eve gatherings with glasses of the cider for us younger kids and I've continued to make it a part of my kitchen in the decades (yikes, that feels weird to say) that have followed.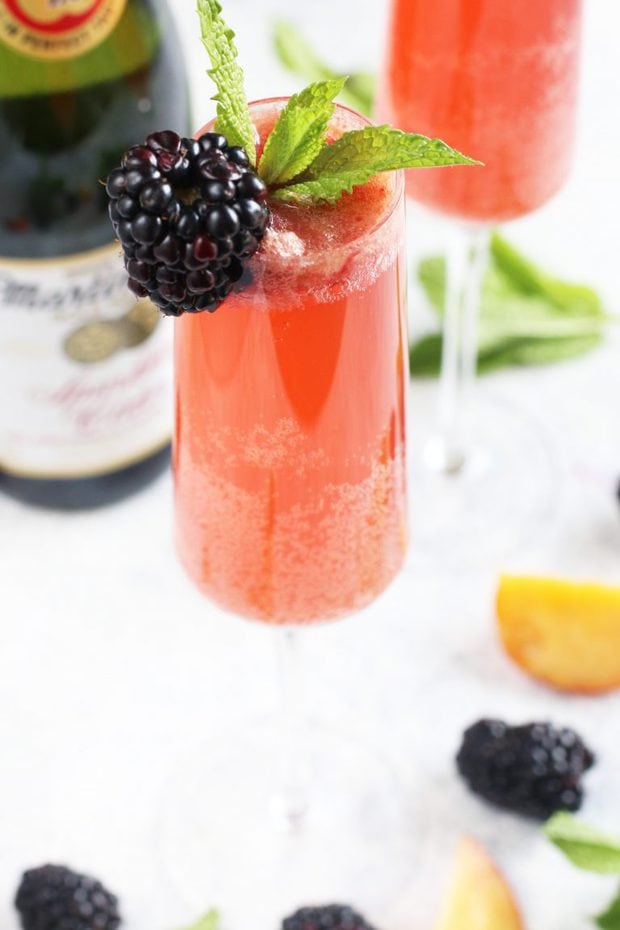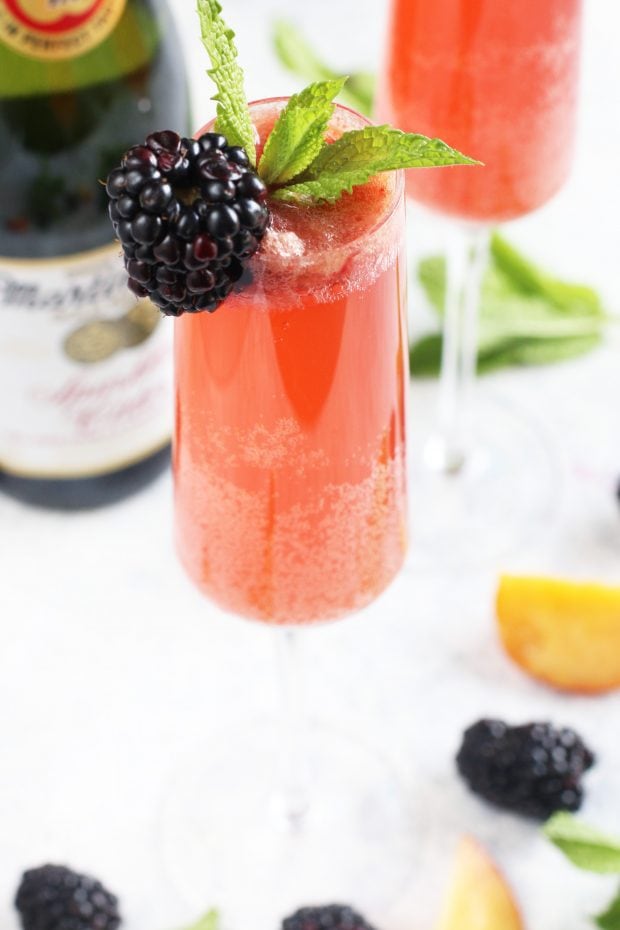 Martinelli's Sparkling Cider is made from 100% juice from U.S. grown fresh-pressed apples, so you know that you are getting the best flavor possible in every single bottle.
It's that flavor that really comes through as this delicious bellini washes over your taste buds!
When you garnish it with a plump blackberry and a bright sprig of mint, it's a fancy glass of freshness and brightness that willhave everybody begging for seconds!
Cheers, my friends!
Watch the video to see just how easy it is to make for yourself!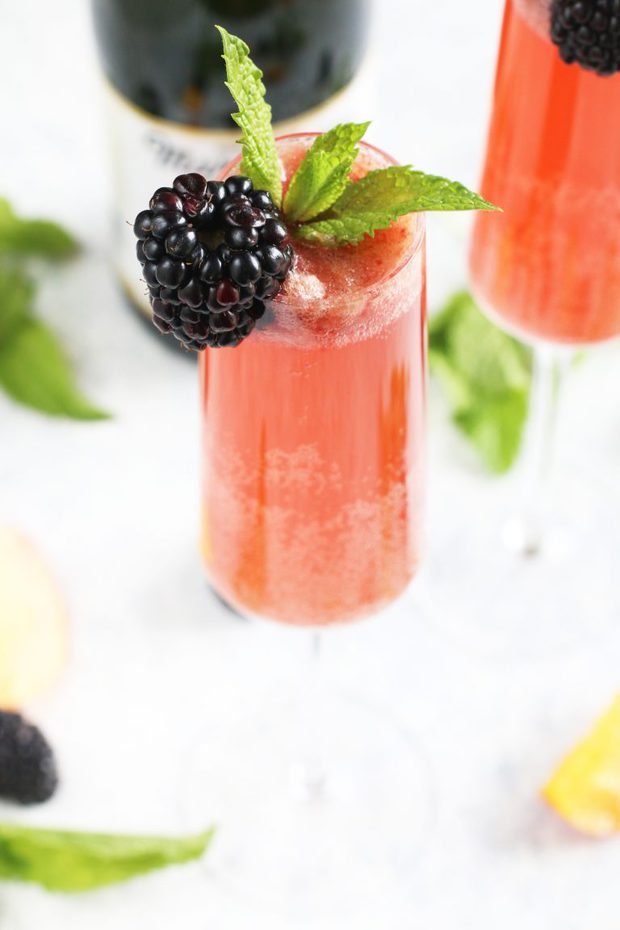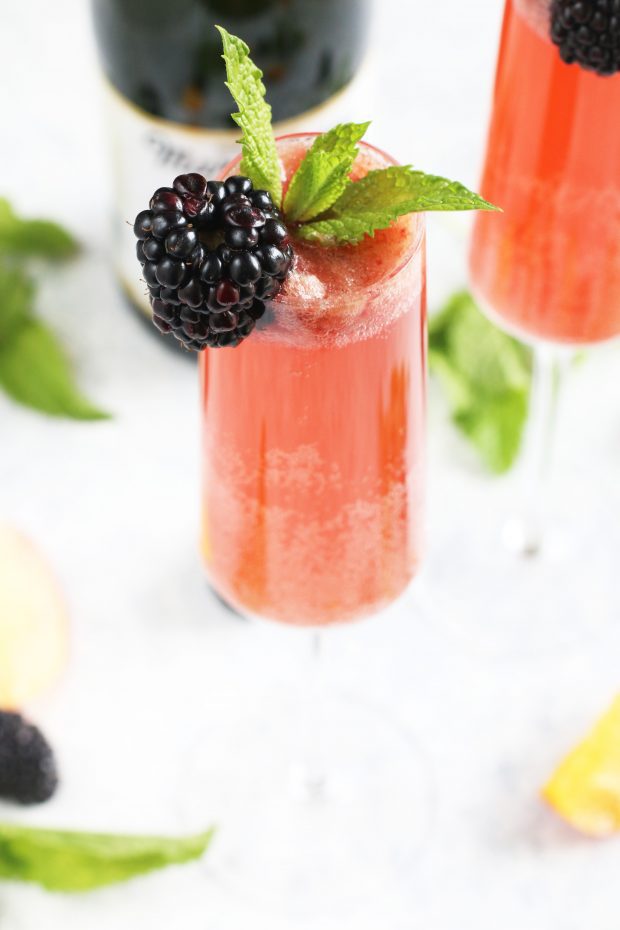 This Recipe's Must Haves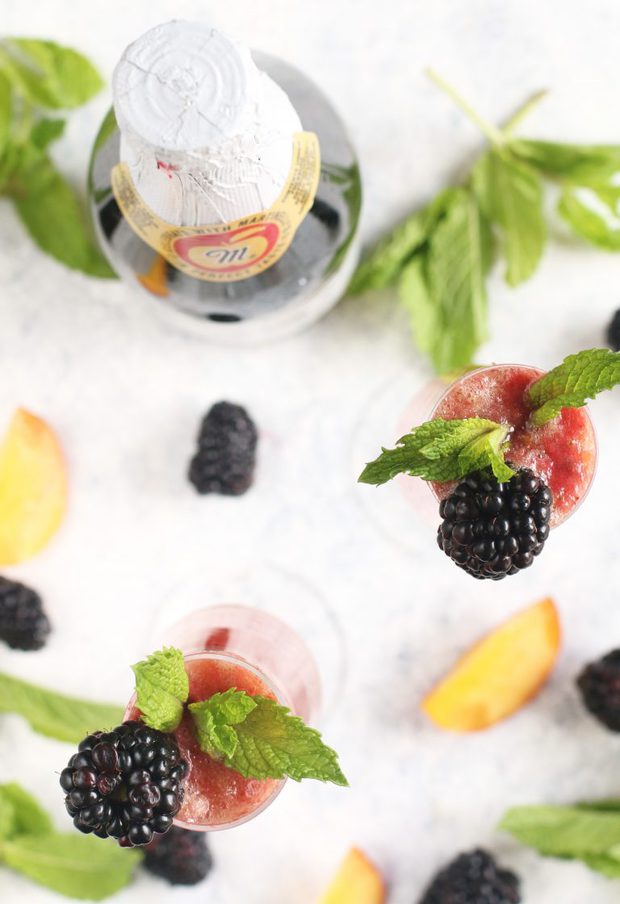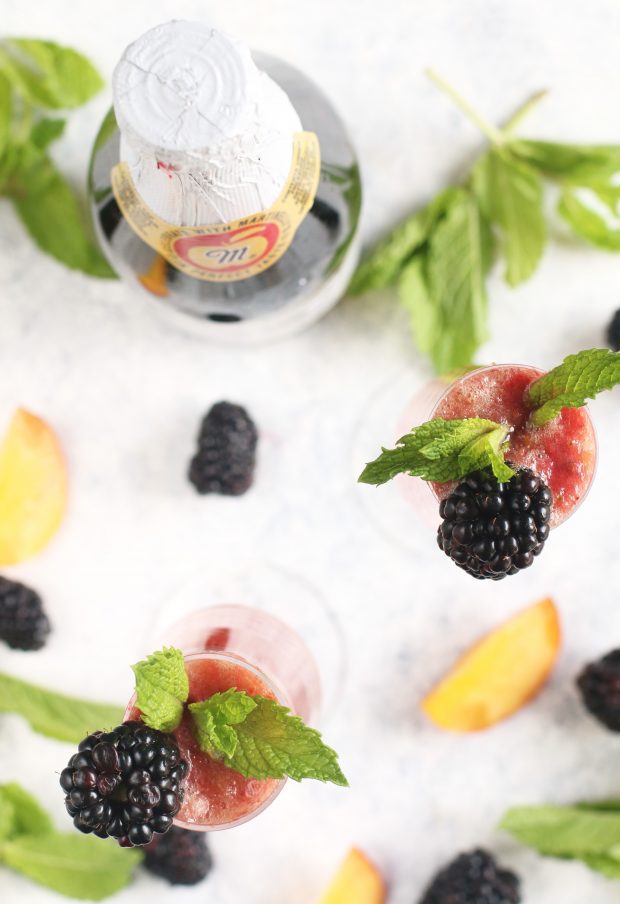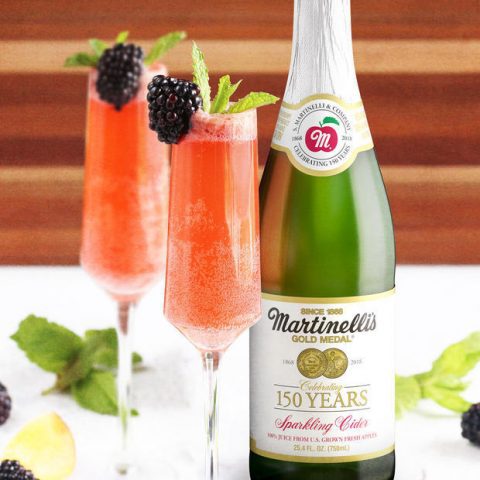 Sparkling Cider Blackberry Peach Bellini Mocktail
The bubbly, fruity "mocktail" sipper that will define your summer with a homemade blackberry peach puree and sparkling cider.
Ingredients
2 ½ cups peaches, peeled, pitted and cut into thick slices
1 cup fresh blackberries
2 tsp lemon juice
1 bottle Martinelli's Sparkling Cider
Instructions
Place half of the sliced peaches into a ziplock bag. Freeze overnight.
When ready to make the bellinis, add peaches (frozen and fresh), blackberries and lemon juice to a blender. Blend until pureed.
Gather 6 to 8 champagne glasses. Add 1 to 2 Tbsp of the blackberry peach puree to each glass. Fill each glass with Martinelli's Sparkling Cider.
Garnish with a blackberry and sprig of mint. Serve immediately.