Please note this post contains affiliate links.
Melon Sangria is a unique white sangria that is nothing like any sangria you've ever tasted before. It's fresh, it's fruity and just the right amount of light 'n boozy, making this the must-try pitcher drink of the summer! Seriously, you are going to have everyone begging for the recipe after the first sip.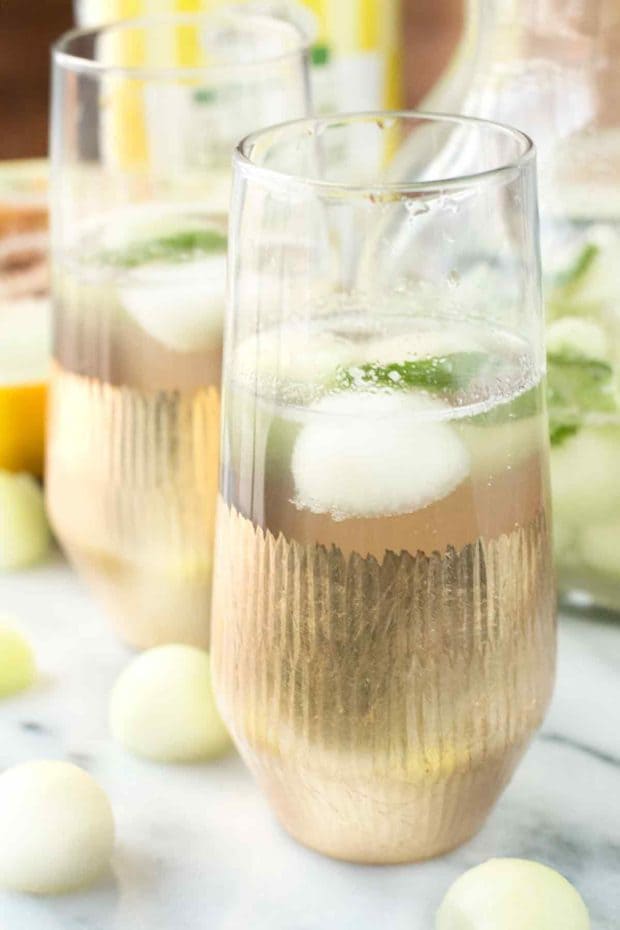 Disclosure: This post is sponsored by Sprouts. While I was compensated, as always, all opinions and the recipe are my own. Thanks for supporting the brands that support Cake 'n Knife!
You know what I love and never drink enough of?
SANGRIA.
Sangria is my jammmmmm. I love all the different flavors you can have for different seasons, from Valentine's Day to Christmas, Spring to Fall, and even ones with beer in them (yes, seriously).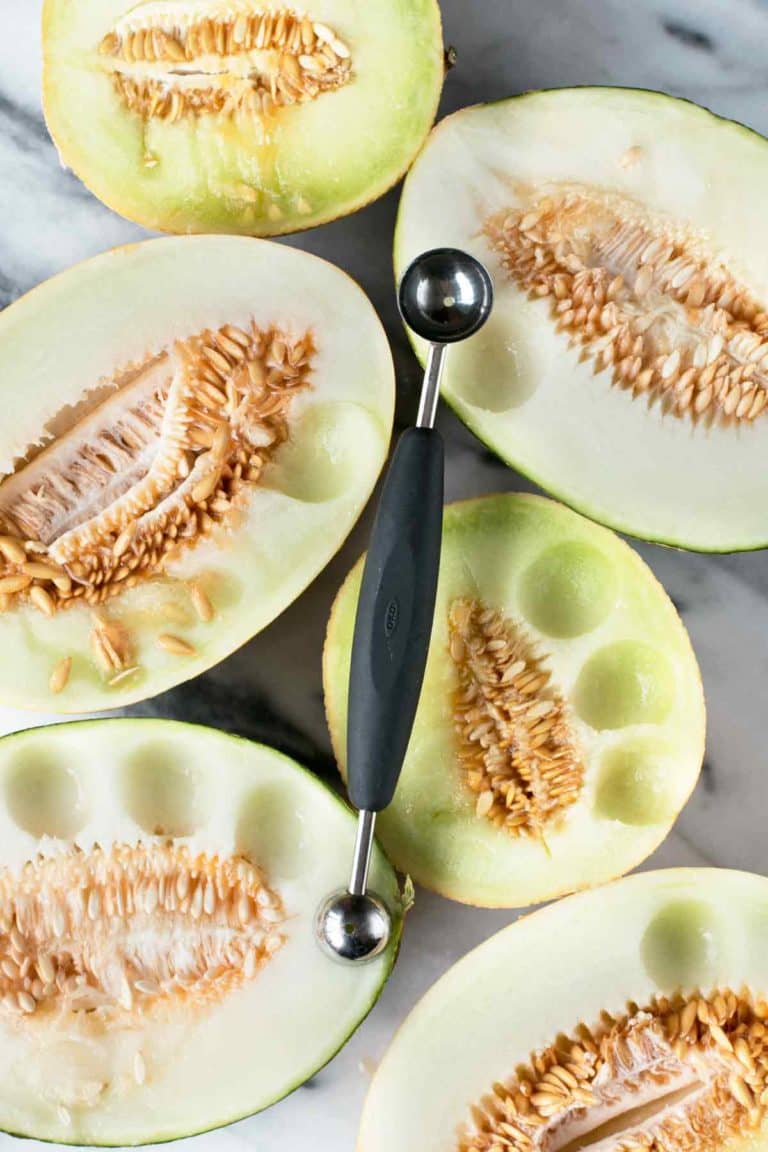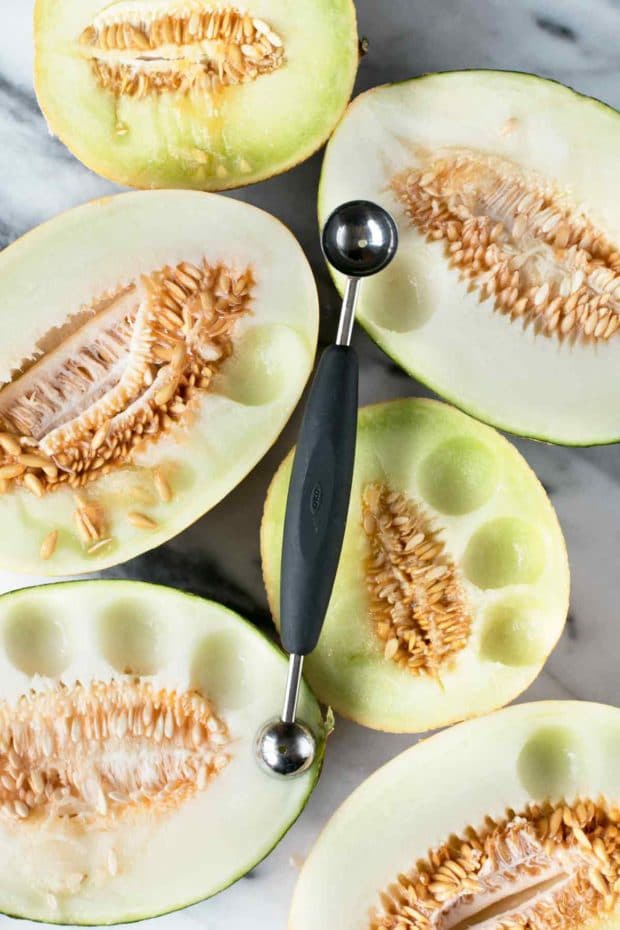 I haven't made a white and fruity sangria for a long time, so when I saw that melons hit the produce section at Sprouts, inspiration hit me like a ton of bricks!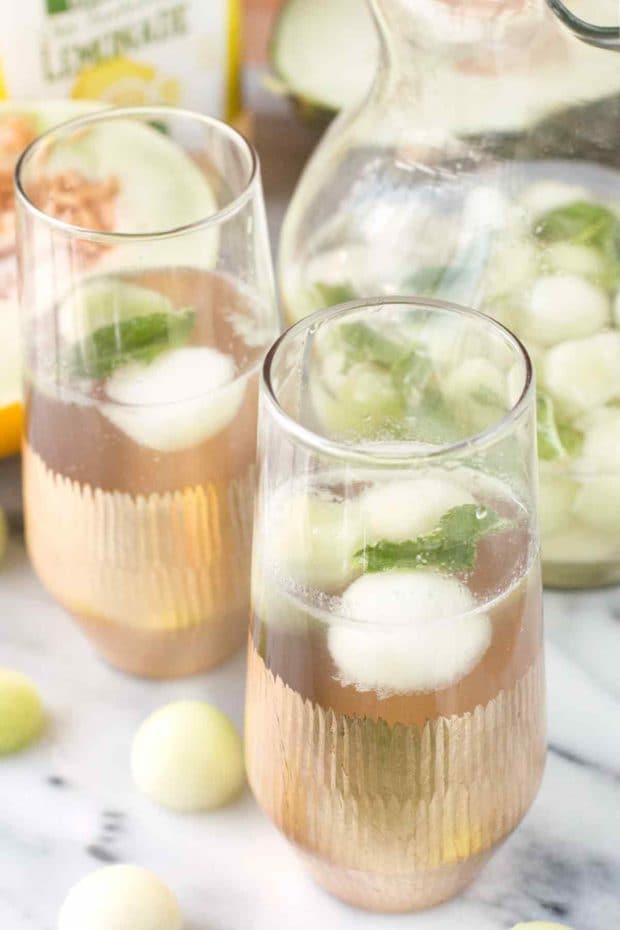 Please note that some of the links below are affiliate links. If you make a purchase through one of these links, I will receive a small commission. Thank you for supporting Cake 'n Knife!
Speaking of…. Right now it's all about melon mania over at Sprouts! You can grab a RIDICULOUS variety of melons, including a ton that I have never heard of. Did you know that there is a Santa Claus melon? Or a Canary melon?
Both just happen to be in this sangria by the way…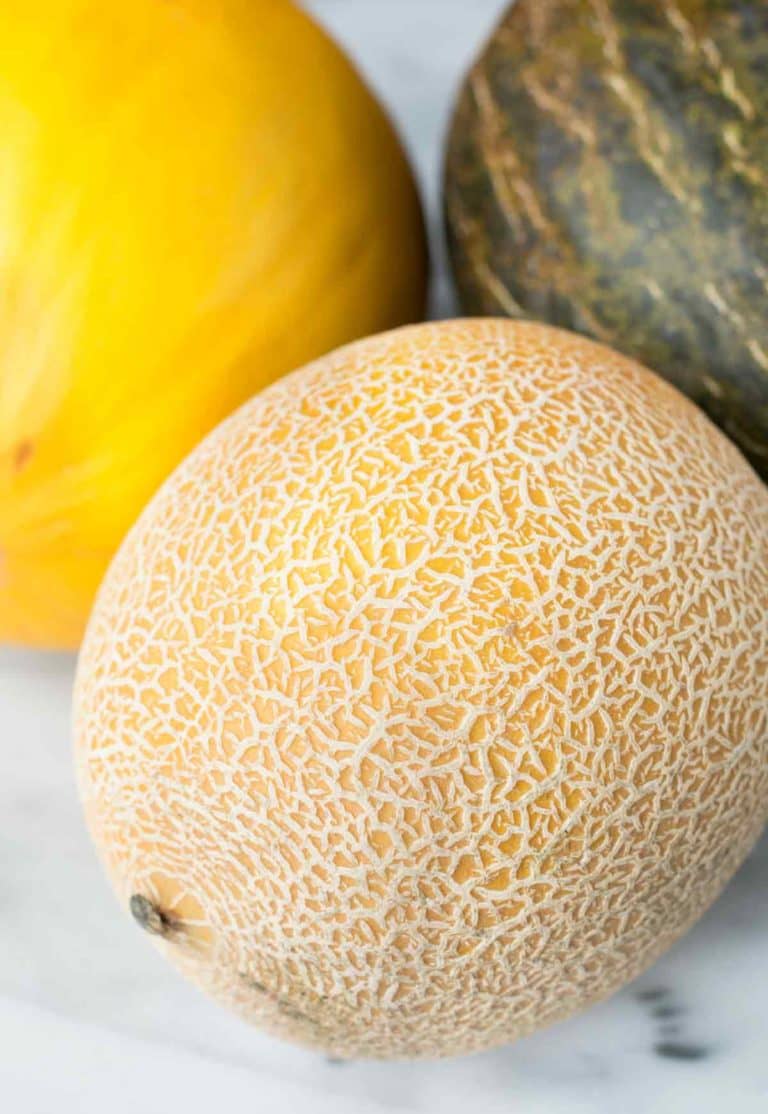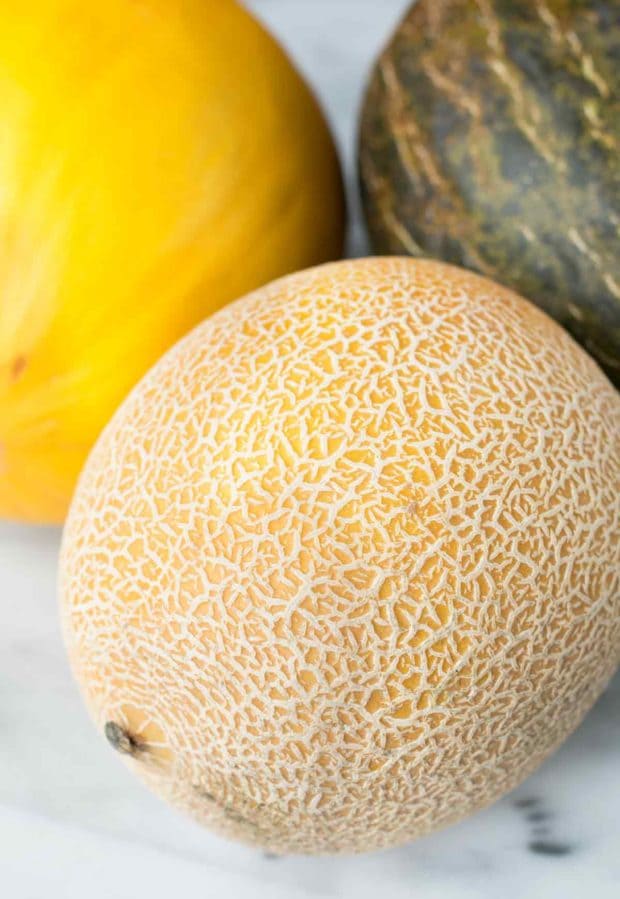 I loved pulling together this sangria with three varieties of melons I hadn't tried before. The combination of these melons is sweet, tart and oh-so flavorful.
Even though all these melons look the same color when you scoop them out into balls, their flavors are different and bring so much variety to this sangria. You barely need any sugar at all to bring a tinge of sweet flavor to the pitcher.
Instead, the melons serve as the main sweetener!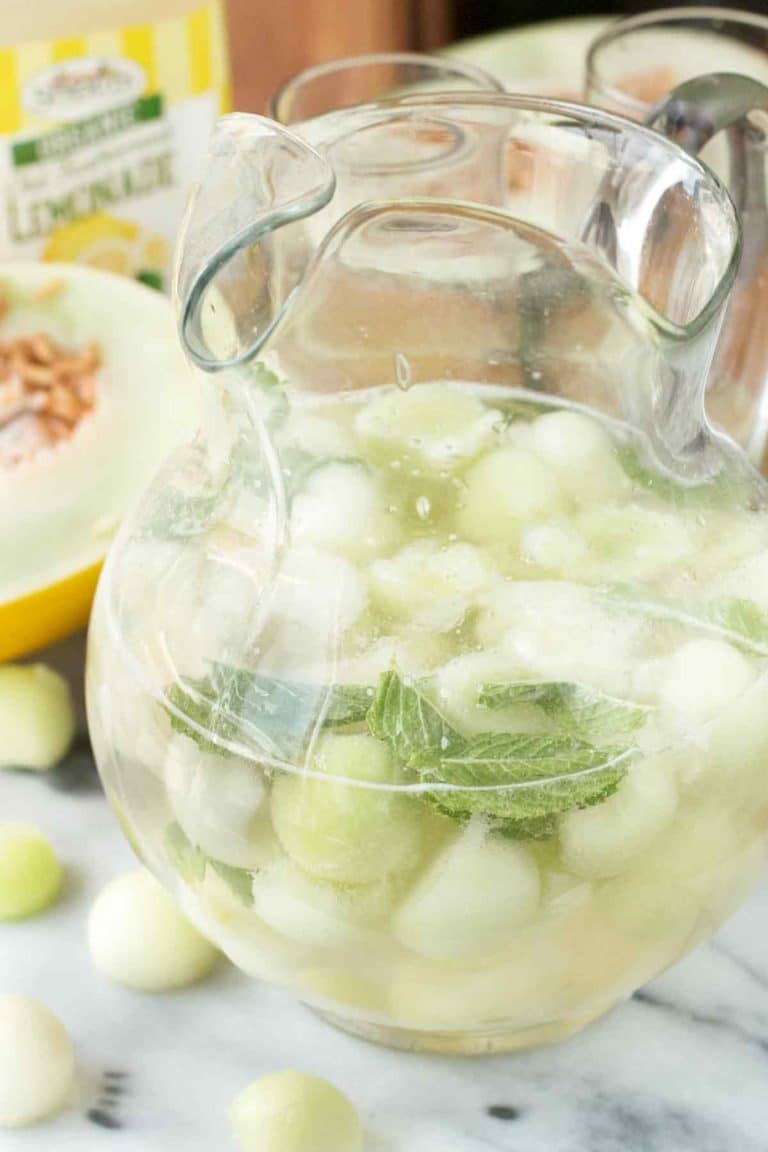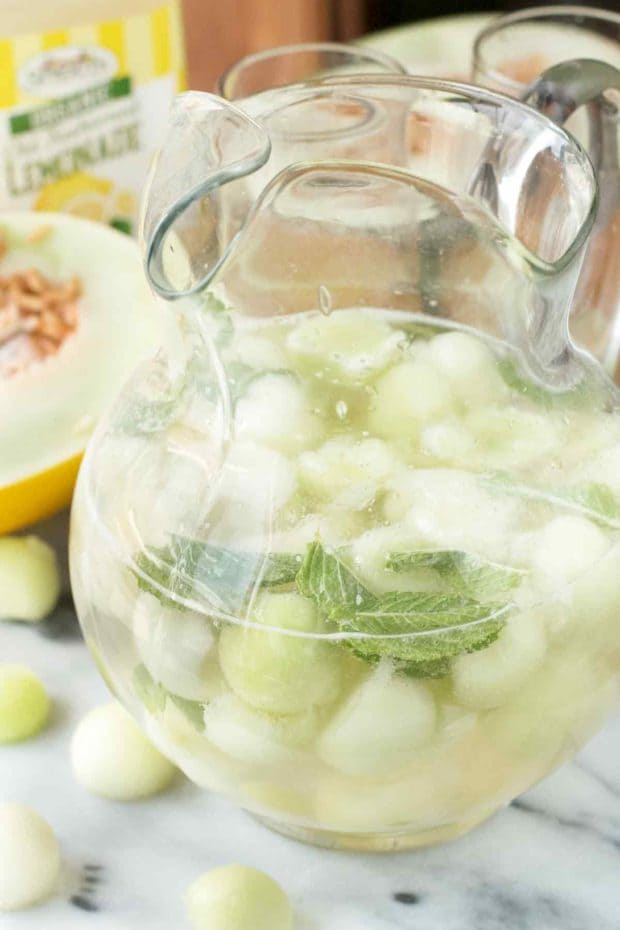 I'm sure there's something I could insert here about how natural sweeteners are always the best sweeteners, but lord knows I don't use too many healthy things in my cooking… 😉
So whether you have a patio party coming up, or simply want to sip on something infused with all the flavors of summer, this melon sangria is where it's AT.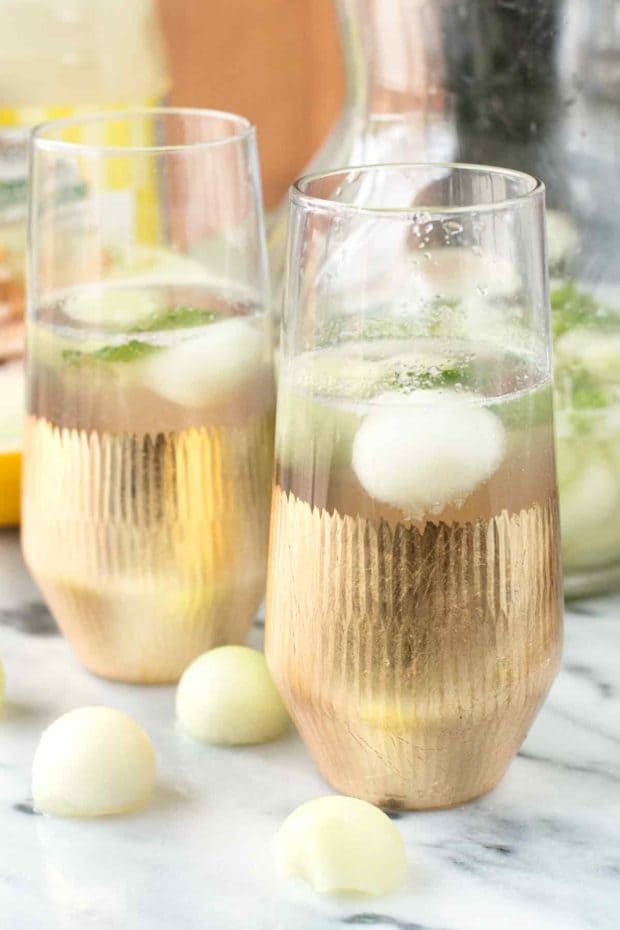 Happy summer sipping!
This Week's Must-Haves
Pin this Melon Sangria recipe for later!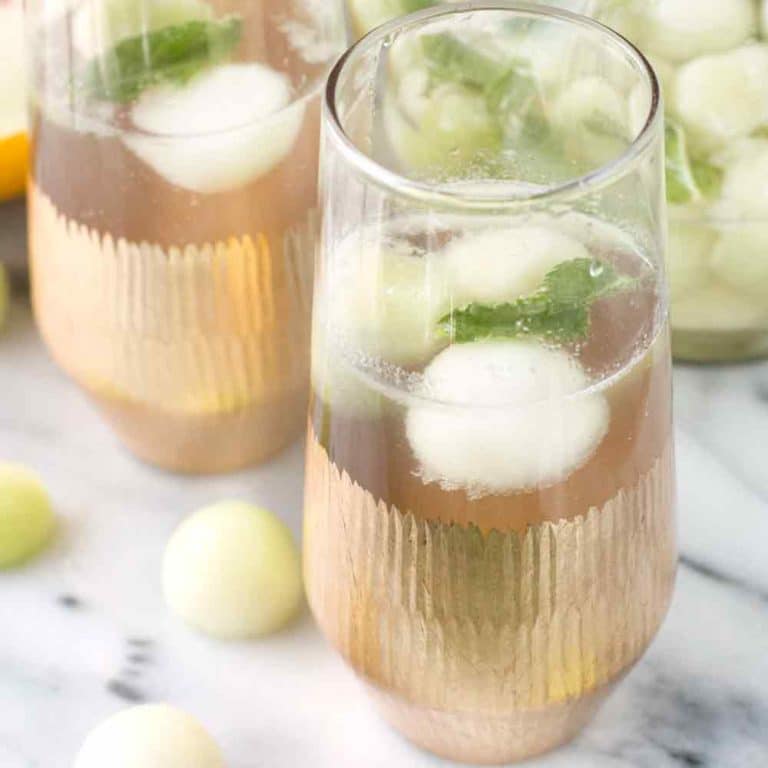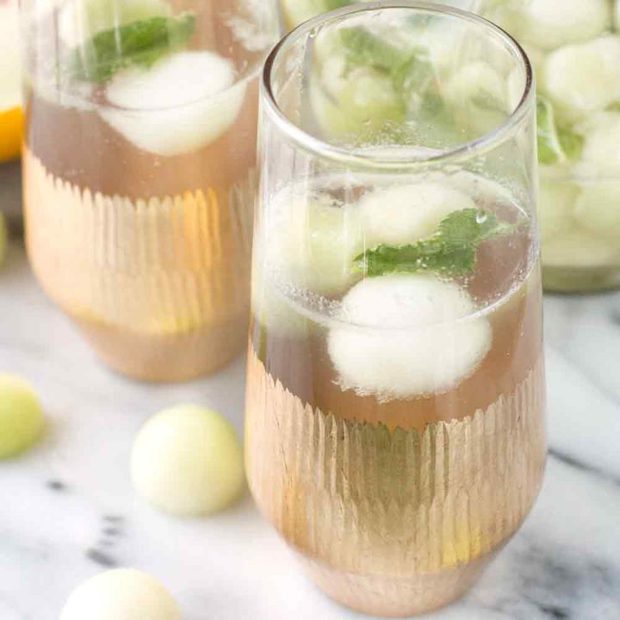 Melon Sangria
Total Time:
2 hours
10 minutes
With three different types of melon, this melon sangria is off-the-charts flavorful. It's perfect for summer and oh-so easy to pull together!
Ingredients
1 Galia melon
1/2 Santa Claus melon
1/2 Canary melon
1 Tbsp honey
1/3 cup Grand Marnier
1 bottle white wine, chilled (I used Pinot Grigio)
1 cup Sprouts lemonade
Mint leaves
Club soda
Instructions
Cut melons in half and remove seeds.
Using a melon baller, scoop out balls of melon and add to a large pitcher.
Top melon balls with honey, Grand Marnier, wine, lemonade, and a handful of fresh mint leaves.
Refrigerate for 1 to 2 hours.
Serve sangria in tall glasses, filling ¾ of the way up. Top with club soda and serve with a garnish of mint leaves and melon balls.