Chook Smashed Sweet Potatoes with Fresh Herbs are the only way to eat sweet potatoes. Featuring the most amazing Chook chicken salt (yea, you read that right), these potatoes are sweet, tangy, herbaceous, and full of umami flavor. Not to mention it's SUPER easy to throw together!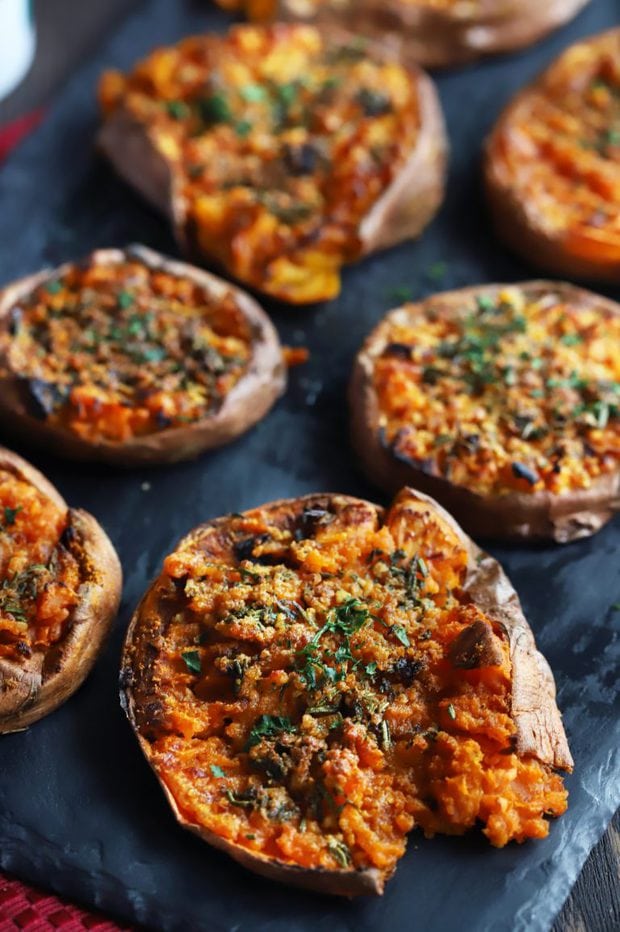 Disclosure: This post is sponsored by Savory Spice Shop! As always, all opinions are my own. Thanks for supporting the brands that support Cake 'n Knife!
I have been on a bit of a potato kick lately, both sweet and russet.
Once I get all the potatoes for Thanksgiving dinner, it's like a massive reminder of a food that I love and don't make enough.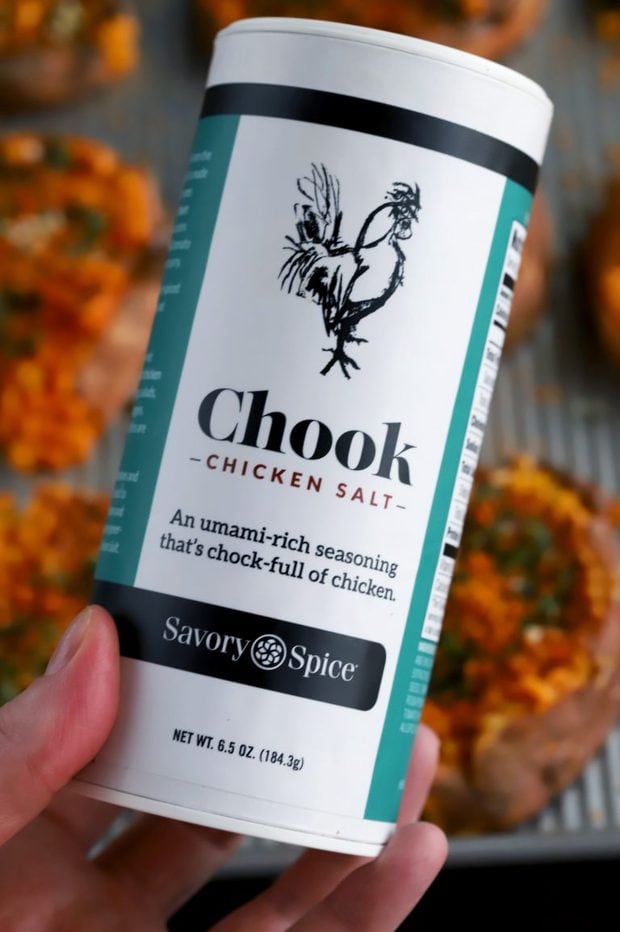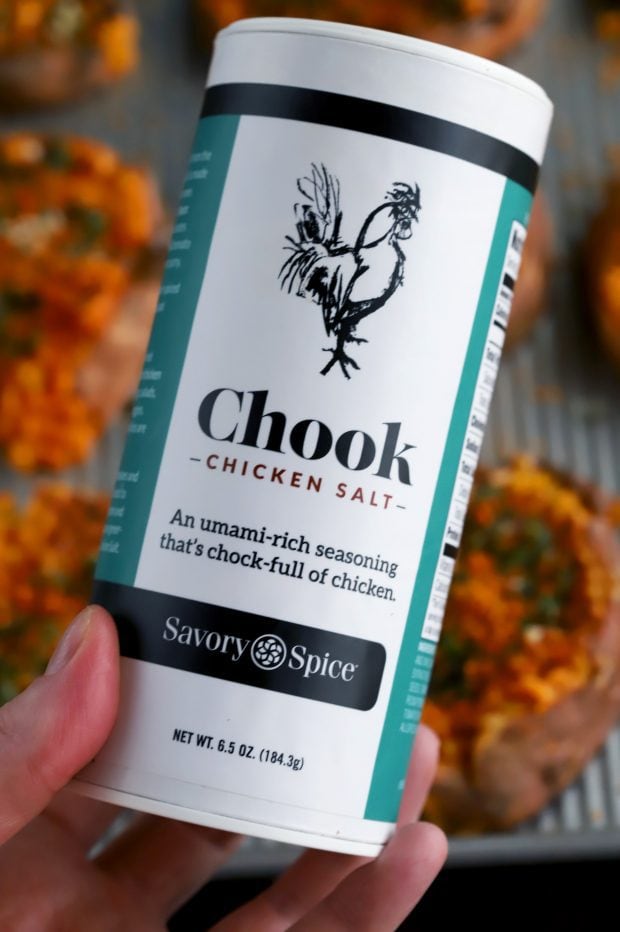 This especially applies to sweet potatoes.
We really only highlight them for Thanksgiving, but they are a root vegetable that we can enjoy all winter long to warm up with.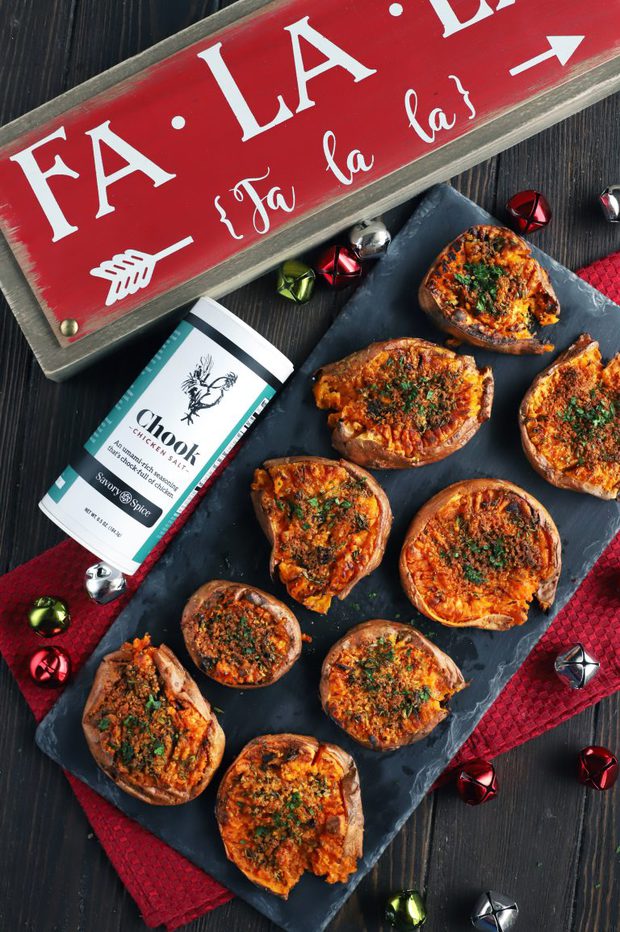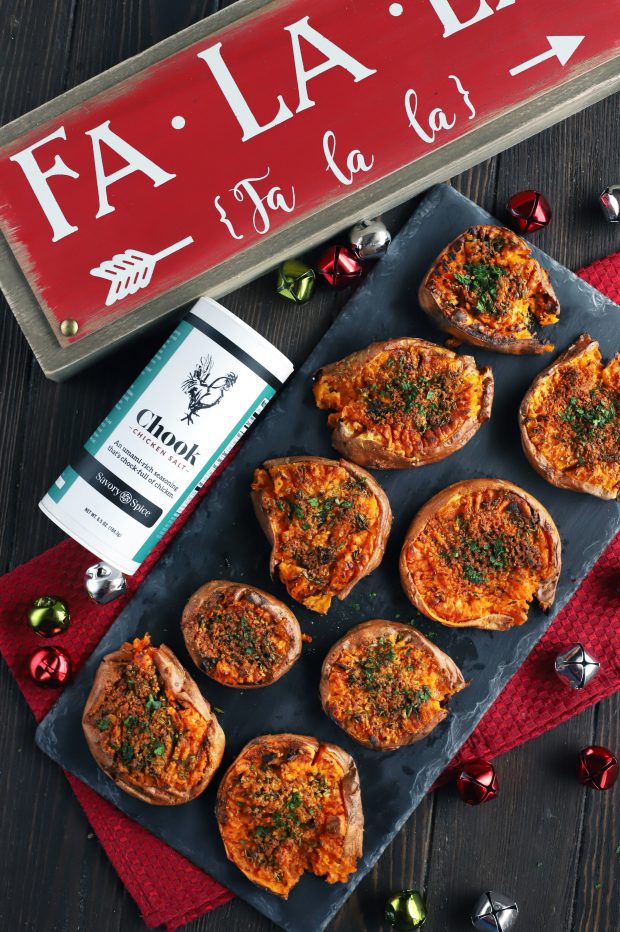 Please note that some of the links below are affiliate links. If you make a purchase through one of these links, I will receive a small commission.
Not to mention those sweetened potatoes go with practically any main dish you could think of…
You may think you have the perfect recipe for sweet potatoes, but trust me, you don't.
THIS is the only recipe you need from now until forever…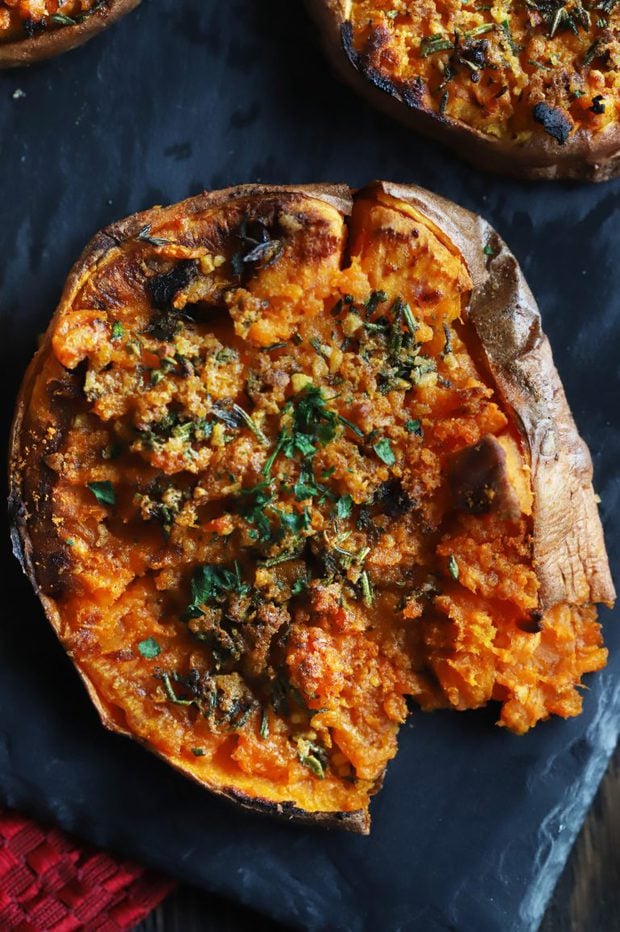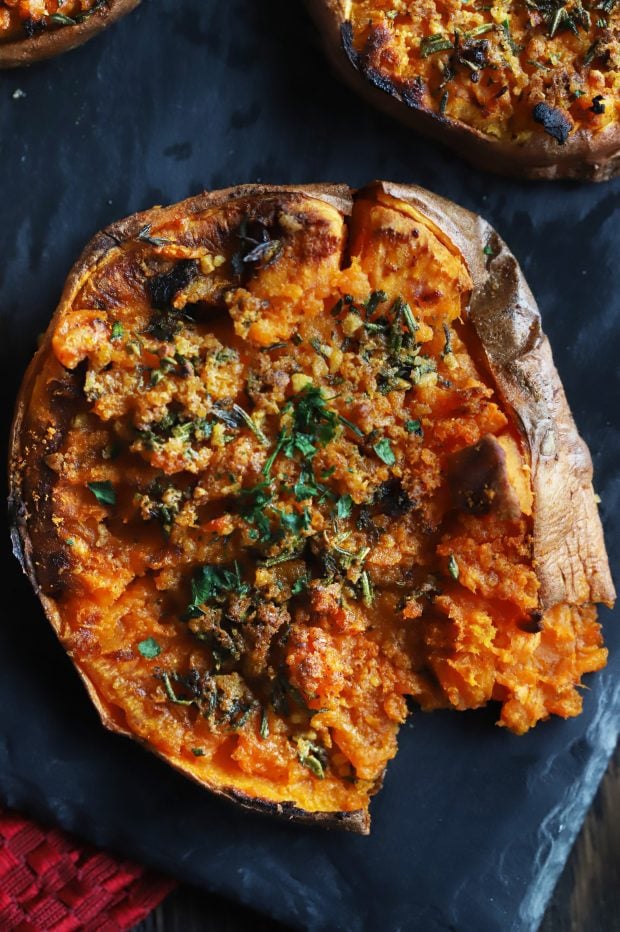 The sweetness of the potatoes is complimented by the rich butter, tangy garlic, and fresh burst of herbaceous flavor. Then, the main attraction comes in… in the form of Chook Chicken Salt from Savory Spice Shop.
Savory Spice Shop is who I always turn to for my spices. Especially now that I have turned to an organized spice rack and I can simply refill my favorite spices. If you don't have a shop in your hometown, not to worry! You can always buy online and they'll ship straight to your door. Their creative spice mixes, quality of the spices, and sheer volume of variety is something every cook should have in their lives.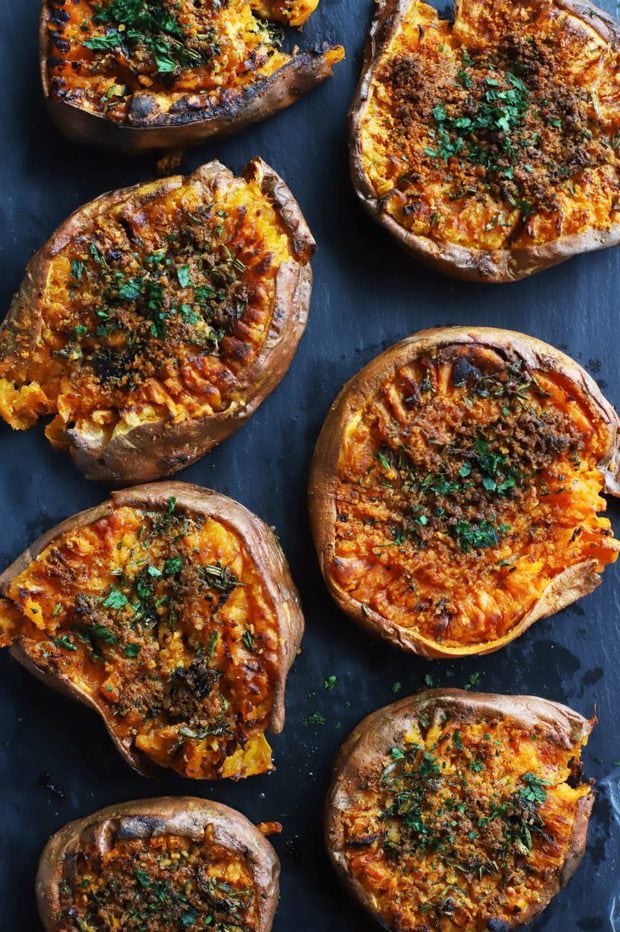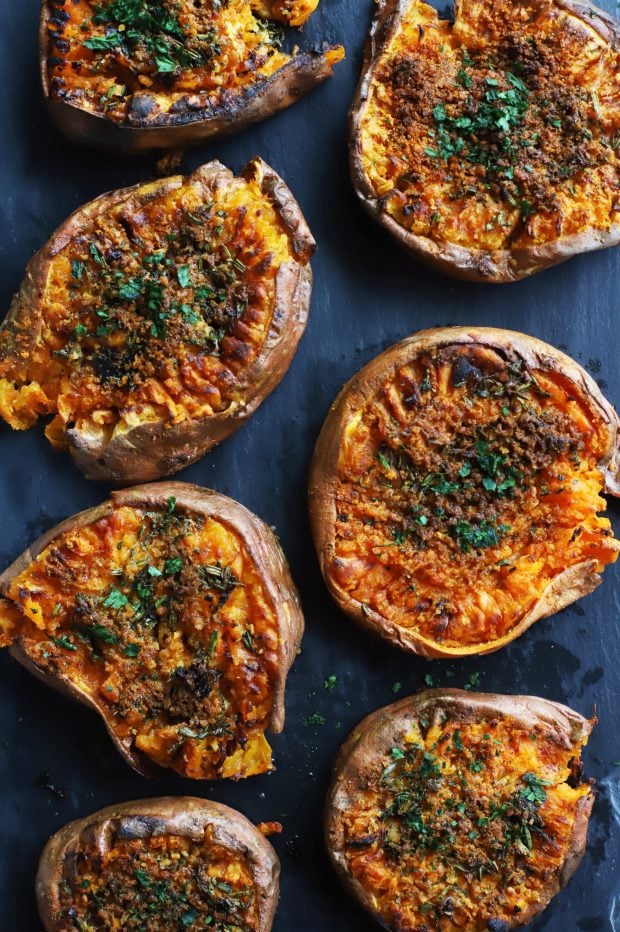 So I am sure you are all DYING to know "what the heck is chicken salt??" Allow me to explain…
This chicken salt is made from powdered chicken chicharrones (YUM) so you get this roasted savory flavor that is to DIE for. There's umami notes from chanterelle mushrooms, tomato powder, and hints of sweet curry that take this seasoning salt to a whole new level of awesome.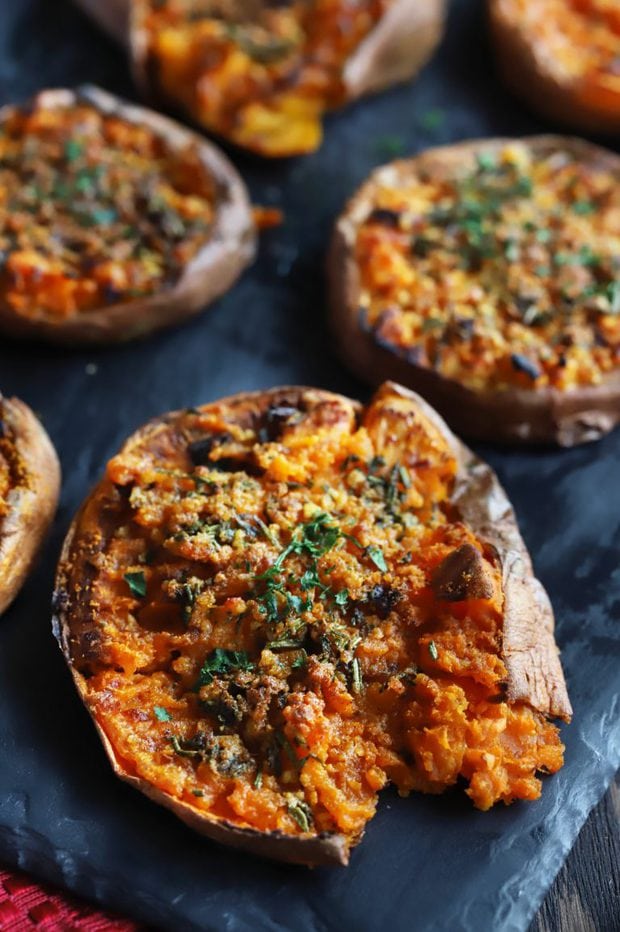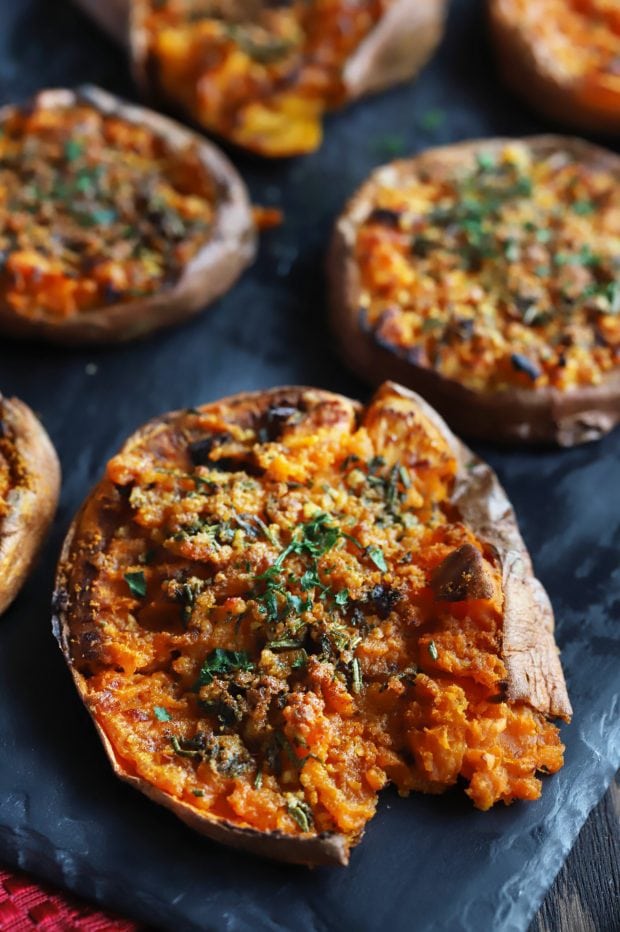 It tastes amazing on so many different things from waffle batter to vegetables, seasoned potato chips or popcorn to sauces and spreads.
You are basically going to lose your mind when you try it. It holds an even more special place in my heart because it's made by the men who are opening Chook Charcoal Chicken here in Denver! I am so excited for it to open because, well I mean come on, if their seasoning is this good I can only imagine how incredible their food will be.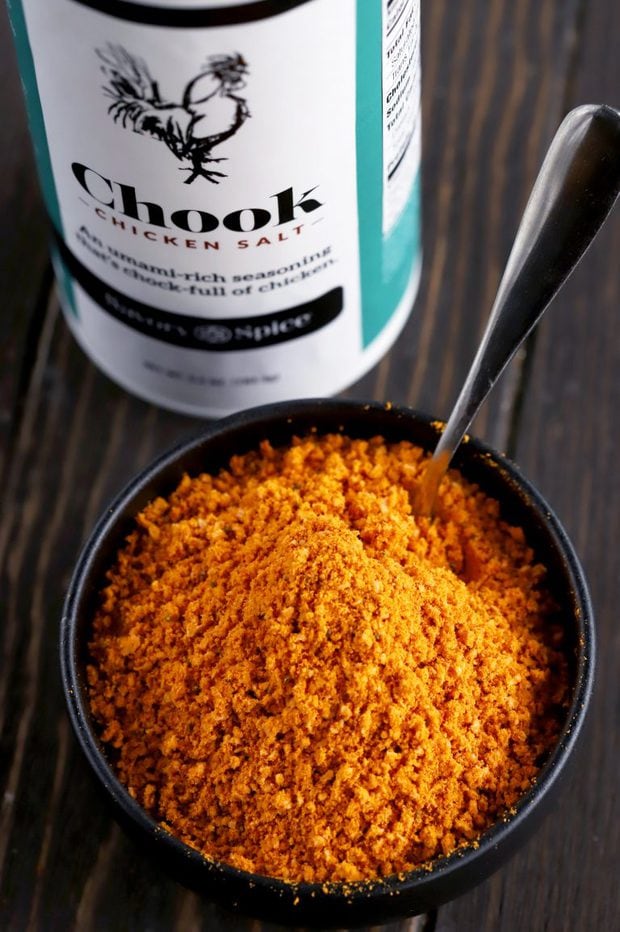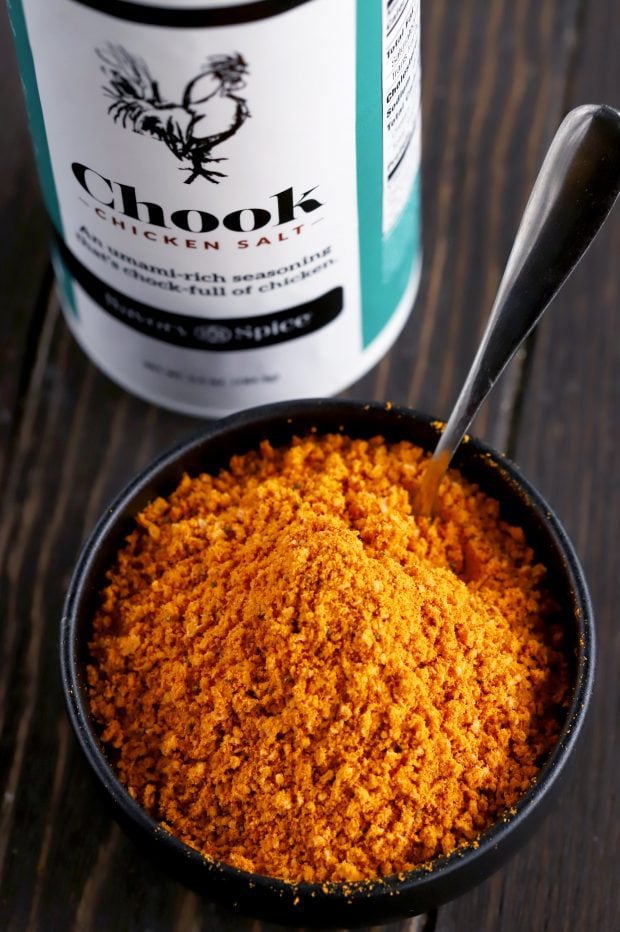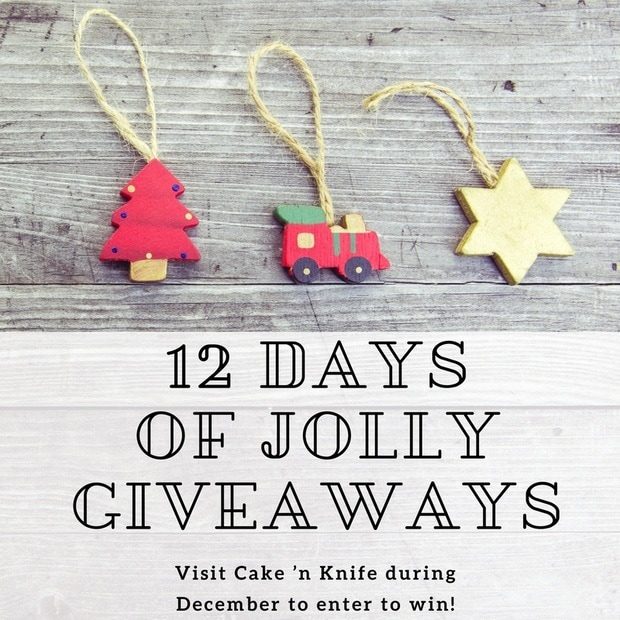 Now that we are on the second day of the 12 Days of Jolly Giveaways! I am so excited to share today's gift with you all because it includes the incredible, oh-so tasty Chook chicken salt that you see featured in this recipe. That way you can try it out for yourself and experience the magic….
Savory Spice Shop is such an amazing source for spices and can truly elevate your dishes to a whole new level, with everything from Chook Chicken Salt to spices as simple as garlic powder. Today Savory Spice Shop and I are pairing up to give you a bottle of Chook Chicken Salt AND their What's Your Beef? Seasoning Set so you can be truly set for all of the holiday cooking you plan on doing, and well into the new year.
Head below the recipe for your chance to win the second of TWELVE giveaways!


Want to keep up with the giveaways? Be sure to sign up for my email list (in the right-hand sidebar) to get all the posts straight to your inbox! You can also check back right here for all the posts as they get published.
This Recipe's Must Haves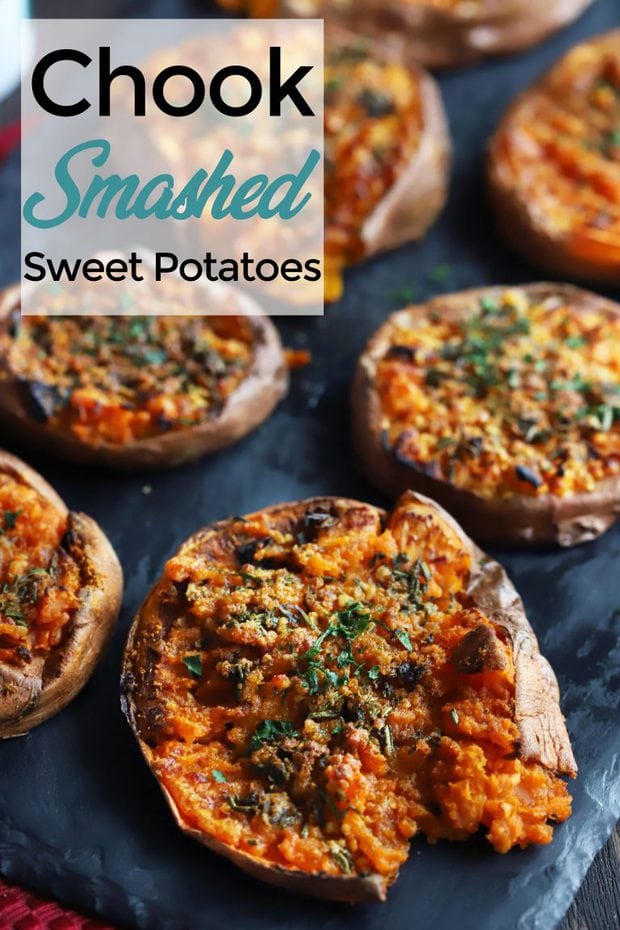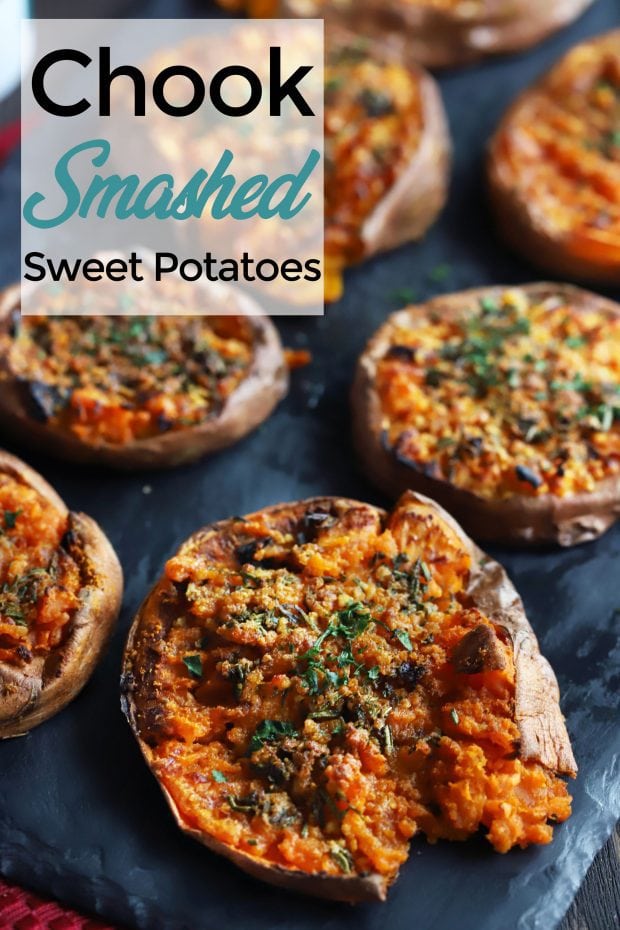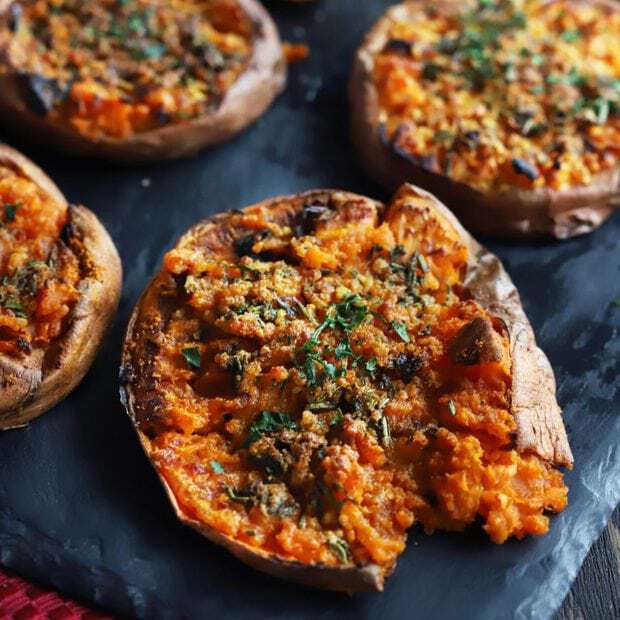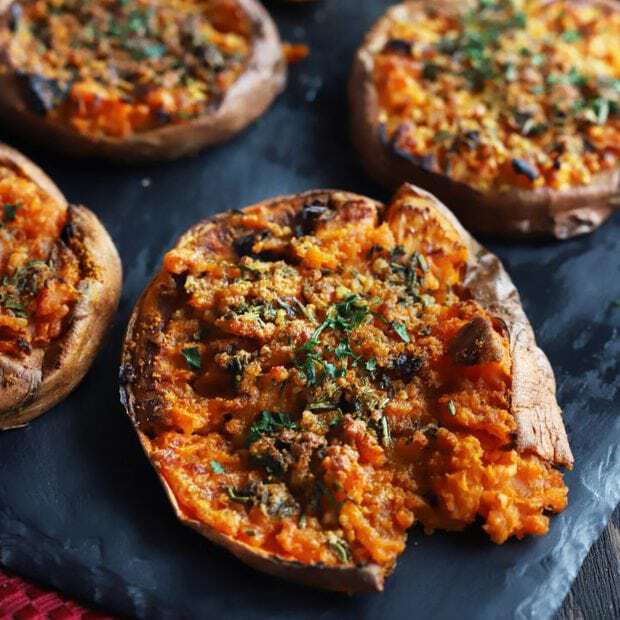 Chook Smashed Sweet Potatoes with Fresh Herbs
Chook Chicken Salt paired with smashed sweet potatoes, fresh herbs, and butter is the BEST, most flavorful and EASY way to make sweet potatoes. EVER.
Ingredients
4 medium sweet potatoes, scrubbed well
Olive oil spray (or cooking spray)
4 Tbsp melted butter
2 cloves garlic, minced
1 Tbsp chopped fresh rosemary
1 Tbsp chopped fresh thyme
1 Tbsp Savory Spice Shop Chook Chicken Salt
Instructions
Preheat oven with broil set to high heat.
Lightly grease a rimmed baking sheet with olive oil spray, or cooking spray.
Remove the ends of the sweet potatoes. Cut each sweet potato into 4 rounds that are about 1/2 inch to 1 inch thick.
Place sweet potato rounds on the baking sheet, cooking for 20 to 25 minutes, flipping halfway through. The potatoes should be fork tender at this point.
Once cooled slightly, enough to handle, lightly flatten or smash the potatoes with the back of a fork.
In a small boil, stir together butter, rosemary and thyme. Drizzle the mixture over the smashed sweet potatoes.
Sprinkle potatoes evenly with Savory Spice Shop Chook Chicken Salt.
Return pan to oven and back until the tops are golden and crispy, about 10 to 15 minutes.
Remove from oven and serve immediately.
Recommended Products
As an Amazon Associate and member of other affiliate programs, I earn from qualifying purchases.