Roasted Garlic Pork Tenderloin with Cranberries is a tangy, herbaceous, and oh-so savory dinner that will have everyone running to the dinner table. The simple hasselback treatment of the pork tenderloin infuses the meat with a rich depth of flavor. It's the ideal holiday dinner!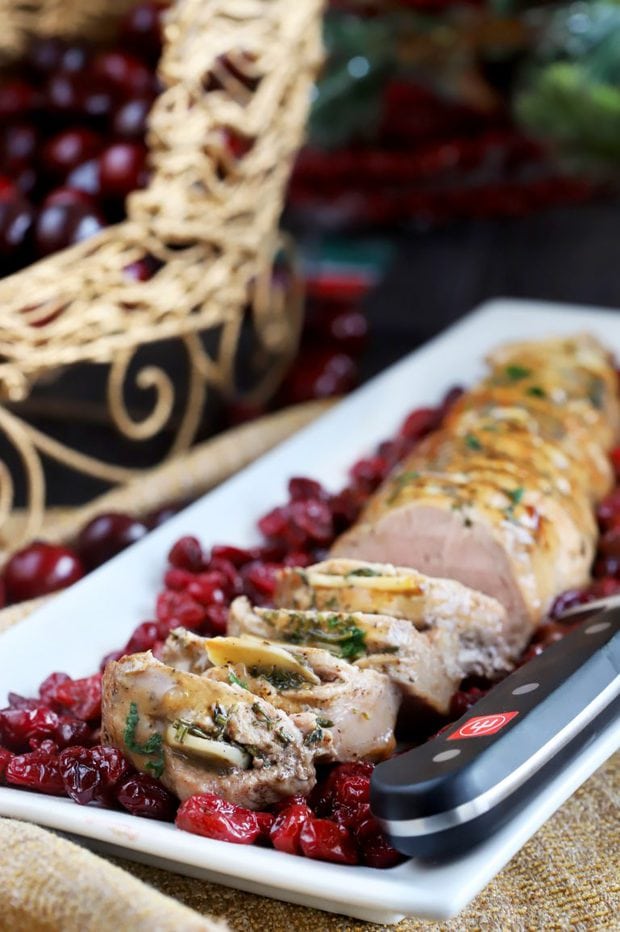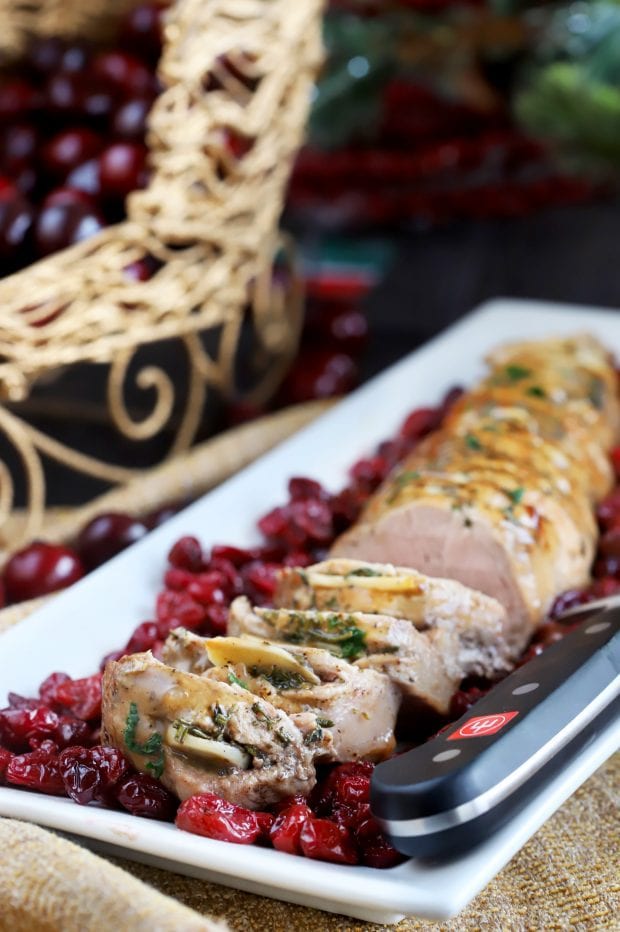 Disclosure: This post is sponsored by Wüsthof! As always, all opinions are my own. Thanks for supporting the brands that support Cake 'n Knife!
I can't believe the end of the year is coming closer and closer… It feels like just the other day I was talking about how I wasn't ready to see the end of 2017!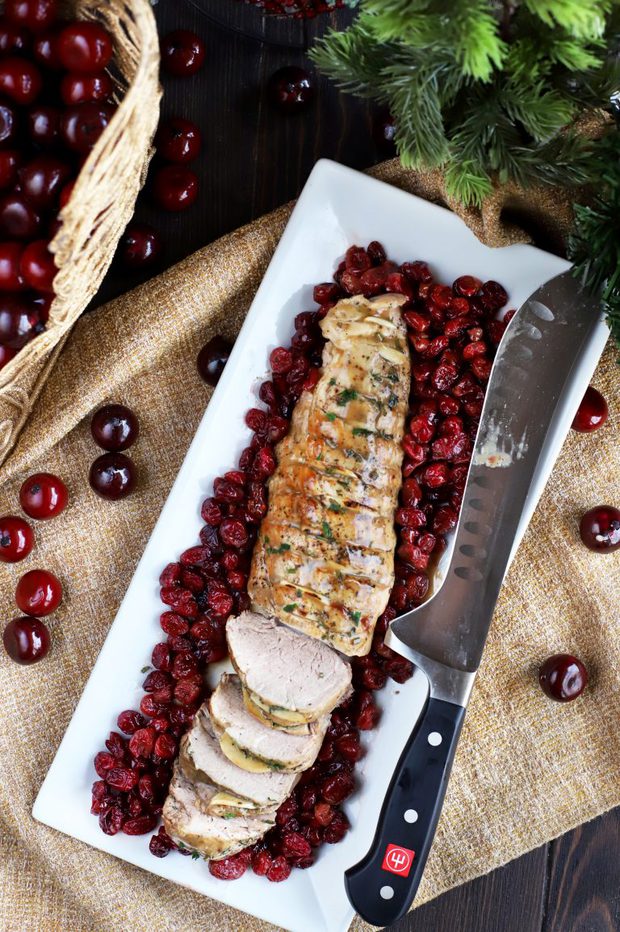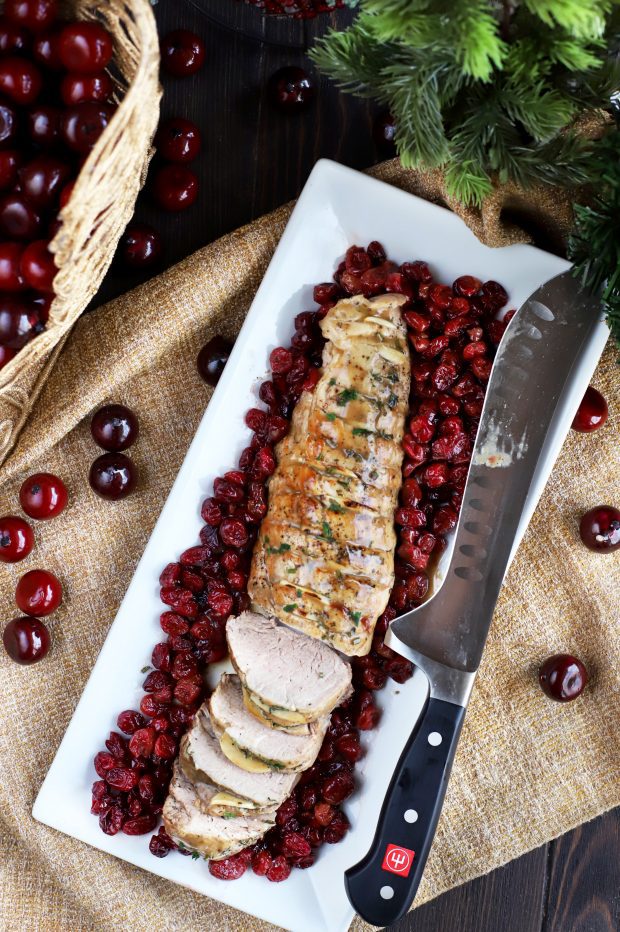 Now I am taking in every chance I can to celebrate what an amazing year 2018 was. That means I am cooking and baking my heart out.
To me, sitting down to an amazing meal with your loved ones is the most ideal way to celebrate. You all know I am all about gatherings, after all. 😉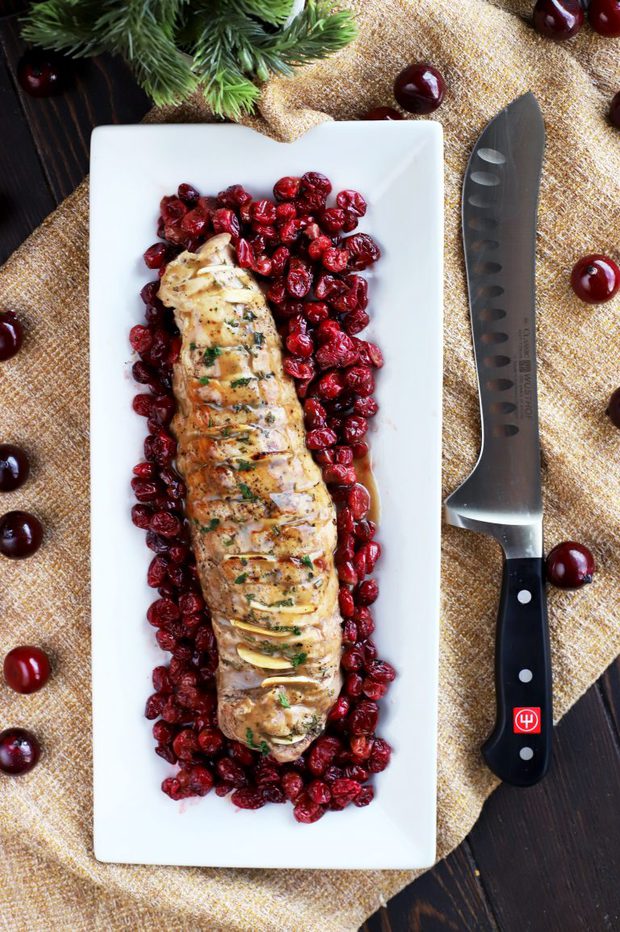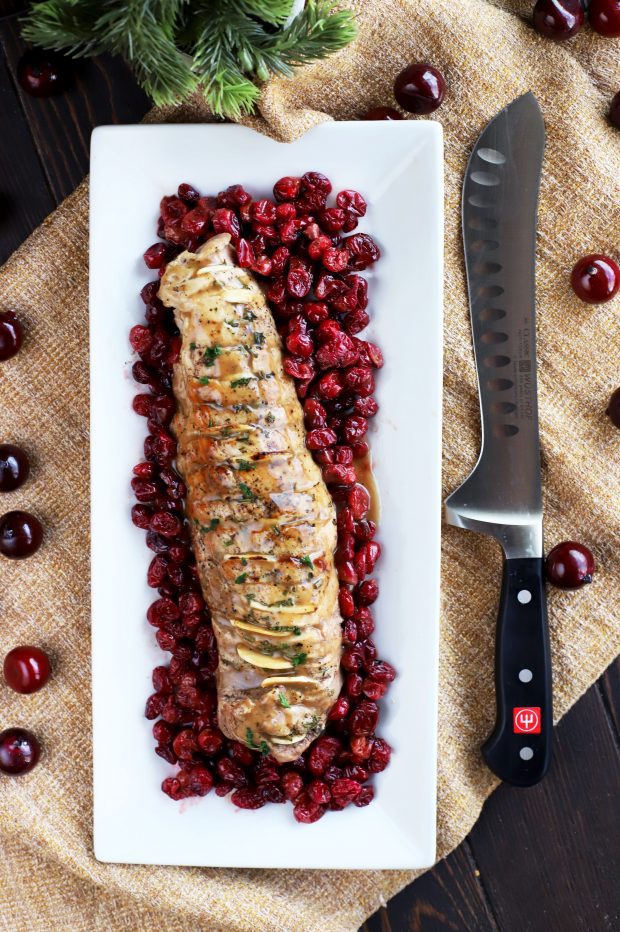 This particular recipe brings me so much joy. The roasted meat is rich and flavorful to match the tartness of the roasted cranberries. Then you make a delightful white wine and herb pan sauce from the drippings to top it all off with.
Let's just say the flavors literally explode in your mouth.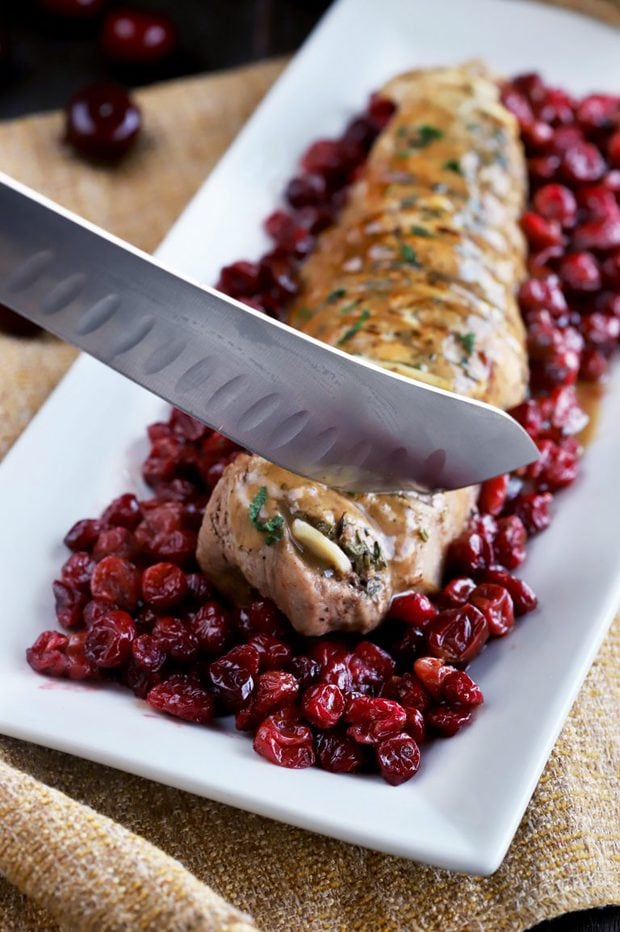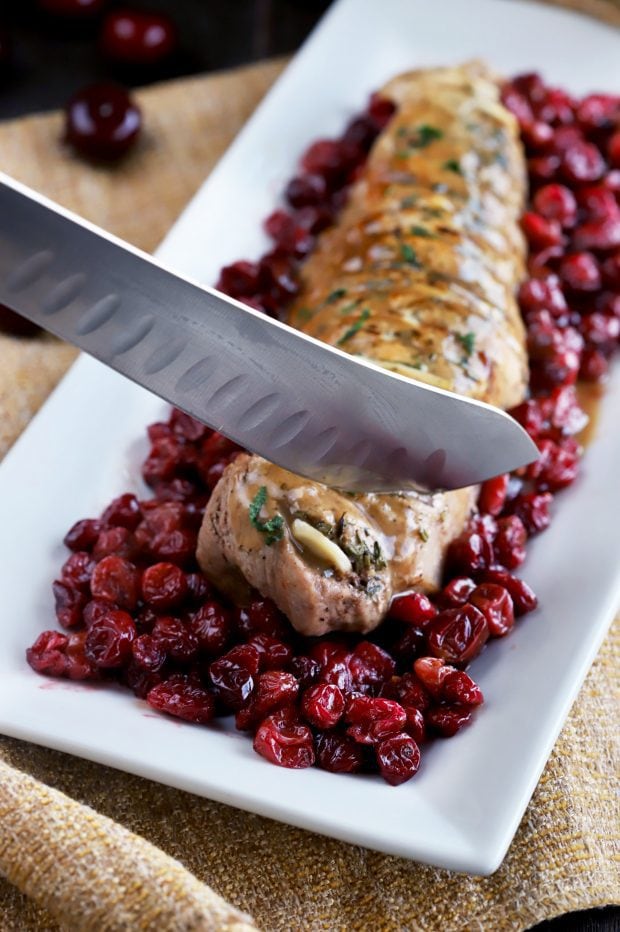 This isn't your average roasted garlic pork tenderloin, because I switched things up with a hasselback preparation of the tenderloin. I cut small slits with my super sharp knife (more on that in a minute). Then I stuff each with a slice of garlic, fresh thyme, and fresh rosemary.
Nestling those ingredients into the meat really adds depth of flavor to the meat in ways that a rub or marinade just can't do.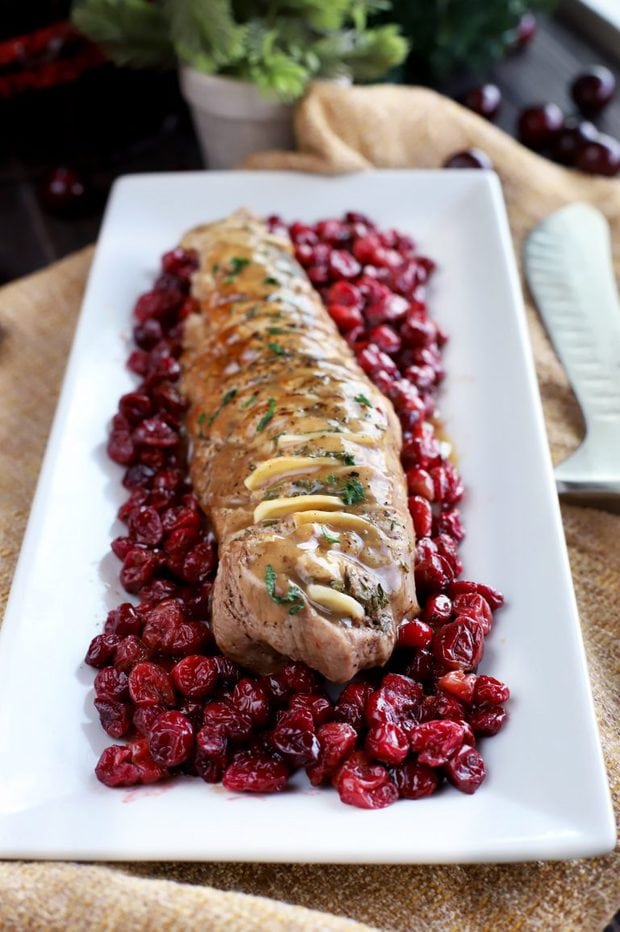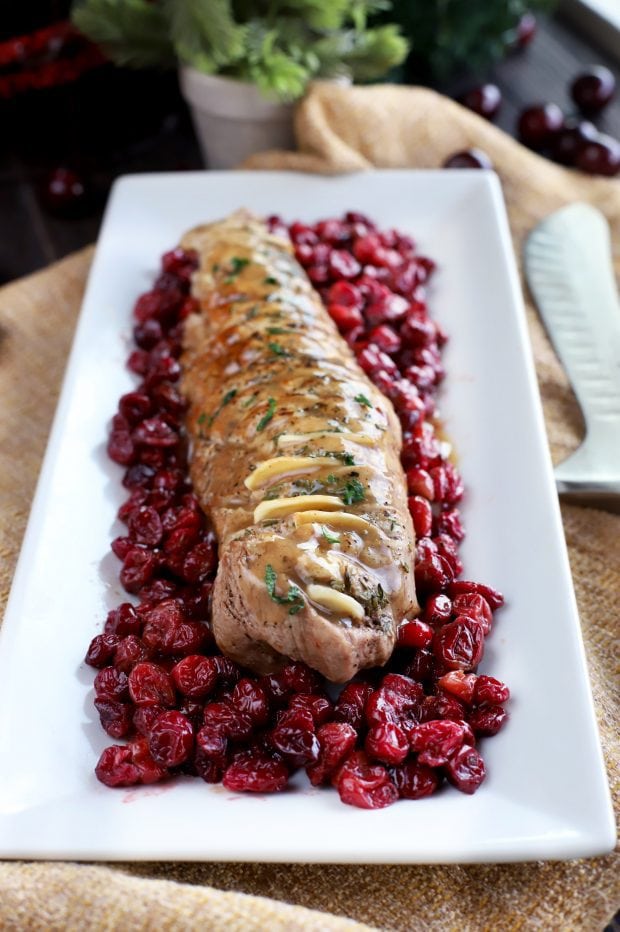 Another part of the joy of cooking for me, aside from making something amazing to eat, is the tools that I use to make it easier. I don't know if you've ever struggled with a dull knife to cut through perfectly roasted meat, but it's a disaster. Not to mention all that hard work of cooking goes down the drain when you present mangled slices of meat to watering mouths.
I saw this Wüsthof 8″ Artisan Butcher Knife at the Denver Food & Wine Festival and it caught my eye immediately. The knife is perfectly balanced, making it idea for food prep and also for carving. I actually used it to expertly carve our turkey at Thanksgiving and it was a DREAM to use.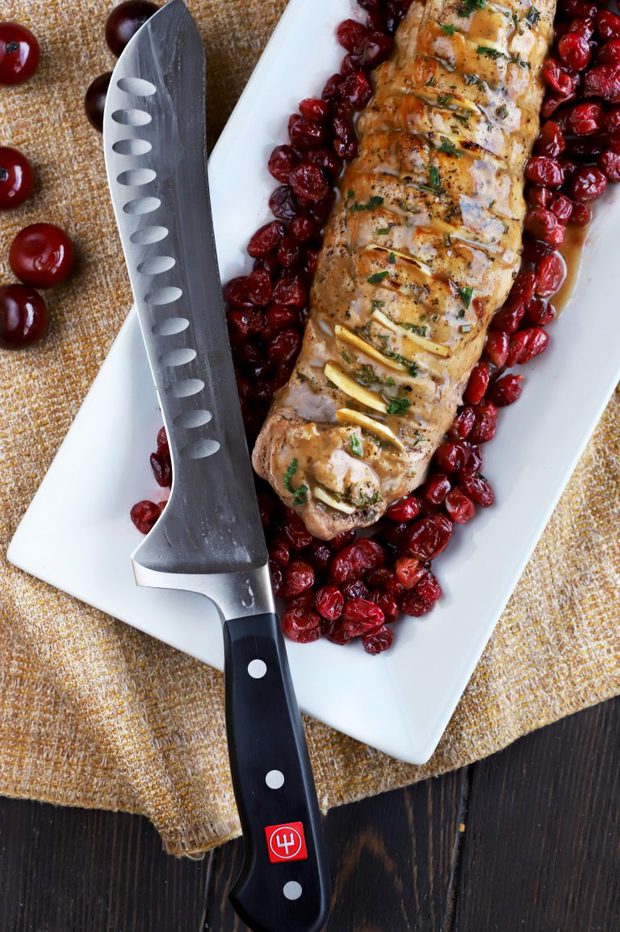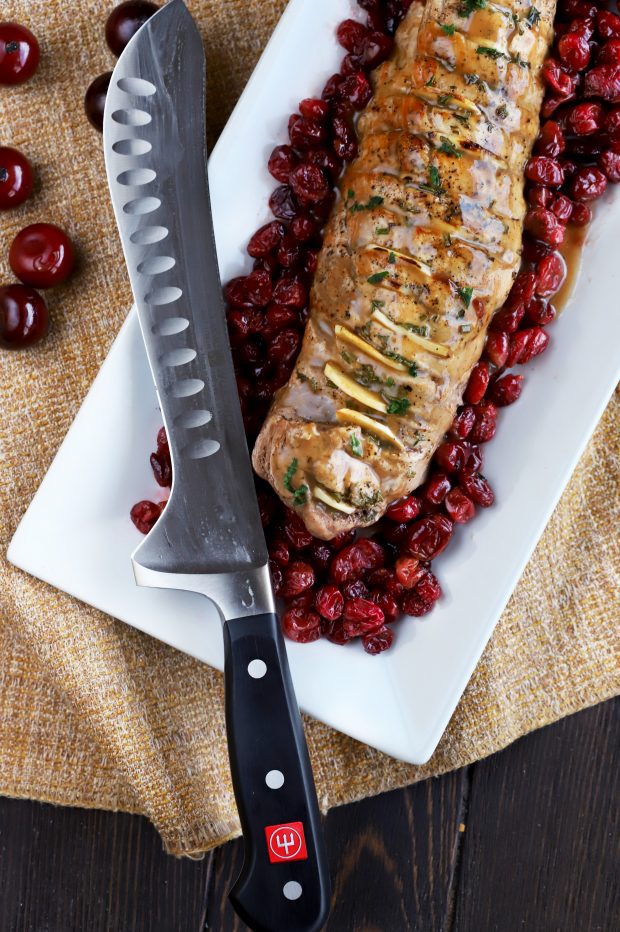 The knife just carves through the meat like butter and it makes it so easy to enjoy butchery.
The Wüsthof 4″ Extra Wide Paring Knife is one of my favorite knives to use for smaller food prep and makes slicing the tiny cloves of garlic a breeze.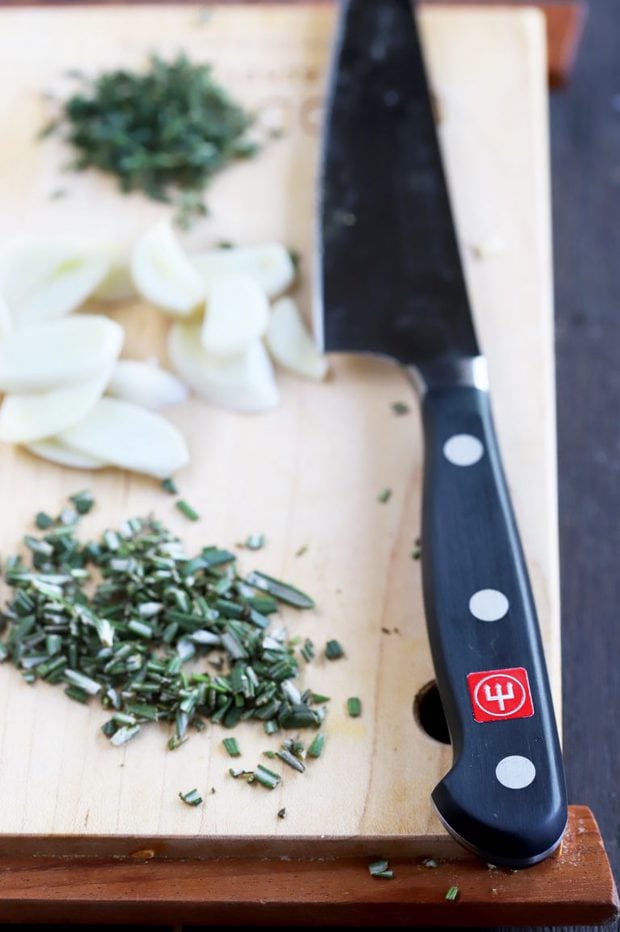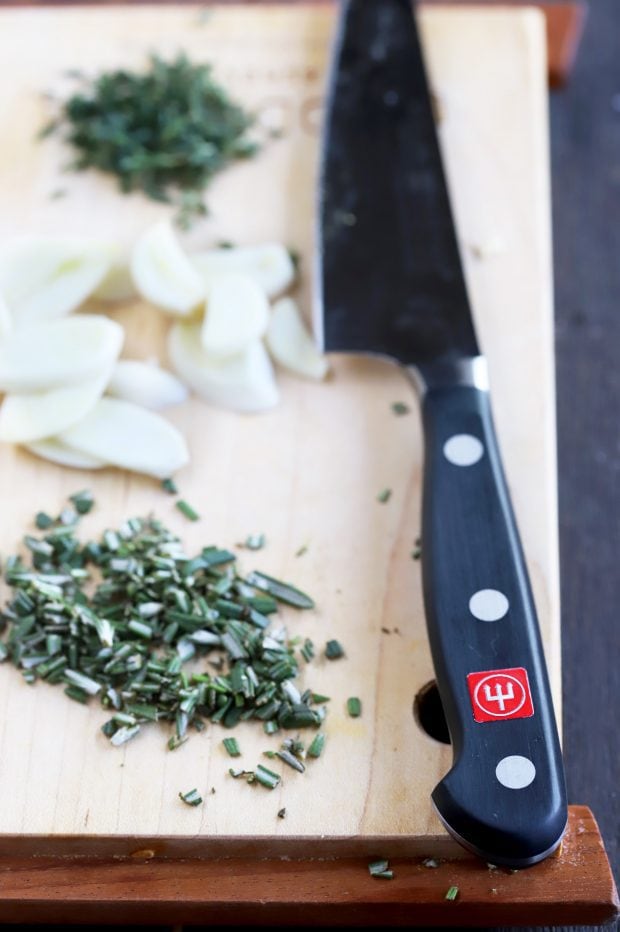 Suffice to say, the Wüsthof collection of knives is one that I will always have in my home. Having the right tools makes all the difference in the ease of cooking, and also your enjoyment!
Have a cook in your life you want to shop for? Here's my kitchen favorites gift guide!
this recipe's must-haves
As I mentioned before, the Wusthof 8" Artisan Butcher Knife
is my new favorite knife to use for carving and prep! You can't go wrong with adding this to your collection.
I also love this simple Wüsthof Classic Chef's 2 Piece Starter Knife Set
! It has two great knives that you will not regret investing in.
I cooked this whole meal in my Le Creuset Signature Iron Handle Skillet
! Perfect for stovetop to oven, and back to stovetop!


THIS GIVEAWAY IS NOW CLOSED.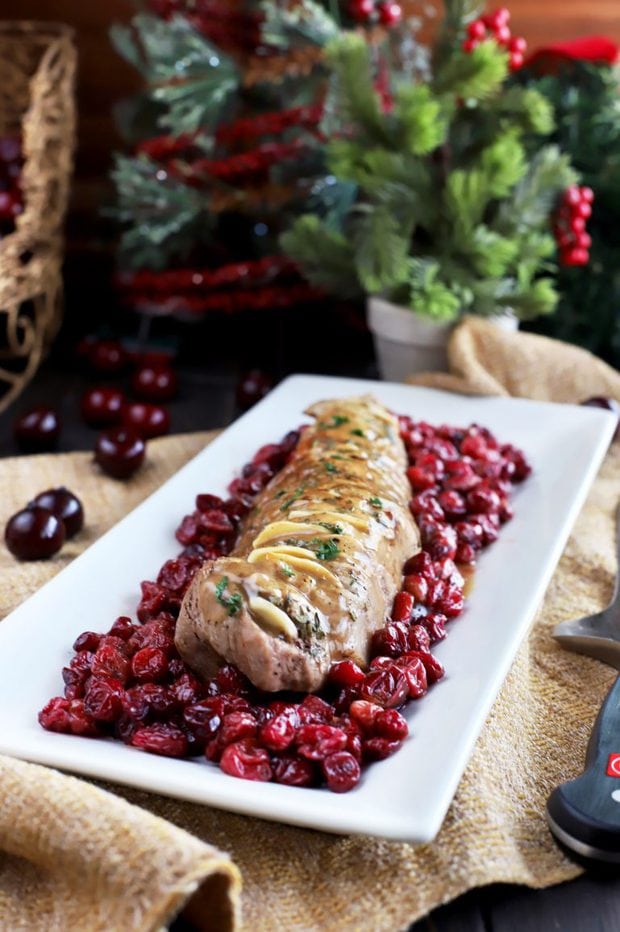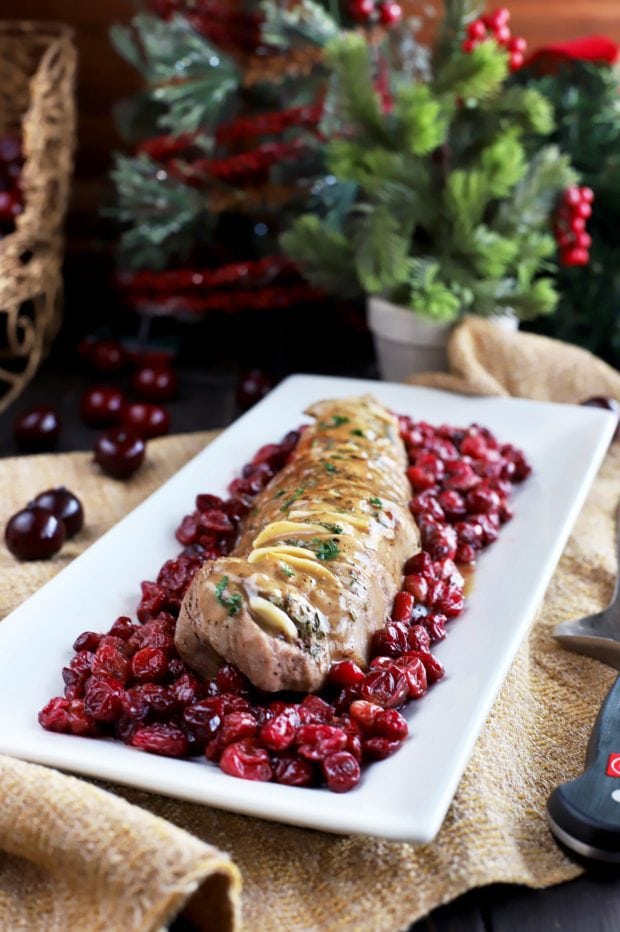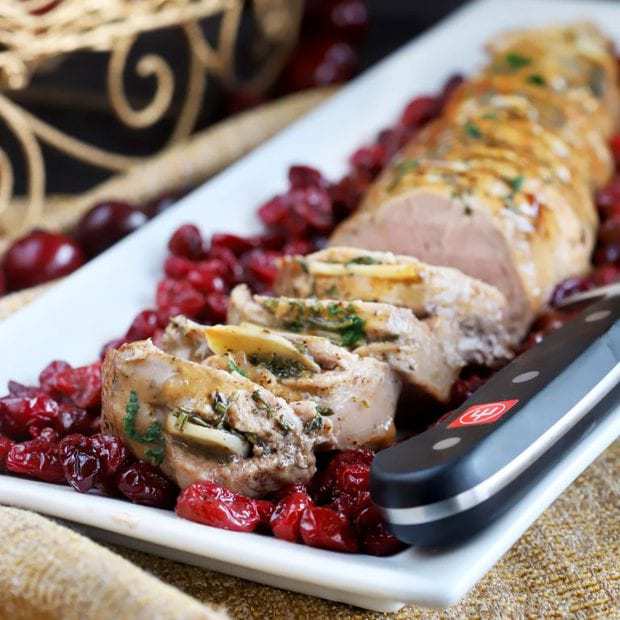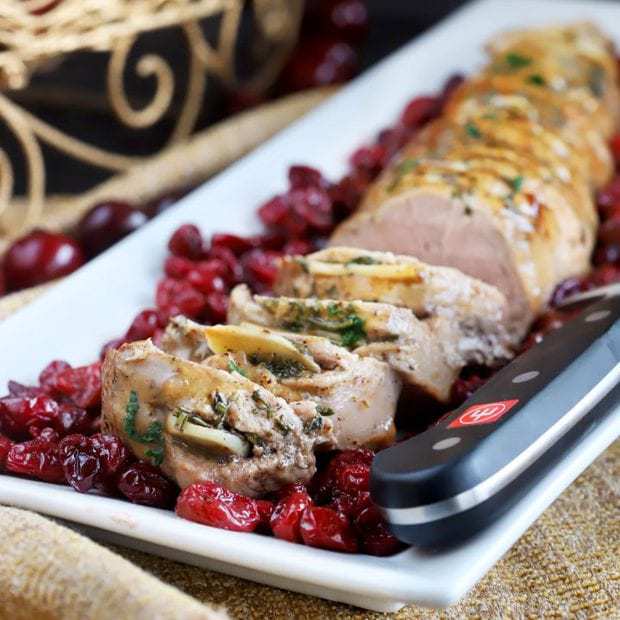 Roasted Garlic Pork Tenderloin with Cranberries
Pork tenderloin is given the Hasselback treatment, then stuffed with garlic and herbs. When it's cooked with roasted cranberries and topped with a tangy pan sauce, you have a truly memorable dinner on your hands.
Ingredients
PORK
2 lbs pork tenderloin, trimmed
2 cloves garlic, thinly sliced
1 Tbsp fresh thyme leaves
1 Tbsp chopped fresh rosemary
Salt & pepper
1 Tbsp olive oil
1 cup fresh cranberries
HERB PAN SAUCE
2 sprigs rosemary
3 sprigs thyme
1/3 cup white wine
2 tsp cornstarch
1 Tbsp water
2/3 cup chicken stock
1/8 tsp brown sugar
Instructions
Preheat oven to 400 degrees F.
Make 20 horizontal slits in the top of the pork tenderloin, spacing them evenly apart.
Add a slice of garlic to each slit, a pinch of thyme leaves, and a pinch of chopped fresh rosemary. Season tenderloin evenly with salt and pepper.
Add oil to a cast iron skillet over medium-high heat. Once hot, add pork tenderloin and sear on all sides until browned.
Add cranberries to the skillet. Place skillet in the oven and roast for 15 to 20 minutes.
Remove skillet from oven and place pork tenderloin and cranberries on a serving platter, tenting with aluminum foil to keep warm.
Place skillet back over medium-high heat. Add wine, thyme sprigs, and rosemary sprigs to the skillet. Bring to a simmer and use a wooden spoon to scrape up the bits on the bottom of the pan.
In a small bowl, stir together cornstarch with water until combined.
Pour cornstarch slurry into the skillet and simmer until the mixture is thickened. Add chicken stock and sugar, stirring to combine and bringing to a simmer. Simmer until thickened. Season with salt and pepper to taste.
Pour sauce over pork tenderloin and serve.
Recommended Products
As an Amazon Associate and member of other affiliate programs, I earn from qualifying purchases.