Berbere Roasted Chicken is a new spin on a comfort food classic that's both spicy, acidic and oh-so flavorful. The berbere spice paired with butter and lime makes the chicken tender and juicy to make your dinner even more memorable than usual. Plus the leftovers make the best chicken sandwich, like, EVER.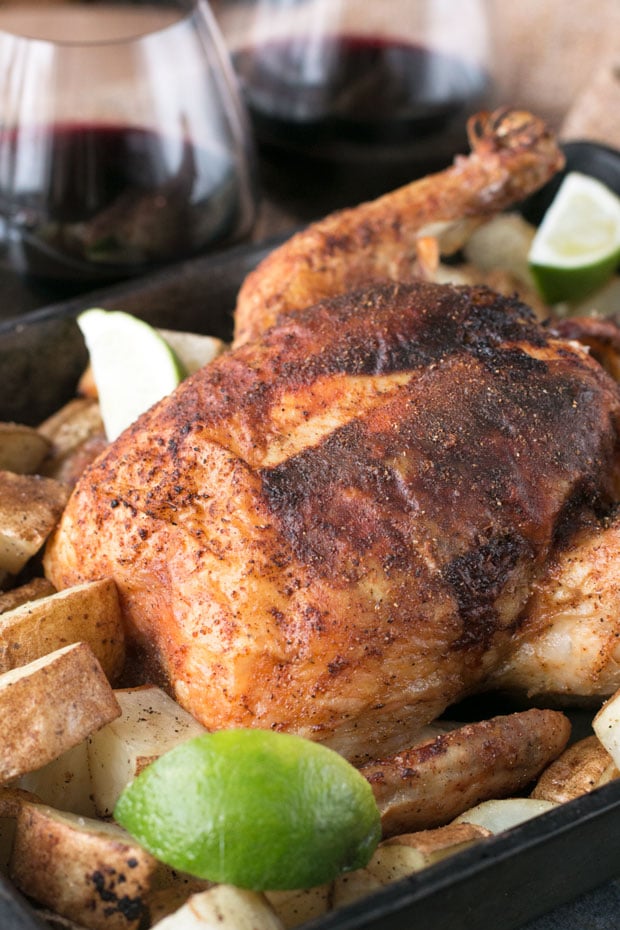 Sickness and I don't play well together… Whenever I end up sick, I always end up battling myself.
Do I feel like crap? Or can I convince myself that I don't? Really, can I convince myself that I'm fine long enough to get all the things done and then curl up into a ball at the end of the day in utter exhaustion?
Yes, I know. Many of you are rolling your eyes at this exact moment, saying hey you should take a break! Get some rest!
That's probably the toughest thing for me to try to do when I'm sick.
I haaaaaaaaaaate being sick. I hate laying around and doing nothing because I have to. Oh trust me, I'll do it when I want to. But when I am being forced to? Nope, no thank you. I'll have no part of that mess.
However this round of a cold is swinging in and out, threatening to take me out for weeks if I'm not careful in how I act. So fine, I'll be a little lazy.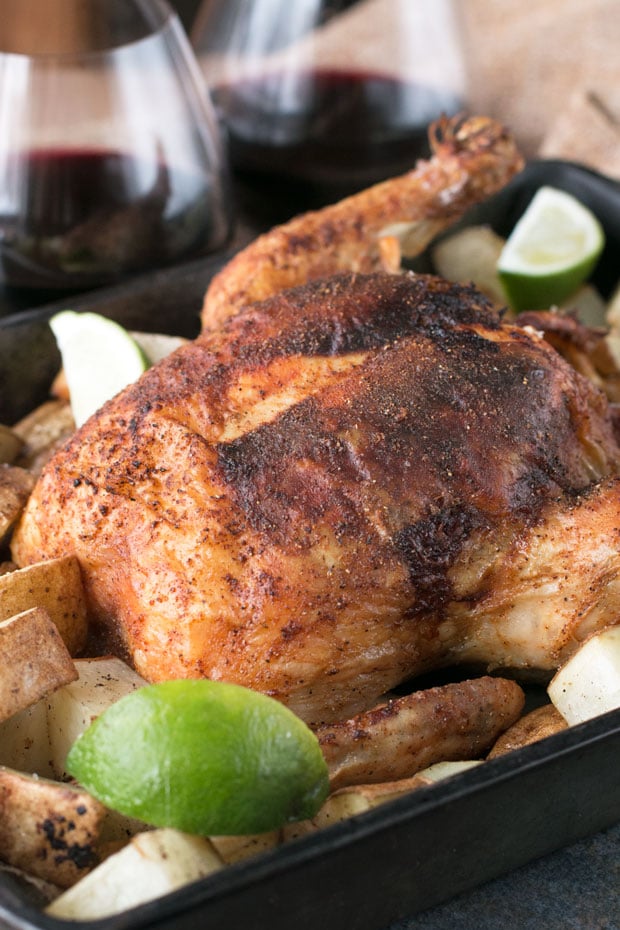 I'll be a little lazy with this roasted chicken gosh darn it all.
I used to think roasted chicken was a crazy amount of work to pull off. The funny thing is, the only "difficult" part is carving the dang thing and even that doesn't have to be perfect (well, unless you're trying to impress your SO or MIL…). Roasted chicken is already so powerful in flavor when rubbed with a little olive oil, pepper and salt.
This roasted chicken takes it to a whole new level of tastiness. I made a berbere lime butter that I then rubbed underneath the skin to keep the chicken meat nice and juicy.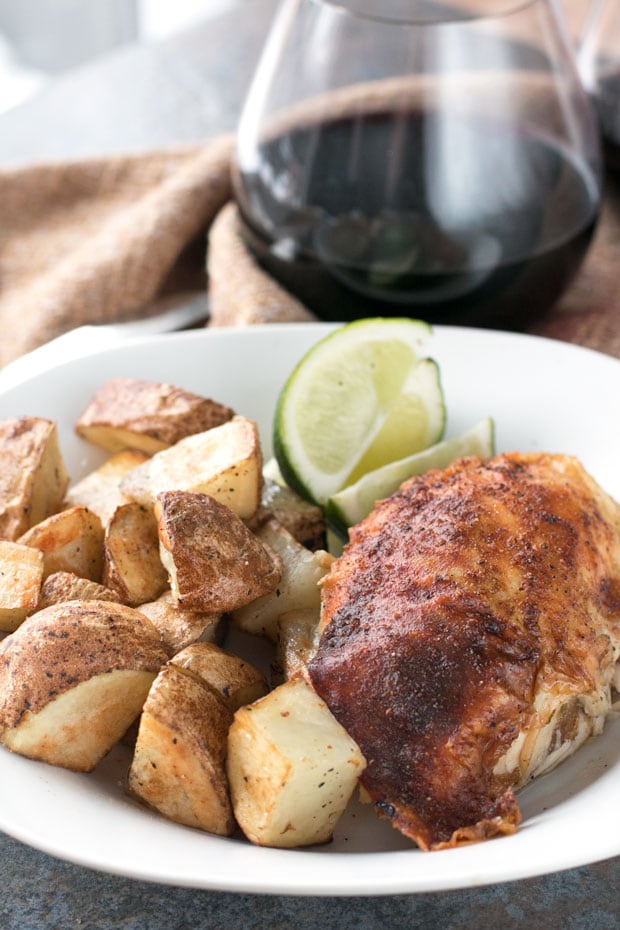 Then I coated the outside with olive oil and more berbere, to make sure the skin turned crispy and extra spicy. Stuff the whole thing with a couple halved limes for extra acidity and you're done. Roast it up and carve it up. Use it in everything from pasta to sandwiches to served by itself with a heaping helping of roasted potatoes (which you can roast in the oven at the same time mind you).
It's the miracle dinner that'll win over friends, family and anyone else you choose to serve it to (including the most important Y-O-U… DUH).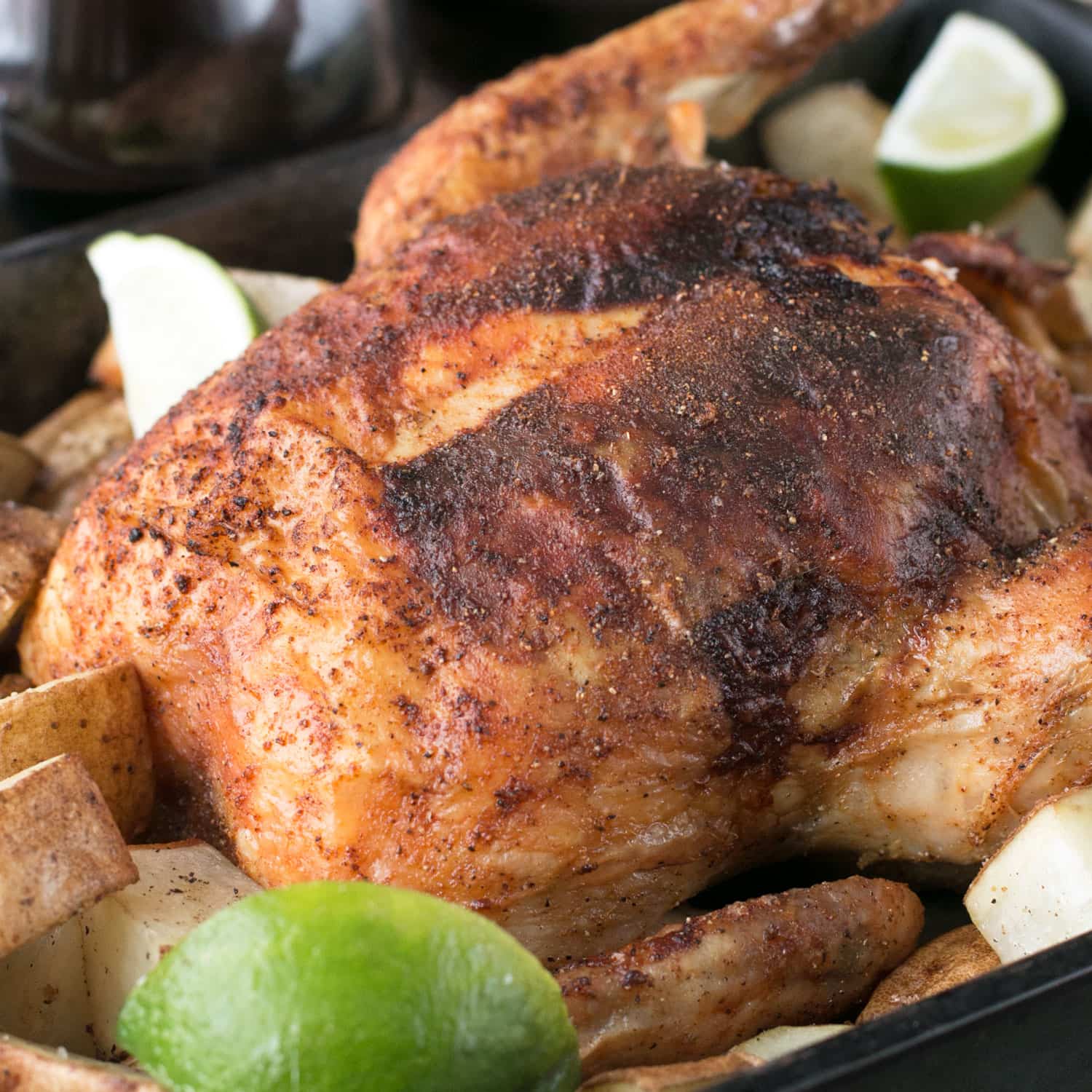 Berbere Roasted Chicken
Cook Time:
1 hour
15 minutes
Total Time:
1 hour
25 minutes
Berbere brings out the best in a roast chicken, not to mention the butter rubbed underneath the skin.... Bomb dot freaking com.
Ingredients
1 5lb whole chicken, giblets and other parts removed
5 Tbsp unsalted butter
3 tsp berbere
2 limes
4 Tbsp olive oil
1 tsp salt
1 tsp pepper
Instructions
Preheat oven to 425 degrees.
Pat chicken dry.
In a small bowl, combine butter, 1 tsp berbere, and zest of one lime. Rub the butter under the skin of the chicken, carefully.
Rub the outside of the chicken with olive oil. Season with salt, pepper and remaining berbere.
Halve both limes and add them to the cavity of the chicken. Tie legs with twine. Add chicken to a roasting pan or cast-iron skillet.
Roast chicken for 75 minutes. Remove from oven and rest 10 to 15 minutes before carving.
Serve immediately with roasted potatoes or mashed potatoes and vegetables.
Pin this Berbere Roasted Chicken recipe for later!