Creamy White Wine & Garlic Roasted Chicken Thighs are an elegant, simple weeknight meal that comes together in just 30 minutes. The classic flavor combination of garlic, white wine and thyme in the sauce make this creamy, roasted chicken dish a weeknight favorite.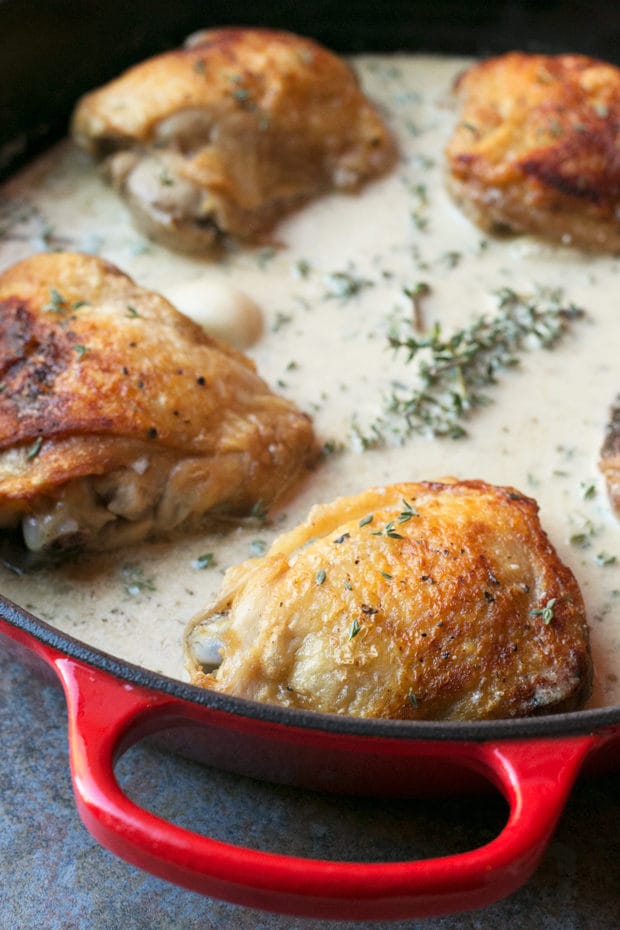 Sometimes you just need a good ol' roasted chicken dish to rely on for a weeknight dinner.
Lately I've been cooking so much, I've honestly forgotten about having food ready for meals every day. Yes, there's plenty of food from my many clients and my own blog, but sometimes you just can't eat leftovers day after day after day for ALL your meals.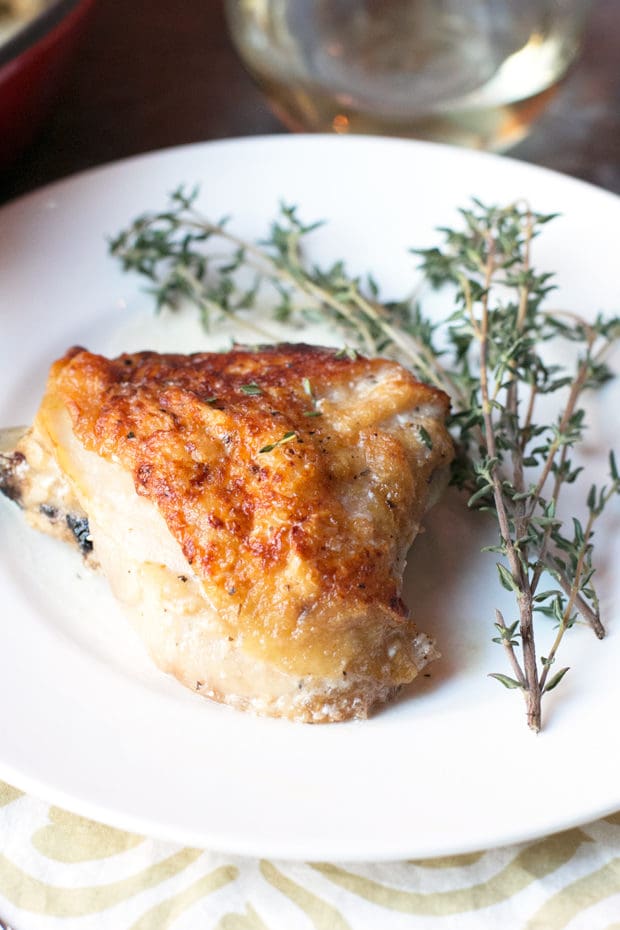 So I had to drum up some inspiration to create one of those weeknight dishes that comes together quickly and doesn't take much effort, BUT also tastes and looks like a jaw-dropping meal you can't wait to get your hands on.
As someone who cooks all the time, it can actually get tedious to also have to cook dinner after baking all afternoon. The Man (the nickname I've officially chosen to use for that boy I'm spending all my time with on the blog – yes it comes from somewhere specific, but I'll share that story another time) has been working insane hours so either of us wanting to put in a lot of effort into dinner is not really a thing.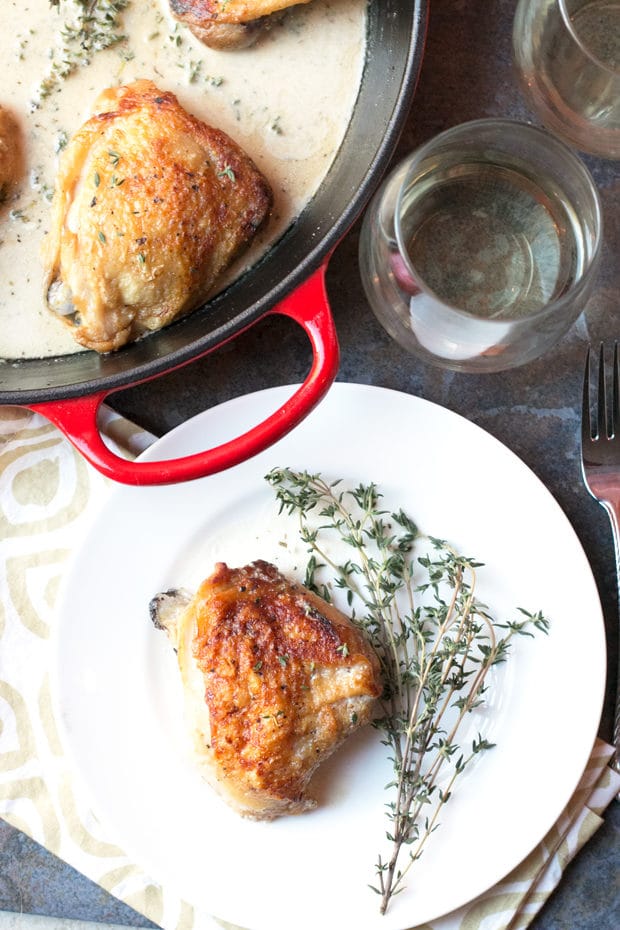 This creamy roasted chicken thighs skillet dish is so simple and it's absolutely stellar. It's perfect for those winter meals that you just want something classic and comforting for, plus you can match it up with any green veggie and starch you can think of. My personal favorite is asparagus and roasted potatoes, but Brussels sprouts and rice is a pretty freaking awesome combo with this too.
Just make sure you put that oven rack up higher so you can get the skin on the chicken thighs nice and crisp!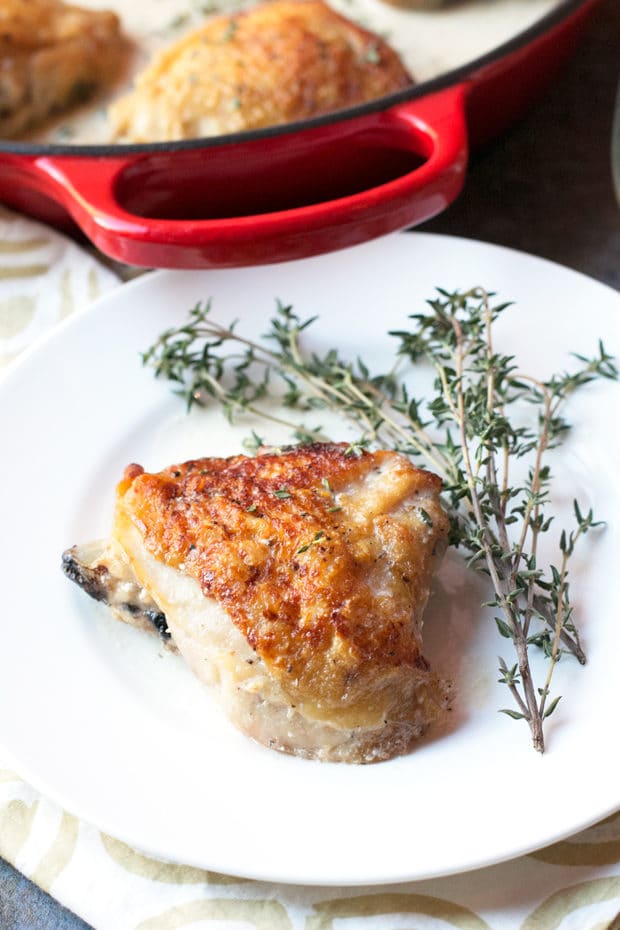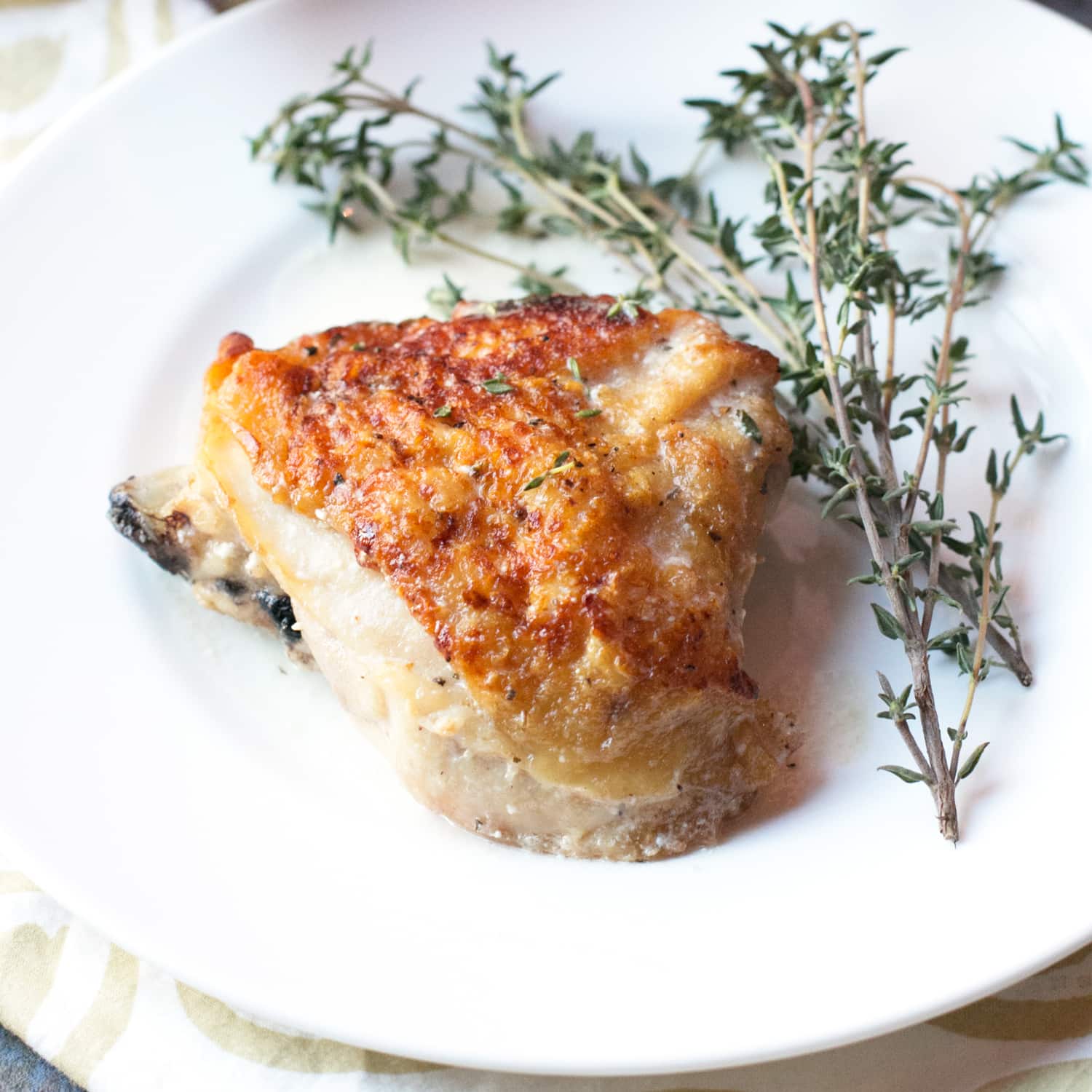 Creamy White Wine & Garlic Roasted Chicken Thighs
Creamy, garlicky and full of flavor, this simple dinner is going to be a weeknight fav!
Ingredients
2 1/2 lb chicken thighs
2 tsp olive oil
1/2 tsp salt
1/2 tsp black pepper
5 cloves garlic, crushed
3/4 cup white wine
1/4 tsp dried oregano
1/4 tsp dried basil
3 1/2 Tbsp sour cream
1/3 cup chicken broth
1 tsp fresh thyme leaves
Instructions
Preheat oven to 450 degrees.
In a large cast iron skillet, heat olive oil over medium-high heat. Season chicken thighs with salt and pepper. Cook thighs skin-side down until browned, approximately 7 to 8 minutes.
Remove chicken thighs to an aluminum foil-lined rimmed baking sheet. Bake for 35 minutes skin side up. Remove from oven and set aside.
In the skillet you used for the chicken, add garlic. Cook until browned, approximately 1 to 1 1/2 minutes. Add wine, oregano, and basil, stirring to combine. Bring to a simmer and simmer for 2 minutes, stirring constantly.
Stir in sour cream and chicken broth. Add the chicken thighs back to the skillet and cook for approximately 1 minutes. Garnish with thyme leaves and serve.
What You'll Need:
Pin this Creamy White Wine & Garlic Roasted Chicken Thighs recipe for later!