Please note this post contains affiliate links.
Slow Cooker Garlic Rosemary Pot Roast with Red Wine Sauce is a comforting meal you will keep turning to again and again, throughout the fall and winter seasons. Chuck roast is slow cooked with onion, garlic, rosemary and spices until it is fall-apart-in-your-mouth tender. Top it all off with a rich red wine sauce and you have a comforting meal that's easy to make, and even easier to devour.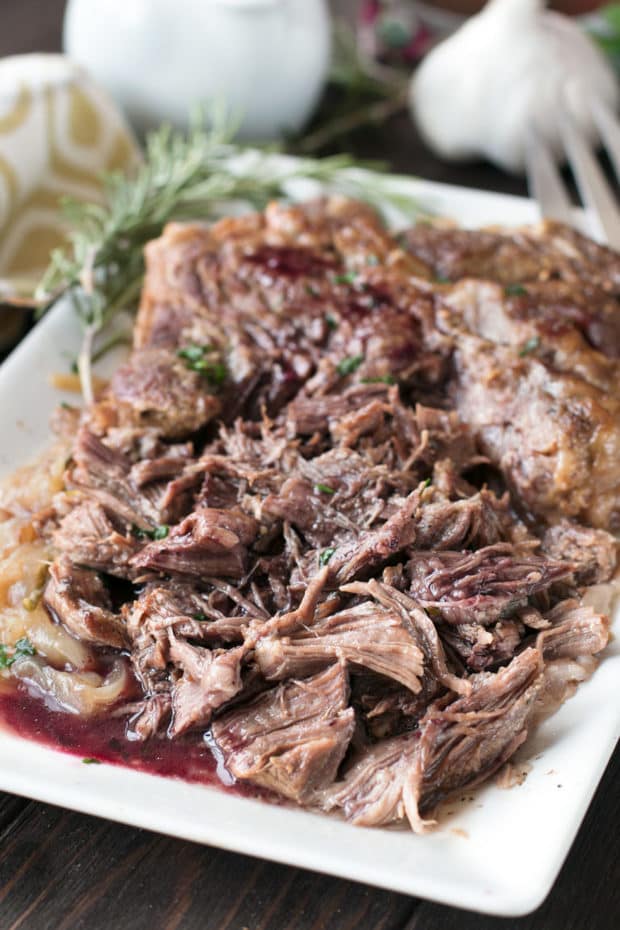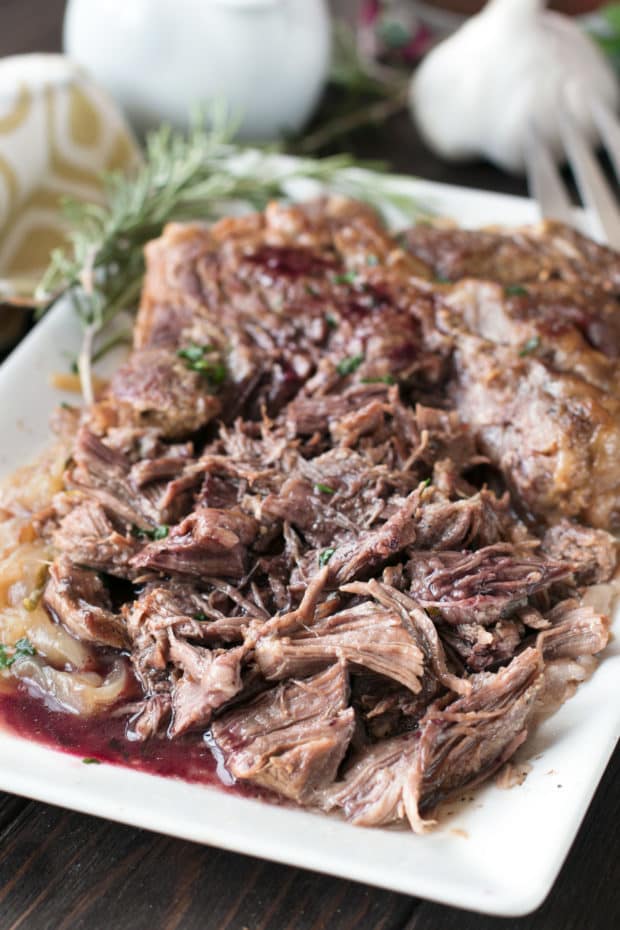 Disclosure: This post is sponsored by Sprouts! While I was compensated, as always, all opinions and the recipe are my own. Thanks for supporting the brands that support Cake 'n Knife!
Did you grow up with pot roast?
I was not one of those kids that did. I think my grandma made it from time to time, but honestly I couldn't name a specific time I ate it as a child.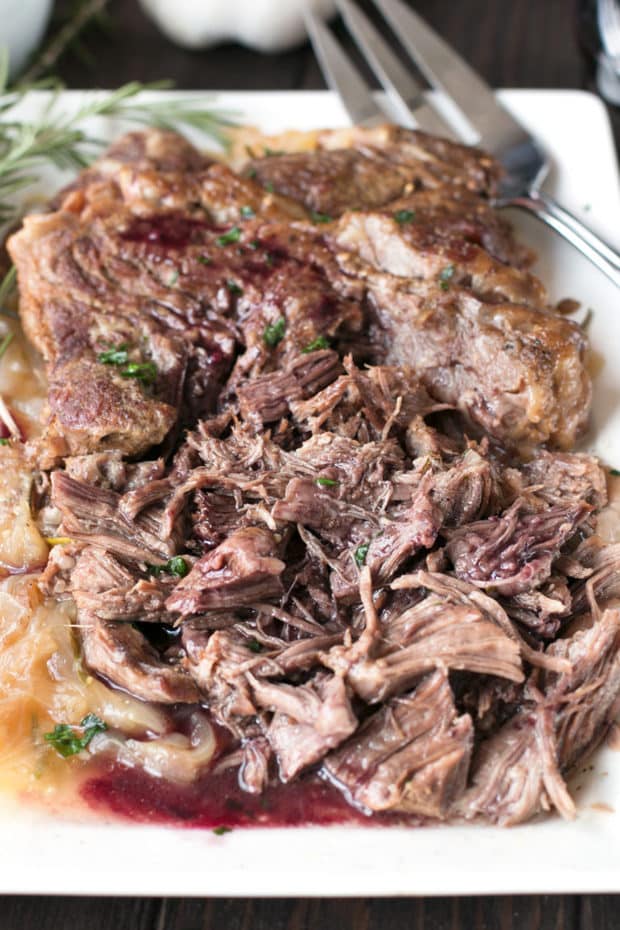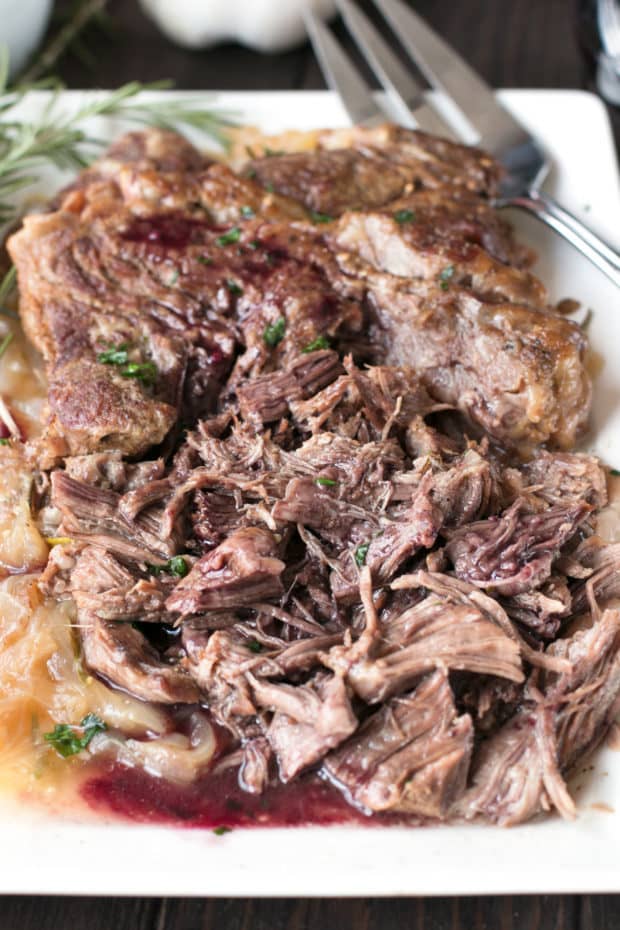 Since it was just my mom and me, we never opted for those giant "feed the entire family in one pot" meals because we would never finish it.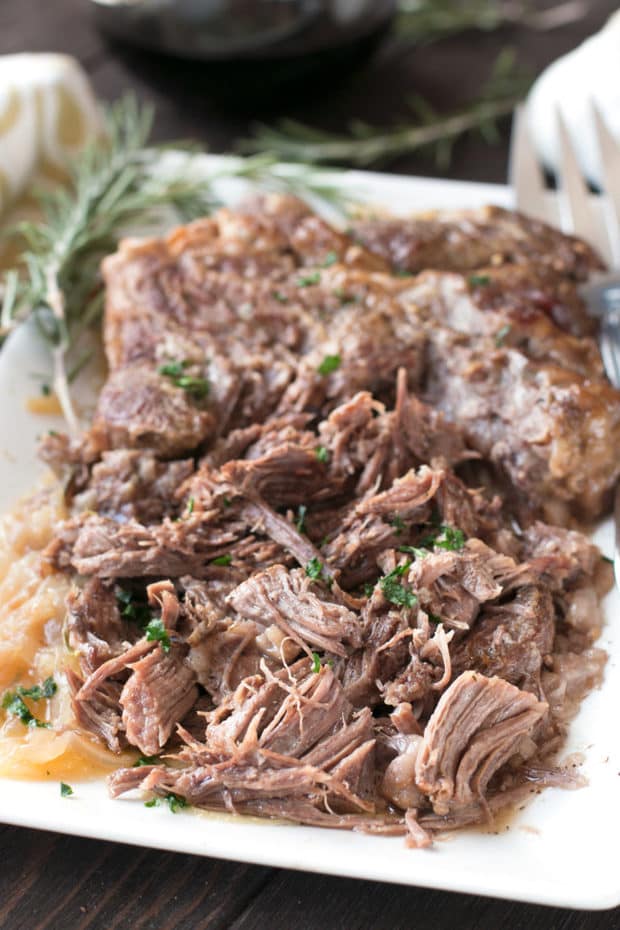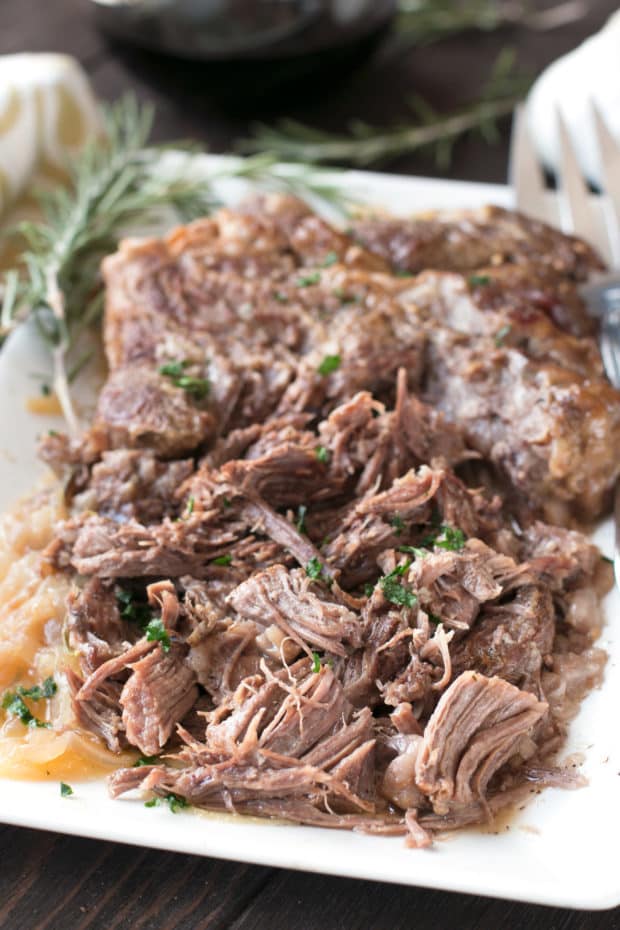 Please note that some of the links below are affiliate links. If you make a purchase through one of these links, I will receive a small commission. Thank you for supporting Cake 'n Knife!
I had pot roast occasionally when I went over to a friend's house, but it was always something that their mother had spent all day tending to.
Not exactly something that screamed "I have to make this immediately!" in my mind once I realized the amount of work that went into all that delicious savory flavor.
It wasn't until I started using a slow cooker and serving more than two people (note: not children, unless you call your friends grown-up children – which I suppose some of them are… I digress) that I found out just how easy pot roast is to make. Once you have the slow cooker loaded up with meat, veggies, seasoning and liquid, you merely let it cook all day long. When you come home, your house smells like what I would imagine my grandma's house smelled like when my mom was a kid…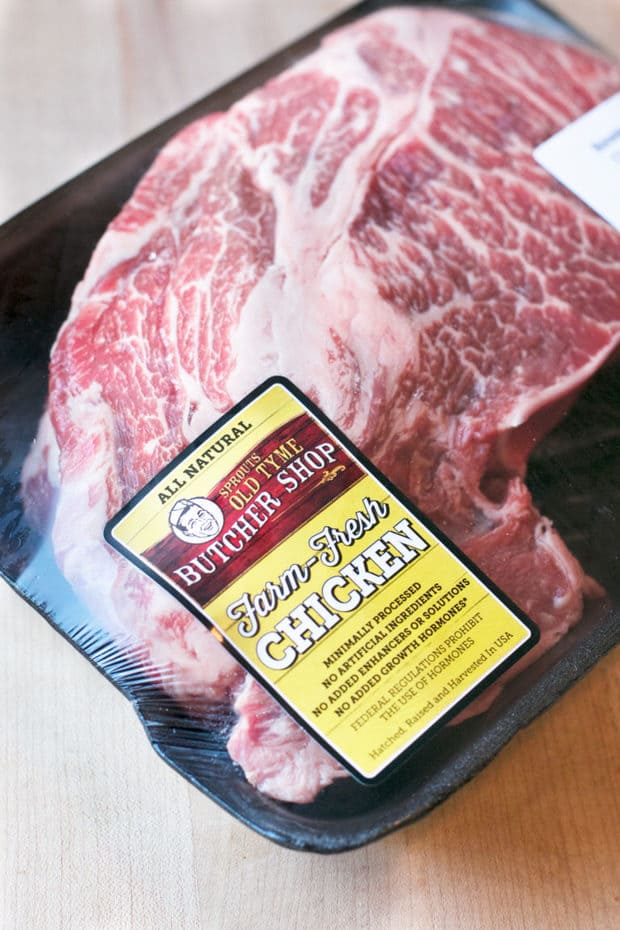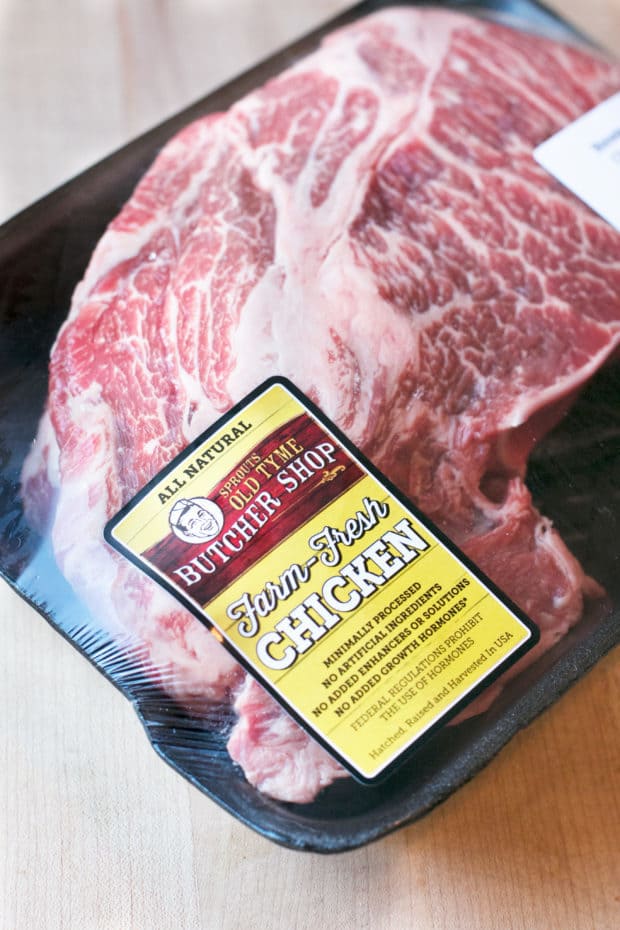 Of course, it all starts with getting yourself a great chuck roast.
Chuck roast isn't the highest level of beef cuts, but it does matter where you get it. This is when I turn to Sprouts.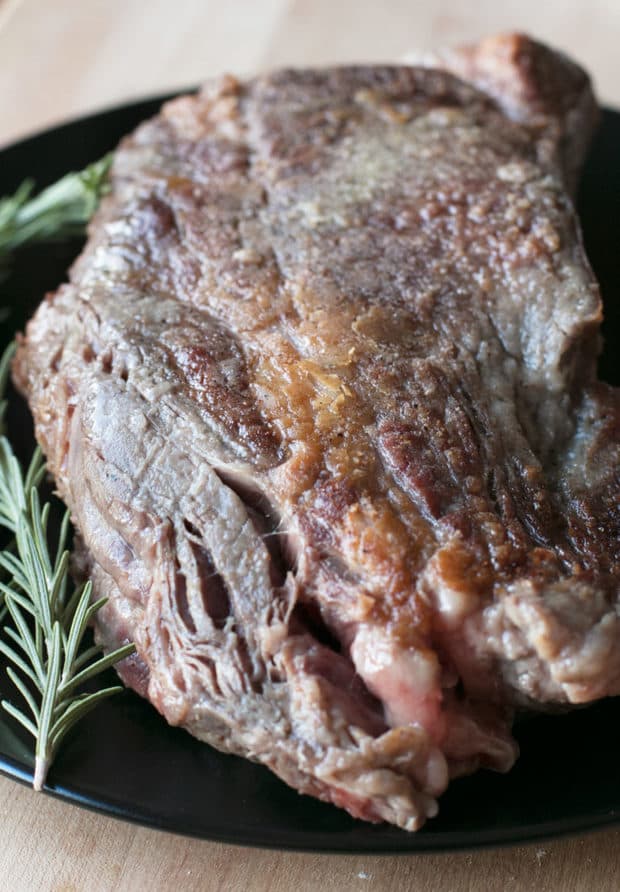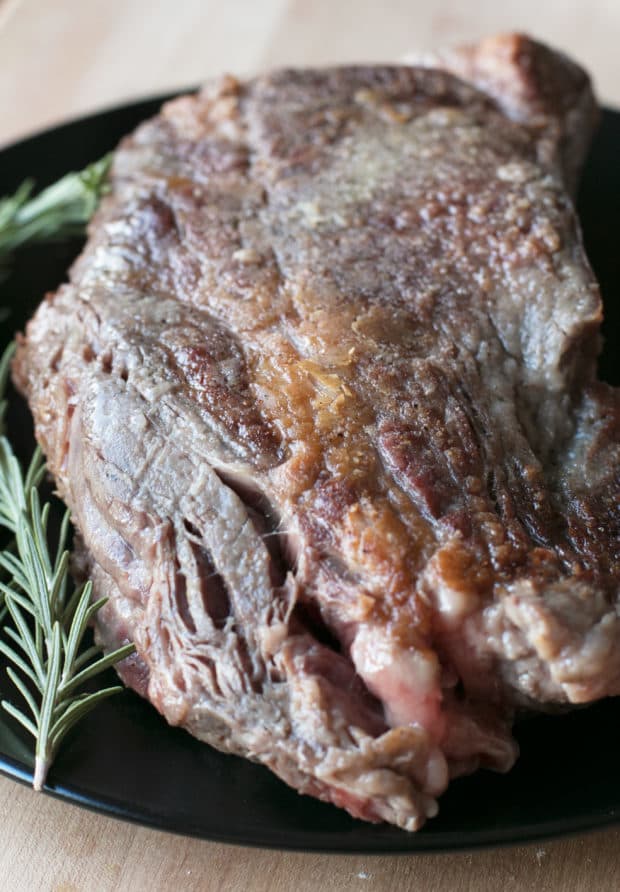 Really, I do all my shopping at Sprouts, so it's not an extra trip for me to get great meat at their meat counter. Their staff behind the counter is always helpful answering any questions you may have, and they'll size you the perfect portion of meat no matter how many people you will be serving this stellar pot roast to. Plus, you can get every single thing to make this pot roast right in the store.
So much better than running around town to gather all the ingredients from various stores, isn't it?
From organic beef broth to a stunning produce section (that is also incredibly reasonably priced), you can count on Sprouts to provide quality food products without breaking the bank.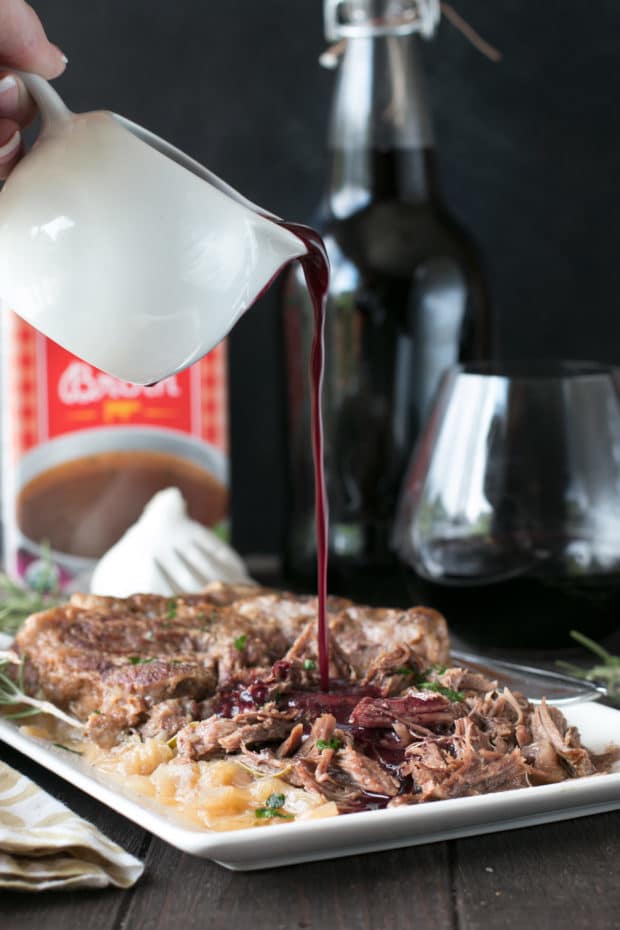 This pot roast is ideal for a warm, comforting meal as the weather starts to turn. Whether you are hosting a dinner party or simply trying to serve up something hearty before the big game, this easy recipe will have everyone melting into their chairs.
I love to serve this pot roast over mashed potatoes, but you can also serve it with roasted potatoes or even over a bed of egg noodles. The red wine sauce really enhances the garlic and rosemary flavors in the meat, and it keeps the pot roast extremely juicy so you don't have to worry about leftovers being dry!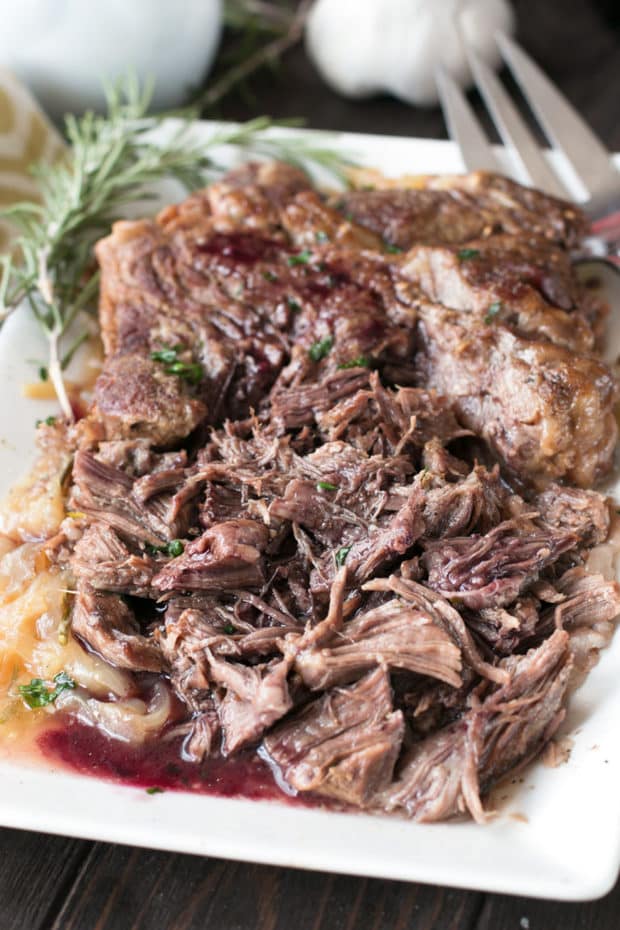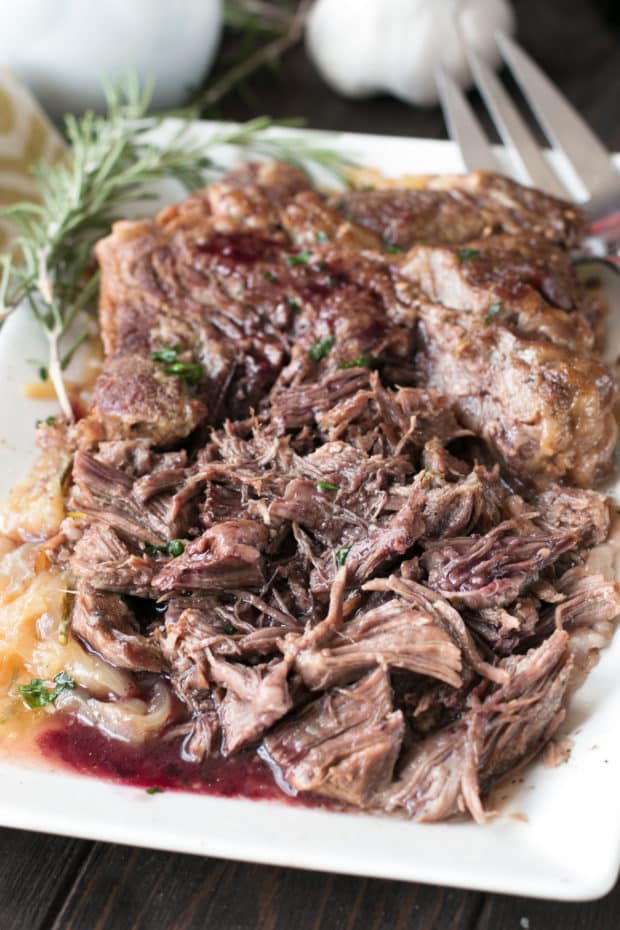 So as the weather starts cooling off (FINALLY!), I hope you find comfort easily in this oh-so tasty pot roast.
Just be sure to buy extra red wine. If you are anything like me, you might not have enough to serve everyone else once you are done cooking the sauce 😉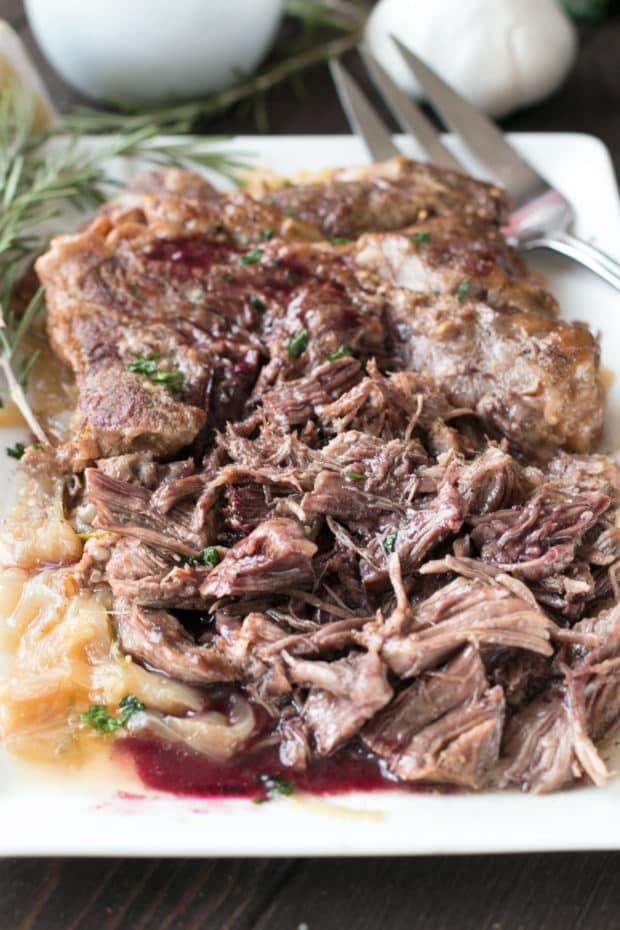 This Recipe's Must Haves
Pin this Slow Cooker Garlic Rosemary Pot Roast with Red Wine Sauce recipe for later!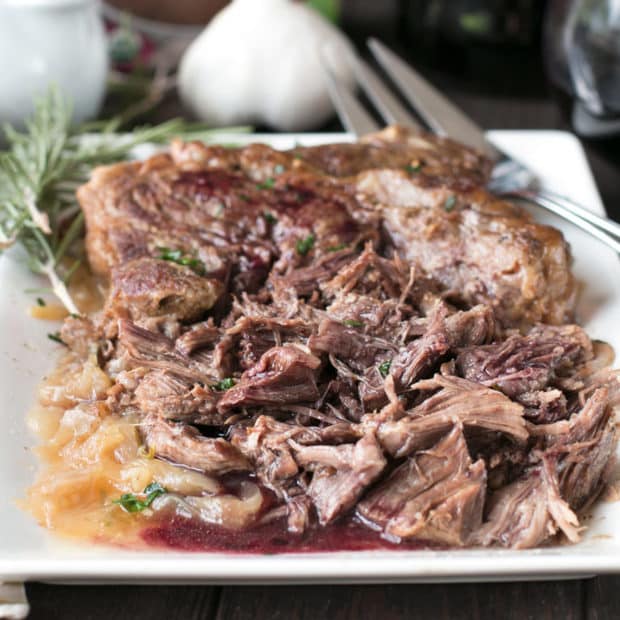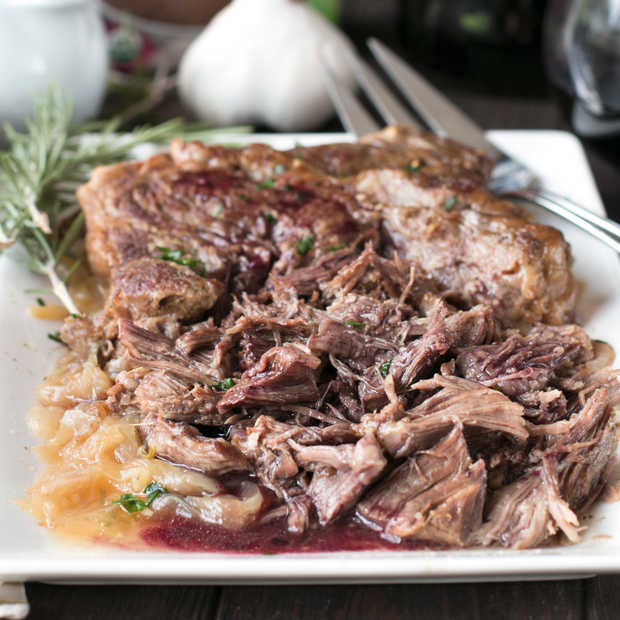 Slow Cooker Garlic Rosemary Pot Roast with Red Wine Sauce
Cook Time:
8 hours
30 minutes
Total Time:
8 hours
40 minutes
Rich, flavorful pot roast is slow cooked with garlic and rosemary until it is fall-apart-in-your-mouth tender. Top it all off with red wine sauce and you have a comforting meal that's easy to make, and even easier to devour.
Ingredients
Garlic Rosemary Pot Roast
3 Tbsp flour
1 Tbsp salt
1 tsp pepper
1 tsp garlic powder
2 lbs Sprouts chuck roast
2 Tbsp olive oil
1 white onion, sliced
4-5 cloves garlic, minced
1 Tbsp brown sugar
4 sprigs fresh rosemary
2 cups Sprouts beef stock
1 bay leaf
Red Wine Sauce
2 tsp olive oil
2 clove garlic, chopped
1 tsp cornstarch
1 cup red wine (Cabernet Sauvignon or Merlot works well)
1/2 cup Sprouts beef stock
3 Tbsp butter
2 tsp fresh rosemary, chopped
Salt & pepper
Instructions
In a small bowl, whisk together flour, salt, pepper and garlic powder. Coat the roast with the flour mixture.
Add olive oil for the pot roast to a cast iron skillet over medium high heat. If your slow cooker has a sear function on it, you can use that instead! Sear roast on all sides until browned, approximately 3 minutes per side.
Add onion, garlic, brown sugar, and rosemary to a slow cooker. Place the roast on top of the onion and spices. Pour in beef stock and add bay leaf.
Cook on low for 8 hours. If you have a pressure cooker, you can cook for 80 minutes on high pressure.
When the roast has approximately 20 minutes left, make the red wine sauce. In a medium saucepan, heat the olive oil for the red wine sauce over medium-high heat. Add the garlic and brown slightly, approximately 1 minute. Add in the cornstarch and stir until the garlic is coated. Pour in the wine and beef stock. Allow the mixture to reduce by half, approximately 5-7 minutes. Stir in the butter and rosemary and season with salt and pepper to taste. Keep warm over low heat until the meat is ready to serve.
Remove roast carefully from the slow cooker to a cutting board. Use two forks to easily pull apart the meat.
Serve roast with red wine sauce.