Risotto with Truffle Oil & Crispy Prosciutto
You know those days when you want to show someone how much you love them and cook them an amazing meal?
This is that meal.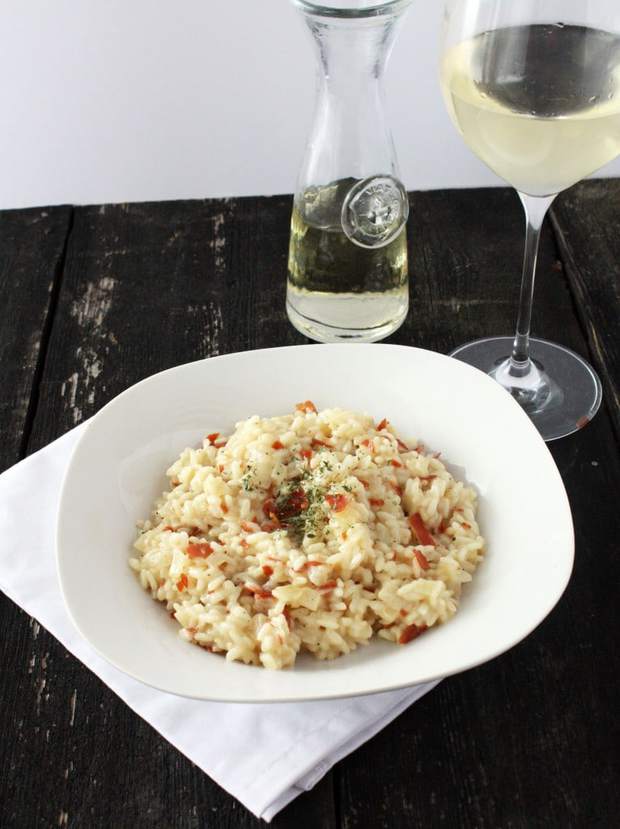 I mean we all know risotto is notorious for needing constant attention and takes a bit of time to get just right. That's showing love right there. Then there's the fact that you are actually SHARING this with someone else. That's the #1 sign of real love, right there.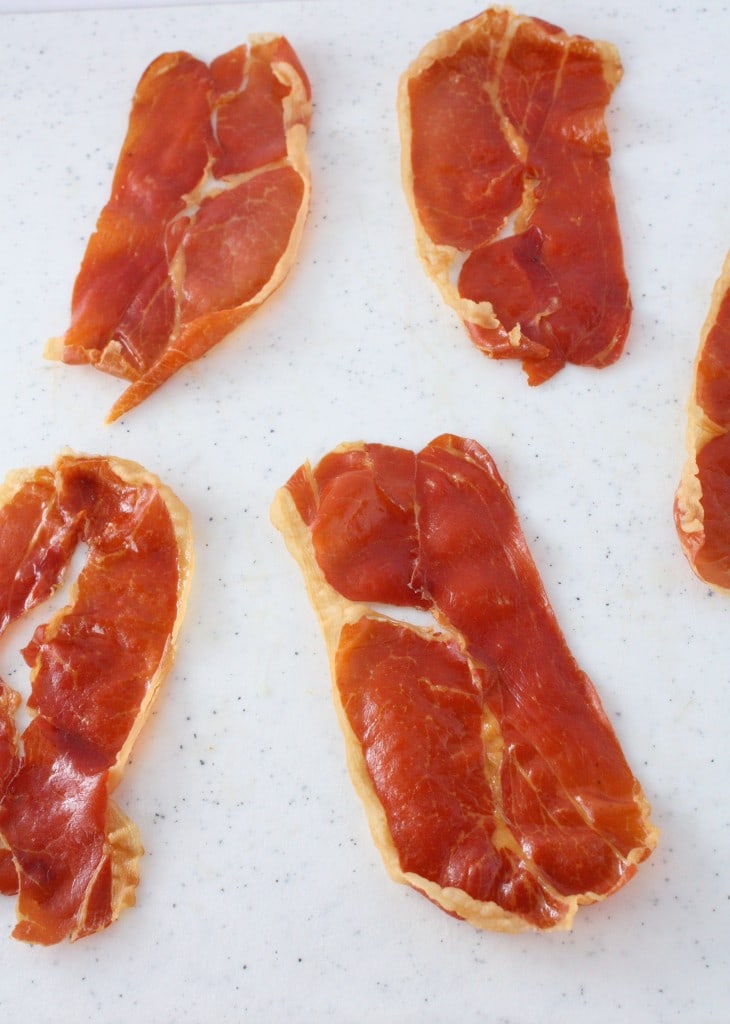 Whenever I make a risotto I am always reminded of the first time I made risotto and happened to (quite luckily) master it with the first try. There is something so amazing about cooking something new and having it turn out perfectly. It's like you have just won an Oscar and a gold medal at the Olympics for a sport you never tried all wrapped into one.
The best part is the smell that fills your home when you make this. So rich and luscious and comforting and just…. *sigh* It takes me back to Italy every time….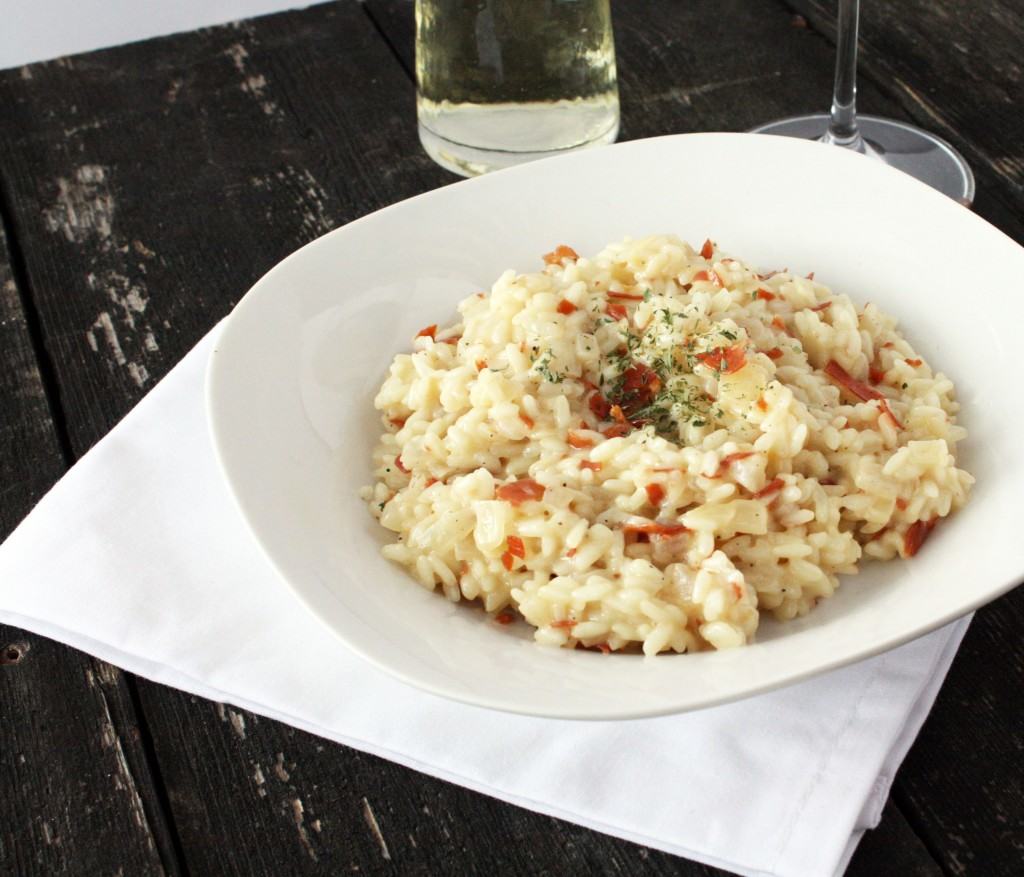 Not a bad way to start the week, eh?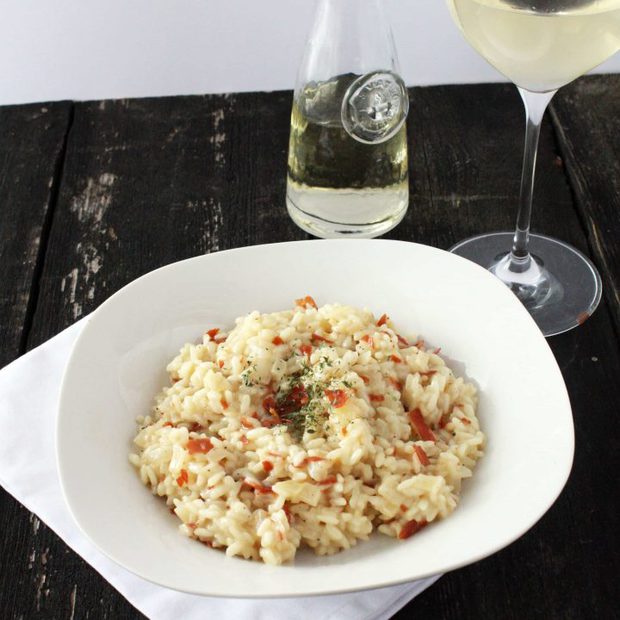 Risotto with Truffle Oil & Crispy Prosciutto
Yield: Serves 2
Prep Time: 10 minutes
Cook Time: 45 minutes
Total Time: 55 minutes
Rich and creamy truffle risotto with crispy prosciutto.
Ingredients
6 slices Prosciutto
2 to 2 1/2 cups chicken stock
1/8 cup extra virgin olive oil
1/4 cup chopped yellow onion
1 cup Arborio rice
1 cup dry white wine
1 Tbsp unsalted butter
1/2 tsp white truffle oil
2/3 cup grated Parmesan
Instructions
Preheat oven to 375 degrees.
Line a pan with parchment paper or silpat and lay prosciutto slices flat on the pan. Cook in the over for about 15 minutes until the fat is golden and meat is darkened. Drain on paper towels and then crush with your hands. Set aside.
Heat oil in heavy saucepan over medium heat. Add onion and sauté until softened the onion is softened, about 4 min. Add rice and stir until each grain coated and toast briefly, about 2 min. Add wine and stir until absorbed.
Add chicken stock a ladle at a time. Wait until absorbed after each addition to add more. Once the rice is tender to bite but slightly firm in center and looks creamy, about 20 min, stir in butter, cheese, and truffle oil. Stir until combined and cheese is melted. Remove from heat and gently fold in the crushed prosciutto pieces. Season to taste with salt and pepper. Serve immediately.